My childhood summers are filled with memories of this Blueberry Crumb Cake Recipe. It's a wonderful brunch recipe if you are entertaining for a crowd and need something impressive!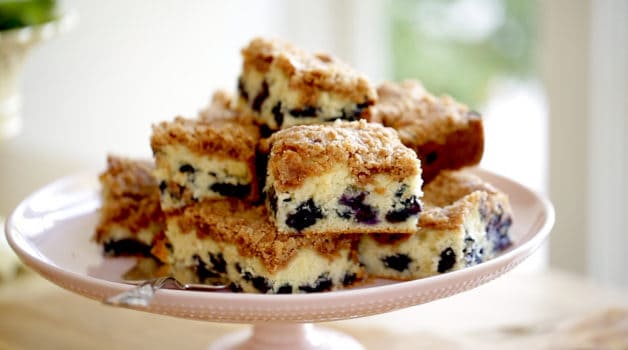 The cake is so light and fluffy and bursting with fresh blueberries. And the crumb topping is crunchy and chewy at the same time, making it seriously addictive! It's the kind of cake you want to make when you have house guests visiting and need to impress the in-laws, fast! This thing disappears in minutes!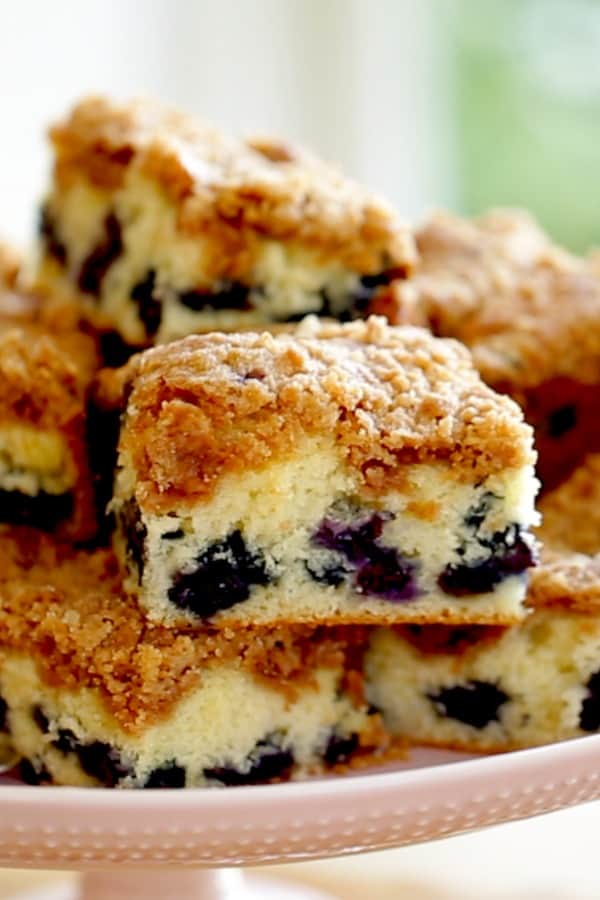 It's also a wonderful brunch cake to serve for a special occasion like Easter or Mother's Day! For more brunch cake ideas you might also enjoy my Raspberry Almond Brunch Cake or my Blueberry Lemon Brunch Cake.
Have extra blueberries on hand? Then you must try my light and crispy Blueberry Waffle Recipe, it's another fantastic blueberry recipe!
WATCH MY VIDEO OF THIS RECIPE BELOW!
Subscribe to my YouTube Channel for more recipe videos!
This cake recipe was originally shared by a dear family friend who we would visit each summer out in Long Island. I think back to that now, wondering how this lovely woman who lived alone for most of the year, in a charming antique-filled dollhouse of a home, could muster up the strength to welcome, with open arms, a family of five, with 3 very active kids in tow! Did I mention this lady was special?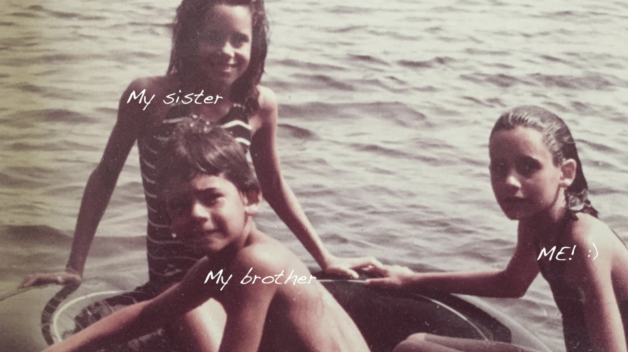 Her house was situated just across the street from a lake. My siblings and I would spring from our beds, inner tube in tow, and run down to the lake and jump in the frigid temperatures (oh the reckless abandon of youth!).
We'd then come back to the house, soaking wet and be greeted with this delicious blueberry crumb cake for breakfast. This cake was devoured by my siblings and me in minutes and to this day it remains a beloved part of our childhood.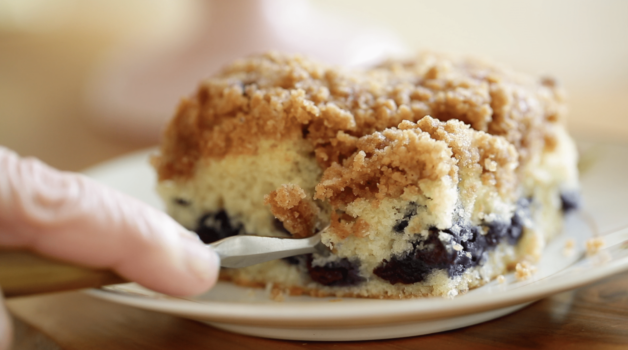 How-To Make a Crumb Topping
I find the easiest way to make a crumb topping is to combine the dry ingredients, flour, sugar and cinnamon (recipe below) whisk together and then add the butter, mixing with your hands until a coarse crumb form.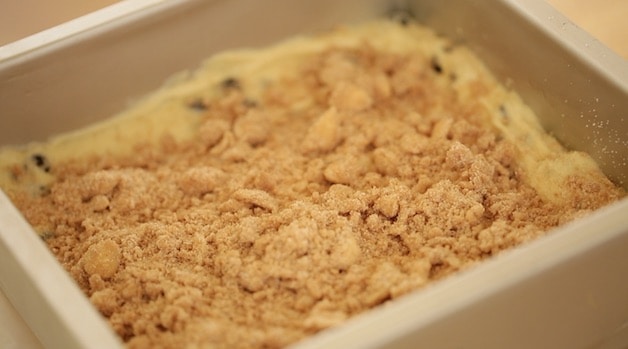 I like to bake this cake in a 10″ x 10″ removable bottom because it makes it really easy to release once the cake is baked (see link in recipe card). Once you own this pan you can also make my Butterscotch Blondies in it and my Pecan Bars with Shortbread Crust.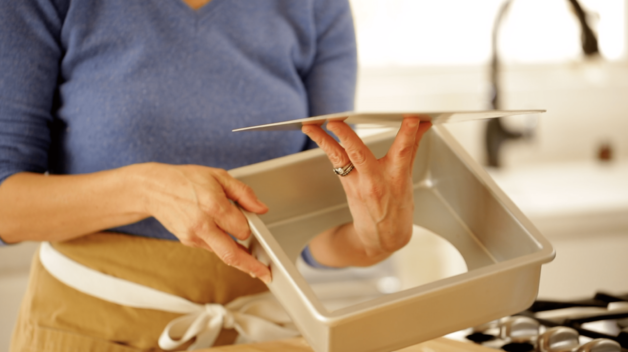 Then just cut your crumb cake into nine squares and serve! This cake is best enjoyed slightly warm.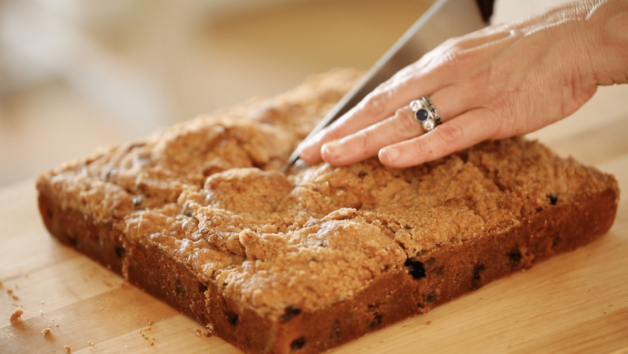 You can also make this blueberry crumb cake recipe ahead of time and reheat to serve. It also freezes well too! What's not to love?! Ha!
MAKE IT A MEAL!
These recipes would pair beautifully with this cake.
MAIN ENTREE IDEA:
A wonderful egg dish to go with this crumb cake is my Herby, Cheesy Egg Bake
SIDE DISH IDEA:
Serve my smashed potatoes alongside the egg bake. A winning combo!


Please let me know if you make this Recipe
by leaving a rating and review below!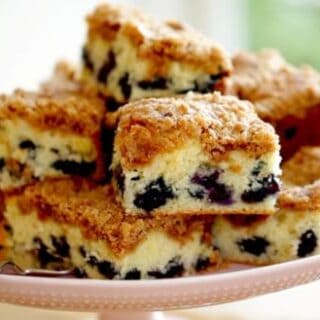 Blueberry Crumb Cake
Total Time:
1 hour
30 minutes
This Blueberry Crumb Cake recipe is a fantastic addition to any brunch! Light and moist on the inside bursting with juicy blueberries and topped with a wonderful crunchy topping. It's always the first thing to disappear at any gathering!
Ingredients
For the Cake:
½ cup (120g) of butter
¾ cup (150g) sugar
2 eggs
1 tsp (5 ml) vanilla
2 cups (240g) of flour
2 tsp (10 ml) baking powder
½ tsp (2.5ml) salt
½ cup (120 ml) milk
2 cups (300g) fresh blueberries
Topping:
1 cup (200g) of sugar
½ cup (60g) flour
1 tsp (5 ml) cinnamon
½ cup (120g) butter
Instructions
Preheat oven to 350F (175C).
Spray a square 10" x 10" (25cm x 25cm) pan with baking spray. Set aside
In the bowl of an electric mixer beat together butter and sugar until smooth and fluffy, add eggs one at a time and beat well until light and fluffy, add vanilla. Set aside.
In a small bowl combine flour, baking powder and salt whisk together. Add flour mixture in thirds, alternating with the milk until a batter forms. Remove bowl from the mixer.
Fold in blueberries. Transfer batter to pan. Set aside.
In a small bowl whisk together the topping. Add the sugar, flour and cinnamon. Whisk to combine. Cut in butter with hands until small crumbs form. Sprinkle topping on top of batter until a layer is formed and batter is fully covered.
Bake 40-45 mins until golden brown and a toothpick comes out clean. Allow to cool completely. Run sharp knife along perimeter of cake to loosen before removing it. Cut into 9 squares and serve!
Notes
This cake really works well in a removal bottom brownie pan. This will allow the sticky cake to be removed easily and cut into squares. You can find one here. (this link goes to Amazon where I am an affiliate partner)
You can use frozen berries for this recipe just be sure you don't over mix the batter or your cake will turn blue!
Nutrition Information:
Yield:

9
Serving Size:

1
Amount Per Serving:
Calories:

125
Total Fat:

2g
Saturated Fat:

1g
Trans Fat:

0g
Unsaturated Fat:

1g
Cholesterol:

43mg
Sodium:

21mg
Carbohydrates:

22g
Fiber:

1g
Sugar:

1g
Protein:

4g