The BEST Raspberry Almond Cake
This Raspberry Almond Cake recipe and is one of my favorite cake recipes for brunch. It's light and moist and filled with the most delicious almond flavor. It's also not too sweet which makes it perfect for pairing with savory brunch dishes as well.
It's so light and moist, coming from the addition of the ricotta cheese, and a large number of eggs (5 to be exact!) but the fantastic texture it creates is so worth the extra quantity! This is a wonderful special occasion brunch cake for Easter Sunday or Mother's Day.

Recipe Pairing Ideas: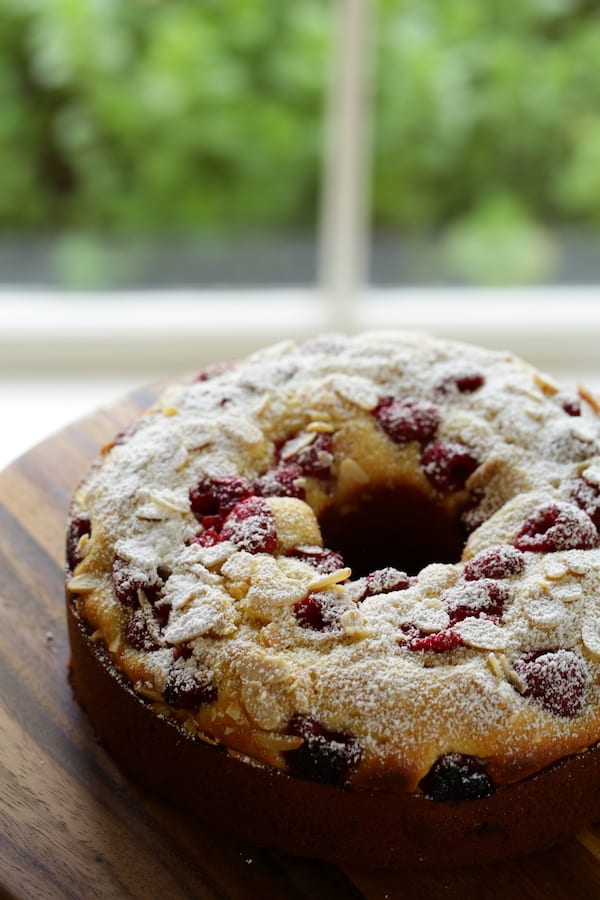 Watch My Video Demo on this Recipe Below!
Subscribe to my YouTube Channel for more recipe videos!
Step#1: Beat Butter, Sugar, and Almond Paste
What gives this cake its delicious almond flavor is the almond paste. Almond paste is pretty easy to find in major grocery stores. But if you can't find it, you can also make a homemade almond paste too.
If you do make it yourself, it won't go to waste since you can also use it to make my Pear Almond Tart, "Cheater" Almond Croissants or Galette des Rois. All equally delicious almond desserts!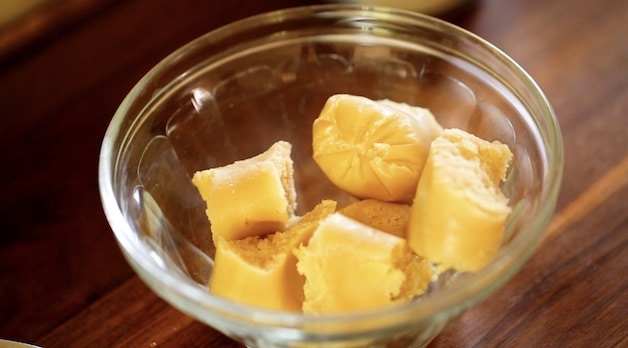 What is the difference between almond paste and marzipan?
Almond paste is a coarse crumbly ingredient best used as an ingredient in baking.
Whereas marzipan is a smooth type of "candy dough" used for decorative sweets.
Think of those life-like marzipan fruits you see in Italian bakeries. That's marzipan. If you've ever tried one, you know how sweet they are!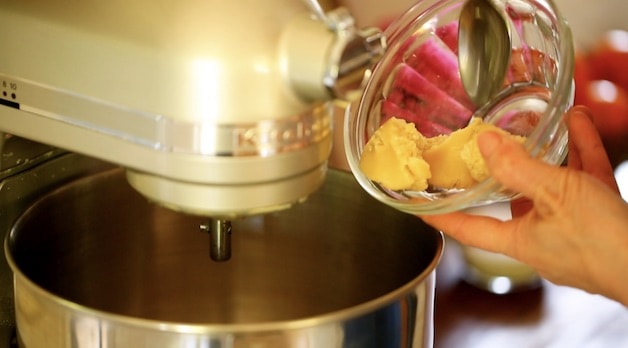 Can you use marzipan in place of almond paste?
I wouldn't recommend this because the textures are different, and the level of sweetness is different. Marzipan is best for candy-like decorations and almond paste is best for baking.
The funny thing is they are often displayed right next to each other in the store. So oftentimes I'll accidentally grab the marzipan instead of the almond paste. So make sure you read the label!
Step#2: Add the Eggs
Yes, this cake does call for 5 eggs, which may seem excessive. But the eggs are what makes this cake so light and airy.
You can get away with 4 eggs but I wouldn't go less than that if you want the same delicate crumb you see below.

Step#3: Add Ricotta Cheese
The ricotta cheese is the "secret ingredient". It's not just for Lasagna Roll-Ups! I use it a lot in pound cakes and my Lemon Ricotta Pancake recipe because it adds such wonderful lift and lightness.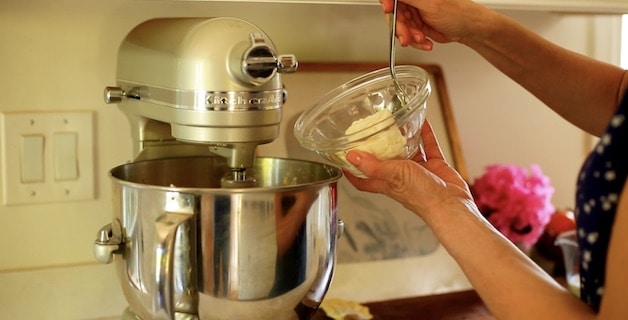 Step#4: Add the Dry Ingredients
Mix the dry ingredients together and then slowly add them to the cake batter in thirds. Mixing in between each addition.
And once the dry ingredients are combined, you're done! How easy was that?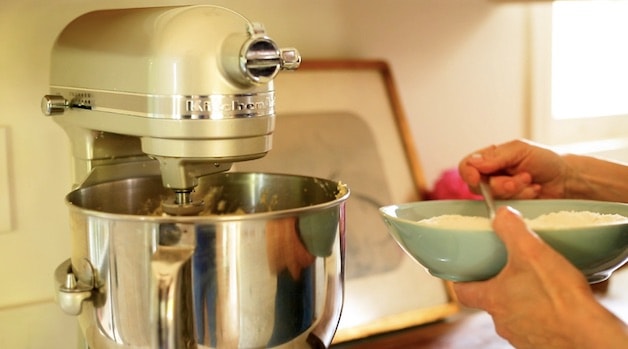 Step#5: Pour Batter and Add Raspberries
I like to bake this cake in a 10" non-stick removable bottom angel food pan. It creates a really pretty cake that is also easy to release once baked.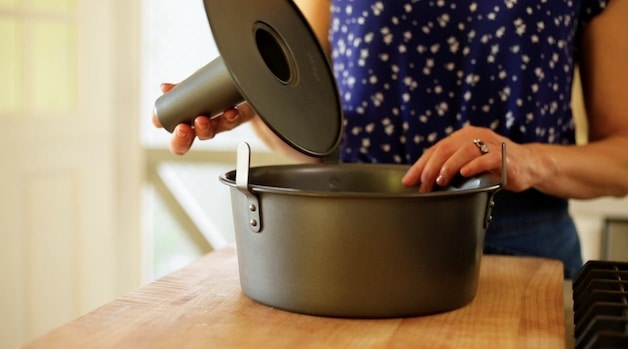 Even though the pan is non-stick, I do spray it with some baking spray for added insurance!
Then scoop out the batter with an ice cream scoop. The ice cream scoop helps to distribute the batter evenly because it is so thick and dense. But not to worry, it will create a light and airy cake!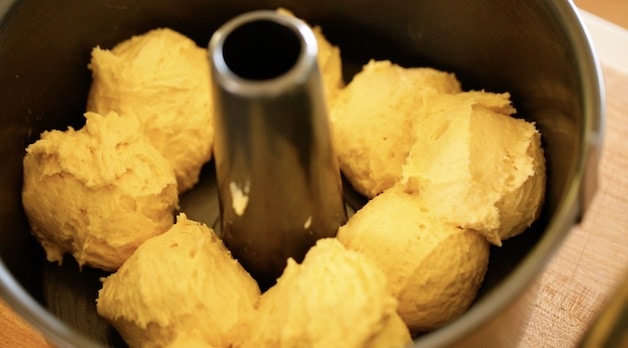 Then smooth the "batter balls" out with a spatula, top with raspberries, raw almonds, and bake! You can also substitute the raspberries with other fruits too.
These Fruits Also Pair Well With Almonds:
Blueberries
Pitted Frozen CHerries
Strawberries
Apricots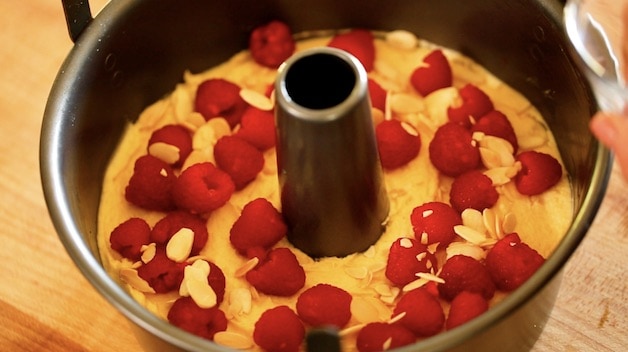 Step#6: Garnish and Serve!
Allow the cake to cool slightly before removing it from its tin and then place it on a cooling rack to cool completely.
Once cooled dust your cake with some powdered sugar and then transfer it to your favorite cake stand.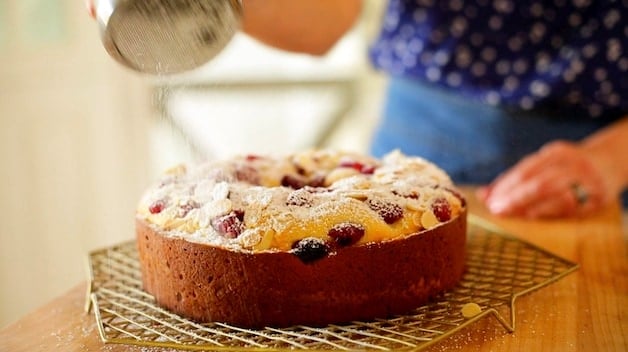 Please let me know if you enjoyed this recipe
by leaving a rating and review below!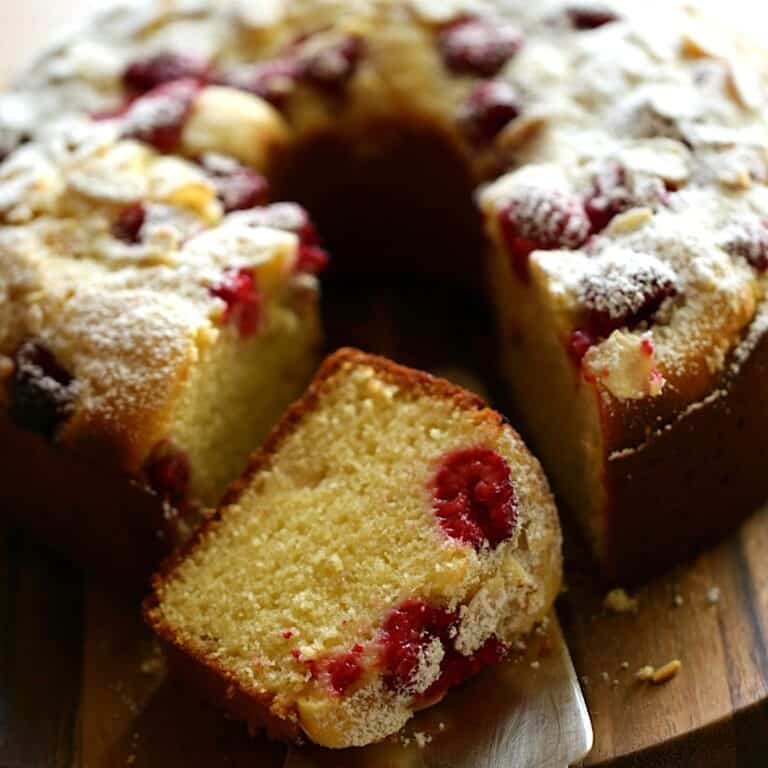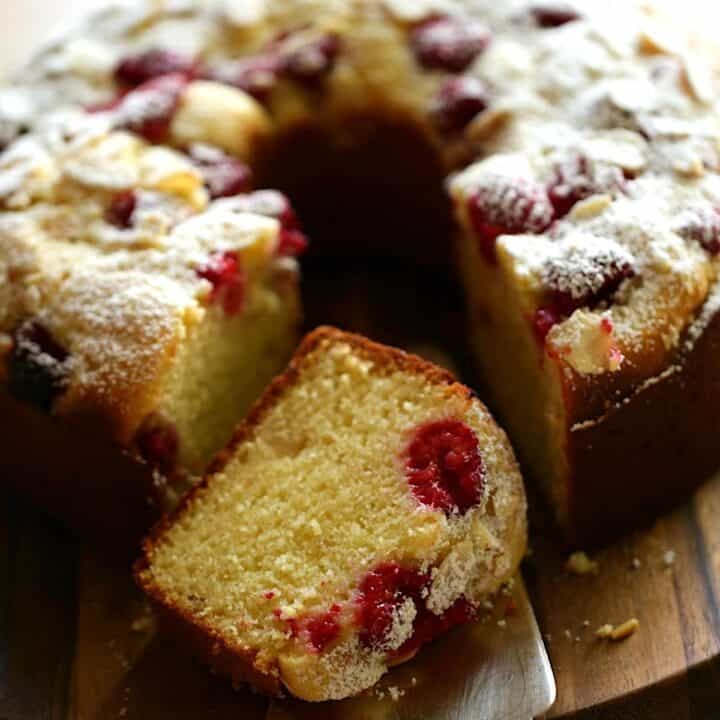 The BEST Raspberry Almond Cake
Total Time:
1 hour
25 minutes
This Raspberry Almond Cake is light and moist and filled with the most delicious almond flavor. It's also not too sweet which makes it perfect for pairing with savory brunch dishes as well. 
Ingredients
1 cup (240g) softened butter
7 ounces (200g) almond paste
½ cup (100g) of sugar (increase to ¾ cup if serving as a dessert, as opposed to a brunch cake)
5 eggs
½ cup (120ml) of ricotta cheese
⅓ cup (80ml) of milk
2 cups (240g) of flour
2 teaspoon (10ml) baking powder
½ teaspoon (2.5ml) salt
6 ounces (170g) fresh raspberries
2 tablespoon (30ml) sliced almonds, raw/unsalted
Instructions
Preheat oven to 350F (175C). Spray a 10" angel food pan with baking spray and distribute well with a pastry brush and set aside.
In a small bowl combine the flour, baking powder and salt. Whisk to combine and then set aside.
In the bowl of an electric mixer combine the butter, the almond paste, and sugar. Beat on high until fluffy, scraping down the bowl as needed.
Add eggs, one at a time, beating in between each addition. Add ricotta cheese, beat, and milk and beat until smooth. At this point batter will look like it's separating. That's OK. It will come back together after you add the dry ingredients.
Add the dry ingredients in thirds, beating in between each addition. Batter will be heavy and dense, but not to worry cake will be light and fluffy!
Transfer batter to the pan with an ice cream scoop to assure equal distribution. Smooth out with a spatula. Top with raspberries and almonds.
Bake at 350F(175C) for 55mins-1 hour or until cake is slightly golden brown on top and risen. Allow to cool completely and then remove from pan, dust with powdered sugar and serve!
Notes
This cake is really best eaten the day it is baked. But if you must make it a day ahead. Allow it to cool and then keep it in the pan, covered with foil. Then reheat at 300F(150C) for 15 minutes and then serve. The reheating will freshen it up.
Nutrition Information:
Yield:

8
Serving Size:

1
Amount Per Serving:
Calories:

596
Total Fat:

36g
Saturated Fat:

17g
Trans Fat:

1g
Unsaturated Fat:

16g
Cholesterol:

183mg
Sodium:

518mg
Carbohydrates:

59g
Fiber:

4g
Sugar:

29g
Protein:

12g