Learn how to make the easiest No-Bake Cheesecake Recipe with fresh berries that looks as beautiful as it tastes! This is the perfect easy recipe for summer entertaining when it's too hot to cook.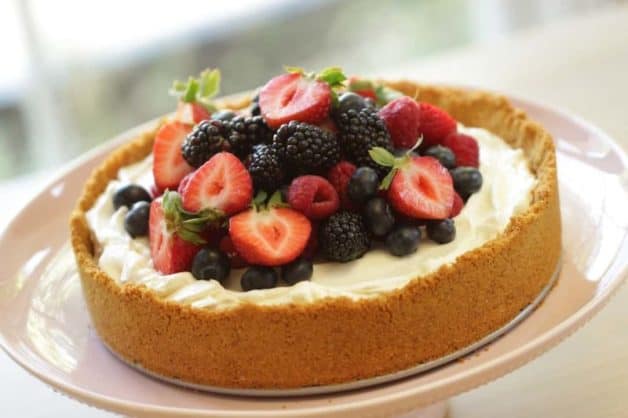 HOW-TO MAKE THE EASIEST NO-BAKE CHEESECAKE!
(Full recipe video is in the recipe card below)
Subscribe to my YouTube Channel for more recipe videos!
(it's free!)
In the summertime, I try to limit the time my oven is running because it just ends up making my kitchen so hot! And when the temperatures outside are climbing well into the triple digits, it's time for a No Bake Cheesecake recipe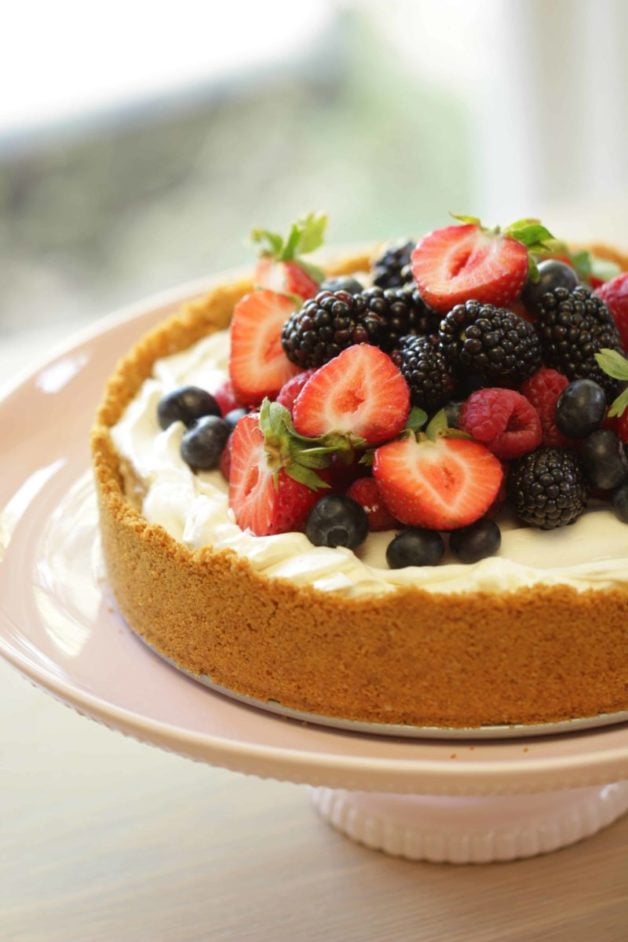 What I love about this recipe is how beautiful and rustic this cake is. It doesn't need to be perfect. In fact, the more "thrown together" it looks the better. It's part of its charm.
What makes this cake even easier are the store-bought graham cracker crumbs. Seriously, have you tried these? They are genius!
How do you make a graham cracker crust?
Here's the other plus with the store-bought crumbs, you don't have to drag out the food processor to make a quick cheesecake!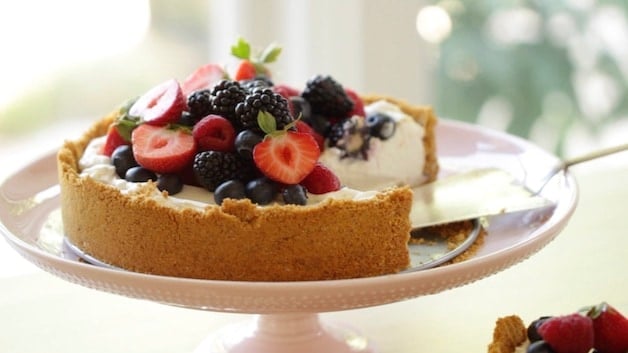 Also, the fact that they are already ground makes them more uniform in size so they are also easier to fit into your tin.
The crust is this easy!
1.) Mix up the crumb mixture.
2.) Make a "fist-bump-type motion" to create a crumb wall up the side of the tin
3.) Assure your crumbs cover the bottom.
4.) Use a measuring cup to tighten up the edges so you get a nice tight crust.
5.) Bake et voila!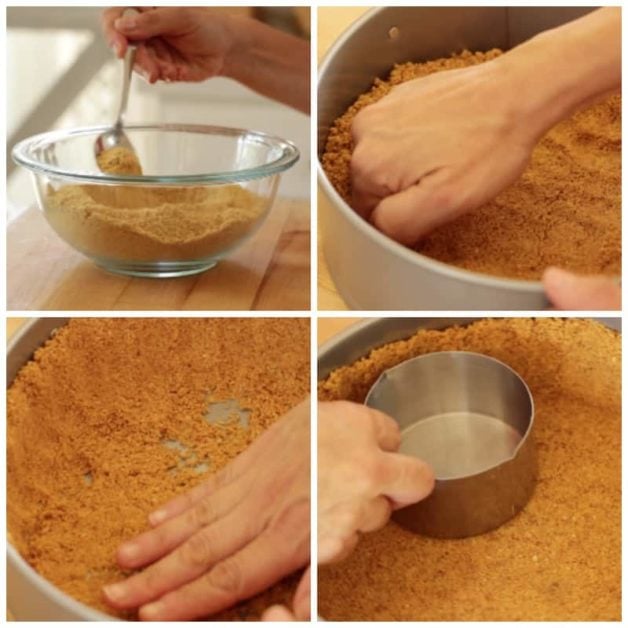 How do you make no-bake cheesecake?
No-bake cheesecake is created by making a cream cheese mixture in a stand mixer. Then you'll create a separate mixture of homemade whipped cream and combine the two together.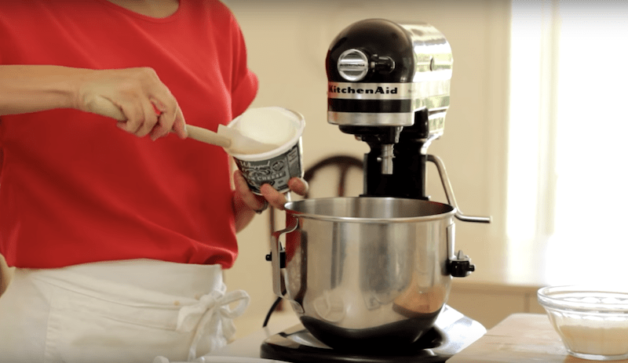 Once it's placed overnight in the fridge it will set to a cheesecake-like consistency without any baking.
No-Bake Cheesecakes are a little misleading because most of them still require you to bake the crust, but really that's as hard as it gets!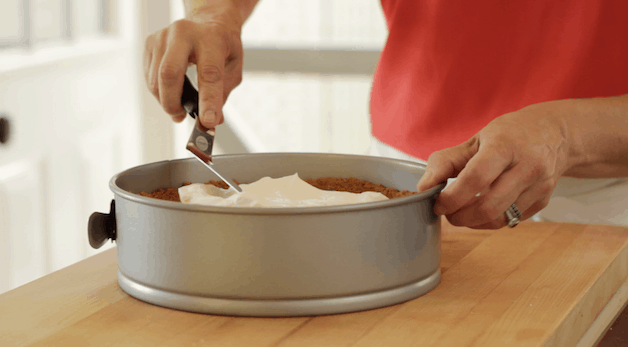 CAN YOU PUT A NO-BAKE CHEESECAKE IN THE FREEZER TO SET?
Well, if you're really in a rush you could give it a "head start" there. But I personally wouldn't finish it there because ice crystals will form and create an undesirable texture. If you want a nice smooth cheesecake, overnight in the refrigerator is the way to go.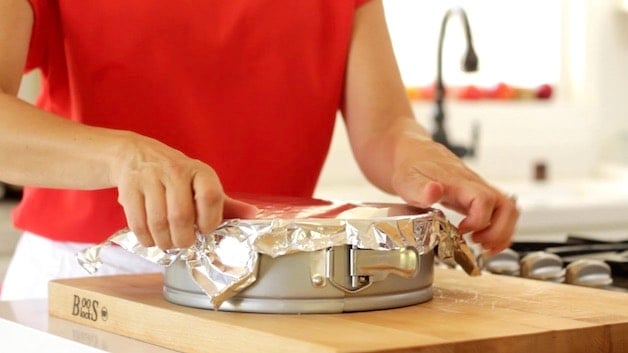 Decorating this No-Bake Cheesecake is also super easy!
No need to drag out the pastry bags and pastry tips, this easy cheesecake gets its decoration from a rustic piling of fresh fruit.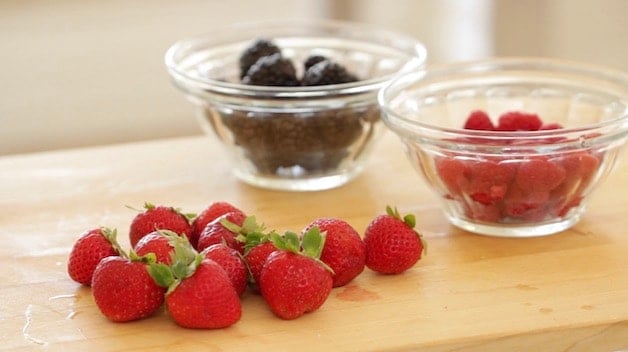 To keep it simple I use blackberries and raspberries and a few blueberries because they don't need to be peeled or chopped. Just rinse them and pile them on!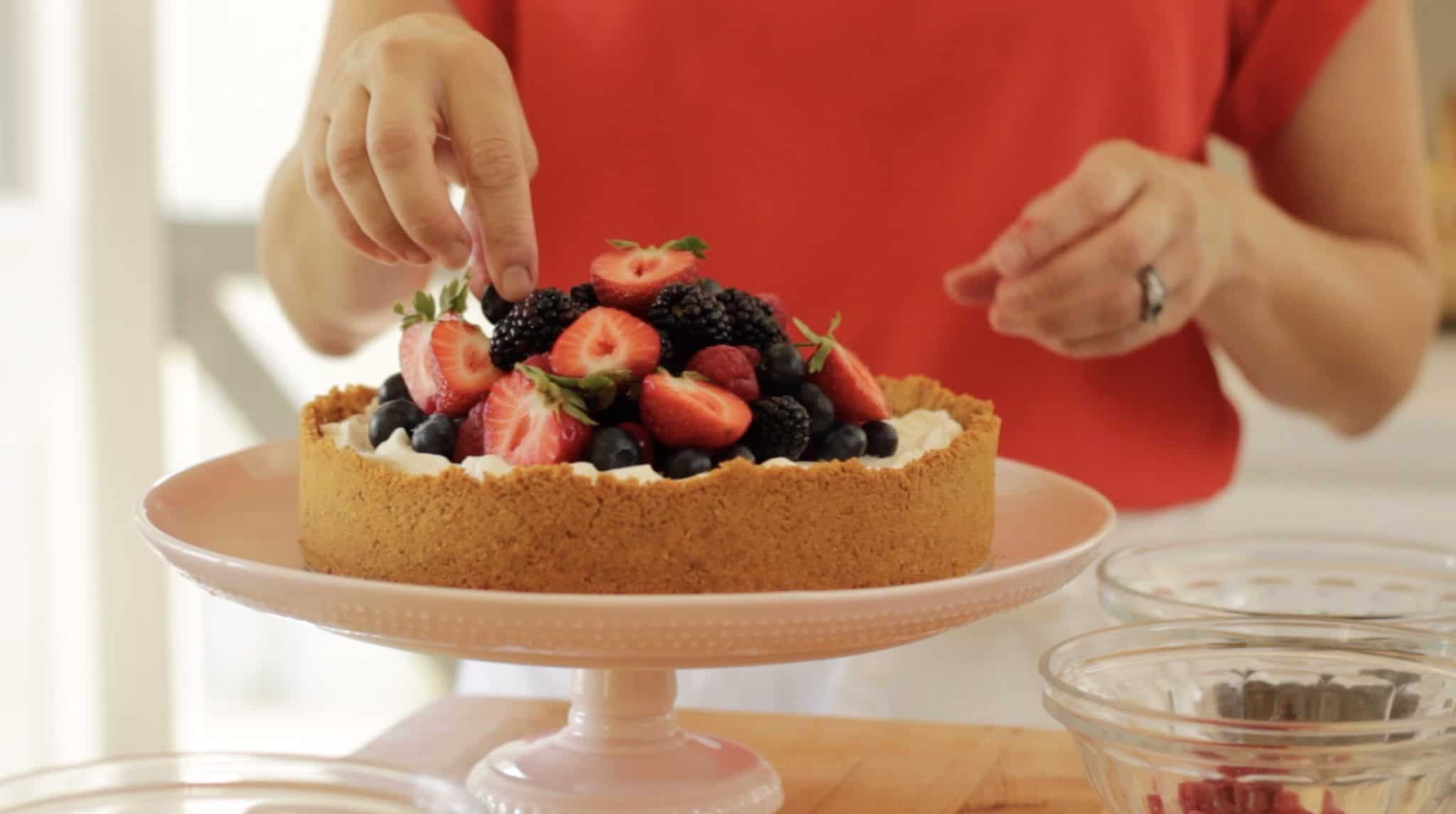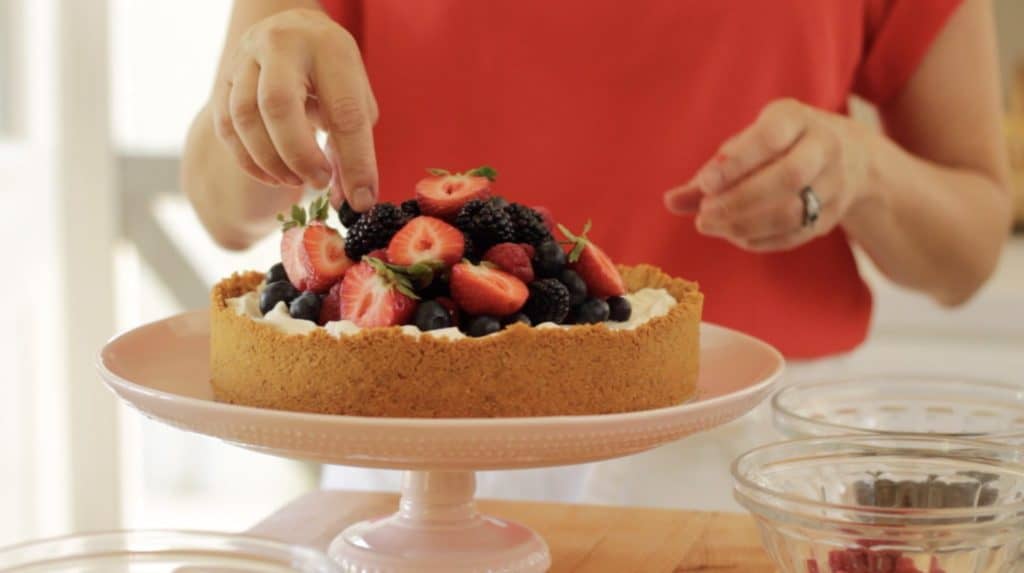 Then for some added decoration, I place a few strawberries around the fruit pile. My other tip is to use small strawberries, slice them in half and then leave the green tops on. They look so rustic and "garden fresh" that way.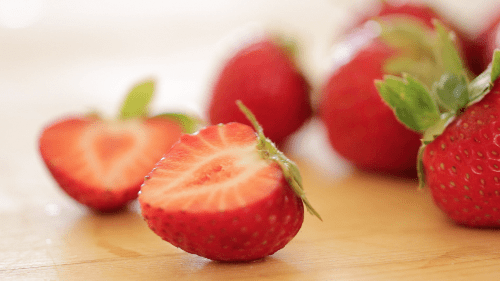 It just adds to the whole charming nature of this dessert. And hey if you grow your own strawberries you would then have little stems and blossoms to decorate with and that would be, well, just crazy cute 🙂
HOW LONG CAN YOU KEEP A NO-BAKE CHEESECAKE IN THE FRIDGE?
You could go as long as 4-5 days but I find it's best when served within a 3-day window. The longer it sits in the fridge the greater the chance your cheesecake will dry out and the soggier your crust will become.
Just be sure to wrap your cheesecake tightly in foil or plastic wrap when refrigerating it.
MORE GREAT RECIPES!
Please let me know if you make this No-Bake Cheesecake Recipe
by leaving a rating and review below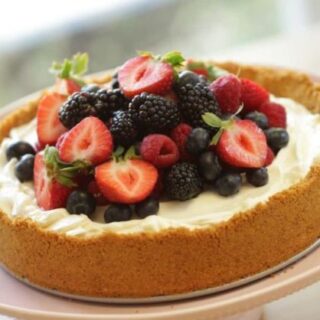 The EASIEST No-Bake Cheesecake
Total Time:
1 hour
7 minutes
This No-Bake Cheesecake topped with fresh berries is an easy and beautiful dessert for an easy dessert for summer entertaining! So delicious and beautiful!
Ingredients
For Crust:
2 Cups (475ml) Graham Cracker Crumbs
2 tsp (10 ml) sugar
pinch of salt
6 tbsp (90 ml) melted butter
For Filling:
16 oz (460 g) cream cheese
1 cup (100g) powdered sugar
1 tsp (5 ml) vanilla
1 ½ cups (350 ml) heavy cream
½ tsp (2.5ml) vanilla extract
1 tbsp (15 ml) powdered sugar
For Garnish:
1 cup (150g) blackberries
1 cup (150g) raspberries
1 cup (150g) small strawberries cut in half (I like to keep the green tops on because I think it looks rustic and pretty that way)
1 cup (150g) blueberries (for a quadruple berry cheesecake!)
Instructions
In a large bowl combine graham cracker crumbs, sugar, salt. Whisk to combine. Add melted butter and whisk until damp and clumps together. If you find it's still too dry add more melted butter in 1 tbsp increments.
Pour crumbs into a 9 inch (23cm) cheesecake pan, pressing crumbs into the pan and working up the sides, pressing until a 2 inch crust is formed.
Bake at 375F/(190C) for 6-7 minutes until golden brown. Set aside to cool.
Then beat together the cream cheese and sugar until combined. Add vanilla and beat until combined. Remove mixture in place in a large bowl.
Then whip cream on high until stiff peaks form. Add cream cheese mixture, to whipped cream and whisk until combined.
Pour mixture into cooled crust and smooth with an offset spatula. Cover with foil. Place in the fridge for at least 2 hours to set up. But overnight will be even better! It will be firmer and more like a cheesecake consistency. At 2 hours it will be a bit more "mousse like". But really either is great!
Then decorate with fresh berries in the center of the cake just before serving. Slice into wedges and serve!
Notes
save yourself some time and search out the already crushed graham cracker crumbs! Such a game changer!
Nutrition Information:
Yield:

8
Serving Size:

1
Amount Per Serving:
Calories:

331
Total Fat:

30g
Saturated Fat:

17g
Trans Fat:

1g
Unsaturated Fat:

9g
Cholesterol:

85mg
Sodium:

459mg
Carbohydrates:

4g
Fiber:

0g
Sugar:

2g
Protein:

13g