Chicken and Mushroom Crepe Recipe
This Chicken and Mushroom Crepe Recipe is a fantastic spring recipe to serve for lunch or a fancy brunch. The best part about it is most of it can be made the day ahead, leaving just the bechamel sauce, assembly, and baking to the day of your party.
This is probably not one of my most "traditional" French Recipes, but who can say no to a savory chicken crepe with bechamel sauce? This crepe recipe is really "Franglais Cooking" at best.
For another take on this recipe that uses a puff pastry topping over a crepe, which may be easier for beginners, then you must try my Chicken and Mushroom Pie recipe. For a biscuit topping try my Chicken and Biscuit Casserole.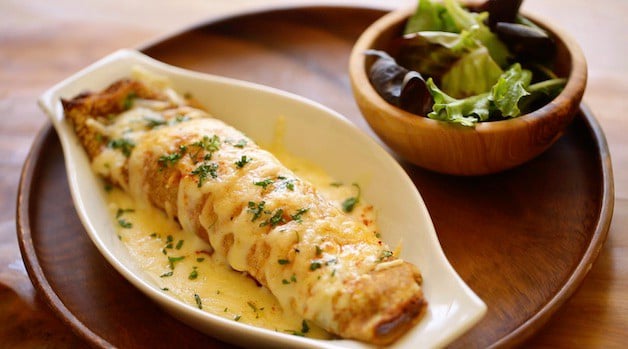 The Difference Between Crepes vs. Galettes
In Brittany, France where crepes originate from, you'll find sweet crepes made with white flour or savory crepes, or Galettes as they are called, made with buckwheat flour or "ble noir". But you don't really find a "mash-up" of savory crepes, in a white flour crepe, like this.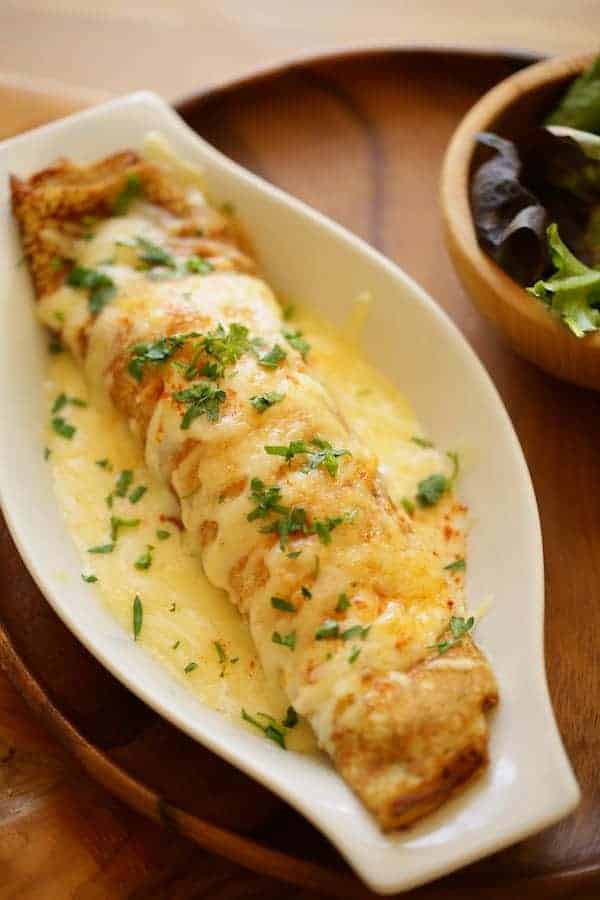 Watch My Video Demo for This Recipe Below
Recipe Pairings: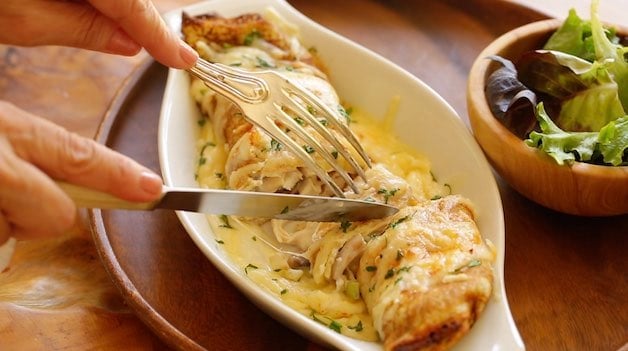 Step #1: Roast the Chicken
For this recipe, I really like to use bone-in, skin-on chicken breasts. This will give you really moist, succulent chicken.
I like to roast the chicken on a rack for even cooking and if you line your pan with foil, you'll have easy cleanup!
Once the chicken is cooled you can shred the meat off the bone with two forks.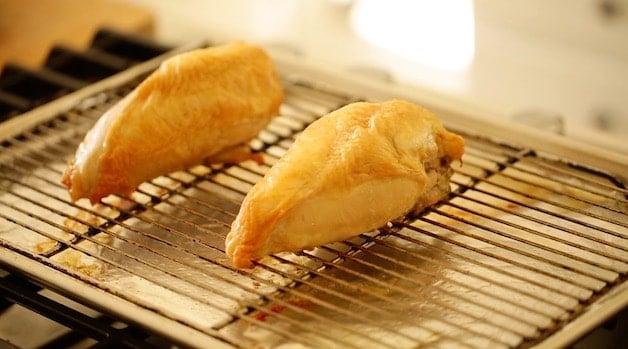 Make-Ahead Tip:
The chicken can be roasted and shredded the day before.
Place the chicken in a bowl, covered it, and refrigerate it until ready to use.
You can even roast double the chicken breast to have for other meals throughout the week, such as my BBQ Chicken Sliders or Enchiladas Suizas.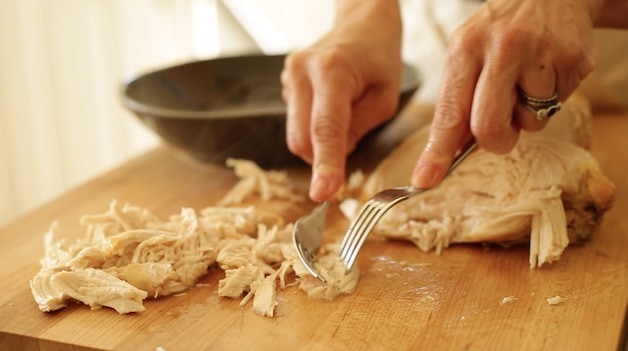 Vegetarian Option:
To make one or all crepes vegetarian, you can skip the chicken and add baby spinach instead.
You don't even need to cook it since it will steam/wilt in the oven as the crepe bakes. Just add a handful on top of the mushroom mixture when assembling.
This is an easy substitute if you need just one crepe to be a vegetarian crepe.
Step #2: Make the Crepe Batter
The secret to making crepe batter is to make it as smooth as possible so that you don't create any lumps.
You could use a blender, but who needs one more small appliance to drag out and clean?
For this savory crepe recipe, I made a slight twist on my basic crepe recipe.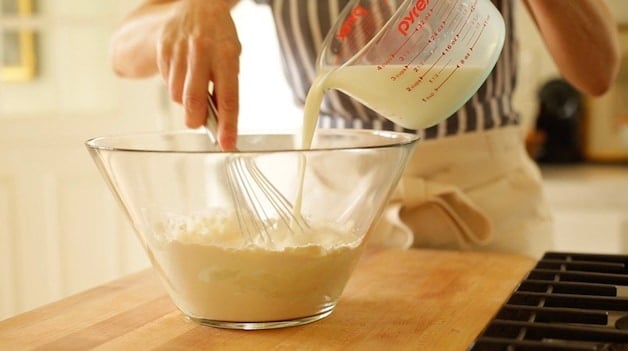 How To Make a Lump-Free Batter
Place your flour in a large bowl with the salt, whisk it together and then add the milk.
Adding the milk before the eggs and the butter, will assure a smooth, clump-free mixture from the start, a key attribute for any crepe recipe.
Then add beaten eggs to the flour mixture for continued "smoothness".
You'll also add melted butter and for a finishing touch, I like to throw in some freshly minced dill for flavor.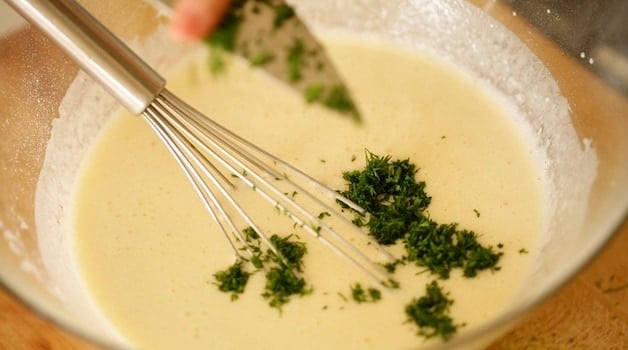 Step #3: Making the Crepes
I've been making crepes for over 10 years now, just about every Saturday morning for my kids, and I can tell you one thing with certainty!
Skip those expensive crepe pans. I find them harder to use since they burn the crepe quickly, and who needs a pan you can only use for one thing
Instead, invest in a 12" non-stick skillet you can use for crepe making as well as just about everything else!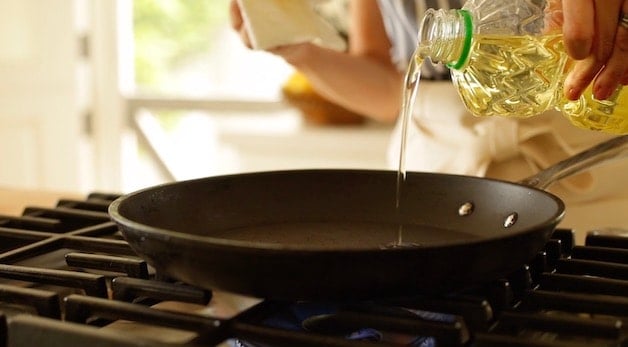 Even though the pan is non-stick, you should also grease it well with some non-flavored oil. I like to use grape seed oil or vegetable oil.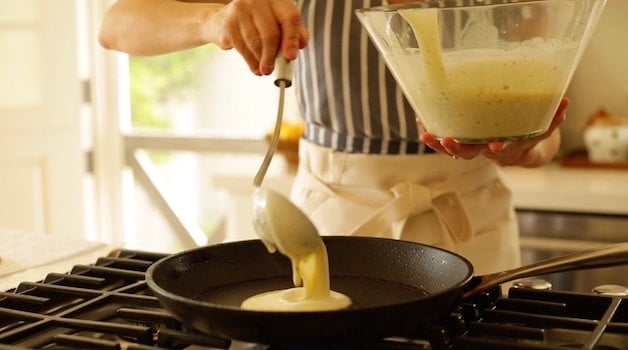 Then once it's really hot, add one full ladle's worth of batter into the crepe pan, swirling the pan around until gravity distributes it across the bottom of the pan.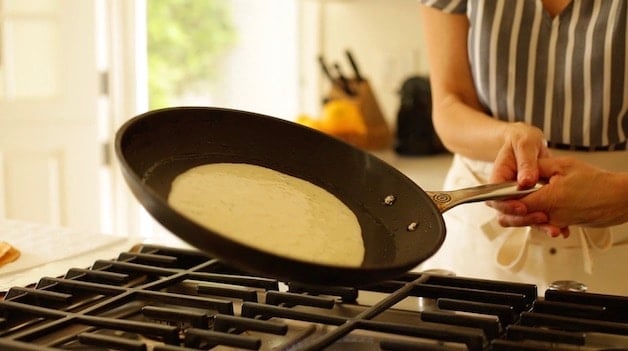 Allow the crepe to cook on the burner until the edges become golden brown. Then loosen the edges with a thin spatula, grab hold of the edge with your fingertips and flip!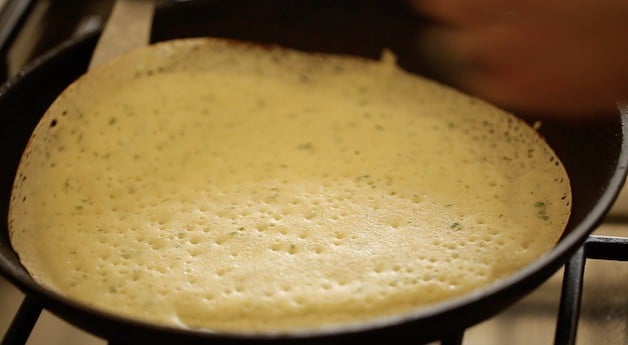 You can watch the video above or in the recipe card below to see the full flipping move "in action".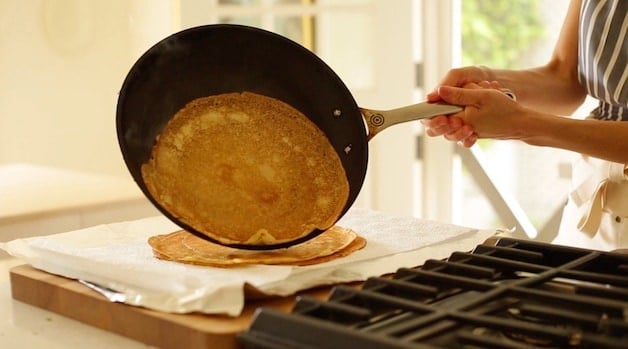 Storing The Crepes
After cooking the crepe on the other side for about 30-40 seconds more, slide the crepe out of the pan, onto a sheet of foil, lined with a paper towel.
Just make sure all your crepes are stacked in the same direction or they will stick to each other.
Once you have mastered making crepes, you'll be ready to try my Dad's Old-World Manicotti recipe, which uses crepes instead of pasta tubes!
Make-Ahead Tip:
Allow your crepes to cool completely, and then you can fold up the foil packet and place them in your refrigerator until ready to use.
It will make the rest of the recipe go quicker if the most time consuming part (making the crepes!) is out of the way.
Step #4: Make the Mushroom Filling
The filling is a combination of sautéed leeks and mushrooms.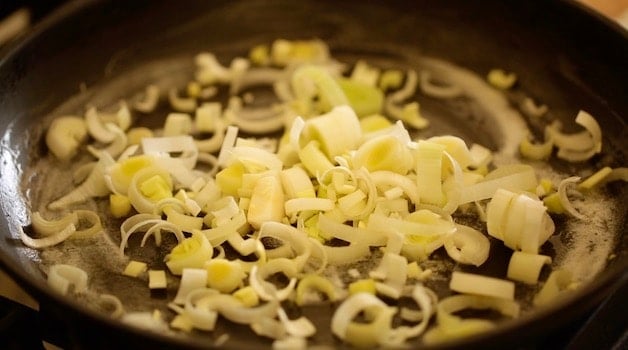 Mushroom Substitution
I know there are serious "mushroom haters" out there! So if you find yourself in this camp, just swap the mushrooms for baby spinach.
You don't even need to cook the spinach since it will steam/wilt in the crepe once it's in the oven.
But if you are a mushroom lover (like me!) then you must try my White Wine Chicken Recipe with Mushrooms

. It's another great fancy-occasion meal.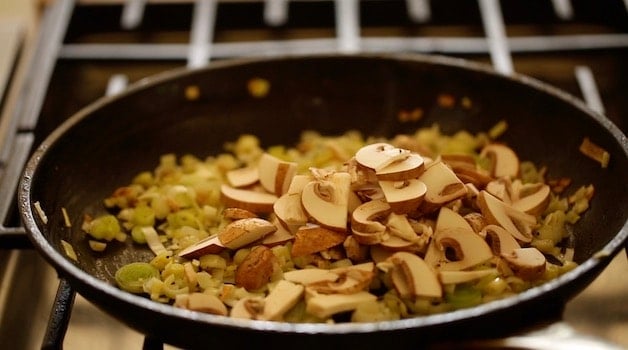 Make-Ahead Tip:
You can prep the filling a day before and keep covered in your refrigerator until you are ready to use it.
Step #5: Making the Bechamel Sauce
The sauce is really best made the day you plan to assemble and serve the crepes.
Otherwise, it gets too thick sitting overnight in the fridge and you'll have to reheat it and thin it with milk to re-use it, which then dilutes the flavor.
Once you master bechamel sauce you can use it for all kinds of things like my Creamy Sundried Tomato Pasta or my Endive Bechamel Recipe.
You can add a pinch of nutmeg to your sauce, but I prefer a minced garlic clove.
I think it adds greater flavor to the sauce and mixes well with the chicken and mushrooms.
If you have any bechamel sauce leftover you can use it for my Croque Madame and Croque Monsieur Sandwiches the next day since you don't need much!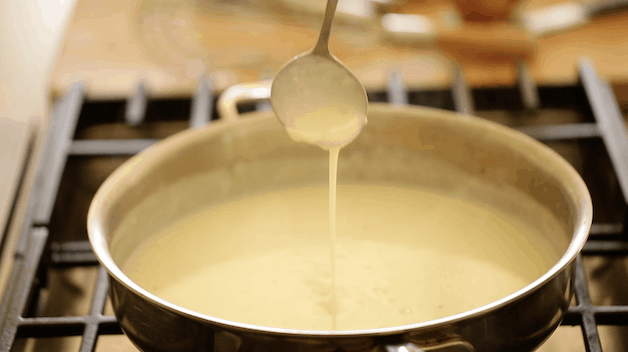 Step #6: Assembling the Chicken and Mushroom Crepes!
I like to serve this crepe recipe in pretty white gratin dishes. Since the crepes are fragile and a bit messy when you cut into them, the individual gratin dishes provide your guests with their own little boat of messy goodness to enjoy.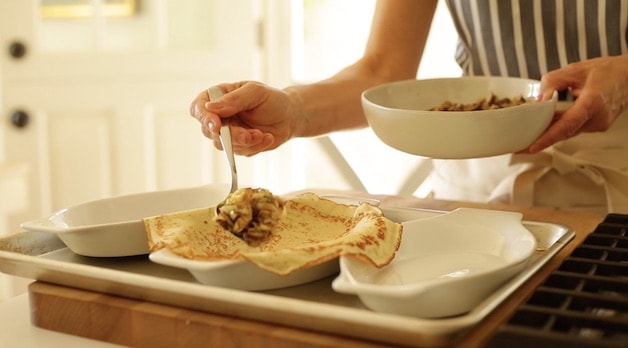 Spread the crepe out across the gratin dish, then add the mushroom mixture and the roasted chicken.

Then drizzle the bechamel sauce inside the crepe. Then roll it up. I find the gratin dishes also help to keep the crepe and its filling intact when you roll it.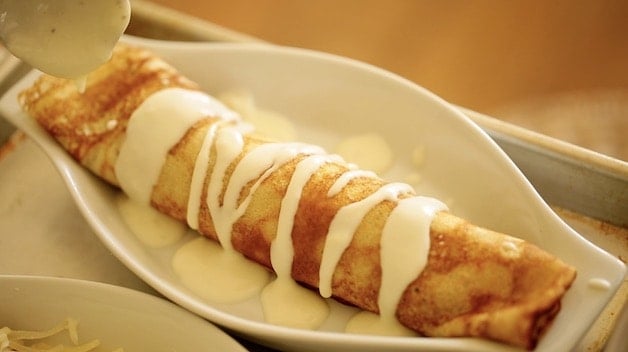 Drizzle a little more bechamel sauce on top and sprinkle with some gruyere cheese and paprika on top. Placing the gratin dishes on a sheet pan helps to transport them easily in and out of the oven.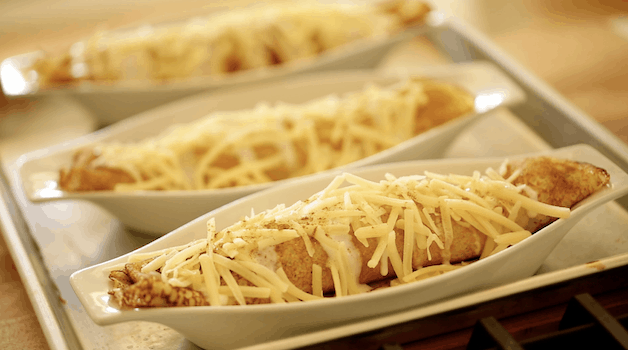 Step #7: Bake and Broil Your Crepes
Bake the crepes at 350F (175C) for 10-12 minutes to assure they'll be hot inside, then place them under the broiler to assure the cheese is really melted and bubbly.

Step #8: Garnish and Serve!
Top each chicken crepe with freshly minced parsley and serve with a side salad.
Since the gratin dishes will be very hot I like to serve them on a wooden charger.
The chargers also allow room for a 5-inch salad bowl as well.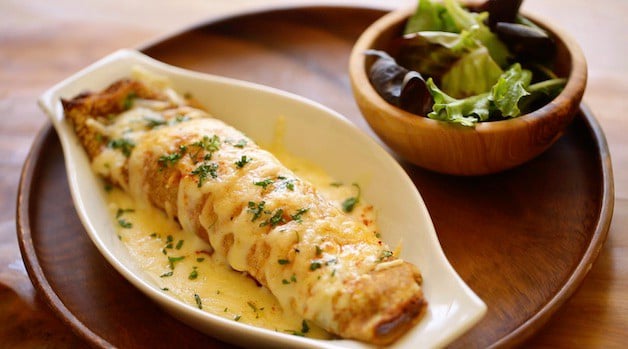 If you wanted to serve this lunch with a starter beforehand, I think my Roasted Tomato and Eggplant soup would be a great idea! The bold flavors and lightness of that soup would be a good match against the richness of the crepes.
More Great Recipes For Entertaining!
If you enjoyed This Recipe
Leave a rating and review below!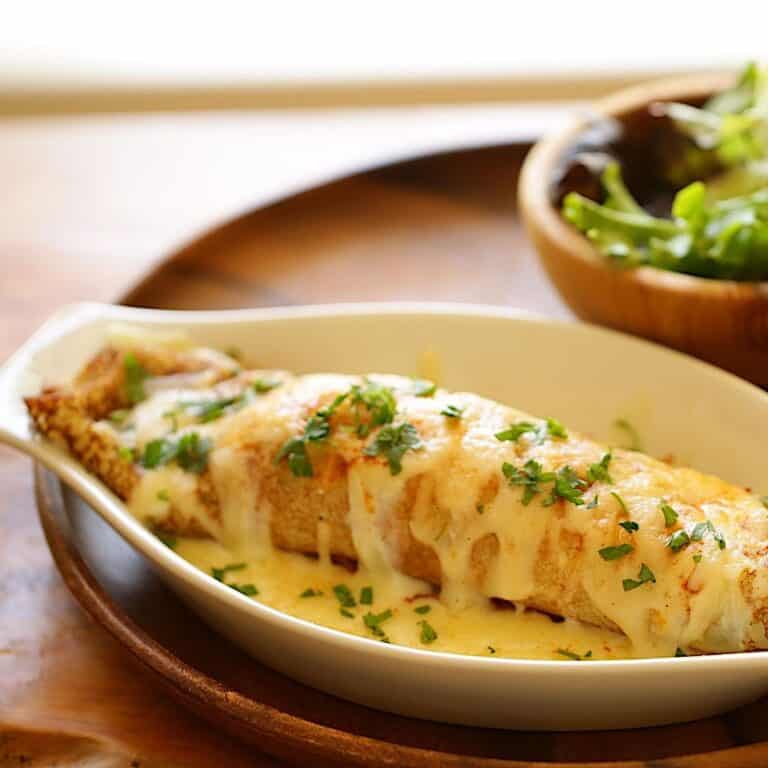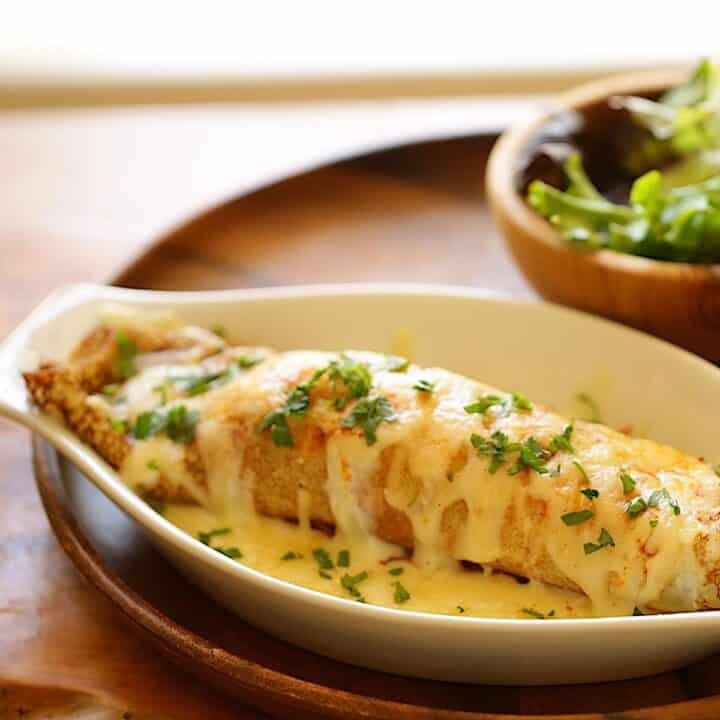 Chicken and Mushroom Crepe Recipe
Prep Time:
1 hour
30 minutes
A delicious savory Chicken and Mushroom crepe with a creamy bechamel sauce. A wonderful Chicken Recipe for that special luncheon or brunch. See notes for how you can make most of it ahead of time!
Ingredients
For the crepes:
1 ¾ cup (210g) flour
½ teaspoon (5ml) salt
2 ½ cups (595ml) of milk
2 eggs, beaten
4 tablespoon (60ml) melted butter
1 tablespoon (15ml) fresh dill
For the filling
2 chicken breasts, skin on bone in
1 tablespoon (15g) butter
4 leeks, white parts only sliced into ½ moons
2 ½ cups (300g) of mushrooms, sliced
salt and pepper to taste
1 teaspoon (5 ml) Worcestershire sauce
1 tablespoon (15ml) parsley, minced
For the Béchamel Sauce:
2 tablespoon (30g) butter
2 tablespoon (15g) flour
2 ⅓ cup (555ml) milk
1 garlic clove, minced
salt and pepper to taste
Garnish:
Garnish:
¾ cup Gruyere Cheese
Paprika to taste
3 tablespoon (45ml) Freshly Minced Parsley
Side Salad with Vinaigrette:
1 bag salad greens
1 teaspoon (5ml) Dijon Mustard
1 teaspoon (5ml) White Wine Vinegar
6 tablespoon (90ml) grapeseed oil
salt and pepper to taste
1 minced shallot
Instructions
Preheat oven to 375F (190C). Place chicken on a rimmed baking sheet fitted with a rack and roast for 35-40 mins or until the chicken is cooked through. Set aside to cool. Then shred of meat with forks and transfer to a bowl. Set aside until ready to use. This can be done the day before.
Whisk together the crepe batter. Combine flour and salt in a large bowl, whisk together and add the milk slowly, whisking until combined. Then add the beaten eggs, whisking until smooth.
Then whisk in the melted butter and the dill.
Heat a non-stick 12-inch (30cm) skillet on medium-high heat. Grease the pan with a paper towel soaked with either grape seed oil or canola or vegetable oil. Once hot pour 1 ladle full of batter into the pan and swirl the batter around until it covers the bottom of the pan. Allow to cook until set and edges start to turn golden brown.
Slide a thin spatula under the crepe enough to grab hold of it and flip it quickly with your hands. Cook on the other side for :30 seconds more.
Slide the crepe off the pan onto a cutting board and repeat the process making the crepes, and sliding them onto the cutting board.
Allow the crepes to cool while you prepare the filling.
In a large skillet melt the butter, add the leeks and cook until they are soft and fragrant. Then add the mushrooms, Worcestershire sauce, salt and pepper to taste and freshly chopped parsley. Transfer mixture to a bowl and set aside to cool.
For the béchamel sauce, melt the butter in a deep skillet once foamy add the flour, whisk together until a paste form. Slowly add the milk, whisking until combined. Simmer mixture until thickened. Then add 1 minced garlic clove and season with salt and pepper to taste.
To assemble the crepes:
Place crepe over a small gratin dish, fill with 2 tablespoon (30ml) of the mushroom mixture, top with ¼ cup (30g) of shredded chicken. Ladle 2 tablespoon (30ml) of béchamel on top. Roll crepe and drizzle more béchamel on top, and sprinkle with gruyere cheese and paprika.
Bake at 350F (175C) 10-12 mins. Then place under the broiler 1-2 minutes. Garnish with fresh parsley and serve with a tossed salad.
Notes
You can make the crepes ahead of time. Stack the crepes so that they are all going the same direction. Stack on Paper towel, lined with foil. Wrap tightly and place in the fridge.
You can also make the mushroom and leek filling ahead of time. Allow to cool completely then cover and refrigerate.
You can also roast your chicken, and shred it ahead of time too. Cover and refrigerate.
Make the bechamel sauce the day you plan to serve the crepes otherwise it gets too thick sitting in the fridge and you'll have to reheat it and thin it with milk, which will water down the seasoning. So just best to make it when you need it.
For a substitute to mushrooms you could add fresh baby spinach. In the assembly stage. Just place the cook leeks in the crepe, and hand a small hand full of baby spinach. It will steam/cook in the crepe.
Nutrition Information:
Yield:

6
Serving Size:

1
Amount Per Serving:
Calories:

404
Total Fat:

27g
Saturated Fat:

8g
Trans Fat:

0g
Unsaturated Fat:

18g
Cholesterol:

125mg
Sodium:

437mg
Carbohydrates:

17g
Fiber:

2g
Sugar:

4g
Protein:

20g