When apples are in season there is nothing more impressive than a Classic French Apple Tart Recipe. It's a dessert that is as pretty as it is delicious! Apple tarts are easier to make than you might think and guests will always think you bought it at a fancy French bakery! It's that impressive!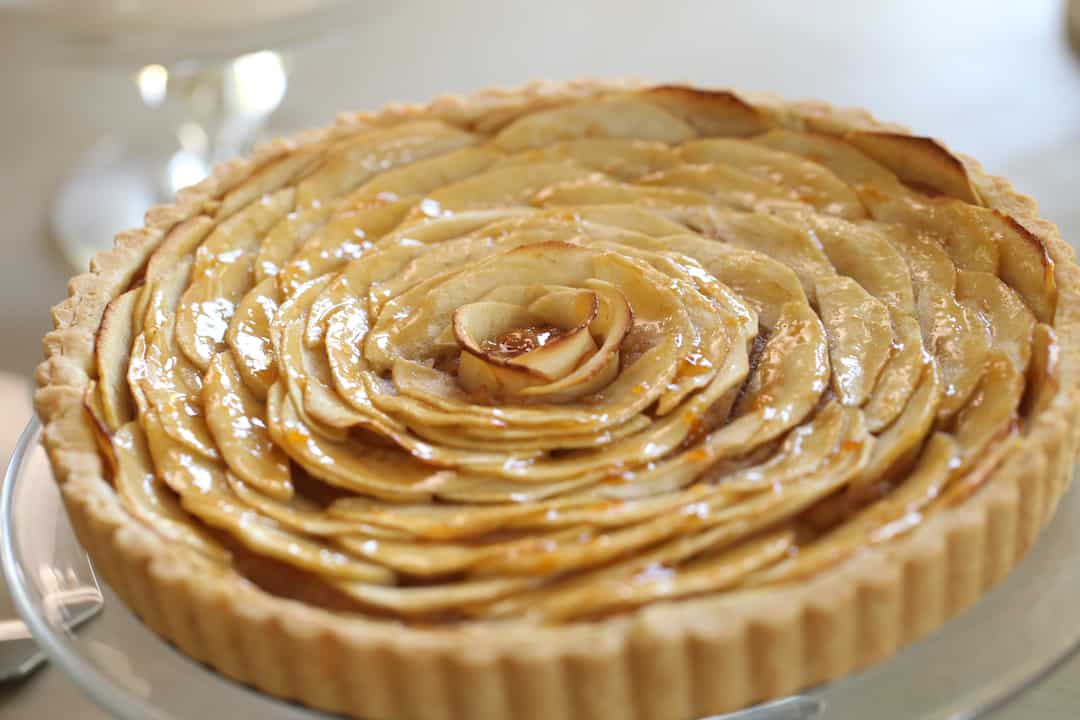 Watch How to Make My Apple Tart Recipe Below!
SUBSCRIBE TO MY YOUTUBE CHANNEL FOR MORE RECIPE VIDEOS! (IT'S FREE!)
STEP 1: Make The Pastry
In a food processor, you will combine flour, salt, and sugar, then slowly add butter until a coarse meal forms.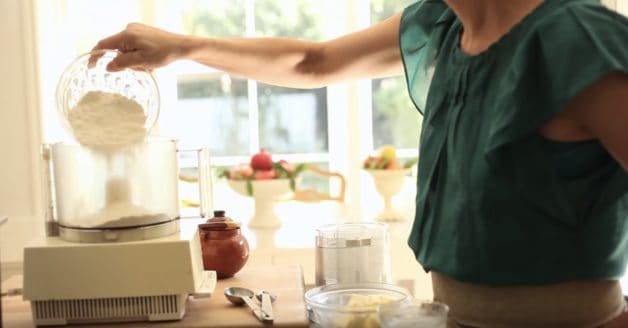 Then you'll add an egg beaten with ice water and a dough will form. Press the dough into a disk and then wrap in plastic and refrigerate for at least 1 hour. Refrigerating the dough will prevent your crust from shrinking as it bakes.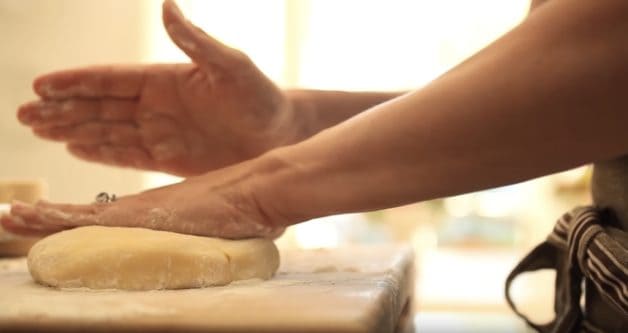 While the dough chills, you can make the apple compote. If you are really in a hurry you can also swap out the homemade apple compote for store-bought applesauce.
What's the difference between a tart and a pie?
A tart has only the bottom crust, and a pie has the bottom crust as well as a top layer of dough over the filling. Personally, I think apple tarts tend to be more elegant, we can thank the French for that.
Whereas, an apple pie tends to be more rustic. Both are equally delicious so it really comes down to the type of presentation you are after.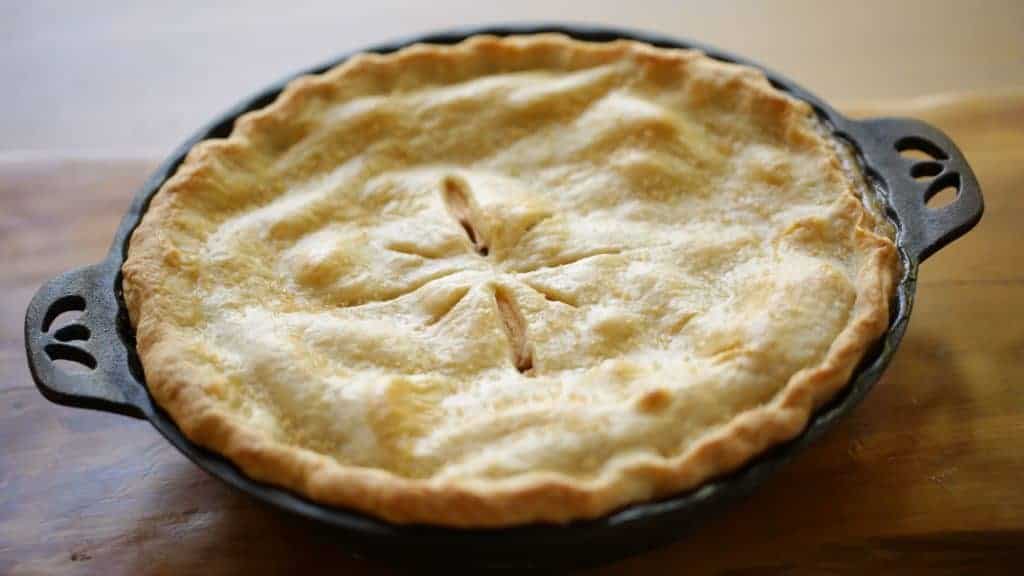 STEP 2: Make the Apple Compote
The second step to this French Apple Tart is the apple compote which adds a wonderful homemade sweetness and to this tart recipe.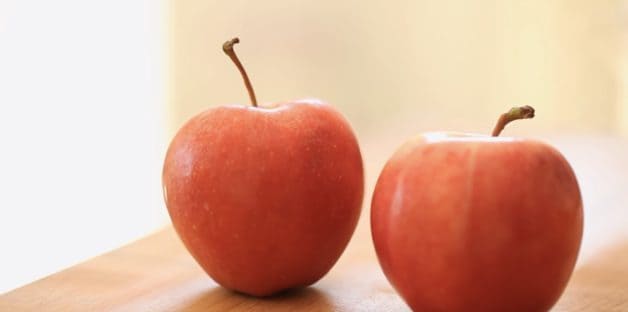 What are the best apples to use for baking?
The best type of apple to use for baking depends on how tart you like your apples and what the apple is being used for. Personally, for most apple recipes, this apple tart included I prefer a Gala apple. They are sweet and don't need much cooking time to enhance their sweetness.
Other good apples to use for baking include Golden Delicious, Granny Smith, and Honey Crisp.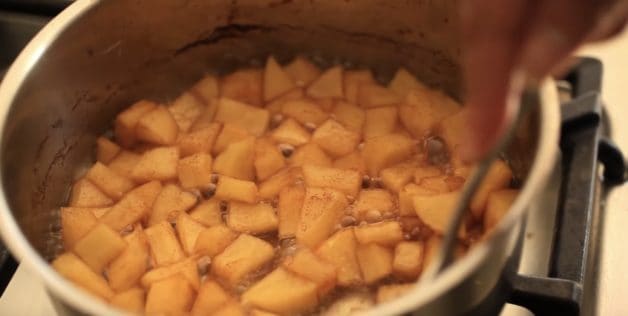 You'll cook the apples in a heavy-bottom sauce pan with sugar, cinnamon, lemon juice and apple juice for about 10 minutes.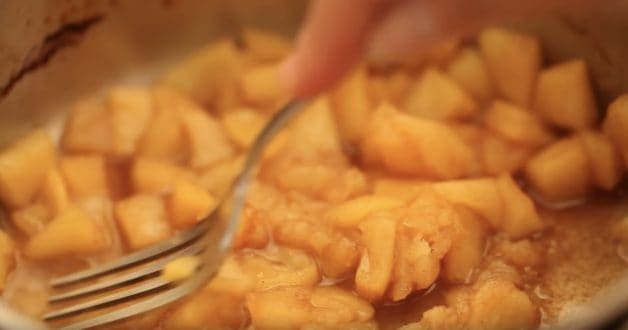 Once they are tender, you can mash the apples up with a fork, just until a coarse compote forms.
STEP 3: Slice the Decorative Apples
The arrangement of the apples on an apple tart is really what makes this dessert a true "showstopper". This is where you can let your artistry flourish! I won't lie it takes time, but none of it is hard and the results are well worth the effort!
If you'd like a recipe that is a bit quicker, but equally impressive than you must try my Easy Pear Tart recipe. This one has the same "escargot pattern" but it's made with puff pastry is comes together in a flash!
How Do You Slice Apples for a French Apple Tart?
The apple slicing is key for making sure that all the apples are roughly the same size. This will help you arrange the apples in a more decorative fashion.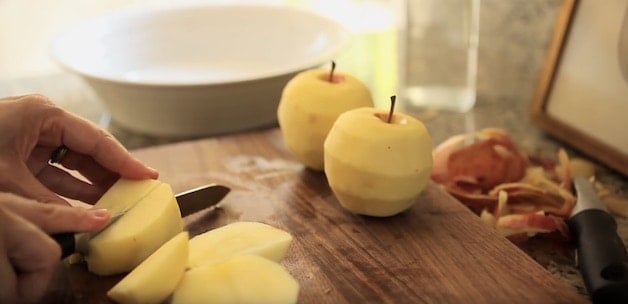 Once your apples are peeled, the best way to begin is by cutting off all 4 sides of the apples. I think of these as the "apple cheeks". This will leave you with a square core.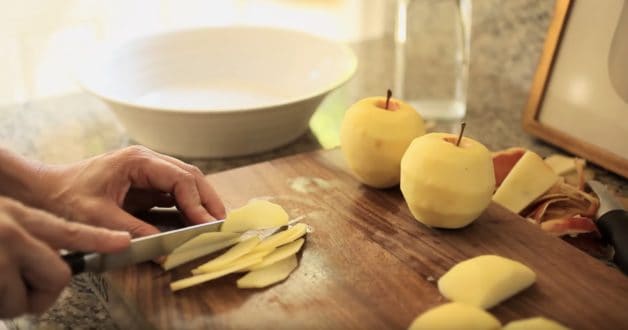 Then place each of the four apple sides on their flat side and thinly slice the apples so that each slice is about 1/8″ thickness. You want the apples sliced thinly so that they cook quickly.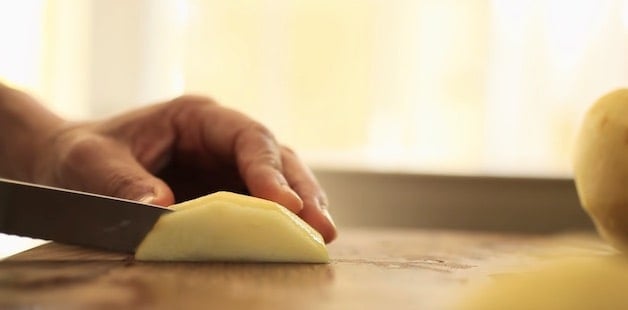 It helps to do this with a slightly serrated knife. The serrated knife will grip the apple in a way that helps to stabilize it which will result in uniform slices.
STEP 4: Add the Apple Compote
Then you can fit your tart tin with the pastry dough and trim the edges so that they are flush with the tin.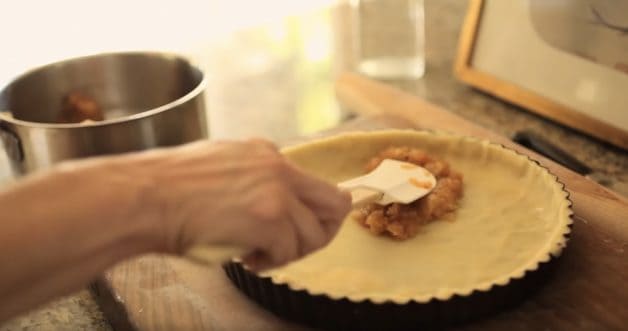 Smooth out the compote to cover the tart bottom. For best results, you'll also want to invest in a removable bottom tart tin. This will allow you to release your tart easily and show off the decorative fluting once it's baked. (This link goes to Amazon where I am compensated on products sold at no cost to the consumer)
What does a tart pan look like?
The difference between a pie tin and tart pan is the shape and depth. Tart pans usually have steeper sides and are more shallow than pie tins. Most tart pans are metal and have fluted sides. The best ones have removable bottoms for easy release of the tart after its baked.
TIP: Make sure your compote has completely cooled before adding it to the tart or it will melt your chilled pastry!
STEP 5: Arrange the Apples
The easiest way to decorate an apple tart is to begin at the outer perimeter of the tart, adding the apple slices all around the tin slightly overlapping the apples and assuring they are the same height.
TIP: Make sure your apple slices are the same height. This will add to the beauty of your tart. You can slice off the flat bottom part of the apple slices to make them shorter if need be.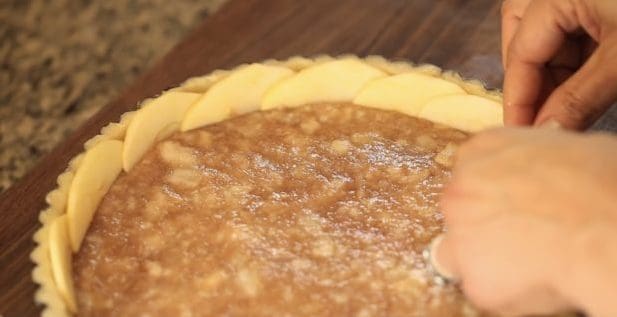 Continue adding apples staggering each row to create a more decorative design.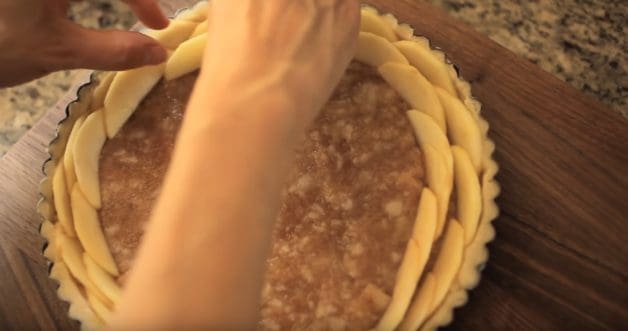 Once you get to the center you'll have a small hole.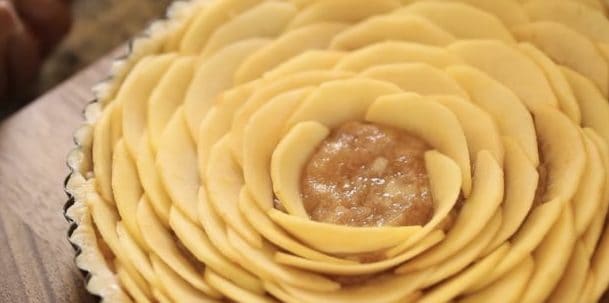 Then fill that hole with 2 paper-thin apple slices, slightly bent, in opposite directions. This will create the illusion of a decorative rose in the center.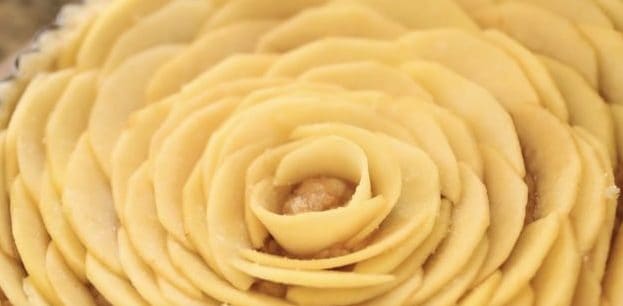 Then sprinkle white sugar on top to caramelize the apples when they bake.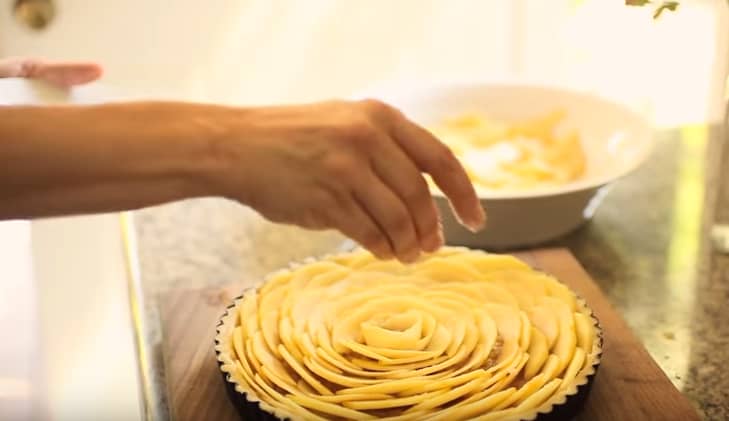 STEP 6: Bake the Apple Tart
You'll bake the apple tart at 400F (200C) degrees to begin, this will set the pastry, then reduce to 350F (175C) degrees and continue baking.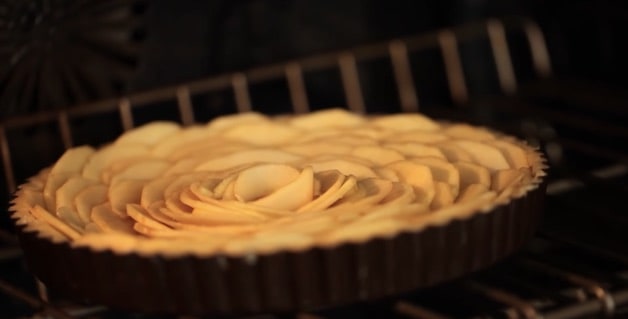 Starting at the higher temperature allows you to skip the "blind baking" step with this tart recipe and prevents your tart shell from shrinking too much. Just remember to reduce the temperature! (full instructions below!)
STEP 7: Brush The Apple Tart with Jelly
The mark of a classic French Apple Tart is the shiny topping. This can be achieved by heating apple jelly or apricot jelly in the microwave and then brushing the tart with the liquified jelly after it's baked.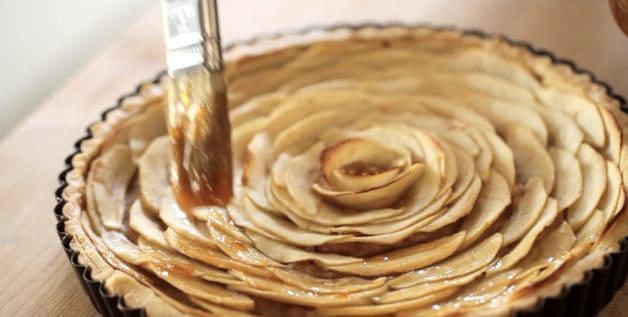 I prefer the apricot jelly because I think it adds a nice sweet-tart flavor on top. Just be sure to get the jelly (which is clear and smooth) as opposed to the "jam" which has bits of whole fruit in it and will be too chunky for brushing.

It's best to leave your apple tart out at room temperature before serving. you can serve it with homemade whipped cream or vanilla ice cream.
Can You Freeze a French Apple Tart?
Personally, I wouldn't freeze an apple tart because the apples don't do so well when thawed out. Instead, freeze the dough and the compote and thaw them in the refrigerator the day before you plan to bake your tart.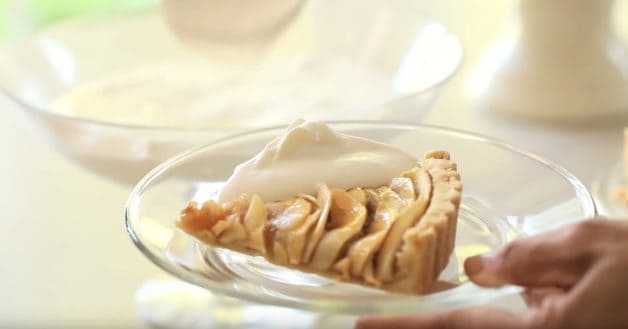 LOOKING FOR MORE FRENCH DESSERTS?
PLEASE LET ME KNOW IF YOU MAKE THIS RECIPE
BY LEAVING A RATING AND REVIEW BELOW!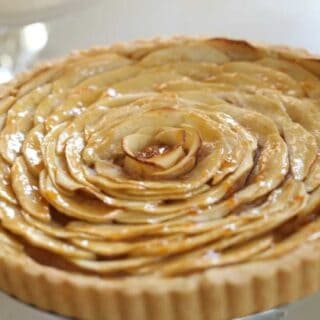 French Apple Tart Recipe
Total Time:
2 hours
35 minutes
Impress your friends and family with this classic French Apple Tart Recipe perfect for entertaining. Much easier than it looks!
Ingredients
FOR CRUST
1 ¼ cups flour (150 g)
1 tbsp sugar (12 g)
¼ tsp salt (1.5 g)
1 stick cold unsalted butter, cubed (120 g)
1 egg yolk
2 tbsp ice water (30 ml)
FOR COMPOTE:
3 gala apples, peeled, cored and cut into chunks
2 tbsp sugar (25 g)
¼ cup of apple juice (60 ml)
¼ cup of water (60 ml)
1/8 tsp of cinnamon (2 g)
zest of 1 lemon
FOR TOPPING:
2 gala apples, peeled, cored and sliced 1/8 " thin
½ tsp of sugar (2 g)
2 tbsp apricot jam, heated until liquefied (30 ml)
juice of ½ a lemon
FOR WHIPPED CREAM:
2 cups of heavy cream (480 ml)
2 tbsp powdered sugar (13 g)
1 tsp vanilla extract (5 ml)
Instructions
In a bowl of a food processor combine flour, salt and sugar and pulse until combined. And butter cubes a few at a time, pulsing quickly until dough resembles a coarse meal. Beat egg together with water. Add egg mixture, slowly, pulsing just until dough comes together. Turn out onto a floured surface and roll into a ball and then pat down into a disk. Wrap disk in plastic and refrigerate for 30 minutes (or pop in the freezer for 10)
Meanwhile, place apple chunks, sugar, juice, water cinnamon and zest in a heavy-bottomed sauce pan. Cover and bring to a boil and let cook for 10 mins.
Simmer uncovered until most of the liquid is evaporated. Mask apples into a paste with a fork. Allow to cool completely, it will thicken as it cools.
Roll out dough onto a floured surface and fit into a 9" tart pan. Spread a single layer of compote on the bottom, and place in freezer while you prep your apples.
Peel, core and slice apples very thin, about 1/8 " thick. Place in bowl and squeeze with lemon juice to prevent browning.
Remove tart from the freezer. When placing the apples the idea is to create an escargot pattern. Starting from the outside and working your way into the center. Layer each apple, cut side down, one slightly overlapping the other, making your way all around the tart until you reach the center.
Bake at 400F (200 c) for 15 minutes and then reduce heat to 350F (175 c) and bake for 20 more minutes, or until golden brown. Then place under the broiler for 1-2 minutes just until the apples begin to get lightly charred.
Place the jam in the microwave and heat on high for 15 secs or until melted. Brush tart with jam to create a nice shine. Et voila!
Serve with vanilla ice cream or a dollop of homemade whipped cream.
For whipped cream place all ingredients in the bowl of an electric mixer and whip on high until soft peaks form.
Notes
Make sure your compote has completely cooled before doing this or it will melt your chilled pastry.
Starting at the higher temperature allows you to skip the "blind baking" step with this tart and prevents your tart shell from shrinking too much. Just remember to reduce the temperature!
This tart is really best served the day it is made. However you can prepare the components ahead of time to save on the "day of prep". You can make the tart dough, cover in plastic wrap and refrigerate, prepare the compote, make the whipped cream cover and refrigerate. Then all you have to do the day of is assemble and bake
Recommended Products
As an Amazon Associate and member of other affiliate programs, I earn from qualifying purchases.
Nutrition Information:
Yield:

8
Serving Size:

1
Amount Per Serving:
Calories:

508
Total Fat:

34g
Saturated Fat:

21g
Trans Fat:

1g
Unsaturated Fat:

11g
Cholesterol:

121mg
Sodium:

114mg
Carbohydrates:

48g
Fiber:

4g
Sugar:

27g
Protein:

5g