Beth's Puffy Egg Bake Casserole
This puffy egg bake casserole is one of my go-to brunch recipes. Anybody who knows me well has enjoyed this casserole and once they try it, they always leave with the recipe! It enjoys neck-and-neck popularity as my Foolproof Spinach Quiche Recipe.
It's so easy, so delicious, and perfect for any springtime occasion like Easter, Mother's Day or even Father's Day. For more special occasion breakfast ideas try my Dutch Baby Pancake Recipe or my Blueberry Waffles.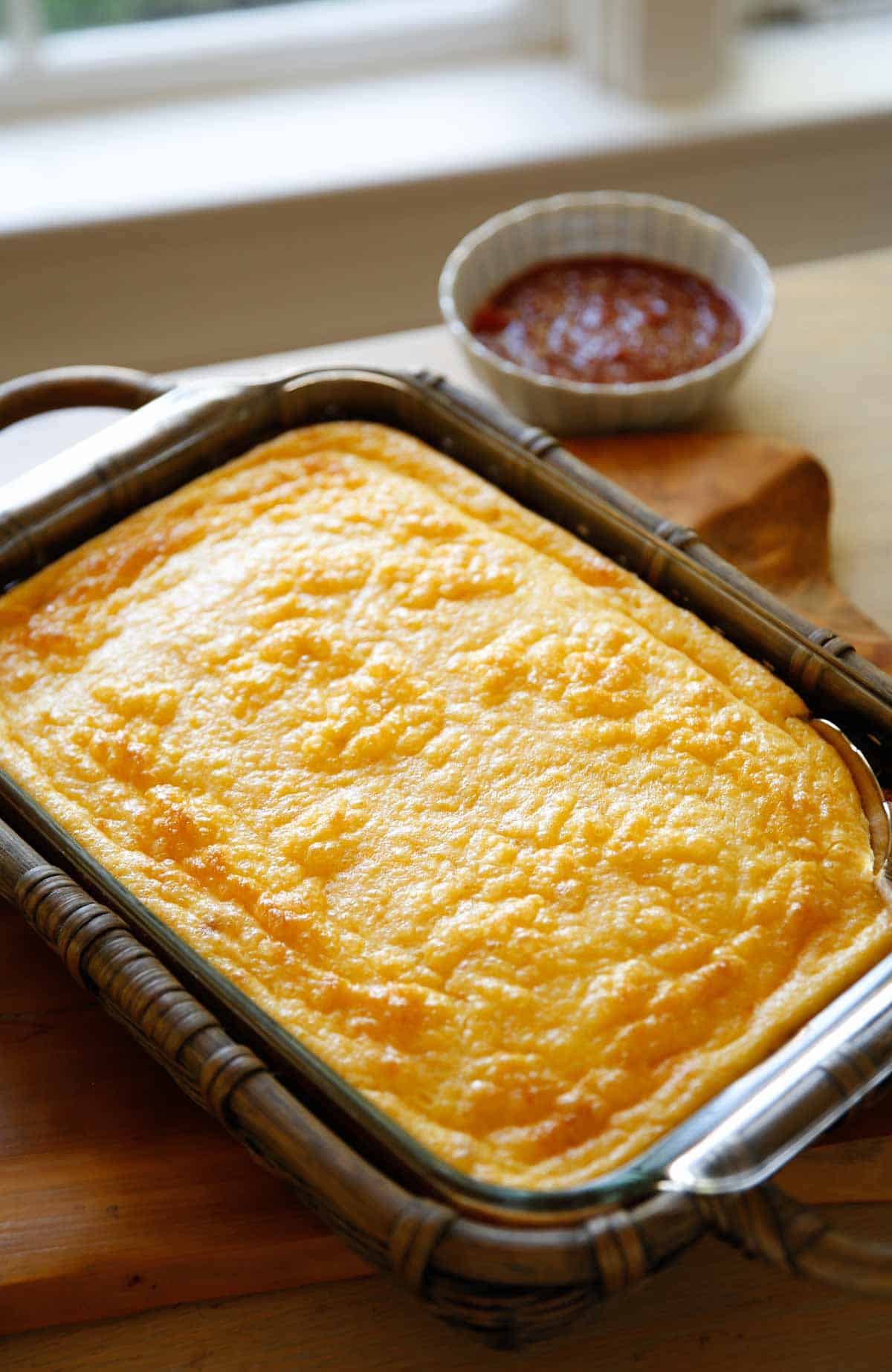 And the best part is you can prep it the night before and then all you have to do is bake! Looking for more egg bake recipes? Try my Egg Souffle Bake, Easy Egg, and Goat Cheese Casserole, or my Christmas Morning Mini Egg Bakes.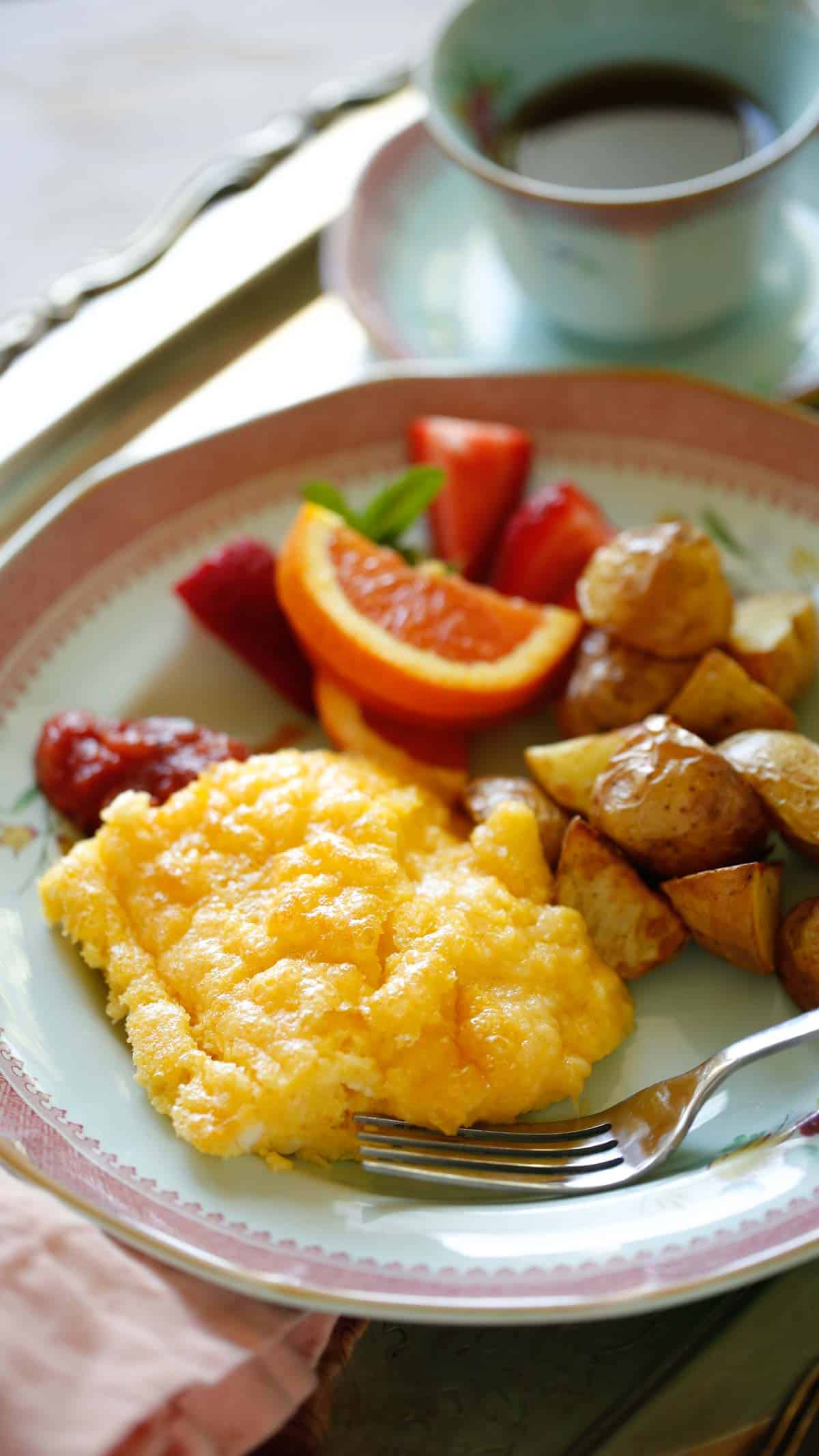 My Most Requested Recipe
This recipe comes from a Brunch Episode I did for Kin Community's YouTube Channel years ago. Out of all the recipes I did for Kin's Menu Series, this recipe is the one viewers keep looking for on my blog. So here it is!
The Ingredients:
What I love most about this egg bake recipe is the fact that it uses only 6 ingredients! Many of which you may already have on-hand.
Eggs This recipe calls for a full dozen of eggs, which sometimes throws people, but it is meant to feed 8-9 people. You can get away with using 10 eggs if that's all you have in the fridge. In a pinch I've done that too.
Cottage Cheese This must be the strangest ingredient for an egg bake, but it's what really gives this recipe it's fabulous souffle-like texture! Look for the small curd variety, it works best.
Melted Butter Ensures your eggs won't be dry, but instead fluffy and flavorful
Flour I know another strange ingredient for an egg dish, but it helps give the eggs structure and makes the casserole easier to slice. Just trust me on this one, don't skip the flour.
Baking Soda Gives the eggs a bit of a lift and works well with the flour to give the casserole its beautiful texture.
Cheddar Cheese I like to use the finely shredded Mexican Blend Cheese. The finely shredded will melt better into the eggs while it bakes.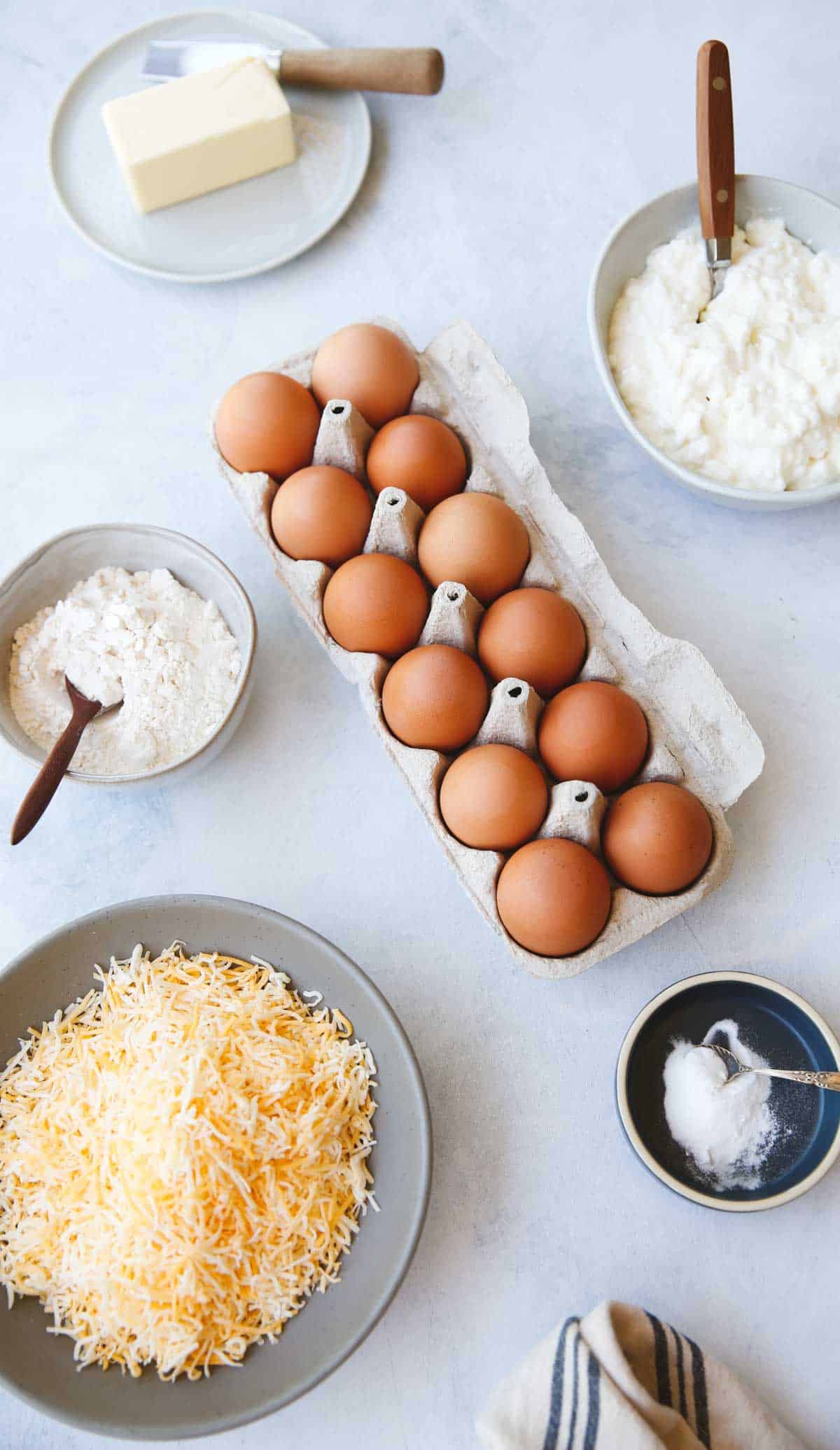 Mixing the Egg Batter
Be sure to mix the batter in a large mixing bowl, you'll need the extra room.
Once combined, I'll warn you, this mixture will not look appetizing, but trust me a delicious fluffy, egg bake casserole is just 30 minutes away!
Once the batter is mixed, a nice addition for a little heat are some Jalapeños, fire-roasted chilis or Serrano peppers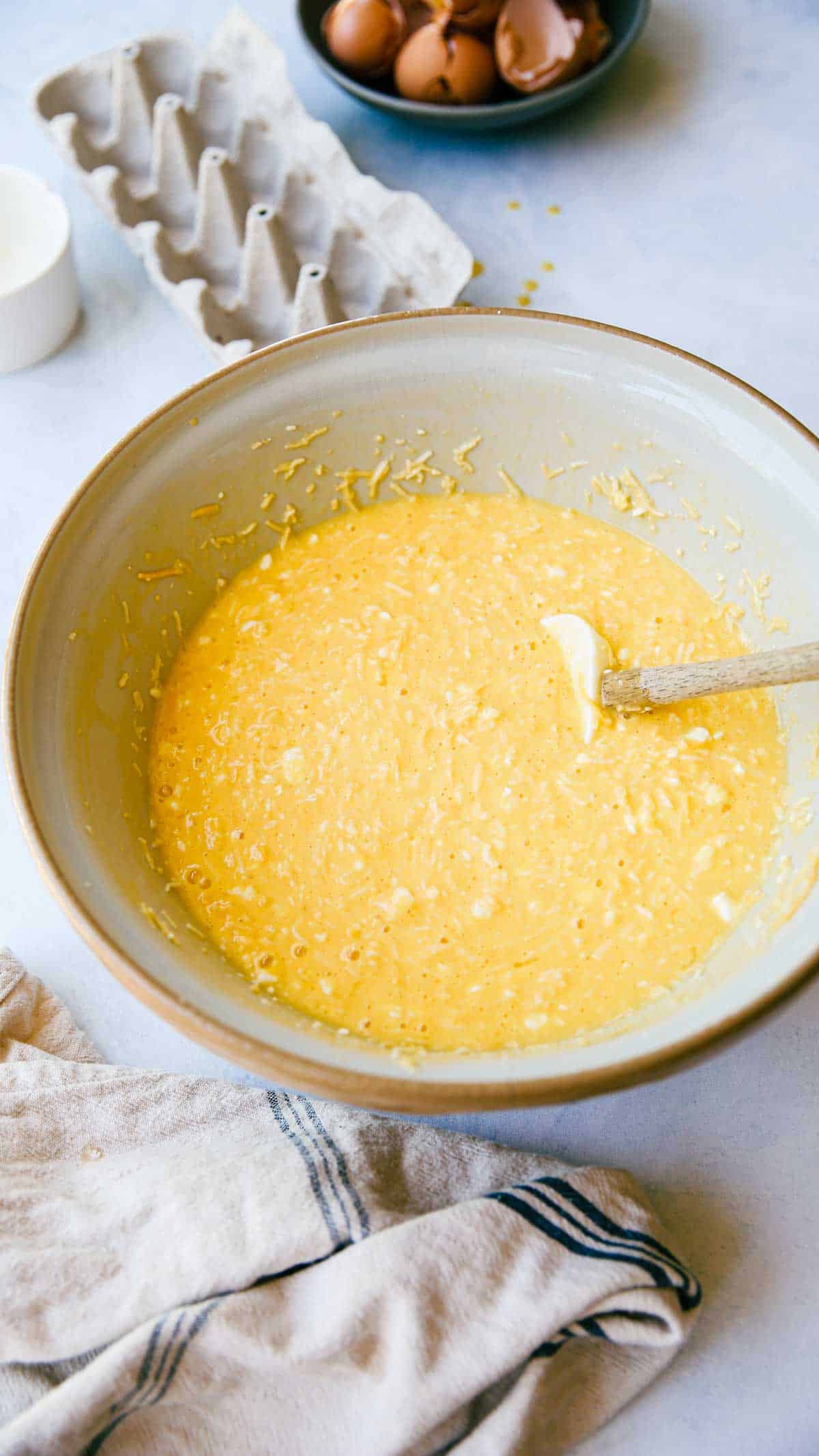 Make-Ahead Tips
You can whip this recipe up the night before and all you have to do is bake it off the next day!
Personally, I even the pour the batter into the casserole dish (be sure it's greased first) then cover and refrigerate it over night.
If you go the "make-ahead route" be sure to let it sit out at room temperature for 15 minutes before baking to come up to room temperature.
This will ensure it will bake through, before becoming too browned on top.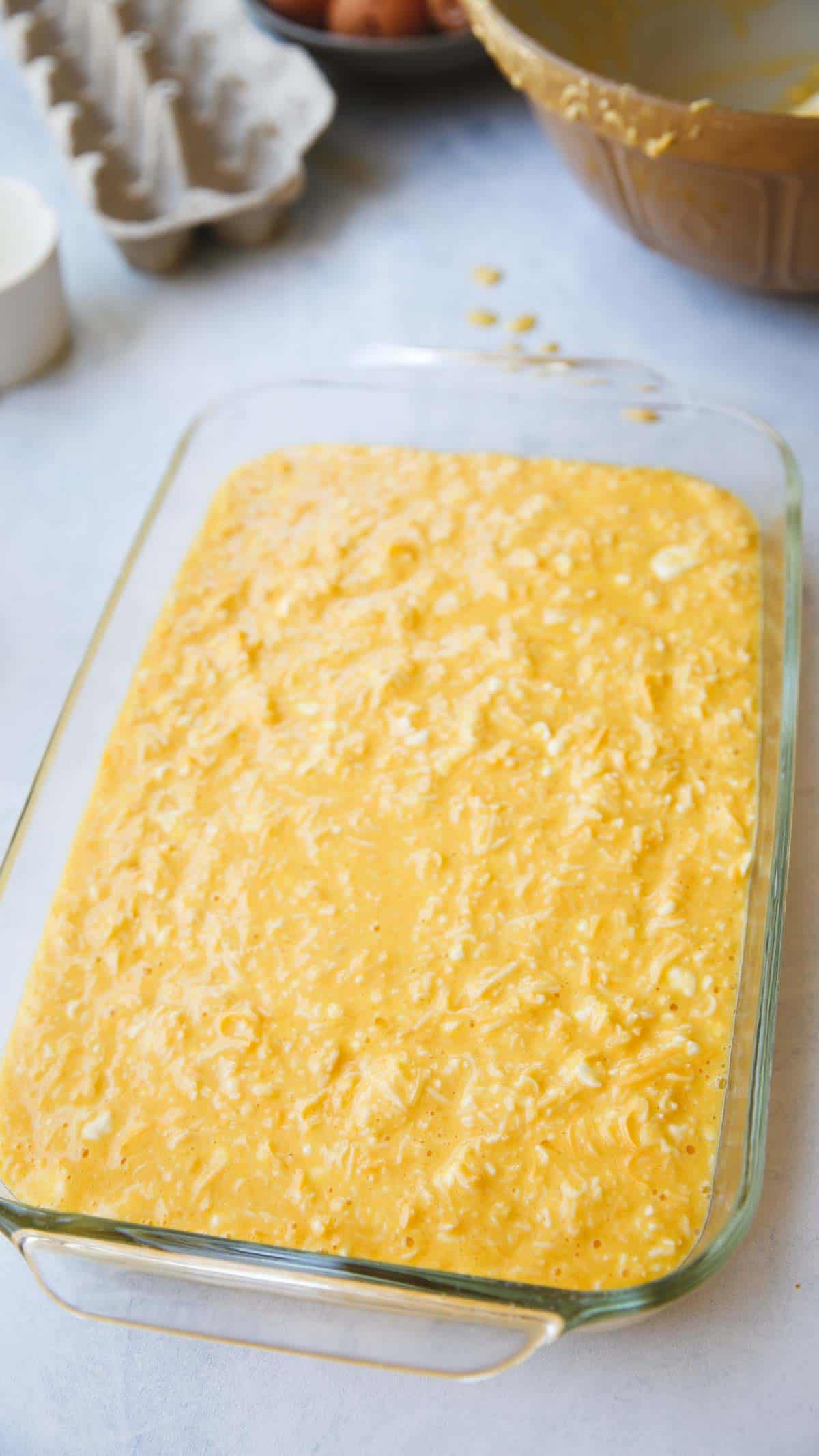 Serving Tips: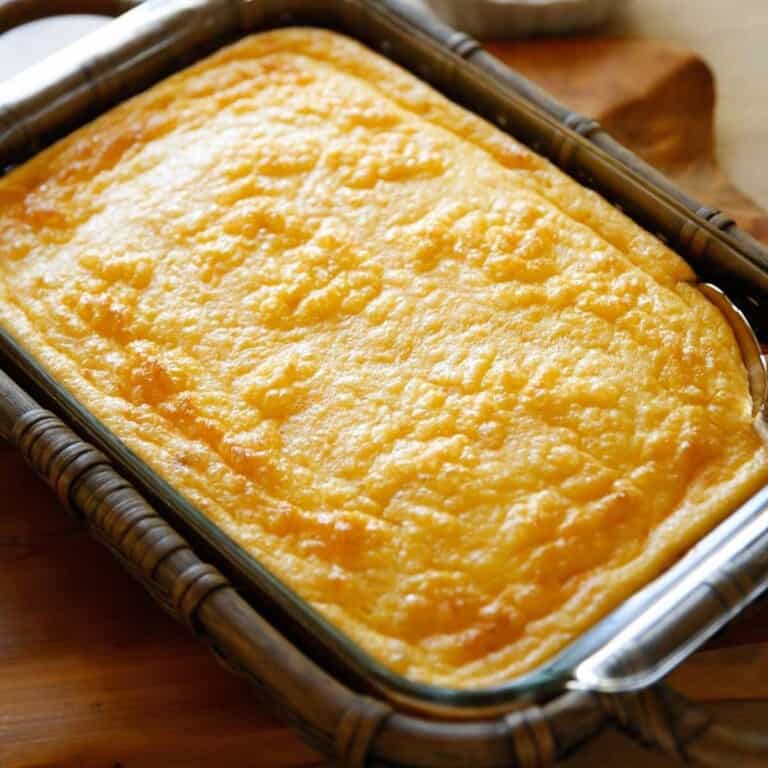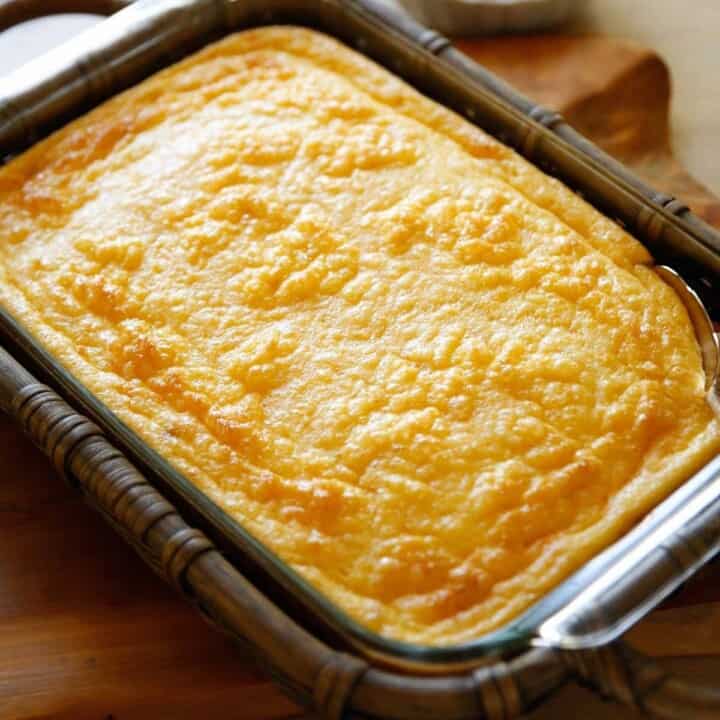 Beth's Puffy Egg Bake Casserole
A delicious egg bake casserole for any springtime occasion. It's light, airy and so easy to put together!
Ingredients
12 Eggs
16 oz (453g) of cottage cheese, small curd
1 teaspoon (5ml) baking soda
½ cup (64g) of flour
½ cup (120ml) of melted butter
16 oz (453g) of finely shredded Mexican Blend Cheese
Instructions
Preheat oven to 350F (175C)
Whisk together the eggs and the cottage cheese until combined, then add the melted butter. Whisk until combined set aside.
In a small bowl whisk together the flour and baking soda, and whisk into the egg mixture.
Stir in cheese with a wooden spoon or spatula.
Pour batter into a 9 x 13 (23x33cm) greased baking dish.
Bake for 30-35 mins. Serve with hot sauce or salsa.
Notes
An optional addition to this casserole would be some fire-roasted chilis or Jalapenos.
If making the batter the night before, allow it to sit out at room temperature for 15 minutes before baking. This will assure the center is fully baked before the top gets too brown.
If the casserole gets too brown while in the oven, cover it with foil until fully baked inside.
For a less cheesy casserole you can cut the quantity of cheese in half and it will still be good!