This Cappuccino Muffin Recipe is the recipe you didn't know you needed in your life. They are light and moist and flavored with just the right amount of coffee and chocolate chips. Such a winning flavor combination you'll be adding this recipe to your weekend rotation in no time!
If you have enjoyed my Strawberry Lemon Muffins or my Blueberry Muffins this Cappuccino Muffin is sure to become your new favorite!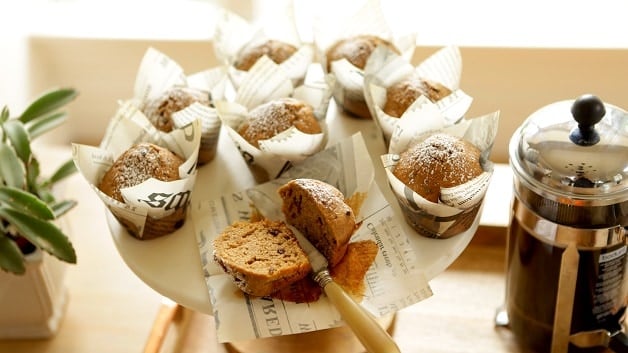 Make it a Meal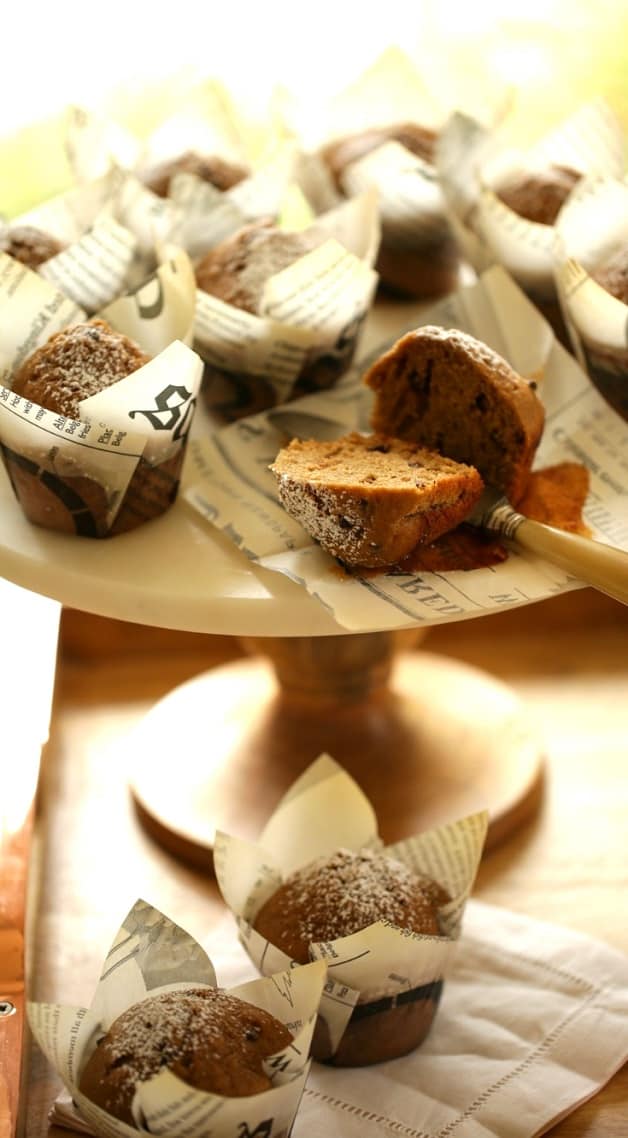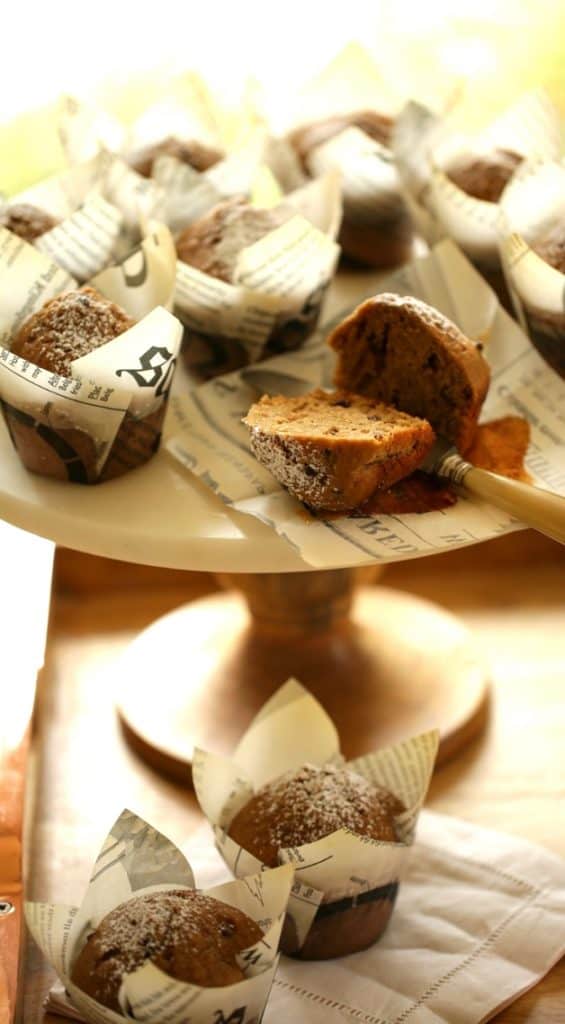 Watch a Video Demo of This Recipe Below!
Subscribe to My YouTube Channel and Never Miss a Video!
Step 1: Make the Batter
This recipe is so easy and only requires a few steps. You'll be enjoying these delicious morsels in no time!
In a bowl, you'll add flour, baking powder, salt, and ground cinnamon.
The cinnamon gives the muffin a nice warming undertone which is reminiscent of a cappuccino.
Set the dry ingredients aside and then mix the wet ingredients.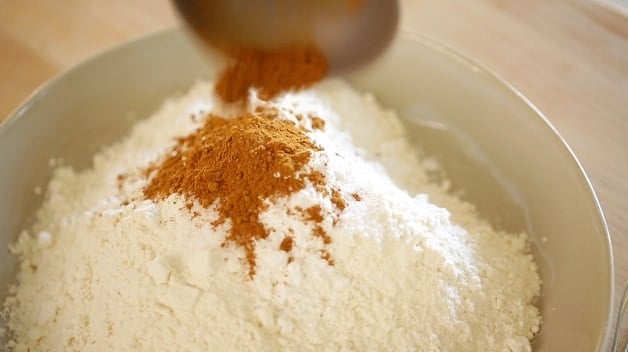 Espresso Powder or Strong Coffee
For this recipe, I prefer to use espresso powder for a deeper, richer coffee flavor but you could also use instant coffee too.
Then just add the milk and then set the coffee mixture aside.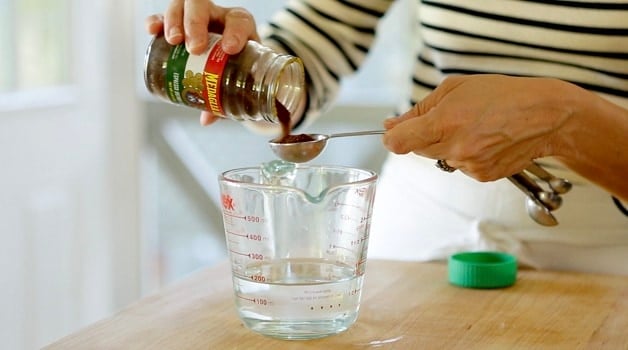 The Secret Ingredient That Makes these Muffins So Moist
Then in a separate bowl, you'll whisk up your wet ingredients. The secret to the light and moist texture of these muffins is vegetable oil!
It also prevents having to drag out the electric mixer to cream the butter!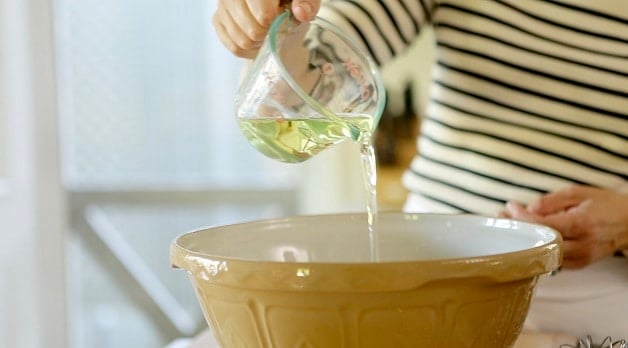 Don't Be Offput By The Espresso
As tempting as it might be, this coffee mixture isn't that great as a drinkable beverage, but when you bake with it creates the most fantastic coffee flavor!
So if you do taste it first, don't be put off by the flavor, espresso powder really shows its flavor best in baked goods or puddings!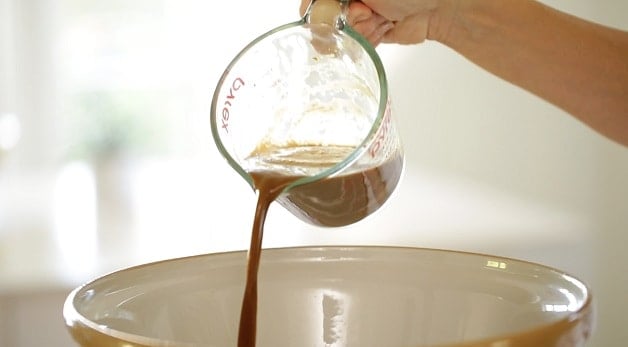 Don't Overmix!
Resist the temptation to over-mix.
In fact, muffins tend to do better when a bit under-mixed! Otherwise, the over-mixing will result in a tough muffin.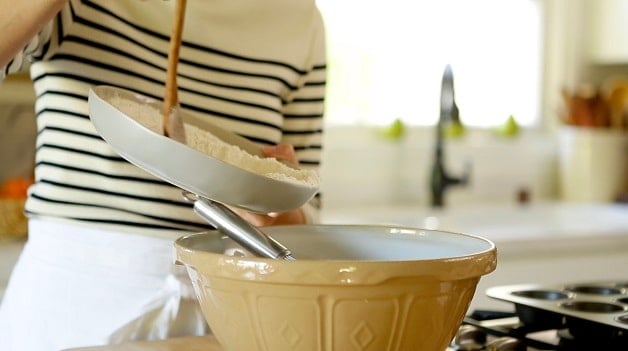 Use the Mini Chocolate Chips vs Full-Size Chocolate Chips
I use mini chocolate chips to avoid a sugar rush at breakfast!
I find these complement the coffee flavor nicely without going overboard
They also fit better in a standard muffin without going overboard.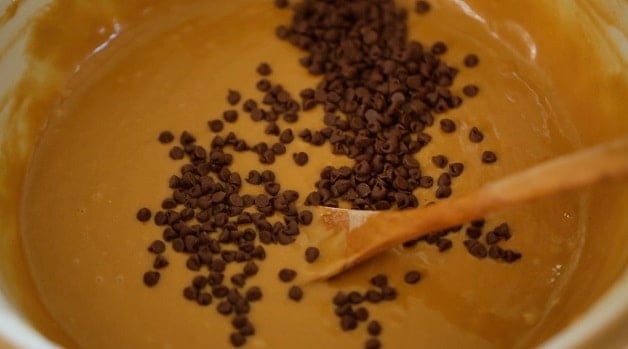 Step 2: Bake the Muffins
This recipe makes 12 large muffins, so you will want to use a larger cupcake liner.
I recommend using these cute tulip-shaped muffin papers because they hold more batter and will create a larger muffin.
Otherwise, regular cupcake liners are too small for these muffins.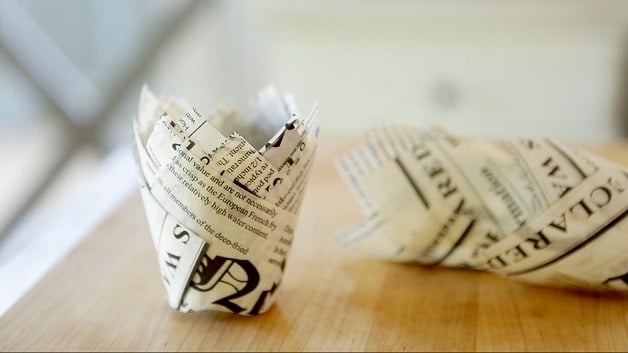 Other Options for Standard Muffin Papers
If you choose to use regular liners, you will need to use a muffin tin to make 18 muffins instead of 12.
Or you can also use a jumbo muffin tin and jumbo liners and make 6 large muffins.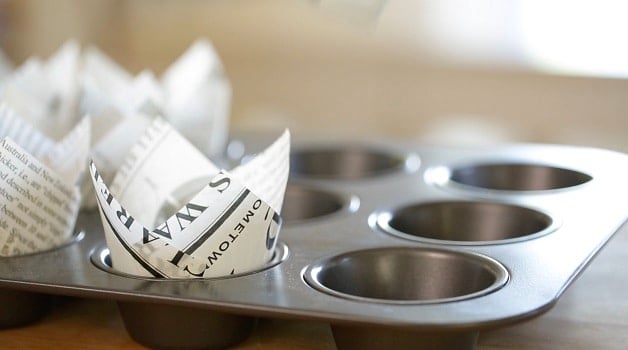 Filling the Papers
Fill the liners halfway with the batter and place it in a 425F (220) degree oven for about 20 minutes.
I like to bake muffins like these that are filled in deep tulip papers, at a high temperature.
That way they rise quickly!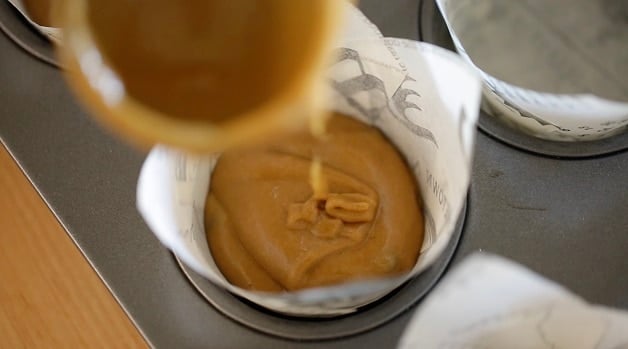 How To Know When They Are Done?
You will know they are done when they rise and begin to crack at the top.
The cracking is a pretty detail since it allows the mini chocolate chips to peek through and creates a cavity for the powdered sugar to rest upon.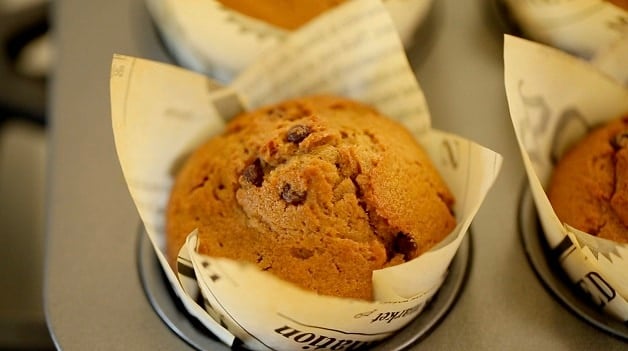 Serving and Garnishing
Remove the muffins from the oven and dust them with powdered sugar once they have cooled.
The powdered sugar gives these muffins that extra special "coffee house" vibe and if you put enough on you can tell your guests it represents the frothy milk on top!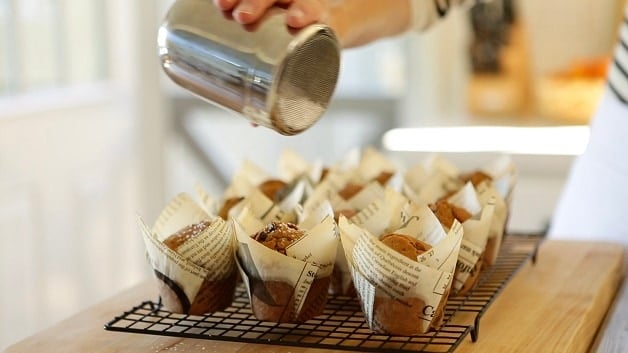 Serving Tips:
I place these on a cake stand to show off the newspaper liners.
When you break into these, you will see how they bake up so light and fluffy and are so moist and flavorful inside.
I also love how the papers unfold easily and become almost like a little napkin to eat them on.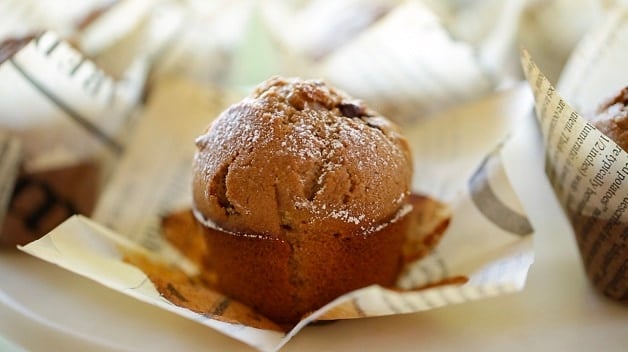 If You Enjoyed This Recipe
Please Leave a Rating and a Review Below!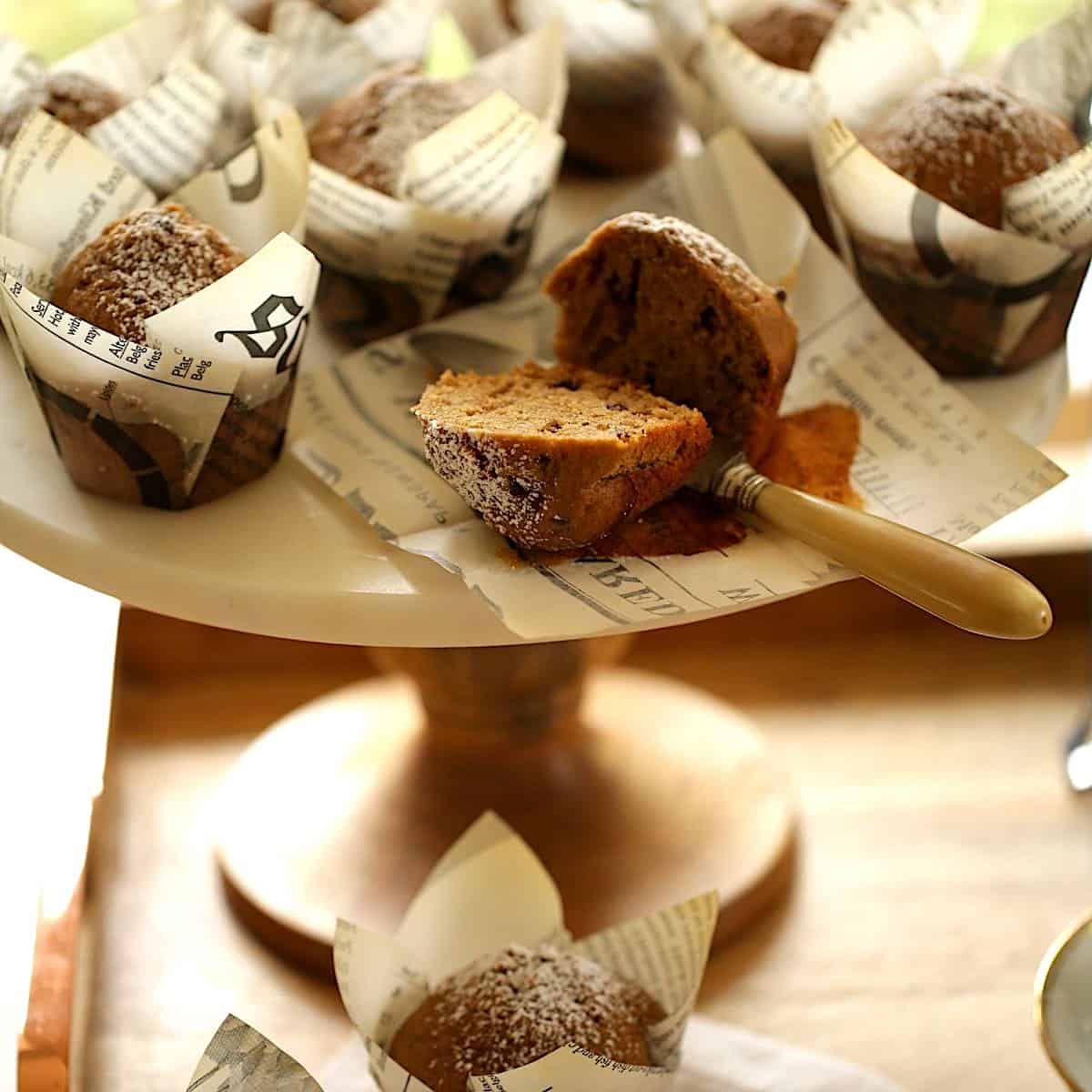 Cappuccino Muffin Recipe
These cappuccino muffins are an easy muffin recipe that has a deep coffee flavor that pairs beautifully with the chocolate chips!
Ingredients
2 ⅓ cups (280 g) all-purpose flour
2 teaspoon (10 ml) baking powder
1 teaspoon (5 ml) salt
1 teaspoon (5 ml) ground cinnamon
¾ cup (180 ml) hot water
2 tablespoon (30 ml) espresso powder or instant coffee
¼ cup (60 ml) milk
2 eggs
1 cup (200 g) sugar
¾ cup (180 ml) vegetable oil
⅓ cup (80 ml) mini chocolate chips
Instructions
Preheat oven to 425F (218C)
In a small bowl combine hot water and espresso powder, stir to dissolve. Add milk, stir to combine and set aside to cool.
In a medium bowl whisk together the flour, baking powder, salt, and cinnamon. Set aside.
In a large bowl, whisk together eggs, sugar, and oil. Then slowly add the coffee mixture, stir to combine. Then add the dry ingredients in thirds, whisking gently until smooth. Add chocolate chips, stir to combine.
Place the muffin papers in a 12-cup muffin tin. Fill each cup halfway.
Bake for 17-20 minutes until risen and set. Serve with your favorite cup of coffee.
Notes
If you do not have espresso powder, you can use the same amount of Instant coffee granules. The flavor may just be a bit lighter.
Nutrition Information:
Yield:

12
Serving Size:

1
Amount Per Serving:
Calories:

114
Total Fat:

2g
Saturated Fat:

1g
Trans Fat:

0g
Unsaturated Fat:

1g
Cholesterol:

31mg
Sodium:

13mg
Carbohydrates:

20g
Fiber:

1g
Sugar:

1g
Protein:

4g