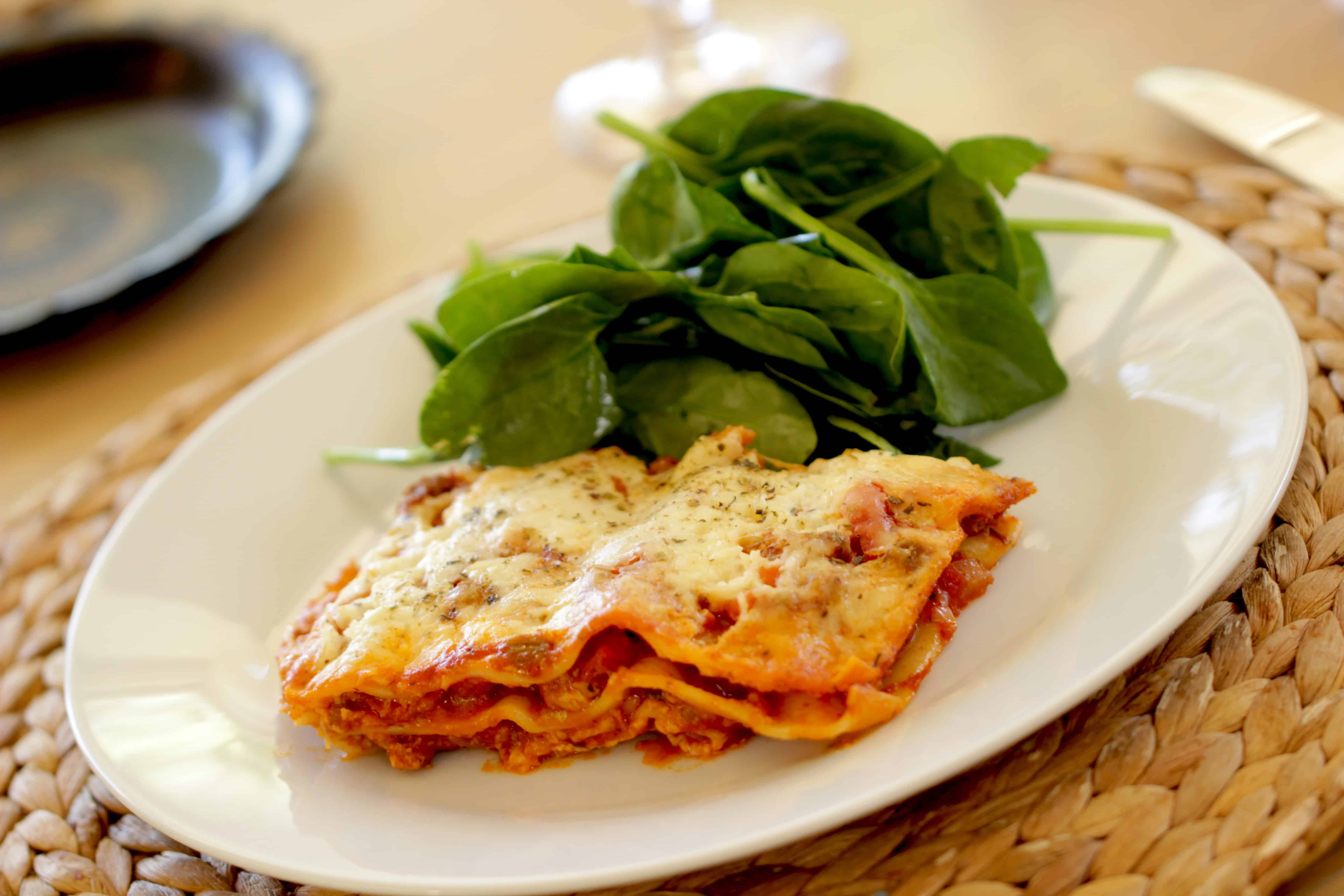 Lasagna is one of the world's best comfort foods.  Just the thought of it conjures up thoughts of crisp fall evenings and cozy Sunday night dinners. The only thing is, making lasagna from scratch can take FOREVER!  It's really the noodles who are at fault.  All that boiling and draining and assembling, can really be a big deterrent.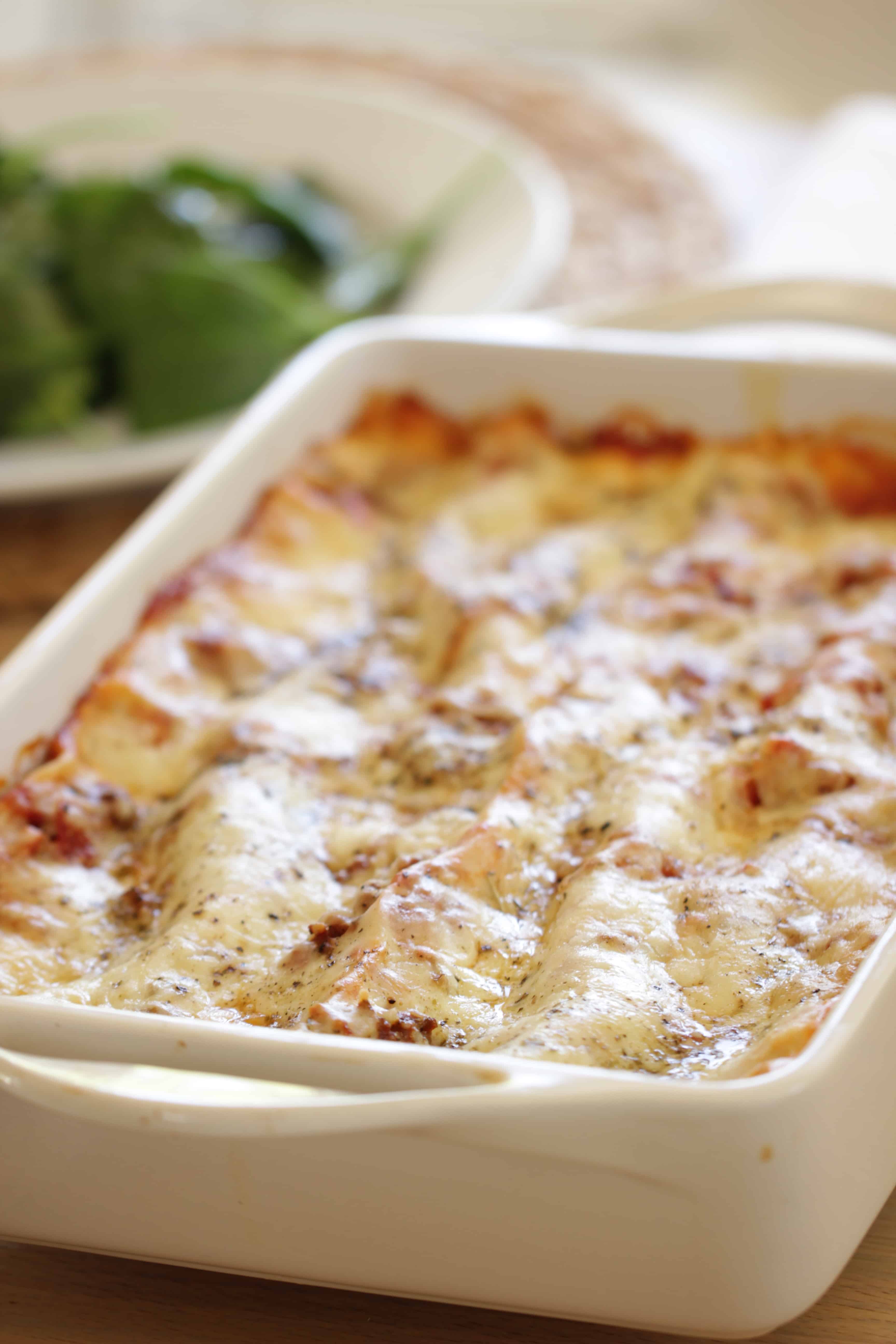 But I have discovered a few key tricks and tips to make the whole operation a lot easier. The secret is really to use fresh lasagna sheets that you can buy in the refrigerated section of the grocery store. They require no boiling (the sauce in the lasagna "cooks" them as the lasagna bakes) and they also provide a much lighter lasagna than traditional hard noodles.
For a step-by-step tutorial of this recipe you can watch my video below.  SUBSCRIBE TO MY YOUTUBE CHANNEL and never miss a recipe! (it's free!) and new videos post every Saturday!
One of my funniest stories surrounding Lasagna came from my Mom, a nice Irish-English girl who married into a big Italian family.
In the early years that my parents were married she spent "all day" making a homemade lasagna in order to impress the matriarch of the family "Big Nonna".
But when when Big Nonna arrived for dinner and my Mom eagerly blurted out "Guess what Big Nonna I made a Homemade Lasagna!" she was met with dismay when Big Nonna looked at her a bit puzzled and said "What's so hard about that?" This was clearly a woman who probably made lasagna with her back hand.
This story always makes me laugh knowing how much work probably went into my Mom's lasagna back then.  But now with this recipe, you can pull a Big Nonna yourself, since this Lasagna Recipe will take you half the time. Buon Appetito!
Print
Beth's Lasagna Recipe
---
Author:

Prep Time:

1 hour

Cook Time:

1 hour

Total Time:

2 hours

Yield:

12 servings

Category:

Dinner

Cuisine:

Italian
Ingredients
For Meat Sauce:
2 tbsp (30 ml) olive oil
1 cup (240 ml) yellow onion, diced
½ cup (120 ml) carrots, diced
1/3 cup (80 ml) celery, diced
salt and pepper to taste
½ pound (230 g) ground beef
½ pound (230 g) Italian pork sausage
½ tsp (2.5 ml) salt
freshly cracked pepper to taste
2 tsp (10 ml) Italian Seasoning
¼ tsp (1.25ml) fennel seed
1 can/15 oz (445 ml) diced tomatoes
1 can/15 oz (445 ml) tomato sauce
¼ cup (60 ml) tomato paste
1 cup (240 ml) white wine or chicken or vegetable broth
2 cloves garlic
For Béchamel Sauce:
3 tbsp (32 g) unsalted butter
3 tbsp (32 g) flour
3 cups (700 ml) milk
1 tsp (5 ml) salt
pinch of nutmeg
2 tsp (10 ml) fresh thyme, minced
2 cloves garlic
To Assemble:
2 ½ cups (595 ml) Italian Blend Cheese, Shredded
1 package Fresh Lasagna noodles (12 noodles total to make 3 layers)
---
Instructions
In a large sauce pot heat olive oil and sauté onion, carrots and celery for 3-5 mins until fragrant and translucent.
Add beef, sausage, salt, pepper, Italian seasoning and fennel seeds and brown meat until cooked through completely. Add wine or broth and allow to simmer until reduced by 1/3.
Add diced tomatoes, tomato sauce, and tomato paste, stir to combine with meat and veggies. Add garlic.
Simmer meat sauce for 30 mins. Meanwhile, prepare the béchamel sauce.
In a large sauté pan melt the butter, once foamy add the flour. Whisk until it forms into a paste, cook by whisking for 1 minute. Then slowly add the milk, whisking all the while until a creamy sauce develops. Cook this mixture, until a soft boil and sauce thickens. Remove from heat.
Add salt, nutmeg, thyme, and garlic. Stir to combine and set aside.
Then take out a 9×13 oven-safe casserole dish that has been lightly greased. Add 1 ladle of béchamel sauce in the bottom, and smooth to cover bottom of the dish.
Then place a layer of noodles, 4 sheets touching each other. And add 1 ladle of meat sauce for each noodle, top with ¼ cup of Béchamel Sauce for each quadrant, and sprinkle with 1/2 cup of cheese on top.
Peat this process 2 more times creating 3 layers. But on last layer add a full cup of the cheese. A little cracked pepper and a sprinkle of the Italian seasoning.
Bake at 325F for 45-55 mins until cheese is golden brown. Slice into squares and pair with a tossed green salad.