This is an easy Lasagna recipe that won't take you all day to make. It's a great Sunday Night Dinner that you can make in advance and then just bake and serve!
If you are looking for an even easier Lasagna recipe try my Veggie Lasagna Roll-Ups or my Eggplant Lasagna, a great gluten-free option!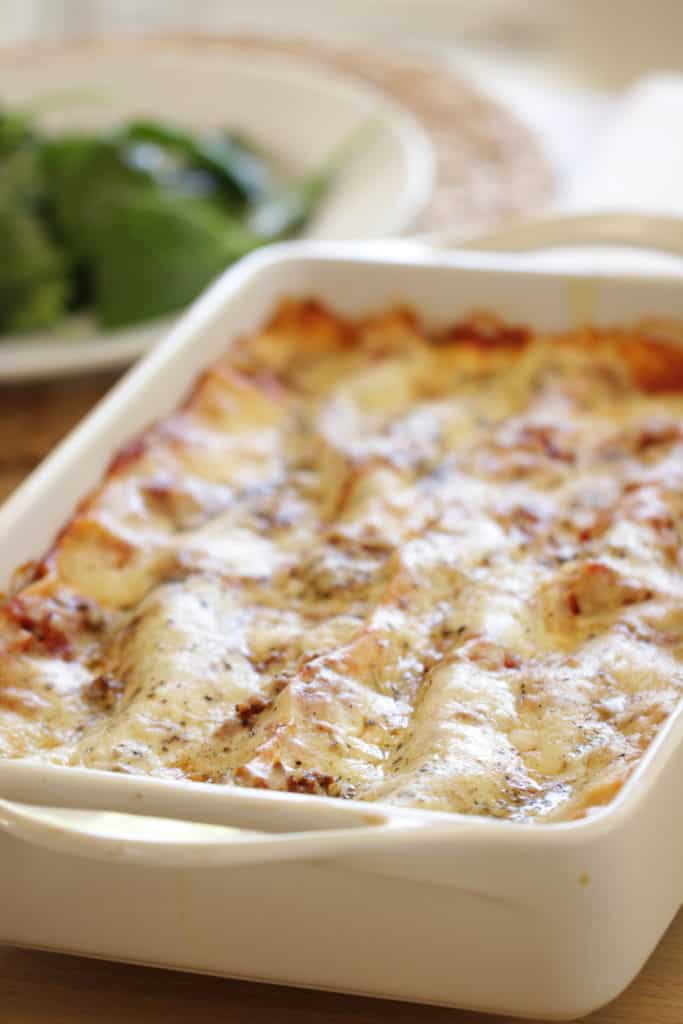 Watch my Lasagna Recipe Video Below
Subscribe to My YouTube Channel and Never Miss a Recipe!
How To Avoid Boiling The Noodles?
Lasagna is one of the world's best comfort foods. Just the thought of it conjures up thoughts of crisp fall evenings and cozy Sunday night dinners.
The only thing is, making lasagna from scratch can take FOREVER!
It's really the noodles who are at fault. All that boiling and draining and assembling can really be a big deterrent.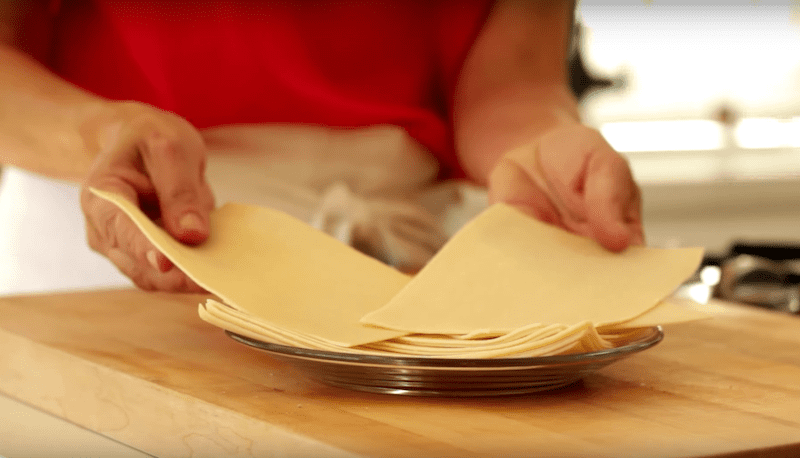 Use Fresh Lasagna Sheets
The secret to avoiding boiling noodles for lasagna is to use fresh lasagna sheets that you can buy in the refrigerated section of the grocery store.
They require no boiling (the sauce in the lasagna "cooks" them as the lasagna bakes) and they also provide a much lighter lasagna than traditional hard noodles.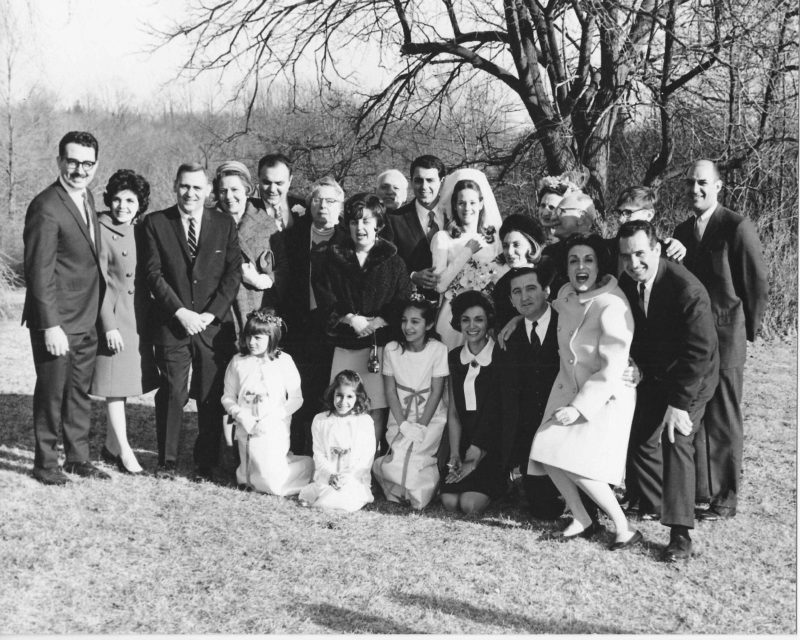 Lasagna Can Be Daunting For The First Time Cook
One of my funniest stories surrounding Lasagna came from my Mom, a nice Irish-English girl who married into a big Italian family. In the early years that my parents were married, she spent "all day" making a homemade lasagna in order to impress the matriarch of the family "Big Nonna" (pictured below in the center).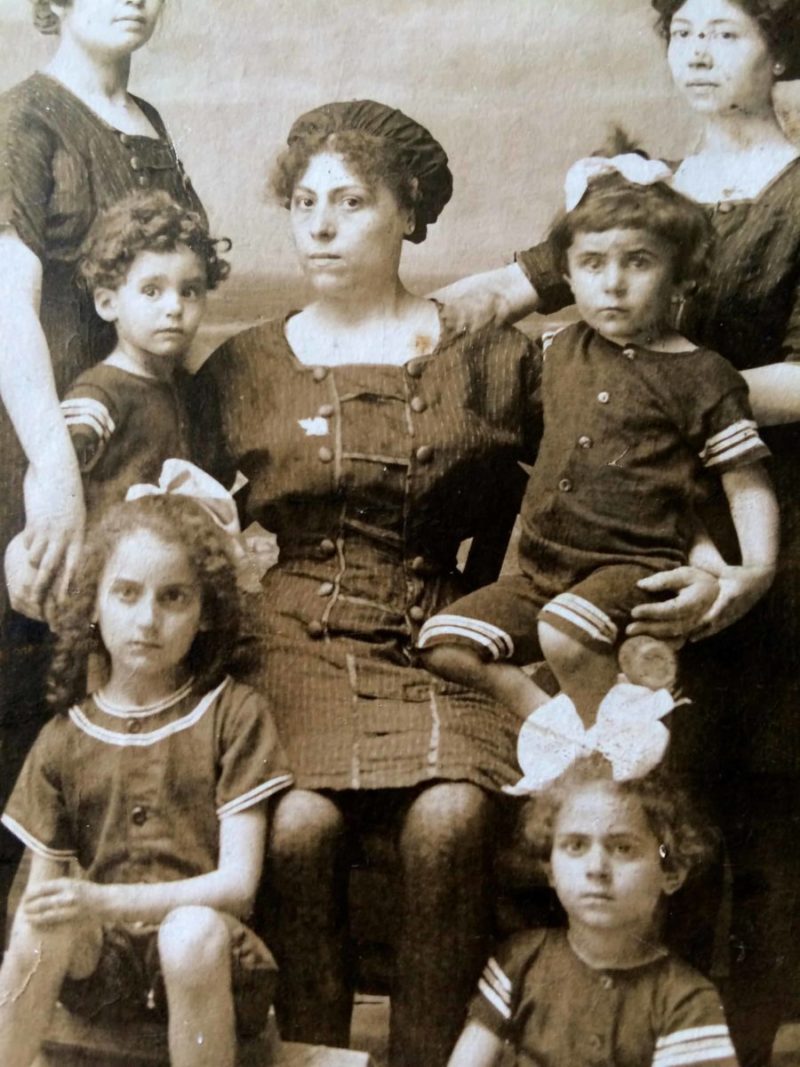 But Not For "Big Nonna"
But when Big Nonna arrived for dinner and my Mom eagerly blurted out "Guess what Big Nonna, I made a Homemade Lasagna!" she was met with dismay when Big Nonna looked at her a bit puzzled and said, "What's so hard about that?" This was clearly a woman who probably made lasagna with her backhand.
Evidence of her threshold for tedious cooking projects can be seen in my family's Manicotti Recipe. My Dad swears there were many hands in the kitchen those days and so these recipes that feel labor-intensive to us now, came together quickly back then!
What are the ingredients of lasagna?
It really depends where you are from since the debate is typically centered around ricotta cheese vs. bechamel sauce. Personally, I vote for bechamel sauce every single time! It's so much tastier that way and makes for a more elegant dish.
It's rumored the ricotta cheese variety was an invention by the Italian-Americans who chose it as a quicker, easier option than the bechamel sauce. But really bechamel sauce is a cinch to make!
Essentially, the main ingredients for lasagna are a tomato-based meat sauce, lasagna noodles, bechamel sauce, and cheese.
But I also like to add a little Italian pork sausage in my meat sauce to give it a little more flavor.
If you have extra sausage put it to good use in my Orecchitette, Sausage, and Broccoli Pasta or my White Bean and Sausage Soup.

What spices to put in the sauce?
I think the best spices to put in your lasagna sauce are a combination of Italian Seasoning (a very convenient spice blend!) and fennel seed. I think this creates more interesting flavors.

How is bechamel sauce made?
Bechamel sauce is super simple to make! You'll start by adding butter to a large pan, once foamy you'll add the flour, whisk until a paste forms, then add the milk.
Simmer until thickened and then you can flavor it with salt, butter, minced garlic, a touch of nutmeg, and I also like to add fresh thyme for this recipe (exact recipe follows below).
Once you master Bechamel sauce you can use it to make my Baked Mac and Cheese Recipe or my delicious Chicken, Mushroom and Leek Crepes.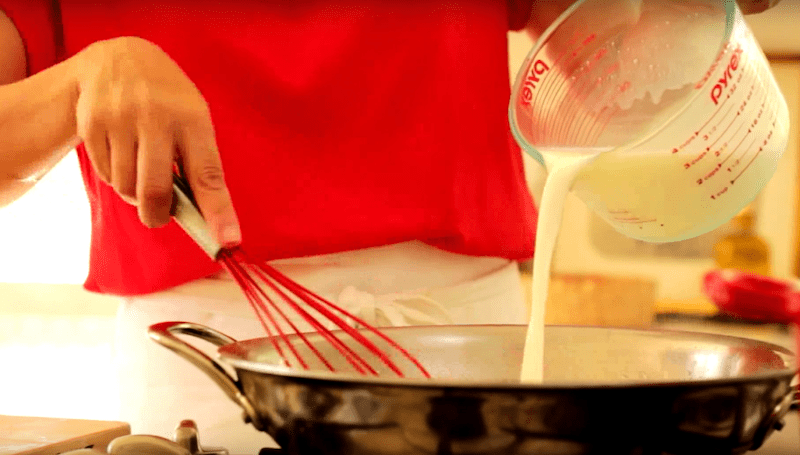 How do you layer a lasagna?
Layering lasagna is a bit of an art so that it doesn't stick to the pan and so that everyone gets enough of the noodles, cheese, and meat sauce.
I think the best way to layer a lasagna is to:
First, grease your 9 x 13 pan so the noodles don't stick
Then, add 1 ladle of béchamel sauce in the bottom, and smooth to cover the bottom of the dish. This will prevent the noodles from getting too hard and then sticking to the bottom of the pan.
Then place a layer of noodles, 4 sheets touching each other.
Add 1 ladle of meat sauce for each noodle, top with ¼ cup of Béchamel Sauce for each quadrant
Sprinkle with ½ cup of cheese on top.
Continue this process until 3 layers are created, and on the third layer add a good blanket of cheese to cover all the meat sauce.
What kind of cheese do you use for lasagna?
I like a combination of parmesan or asiago for flavor and mozzarella or provolone for gooeyness.
But really, the easiest way to get this blend is to buy the Italian Blend cheese that has a combination of usually all this cheese in one bag. This makes the process much easier!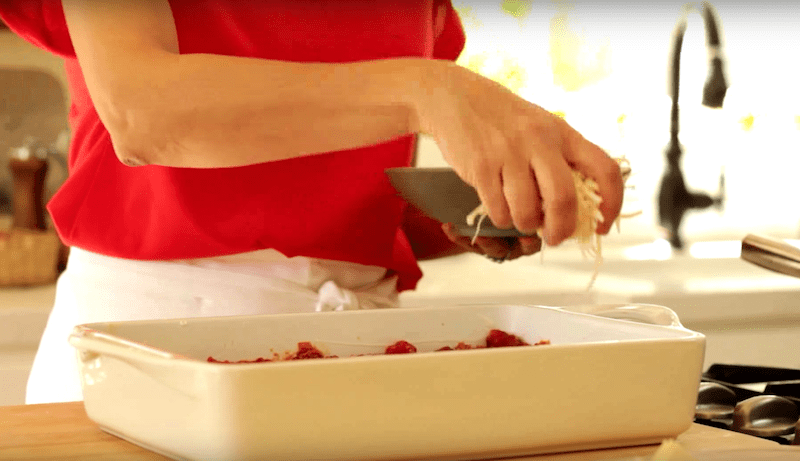 Serve this classic lasagna with a spinach salad and perhaps some Tiramisu Cupcakes for dessert!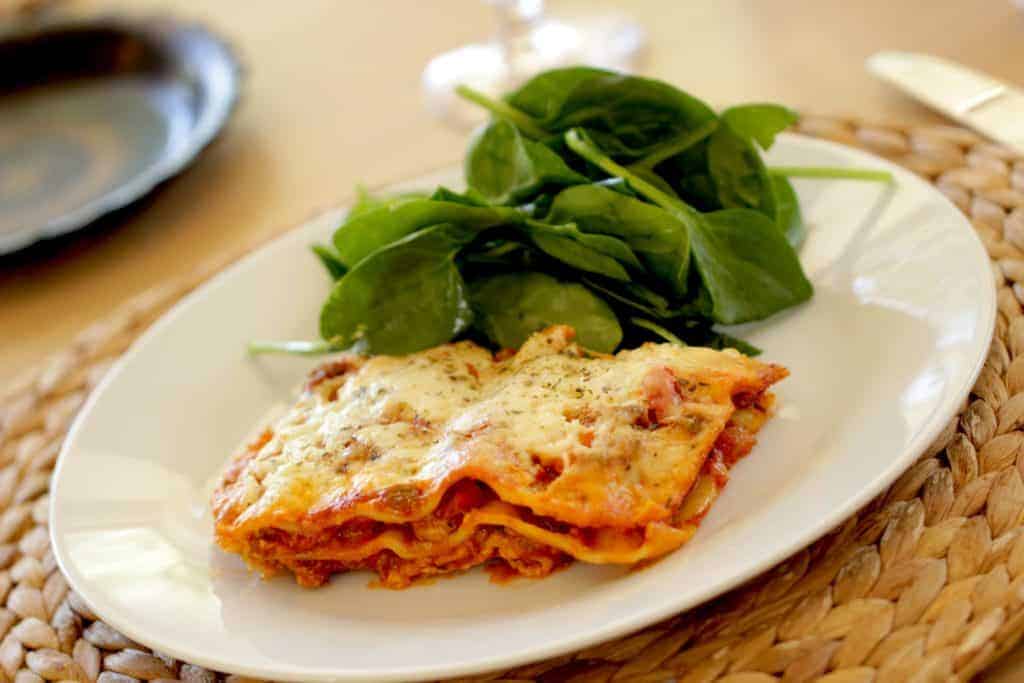 Please let me know if you make this recipe
by leaving a rating and review below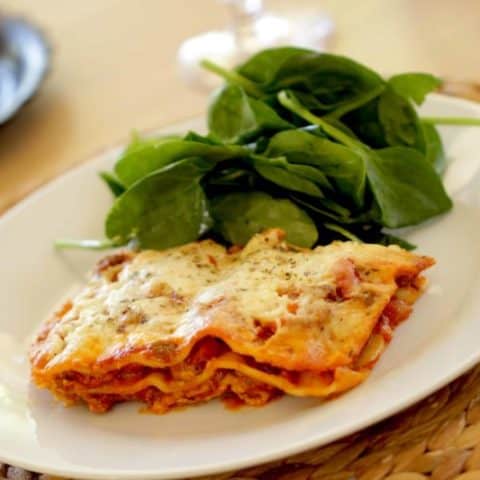 Homemade Lasagna Recipe
Learn how to make Lasagna an easy recipe that won't take you all day to make. A great Sunday Night Dinner idea you can make in advance. Includes Video Tutorial too!
Ingredients
For Meat Sauce:
2 tablespoon (30 ml) olive oil
1 cup (240 ml) yellow onion, diced
½ cup (120 ml) carrots, diced
⅓ cup (80 ml) celery, diced
salt and pepper to taste
½ pound (230 g) ground beef
½ pound (230 g) Italian pork sausage
½ teaspoon (2.5 ml) salt
freshly cracked pepper to taste
2 teaspoon (10 ml) Italian Seasoning
¼ teaspoon (1.25ml) fennel seed
1 can/15 oz (445 ml) diced tomatoes
1 can/15 oz (445 ml) tomato sauce
¼ cup (60 ml) tomato paste
1 cup (240 ml) white wine or chicken or vegetable broth
2 cloves garlic
For Béchamel Sauce:
3 tablespoon (32 g) unsalted butter
3 tablespoon (32 g) flour
3 cups (700 ml) milk
1 teaspoon (5 ml) salt
pinch of nutmeg
2 teaspoon (10 ml) fresh thyme, minced
2 cloves garlic
To Assemble:
2 ½ cups (595 ml) Italian Blend Cheese, Shredded
1 package Fresh Lasagna noodles (12 noodles total to make 3 layers)
Instructions
In a large sauce pot heat olive oil and sauté onion, carrots and celery for 3-5 mins until fragrant and translucent.
Add beef, sausage, salt, pepper, Italian seasoning and fennel seeds and brown meat until cooked through completely. Add wine or broth and allow to simmer until reduced by ⅓.
Add diced tomatoes, tomato sauce, and tomato paste, stir to combine with meat and veggies. Add garlic.
Simmer meat sauce for 30 mins. Meanwhile, prepare the béchamel sauce.
In a large sauté pan melt the butter, once foamy add the flour. Whisk until it forms into a paste, cook by whisking for 1 minute. Then slowly add the milk, whisking all the while until a creamy sauce develops. Cook this mixture, until a soft boil and sauce thickens. Remove from heat.
Add salt, nutmeg, thyme, and garlic. Stir to combine and set aside.
Then take out a 9x13 oven-safe casserole dish that has been lightly greased. Add 1 ladle of béchamel sauce in the bottom, and smooth to cover bottom of the dish.
Then place a layer of noodles, 4 sheets touching each other. And add 1 ladle of meat sauce for each noodle, top with ¼ cup of Béchamel Sauce for each quadrant, and sprinkle with ½ cup of cheese on top.
Peat this process 2 more times creating 3 layers. But on last layer add a full cup of the cheese. A little cracked pepper and a sprinkle of the Italian seasoning.
Bake at 325F for 45-55 mins until cheese is golden brown. Slice into squares and pair with a tossed green salad.
Nutrition Information:
Yield:

12
Serving Size:

1
Amount Per Serving:
Calories:

131
Total Fat:

9g
Saturated Fat:

4g
Trans Fat:

0g
Unsaturated Fat:

5g
Cholesterol:

24mg
Sodium:

269mg
Carbohydrates:

5g
Fiber:

1g
Sugar:

1g
Protein:

5g