Lasagna with No Ricotta Cheese
This is a classic Lasagna recipe that does not use ricotta cheese, but rather homemade bechamel sauce for that creamy decadent filling. It's a great Sunday night dinner that you can make in advance, by placing the unbaked lasagna in the refrigerator and then just bake and serve when its time for dinner!
For another classic Italian recipe that uses ricotta cheese, try my Cheese Manicotti recipe. Or If you are looking for an even easier Lasagna recipe try my Eggplant Lasagna, a great gluten-free option!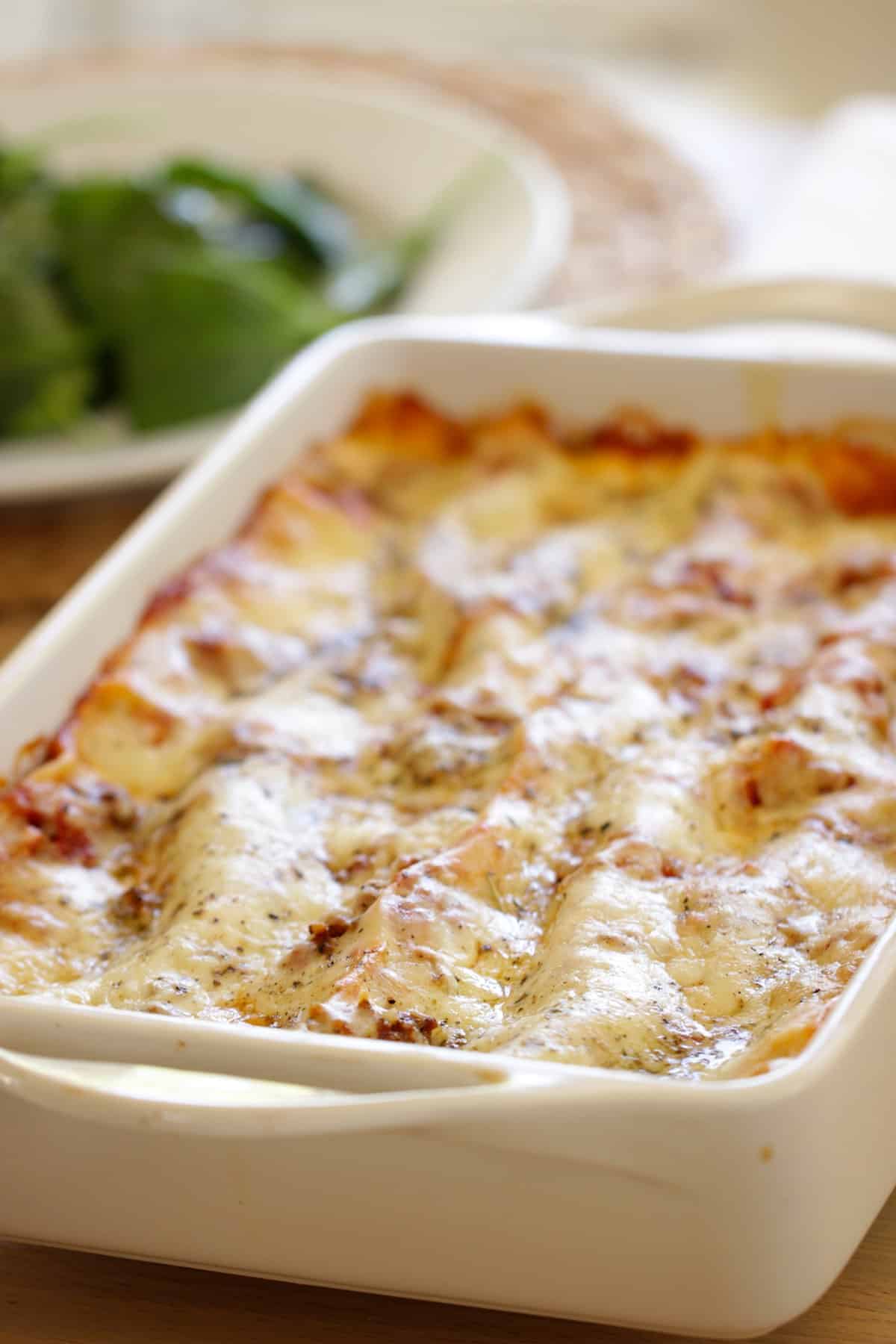 American Lasagna vs. Italian Lasagna
It really depends where you are from since the debate is typically centered around ricotta cheese vs. bechamel sauce.
Personally, I vote for bechamel sauce every single time! It's so much tastier that way and makes for a more elegant dish.
It's rumored the ricotta cheese variety was an invention by the Italian-Americans who chose it as a quicker, easier option to the bechamel sauce traditionally used in Italy.
Although my Italian-American father, whose family was from Southern Italy, insists they used ricotta in Sicily and that is the way his Mother, who was from Palermo made it.
Lasagna made without ricotta cheese freezes better too because it doesn't retain all the moisture of the ricotta cheese.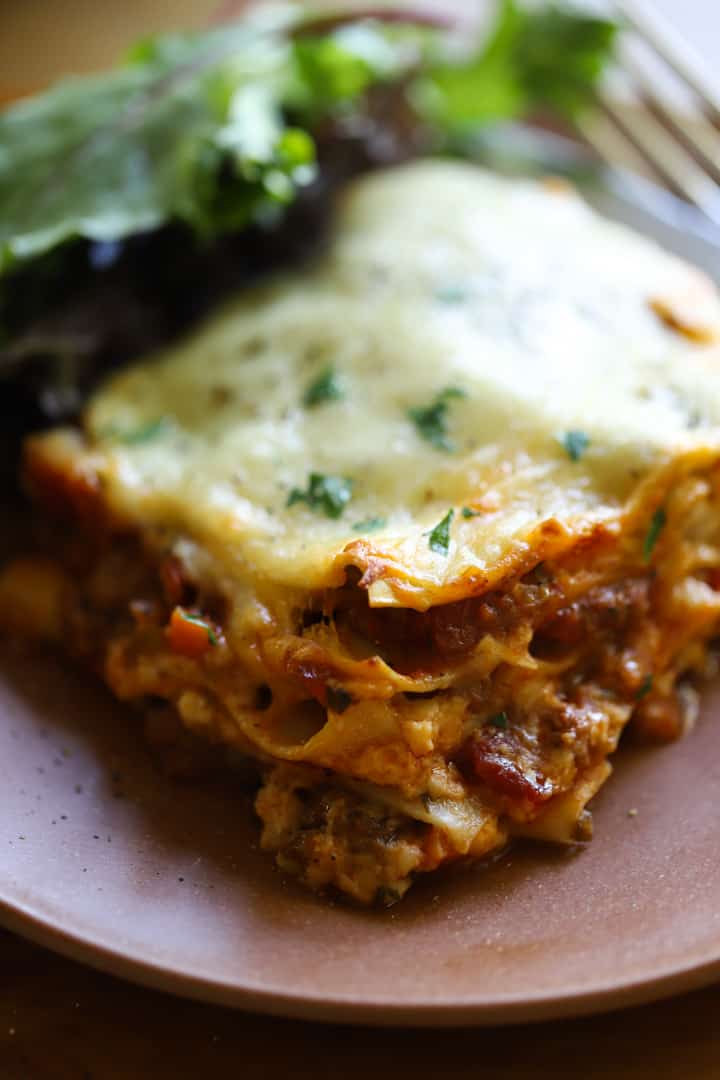 How To Avoid Boiling The Noodles?
Homemade lasagna is one of the world's best comfort foods. Just the thought of it conjures up thoughts of crisp fall evenings and cozy Sunday night dinners.
The only thing is, making lasagna from scratch can take forever!
It's really the noodles who are at fault. All that boiling and draining and assembling can really be a big deterrent.
Instead use "No Boil" noodles also known as "Oven Ready Noddles" which allows for layering the sheets in the lasagna without boiling them first. They will cook in the sauce as the lasagna bakes in the oven.
The other option is to use fresh lasagna sheets that you can buy in the refrigerated section of the grocery store.
They require no boiling as well and can provide an even lighter texture to your lasagna.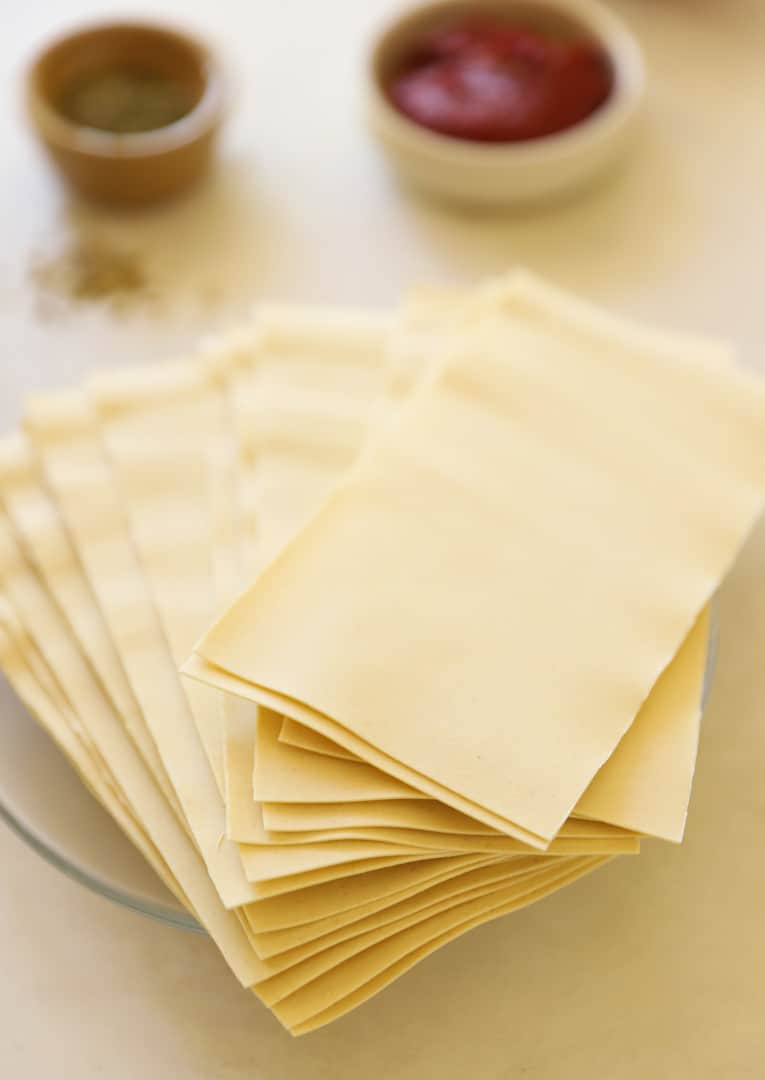 Making Bolognese Sauce More Flavorful
Traditional Bolognese sauce typically calls for ground beef, ground pork and ground veal.
Ground veal can be hard to come by in the States so I make it easier by just adding two links of sweet Italian pork sausage to the ground beef.
This will make your meat sauce more flavorful and hearty too! Resulting in a meatier lasagna sauce that will be less "soupy".
I also simmer the meat, once it's been browned, in white wine until it reduces. This also adds great flavor.
I think the best spices to put in your sauce is a combination of Italian seasoning, fennel seeds and freshly minced garlic (nothing pre-minced from a jar!)
Once the sauce has simmer for a good 15 minutes, then I finish the sauce with freshly chopped parsley for a bit of herby freshness.
While 15 minutes may not seem long enough for Bolognese sauce, remember it will simmer in the oven for 55 minutes as the lasagna bakes and I find that's plenty of time to get a great tasting sauce!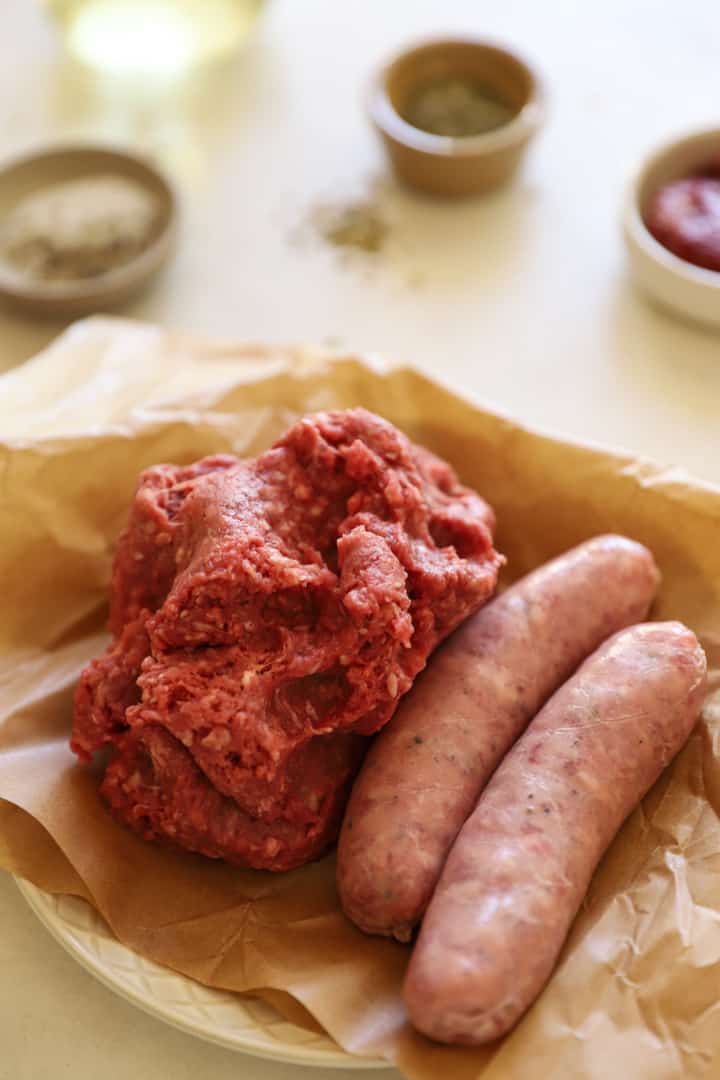 How is bechamel sauce made?
Bechamel sauce is super simple to make! You'll start by adding butter to a large pan, once foamy you'll add the flour, whisk until a paste forms, then add the milk.
Simmer until thickened and then you can flavor it with salt, butter, minced garlic, a touch of nutmeg, and I also like to add fresh thyme for this recipe (exact recipe follows below).
Once you master Bechamel sauce you can use it to make my Creamy Sundried Tomato Pasta or my delicious Chicken, Mushroom and Leek Crepes.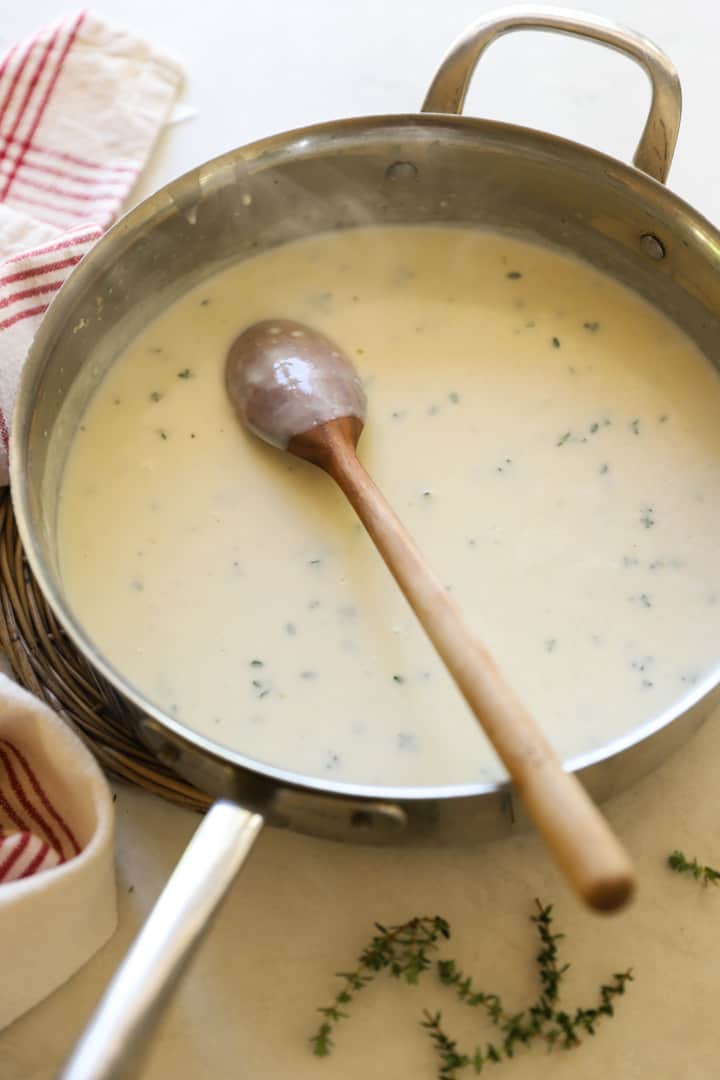 How do you layer a lasagna?
Layering lasagna is a bit of an art so that it doesn't stick to the pan and so that everyone gets enough of the noodles, cheese, and meat sauce.
I think the best way to layer a lasagna is to:
First, grease your 9 x 13 pan so the noodles don't stick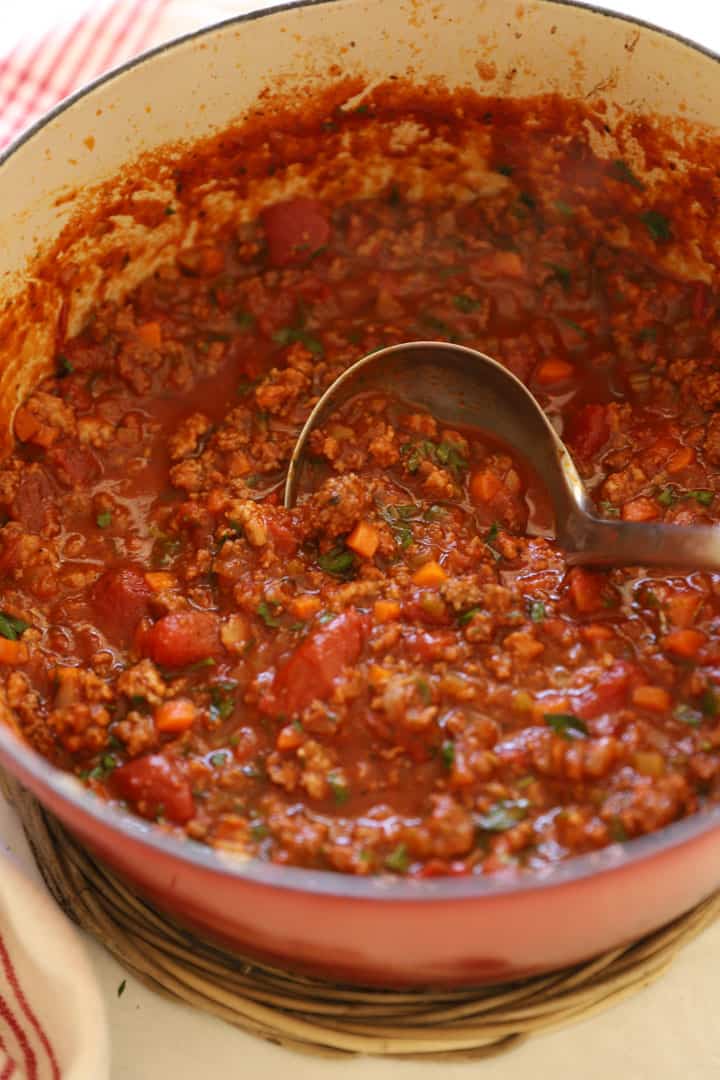 Step#1: Layer the Bottom with Bolognese Sauce
Add one ladle of Bolognese sauce in the bottom of your 9 x 13 baking dish, and spread it out to cover the bottom of the dish.
This will prevent the noodles from getting too hard and then sticking to the bottom of the pan.
It doesn't need to completely cover the bottom, just enough to get the party started!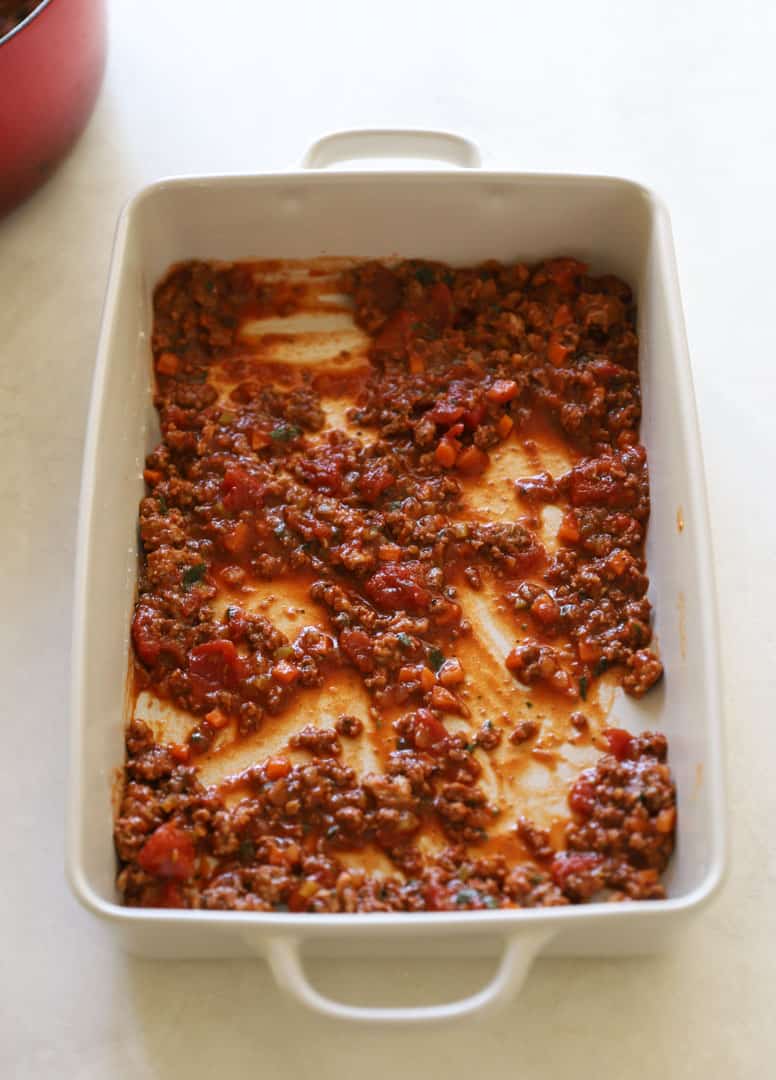 Step#2: Noodles, Sauce and Cheese
.Then place a layer of noodles, 4 sheets touching each other.
Add 1 ladle of bechamel sauce spreading it out to cover the noodles
Top with four ladles of meat sauce on top of each noodle, spreading it out with a spoon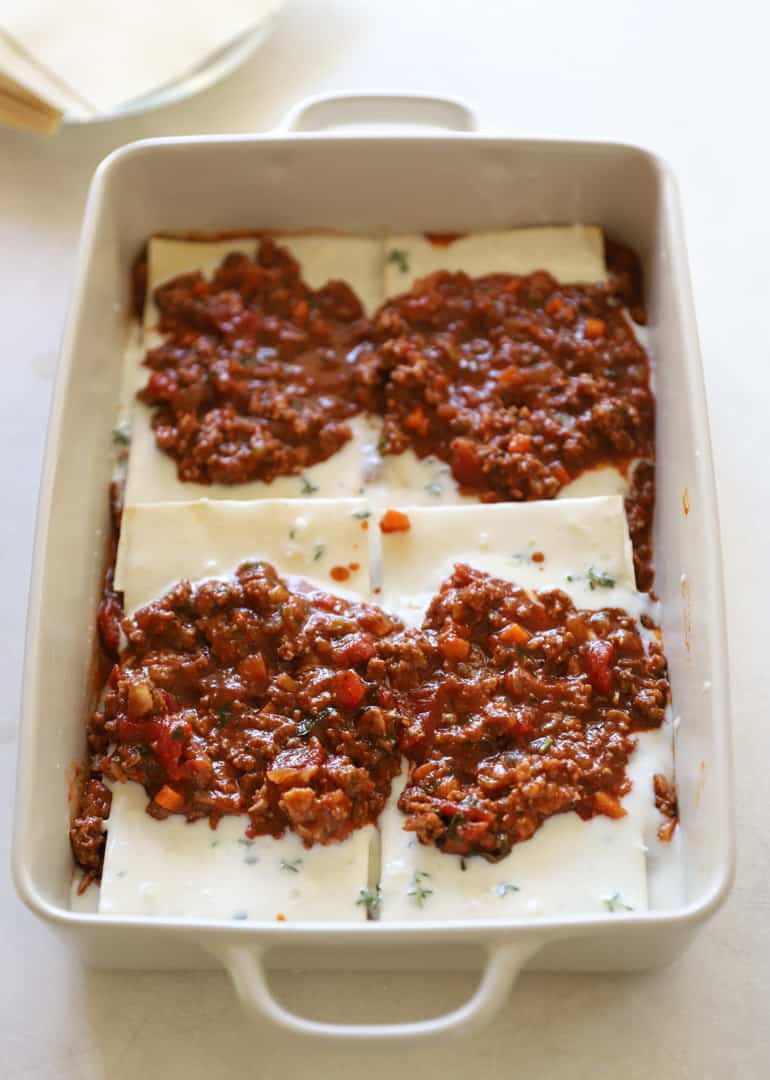 What kind of cheese do you use for lasagna?
I like a combination of asiago or parmesan cheese for flavor and provolone or mozzarella cheese for gooeyness.
But really, the easiest way to get this blend is to buy the Italian Blend cheese that has a combination of usually all this cheese in one bag.
This makes the process much easier!
I would not use fresh mozzarella cheese which emits too much water and will make your lasagna watery!
Step#3: Add the Grated Cheese
Cover the meat sauce with the grated cheese.
Without the ricotta cheese for sturdiness, I use the bechamel sauce with an extra heaping of grated cheese in each layer.
This helps to keep the layers sticking together as it's sliced and served after its baked.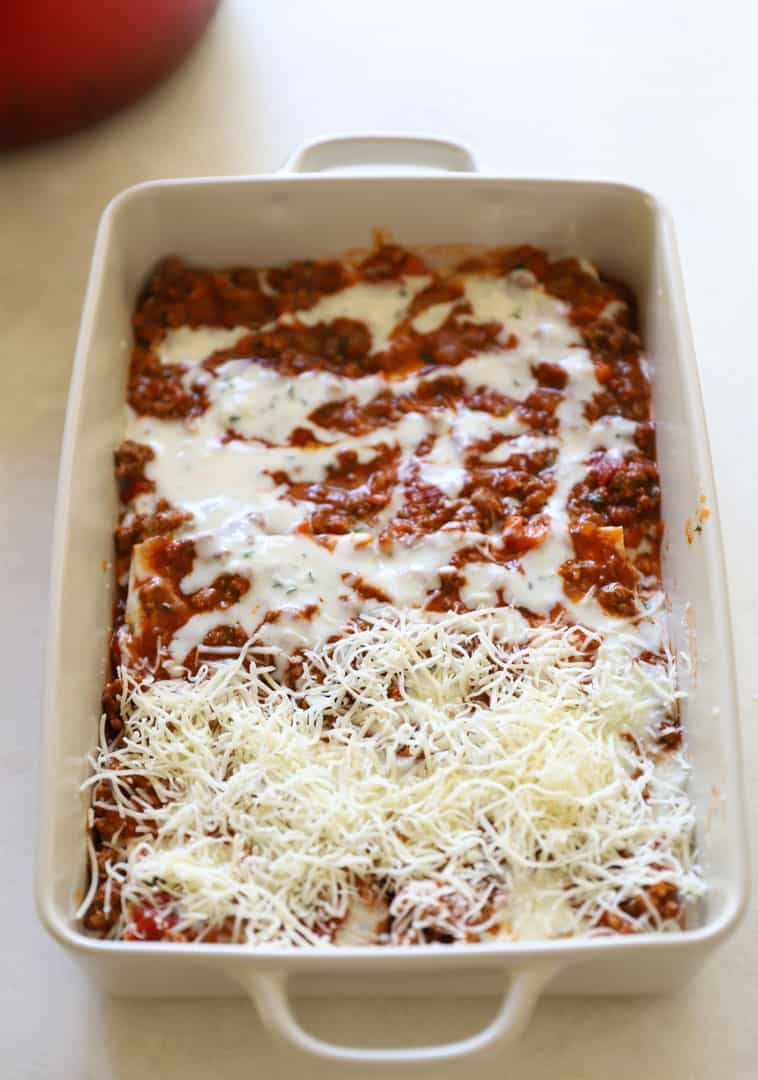 Step#4: The Final Layer
After you have created 3 full layers of noodles, bechamel, meat sauce and cheese the final layer should be another layer of noodles.
Then the remaining bechamel sauce poured on top
And the remaining grated cheese.
The noodle/cheese layer keeps the lasagna intact and makes it easier to serve once it's done.
I also like to sprinkle the top with some more Italian seasoning and freshly cracked pepper before hitting the oven.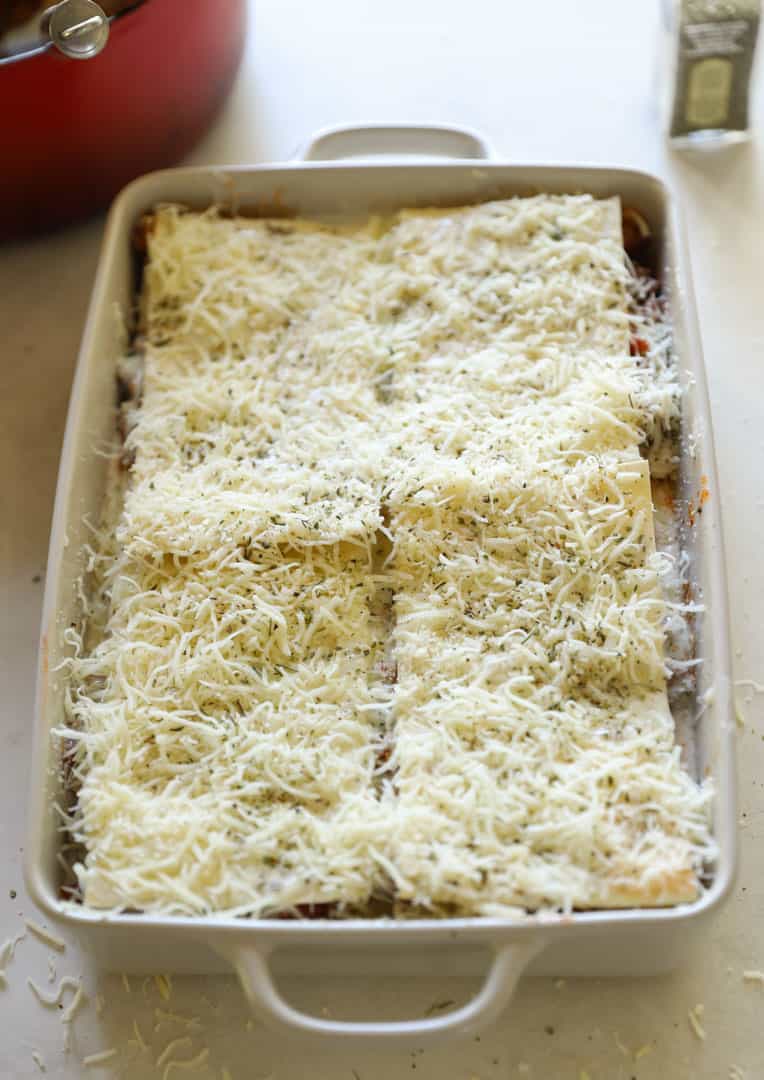 Bake Covered then Uncovered
I bake the lasagna at a lower temperature 325F (than most recipes that call for 350F or 375F) because I find low and slow cooks the noodles without evaporating the sauce too quickly.
You'll bake covered with aluminum foil for 45 minutes, then uncovered for 5-10 minutes or until the cheese is golden brown.
Garnish with freshly chopped parsley or basil before serving.
Serve with my garlic bread or my easy garlic knots and a tossed salad with my Parmesan Peppercorn dressing.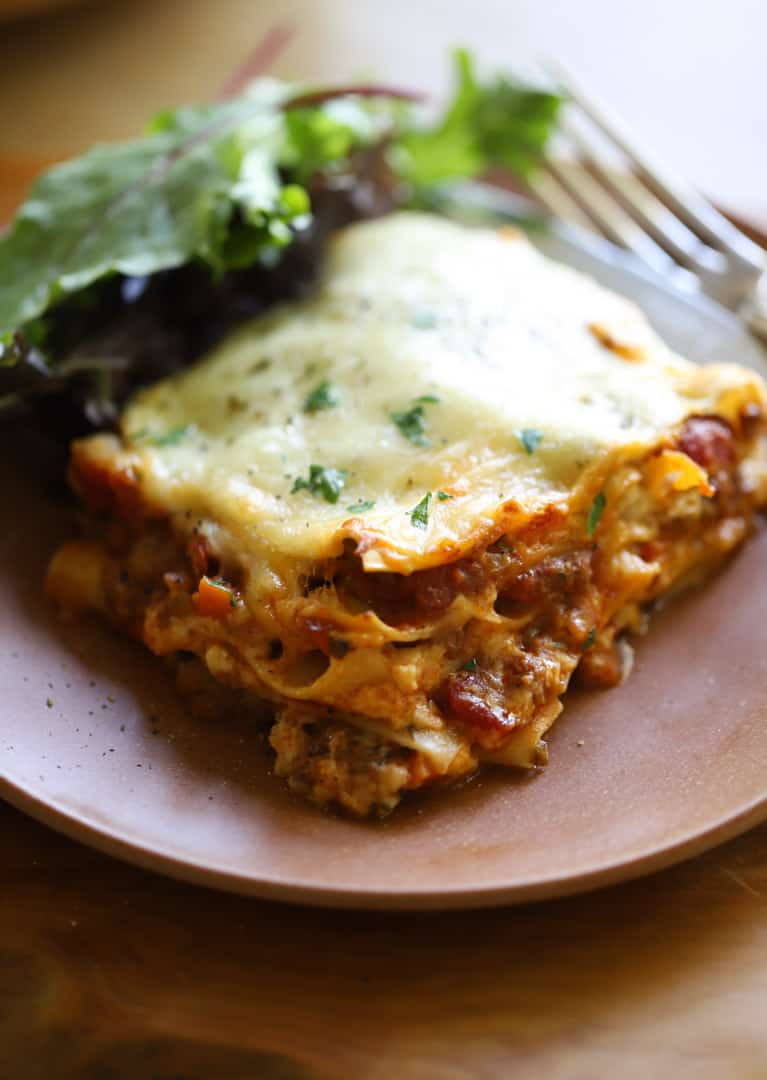 Please let me know if you make this recipe
by leaving a rating and review below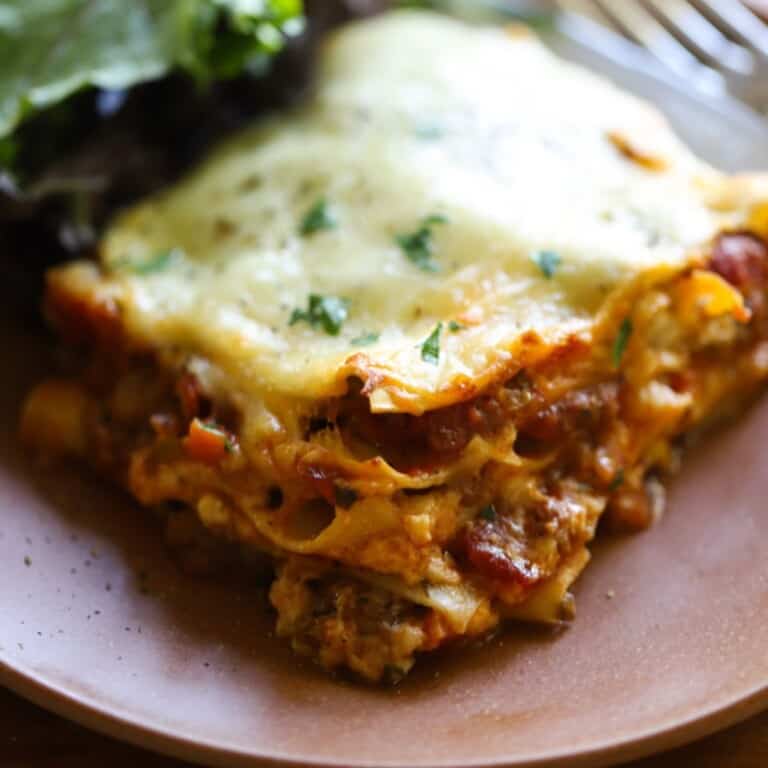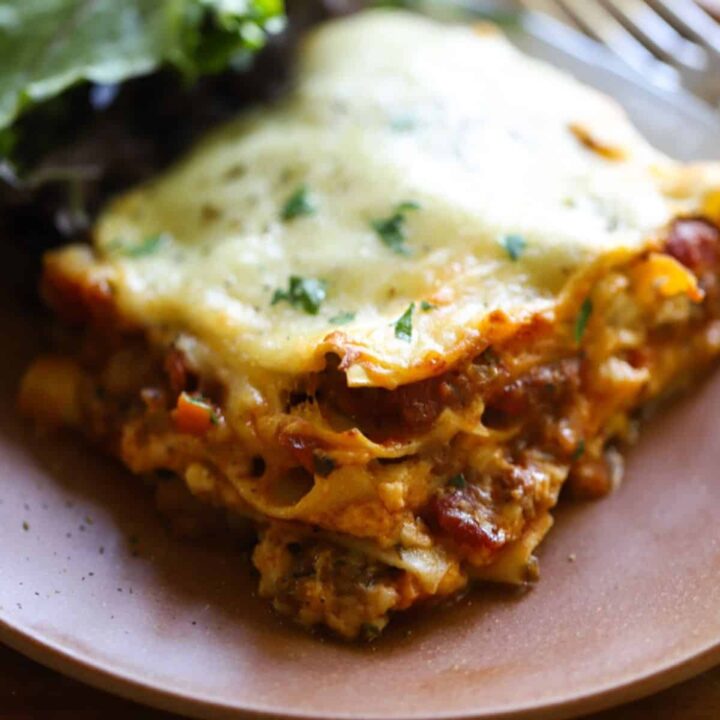 Lasagna with No Ricotta
Learn how to make Lasagna an easy recipe that won't take you all day to make. A great Sunday Night Dinner idea you can make in advance. Includes Video Tutorial too!
Ingredients
FOR MEAT SAUCE:
2 tablespoon (30 ml) olive oil
1 cup (150 g) yellow onion, diced
½ cup (60 g) carrots, diced
⅓ cup (75 g) celery, diced
salt and pepper to taste (see note!)
1 pound (450 g) ground beef
2 links sweet Italian pork sausage, removed from its casings
Salt and freshly cracked pepper to taste
1 tablespoon (15 ml) Italian Seasoning
1 teaspoon (5 ml) fennel seed
1 can/15 oz (445 ml) diced tomatoes
1 can/15 oz (445 ml) tomato sauce
¼ cup (60 ml) tomato paste
1 cup (240 ml) white wine or chicken or vegetable broth
2 cloves garlic
2 tablespoon (10 g) flat leaf Italian Parsley, chopped
FOR BÉCHAMEL SAUCE:
4 tablespoons (57 g) unsalted butter
¼ cup (35 g) flour
4 cups ( 1000 ml) whole milk
1 teaspoon (5 ml) salt
pinch of nutmeg
2 teaspoon (10 ml) fresh thyme, minced
2 cloves garlic
FOR ASSEMBLY:
16 ounces (452 g) Grated Italian Blend Cheese
16 No-Boil (Oven Ready) Lasagna noodles (depending on the brand you may need two boxes of lasagna noodles)
Instructions
In a large sauce pot heat olive oil and sauté onion, carrots and celery for 3-5 mins until fragrant and translucent. Season to taste with salt and pepper.
Add beef, sausage, salt, pepper, Italian seasoning and fennel seeds and brown meat until cooked through completely. Add wine or broth and allow to simmer until the liquid is reduced by one third.
Add diced tomatoes, tomato sauce, and paste, stir to combine with meat and veggies. Add garlic.
Simmer meat sauce for 15 minutes. Then take it off the heat and stir in the fresh parsley and set aside.
Meanwhile, prepare the béchamel sauce.
In a large sauté pan melt the butter, once foamy add the flour. Whisk until it forms into a paste. Then slowly add the milk, whisking all the while until combined. Cook this mixture, simmering on medium-high heat until it thickens. It should coat the back of a spoon. Remove from the heat.
Add salt, nutmeg, thyme, and garlic. Whisk to combine and set aside.
Then take out a 9x13 oven-safe casserole dish that has been lightly greased. Add 1 ladle of bolognese sauce in the bottom, and smooth to distribute it on the bottom of the dish. It doesn't need to cover it, just a thin layer.
Turn your lasagna pan vertically so it's facing towards you. Place a layer of four lasagna noodles vertically in the dish, overlapping slightly at the ends. You will have gaps in between the noodles but they will expand as they cook in the oven.
And add 1 ½ ladles of bechamel sauce on top of the noddles, then a ladle of meat sauce on top of each noodle, spreading it out with the back of a spoon, top with 1 cup of cheese on top. Repeat this process two more times to create three layers of noodles, sauces and cheese.
For the final layer, place 4 more noodles on top, cover with the remaining bechamel sauce and top with the remaining cheese. Add cracked pepper and a sprinkle of the Italian seasoning on top before baking.
Bake covered with foil at 325F for 45 min, then uncovered for 5-10 minutes until cheese is golden brown.
Slice into squares and pair with a tossed green salad and my classic French Vinaigrette.
Nutrition Information:
Yield:

6
Serving Size:

1
Amount Per Serving:
Calories:

1140
Total Fat:

37g
Saturated Fat:

14g
Trans Fat:

1g
Unsaturated Fat:

21g
Cholesterol:

84mg
Sodium:

2154mg
Carbohydrates:

151g
Fiber:

16g
Sugar:

36g
Protein:

45g