The BEST Tiramisu Cupcake Recipe
One of my favorite Italian dessert recipes is Tiramisu! But let's face it, it's not the quickest recipe to make. That's why I love this Tiramisu Cupcake recipe! You get all the great flavor of a traditional tiramisu...but without all the hassle!
They are pretty and fun to make and always wows a crowd when you bring them to a potluck!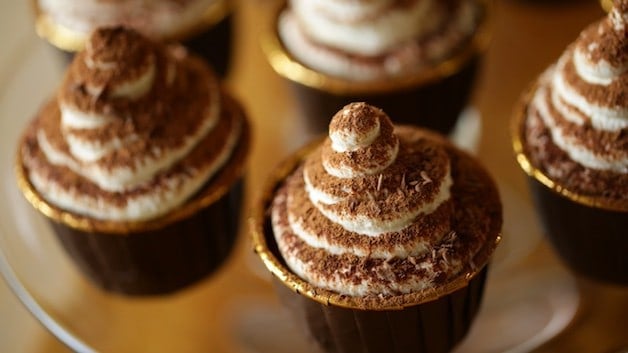 Recipe Pairing Ideas:
Watch a Demo of this Video Below!
Subscribe to my YouTube Channel for more recipe videos!
Step#1: Make the Cupcakes
I love this cupcake recipe because all you need are two bowls and a whisk! No need for the electric mixer at this stage. You'll only need it for the frosting.
I think these cupcakes look extra fancy in these cute brown cupcake liners with gold foil. They remind me of Italian espresso cups.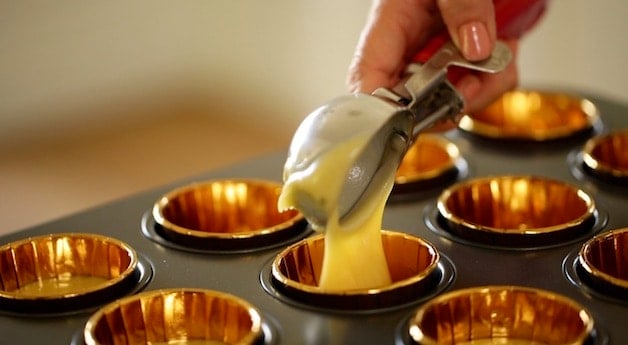 Step#2: Prepare the Coffee Mixture
The rich coffee rum flavor of these cupcakes comes from brushing their tops with a mixture of espresso and rum extract.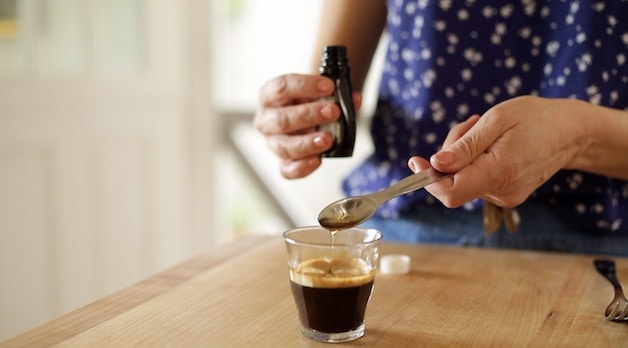 You could use real rum, but I find you get more "rum" flavor from the rum extract and it's cheaper too!
You'll pierce the cupcakes with a fork to allow this mixture to soak in easily.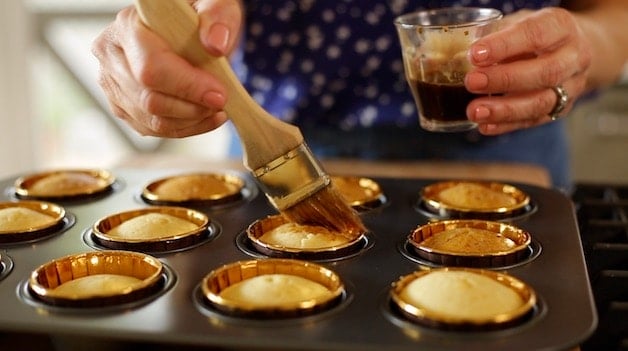 Then just brush the tops with this mixture 2-3 times with a pastry brush.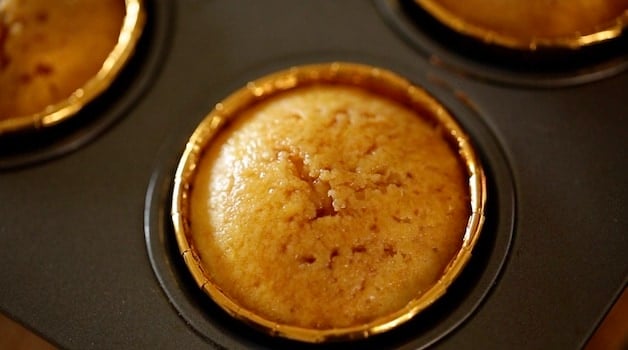 Step#3: Make the Frosting
The frosting is a delicious combination of mascarpone cheese and lightly sweetened whipped cream.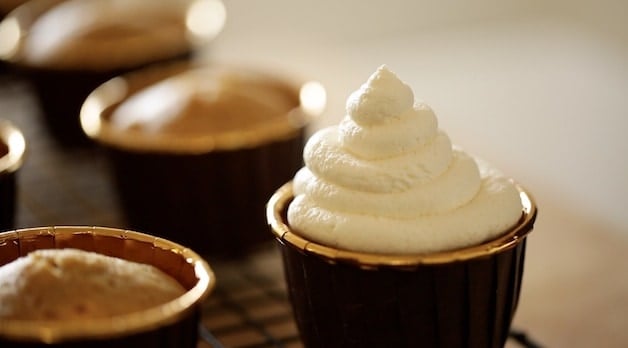 You'll fold the cream into the cheese, lightening it with each addition.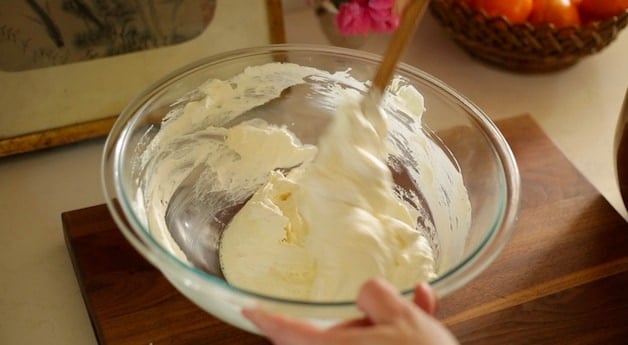 TIP: Make sure your mascarpone cheese is at room temperature. This will make it easier to fold the whipped cream in and create a light, fluffy mixture.
Step#4: Garnish the Cupcakes
The garnish on these cupcakes really seals the deal on the Tiramisu experience!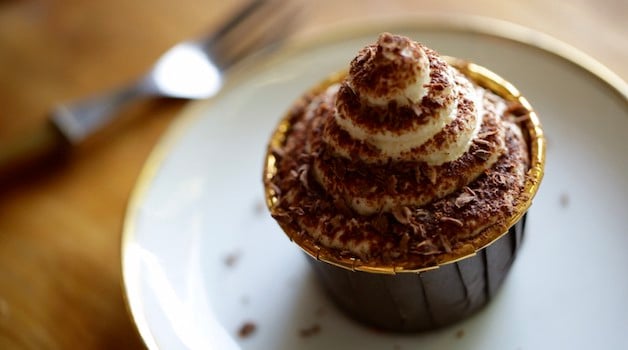 I like to use a combination of unsweetened cocoa powder placed in a sugar shaker and dust the tops of each cupcake.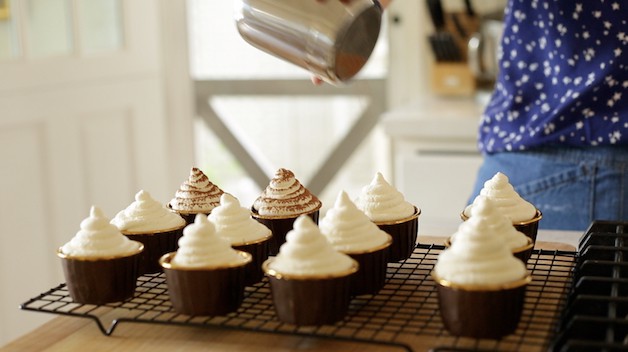 The cocoa powder sticks to each frosting coil separately and creates a really beautiful effect. Then top with some freshly grated dark chocolate on top.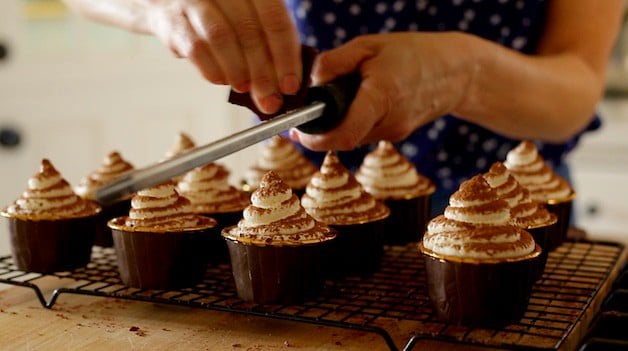 More Delicious Cupcake Recipes!
Please let me know if you make this recipe
by leaving a rating and review below!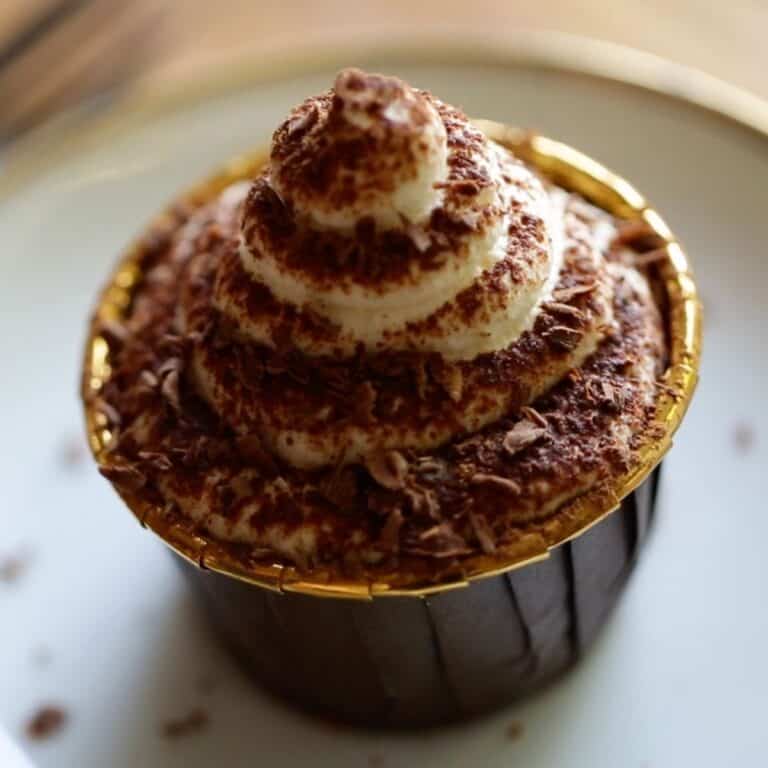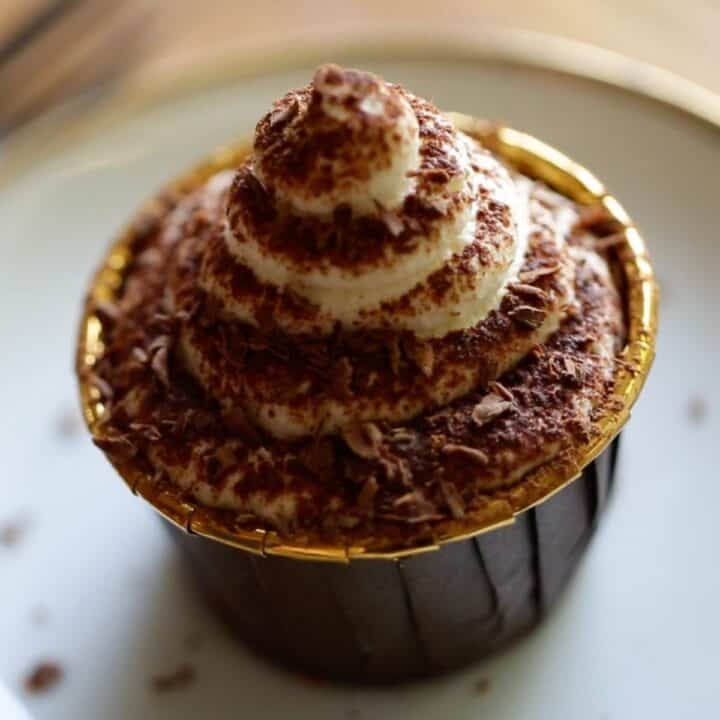 The BEST Tiramisu Cupcake Recipe
Prep Time:
1 hour
30 minutes
Total Time:
1 hour
45 minutes
A delicious and fun cupcake recipe that's just as delicious as a traditional tiramisu dessert but without all the hassle!
Ingredients
For the cupcakes:
2 eggs
¾ cup sugar
1 teaspoon vanilla extract
½ cup of oil
½ cup of water
1 ½ cups of all-purpose flour
1 ½ teaspoon baking powder
¼ teaspoon salt
¼ cup of espresso or strong coffee
1 teaspoon of rum extract
For the frosting:
2 cups of heavy cream
5 tablespoon powdered sugar
2 teaspoon vanilla extract
8 oz of mascarpone cheese
Garnish:
¼ cup cocoa powder
2 oz of dark chocolate
Instructions
Preheat oven to 350F (175C). Line a 12-cup muffin tin with cupcake papers and set aside.
In a large bowl whisk together the eggs, sugar, vanilla, oil and water. Set aside.
In a medium bowl whisk together the flour, baking powder and salt. Slowly whisk the dry ingredients into the wet ingredients until combined.
Fill each cupcake well ⅔ of the way full. Bake at 350F (175C) for 15-17 minutes. Allow to cool.
Meanwhile, whisk together the coffee and rum extract. Brush the coffee mixture on top of each cupcake with a pastry brush, 2-3 times to allow the mixture to seep into the cake. Set aside
In a large bowl add the mascarpone cheese and smear it around with a spatula to soften it. Beat together the heavy cream, sugar and vanilla extract with an electric mixer. Fold the heavy cream, in thirds, into the mascarpone cheese, lightening the cheese with each addition of the cream.
Transfer the frosting to a large pastry bag fitted with a round ½" tip (13mm). Working around the perimeter of the cupcake, pipe concentric coils around the cupcake creating 3 rings and finishing at the top creating a soft peak.
Place cocoa powder in a sugar shaker and dust the top of each cupcake with the cocoa power. Then grate the dark chocolate on top with a microplane zester or cheese grater.
Serve immediately or keep refrigerated until ready to serve. Remove from refrigerator 30 mins before serving and keep at room temperature. This will allow the frosting to soften.
Notes
Remove cupcakes from the refrigerator at least 30 minutes before serving to allow the frosting to get to room temperature.
Make sure the mascarpone cheese is at room temperature before using for the frosting. It will make it easier to incorporate into the cream that way.
Nutrition Information:
Yield:

12
Serving Size:

1
Amount Per Serving:
Calories:

551
Total Fat:

44g
Saturated Fat:

17g
Trans Fat:

1g
Unsaturated Fat:

24g
Cholesterol:

102mg
Sodium:

177mg
Carbohydrates:

34g
Fiber:

1g
Sugar:

20g
Protein:

5g