Quick & Easy Chicken Piccata Recipe
Chicken Piccata with its velvety smooth lemon caper sauce has to be one of the most comforting Sunday night dinners and it doesn't have to take you all night in the kitchen! In fact, it can be made in 30 minutes or less and you probably have most of the ingredients already on-hand!
It's a main course recipe that pleases both kids and grown-up alike, and will surely wake up the taste buds if you are stuck in a chicken rut, making the same chicken recipes week after week!
Looking for another delicious chicken recipe? Try my Artichoke and Spinach Chicken Bake!
Recipe Pairing Ideas:
Chicken Picatta is a classic Italian dish that pairs really well with any potato, rice, or pasta side dish. My personal favorite combination is to pair it with my Smashed Potato or my Sour Cream Mashed Potato Recipes.
The same is true for Chicken Marsala, which is a similar dish but has a slightly sweet, mushroom flavored sauce instead of the lemon butter sauce.

What is Chicken Piccata Made Of?
What makes chicken piccata so easy to make is that it calls for very few ingredients. It's basically pounded chicken cutlets that have been dredged in flour, seared in butter and olive oil, and then finished off with a reduced sauce of white wine, lemon juice, butter, and capers.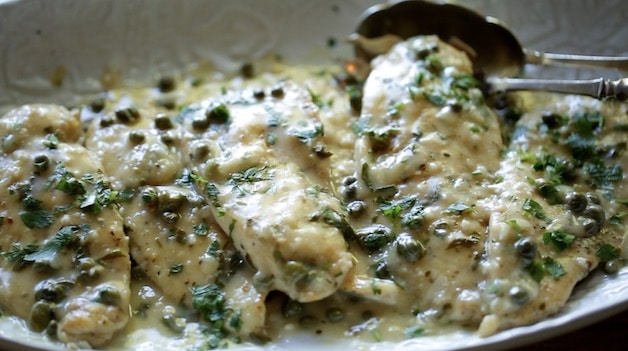 Watch My Video Demo of This Recipe Below!
Chicken Piccata is similar to Chicken Francese but the difference between these two dishes lies in the breading. Chicken Francese is dipped in flour and then egg, creating a thicker breading. Whereas chicken piccata is just dredged in flour.
They are both are served with a lemon butter sauce but chicken piccata is served with capers. And that for me is the real selling point! Lighter breading and capers!

Step#1: Season and Dredge the Chicken 
If you have the time I highly recommend seasoning the chicken at least 30 minutes before you sear it. This will allow the salt to work its magic on the chicken and keep it tender and juicy. In fact, you could even do this the day before and they would be even better!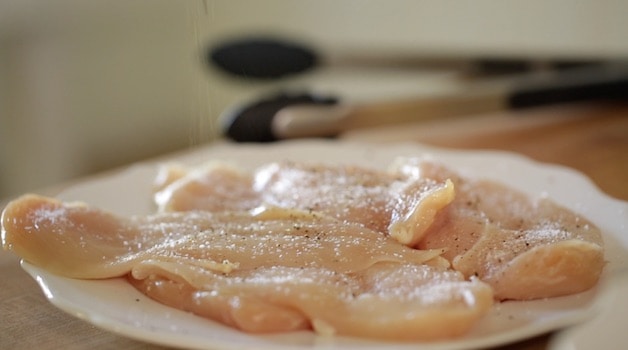 I also like to season the flour with a little bit of Italian seasoning. If you can't find that you could also use dried basil or dried oregano or a combination of both. It gives the coating on the chicken just a bit more flavor.
Dredge the chicken in the flour mixture so it's coated on all sides with just a thin layer covering it. Be sure to shake off the excess.

Step #2: Sear the Cutlets
Make sure to choose a skillet that is deep enough to hold at least 2 cups of sauce. Since after you sear your chicken, you'll build the sauce in the pan.

Searing Tip:
I like to use a combination of olive oil and butter for searing the chicken. This prevents the chicken from scorching in the pan with just the olive oil and also prevents the butter from burning.
It creates a really nice soft sear that still turns the chicken golden brown but doesn't make the chicken tough.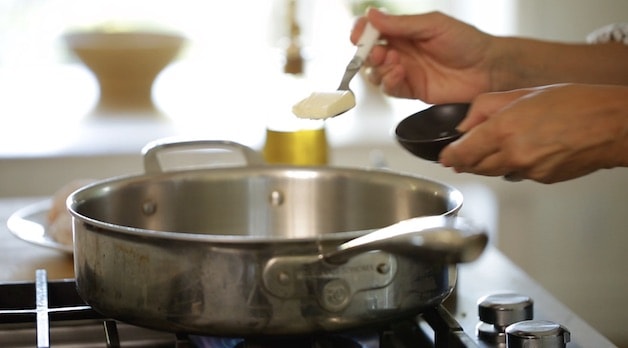 Allow the chicken to rest while you prepare the sauce. At this stage don't worry if the chicken isn't cooked all the way through. We'll cook it further in the next stage.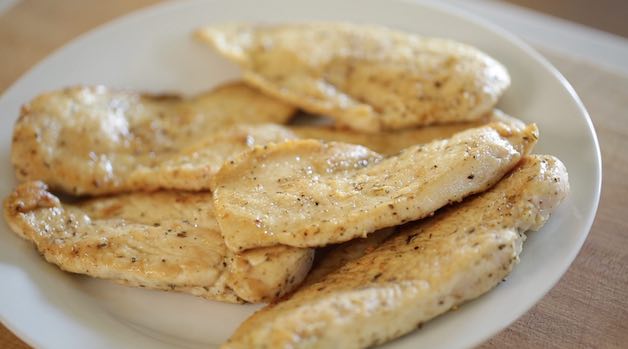 Step #3: Make The Sauce
The sauce is the best part of chicken piccata and it's super simple to do! First, deglaze the pan with wine and lemon juice.
Then reduce it in half. Then you'll add chicken broth and garlic, simmer to reduce by a third, and then add the slurry.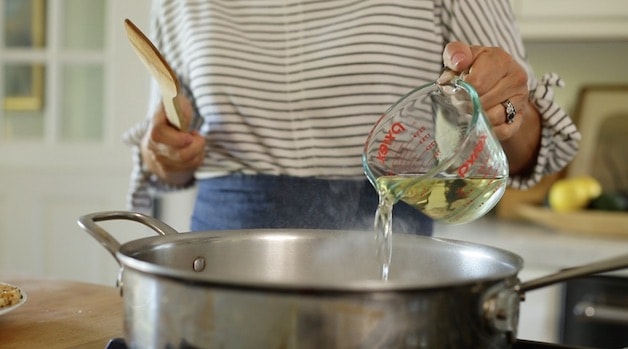 What's the Purpose of a Slurry? 
A slurry in cooking is a combination of equal parts water to equal parts cornstarch. It serves to thicken a sauce that's already made without having to make a roux. A roux is typically made with butter and flour and often times begins a sauce.
Tips for Using a Slurry Successfully!
Make sure the water you use is cold. It shouldn't be warm or hot or it will not thicken.
Be sure the sauce is at a rolling simmer with visible bubbles when you add the slurry otherwise, it will not activate the cornstarch
Once the sauce thickens, reduce the heat. Otherwise, if it gets too hot it will thin out the sauce by deactivating the thickening agent.
Once the sauce is thickened add the capers and the chicken.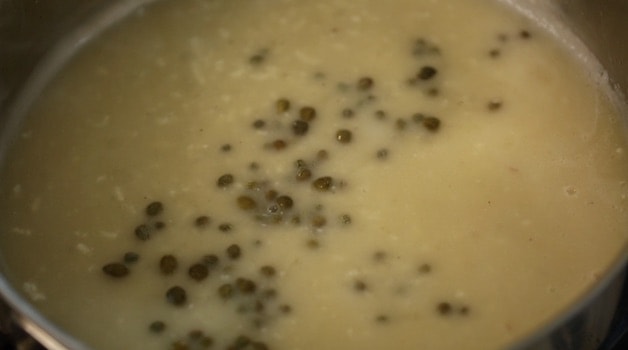 Simmer to allow the chicken to warm through or cook through. Pouring the sauce over the cutlets to keep them moist.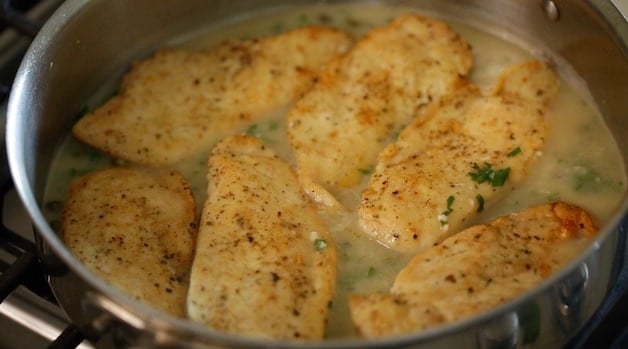 Then transfer the chicken onto a large platter and pour the sauce over the chicken. Garnish with fresh parsley.
More Chicken Recipes You'll Enjoy!
If You Enjoyed This Recipe
Please Leave a Rating and a Review Below!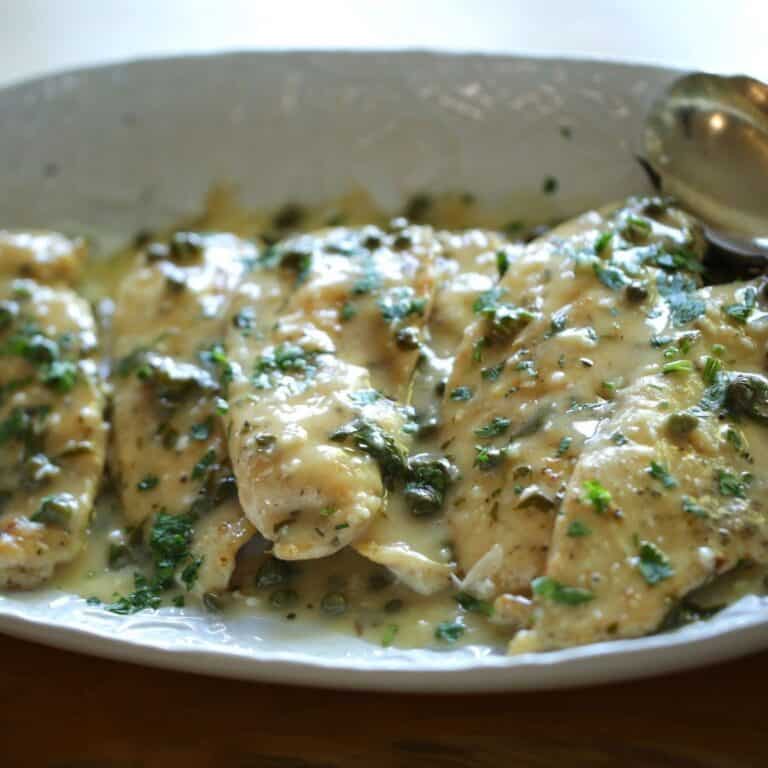 Quick & Easy Chicken Piccata Recipe
Chicken Piccata has to be one of the most comforting Sunday Night Dinners and it doesn't have to take you all night in the kitchen! In fact, it can be made in 30 minutes or less and you probably have most of the ingredients already on-hand! 
Ingredients
6 chicken cutlets
1 tablespoon (15ml) butter
1 tablespoon (15ml) olive oil
¼ cup (30g) flour
1 teaspoon (5ml) Italian seasoning
Salt and Pepper to taste
For the Lemon Caper Sauce:
½ cup (120ml) white wine
2 tablespoon (30ml) lemon juice
1 cup (240ml) chicken stock
2 garlic cloves, minced
1 tablespoon (15ml) cornstarch + 1 tablespoon (15ml) cold water for slurry
2 tablespoon (30ml) capers
2 tablespoon (30ml) fresh Italian Parsley
1 tablespoon (15 ml) butter
Instructions
Season chicken on both sides with salt and pepper 30 minutes before cooking.
Place flour and Italian seasoning on a plate. Whisk to combine. Dredge chicken through flour to lightly coat each side.
In a large, deep skillet, melt butter and olive oil. Once sizzling, place chicken cutlets in the pan (3 at a time) and sear in batches on both sides. It doesn't need to be cooked through at this stage, just nicely browned. Set aside on a plate to rest.
Deglaze pan with wine and lemon juice. Reduce by half. Then add chicken broth and garlic. Bring to a rolling simmer and reduce slightly. Add the slurry, making sure your water is very cold and your broth mixture is very hot. This will thicken
the sauce. Once thickened. Reduce heat to low.
Swirl in butter, then parsley and capers. Add back in chicken to finish cooking through.
Place chicken on a large platter, pour the sauce over chicken, and garnish with more fresh parsley!
Notes
Tips for Using a Slurry Successfully!
Make sure the water you use is cold. It shouldn't be warm or hot or it will not thicken.
Be sure the sauce is at a rolling simmer with visible bubbles when you add the slurry otherwise it will not activate the cornstarch
Once the sauce thickens, reduce the heat. Otherwise if it gets too hot it will thin out the sauce by deactivating the thickening agent
Nutrition Information:
Yield:

4
Serving Size:

1
Amount Per Serving:
Calories:

548
Total Fat:

17g
Saturated Fat:

3g
Trans Fat:

0g
Unsaturated Fat:

12g
Cholesterol:

223mg
Sodium:

665mg
Carbohydrates:

45g
Fiber:

2g
Sugar:

17g
Protein:

48g