Sheet Pan Chicken with Potatoes and Veggies
This Sheet Pan Chicken with Potatoes and Veggies is one of the easiest chicken recipes on the planet! All you do is toss it with olive oil, lemon, garlic, and seasonings, pop it on a sheet pan, and roast! It's a great quick and easy dinner idea that takes only 30 minutes in the oven.
The chicken legs keep the meat moist and tender while the Brussel sprouts, potatoes, and carrots become nicely roasted and caramelized as they mingle with the juices of the chicken!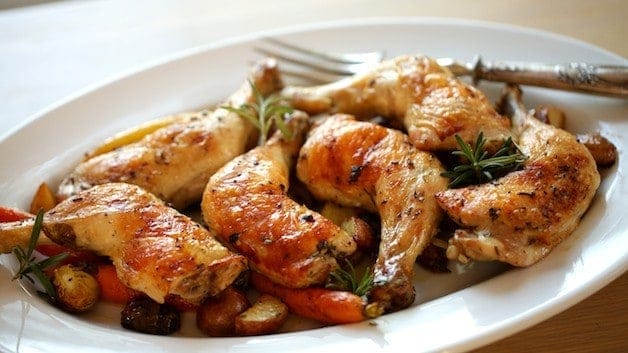 It's one of my favorite weeknight dinner recipes because it's"hand-free-cooking" which frees you up to do other things around the house, even if that's just relaxing with a glass of wine, knowing dinner is taken care of!
Watch My Video Demo of this Tutorial Below!
How-To Make The Marinade
The best part about this recipe is how easy the marinade is. It only takes a few ingredients and doesn't need to marinate for any length of time. The marinating is done in the oven! All it takes is a little fresh lemon juice, olive oil, salt, pepper, rosemary, and garlic. Et voila!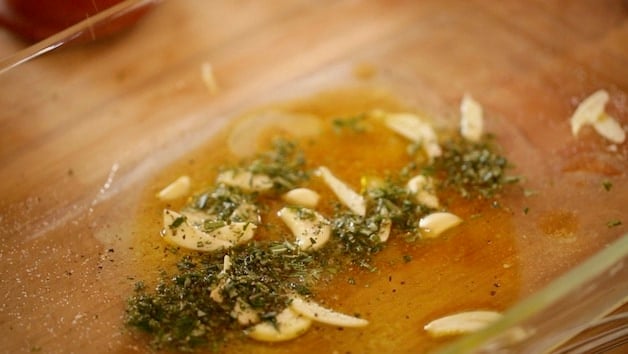 Be sure to slice the garlic instead of mincing it or chopping it. This will assure that your garlic will caramelize and not burn. For another wonderful sheet pan dinner with a sweeter flavor profile try my Orange Cinnamon Chicken with Couscous.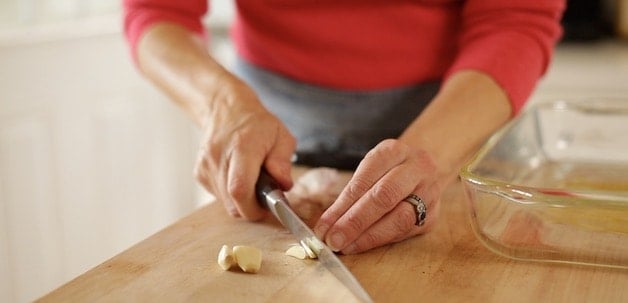 Marinading Tip:
I like to mix the marinade with the chicken in a casserole dish because it's easier to coat the chicken and veggies on a flat surface as opposed to a bowl.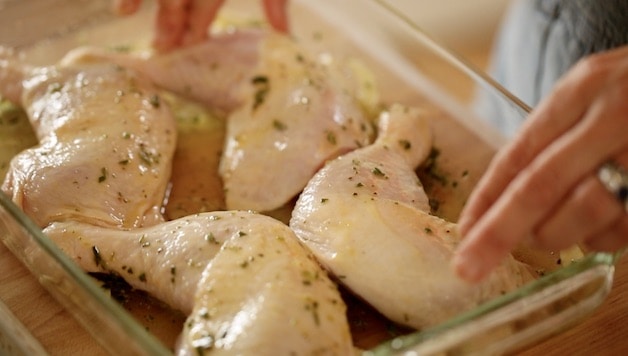 If you wanted to roast the chicken in the casserole dish, you could, but I find you get a crispier result with everything spread out on a sheet pan.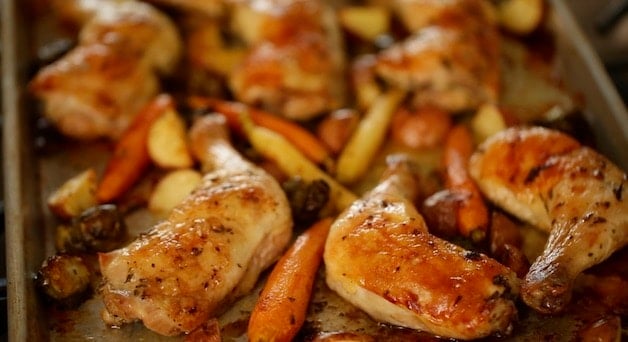 What's the Best Cut of Chicken For Sheet Pan Chicken?
The secret to sheet pan dinners, in my opinion, is to use the same cut of chicken. That way everything will be done at the same time. If you mix up the cuts, for example, chicken breasts and chicken thighs, the breasts will dry out before the thighs are done. So it's best to stay within the same cut of meat.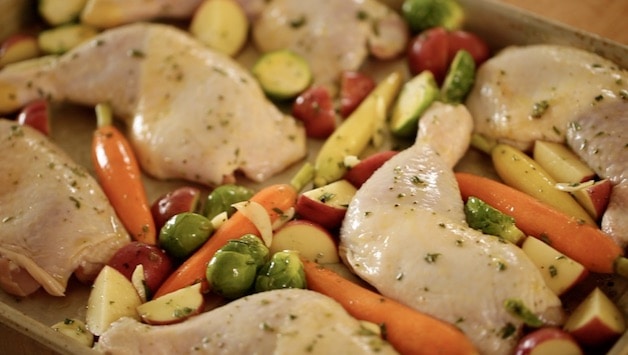 I like to use bone-in, skin-on chicken legs that include the chicken thigh and the drumstick. I think they are the most flavorful cut of chicken and they are the cheapest too! They tend to look a bit prettier on the plate once served as well.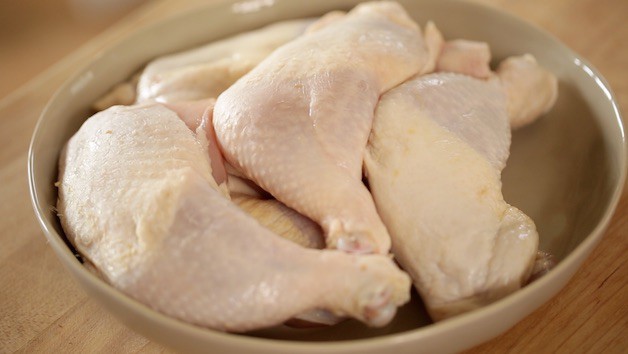 I also find the dark meat stands up better to the 30-40 minute roasting time needed to caramelize the vegetables and won't dry out the way chicken breasts would.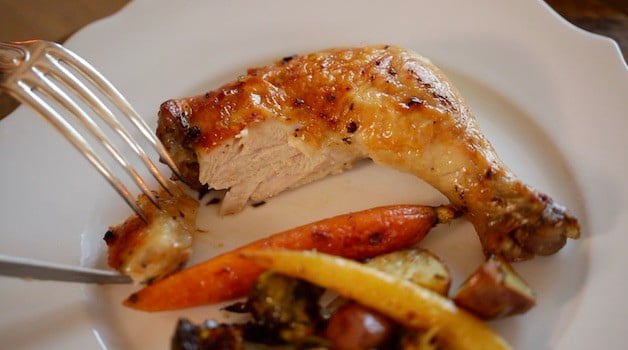 The Benefits of Baby Vegetables
I like to use a combination of baby vegetables since they are small and will cook at the same rate. But if you wanted to just bake the chicken and use your air fryer for a side dish, I highly recommend my air fryer cauliflower recipe. That would also pair really nicely with this dinner too! Or you could also try my sour cream mashed potatoes that would be fantastic as well!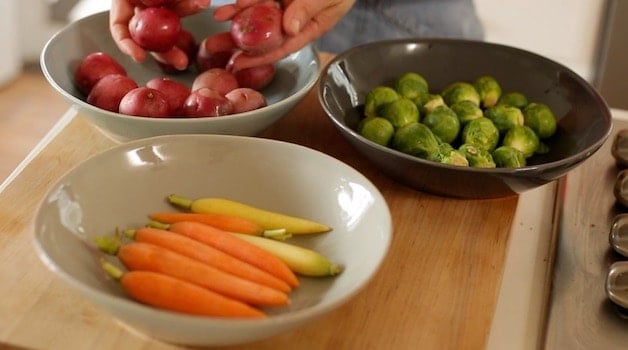 Prep The Vegetables
To prep the veggies, quarter the potatoes and cut the Brussels sprouts in half, this will allow them to carmelize on their cut sides and be easier to eat as bite-sized pieces. I like to leave the baby carrots whole because I think they look prettier that way on the plate. You can find these cute baby carrots already peeled and ready to go at Trader Joe's. Seriously, what would we do without these folks?! How I love Trader Joe's.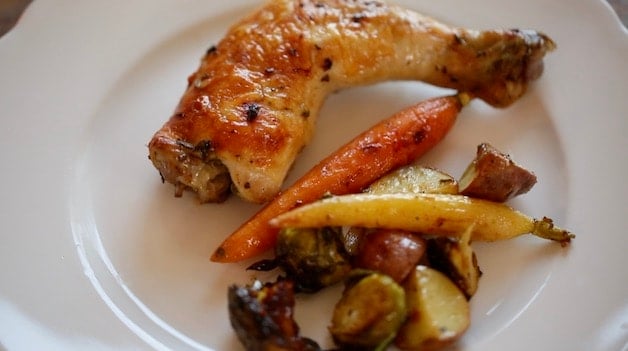 Dredge all the veggies through the marinade and place them on the sheet pan with the chicken making sure everything is spread out on a single layer.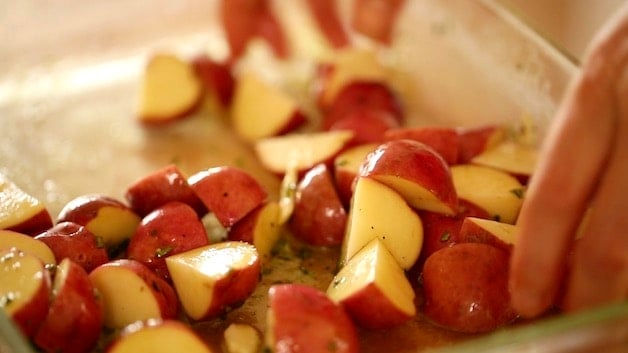 How Long To Bake?
Cooking time for sheet pan chicken can vary depending upon the cut of chicken you are using. White meat chicken will take less time than dark meat chicken.
For this recipe, you'll place your sheet pan in a 400F (200C) oven for 30-40 minutes until the chicken legs are golden brown and cooked through. At that point, your veggies will also be nice and tender too!

For a Pretty Presentation
Sheet pan chicken is such an easy recipe that it also works well for entertaining. To make it look great on a platter, transfer the veggies first to form a bed of vegetables, then place the chicken legs on top. I think this dish looks extra fancy that way and no one needs to know how easy it was to make!
If you have a little more time another great chicken dish for entertaining is my Chicken and Mushroom Crepes! And the best part is you can have them made ahead of time too!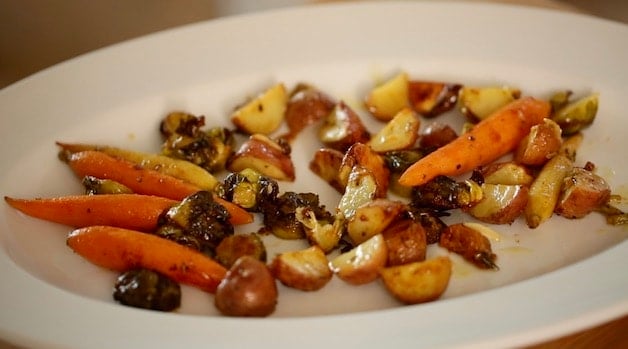 Then you can garnish with some fresh rosemary sprigs and dinner is ready!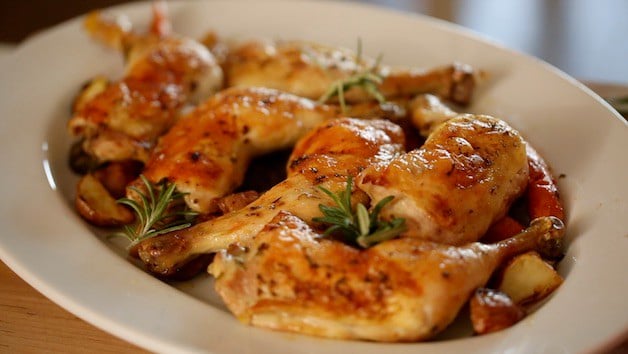 If you have leftover chicken you can put it to good use for tomorrow night's dinner in my quick and easy Chicken Tortilla Soup Recipe. Another fantastic weeknight staple at our house!
More Recipes You'll Enjoy!
If You Enjoyed This Recipe
Please Leave a Rating and a Review Below!
This helps others discover and enjoy the recipe too!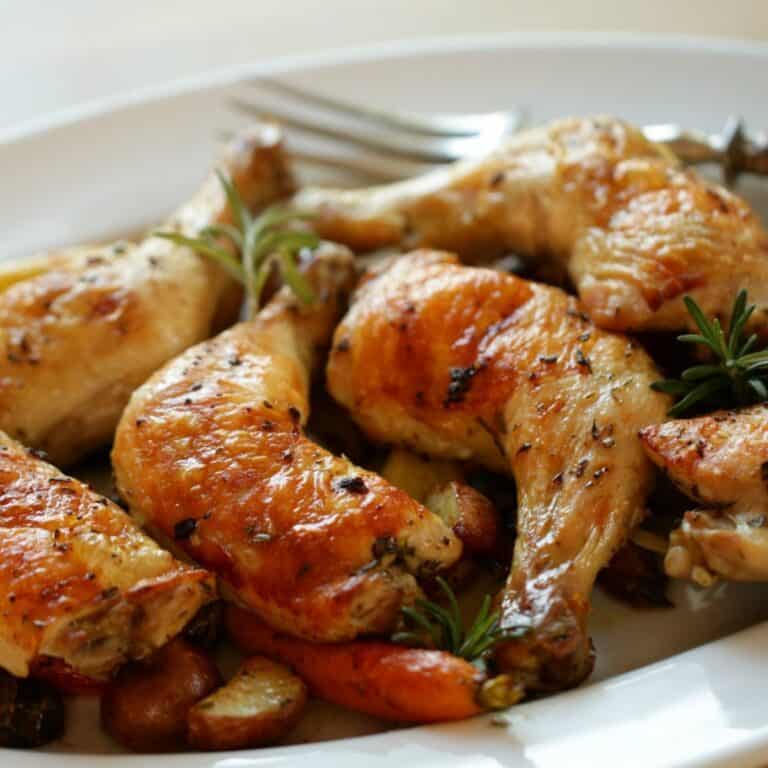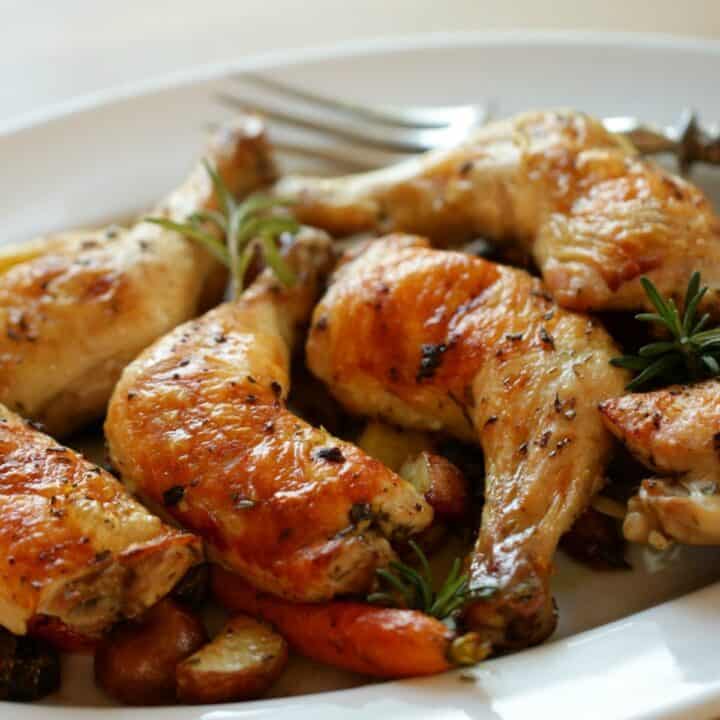 Sheet Pan Chicken Recipe with Potatoes and Veggies
Total Time:
1 hour
10 minutes
Sheet Pan Chicken dinners are a mainstay of the busy household! They come together so quickly and easily you'll wonder why you never served them more often!
Ingredients
6 Bone-In, Skin-On Chicken legs
¾ lb (340g) baby red potatoes, skins on quartered
10 Baby Brussel sprouts, sliced in half
5-6 baby carrots, peeled and kept whole
3 tbsp. (45 ml) fresh lemon juice
⅓ cup (80ml) olive oil
3 garlic cloves, sliced
2 tbsp. (30ml) fresh rosemary, minced
salt and pepper to taste
Instructions
Preheat oven to 400F(200C)
In a large 9 x 13 (23 x 34) casserole dish combine lemon juice, olive oil, rosemary, garlic, salt and pepper. Whisk together. Add chicken legs and coat all over with mixture and then transfer to sheet pan, do the same with each of the veggies and transfer to sheet pan as well.
Place pan in the oven and roast for 35-45 minutes, or until the chicken is golden brown and cooked through and veggies are tender and caramelized. This can depend upon the size of your chicken legs and size of your veggies. Bigger chicken legs and veggies could take a bit more time.
Transfer veggies to a large platter, serve chicken on top. Garnish with fresh rosemary.
Notes
I like to use bone-in, skin-on chicken legs. I think they are the most flavorful cut of chicken and they are the cheapest too!
Be sure to slice the garlic instead of mince or chopping it. This will assure that your garlic will caramelize and not burn.
If you have a Trader Joe's near you they sell the baby carrots already peeled and ready to go! A great time saver!
Nutrition Information:
Yield:

6
Serving Size:

1
Amount Per Serving:
Calories:

139
Total Fat:

5g
Saturated Fat:

1g
Trans Fat:

0g
Unsaturated Fat:

3g
Cholesterol:

55mg
Sodium:

112mg
Carbohydrates:

12g
Fiber:

2g
Sugar:

2g
Protein:

12g