Harvest Salad with Honey Balsamic Vinaigrette
This Harvest Salad with Honey Balsamic Vinaigrette will be one of your new favorite holiday recipes. Let's face it, one of the biggest challenges around Thanksgiving is the oven space!
It can be a balancing act trying to get the Turkey and all the sides cooked and reheated at the same time. That's why I include a few chilled dishes, that can be prepped in advance. Then all you have to do is assemble and serve!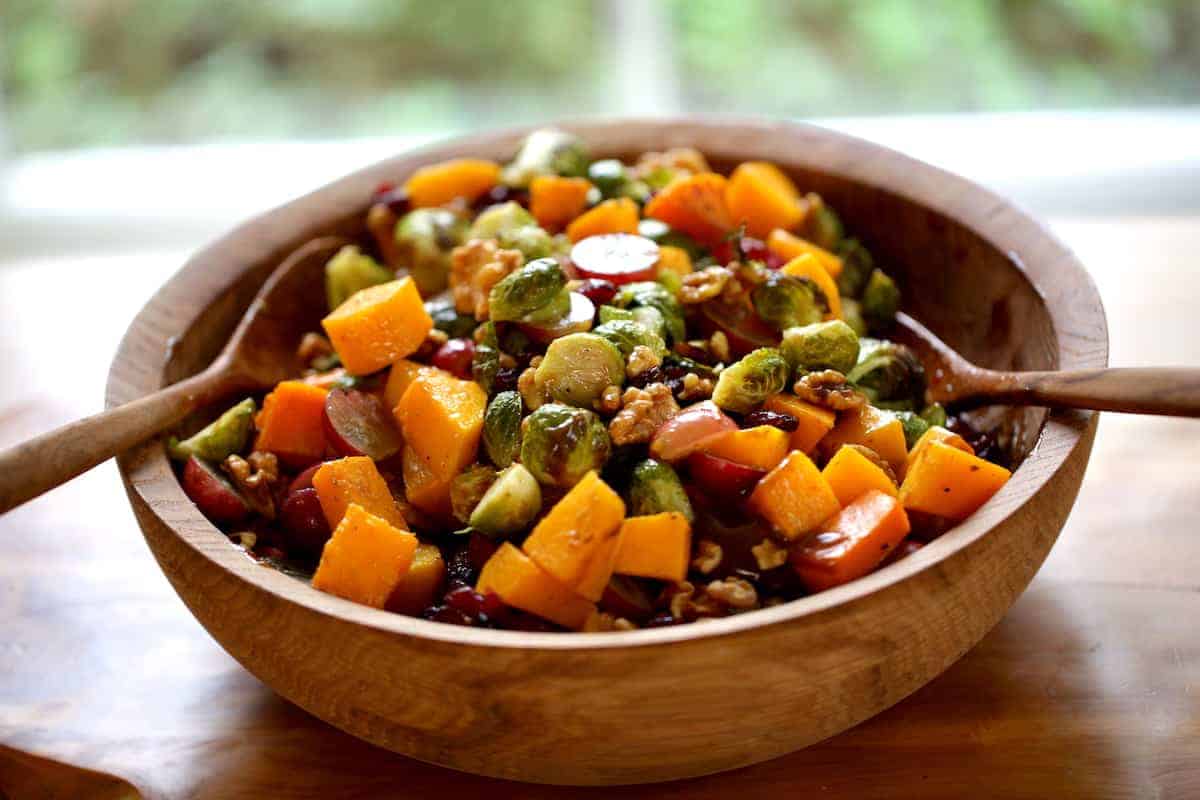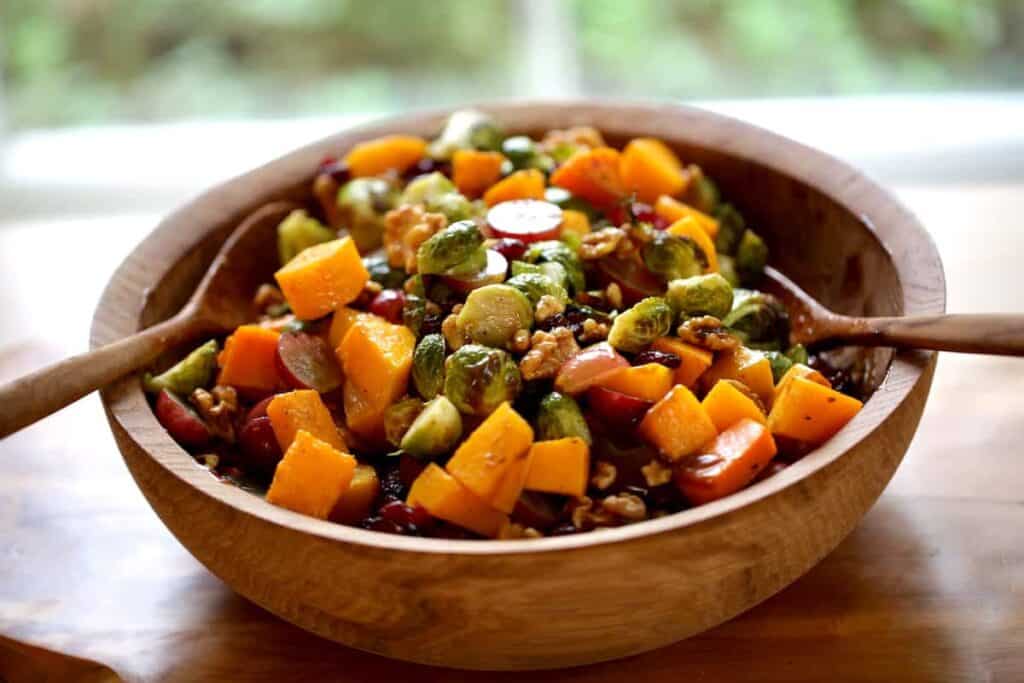 Watch My Video Demo of This Recipe Below!
Subscribe to My YouTube Channel and Never Miss a Recipe!
Celebrate the Fall Flavors
This salad incorporates some of the season's most classic flavors such as Brussels sprouts, butternut squash, grapes, walnuts, and dried cranberries. It's also a great vegetable side dish for those guests who claim "they don't like vegetables".
That's because roasting vegetables brings out their best flavors and avoids soggy-veggie-syndrome, which is the kiss of death of any Thanksgiving buffet. If you've ever had an overcooked Brussels sprout, chances are you were turned off for life.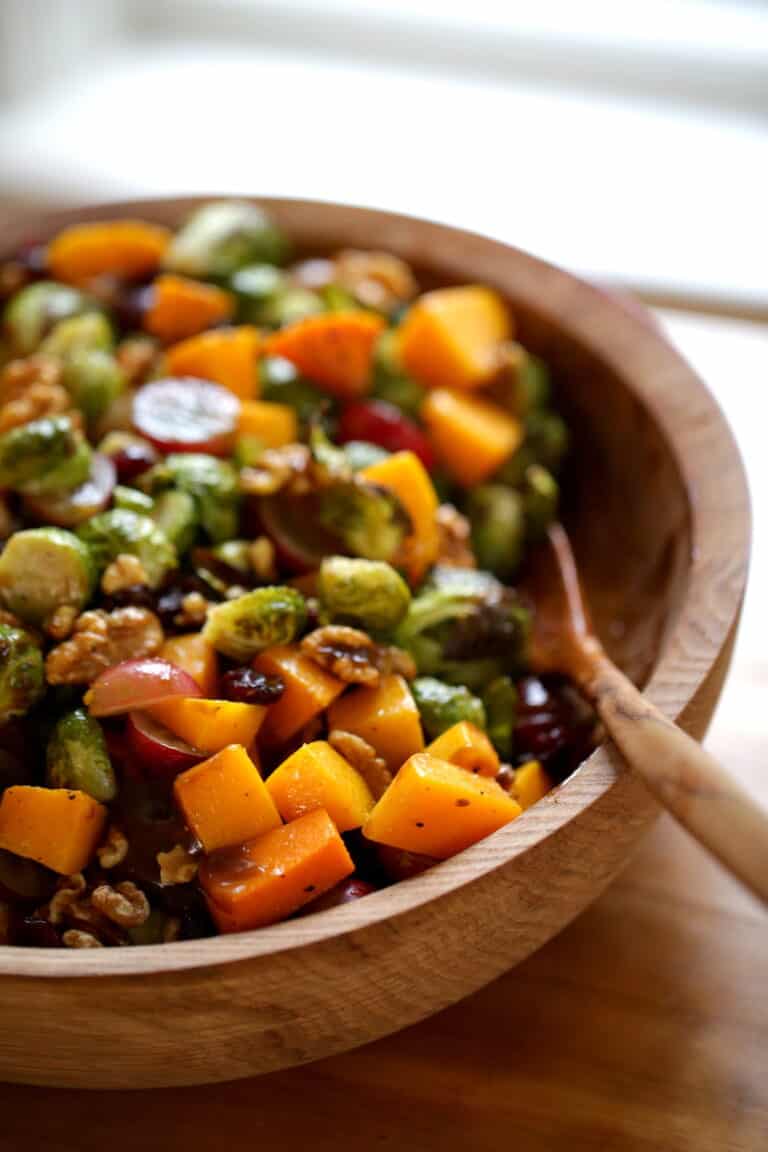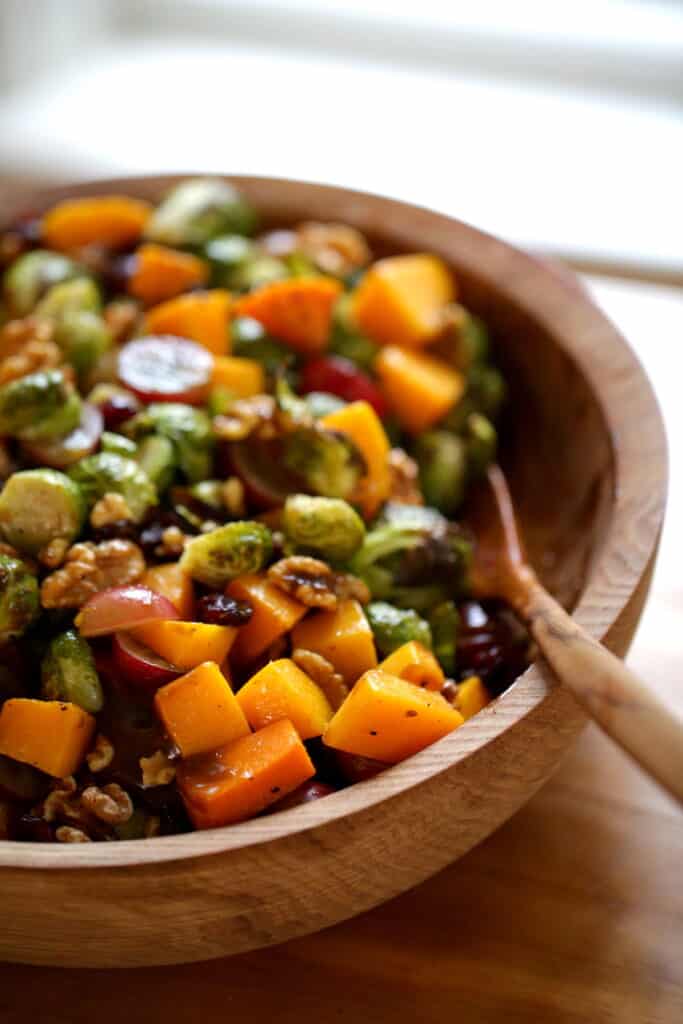 Prepping the Vegetables Ahead of Time
The day before you can roast the Brussels sprouts and the butternut squash and transfer them to separate containers, that way they'll preserve their unique flavors.
I also slice the grapes as well so they are all ready to go and will be easier to eat.
Slicing grapes may seem like pre-schooler food prep, but if you are serving Thanksgiving to a crowd, and guests are eating on their laps, they will thank you for it!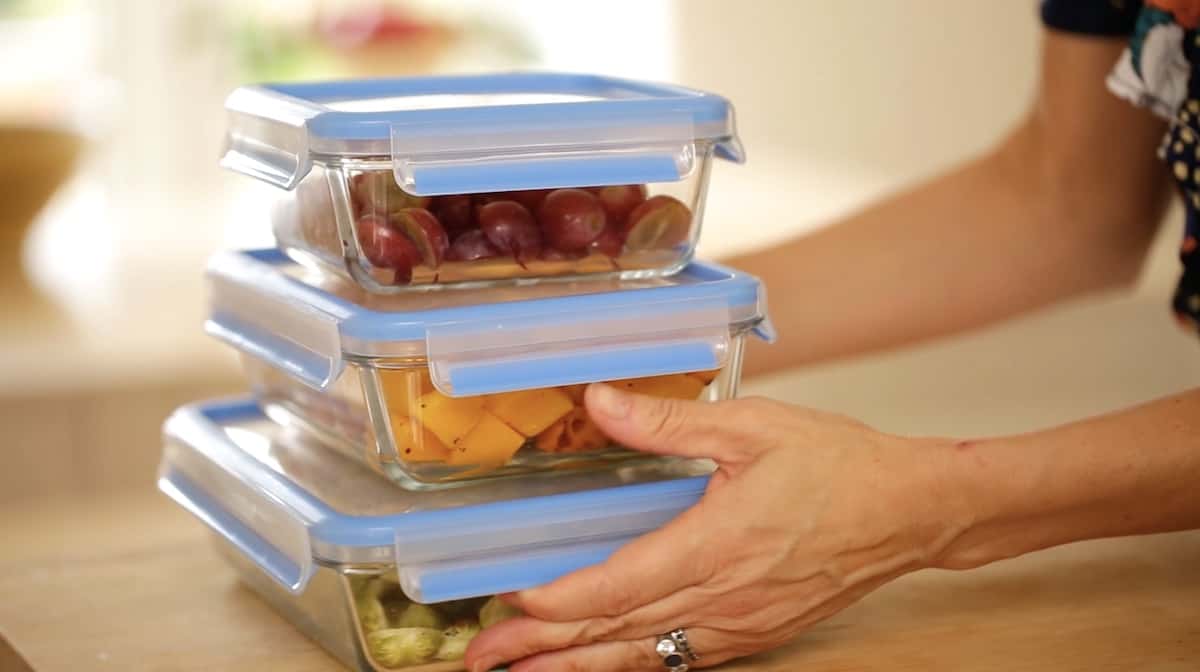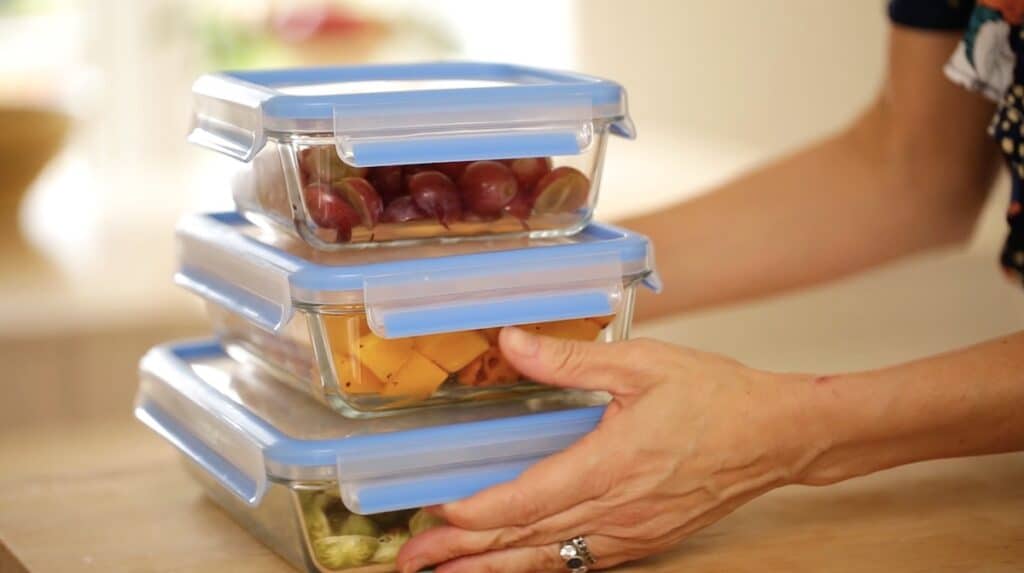 Assemble & Serve
Then all you have to do the day of is transfer all the components to a large salad bowl, add the walnuts, and dried cranberries, and toss with the dressing and serve.
I typically serve the blue cheese in a bowl on the side, because some guests can be funny about blue cheese.
But personally, I think it's what makes this salad really sing. Especially against the grapes and honey balsamic dressing.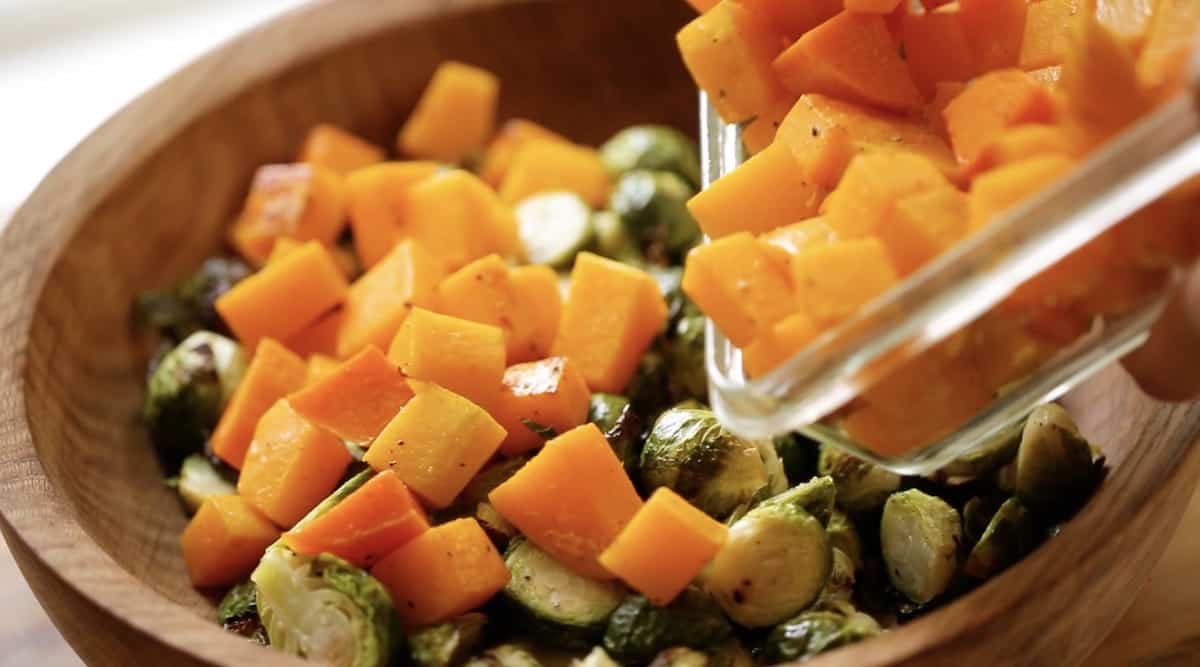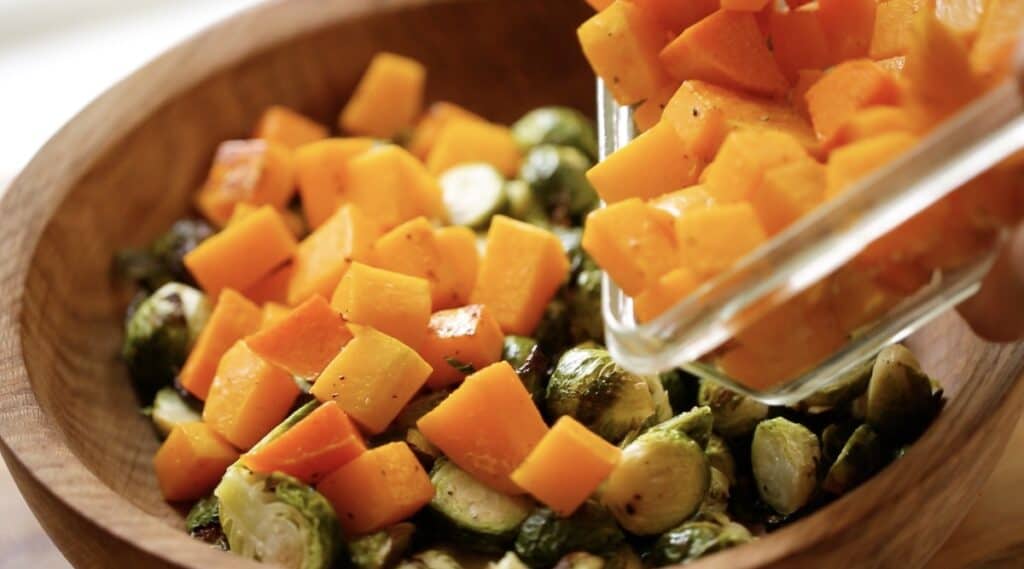 How To Prep The Brussels Sprouts
Brussel sprouts can get pretty banged up at the market, especially if you are buying them in a bag, already removed from their stalk.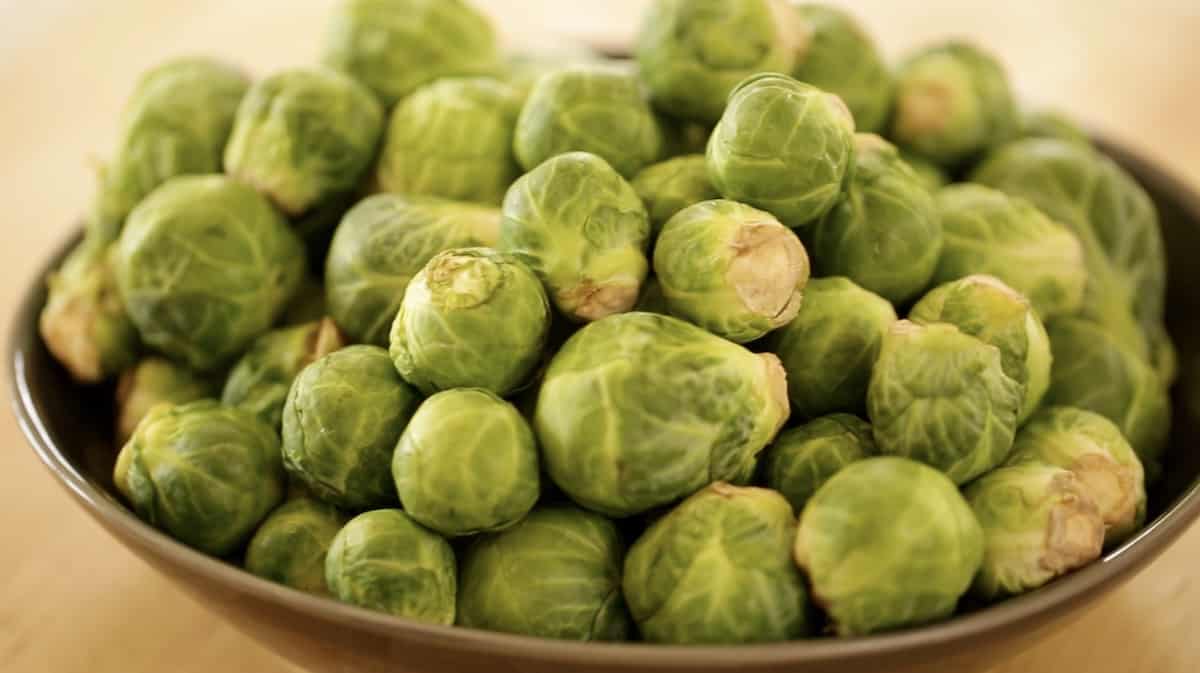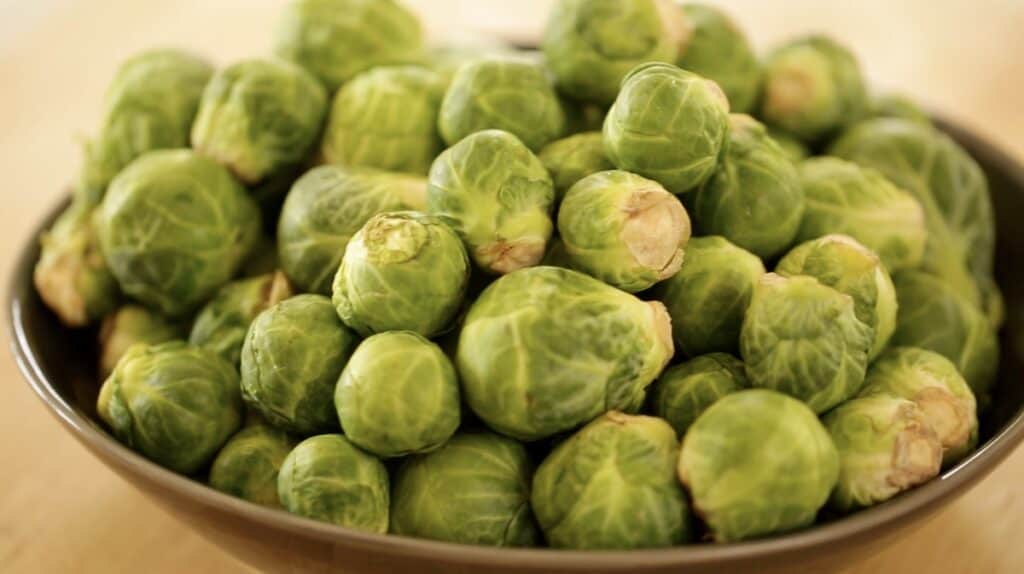 Simply, remove any damaged out leaves and then slice of the ends, being careful to not slice too much of the end, or you'll loose too many leaves.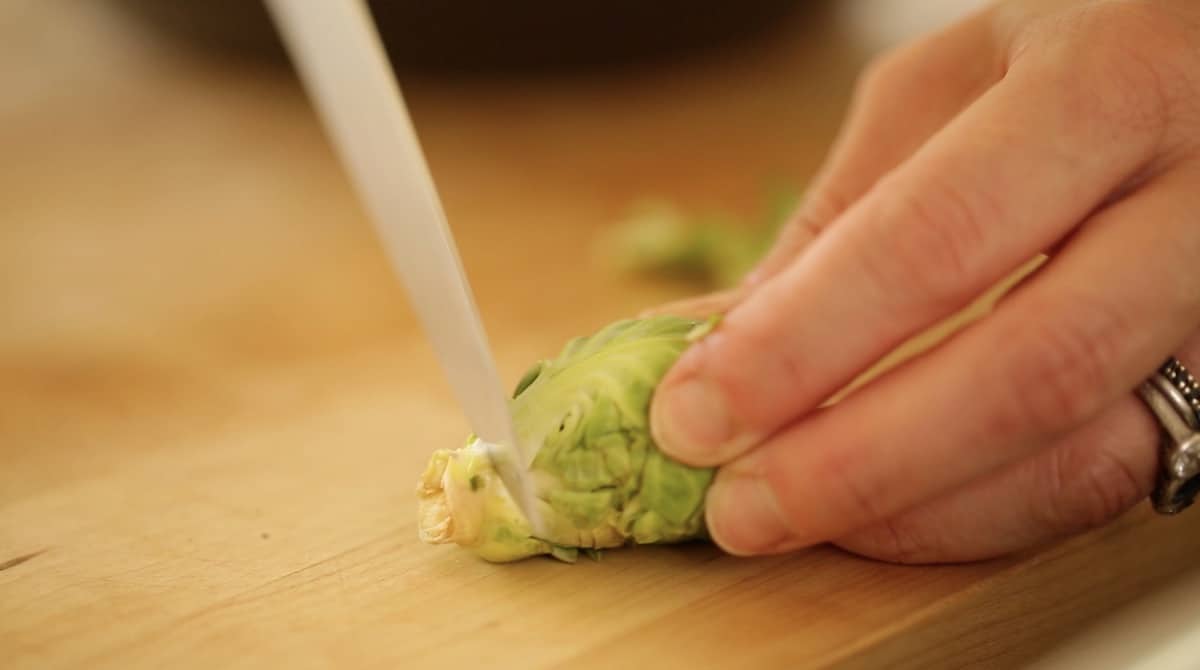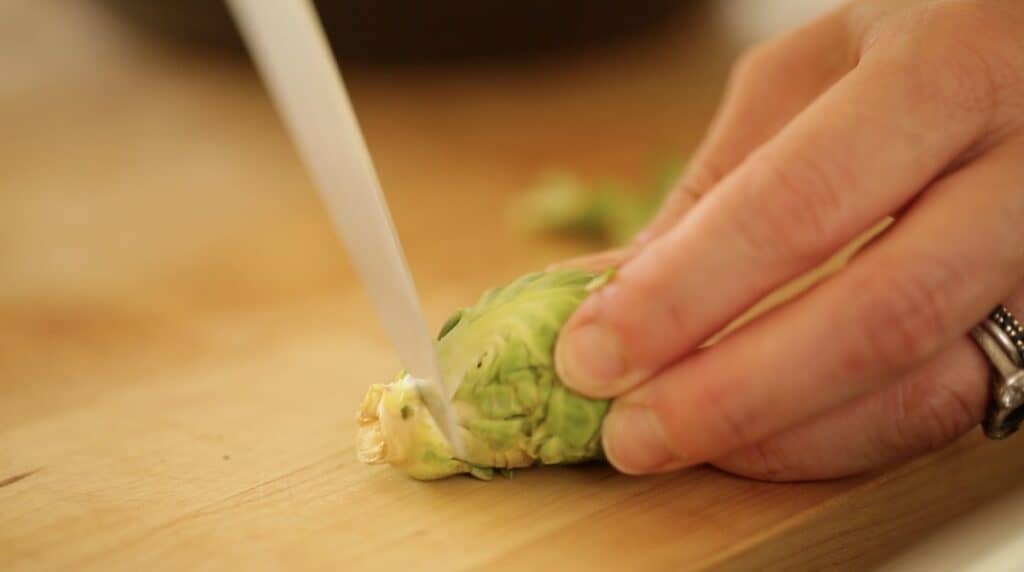 Then slice them in half, or if they are larger in size, you can quarter them too. The more places they have a "cut side" the more opportunities they will have to caramelize.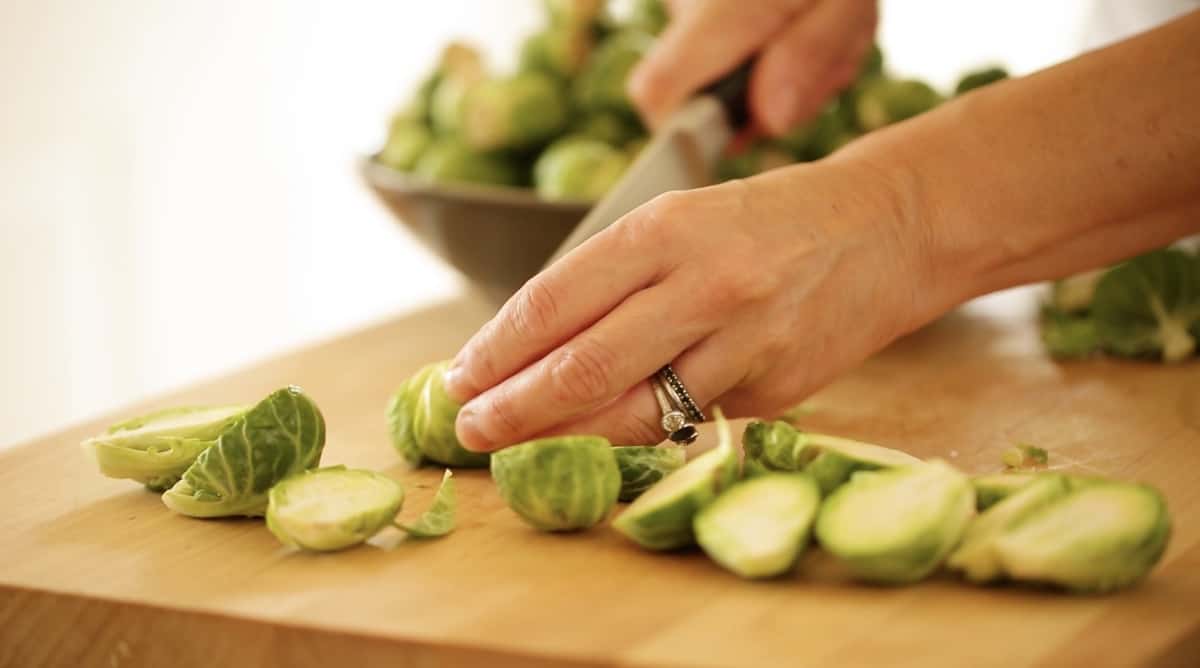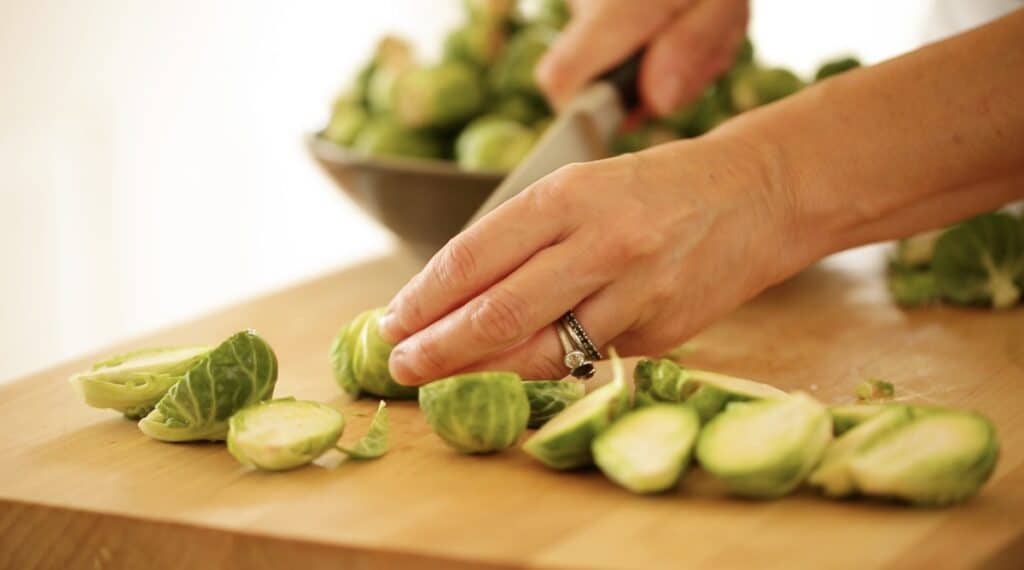 The Secret to a Crispy Brussels Sprout
Crispy Brussels sprouts hate moisture so if they are still wet after rinsing them off, be sure to pat them completely dry.
Once you place them on the baking tray, be sure to give them enough room to roast otherwise they will steam up instead of crisp up.
Reposition the sprouts so they are cut side down. This will allow them to caramelize the best.
And don't skimp on the heat! The oven needs to be hot! 450F is what it will take.
For an even faster route try my Air Fryer Brussel Sprout Recipe!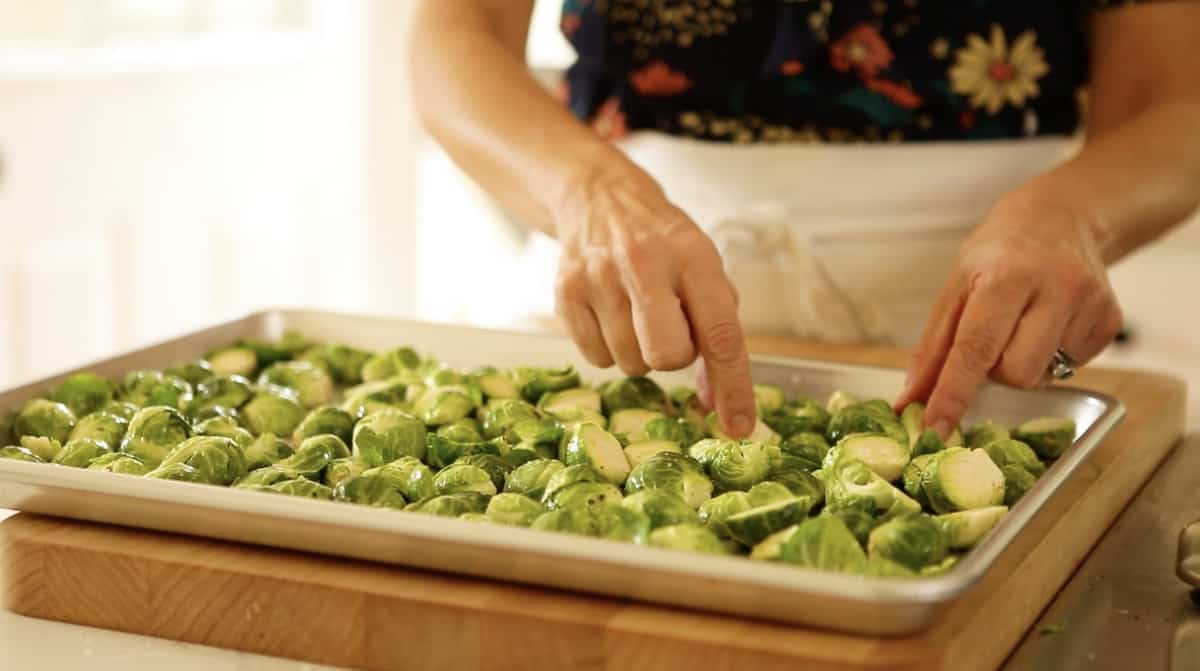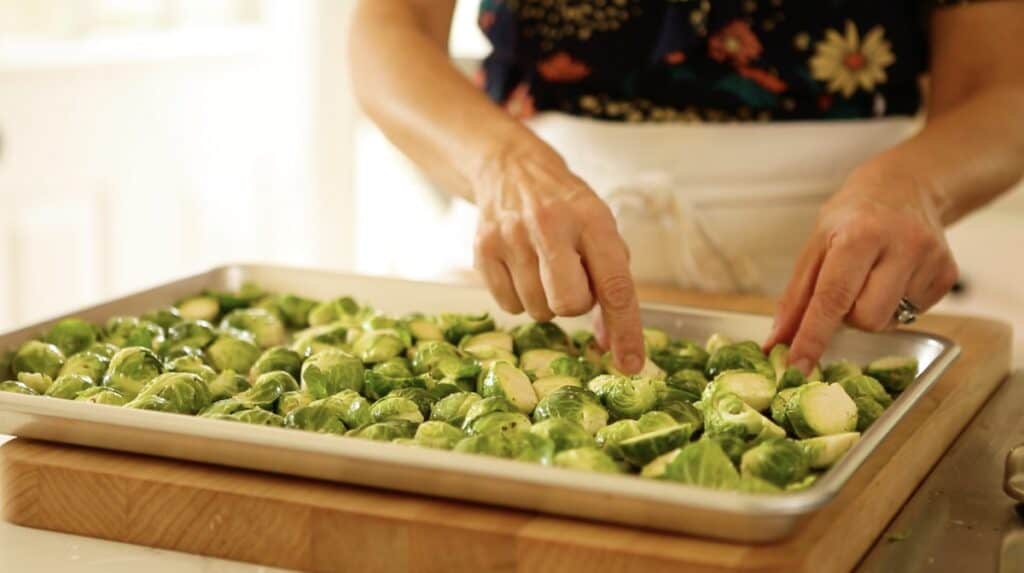 If you follow these steps you will be rewarded with crispy, slightly charred Brussels sprouts that will be full of flavor and will have the best texture.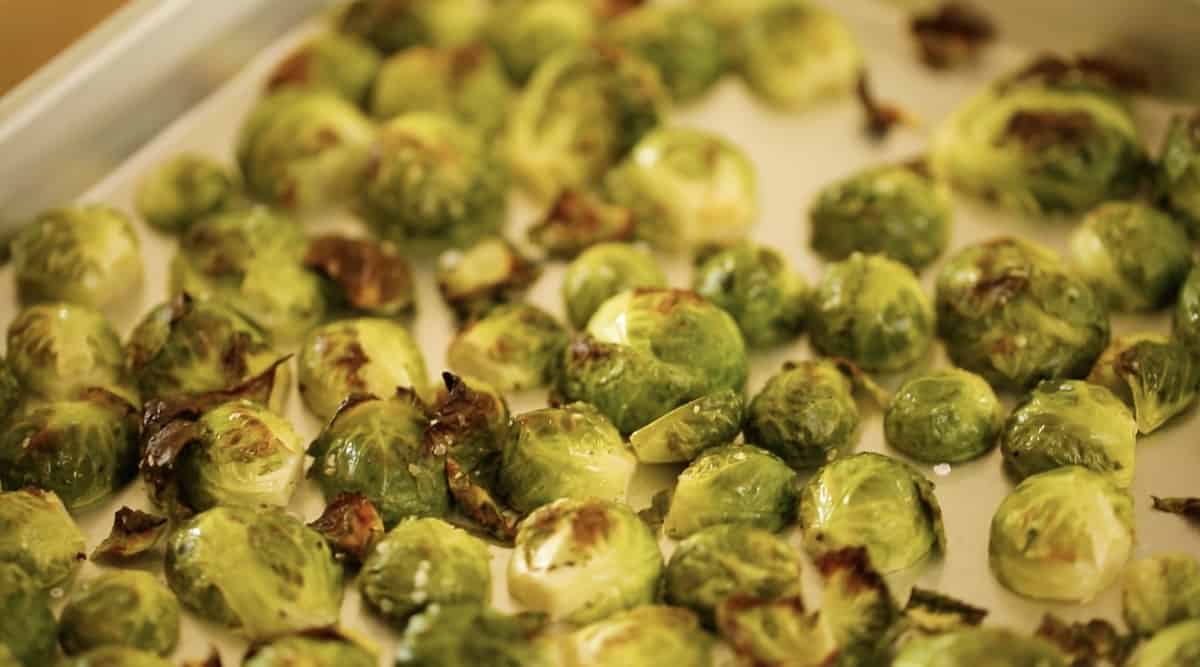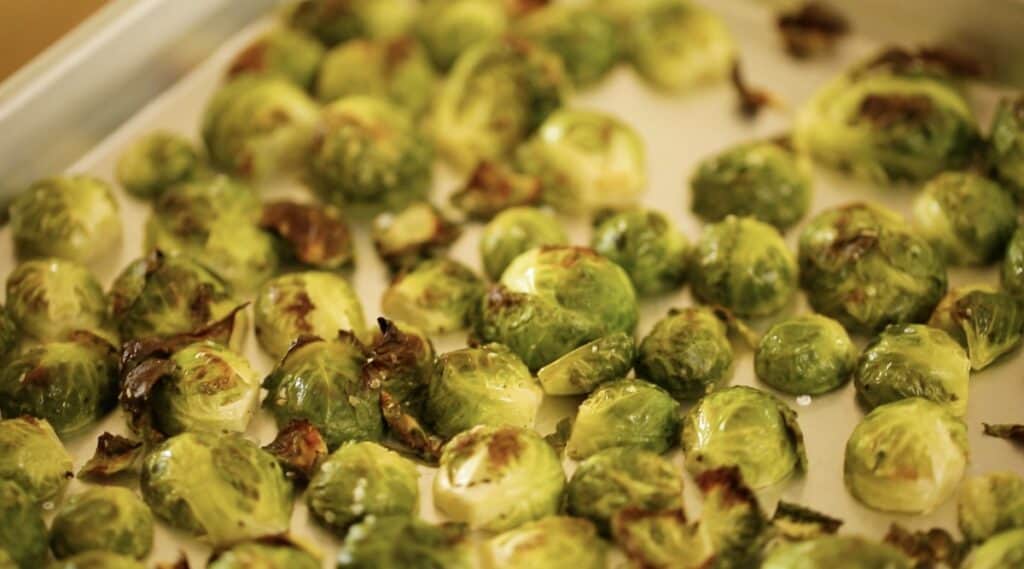 Time vs. Money?
Holiday entertaining is always a balance vs time and money. Sometimes spending a bit more money on something will save you time, or spending more time on something will save you money!
Buy Pre-Cut Butternut Squash
This is the case with butternut squash. Breaking down a squash into pretty bite-sized chunks can be done. But it will take time and a bit of skill. So that's why I always spend a bit more money on pre-cut squash. That way it's one less thing I have to prep and I'm assured my salad will be all the prettier for it.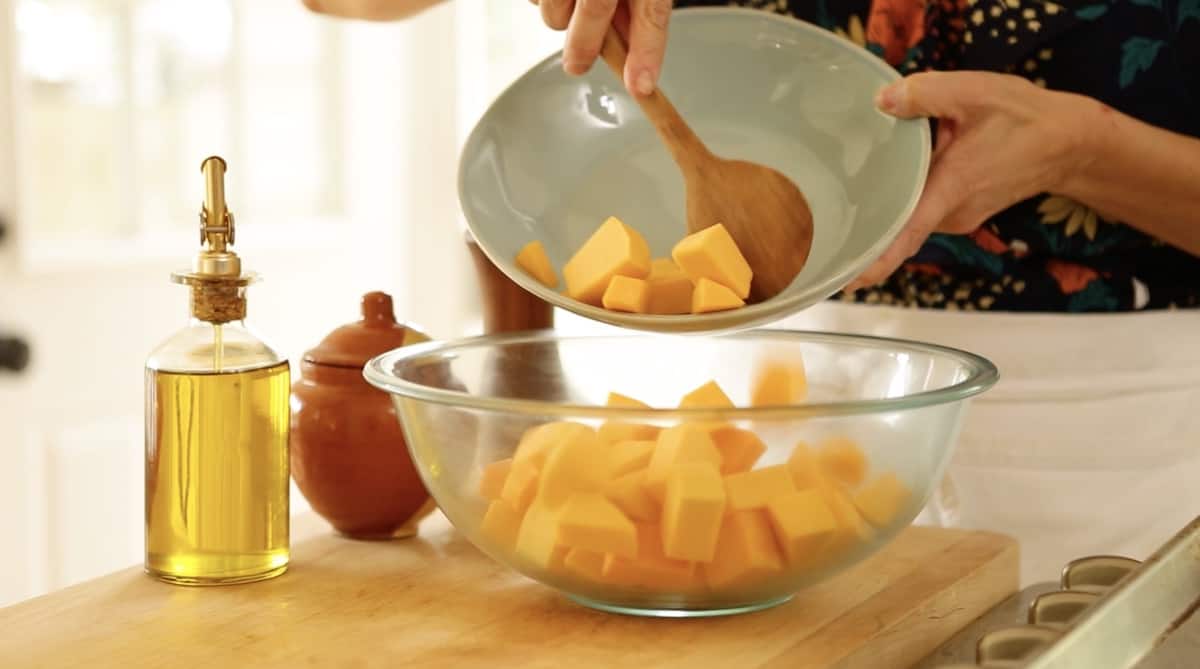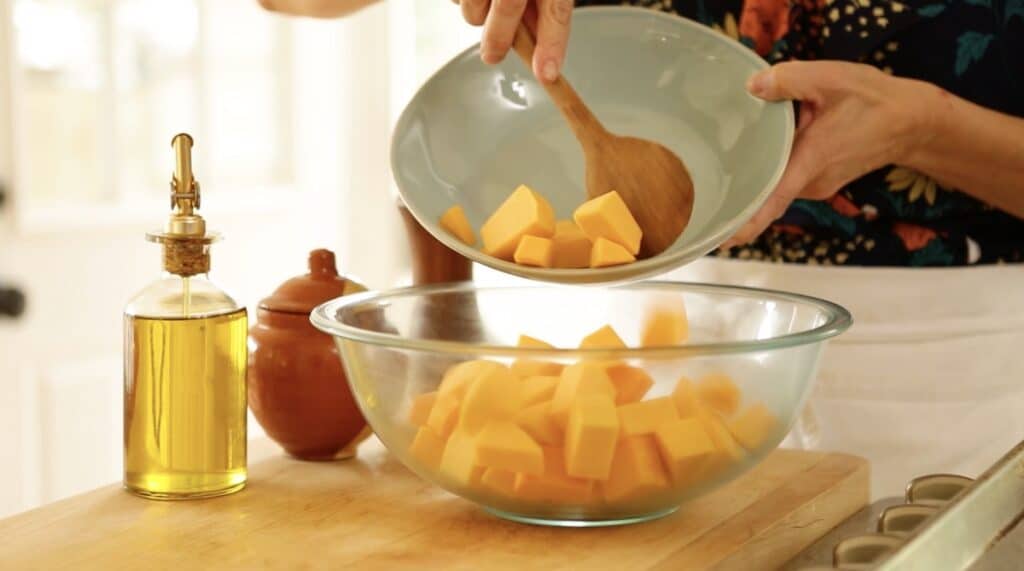 Preventing Soggy Vegetables
Once your vegetables have been roasted, allow them to cool completely before transferring them to your containers. Otherwise, the heat from the warm vegetables will create condensation in the containers and will make your beautifully carmelized vegetables soggy.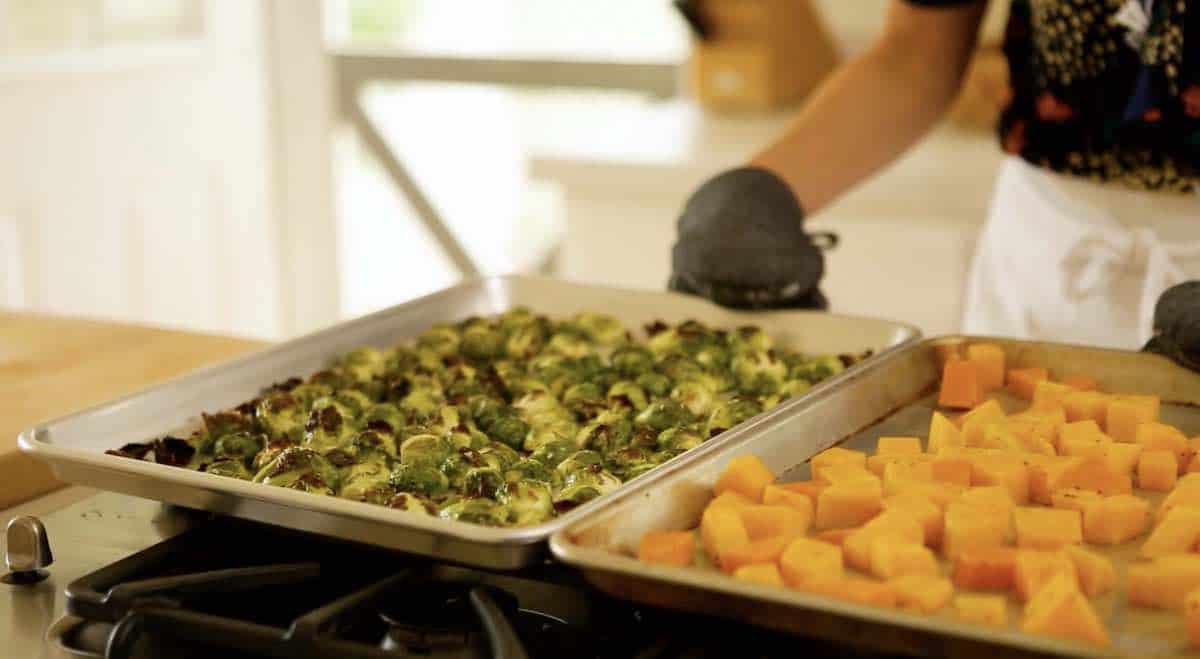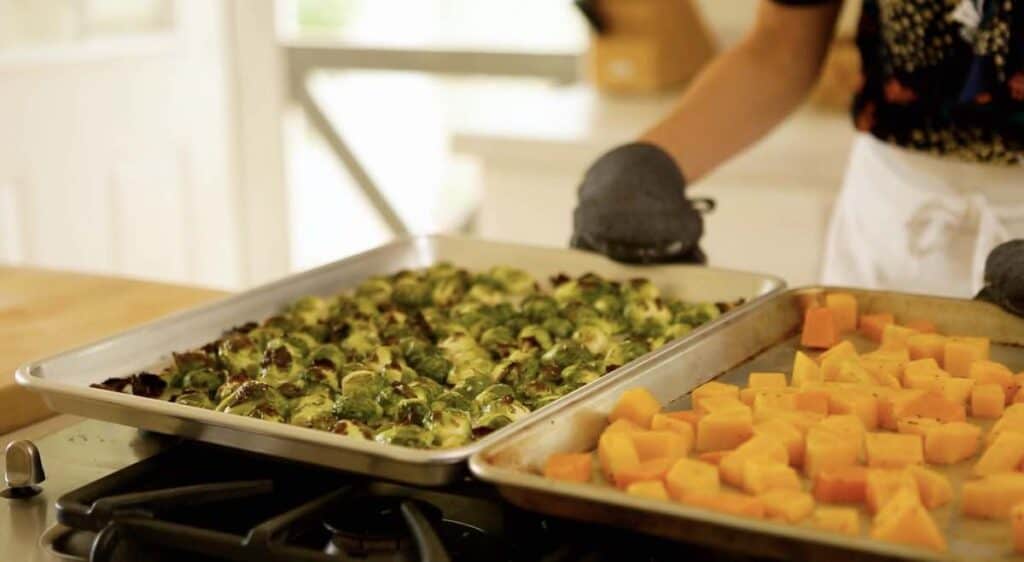 Preparing the Honey Balsamic Dressing
The flavor of this dressing is the perfect match for this salad. To preserve the flavors of the Dijon mustard and balsamic vinegar, use a non-flavored oil like grapeseed oil. It's lighter than olive oil and will emulsify beautifully, creating a thick, creamy dressing.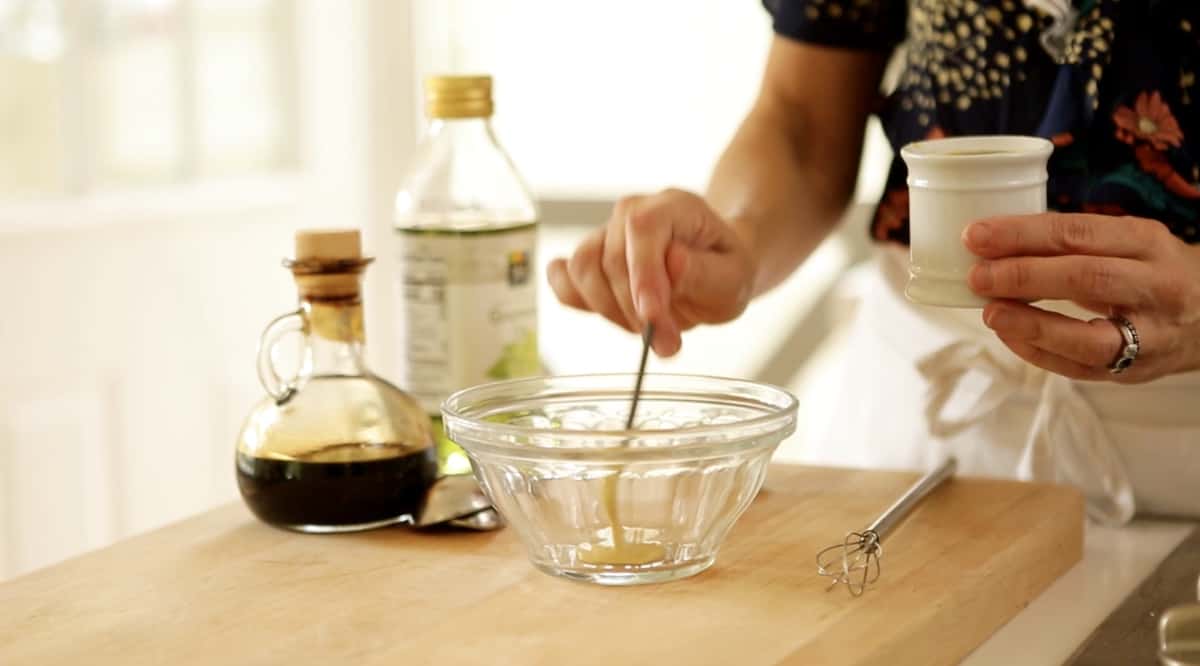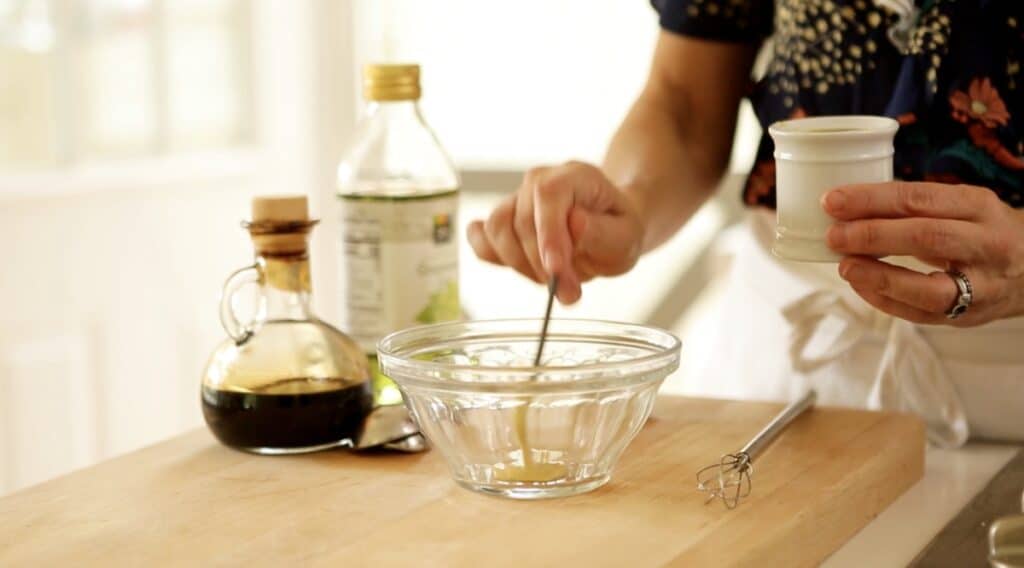 If You Enjoyed This Recipe
Please Leave a Rating and a Review Below!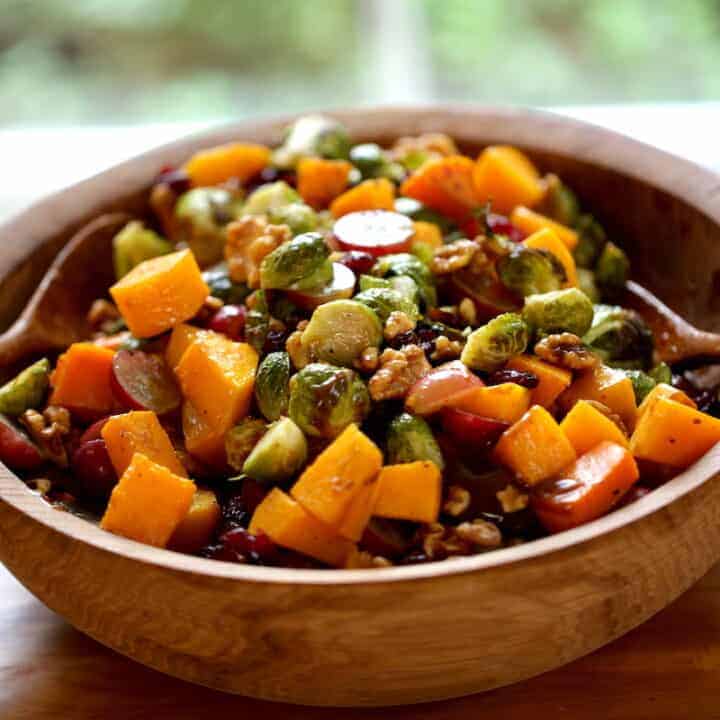 Harvest Salad with Honey Balsamic Vinaigrette
Total Time:
1 hour
15 minutes
This Harvest Salad with Honey Balsamic Vinaigrette will be one of your new favorite Thanksgiving recipes it can be prepped in advance. Then all you have to do is assemble and serve! 
Ingredients
FOR SALAD:
1 ½ lbs Brussel sprouts
4 cups Butternut squash
2 tablespoon olive oil, separated
salt and pepper to taste
1 ¼ cups red grapes, sliced vertically
1 ¼ cup whole walnuts
¾ cup dried cranberries
¼ cup blue cheese, crumbled (optional)
FOR HONEY BALSAMIC DRESSING:
1 teaspoon Dijon mustard
2 teaspoon balsamic vinegar
1 teaspoon honey
4 tablespoon grapeseed oil
salt and pepper to taste
Instructions
Preheat oven to 450F

Prep Brussel sprouts by removing damaged leaves, slicing the bottoms, and cutting in half vertically. Transfer to a bowl and toss with 1 tablespoon of olive oil and season with salt and pepper to taste. Transfer to a rim lined baking sheet, placing the sprouts cut side down.

Cut the butternut squash into cubes (or buy store-bought already cut saves a ton of time!) transfer to a bowl and toss with remaining 1 tablespoon of olive oil, and season to taste with salt and pepper.

Place both trays in the oven, sprouts on the top rack so the char a bit, and squash on the bottom rack. Roast for 15 minutes. Remove from oven and allow to cool.

Slice grapes and set aside.

For the dressing combine mustard and vinegar in a small bowl, whisk to combine, then add the honey and whisk until smooth. Then slowly add the grapeseed oil, whisking all the while until nicely emulsified and smooth. Season with salt and pepper.

Place vegetables in a bowl, add grapes and walnuts and toss with the vinaigrette. Add cheese on top in large crumbles.



Notes
The vegetables can be roasted the day before, placed into airtight storage containers, and refrigerated. Then all you have to do the day of if assemble and toss with the dressing
Recommended Products
As an Amazon Associate and member of other affiliate programs, I earn from qualifying purchases.
Nutrition Information:
Yield:

8
Serving Size:

1
Amount Per Serving:
Calories:

347
Total Fat:

23g
Saturated Fat:

3g
Trans Fat:

0g
Unsaturated Fat:

19g
Cholesterol:

3mg
Sodium:

163mg
Carbohydrates:

36g
Fiber:

8g
Sugar:

19g
Protein:

7g