One of the easiest homemade bread recipes is Focaccia bread. This Focaccia bread with caramelized onions and thyme is a fantastic small batch bread recipe that is perfect for an easy Thanksgiving.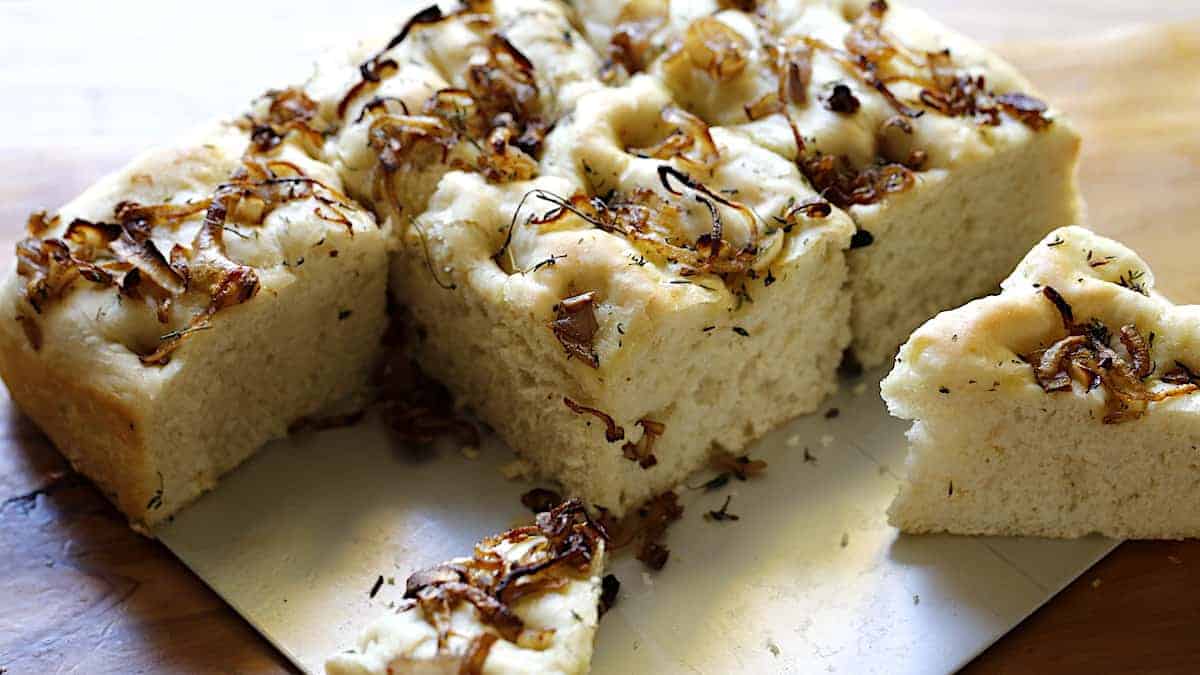 It makes 9 generous squares or can be sliced on the diagonal for a larger serving size of 18 triangles. You can make it in the morning, and just quickly reheat it while you allow your turkey to rest before carving it.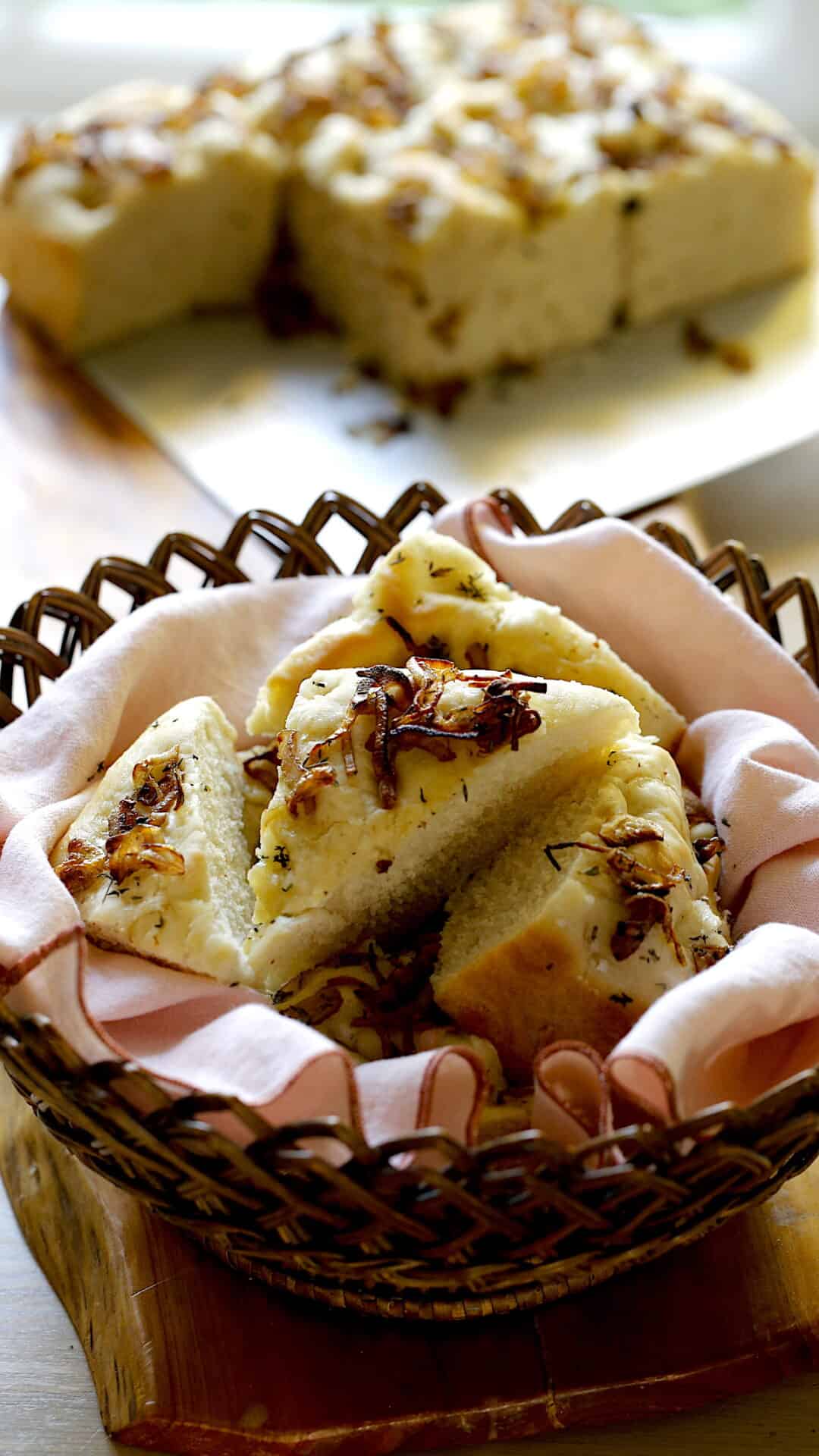 The texture of this focaccia bread is light and springy and when combined with the sweet caramelized shallots and thyme the result is so delicious. It also makes a fantastic sandwich bread, toasted the next day, for your leftover turkey sandwiches!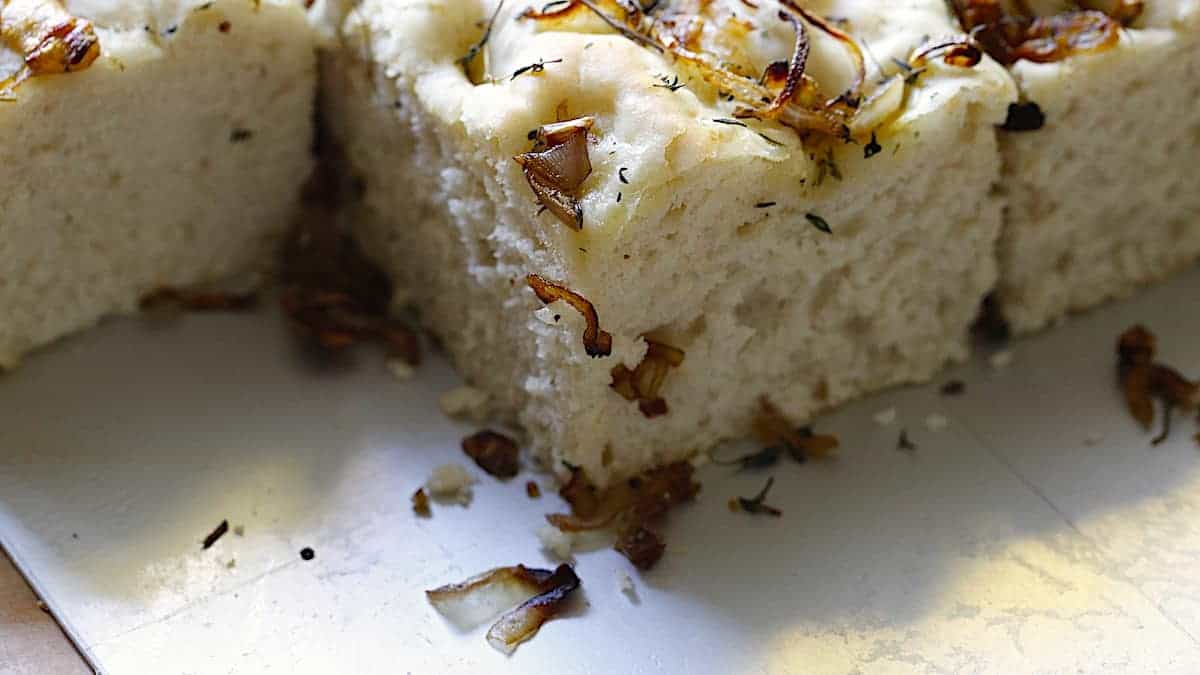 Watch My Video Demo of This Recipe Below!
Subscribe to My YouTube Channel and Never Miss a Recipe!
STEP#1: Create the Yeast Mixture
It's important to use warm water that is within the range of 110F-115F. If it's not warm enough, the yeast will not activate, if it's too hot it will kill the yeast.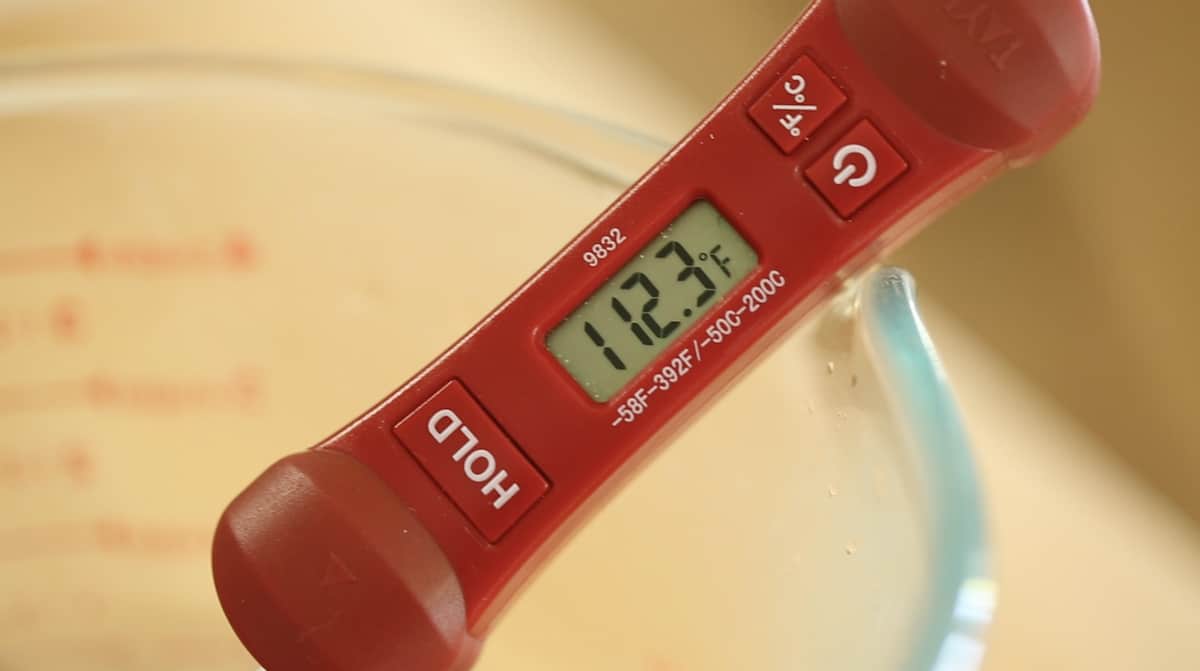 How To Tell If Yeast Is Alive?
You will know your yeast is active if it turns foamy and cloudy. It should look like this. If the yeast is active, you can proceed to the next step of adding the rest of the ingredients.
How To Tell If The Yeast Is Not Good?
If the yeast doesn't foam, it means it is dead and is no longer active. At this point, it's best to start again with a fresh yeast packet, before continuing with the recipe.
STEP#2: Add Yeast Mixture to the Dry Ingredients
Once the flour and salt have been combined, add the foamy yeast mixture and combine with a dough whisk or wooden spoon.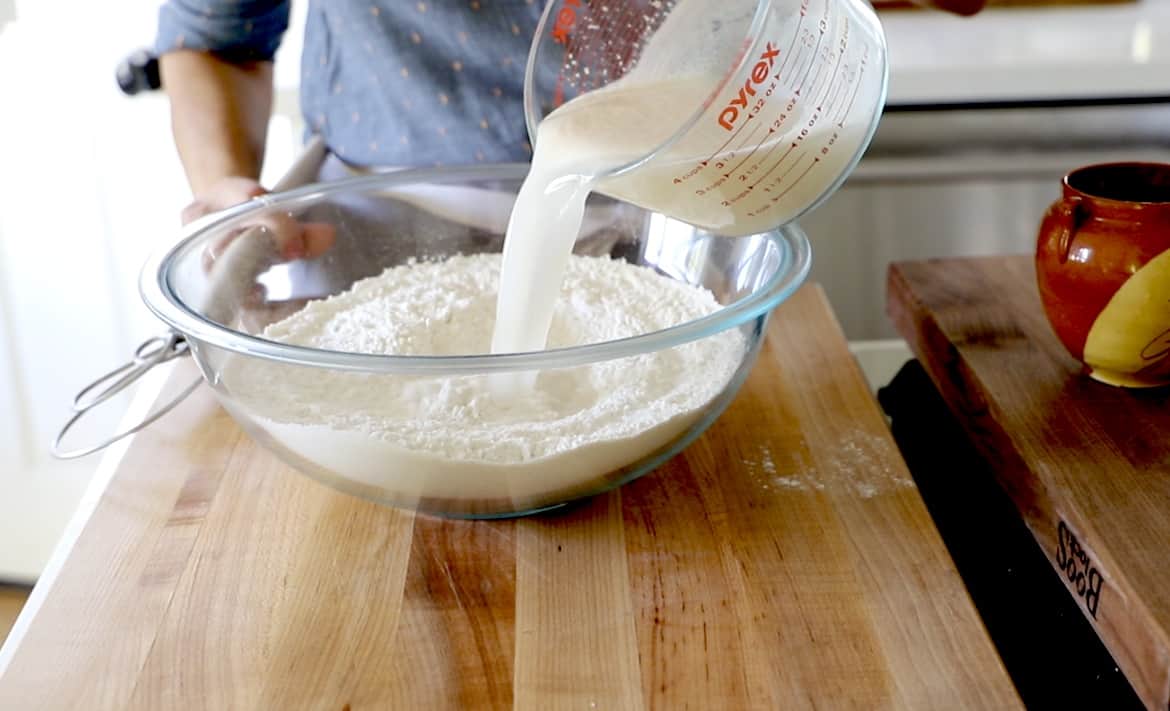 Then you'll knead the dough on a floured board for 3-4 minutes until the dough is elastic and no longer sticky to the touch. Place the dough in the oiled bowl and cover it with a clean dishtowel to rise for 1 hour in a warm place.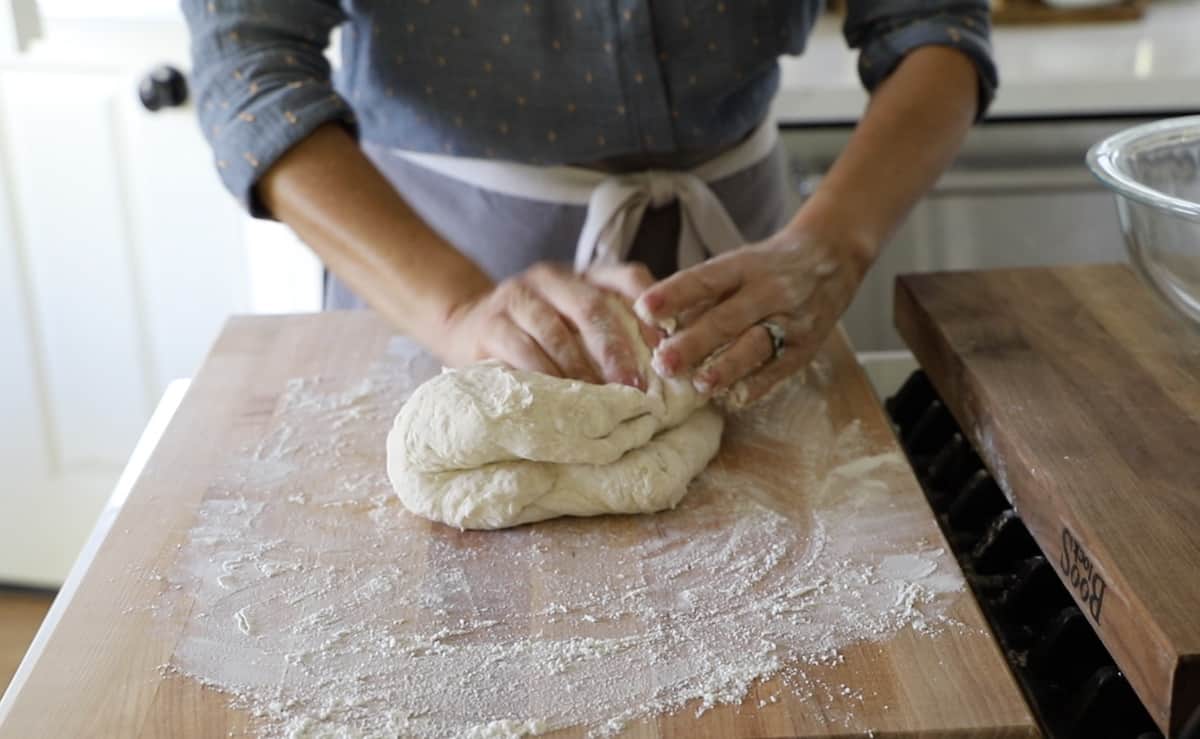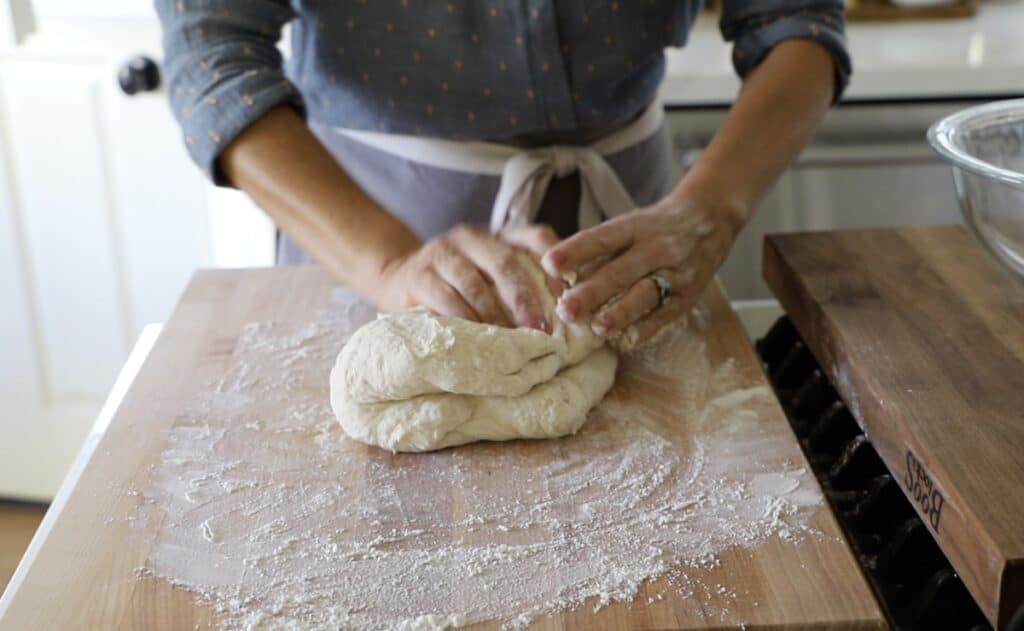 STEP#3: 1st Rising
Once risen the dough will triple in size and fill the bowl. Remove the dough and transfer to a floured surface and knead again for a few minutes, adding flour if needed to avoid sticking.
STEP#4: Place Focaccia Dough in Pan
Roll the dough out to a rough square and then fit it into a 9 x 9 square pan that has been greased with olive oil. If the dough is hard to stretch, just allow it to rest for a minute and then try again. It gets easier to maneuver as it rests.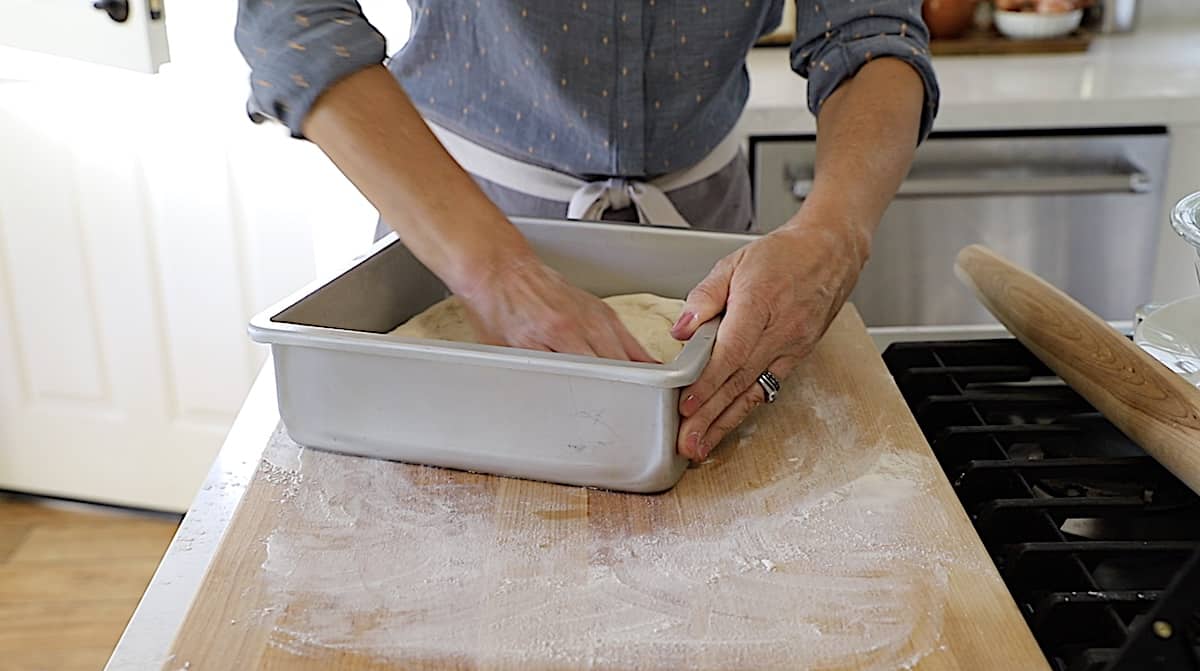 Making this bread in a removable bottom pan will make it easier to remove once the Focaccia bread has been baked.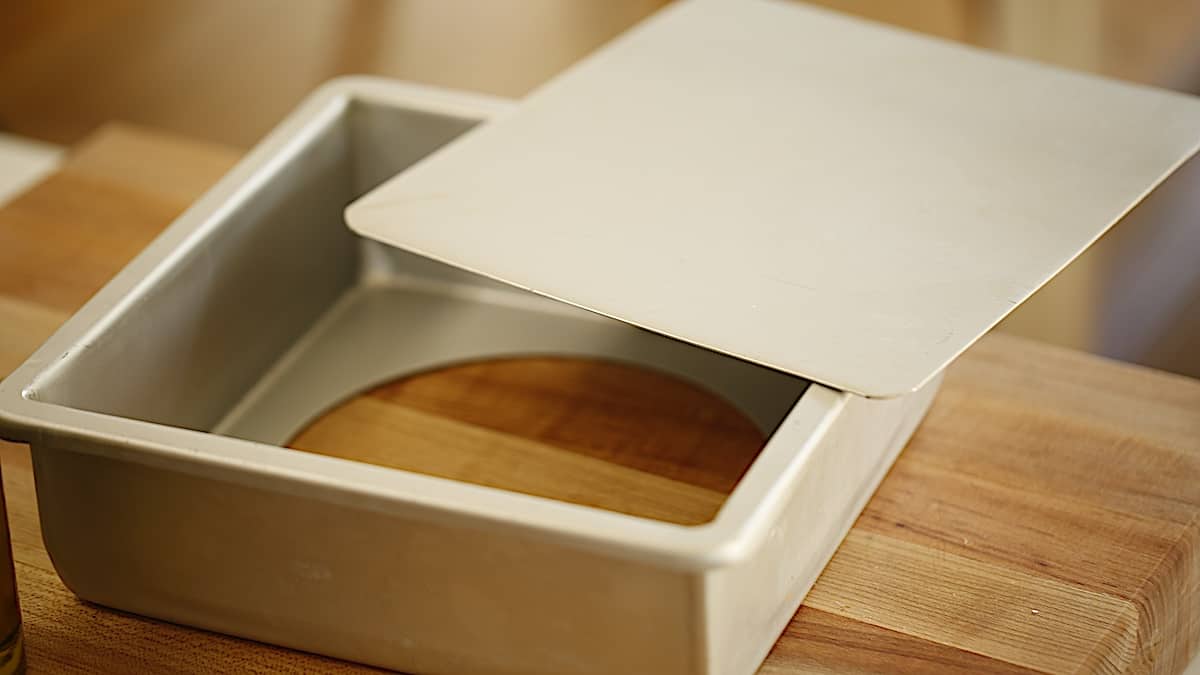 The removable bottom pan will also help keep the carmelized shallots from rubbing off the top of the bread as well. And you can also use it for other recipes such as my Blueberry Crumb Cake Recipe, my Pecan Bar Recipe and my Butterscotch Blondie Recipe.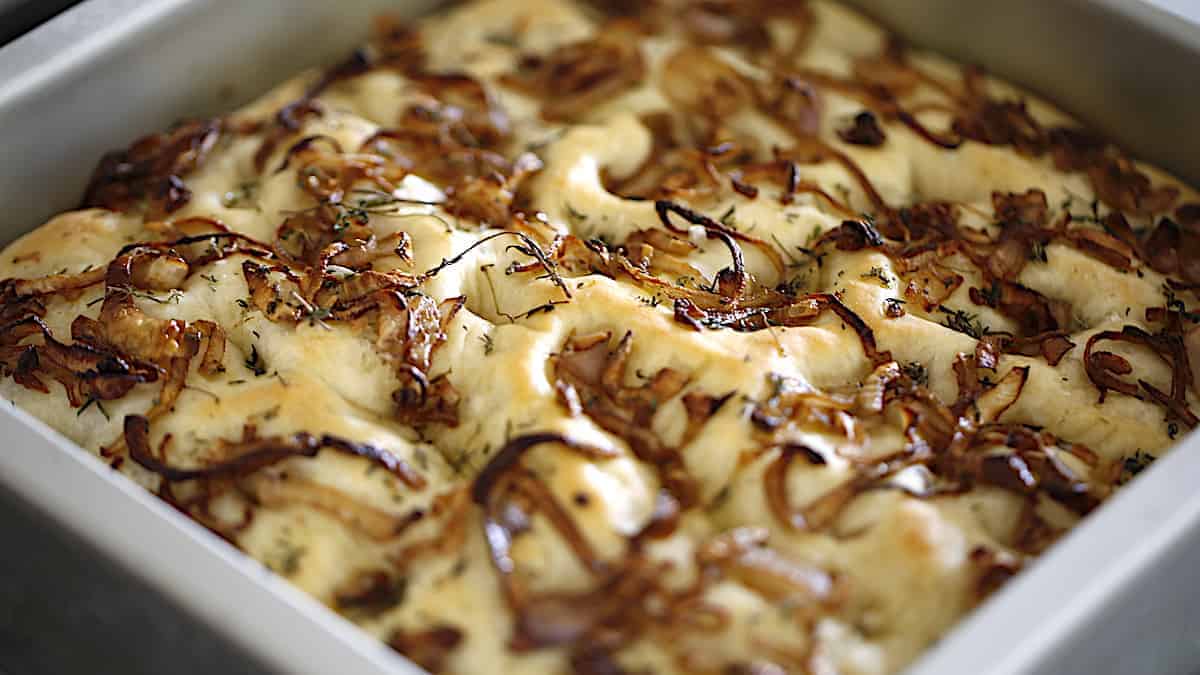 STEP#5: 2nd Rising
Cover the pan with a clean dishtowel and allow to rise in a warm place for 20 minutes. Meanwhile, you can prepare the shallots.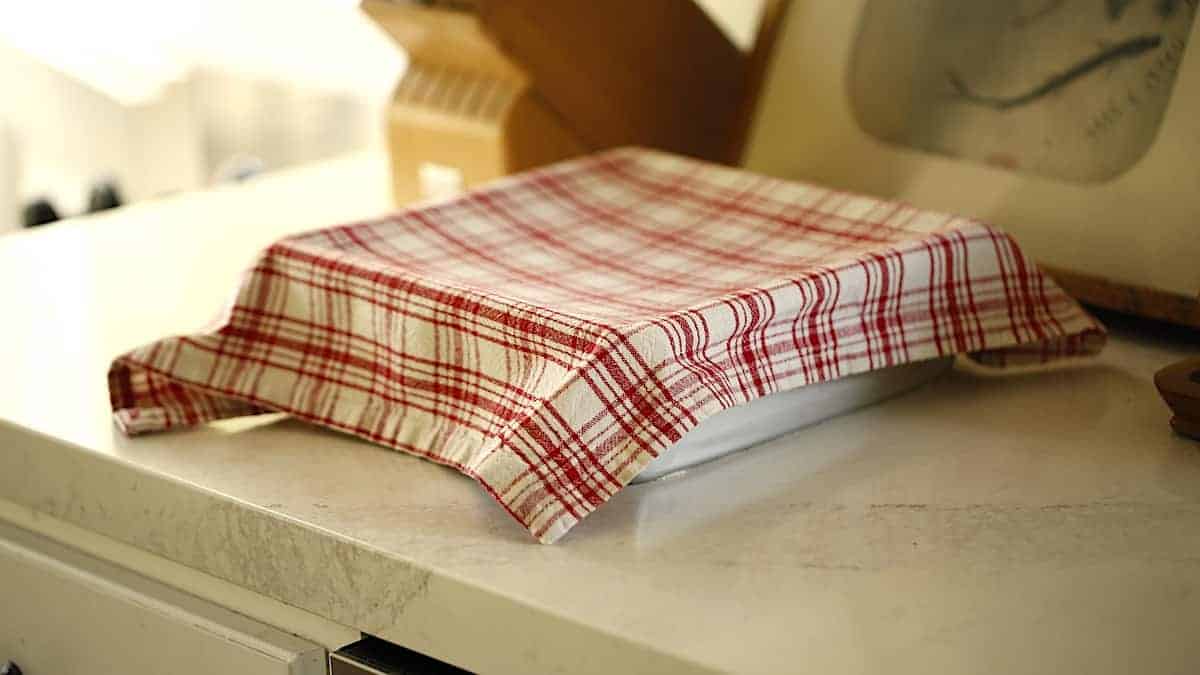 STEP#6: Caramelize the Shallots
In a large non-stick skillet cook the shallots in the olive oil. Don't touch them too frequently, in order to allow the shallots to turn golden brown and caramelize. Then add the balsamic vinegar and thyme.
Caramelized shallots are so delicious when cooked this way, they practically taste like candy! For a similar flavor profile try my Sour Cream and Carmelized Onion Dip, another great one for holiday entertaining.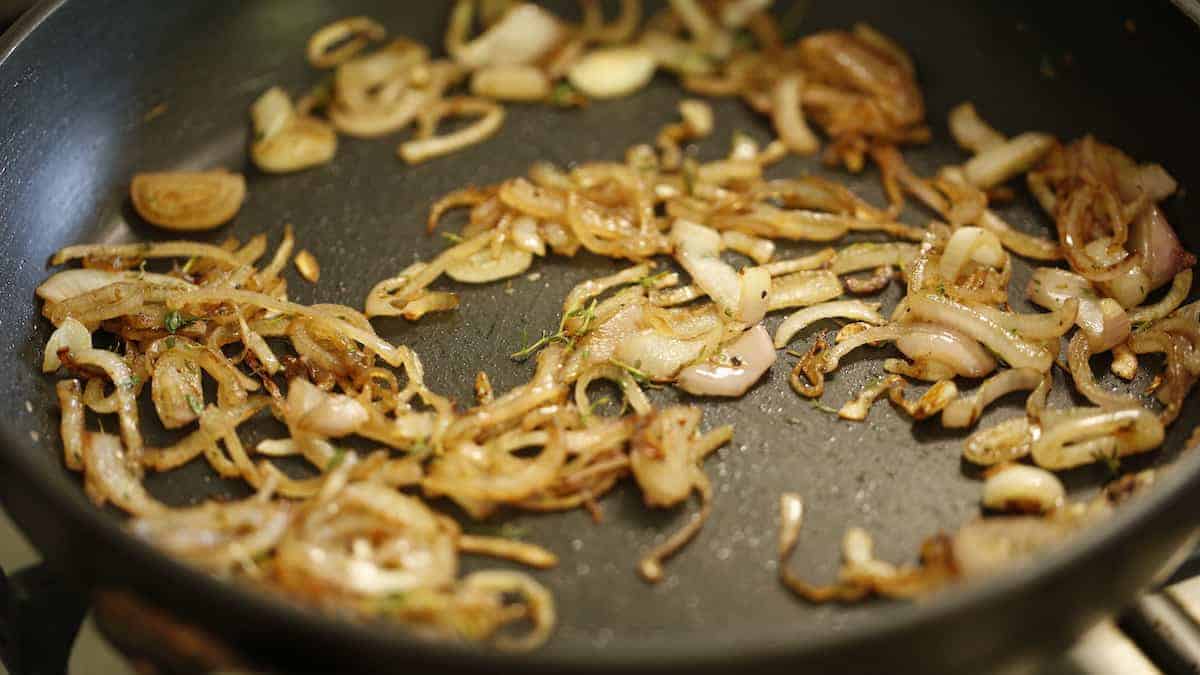 STEP#7: Create Indentations
One of the hallmarks of focaccia bread is the indentations on the top. To create those divets, place your fingertips in the dough, pressing your fingertips deep enough in the dough to lightly touch the bottom of the pan. Then sprinkle with a little flakey sea salt and then add the shallots and the remaining thyme on top.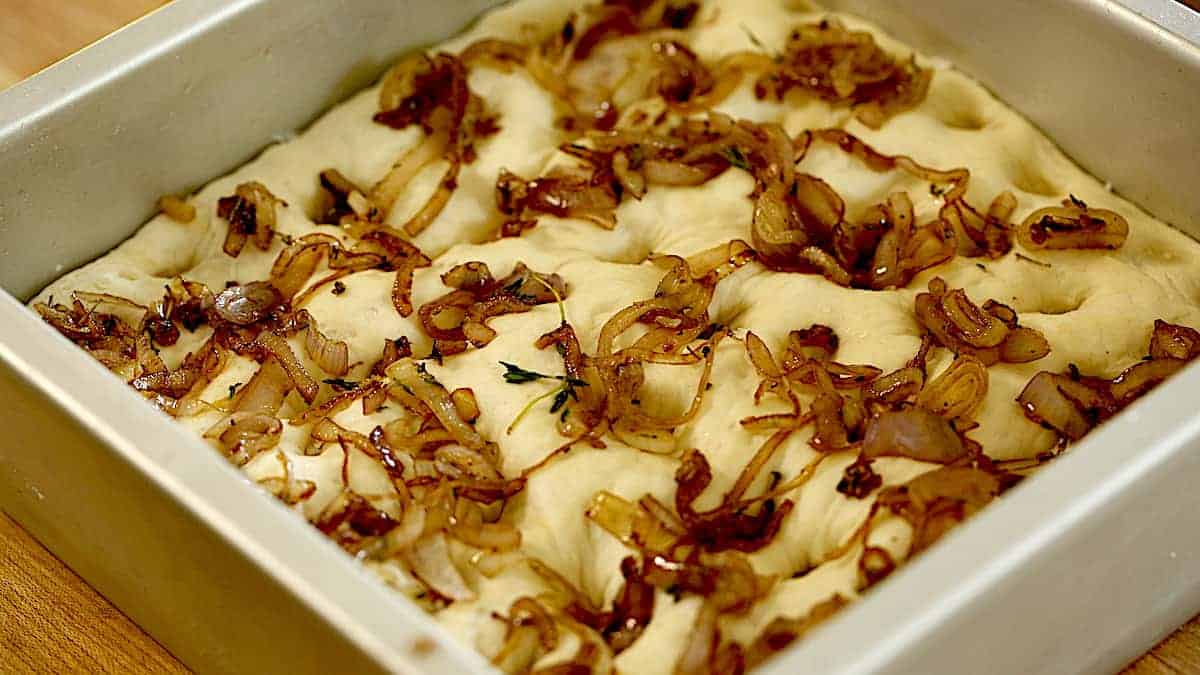 As the focaccia bakes, it will bake the shallots into the top of the bread, setting them into the focaccia but also crisping them up even further. Allow the focaccia to cool before trying to remove it. You can also leave it in the pan, to make reheating it before serving even easier.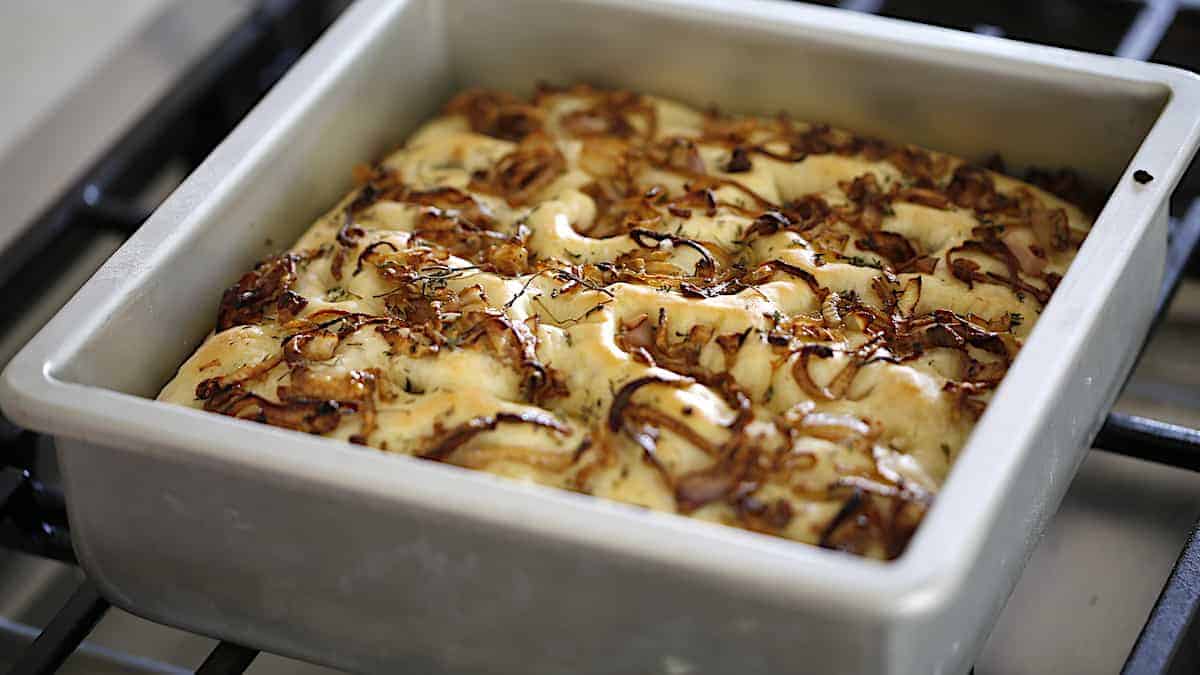 Serve it as squares or slice it on the diagonal and serve it as wedges. To store, wrap it tightly in foil and refrigerate. The next day it's best enjoyed heated in the microwave for :45 to soften or slice and toast it.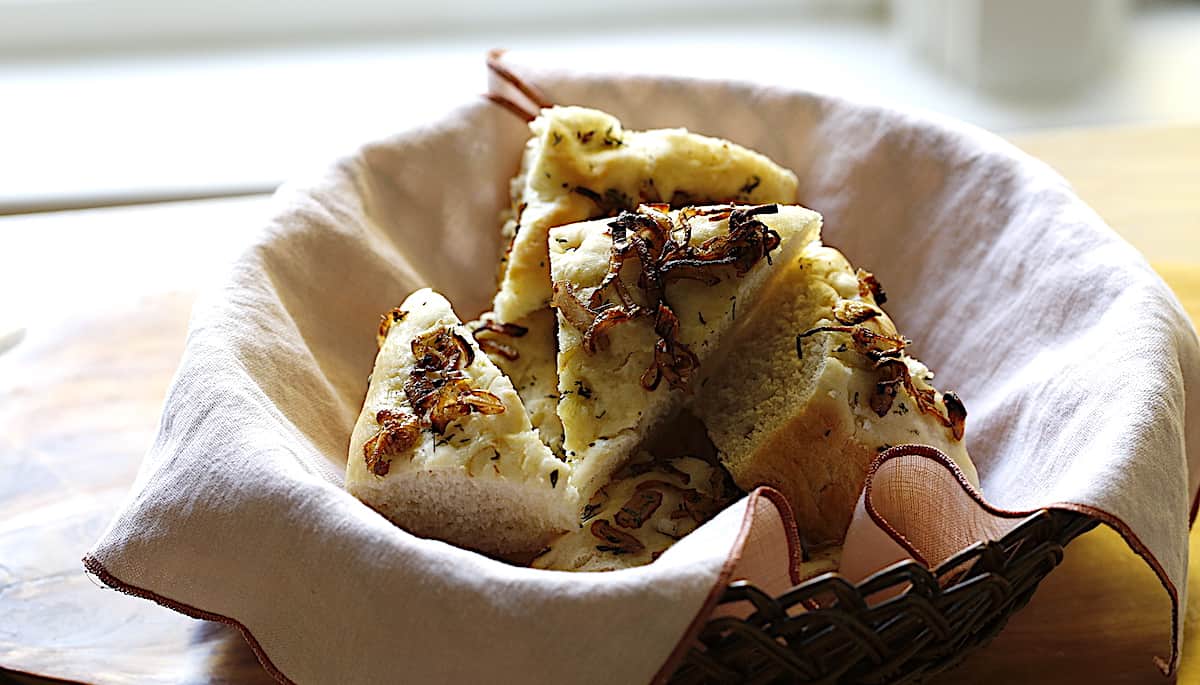 If You Enjoyed this Focaccia Recipe,
Please Leave a Rating and a Review Below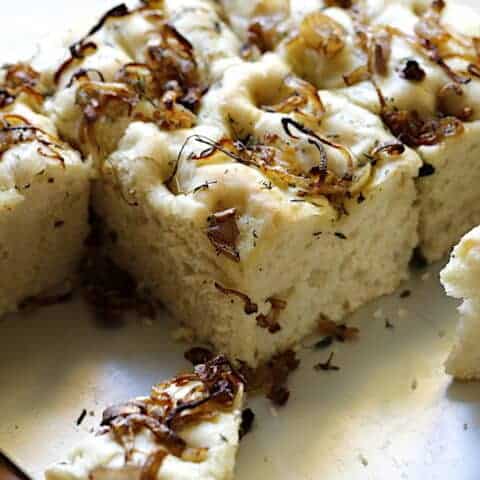 Focaccia Bread with Caramelized Shallots and Thyme
Additional Time:
1 hour
20 minutes
Total Time:
2 hours
35 minutes
One of the easiest homemade bread recipes is Focaccia bread. This Focaccia bread with caramelized onions and thyme is a fantastic small batch bread recipe that is perfect for an easy Thanksgiving. 
Ingredients
1 ¾ (420ml) cup warm water (110F)
2 tsp (10 ml) sugar
1 package (7g) of yeast
3 ¾ cup (450g) all-purpose flour
2 tsp (10ml) salt
3 tbsp (45ml) olive oil
SHALLOT TOPPING:
1 tbsp (15ml) olive oil
1 cup (150g) shallots, sliced thinly into half-moons
Salt and pepper to taste
½ tsp (2.5ml) balsamic vinegar
Pinch of flakey Sea salt
1 tbsp (15ml) Fresh thyme, chopped
Instructions
Combine water, sugar, and yeast and whisk with a fork. Let stand for 5-minutes until cloudy and foamy.
Meanwhile, in a large bowl whisk together flour and salt. Add the yeast mixture and mix with a dough whisk or spoon until a ball forms.

Transfer to a floured surface and knead for 5 minutes. Place 1 tbsp (15ml) of olive oil in a bowl, grease bowl with it, and place dough ball inside. Cover and place in a warm space. Let rise for 1 hour.
Grease a 9"x 9" (23cm x 23cm) pan with 1 tbsp (15 ml) of
olive oil and set aside.

Then punch dough down, place on a floured surface, and knead
for 5 minutes adding more flour in 1 tbsp increments if it's too sticky.
Then roll out the dough into a loose square and fit the dough into the pan. Pressing it down and stretching it into the corners. Cover with a clean dish towel and allow to rise for 20 minutes.
Meanwhile, cook the shallots. In a large non-stick pan, add 1 tbsp (15ml) of olive oil. Add the shallots and cook until fragrant and golden brown. Season with salt and pepper to taste. Then add the balsamic vinegar and reduce until liquid is evaporated. Then add half the thyme. Allow to cool.
Remove the dishcloth and create indentations in the dough
with your fingertips. Pressing deeply down into the dough so that the
indentations stay. Sprinkle with the sea salt, the cooked shallot mixture and the remaining thyme on top.
Bake at 400F for 20 minutes. At which point brush the remaining olive oil on top of the bread with a pastry brush, being careful not to disturb the shallots too much. Continue baking for another 5 minutes to set the olive oil.

Allow the focaccia to cool completely before removing. Then run a knife around the perimeter to release if using a removable cheesecake pan. Otherwise cut into 9 squares and serve.
Notes
To increase the serving size you can slice each square on the diagonal
to create 18 triangles
Nutrition Information:
Yield:

9
Serving Size:

1
Amount Per Serving:
Calories:

246
Total Fat:

7g
Saturated Fat:

0g
Trans Fat:

0g
Unsaturated Fat:

6g
Cholesterol:

0mg
Sodium:

50mg
Carbohydrates:

40g
Fiber:

2g
Sugar:

0g
Protein:

6g