These Pecan Bars with Shortbread Crust are a wonderful alternative to Pecan Pie this Thanksgiving. You'll find they are easier to make and just as delicious!
They also make a great food gift idea for the holidays as well! These are seriously addictive and one of my most favorite Holiday Recipes!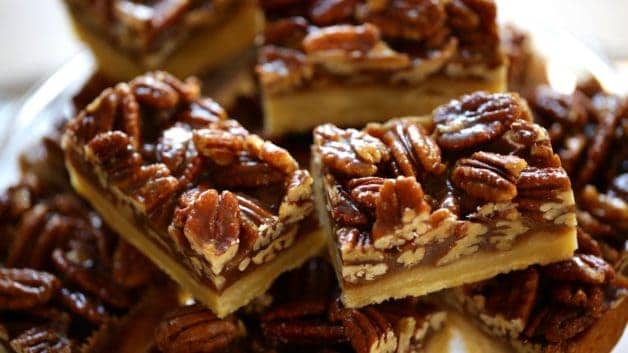 Can Pecan Bars be made without Corn Syrup?
Yes! This is why I love this recipe so much! There's no need for corn syrup, you'll use a combination of butter, brown sugar, and honey instead.
Best of all you'll get the same kind of sticky, candy-like topping the corn syrup provides.
Watch My Video Demo On This Recipe Below!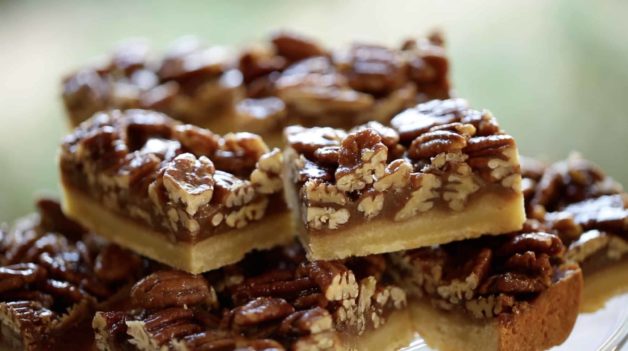 STEP#1: Make the Shortbread Crust
The shortbread crust makes these pecan bars so delicious. It's buttery and chewy and just the perfect compliment to the sticky pecans. I like a thick crust to balance out the sweetness of the pecans, but for a thinner crust you can cut the shortbread recipe in half and leave the pecan mixture as is.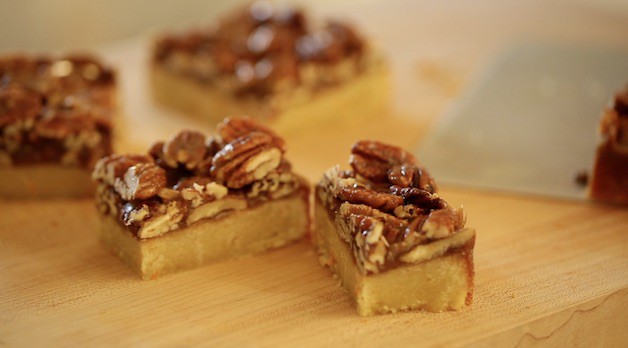 It's also a much simpler dough to deal with than pie dough because you just press it into the tin. There's no need to refrigerate it first or roll it or shape it like pie dough! This is what makes it so much easier than Pecan Pie!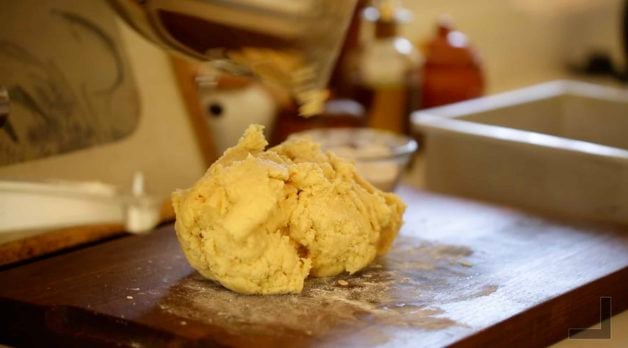 I also like to add orange zest to the shortbread crust because it provides an unexpected freshness against the sweetness of the pecans. Orange and pecan is a fantastic holiday flavor, for a delicious Christmas morning treat try my Orange Pecan Crumb Muffins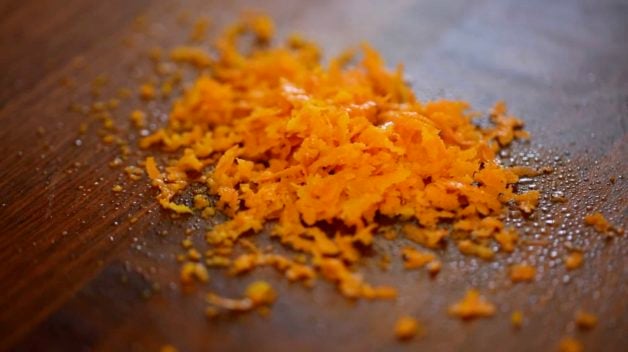 Pecan Bars can get pretty sticky! To help you release them easily, I highly recommend a removable bottom brownie tin (this link goes to Amazon where I am compensated on products sold at no cost to the consumer)
A removable bottom tin allows you to push the pecan bars out of the tin after they are baked. This will also help you achieve nice clean edges that are easily sliced into bars for serving.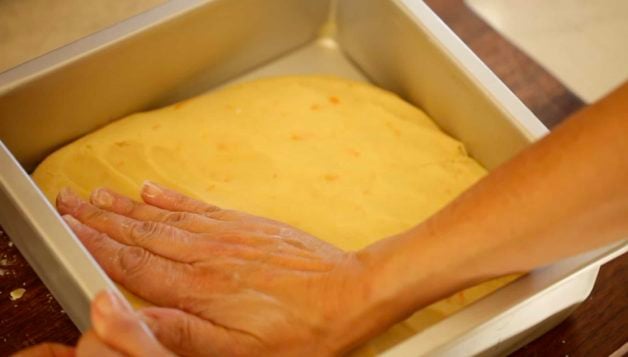 This is a handy pan to have in your baking arsenal, as it also works great for my Blueberry Crumb Cake recipe or my Classic Butterscotch Blondie Recipe.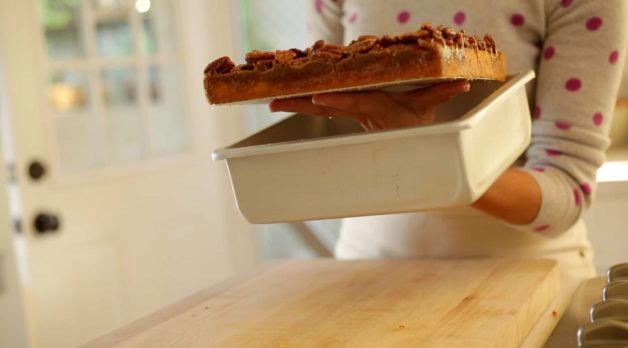 This recipe bakes twice. You'll bake your shortbread crust first, allowing it to set and become golden brown. And then follow up by adding the pecan mixture and baking that along with the shortbread crust again. So essentially, you are just giving the crust a head start!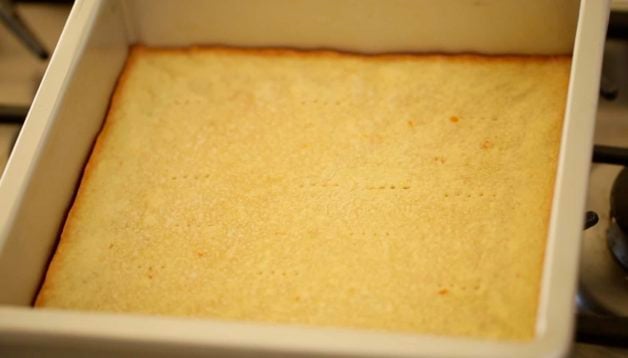 STEP#2: Make the Pecan Bar Filling
In a large saucepan, you'll combine the filling ingredients and then pour it over the pecans. Toss the mixture together until it's well coated.
At this stage, you could switch up the nuts if you prefer. Just maintain the same total quantity, and perhaps add:
1/3 pecans
1/3 walnuts
1/3 chopped almonds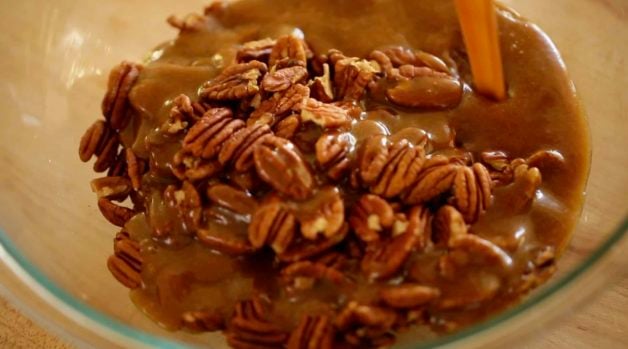 Pouring the Pecan Filling
Then pour it out onto the baked shortbread crust. It's important to smooth it out with a spatula so that the pecans form a single even layer. This will help them set at the same rate and create bard with even height once they are baked.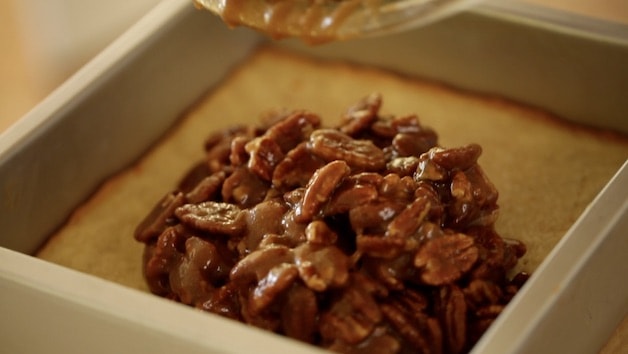 Then your pecan bars are ready for the second baking which will bake the filling and allow it to set. It also roasts the nuts and allows them to develop their best flavor too!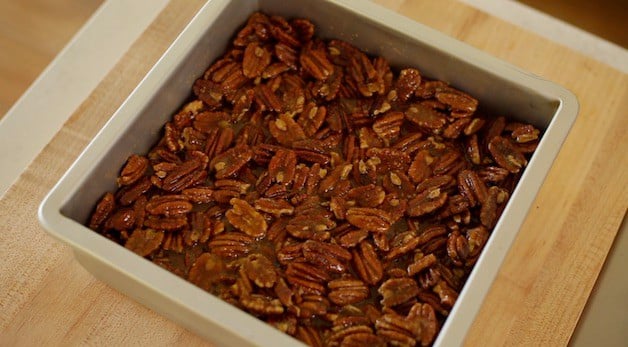 Do pecan bars need to be refrigerated?
I say yes! Once the bars have baked and fully cooled, keep them in their tin, uncovered, in the refrigerator for a minimum of 2 hours but really overnight is even better. The refrigeration will allow them to fully set and be easily cut into nice clean slices. This is important since cutting into nut bars and be difficult if they are not set, and they can crumble and fall apart. But I find once refrigerated they cut like a breeze!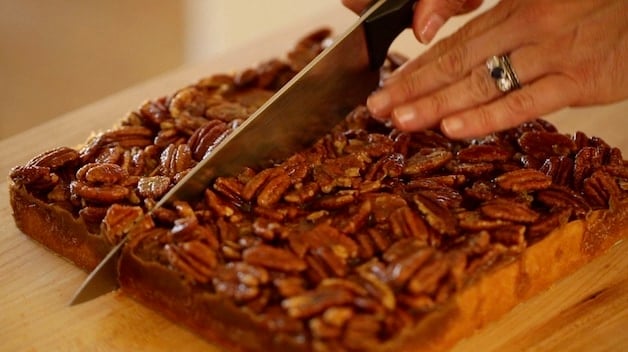 Can you freeze pecan bars?
Sure! Make them a week ahead of Thanksgiving and save yourself the hassle of making the meal and the dessert the day before or day of!
Cut them into bars, then place in a freezer-safe container lined with wax paper, separating each layer with more wax paper.
Place the lid on your container and freeze.
The day before Thanksgiving defrost the pecan bars in your refrigerator.
Remove the bars from the refrigerator 30 minutes before serving to come to room temperature.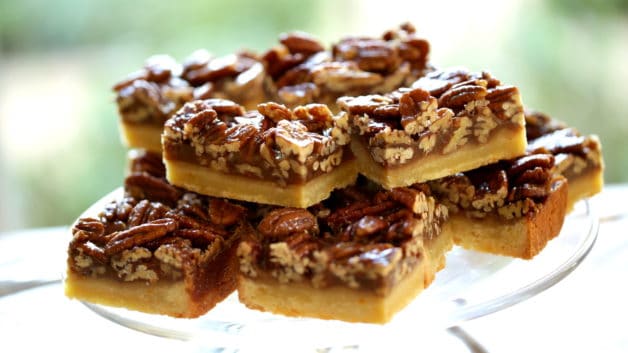 Pecan Bars are Easier to Serve Than Pie
I love the idea of Pecan Bars over pie because you can bring them to the table already sliced! They are also a smaller quantity than a full slice of pie, allowing your guests to try more of your desserts! You could even cut the bars into small squares, creating more of a Pecan Bar Bite for easy sampling!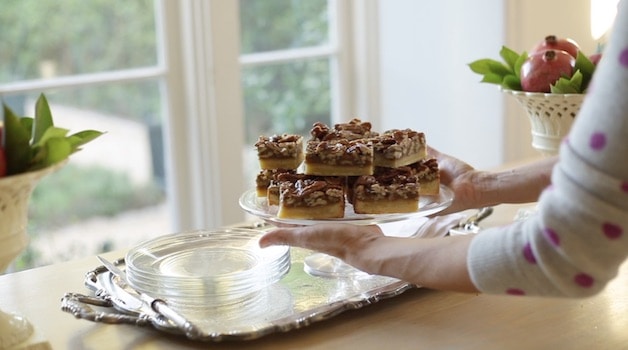 More Thanksgiving dessert ideas!
PLEASE LET ME KNOW IF YOU MAKE THIS PECAN BARS RECIPE
BY LEAVING A RATING AND REVIEW BELOW!
Leaving a rating helps others discover and enjoy the recipe too!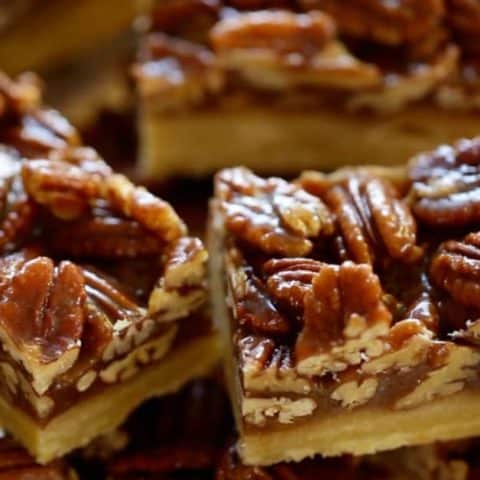 Beth's Pecan Bars with Shortbread Crust
Easy Pecan Bars with shortbread crust. A great alternative to pecan pie at Thanksgiving!
Ingredients
For the Crust:
1 ½ cups (360 g) of butter
1 cup (200g) white sugar
1 egg
2 tsp (10 ml) vanilla extract
½ tsp (2.5ml) salt
4 tsp (20 ml) orange zest
3 1/3 (400g) cups of all-purpose flour
For the topping:
½ cup (120 g) of butter
1 cup (180g) light brown sugar
1/3 cup (80 ml) honey
pinch of salt
1 tbsp (15 ml) heavy cream
½ tsp (2.5 ml) vanilla extract
3 ½ cups (525 g) of raw pecan halves
Instructions
Preheat Oven to 350F (176C)
To create the crust beat together the sugar and butter with an electric mixer. Once fluffy add the egg, and vanilla and beat to combine. Then add the salt and orange zest beat to combine, then add the flour in thirds, beating after each addition.
Turn dough out and fit it into a 10 x 10 pan that has been sprayed with baking spray. Preferably a removable bottom pan, otherwise line a 10 x 10 brownie pan with parchment paper or foil (2 sheets going opposite directions) this will make it easier to remove the bars once they are done.
Bake crust for 25-30 minutes or until fully set and golden brown.
Meanwhile prepare the pecan bar filling.
In a large sauce pot combine butter, brown sugar, honey and salt. Set over medium heat, whisking while the mixture melts and combines. Remove from the heat. Whisk in heavy cream and vanilla.
In a large bowl place the pecan halves, pour filling mixture over pecans and toss to combine so that all the nuts are well-coated.
Once crust has baked and is slightly cooled. Pour the pecan mixture on top, spreading it out with a spatula to form an even layer, making sure all corners of the crust are covered with the pecans.
Place back in oven, placing a baking sheet lined with foil, under the pan to catch any drippings.
Bake for 25 minutes, until filling is set. It will still look a little wet, but that's OK it will set up as it cools.
Allow to cool completely at room temperature. Then place uncovered in the fridge for at least 2 hours, or overnight is even better to fully set. They will be easier to cut if you allow to stay refrigerated overnight.
Remove from pan, slice the pecan bars into 9 squares, and then cut each square in half to create a bar. Keep the pecan bars in the fridge until ready to serve. Lightly covered.
30 minutes before serving bring the bars to room temperature. Place on a cake stand and serve! Enjoy!
Notes
These bars are sticky! For easy release, I highly recommend a removable bottom brownie tin (this link goes to Amazon where I am compensated on products sold at no cost to the consumer) 
You can definitely make these a week ahead of Thanksgiving.  Cut them into bars, then place in a freezer-safe container lined with wax paper, separating each layer with more wax paper. Place the lid on your container and freeze. Then thaw out in the fridge the night before thanksgiving!
Recommended Products
As an Amazon Associate and member of other affiliate programs, I earn from qualifying purchases.
Nutrition Information:
Yield:

18
Serving Size:

1
Amount Per Serving:
Calories:

49
Total Fat:

2g
Saturated Fat:

1g
Trans Fat:

0g
Unsaturated Fat:

1g
Cholesterol:

16mg
Sodium:

22mg
Carbohydrates:

6g
Fiber:

0g
Sugar:

0g
Protein:

1g