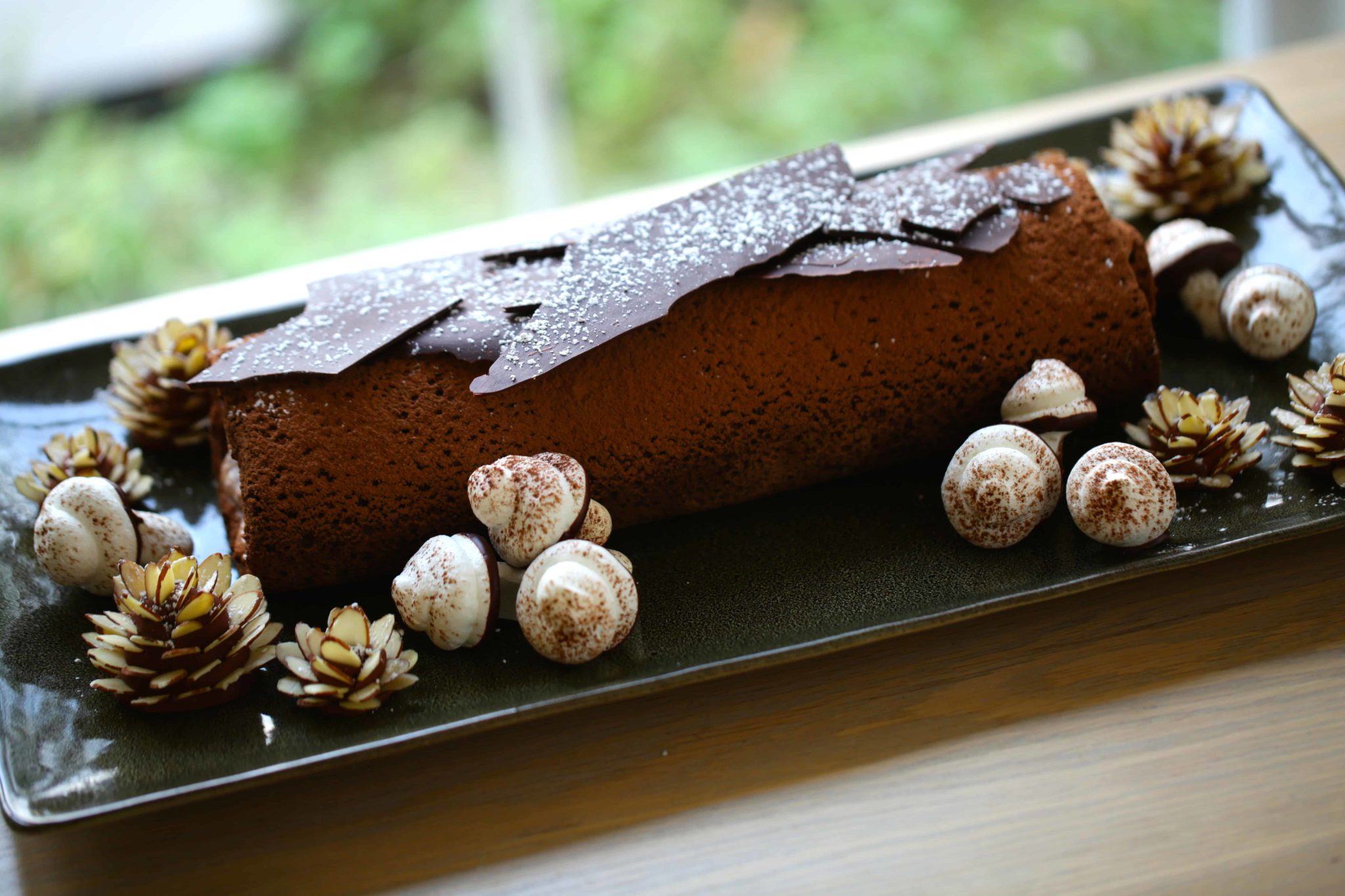 A Buche de Noel is my one of my favorite holiday desserts!  They speak to the nature lover in me and I've always so charmed by them.  They are also so delicious too! Yes, they take a bit of prep, but if you break it down day-by-day, it's actually not that bad.
For the ultimate step-by-step instruction you can watch my video tutorial here. SUBSCRIBE TO MY YOUTUBE CHANNEL (it's free!) new recipe videos post each week!
Print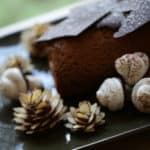 Meringue Mushrooms
---
Author:

Category:

Dessert

Cuisine:

French
Ingredients
4 egg whites
½ tsp (2.5ml) cream of tartar
¼ tsp (1.25ml) salt
½ tsp (2.5 ml) vanilla
1 cup (200g) of sugar
2 tbsp (13 g) of cocoa powder
4 oz of bittersweet chocolate, melted
---
Instructions
Preheat oven to 225F (107C)
Line 2 sheet pans with parchment paper.
Whip egg whites, tartar, salt and vanilla until stiff peaks form. Then add sugar slowly until combined.
Transfer to a pastry bag fitted with a ½" (13 mm) round tip. Pipe 1-2 in mounds (for the mushroom tops) and 1" (2.5mm) lines for the stems.
Dip a spoon in water and flatten down any peaks that are created in meringues. You want a smooth top and stem.
Dust with powder cocoa either with a shaker or a fine-mesh sieve. Bake for 1 hour.
Allow to sit until meringues are hard and no gummy-ness remains.
Place chocolate in a microwave safe bowl, microwave on high in 30 sec increments until chocolate has melted.
Core out a small hole under the meringue tops (the flat side) top, smooth on a layer of chocolate on surface and in hole. Insert stem and allow to dry.
Keep uncovered at room temperature until ready to use.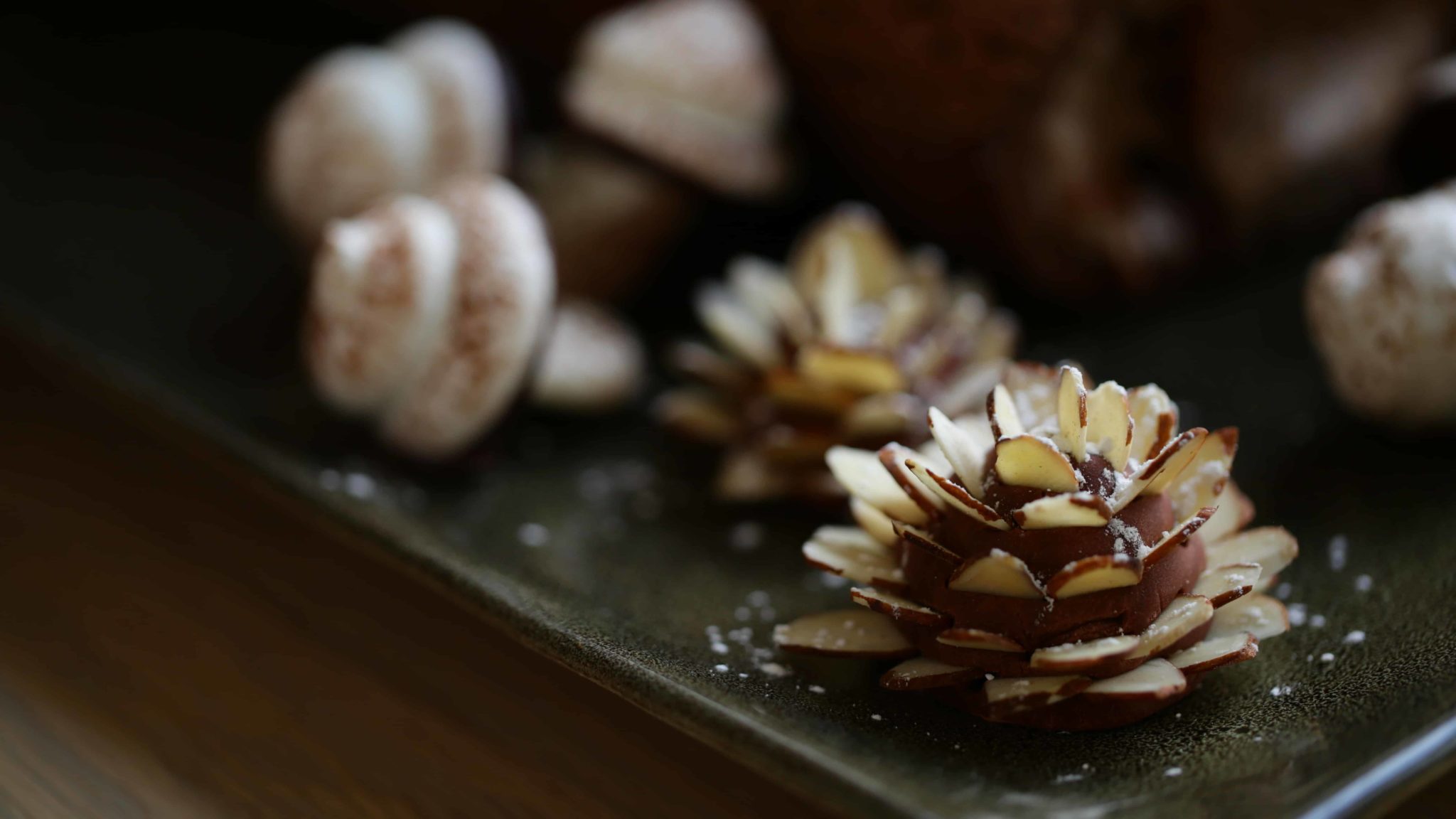 Print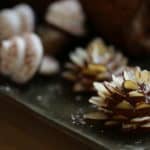 Fondant Pinecones
---
Author:

Category:

Dessert

Cuisine:

French
Ingredients
1 cup (240 ml) Chocolate Fondant
2 cups raw (480 ml) sliced almonds, skins on (you need more nuts that necessary so you can be choosy with picking out the perfect ones)
---
Instructions
Break off a small piece of fondant, about the size of a ping pong ball, form a ball, then place it on a work surface, flatten the bottom, and "cone the top". You're trying to create a slight pyramid shape.
Start at the bottom, inserting the almonds (point size up) into the cone, slightly elevating the almonds upwards.
For the next row, begin 1/8 inch (3mm) up from the first to allow for separation, placing a second row of almonds. Work all the way up the cone, until the top, assuring that almonds are tilting upwards and creating a pinecone shape.
Transfer pinecone with a metal spatula on to a sheet pan.
Create a variety of pinecone sizes, to make it look more natural, 4 large, 2 medium, 2 small.
Use pinecones to decorate the corners of the buche.
Pinecones can be kept, uncovered at room temperature. They will dry out and set and become less fragile and easier to handle.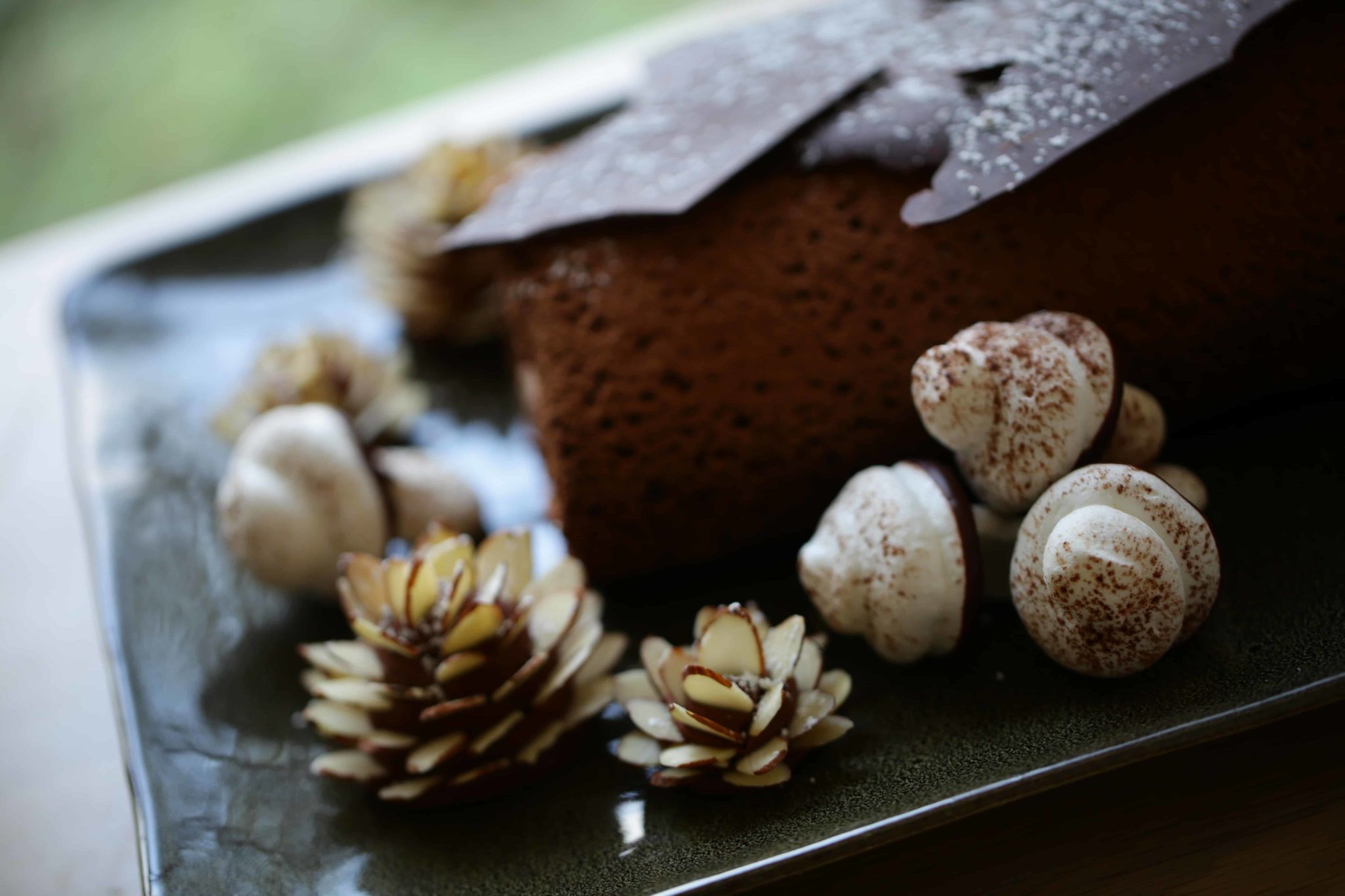 Print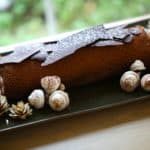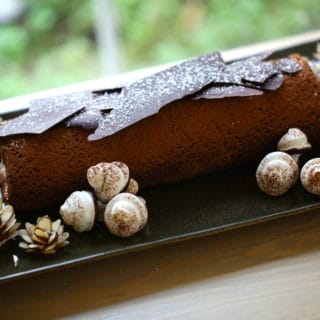 Buche de Noel Cake Recipe
---
Author:

Cook Time:

10 mins

Total Time:

10 mins

Yield:

serves 12

Category:

Dessert

Cuisine:

French
Ingredients
½ cup (60g) of flour
½ cup (50g) cocoa powder, plus more for dusting
½ tsp (2.5ml) salt
¼ tsp (1.25ml) baking soda
6 eggs
½ cup (100g) sugar
1 tsp (5 ml) vanilla
5 tablespoons (75 ml) unsalted butter, melted
---
Instructions
Preheat oven to 325F (162).
In a medium sized bowl sift together the flour, cocoa powder, salt and baking soda. Set aside.
In the bowl of an electric mixer beat eggs with sugar on high speed until tripled in volume, at least 5-7 minutes. Then add vanilla, beat until mixed.
Beating on low, add dry ingredients in thirds, alternating with melted butter until just combined.
Pour out onto a sheet pan (Pan exterior dimensions 17.88 x 12.88 x 1.06 inches and interior dimensions 16.5 x 11.38 x 1 inches) that has been sprayed with baking spay and lined with parchment paper. Lightly spray the parchment paper (on top) too and distribute well with a pastry brush.
Pour batter into pan and gently smooth out with an offset spatula. Bake for 8-10 mins until cake is set and a toothpick comes out clean.
Allow to cool completely.
Then take a damp dishtowel and stretch it out to full size, dust with cocoa powder to create a non-stick surface. Flip cake bake upside down out of the pan onto the towel. It will now be parchment paper side up. Gently remove the parchment paper.
Then starting at one end of the towel starting rolling it into a log, carefully rolling the cake as well, until the cake is completely rolled into the towel. Refrigerate overnight. This will help the cake form it's log shape.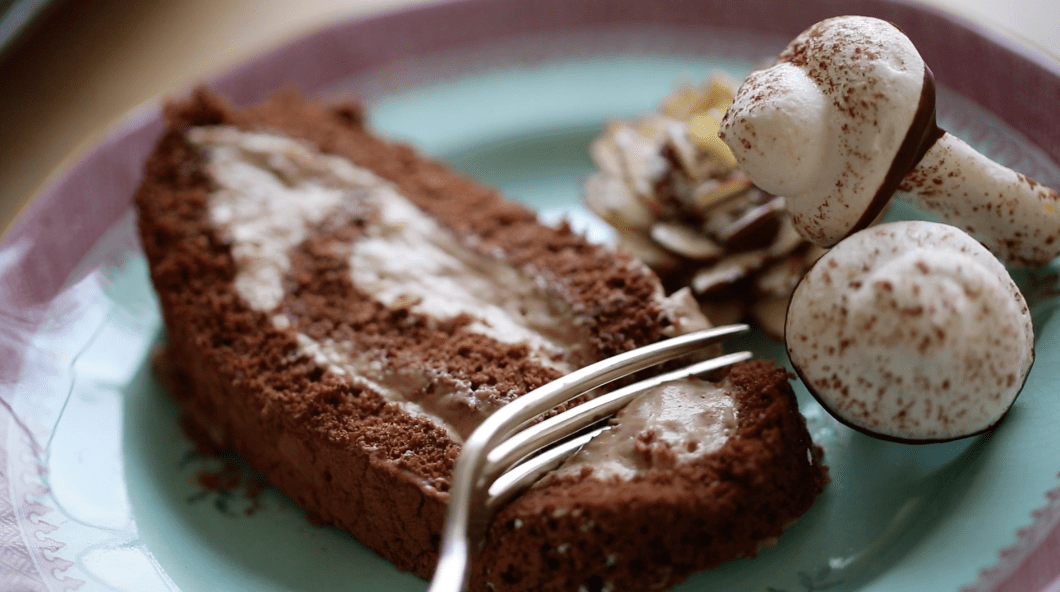 Print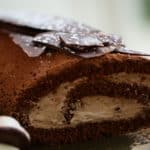 Chocolate Hazelnut Pastry Cream
---
Author:

Category:

Dessert

Cuisine:

French
Ingredients
2 cups (475 ml) milk
1 vanilla bean, split and scraped of paste
4 egg yolks
¼ cup (50) sugar
¼ cup (30 g) cornstarch
¼ cup (60ml) of chocolate hazelnut spread (Nutella or similar brand)
HOMEMADE WHIPPED CREAM:
¾ cup heavy cream
½ tsp vanilla
2 tsp powdered sugar
---
Instructions
In a heat safe bowl add the egg yolks and cornstarch, whisk until a smooth paste forms. Set aside.
Then in a large saucepan heat milk, sugar, vanilla seed paste and bean until simmering. Remove the bean pod. Add the warm milk slowly to the egg mixture whisking all the while until combined. Wash out the saucepan.
Strain the egg mixture into the washed out saucepan. Heat custard on medium high until slightly boiling, whisking all the while, lower heat to medium, continue to whisk until thickened. Remove from heat. Add the chocolate hazelnut spread, whisk until smooth.
Transfer pastry cream to a shallow container, cover with plastic wrap and refrigerate until ready to use.
METHOD:
Add cream, vanilla, powdered sugar to a bowl and whip on high until stift peaks form.
In a large bowl add the chilled pastry cream, gently fold the whipped cream to the pastry cream, in thirds, to lighten the mixture.
Remove the cake from the fridge. Gently unroll it, out of the towel, then roll it back into a "cake log" it will be easier to move this way.
Transfer the cake roll onto a fresh, dry kitchen towel, that has been generously dusted with cocoa powder.
NOTE: If cake at anytime in this process starts to crack or rip, do not despair! There are lots of ways to fix that in the decoration part (covering it with chocolate bark)
Spread cream mixture on cake surface leaving at least 2 inches of uncovered cake on either side.
Gently roll the cake, away from you, into a log. When you reach the end, don't do that last roll, instead take the end of the towel furthest from you and roll the cake, in the towel, 1 time towards you, and secure in the towel, then continue rolling towards you until the cake is securely rolled up in the towel.
Place cake back in fridge, overnight to set up.
NOTE: This is a critical step to allow the cake to slice nicely and retain its log like shape.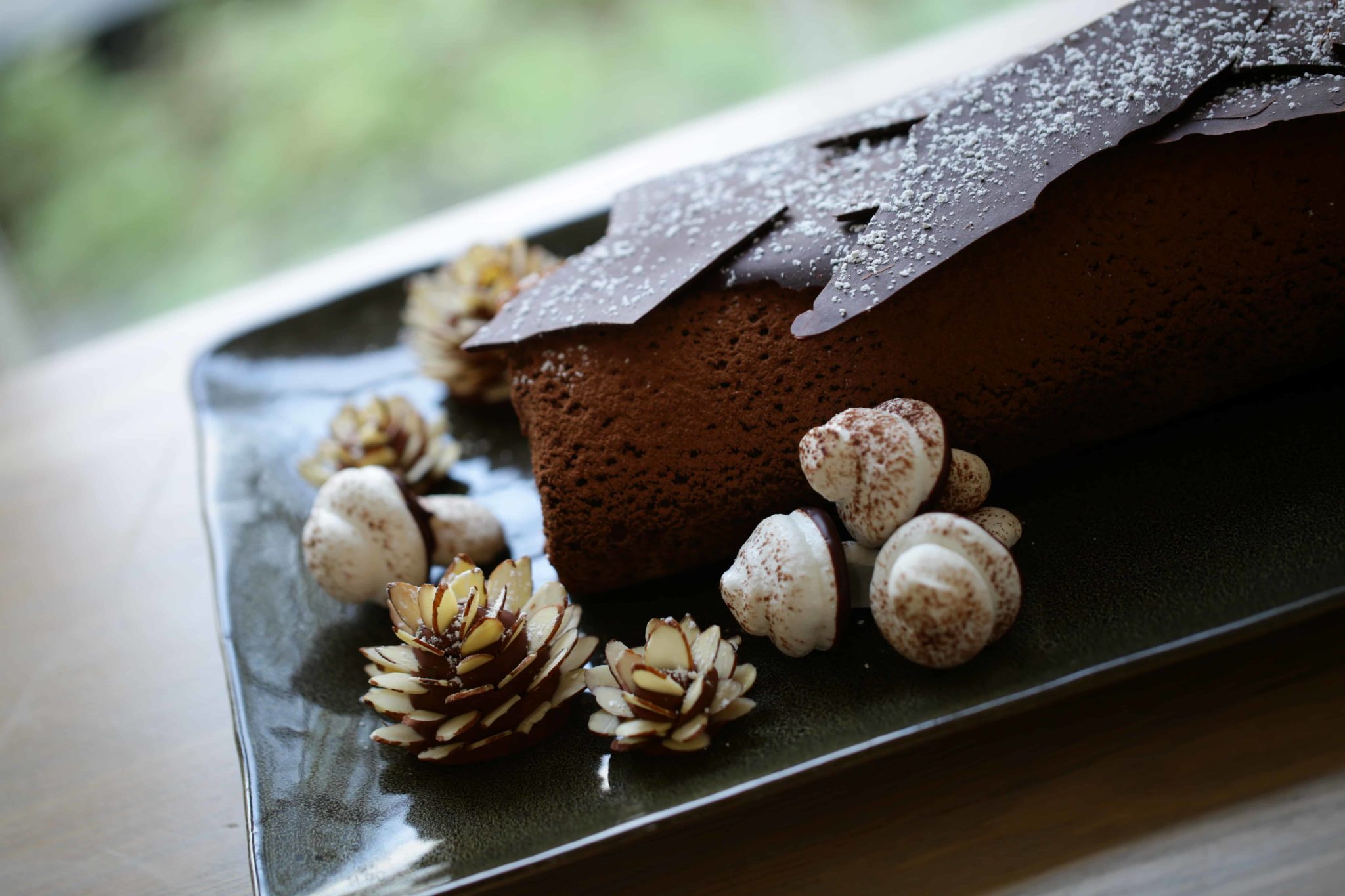 Print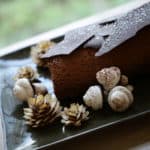 Chocolate Bark
---
Author:

Category:

Dessert

Cuisine:

French
Ingredients
4 oz of dark bittersweet chocolate
1 tablespoon of powered sugar
2 sheets of parchment paper
---
Instructions
Melt chocolate in the microwave in :30 increments until melted.
Pour chocolate onto parchment paper, smooth out with an offset spatula to roughly a 12 x 6 rectangle.
Place another sheet of parchment paper on top, and press down to smooth.
Place parchment "sandwich" on a sheet pan, and place in the freezer for 10 mins until hard.
Working from the short end of the parchment paper, roll paper into a lose log, to create large round shards of "chocolate bark".
WHILE BARK IS IN THE FREEZER….
STEP 1: Remove cake from the fridge, gently unroll the cake. Position it so that the seam of the cake is on the bottom. Then dust the top of the cake with more cocoa powder to create a finished, dusted look.
STEP#2: Transfer cake to a large rectangular platter (one that will fit in your fridge)
STEP#3: Place pinecones at the 4 corners of the cake, assuring each corner has 1-2 sizes
STEP#4: place mushrooms in front of the cake, in little groupings
STEP#5: Place chocolate bark on top of log in haphazard pattern, covering the middle section and placing some bark on top of each other
STEP#6: lightly dust some powdered sugar on top of bark (to look like snow) and ever so slightly on top of the pine cones.
STEP#7: stand back and admire your masterpiece!!!
STEP#8: Place in the fridge, uncovered until ready to serve. Then slice into thick 1 inch slices, on the bias for a pretty decorate touch. Add a few decorations to each plate.
Place extra meringue mushrooms on a cake stand to serve with the buche.
Take a bow!! You did it! ☺