Learn how to make my delicious make ahead Coq Au Vin recipe in time for holiday entertaining! (Special Thanks to Swanson Chicken Broth for sponsoring this episode).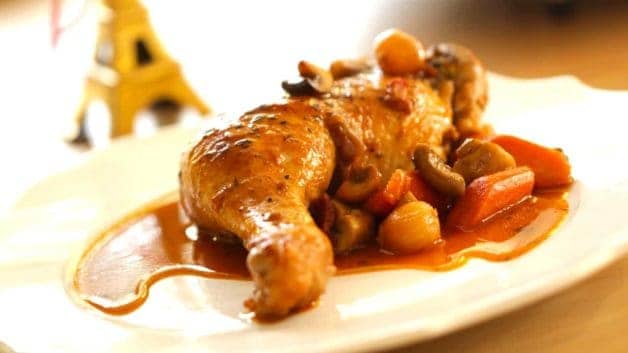 Christmas dinner can be a stressful ordeal! Between the holiday chaos of last-minute shopping, the gift wrapping and baking, we all need a recipe that is both elegant but simple! And if it can be made the day before even better!
That's why I love this classic Coq Au Vin recipe. It's simple, elegant and sooo delicious! And yes, it can all be made the day before and just reheated when time to serve (how's that for a Christmas miracle? Ha!)
Watch my Coq Au Vin Video Demo Below!
What is Coq Au Vin?
The literal translation of Coq Au Vin is rooster in wine. This is a classic French dish that was made by slow cooking a tough rooster in wine until tender and juicy. Today we don't cook with a lot of roosters here in the States! So chicken is a great substitute.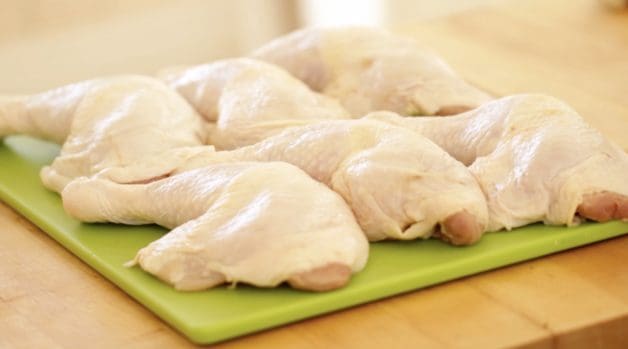 For a chicken coq au vin, I really like to use Chicken legs. I find they are the most flavorful part of the chicken, and look elegant on the plate.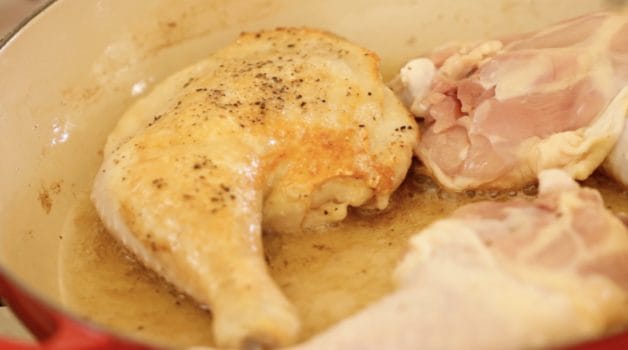 They also will not dry out after all that braising, and reheating the follow day (did I also mention they are cheap! Making this a more cost effective holiday meal than say a beef tenderloin)
I also like to make this dish in a Le Creuset Braiser 6 chicken legs fit perfectly in the 3.75 quart size.
I think there's something so festive about the red oven-to-table dish with the shiny gold knob. (this link goes to Amazon where I am compensated on products sold at no additional cost to the consumer)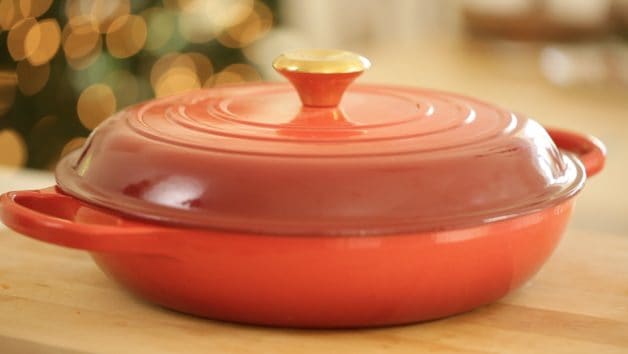 I'll warn you it is pricy! But worth it in my opinion since this is an heirloom piece that will last for decades. They actually get better with age!
What to Serve with Coq Au Vin?
I think any kind of potato dish pairs beautifully with Coq Au Vin. You want some kind of starch to lap up all the delicious sauce with.
A few of my favorites would be my sour cream mashed potatoes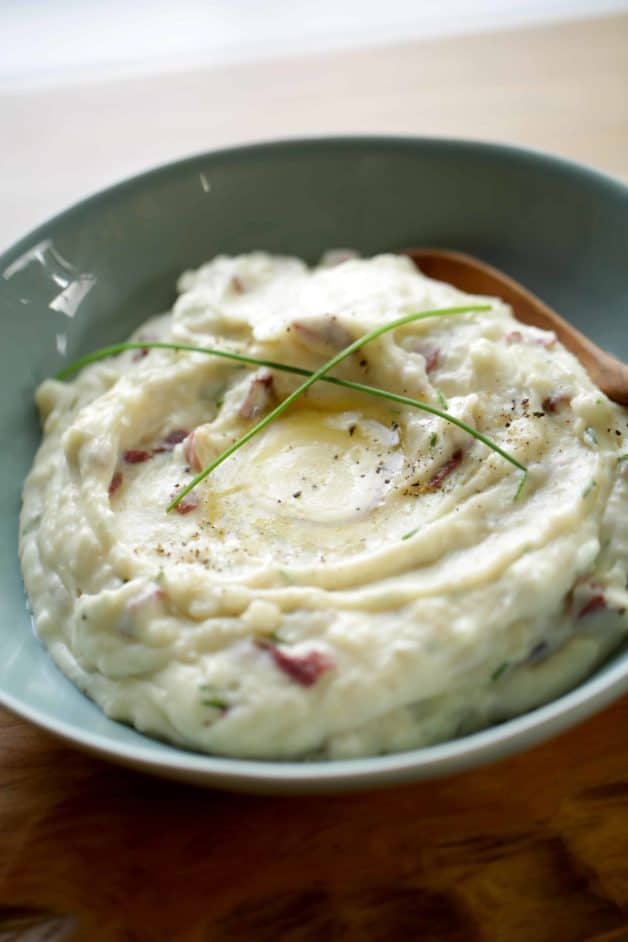 Or my smashed potato recipe...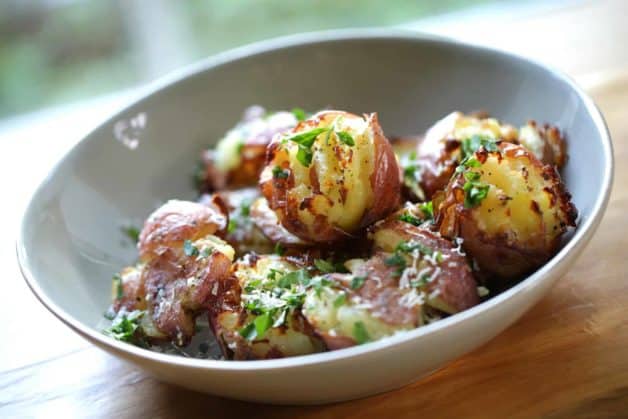 Or for something a bit more decadent you could also try my Tartiflette recipe.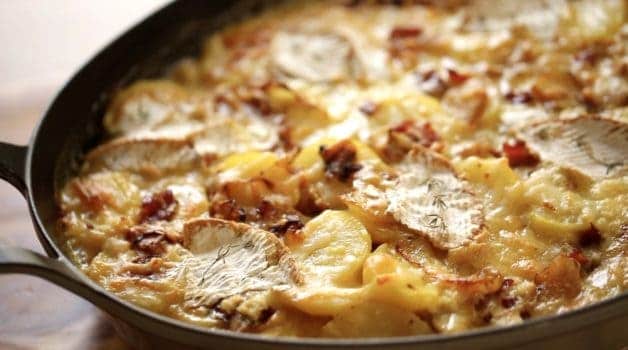 What Wine is Best For Coq Au Vin?
Some of my favorite wines for Coq Au Vin include a Cotes du Rhone or a Pinot Noir or even a Merlot would be OK. My rule of thumb is use what you would drink.
Or follow the $10 rule, any wine over that amount will be better than those under it.
Unless you are shopping at Trader Joes where I've found some fantastic reds for under $10! Such as the Perrin Cotes du Rhone.
How to Make Coq Au Vin Ahead of Time?
For a make-ahead Coq Au Vin, complete the recipe all the way through, eliminating the final thyme sprig garnish on top.
Allow it to cool completely, then cover and refrigerate. (This is another reason why I like the braiser because you just place the lid on and pop it in the fridge)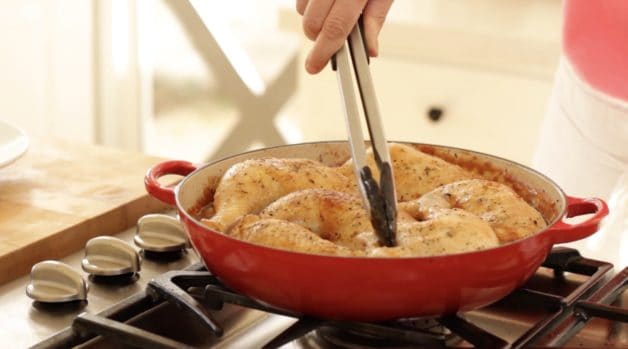 To reheat, add about 1/4 cup of chicken broth to "loosen" the sauce a bit which would have thickened over night in the fridge. Then place in a 300F oven with the lid on for 20 mins.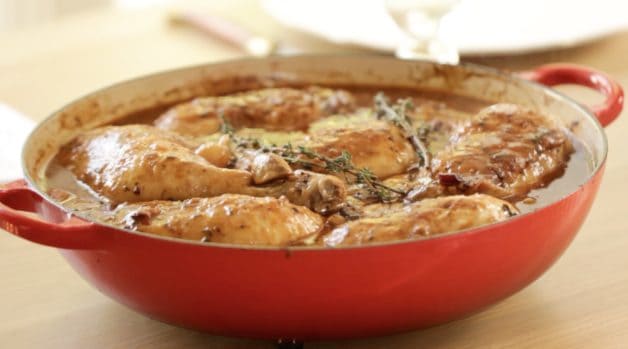 Spoon the sauce over the chicken, and then garnish with fresh thyme sprigs on top. Serve oven to table!
MORE FRENCH HOLIDAY RECIPES!
Please let me know if you make this recipe by leaving a rating and review below!
Follow us on Youtube, Pinterest, Instagram, Facebook & Twitter!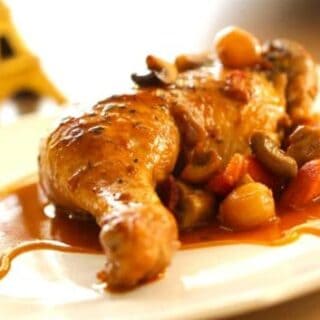 Coq Au Vin
Total Time:
1 hour
50 minutes
An easy make ahead coq au vin recipe that is perfect for a holiday main course
Ingredients
7 pieces of apple wood smoked bacon, diced into small strips
½ tsp butter
6 chicken legs, skin on, bone in
2 carrots, cut into 1 inch chunks (1 ½ cups)
¾ cup frozen pearl onions
½ tsp dried thyme
1/3 cup cognac
½ cup red wine
1 cup Swanson® Chicken Broth
3 garlic cloves
2 tbsp tomato paste
2 tbsp fresh thyme
1 bay leaf
1 tsp salt
2 tbsp cornstarch
2 tbsp water
3 dashes Worcestershire sauce
1 tbsp butter
1 ½ cups white button mushrooms, quartered
Instructions
In a large Dutch oven or oven safe casserole with a lid, melt butter and sauté bacon. Once crispy, transfer with a slotted spoon to a plate lined with paper towel. Leave fat in pan.
Season chicken legs on both sides with salt and pepper to taste.
In the bacon fat, brown chicken, on both sides. Transfer to a plate to rest.
In the chicken fat, sauté carrots and onions until browned and tender. Add ½ tsp of dried thyme.
Turn off flame while adding alcohol. Add cognac and wine, stir. Turn flame back on. Add chicken broth.
Add garlic, tomato paste, bay leaf, and salt. Stir to combine.
Add 3 dashes of Worcestershire Sauce.
Create a "slurry" by combining 2 tbsp of cornstarch with 2 tbsp of water, mix to combine.
Bring the pot up to a boil, and then add the slurry, this will allow the sauce to thicken. Then lower to a simmer.
Add back in the bacon.
Place the chicken, skin side up, back into the pot. Place lid on top.
Bake at 350F for 25 mins.
Meanwhile sauté mushrooms in butter until browned.
At the 25 min mark, add mushrooms. Cover and bake for another 20 mins.
Then remove lid, garnish with fresh thyme, and bring to the table!
Serve with a mashed potato puree or crusty French bread.
Notes
If making this the day ahead cool completely, and refrigerate, covered. Before reheating, add a splash of chicken broth to loosen sauce and cover and heat at 300F for 20 mins.
Some of my favorite wines for Coq Au Vin include a Cotes du Rhone or a Pinot Noir or even a Merlot would be OK. My rule of thumb is use what you would drink.
Or follow the $10 rule, any wine over that amount will be better than those under it.
Nutrition Information:
Yield:

6
Serving Size:

1
Amount Per Serving:
Calories:

718
Total Fat:

28g
Saturated Fat:

9g
Trans Fat:

0g
Unsaturated Fat:

16g
Cholesterol:

340mg
Sodium:

930mg
Carbohydrates:

40g
Fiber:

7g
Sugar:

26g
Protein:

66g