Bouchée à la Reine with Lobster
Bouchée à la Reine with Lobster is an elegant main course recipe for New Year's Eve. Succulent lobster, in a rich creamy leek sauce with delicate puff pastry. How good does that sound?
A traditional Bouchee a la Reine recipe is typically made with chicken and mushrooms in a cream sauce, which you could also do instead of the lobster for something more affordable. But for a special holiday meal, I can't resist the lobster! Or you could use shrimp too.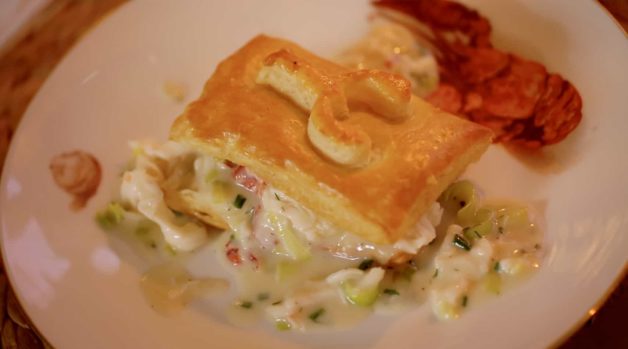 The best part is most of this recipe can be made the day before (YES!) and works really well for four people. And you could continue the French theme and serve some Ile Flottantes for dessert which would be equally festive and elegant and yes those too can be made in advance!
Subscribe for weekly recipes
and new videos!
WATCH HOW TO MAKE BOUCHEE A LA REINE WITH LOBSTER BELOW
Subscribe to My YouTube Channel and Never Miss a Recipe!
Since lobster is pretty pricy, you can get away with 3 lobster tails, and frozen works fine, just be sure to defrost it the day before in the fridge. That way you won't overcook it.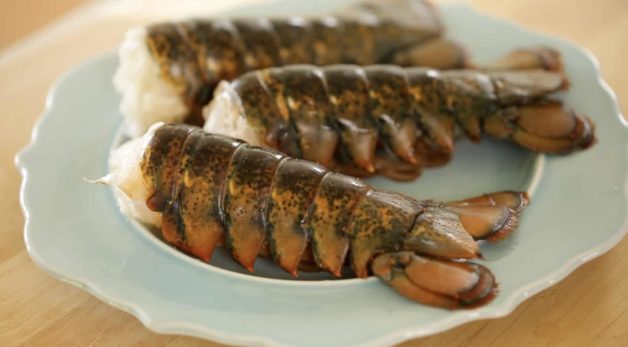 It's easy to prepare since it's just the tail and you don't have to wrestle with a whole lobster. They cook quickly in a flavorful poaching liquid. Just 5-7 minutes is all it takes.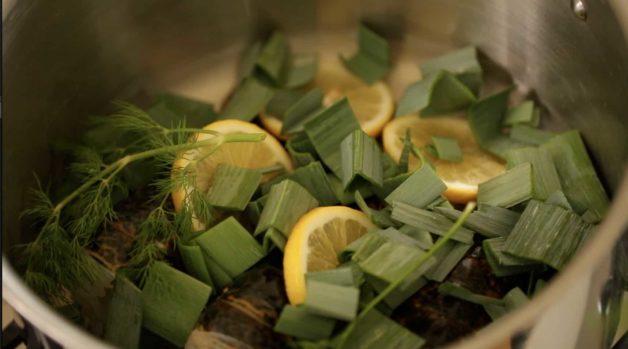 Once the meat is extracted from the shells...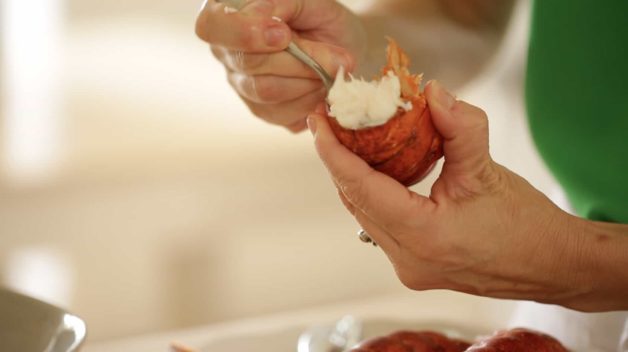 You can cover and refrigerate until you are ready to use just before serving...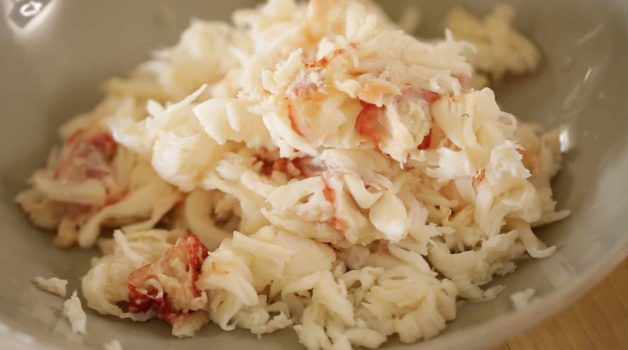 But hold on to those shells! Since you'll put them back in the poaching pot to boil to add flavor to the liquid, which then gets strained and turned into a beautiful lobster broth which will add flavor to the cream sauce (see recipe below!)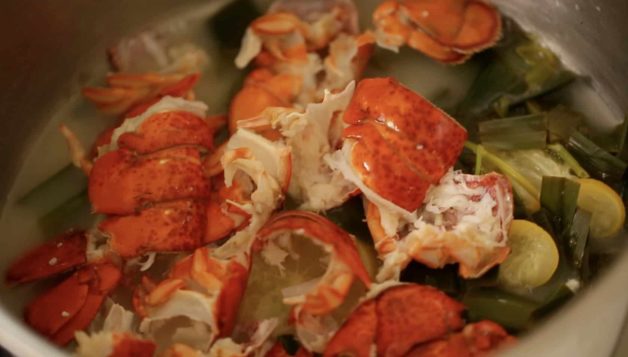 I also think it's fun to put a little decorative flourish on the puff pastry with a Lobster cut out. This is easy to do with a lobster cookie cutter, which you can find on Etsy. I like the 3.5-inch size.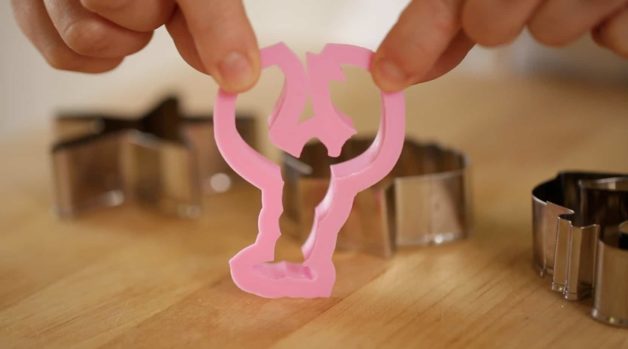 Tip: Since puff pastry is more elastic than pie or cookie dough, it really helps if the puff pastry is semi-frozen. This will assure a clean cut.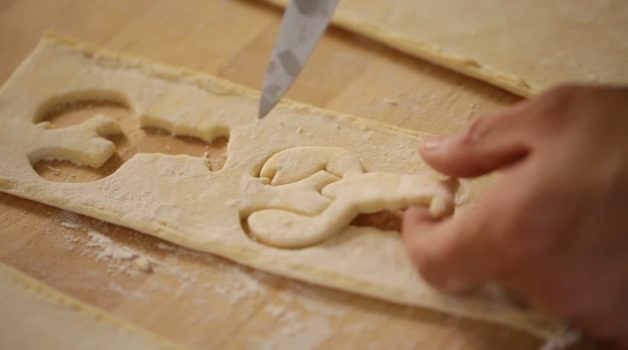 You can also bake the puff pastry an hour or so before serving and allow them to rest on your countertop. Then all you have to do is reheat the filling, assemble and serve!
More Great New Year's Eve Recipes!
IF YOU ENJOYED THIS RECIPE PLEASE LEAVE A RATING BELOW
THIS HELPS OTHERS DISCOVER AND ENJOY THE RECIPE TOO!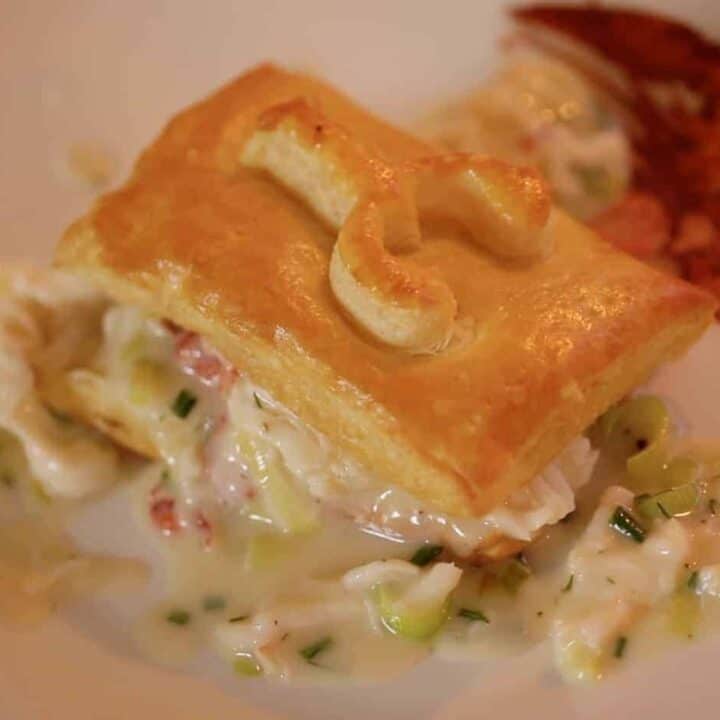 Bouchée à la Reine with Lobster
Prep Time:
1 hour
30 minutes
A wonderful lobster main course for New Years Eve Elegant and easy if you make it ahead of time.
Ingredients
For The Lobster Poaching:
3 Lobster Tails (4 oz/113g each) fresh or defrosted frozen
4 cups (950 ml) water
½ cup (120 ml) dry white wine (Sauvignon Blanc, Muscadet, Sancerre)
4 lemon wheel slices
2 leeks, green parts roughly chopped (reserve white parts for below)
4 sprigs of dill
For the Leeks:
2 tablespoon (30 g) butter
2 leeks, white parts sliced into thin half-moons (¼" slices)
Salt and pepper to taste
For the Sauce:
3 tablespoon (45 g) unsalted butter
2 tablespoon (15 g) flour
2 cups (475 ml) reserved poaching liquid
zest of 1 lemon
2 tablespoon (30 ml) heavy cream
1 tablespoon (15 ml) dry white wine (Sauvignon Blanc, Muscadet, Sancerre)
1 tablespoon (15 ml) fresh chives, minced
1 teaspoon fresh dill (5 ml) minced
For the Puff Pastry:
1 package of store-bought puff pastry (I think Pepperidge Farm brand works best)
1 egg, lightly beaten
1 seashore-themed cookie cutter (seashell, lobster, starfish etc.)
Instructions
In a large skillet melt 2 tablespoon (30 g) of butter until foamy. Sauté leeks until tender and fragrant. Season to taste with salt and pepper. Transfer to a small bowl and set aside. (NOTE: This could be done the day before)
In a large stock pot prepare the poaching liquid. Add lobster tails, flesh side down, water, wine, lemon wheels, green leeks, and dill.
Cover and simmer for 5-7 minutes until lobster shells turn a bright red and meat is opaque
Remove lobster tails from the pot and allow them to cool. Once cool, crack tails in half with a seafood cracker or with your hands. Remove lobster meat with a seafood fork and transfer meat to a small bowl. Once all the meat has been extracted you can set aside and cover and refrigerate until ready to use.
Reserve lobster shells and add them to the stock pot with the poaching liquid ingredients.
Boil the poaching liquid for 5-7 minutes to extract the flavor from the shells. Remove the shells, leeks, lemon and dill with some tongs and discard.
Place a large mesh sieve over a bowl or better yet a large Pyrex pitcher and pour the remaining poaching liquid into the sieve to catch any remaining bits from the poaching liquid. Reserve the 2 cups of liquid that remains, for the sauce. NOTE: This can be done the day before. Cover reserved stock and refrigerate until ready to use.
When it comes time to serve, preheat oven to 400F (200C). Working with slightly frozen puff pastry, slice the puff pastry into 6 inch (15 cm) x 3.5 inch (8 cm) rectangles. Place on a baking sheet lined with parchment paper.
Prick dough with a fork in several places to allow for steam to escape. Cut out decorative seafood-themed shapes with a cookie cutter, such as a lobster, seashell or starfish. (The shapes are much easier to cut out if the pastry is semi-frozen)
Place 1 shape on top of each pastry rectangle, in the center, and brush the whole thing lightly with the egg wash. Bake for 18-20 mins. Then allow to cool and leave out at room temperature.
Meanwhile, prepare the sauce. In a large skillet melt 3 tablespoon (45 g) of butter. Once foamy add the flour, whisk until combined and cook for 1 minute. Add reserved poaching liquid and cook, while whisking, until sauce thickens. Add heavy cream, 1 tablespoon (15 ml) of wine, lemon zest, chives and dill. Taste for season and add salt and pepper to taste only if needed.
Add lobster meat to the sauce and heat through.
Meanwhile, take each pastry rectangle and gentle pull it apart to create a top and bottom. No need to slice it, it will come apart naturally just by pulling it apart with your hands. Place the bottom on the plate. Spoon over the lobster mixture, drizzling a little bit of sauce and lobster around the rectangle, top with the pastry top, and garnish with 2 long pieces of fresh chive.
Serve with a tossed green salad and a French white wine such as Sauvignon Blanc, Muscadet or Sancerre.
Notes
Use Lobster Tails over a whole lobster.  They are easier to cook and more affordable too!
Use semi-frozen puff pastry, you will get a cleaner cut with the cookie cutter that way
Recommended Products
As an Amazon Associate and member of other affiliate programs, I earn from qualifying purchases.
Nutrition Information:
Yield:

4
Serving Size:

1
Amount Per Serving:
Calories:

405
Total Fat:

21g
Saturated Fat:

11g
Trans Fat:

1g
Unsaturated Fat:

9g
Cholesterol:

144mg
Sodium:

366mg
Carbohydrates:

24g
Fiber:

2g
Sugar:

7g
Protein:

21g