Roasted Tomato and Eggplant Soup
This Roasted Tomato and Eggplant Soup is a little bit of summer in the middle of winter. Roasting the tomatoes brings out their sweetness and intensifies their flavor and roasting the eggplant provides a really nice smokey flavor in the background.
Top with fresh basil and garlicky croutons and you have a fantastic mix of flavors to start the New Year off right!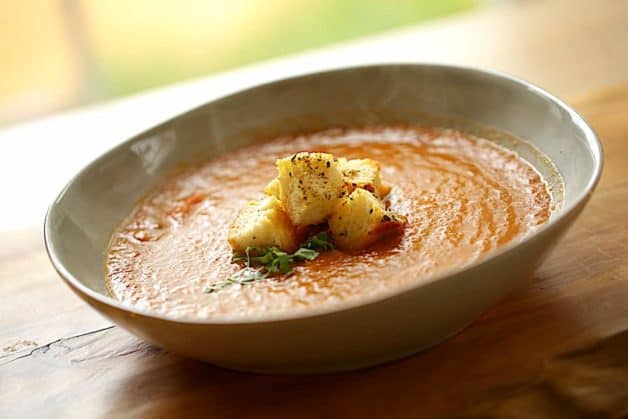 Why You'll Love This Recipe:
This soup is easy enough for a weeknight meal, and is also completely vegan too!
It freezes really well and can be portioned out into individual servings for easy reheating in the microwave.
It's a wonderful recipe for those looking to eat a bit lighter in the new year!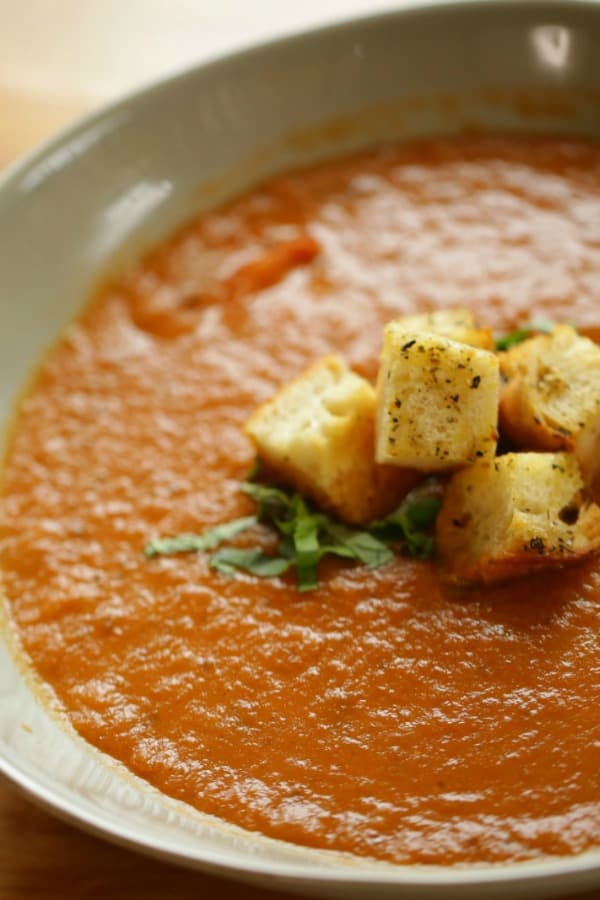 Watch My Video Demo of This Recipe Here!
Subscribe to My YouTube Channel and Never Miss a Recipe!
Step#1: Prep the Vegetables for Roasting
Roast the vegetables separately on two sheet pans. This will allow them room to roast and carmelize on a single layer. As opposed to steaming due to overcrowding.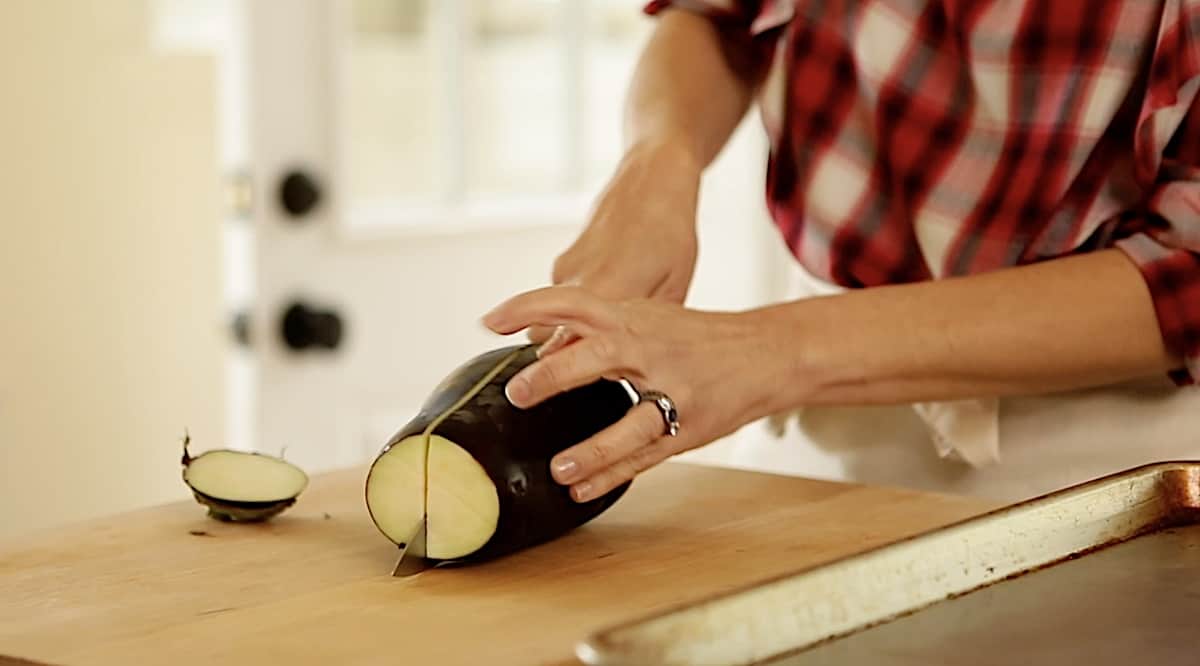 What Type of Tomatoes Work Best?
I find Roma tomatoes work best for this recipe. They don't omit as much juice as a regular tomato and once cooked down their flavor will be concentrated.
If you can't find Roma tomatoes cherry tomatoes are a good substitute because they will also create a concentrated tomato flavor like the Romas.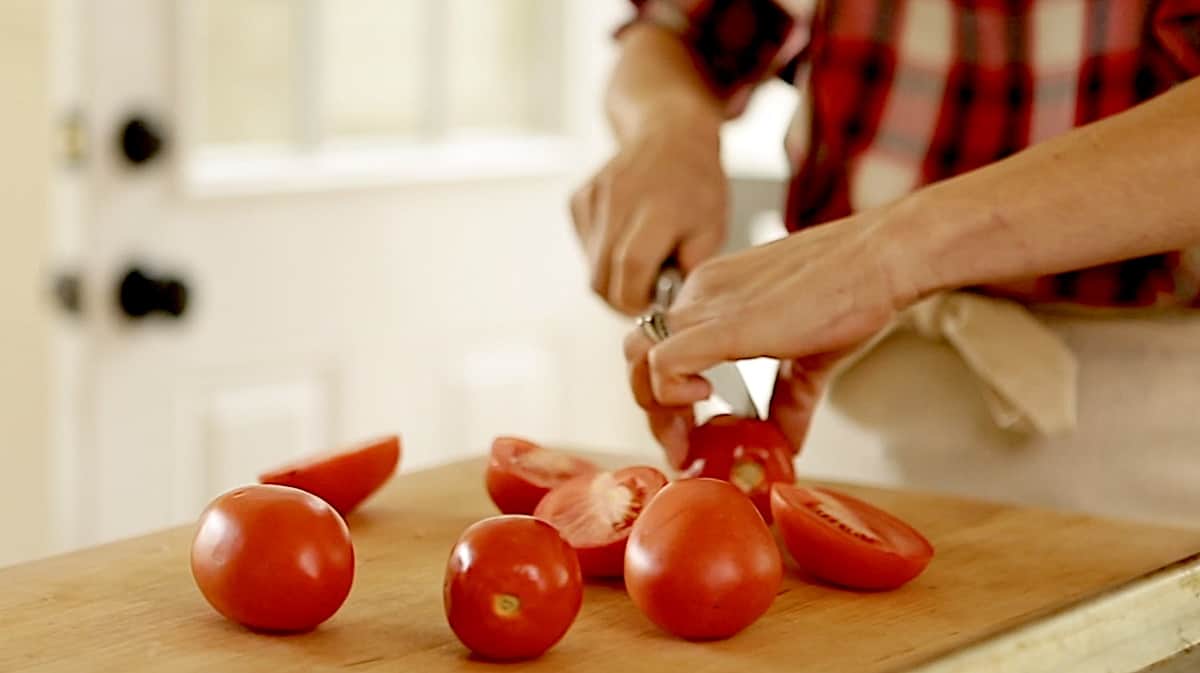 Then you'll season the vegetables with salt and pepper, olive oil, and a generous amount of oregano. Place the vegetable pan on separate racks to roast.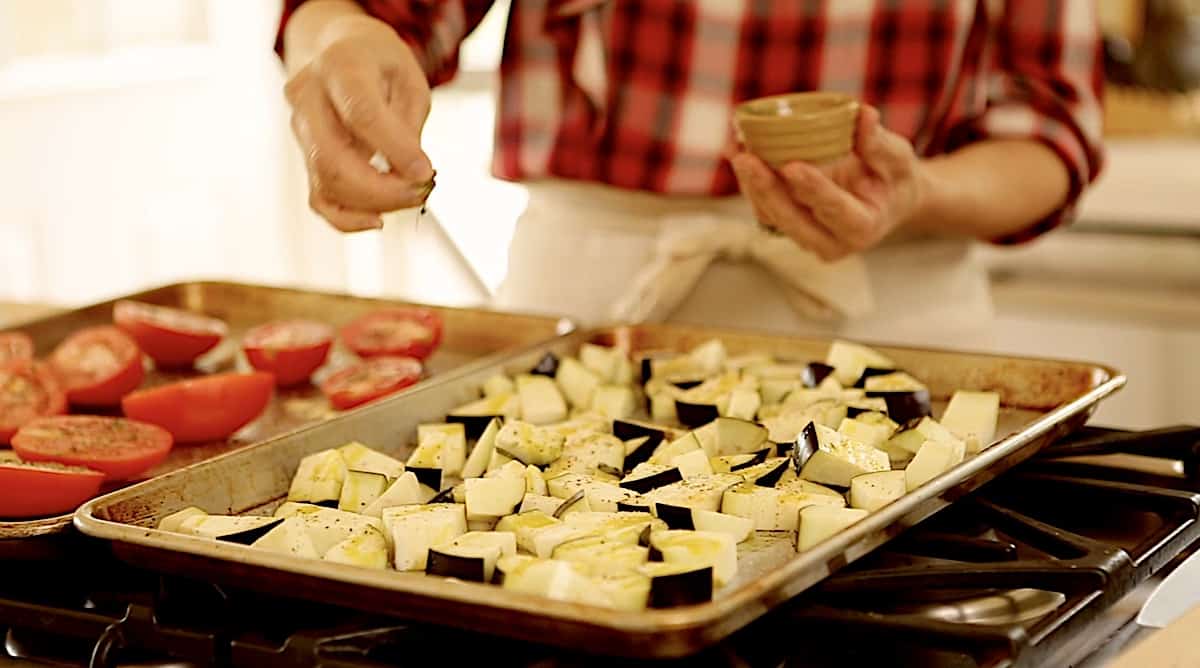 Then mid-way through the roasting time swap the trays so that they become evenly roasted. Once the eggplant is golden brown and soft and the tomatoes are wilted and soft, pull them out.

Step#2: Simmer Vegetables in Broth
Transfer the vegetables to a large soup pot and then add the vegetable broth. Since the vegetables are already cooked through, you only need to simmer the soup until the broth is hot.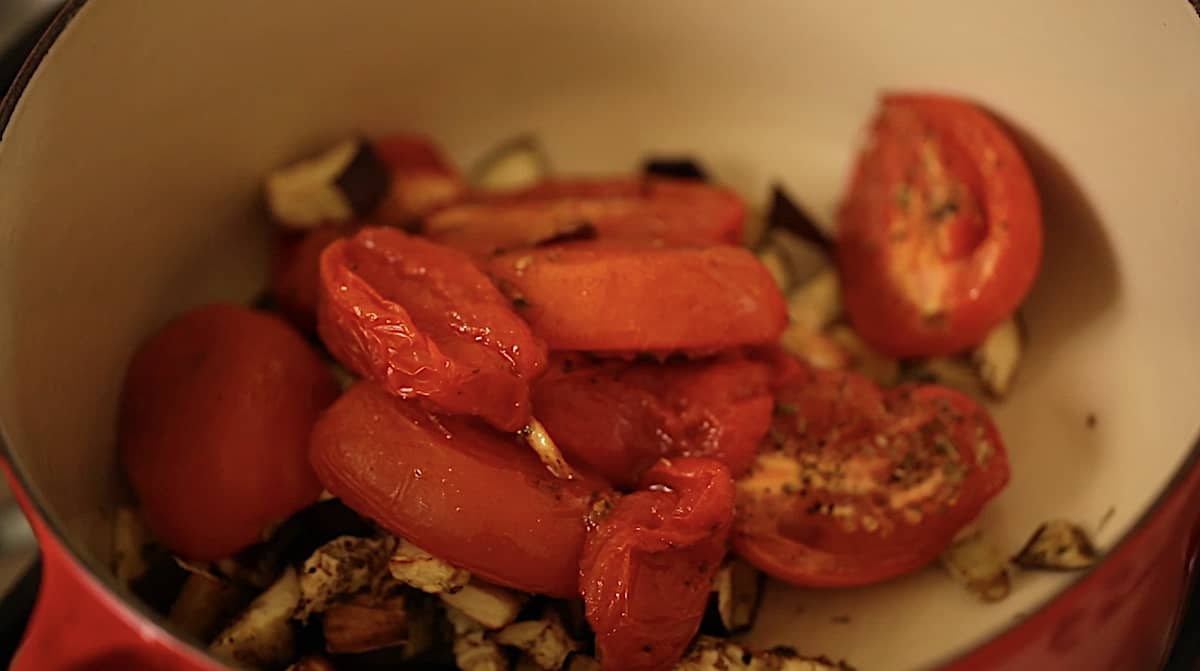 Step#3: Blend with Immersion Blender
To get the best texture on the soup, use an immersion blender. It keeps the consistency rustic and hearty and you'll find that chunkier soups are more filling too. Once pureed, you can keep the soup on a low simmer while you make the croutons.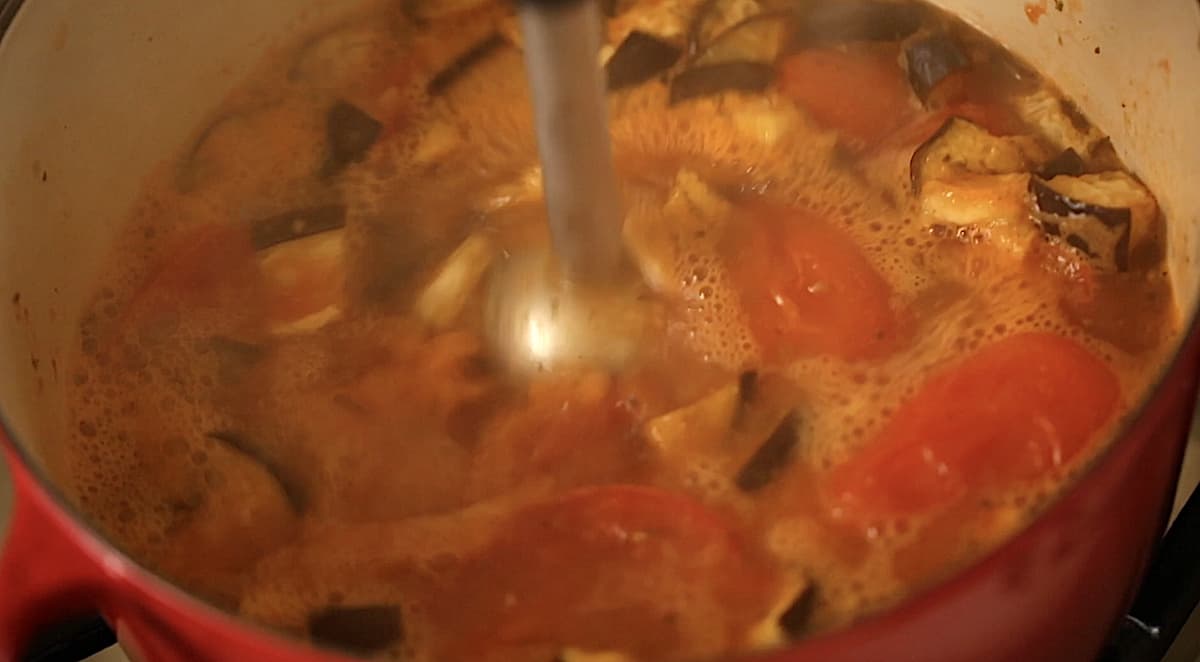 Step#4: Make the Garlic Croutons
The garlic croutons are a fantastic garnish for this soup.
A french baguette works well, or you can also use ciabatta bread too.
Homemade croutons are so easy to do, and any time you have leftover bread, just cut it into small cubes and pop it in a resealable bag in the freezer.
That way you'll always have bread cubes ready to go when you need them.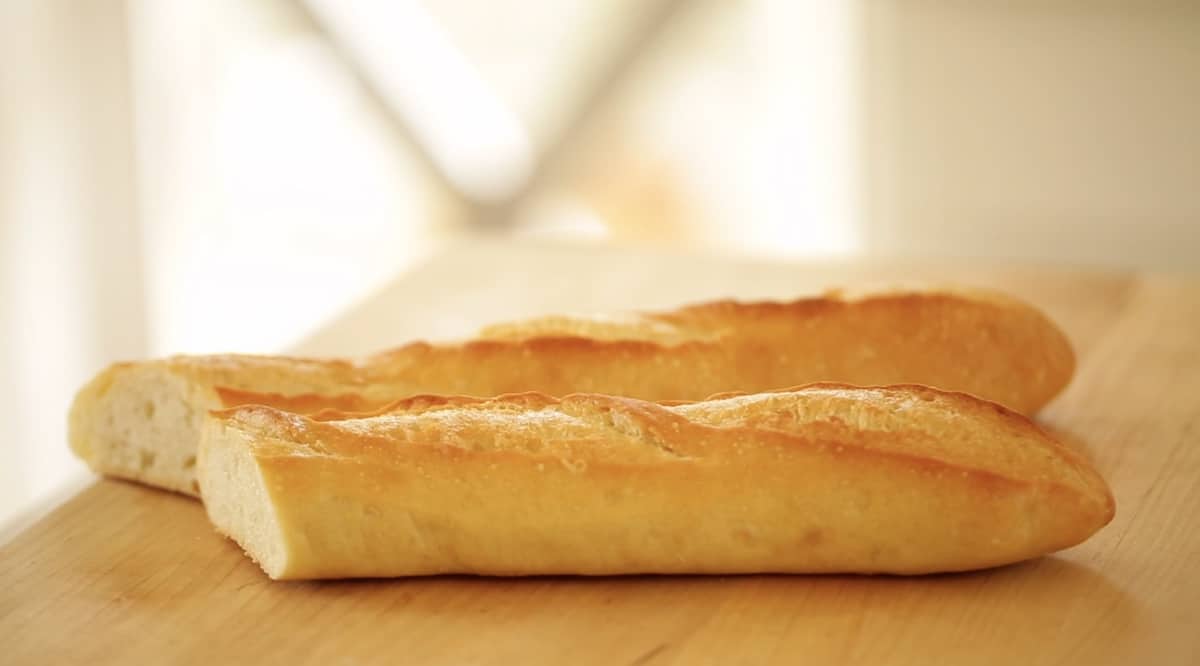 Season the Bread Cubes
Drizzle the bread cubes with olive oil, salt and pepper, and minced garlic. The oil and the seasoning will get trapped into the nooks and crannies of the bread which will add great flavor and texture to the croutons after they are baked.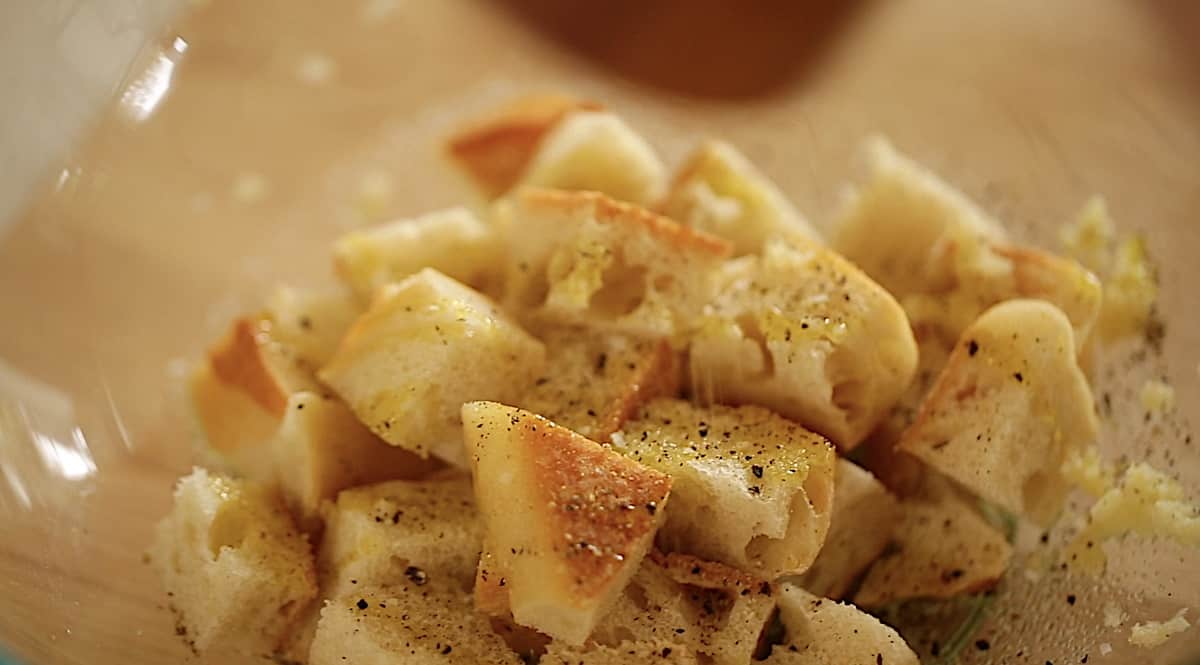 Once baked the croutons will harden and get crispy, but not to worry they will soften once you place them on top of the soup and the heat begins to soak through. These croutons are also wonderful on my Grilled Chicken Ceasar Salad Recipe too!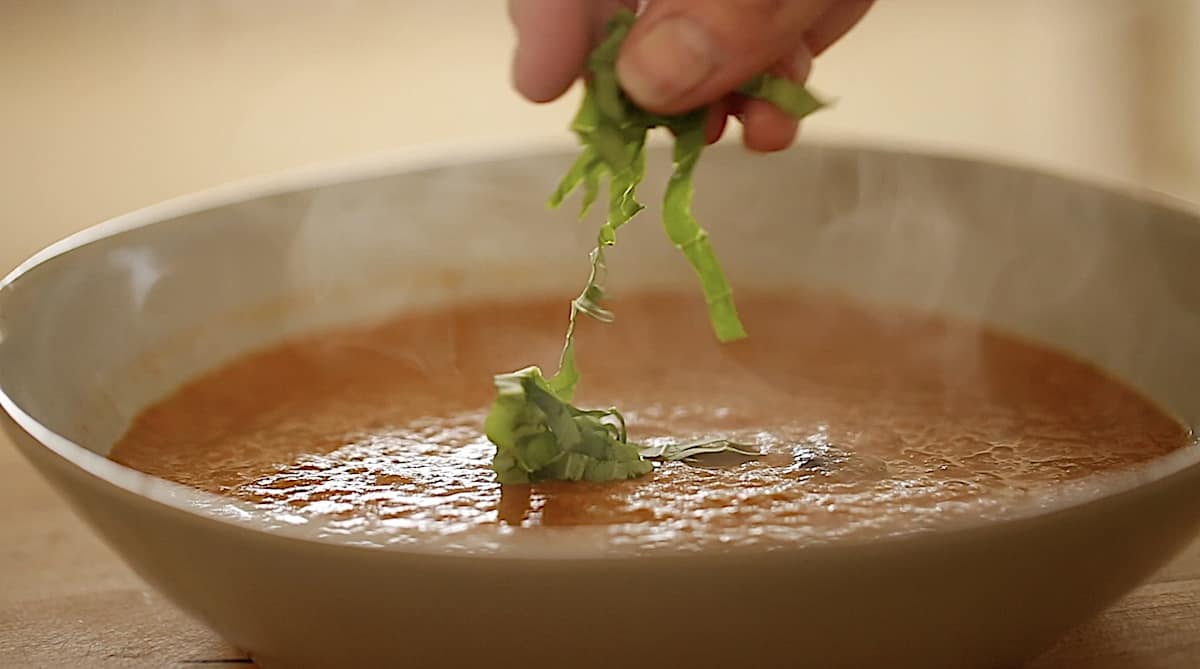 Garnish with Basil
The fresh basil creates a wonderful freshness against the earthiness of the eggplant. If you can't find basil this time of year, you can also use fresh Italian parsley too for a similar effect.
Top with the croutons for a delicious soup recipe that will become part of your weekly rotation as you head into the new year!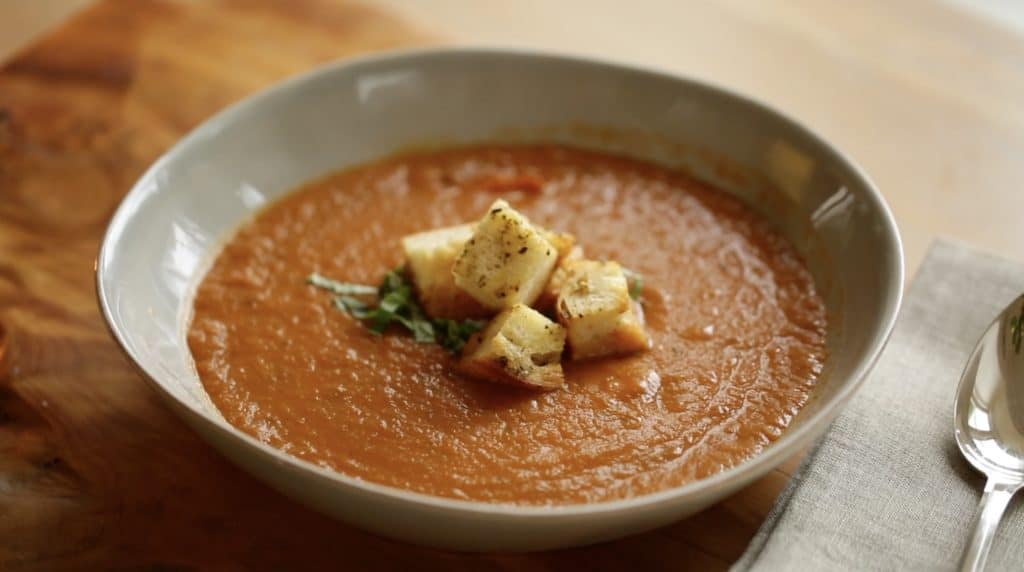 More Delicious Soup Recipes!
Please let me know if you make this recipe
by leaving a rating and review below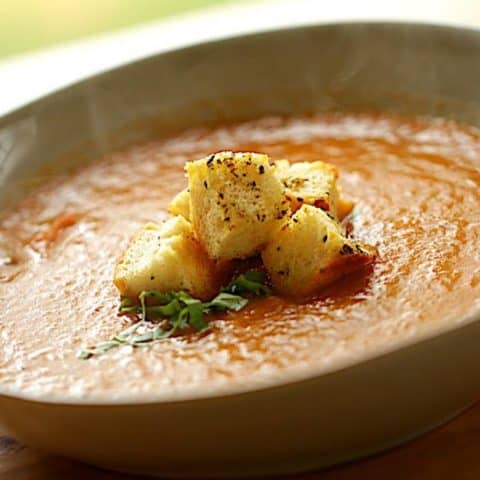 Roasted Tomato and Eggplant Soup
Total Time:
1 hour
30 minutes
Roasted Tomato and Eggplant Soup perfect for a weeknight meal! Tastes like a bite of summer in the middle of winter.
Ingredients
1 eggplant, cut into 1 inch chunks
6 Roma tomatoes, sliced in half lengthways
2 garlic cloves, sliced thinly
2 tablespoon (30 ml) olive oil
½ teaspoon (2.5 ml) dried oregano, separated
salt and pepper to taste
32 oz (960 ml) of vegetable broth
1 tablespoon (15 ml) tomato paste
2 tablespoon (30 ml) fresh basil
For Croutons:
2 cups (480 ml) 1 inch bread cubes from a baguette
1 tablespoon (15 ml) olive oil
1 clove of garlic
salt and pepper to taste
¼ (1.25 ml) teaspoon Herbs de Provence
Instructions
Preheat oven to 375F (190C).
In a medium bowl toss bread cubes with olive oil, garlic, salt and pepper and Herbs de Provence. Transfer to a baking tray, spreading out cubes to a single layer and bake for 15 minutes or until golden brown and fragrant. Set aside until ready to use.
Preheat oven to 425F (218C).
Prepare 2 rimmed-lined baking sheets. On one sheet place the eggplant and the other place the tomatoes and garlic.
On each tray, drizzle 1 tablespoon (15 ml) of olive oil, ¼ teaspoon (1.25ml) oregano, and salt and pepper to taste. Toss to coat.
Place both trays in the oven on different racks and roast for 10 minutes. Then flip the trays and roast for 10 minutes more.
Transfer the roasted vegetables to a large stock pot. Add vegetable broth and tomatoes paste. Simmer for 10 mins. Then blend with an emersion blender until smooth, with small chunks remaining. You can also do this in a blender.
Ladle out soup into bowls, top with fresh basil and croutons.
Recommended Products
As an Amazon Associate and member of other affiliate programs, I earn from qualifying purchases.
Nutrition Information:
Yield:

6
Serving Size:

1
Amount Per Serving:
Calories:

302
Total Fat:

9g
Saturated Fat:

1g
Trans Fat:

0g
Unsaturated Fat:

7g
Cholesterol:

0mg
Sodium:

954mg
Carbohydrates:

48g
Fiber:

5g
Sugar:

9g
Protein:

9g