Cream of Mushroom Soup with Crispy Leeks
This Cream of Mushroom Soup with Crispy Leeks is a very easy soup recipe for a weeknight meal because it comes together in under 30 minutes or less. It's also gluten-free and easy to veganize too!
The crowning glory is the mound of crispy leeks on top, which are so flavorful and pretty. They are a great gluten-free alternative to croutons. But dare I say, even better tasting!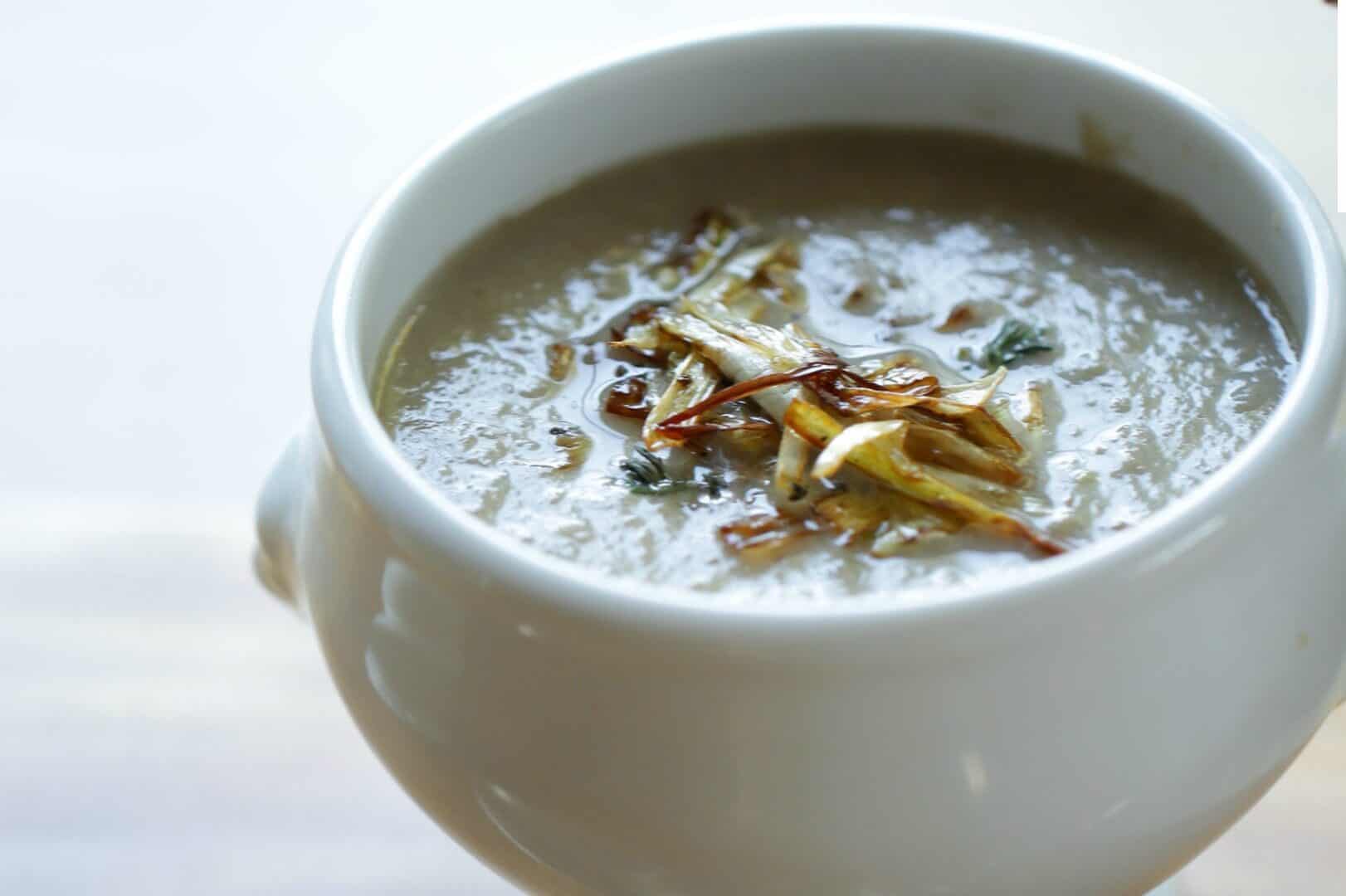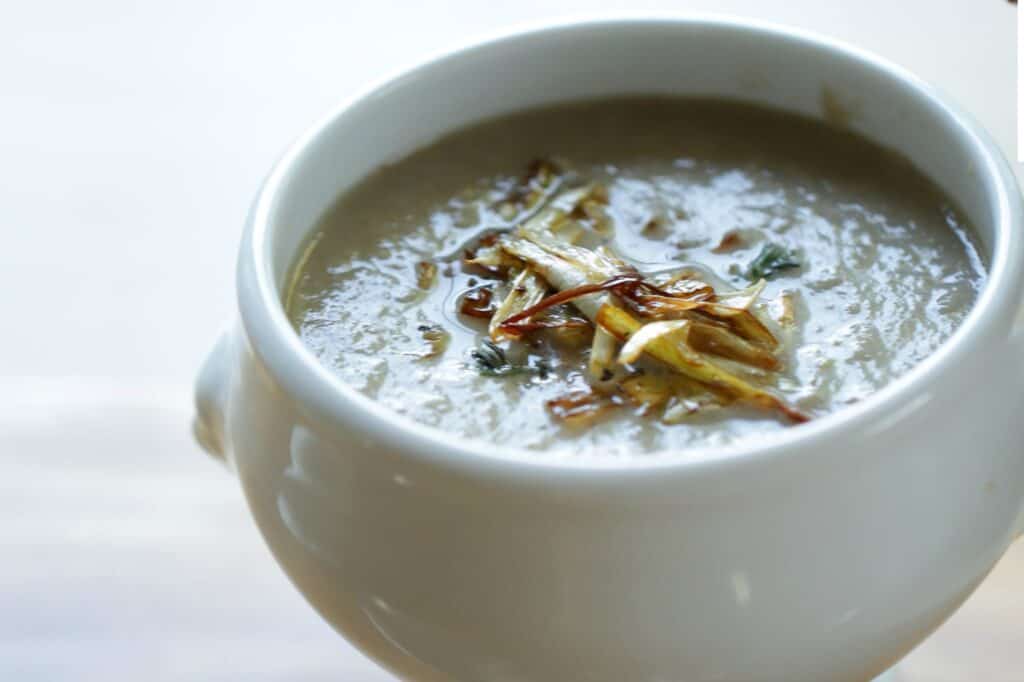 Recipe Pairing:
This soup also pairs really well with my Fluffy Buttermilk Biscuit Recipe or my Croque Monsieur Recipe or some tasty Parmesan Encrusted Grilled Cheese Sandwiches.
Why You'll Love This Recipe:
It's the perfect light, yet hearty soup recipe that makes for a fantastic lunch or dinner option. Or add leftover rice to make it even heartier.
It's also easy to omit the butter and cream, and use veggie stock to make it a vegan cream of mushroom soup which is equally delicious!
It's freezes well too! Make a big batch and portion it out into individual serving containers to microwave when reheating.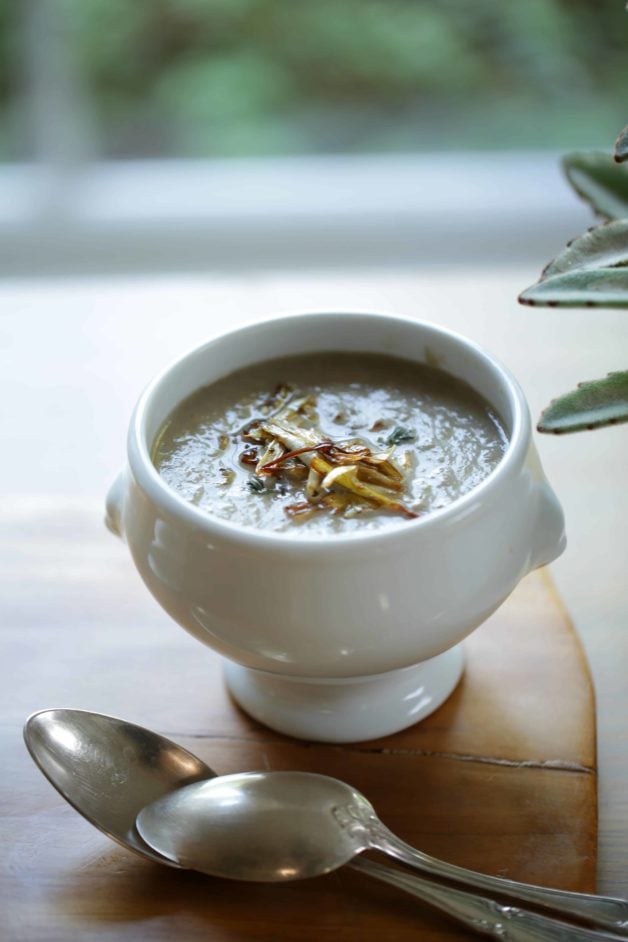 When Homemade is Worth the Effort
There are certain recipes that will also taste better homemade. Like pasta sauces, hot fudge sauce, waffles, and homemade mushroom soup is definitely on that list! It's nothing like the canned varieties. The flavors are much more pronounced without any of the heaviness. Especially during the colder months, you'll love how heartwarming and earthy it is. It feels like a warm cozy blanket on a cold winter's day.
Watch my Video Demo of this Recipe Below!
Subscribe To My YouTube Channel and Never Miss a Recipe!
STEP#1: Sautee the Vegetables
I always take the time to sautee the vegetables first, it brings out the best flavors while allowing them to marry. The combination of the leeks, mushrooms, garlic, and thyme gives this soup a fantastic depth of flavor.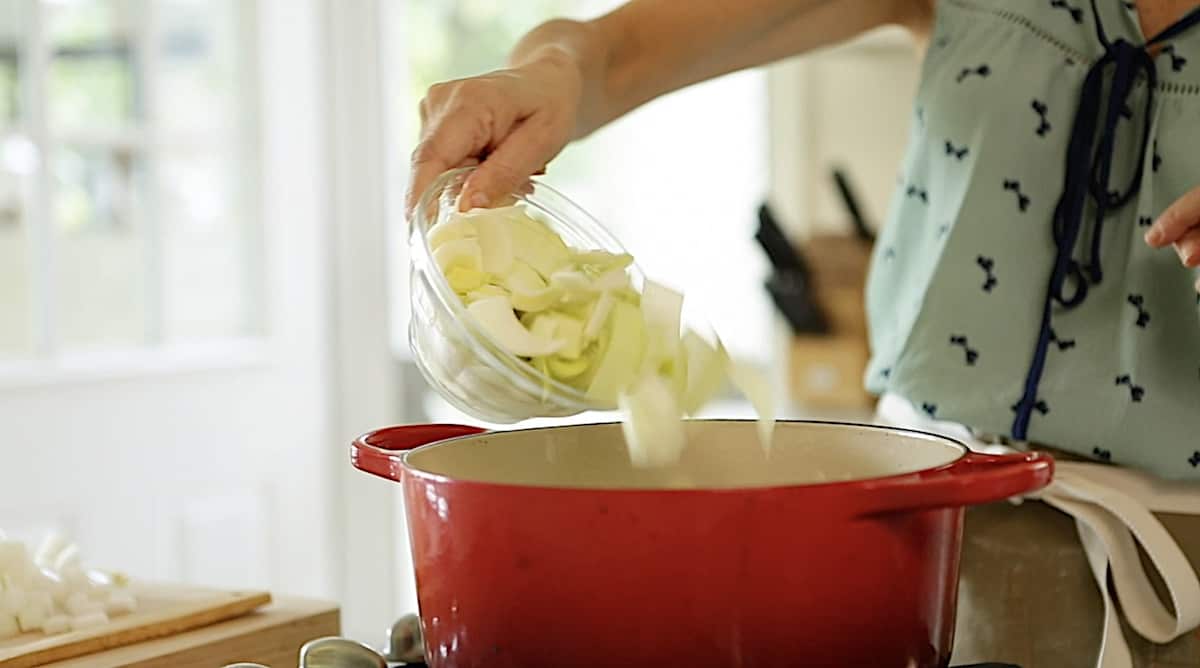 Time Saving Tip!
I like to use the pre-sliced cremini mushrooms from Trader Joe's because it makes this soup even easier! No slicing involved and it cuts down the prep time in half!  But you could also use white button mushrooms and slice them yourself if needed.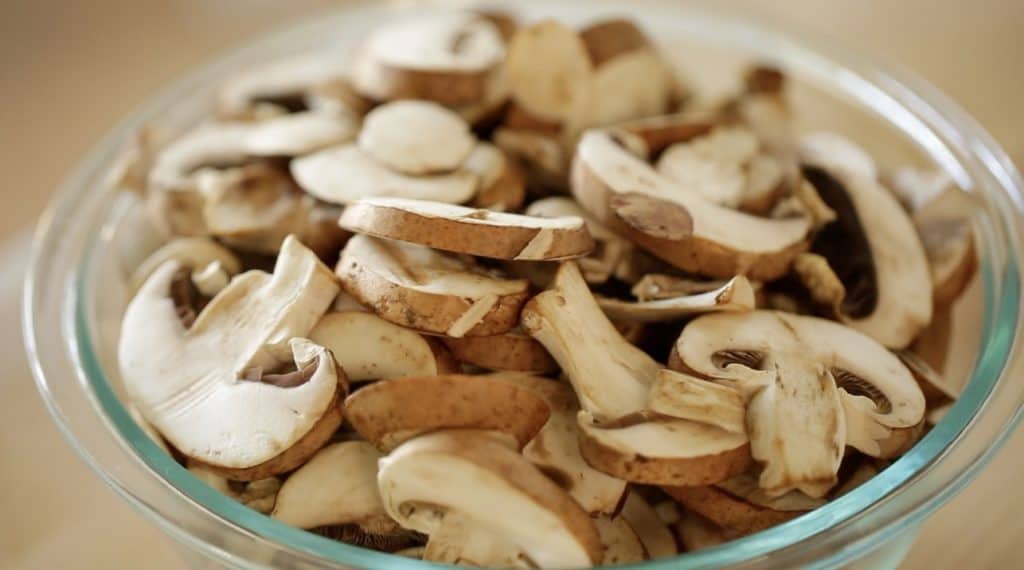 STEP#2: Add the Broth
For this soup, I typically use chicken broth, but you could easily swap it for vegetable broth. Since the vegetables are already cooked through, you'll only need to simmer the broth until it's hot.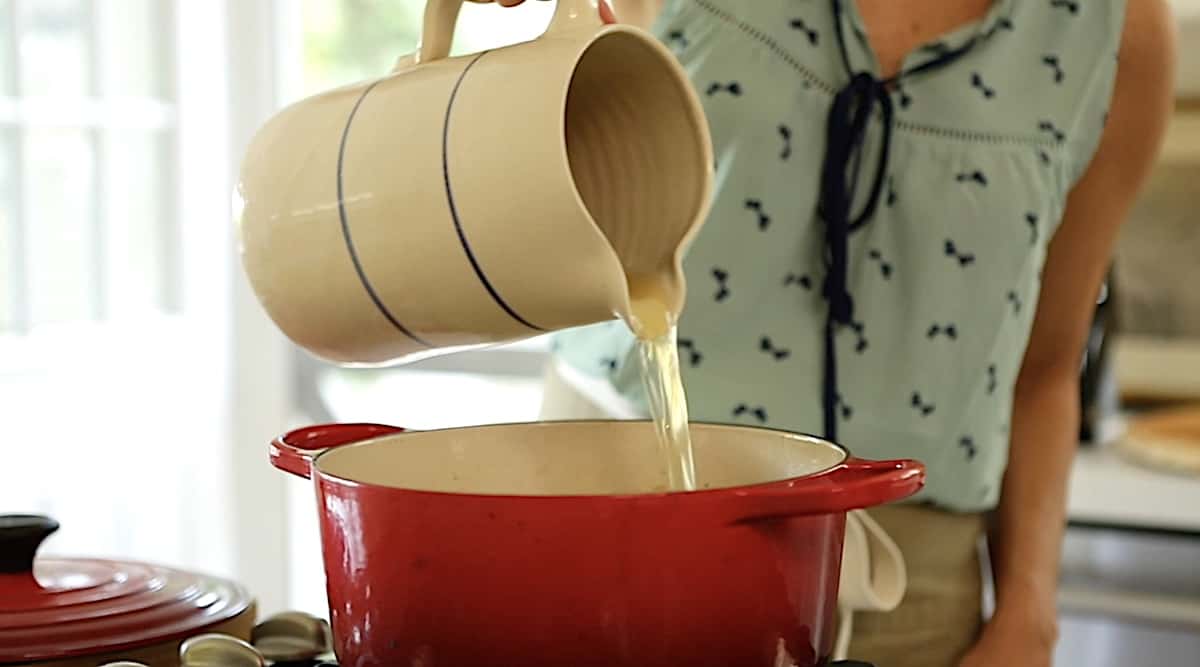 STEP#3: Blending the Soup
Once you saute up the vegetables and heat the broth, all you need to do is blend it up. And seriously that's it! It's almost like a veggie smoothie it's that easy! This is why I love this soup for a weeknight meal.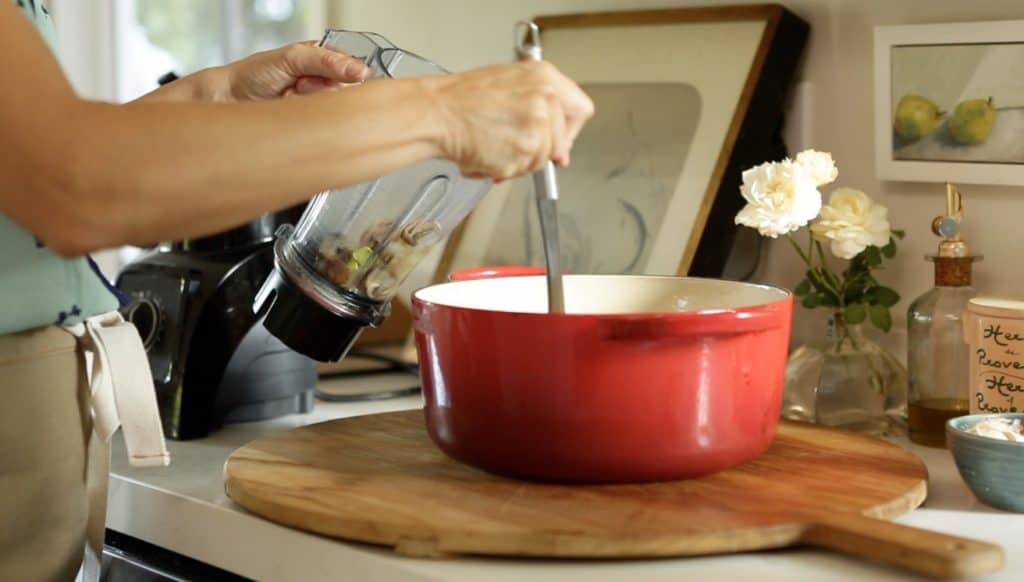 You could leave your soup a bit chunky if you wish for a more rustic texture, but I prefer to take it all the way to a smooth puree.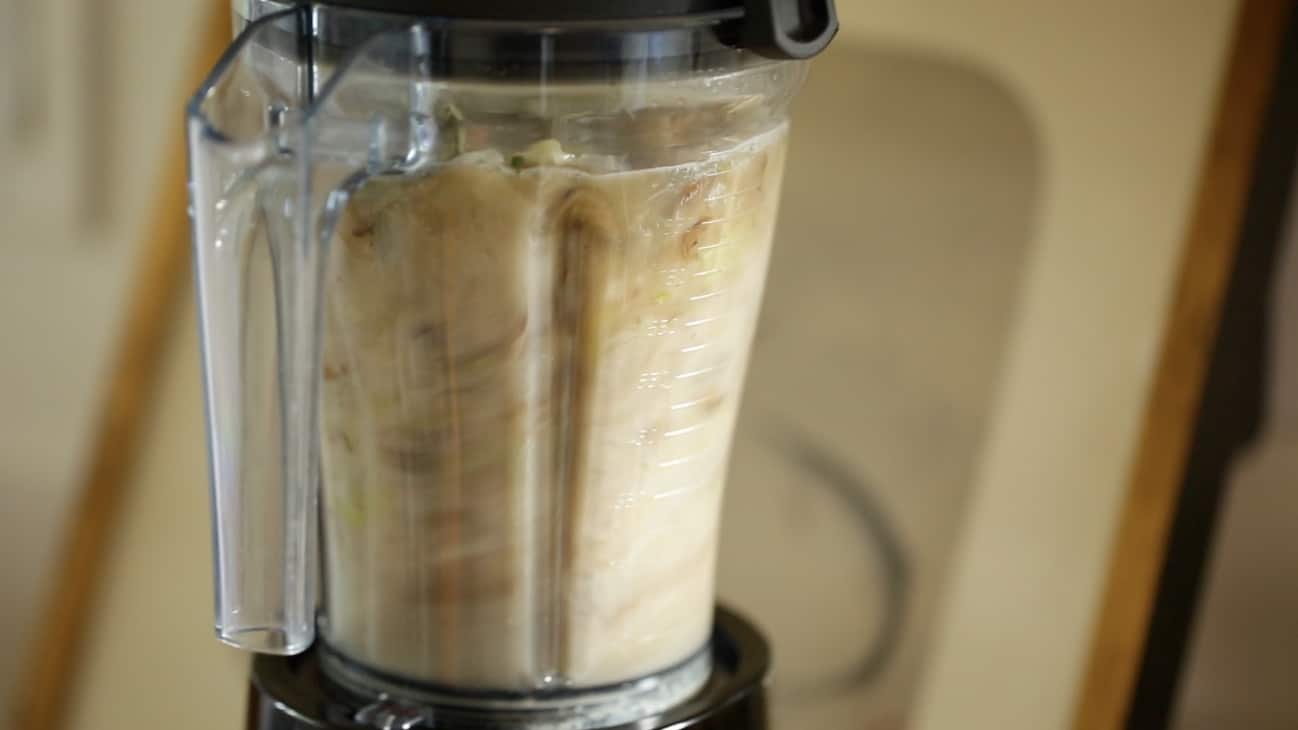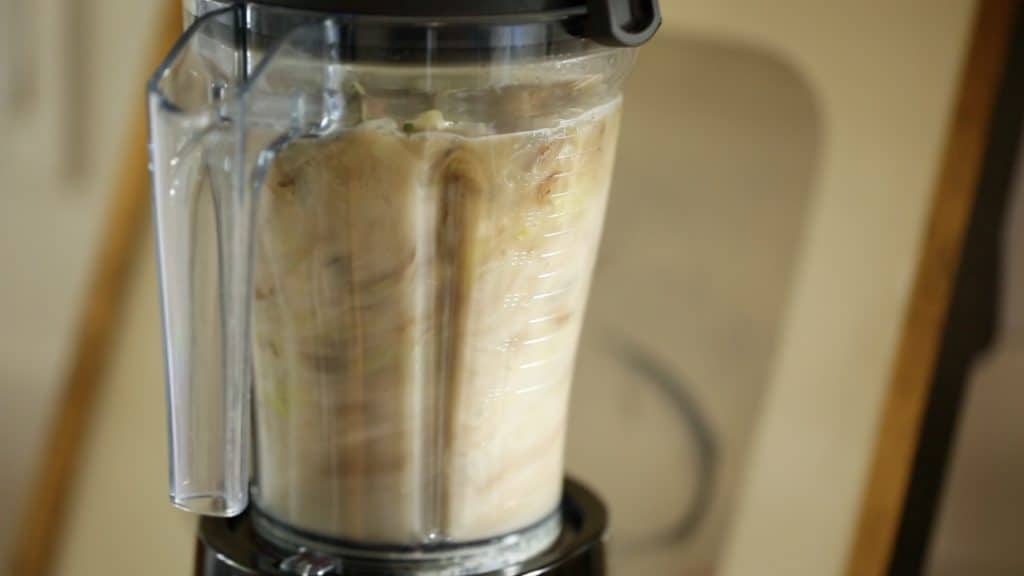 STEP#4: Transfer the Soup and Season
Once the soup is blended to your liking, transfer it into a clean soup pot and season with salt and pepper. Then I also like to add a dash of heavy cream at this stage too, along with some additional freshly chopped thyme.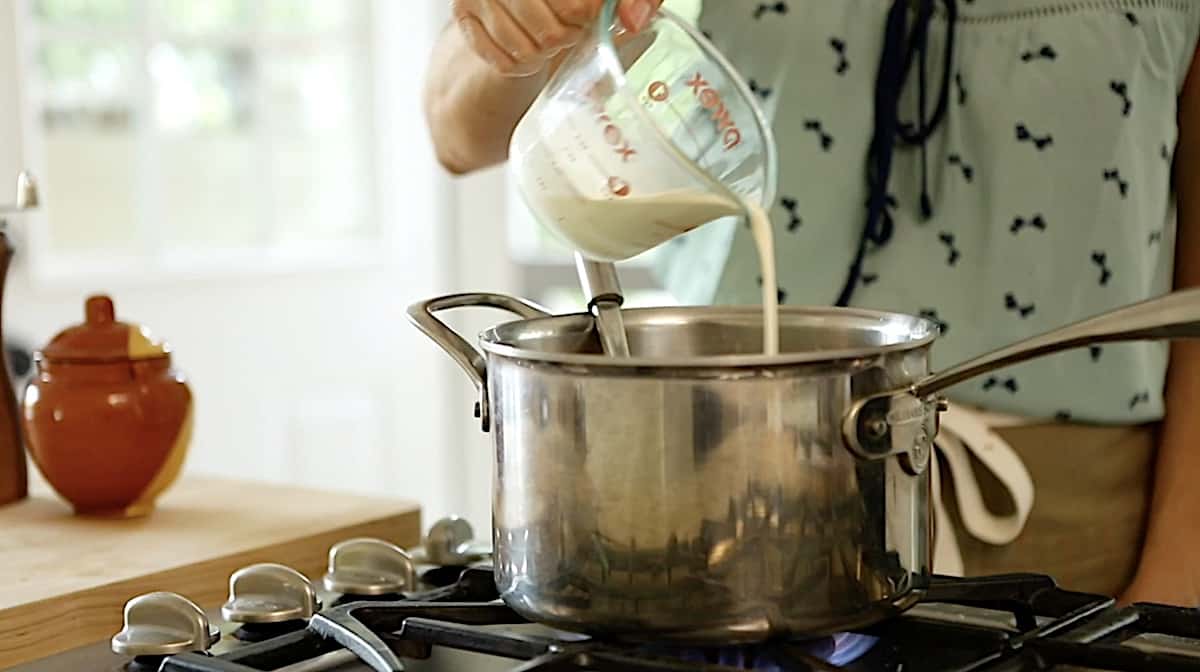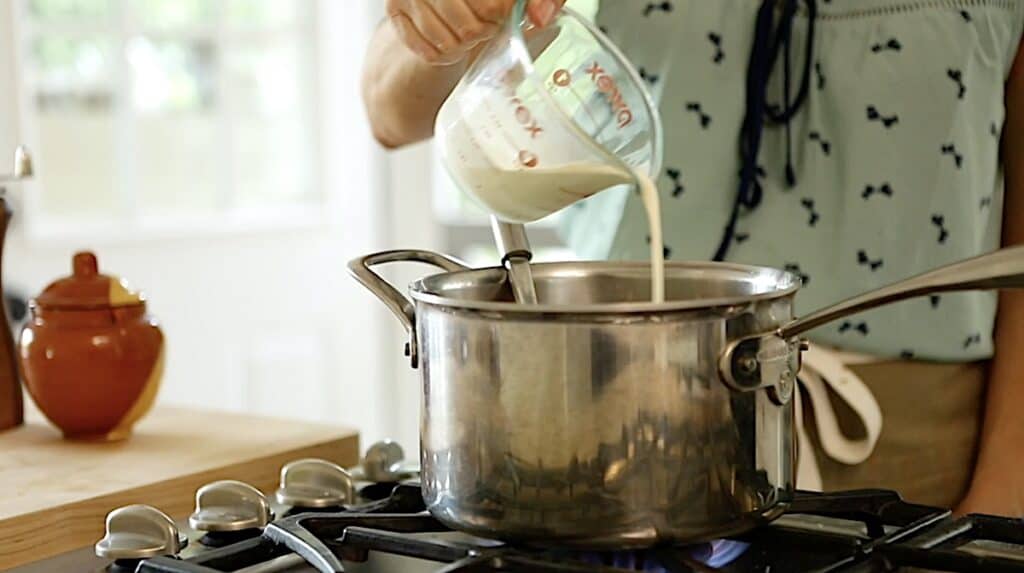 Add Chicken To Make It a Hearty Meal
At this stage, you could also add some shredded rotisserie chicken to make this soup a heartier meal. It's a great way to use up leftover chicken from a Sunday dinner, or use a store-bought rotisserie chicken to make it even easier.
How To Make The Crispy Leek Garnish
I think the best part of this soup is the crispy leeks on top, they add so much flavor and a little bit of texture. They are also really easy to do! Leeks are an often overlooked vegetable but add so much flavor. They are particularly good in my Potato and Leek Soup Recipe, another great soup recipe to try.
Make-Ahead Tip:
You could make the mushroom soup a day or so before, re-heat it, and then all you would have to do is fry the leeks before serving.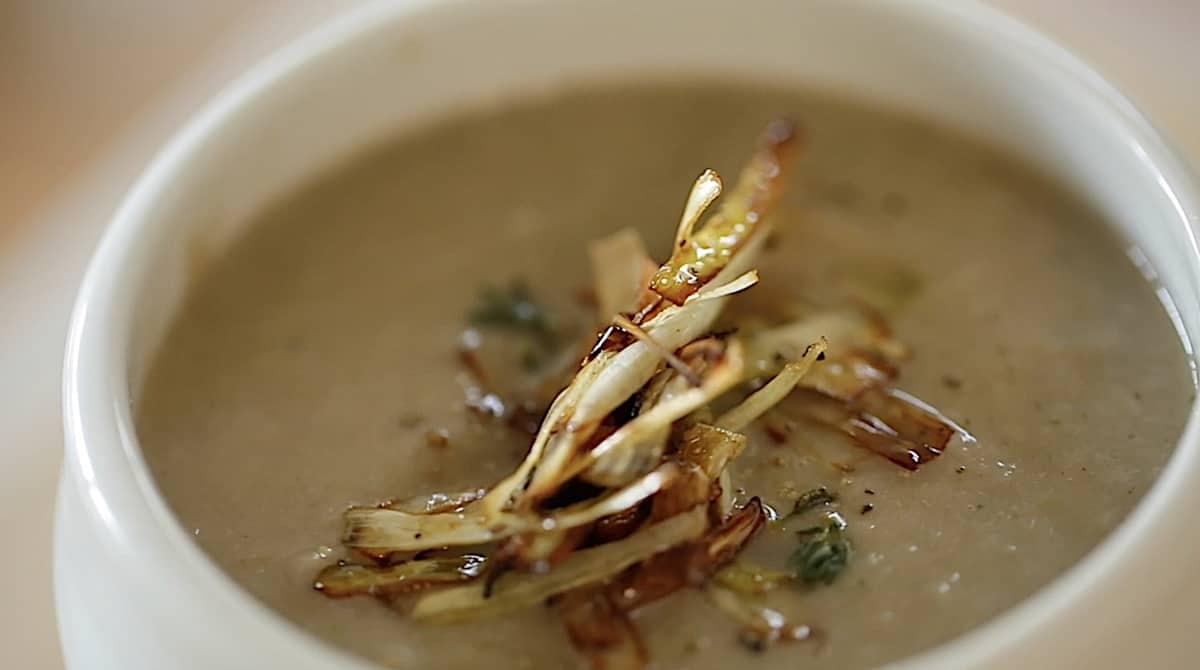 Slice off the white parts of the leeks, you can reserve the green parts for soup stock. Just pop them in a resealable plastic bag and freeze them until ready to use.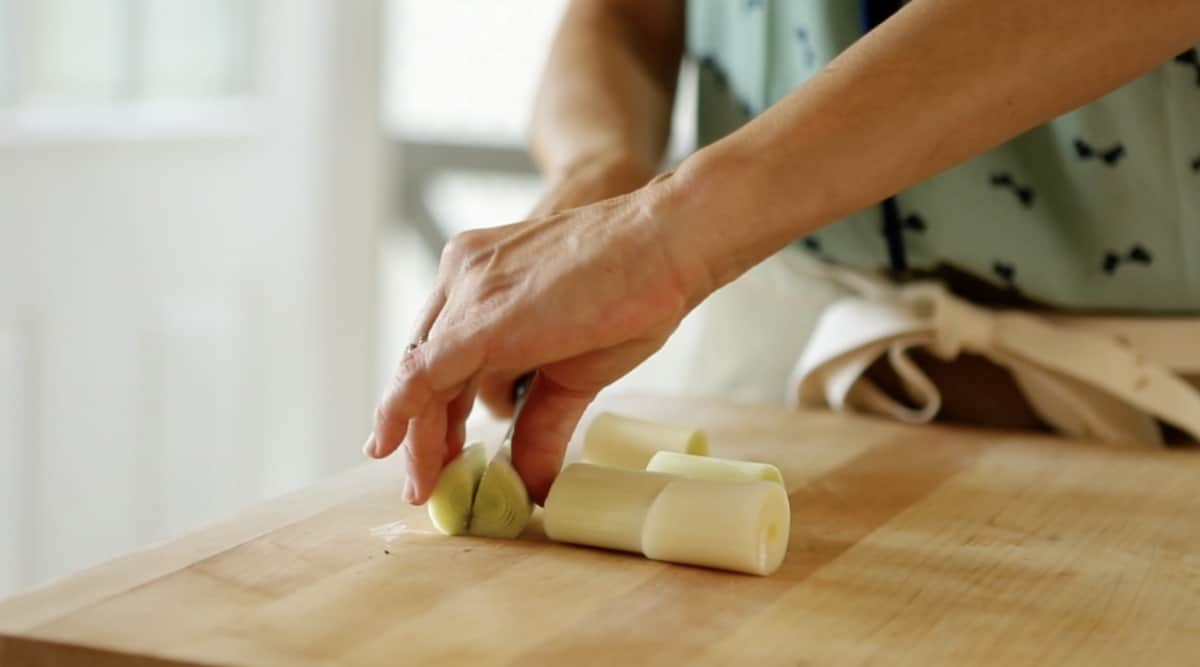 Slice the white part of the leek in half and then create thinly sliced matchsticks of leeks. Place them in a skillet with olive oil, season with salt and pepper, and allow them to fry until crispy.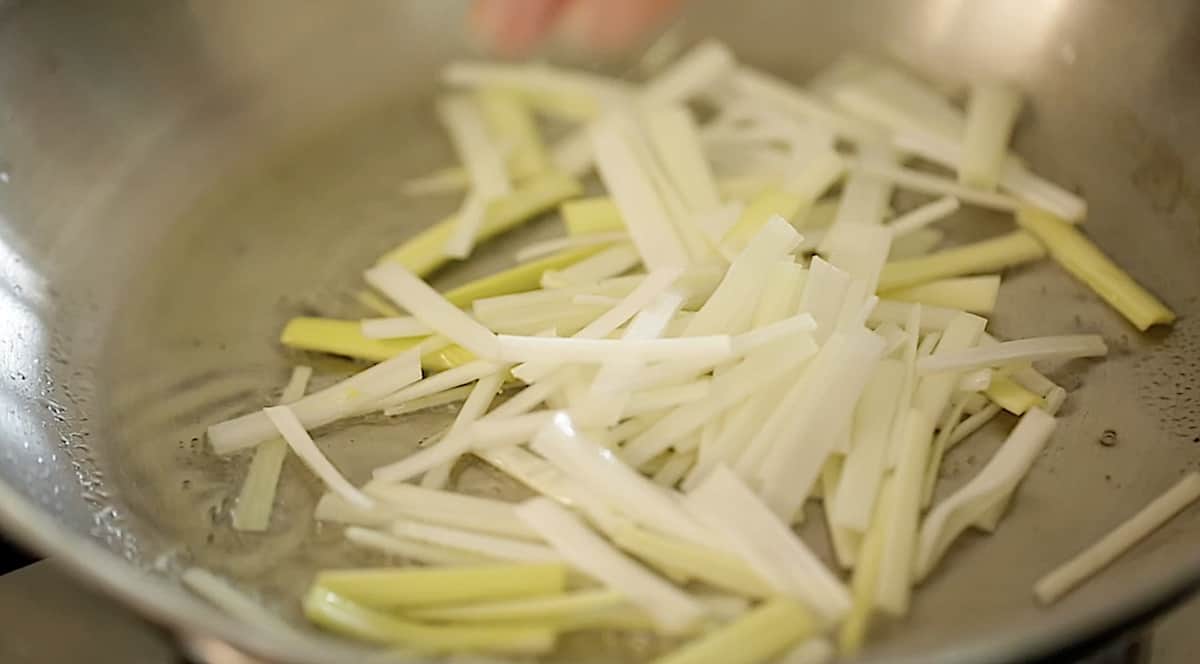 How to Get the Crispiest Leeks
Resist the temptation to toss them too much. They do better if you can allow them to fry untouched for a few minutes, only turning them once they get some nice color on them.
These crispy leeks are also a great addition to an omelet, along with a little Gruyere cheese, it's a fantastic flavor combination that also works well in my Mini Quiche Recipe too.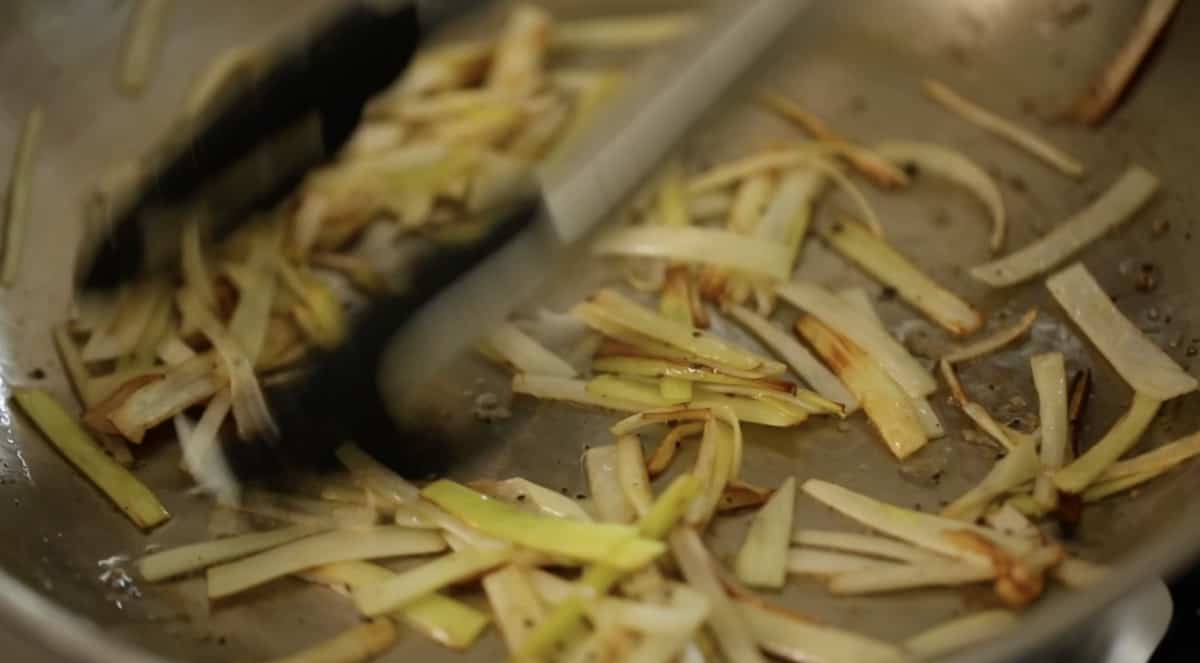 Ladle out your soup into a soup tureen and let everyone serve themselves! This is also a fun idea for a soup buffet for game day or award show season too!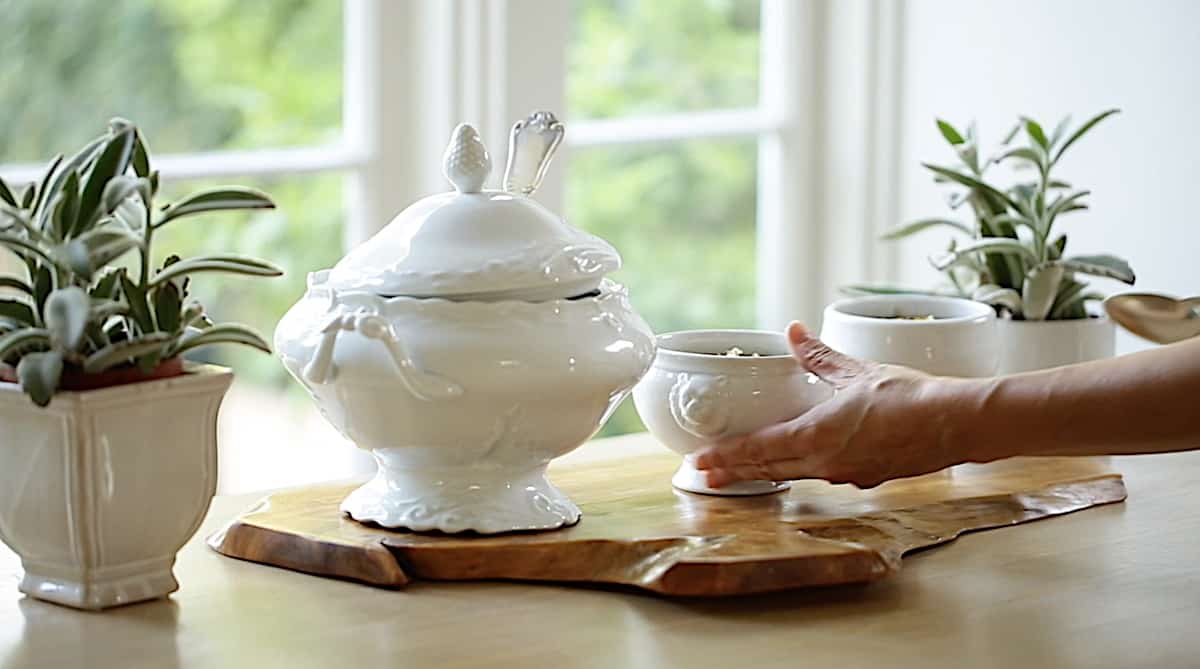 MORE GREAT SOUP RECIPES!
Please let me know if you make this recipe
by leaving a rating and review below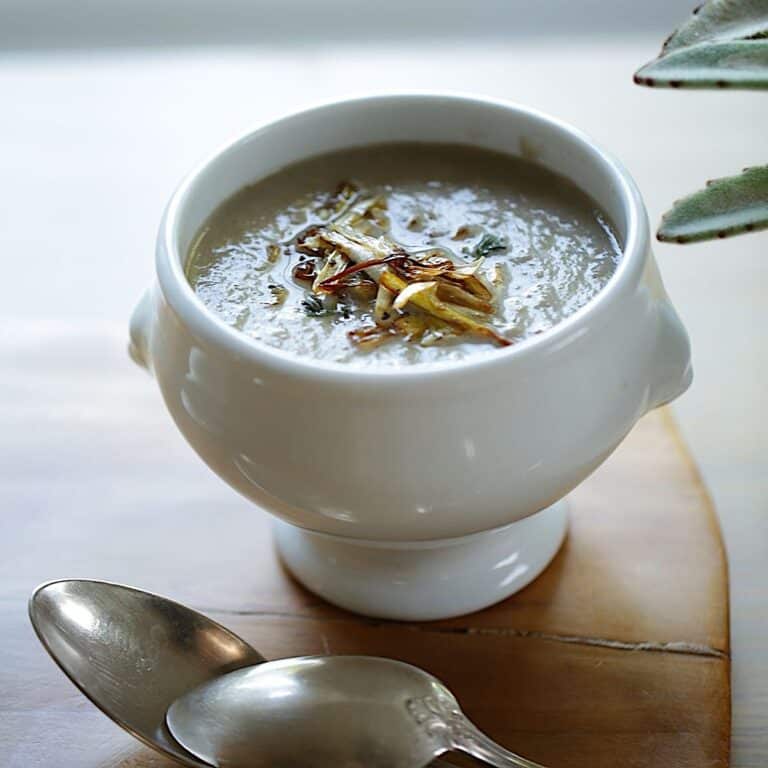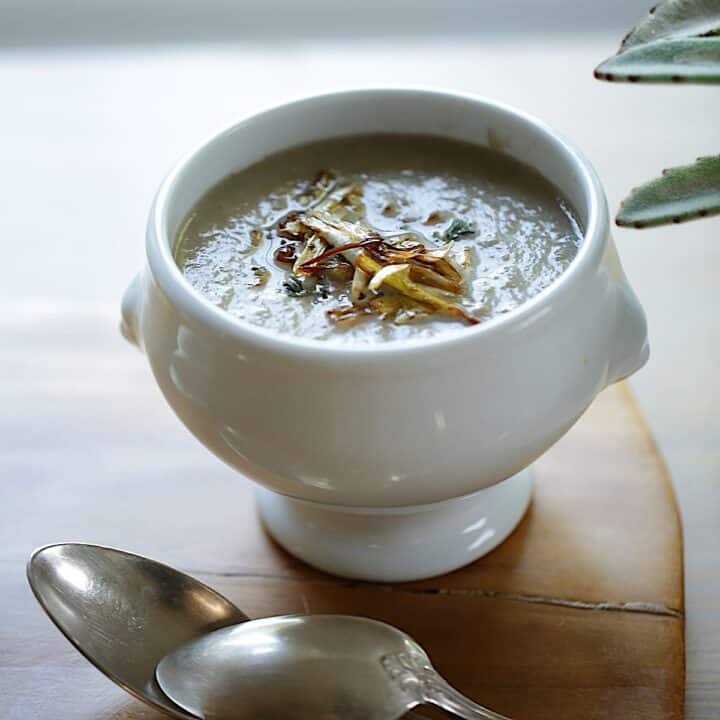 Cream of Mushroom Soup Recipe with Crispy Leeks
Homemade cream of mushroom soup is nothing like the canned varieties! So easy and quick to do it's perfect for a weeknight meal! Garnish with crispy leeks for a fantastic flavor combination. Pairs well with my Parmesean encrusted Grilled Cheese Sandwiches.
Ingredients
Soup:
2 tablespoon (30 g) butter or olive oil (30 ml)
2 leeks, white parts only, roughly chopped
¾ cup white onion (110 g) diced
1 clove of garlic, sliced
16 oz (453 g) cremini mushrooms, sliced
4 cups (950 ml) chicken stock or vegetable broth
1 tablespoon (15 ml) cream (fine to omit if making Vegan)
1 teaspoon thyme (5 ml) minced
salt and pepper to taste
Garnish:
1 tablespoon (15 ml) olive oil
2 leeks, white parts only cut into thirds and sliced into thin strips
fresh thyme to taste
Freshly cracked pepper
Instructions
In a large stock pot melt butter until foamy, add the 2 chopped leeks, onion and garlic. Season with salt and pepper to taste. Cook until soft and tender.
Add mushrooms and cook until mushrooms release their juices. Add thyme. Add chicken stock and simmer for 5 minutes.
Transfer soup to a blender and blend in batches until smooth.
Transfer soup into a cleaned-out stock pot. Add cream. Set aside.
Heat olive oil on medium high in a large skillet. Add leeks and sauté until golden brown and crispy. Season with salt and pepper.
Ladle soup into bowls, top with freshly grated pepper and thyme leaves and a pile of crispy leeks on top. Yummy!!
Notes
This soup also freezes beautifully! Allow it to cool completely, then place in a freezer-safe container and freeze for up to 3 months.
To reheat place in the microwave on high until warmed through
Nutrition Information:
Yield:

6
Serving Size:

1
Amount Per Serving:
Calories:

158
Total Fat:

9g
Saturated Fat:

1g
Trans Fat:

0g
Unsaturated Fat:

7g
Cholesterol:

5mg
Sodium:

399mg
Carbohydrates:

15g
Fiber:

2g
Sugar:

5g
Protein:

6g