A Potato Leek Soup (no cream). This decadent soup gets its creaminess from cauliflower. Includes a step-by-step recipe video too.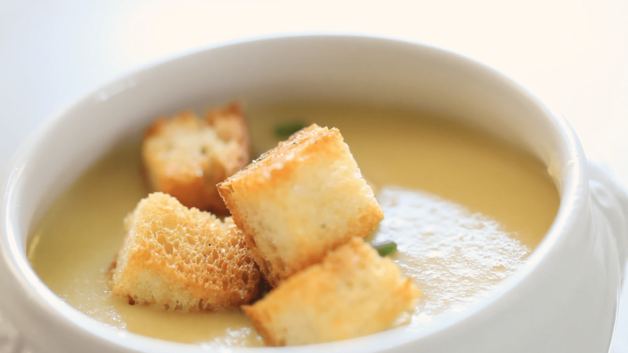 When fall hits the air, my family starts craving my Potato Leek Soup Recipe.  It's so delicious, decadent and creamy, but wait there's NO cream!?  That's right folks! No cream!  It get's its silkiness from a secret ingredient…cauliflower.
How do you make simple potato and leek soup?
The easiest way to make a simple potato and leek soup is to use the freshest ingredients possible (nothing frozen) because you'll just get the best flavor that way. You'll chop them up, add some chicken broth, blend and season.
I also think the secret ingredient for a potato and leek soup recipe is cauliflower. I'm convinced cauliflower is a "wonder vegetable".  There's just so much you can do with it!  It's a chameleon that can take on so many different flavors and textures depending on what you do with it. And one of my favorite things to do with it is put it in soups as a replacement for cream. It's the most genius little trick.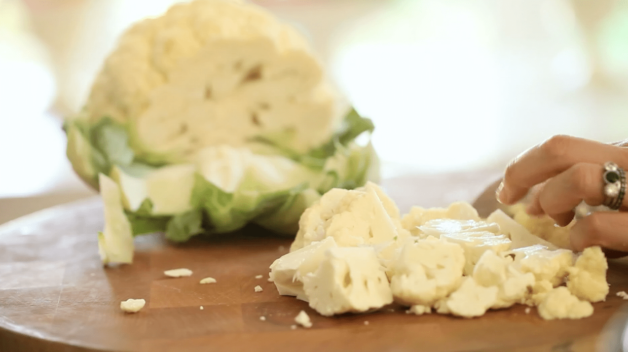 Once cooked and pureed cauliflower has the most incredible texture, which is really why I like to use it, because that's really all it does.  There isn't much flavor it brings, which is OK because the leeks, celery, onions and garlic takes care of that, it's real purpose is to deliver the texture.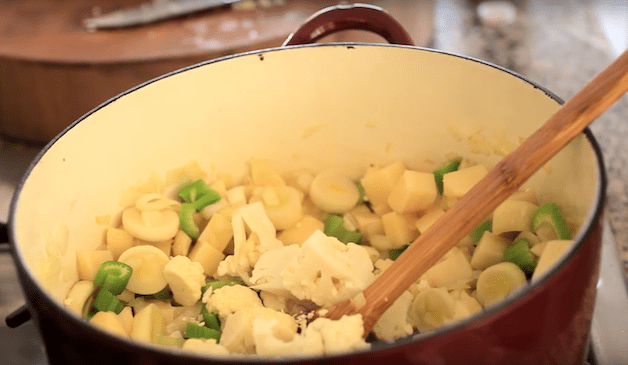 How do you cut leeks for potato leek soup?
For this soup I like to cut the leeks into little wheels and not get any fussier than that.  Especially since we are going to blend this soup so it really doesn't matter all that much.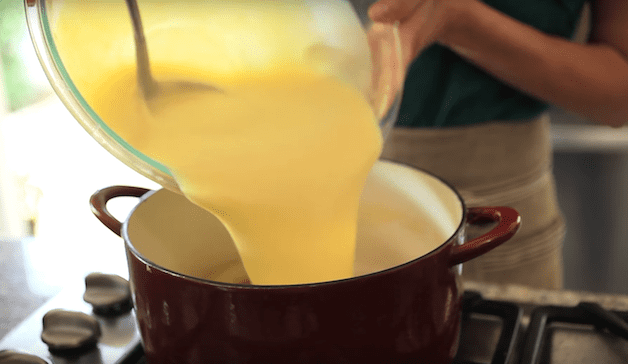 Then you'll top with some freshly snipped chives and garlic croutons.
Can you freeze potato and leek soup?
Yes!  This soup freezes beautifully.  It will last for at least 2 months in the freezer. It's best to freeze individual portions and then microwave to reheat.
This soup is a fantastic first course for a dinner party but also makes a terrific weeknight meal or lunch.  For a little more substance you could also add some pulled rotisserie chicken and some frozen peas, this is typically how I serve it during the week to my family. I hope you enjoy!xx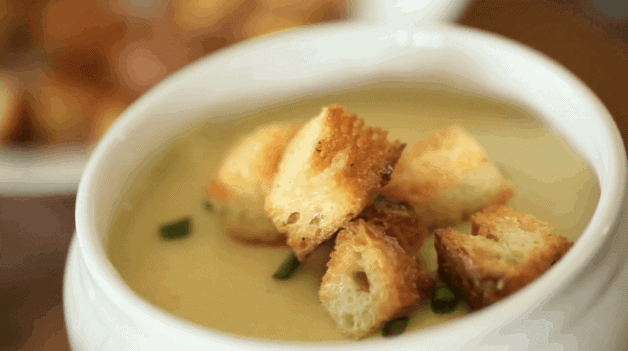 For a step-by-step tutorial, you can watch my recipe video below.
SUBSCRIBE TO MY YOUTUBE CHANNEL and never miss a recipe! (It's Free) and new videos post each Saturday!
SHOP THIS RECIPE: (These links go to Amazon where I am an affiliate partner)
I'm often asked where I purchased these soup bowls.  The funny story about these bowls is that I carried all 8 of them back from France one summer, wrapped up in t-shirts and shoved into a backpack which sat in my lap for 11 hours!
These days the TSA would never allow for such foolishness, but back then I only had to convince my husband that is was a great idea!  Looking back I can't help but laugh at the things I used to cart home from my travels. A dozen champagne flutes, over-sized soup tureens, terra cotta pitchers and platters the size of a human torso, you name it! Knowing I would never be allowed to do these things now, these pieces have even greater meaning for me.
But, do not despair,  I have found a similar style on Amazon that you can find in my Amazon Shop that will save you the trip and the hassle of carting them back from France! Ha! Happy Cooking! xx Beth
LOOKING FOR MORE SOUP RECIPES?
You might also enjoy my French Onion Soup Recipe or my Roasted Tomato and Eggplant Soup Recipe
Please let me know if you make this Potato Leek Soup (No Cream) Recipe by leaving a rating and review below
Sign up to get recipes in your inbox- click here to sign up! And make sure to follow us on Youtube, Pinterest, Instagram, Facebook & Twitter!
Print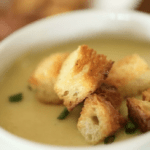 Potato Leek Soup (No Cream)
---
Author:

Prep Time:

45 mins

Cook Time:

20 mins

Total Time:

1 hour 5 mins

Yield:

serves 8

Category:

Soup

Method:

Cook

Cuisine:

American
Description
A Potato Leek Soup (no cream). This decadent soup gets its creaminess from cauliflower. Includes a step-by-step recipe video too.
---
Ingredients
2 tbsp (30 ml) olive oil
1 yellow onion
2 stalks celery, chopped
4 leeks, white parts only
2 garlic cloves, chopped
2 russet potatoes, peeled and cubed
½ cup (75 g) of cauliflower
4 cups (950 ml) of chicken broth
1 tsp (6 g) salt
¼ tsp (1.5 g) pepper
2 tbsp (30 ml) chives, minced
for croutons:
1 small baguette, sliced and chopped (about 2 cups)
2 tbsp (30 ml) olive oil
1 garlic clove, minced
salt and pepper to taste
---
Instructions
In a large stock pot sauté the onion, celery, leeks, and garlic until soft and fragrant. Add potatoes, cauliflower and chicken broth. Simmer until fork tender about 10 mins.
Puree soup in batches until smooth. Season with salt and pepper and garnish with fresh chives and croutons.
For the croutons:
Slice baguette in round slices and then slice in bite sized chunks. Toss with olive oil, garlic, salt and pepper. Bake at 375F (190 C) for 5-10 mins until golden brown.
Top soup with freshly snipped chives and croutons.
Keywords: potato leek soup no cream, easy potato leek soup recipe, how to make potato leek soup