Slow Cooker Chicken Tortilla Soup
This Slow Cooker Chicken Tortilla Soup will become your new favorite soup recipe! It's loaded with veggies and chicken and full of flavor. Everything gets put in the slow cooker and simmers away for an easy weeknight meal! Then all you have to do is shred the chicken once it's done.
Top with cheddar cheese and toasted tortillas for the ultimate cold-weather comfort food! For an even easier tortilla soup recipe try my Healthy Chicken Tortilla Soup recipe, which is ready in 30 minutes or less!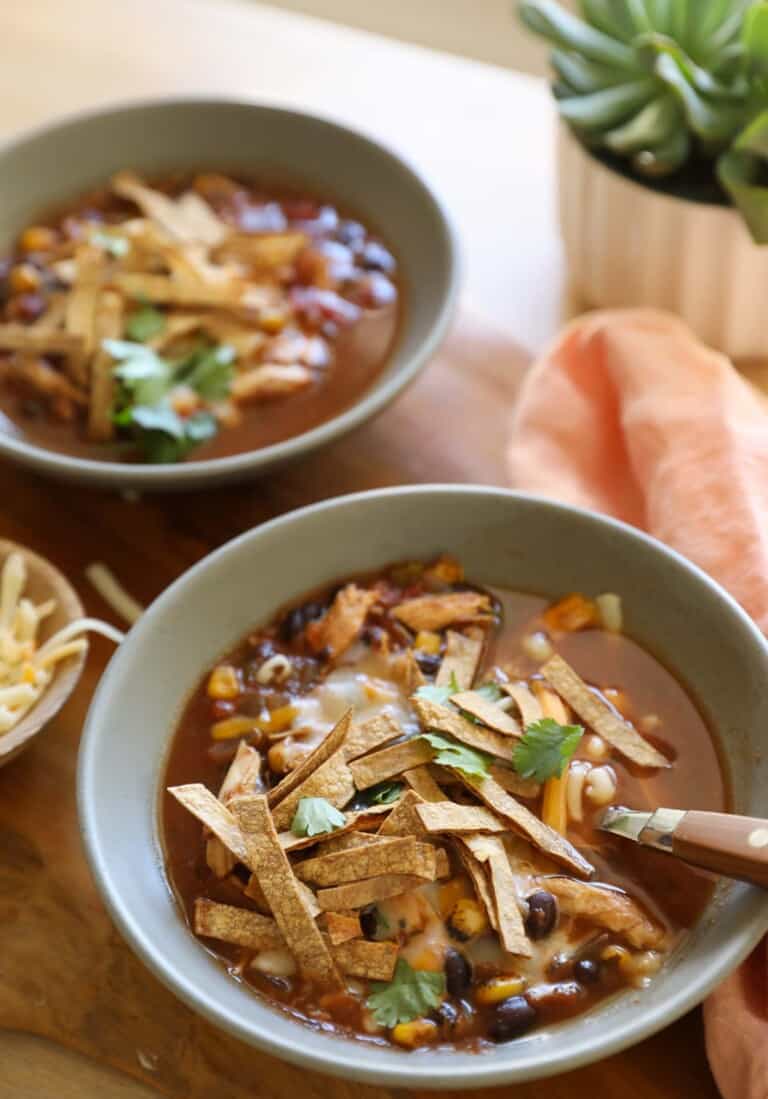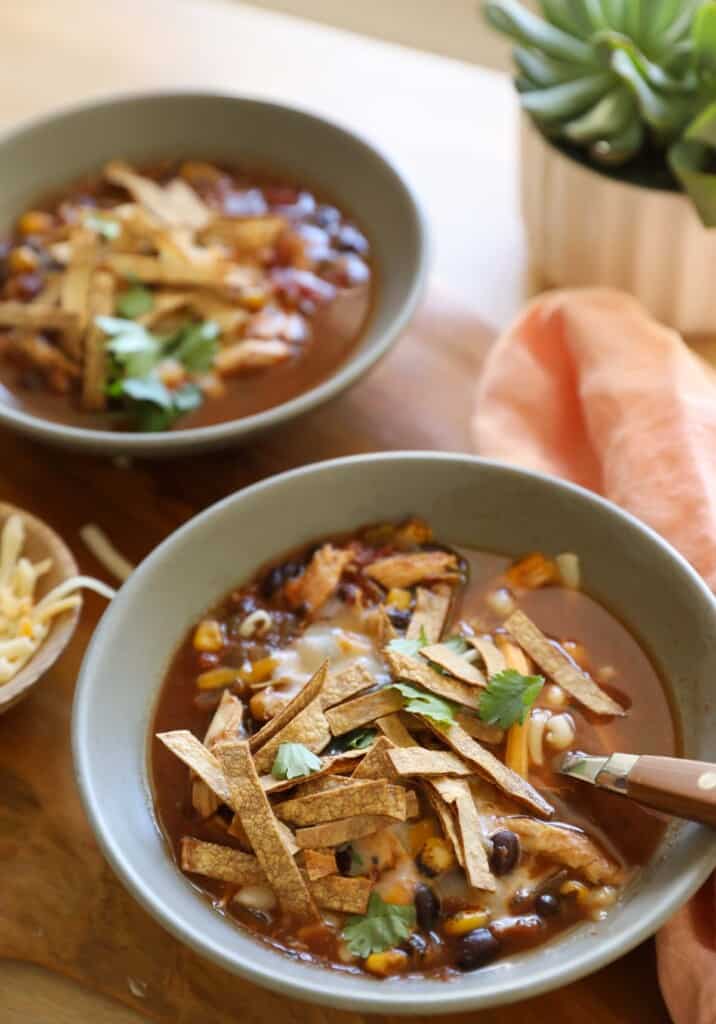 Why You'll Love This Recipe:
Slow cooker recipes are fantastic for busy weeknights, especially if your kids are involved in activities that may prevent the family from eating together.
You'll love that with a slow cooker, once it's done, "dinner is always ready!" and family members can help themselves as soon as they are hungry.
This is also a great recipe for a Game Day Party or open house because you can keep it warm for hours, set out all the toppings and then everyone can help themselves.
For another family-friendly slow cooker recipe try my Slow Cooker Tacos!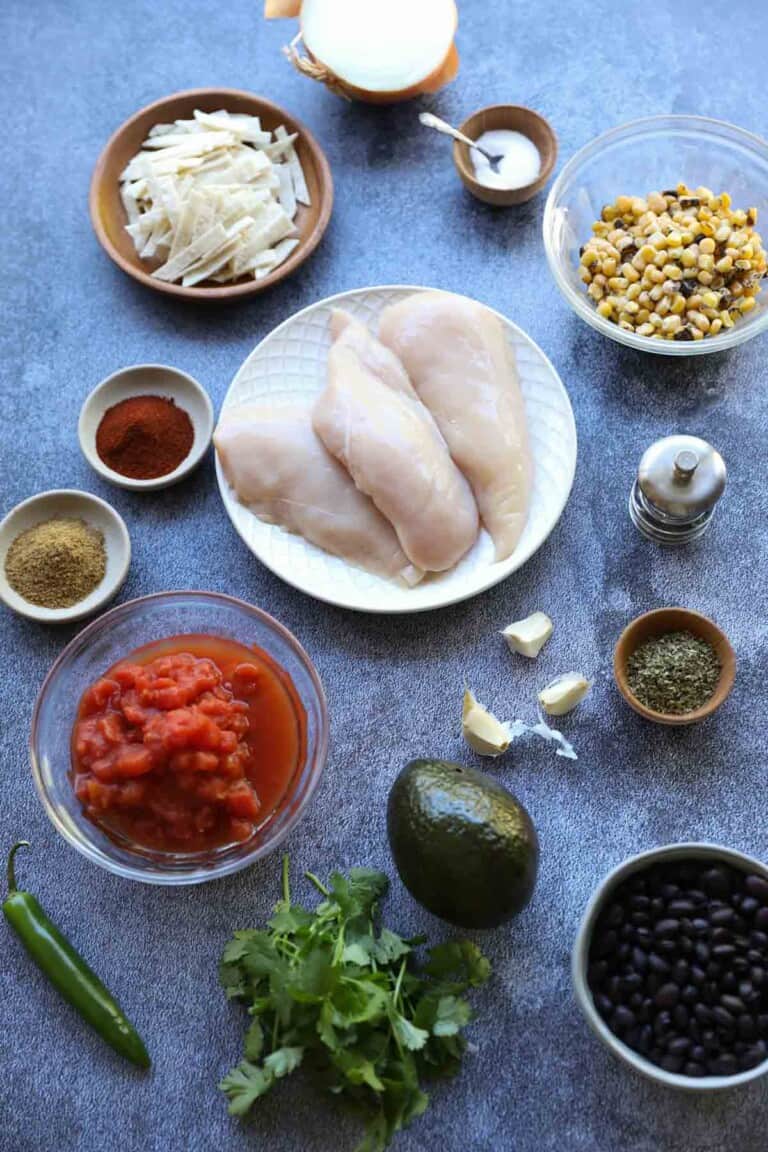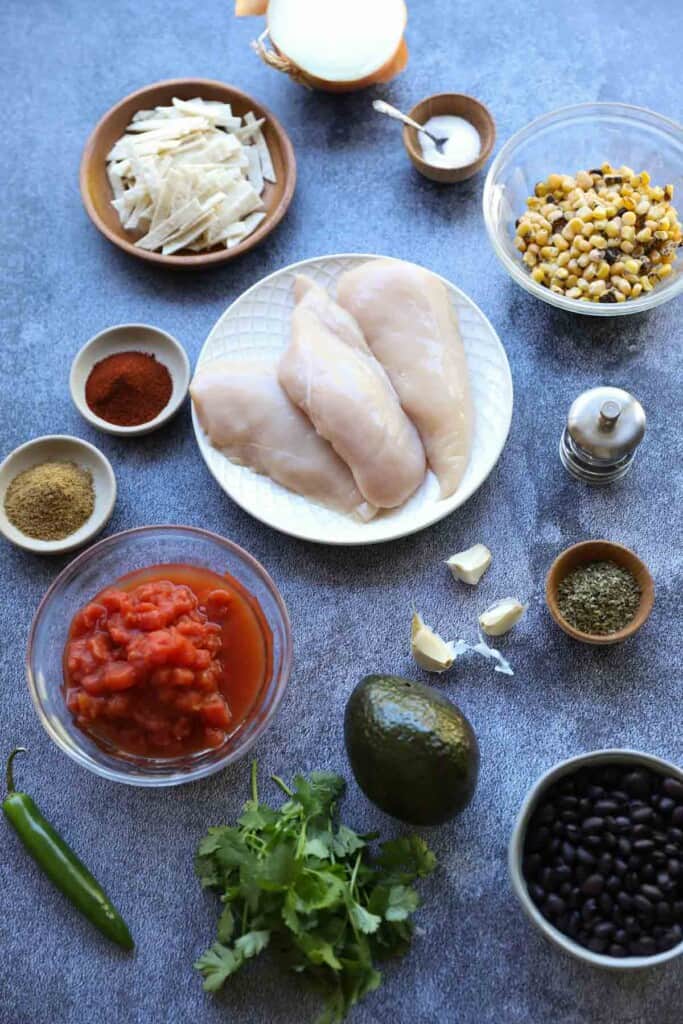 Ingredients
Boneless Skinless Chicken Breast. I like use use the boneless, skinless breasts because there is less fat and they are easy to shred into bite sized pieces once they are done. For another hearty soup that uses bone-in, skin-on chicken breasts try my Chicken Tortellini Soup it's fantastic!
Frozen Charred Corn I love this style corn for a soup like this because it provides even more flavor. I also use it in my White Chicken Chili Recipe and my Mexican Corn Salad too!
Onion I toss the onions in with the rest of the ingredients and let them cook down as they simmer. But if you wanted to sweeten them up further, you could sauté them first in a skillet until translucent and fragrant and then toss them in the slow cooker.
Canned Diced Tomatoes I use the plain diced tomatoes, but if you wanted to add even more flavor you could use Rotel's Diced Tomatoes with green chilis. Or Fire Roasted Diced Tomatoes would be good too (You may want to leave the Jalapeno out if you go this route)
Black Beans Be sure to rinse them through a fine mesh strainer before using. Canned beans are canned in a solution that you do not want in your soup.
Garlic I use 3 cloves for the best flavor, be sure to mince them with a garlic press before placing them in the slow cooker.
Spices I like to use my own spice blends (rather than taco seasoning) because you can control the flavor a lot better. For this recipe I use ground cumin, dried oregano, and smoked paprika. Smoked paprika has that wonderful smokey flavor, unlike regular paprika. So be sure to use the "smoked paprika" for this recipe.
Jalapeno This spicy pepper will provide a wonderful kick to this soup. But if you think your family won't like the heat, you can definitely leave it out. Or swap for ½ cup of Green Bell Peppers.
Tomato Paste The tomato paste will heighten the tomato flavor and create a richer tomato-based soup. Since the diced tomatoes will only give you so much flavor, the tomato paste really punches it up!
Chicken Broth Unless you can dietary concerns stay away from the low-sodium chicken broth, since I find it doesn't have much flavor.
Cheddar Cheese I like to use the Mexican Blend Cheese for this recipe
Corn Tortillas will crisp up better than flour tortillas. I typically factor 2 taco size tortillas per person. Since the combination of the toasty tortillas and the melted cheese is the best part! So you don't want to skimp on that.
Cilantro makes for a wonderful garnish on top
Avocado is optional but if you have it, you'll find it's a great addition to this soup! It adds a cooling quality to the kick of the Jalapeno.
Set It and Forget It!
The best part about this dinner is how easy it is! It's hard to believe it's so simple when you taste how complex the flavors are.
There's no active cooking involved (except toasting the tortillas). Which to save time, you could use unsalted tortilla chips.
All you do is place everything in the slow cooker, and then pour the chicken broth on top. Once it's done, shred the chicken and that's it!
You can choose to simmer it on high for 4 hours or on low for 6 hours.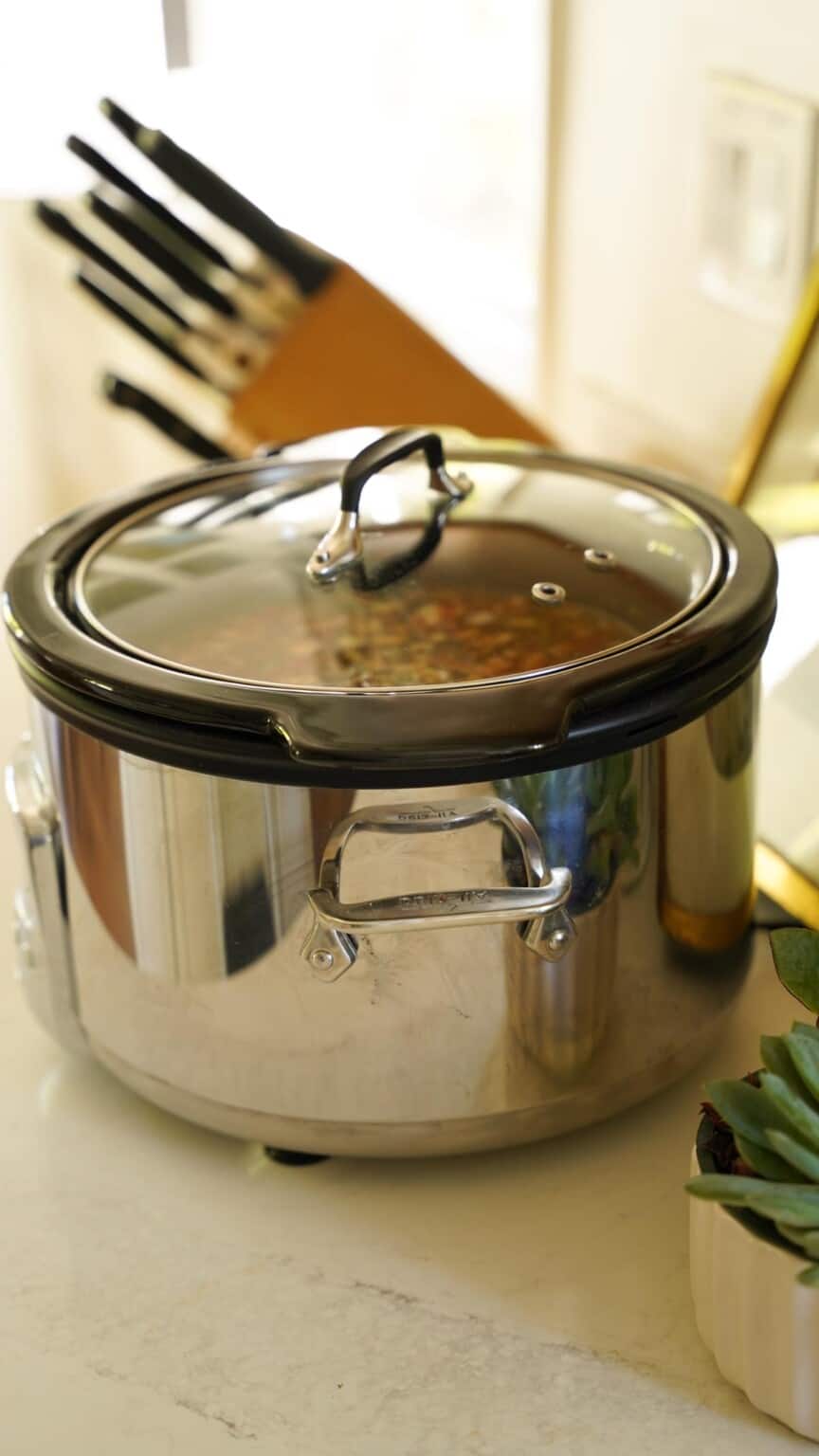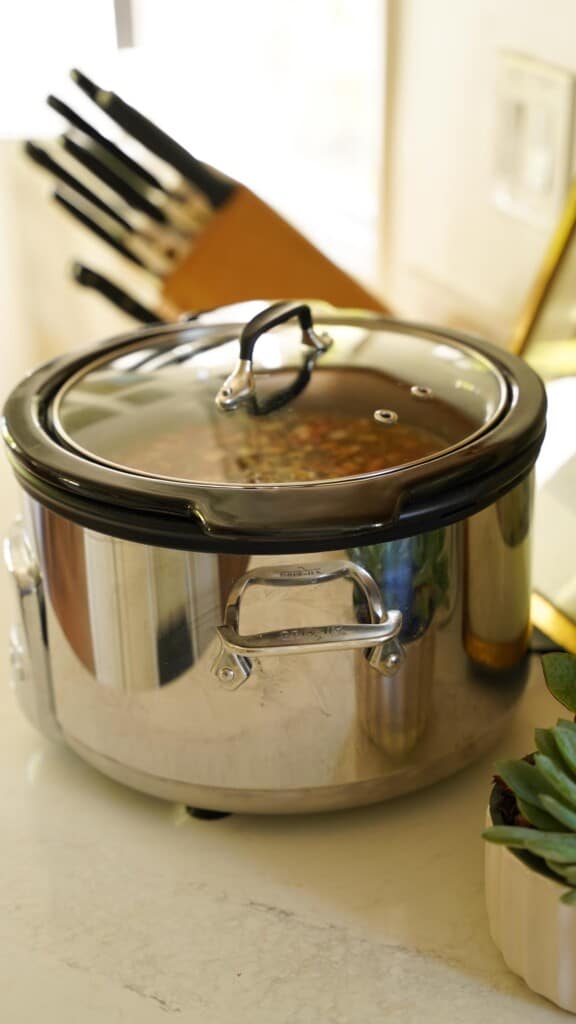 Shred The Chicken and Dinner is Ready!
Then once the soup is done, all you have to do is remove the chicken breasts with tongs, and shred the chicken with two forks and place it back in the slow cooker and dinner is ready!
If you cooked the soup on high, lower it to the lowest setting to keep it warm until ready to serve.
Serving and Garnishing
Portion out the soup into shallow bowls (that way you'll have more room to add the toppings!)
Add the cheddar cheese first, then the tortilla chips, fresh cilantro, and if desired some diced avocado.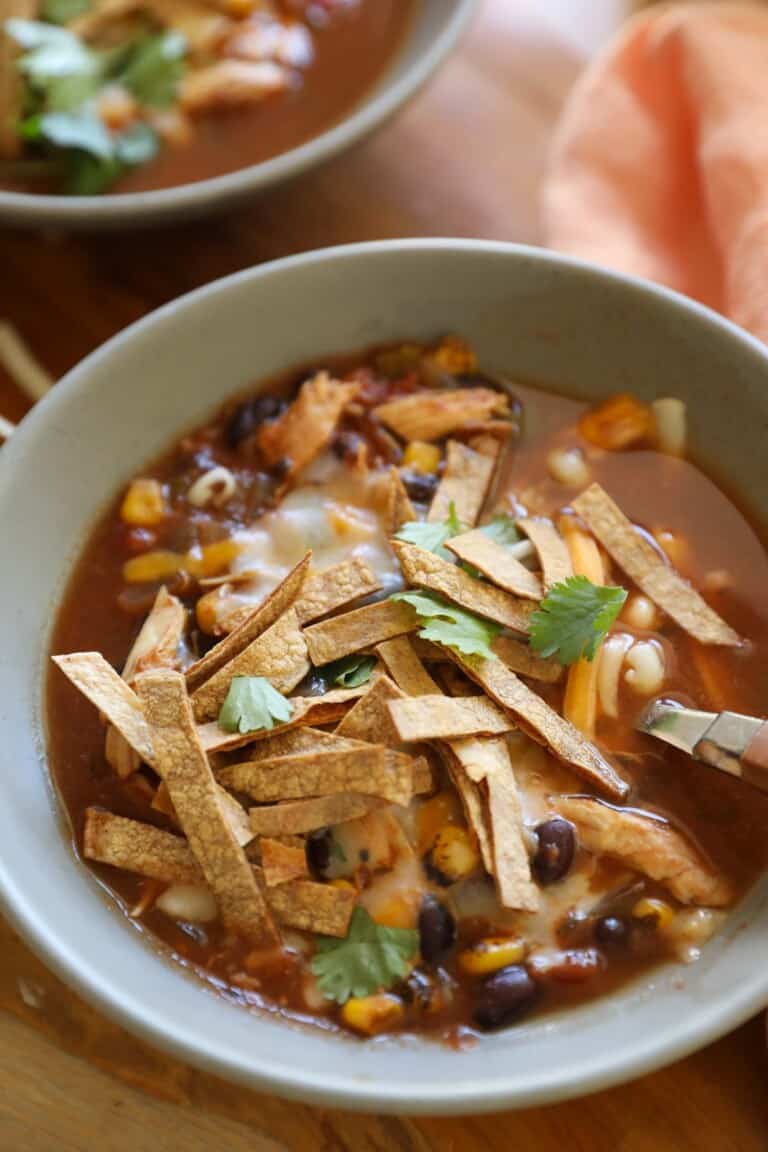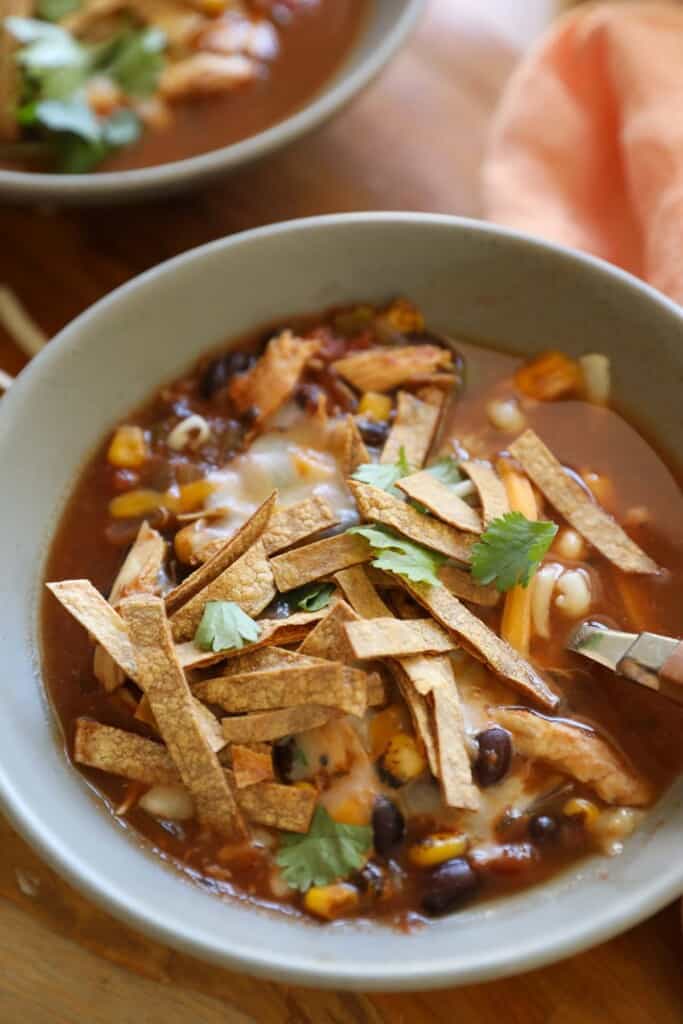 Storage
This soup will last in your refrigerator for 3-4 days, or you can freeze it for up to 1 month.
It also makes for a great bring-to-work or school lunch too!
Allow it to cool down and then transfer it into an air-tight container and place in the refrigerator or freezer, and microwave portions as needed.
I also make a big batch of tortilla chips and keep them at room temperature in an air-tight container to use throughout the week.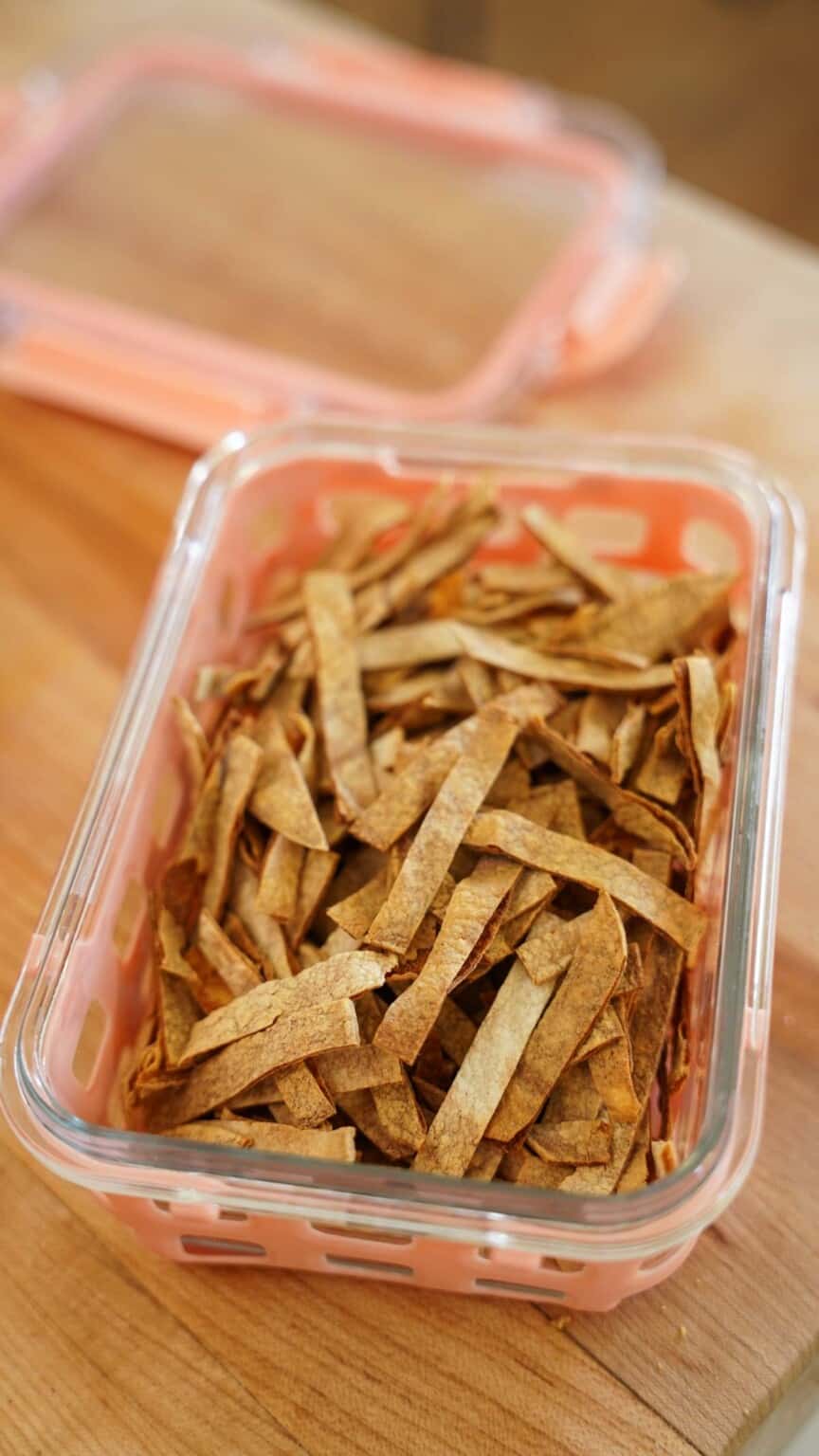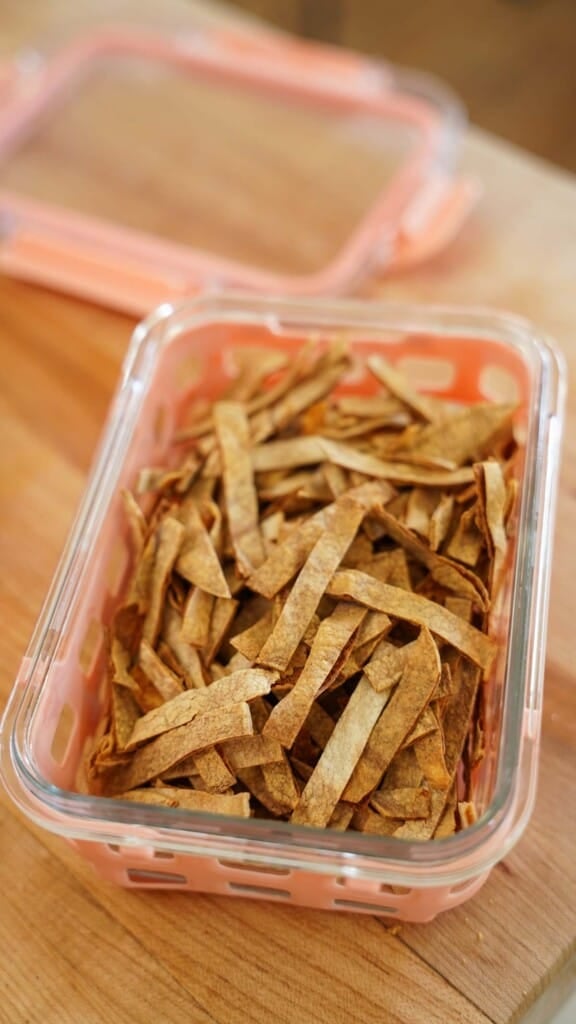 FAQ
What is the Difference Between Enchilada Soup and Tortilla Soup
The main difference is the consistency and flavor. Tortilla soup is a broth-based soup and as a result, is thinner than Enchilada soup which is typically made with broth plus Enchilada sauce.
How Can I Thicken Chicken Tortilla Soup
The best way to thicken Chicken Tortilla Soup is with a slurry. A slurry is equal parts cold water and cornstarch, whisked together and added to a soup or sauce to thicken it. Keep in mind that the soup or sauce must be hot, and simmering, in order for the slurry to work, and the water added to the cornstarch must be cold. Typically 2 tablespoons of cornstarch added to 2 tablespoons of cold water is enough to thicken a soup or sauce. Add it slowly whisking into the soup until the desired thickness is achieved.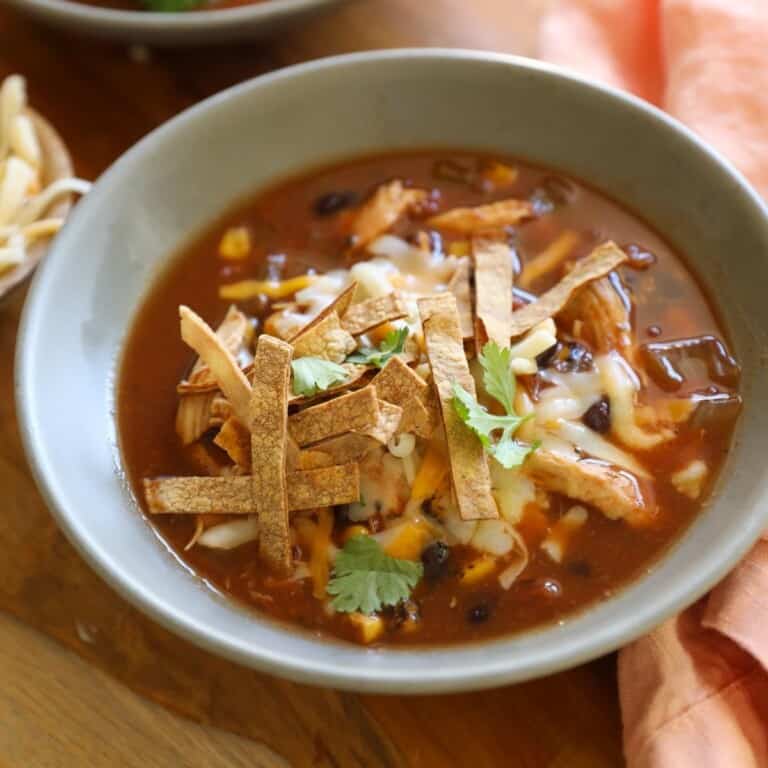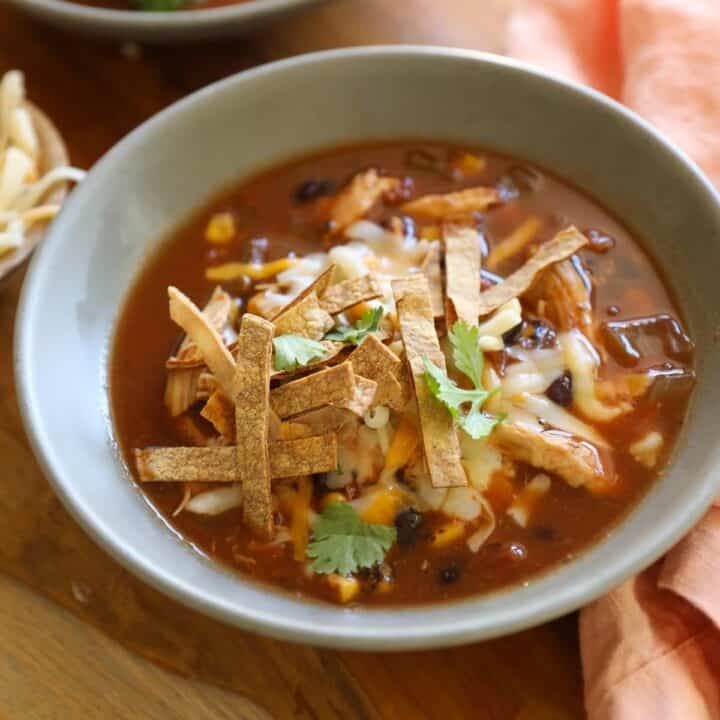 Slow Cooker Chicken Tortilla Soup
Total Time:
4 hours
30 minutes
This slow cooker Chicken Tortilla Soup is a fantastic weeknight meal! Loaded with chicken and veggies and full of flavor! Place all the ingredients in the slow cooker and then all you have to do is shred the chicken once it's done.
Ingredients
1lb Boneless, Skinless Chicken Breasts
1 ¼ cup yellow onion, diced
3 cloves garlic, minced
1 (15-oz) can of diced tomatoes
1 ½ cup of frozen charred corn (or regular frozen corn is fine too)
1 can (15-oz) of black beans (rinsed)
4 cups of chicken broth
¼ cup of tomato paste
1 ½ teaspoon ground cumin
2 teaspoon smoked paprika
2 teaspoon dried oregano
1 teaspoon salt
freshly cracked pepper to taste
1 jalapeno, diced
For Garnishing:
8 corn tortillas, cut into strips
2 cups shredded Mexican Blend Cheese
Fresh Cilantro
Avocado, diced, optional
Instructions
In the slow cooker add the chicken breast, onion, garlic, corn, tomatoes, black beans, spices, salt and pepper.
Then add the chicken broth and the tomato paste. Stir everything together until combined.
Set it on high for four hours or low for six hours.
Toast the tortilla strips in an air fryer at 375°F for 10 minutes. Or place them on a sheet pan and pop them in the oven at the same temperature and time. Allow them to cool, and then transfer them to an airtight container and keep them at room temperature until ready to serve.
Make sure the chicken is cooked through then shred it with two forks and place it back into the pot. Set the slow cooker on low heat until ready to serve.
To serve portion out the soup into bowls and top with a handful of cheddar cheese and the toasted tortilla strips.
Garnish with fresh cilantro and if desired add diced avocado.