Easy Blueberry Muffin Recipe
This Easy Blueberry Muffin recipe, will be your new go-to muffin recipe! It uses just 2 bowls and a whisk, and whips up in no time! The muffin is so light and fluffy and perfectly moist (thanks to using two types of fat) and those bursting berries on top are the finishing touch! See my trick below for how to get a prettier muffin!
For more blueberry recipes you might also enjoy my Blueberry Crumb Cake Recipe, Blueberry Lemon Bundt Cake or my Blueberry Almond Tea Cake!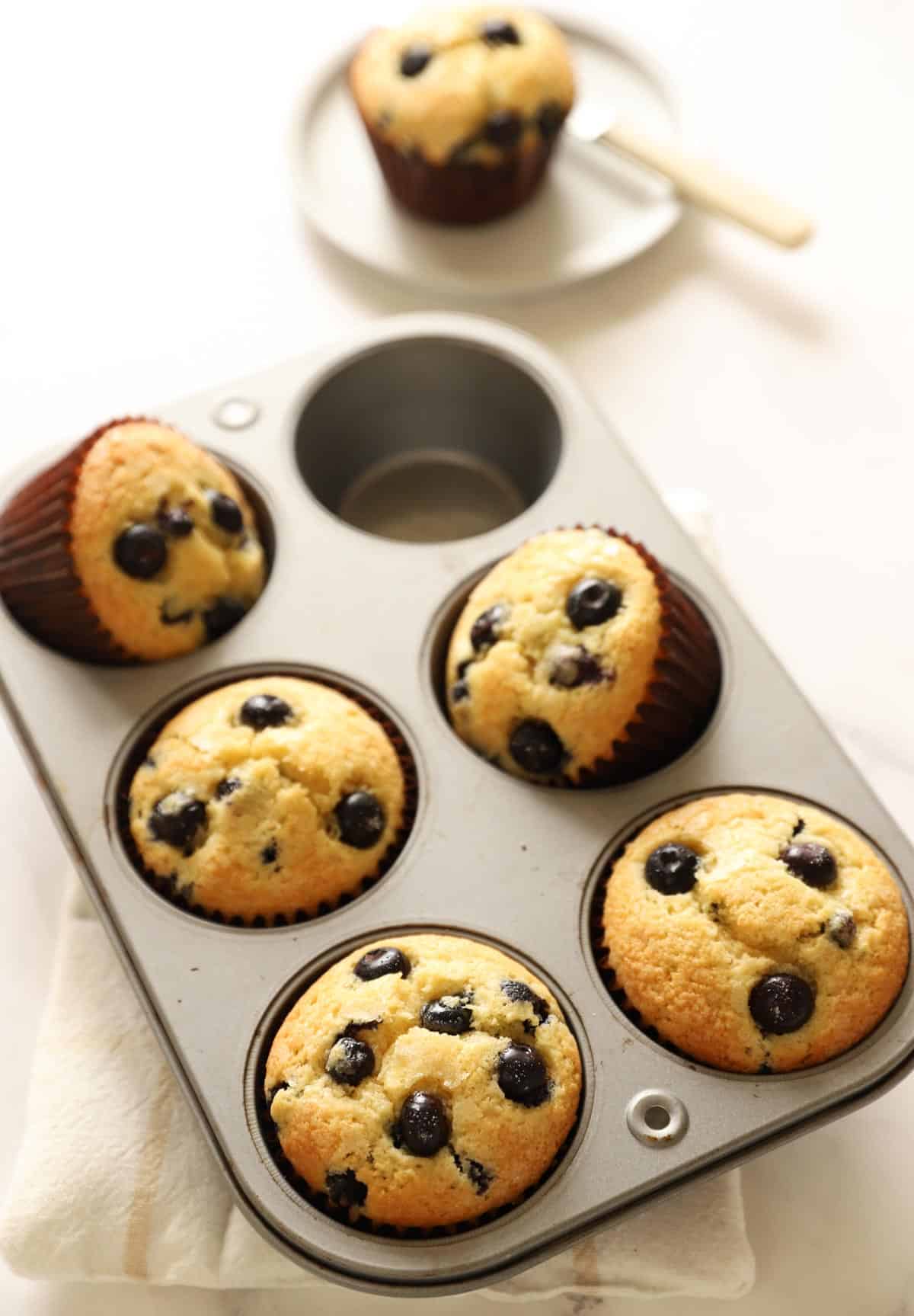 Ingredients:
Eggs It's best if the eggs are a room temperature. If you forgot to take them out, place them in a bowl with warm water for 5-10 minutes.
Sugar I use white sugar for the lightest, fluffiest texture, but if you want a heartier muffin use half white and half brown sugar.
Butter I use Land O' Lakes salted butter for most baked goods, because I think the flavor is better than unsalted butter. But if you are outside the U.S.A use unsalted butter.
Vegetable Oil This is really the secret to a moist muffin, using 2 types of fat, butter for flavor and then a little bit of oil for extra moisture! You can swap the vegetable oil for coconut oil or avocado oil if you prefer.
Water This is the secret to a fluffy muffin! The water, works much better than milk.
Vanilla Extract To create a deeper flavor to the muffin. You could swap for Almond Extract or Pure Lemon Extract too. Both flavors pair beautifully with blueberries.
Flour All-purpose flour is all you need. If you would like to make these Gluten-Free use a flour like Cup4Cup since you can keep the quantity the same and personally it's my favorite Gluten-Free flour for the results it provides. It also works so well in my Blueberry Waffle Recipe too!
Baking Powder for a nice little lift to your muffin.
Salt I use kosher salt, it provides the best balance of flavor without being too salty like table salt.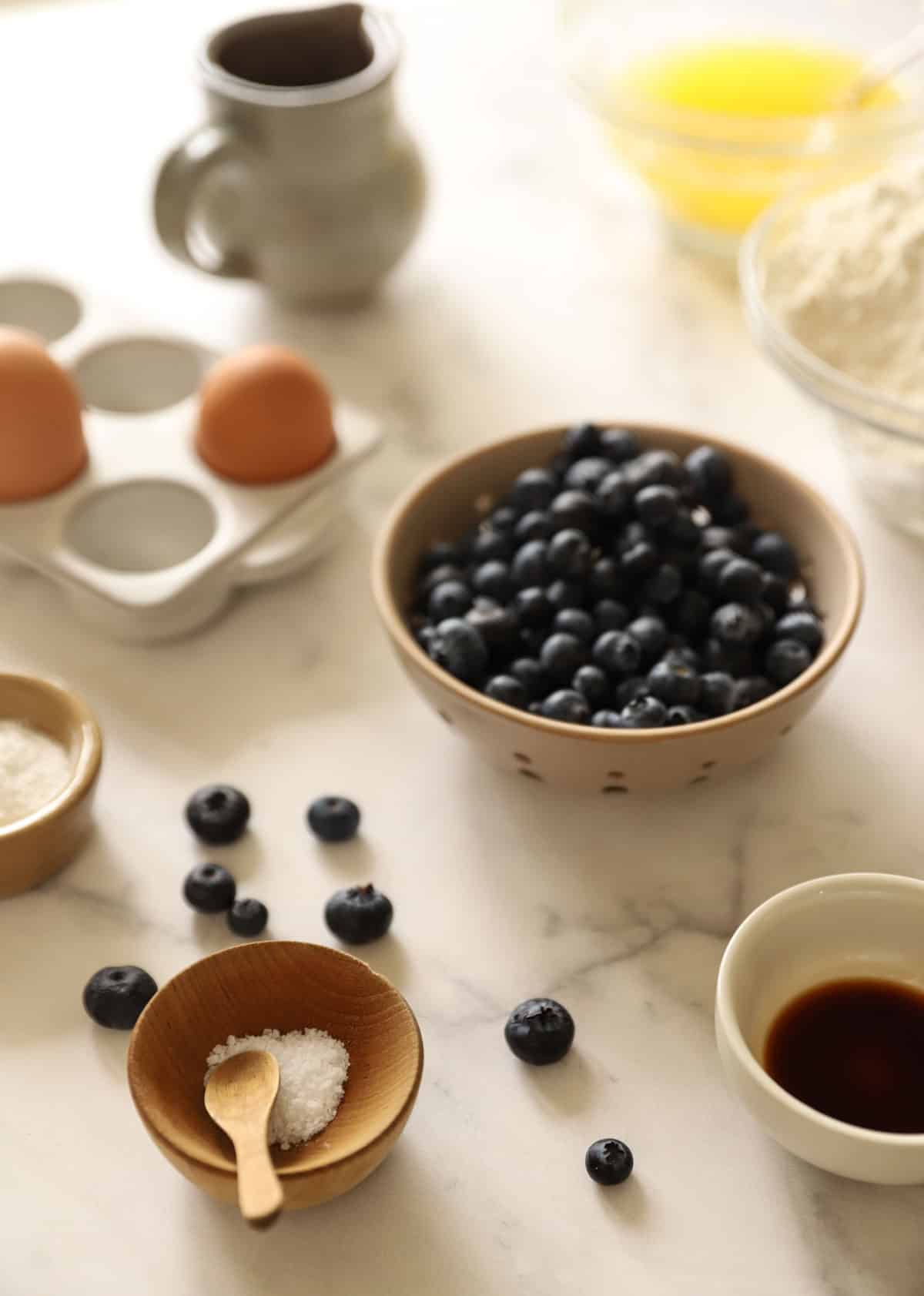 Step#1: Create The Batter
What makes these blueberry muffins so easy is the fact that they are a 2-bowl operation, add a whisk and that's all you need!
No need to drag out (and clean!) the electric mixer! Because we are using melted butter and oil, nothing needs to be creamed.
These muffins are best enjoyed the day they are made, so if prepping for a brunch reserve this recipe for the morning of. But not to worry because they are so easy!
To round out your brunch you can serve my Puffy Egg Bake Casserole, and this recipe can be mixup up and refrigerated the night before!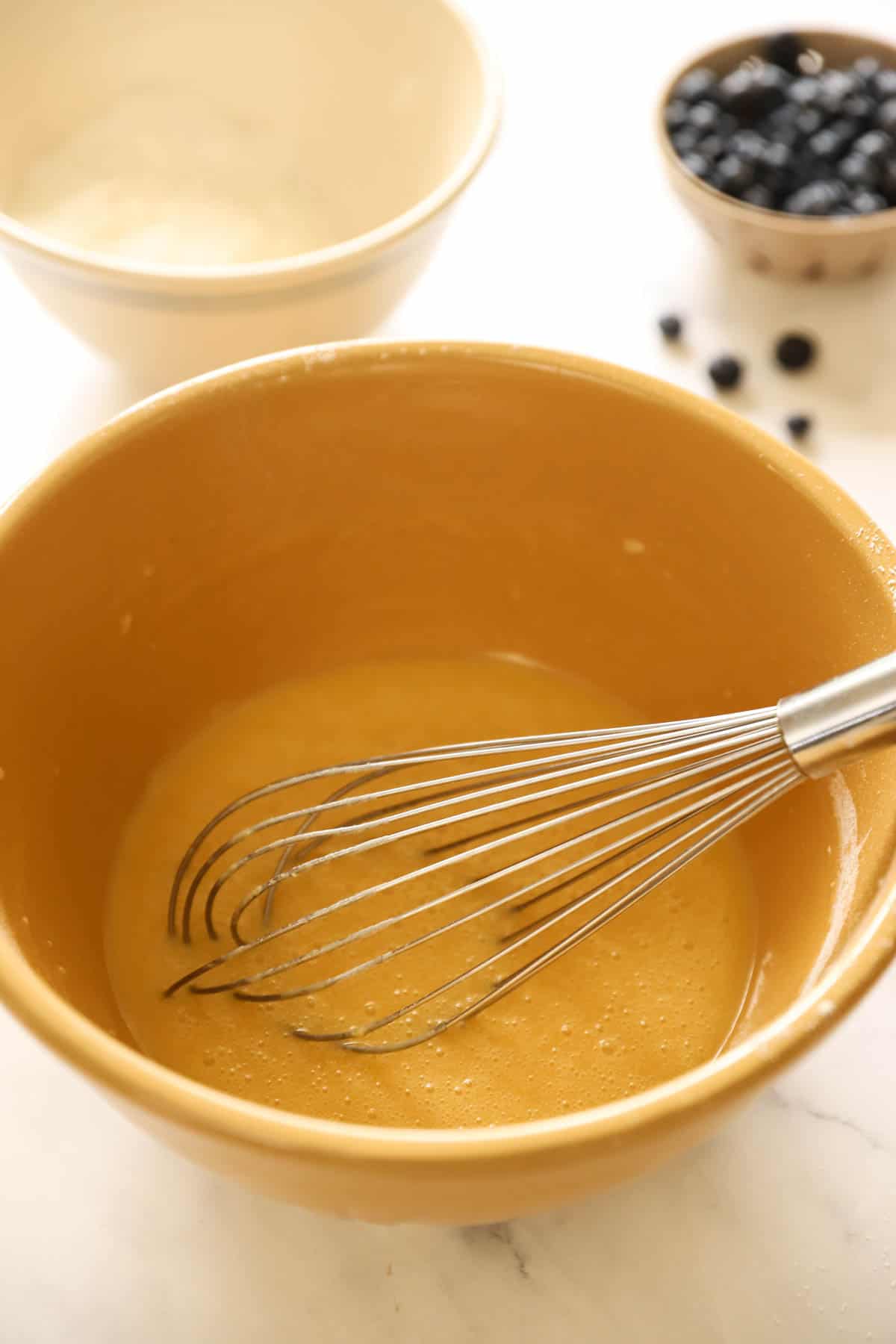 Jumbo Muffins vs. Regular Muffins
This recipe works for both! Either 6 Jumbo Sized Muffins or 12 regular sized muffins.
I love the jumbo sized muffins because they feel more elegant in stature and who doesn't love a jumbo muffin? But you'll need a Jumbo Muffin Tin. But not worry you can also make my Snickerdoodle Muffins or my Orange Pecan Muffins in them too.
I like to use the brown parchment liners in these because I think they look prettier (over the white liners) once they are baked.
Muffin papers are key to a moist, fluffy muffin because they keep the sides delicate. Otherwise they can become too tough if baked directly in the tin, no matter how much you grease it!
A Trick for a Pretty Muffin
A trick to make these muffins look their prettiest is to fold the berries into the batter, but then reserve 3 berries for each top.
That way they will be more visible and guests will quickly know what type of muffins they are.
When they bake it the oven the top berries will begin to soften and pop and will sometimes even emit a little juice, which also looks pretty on top!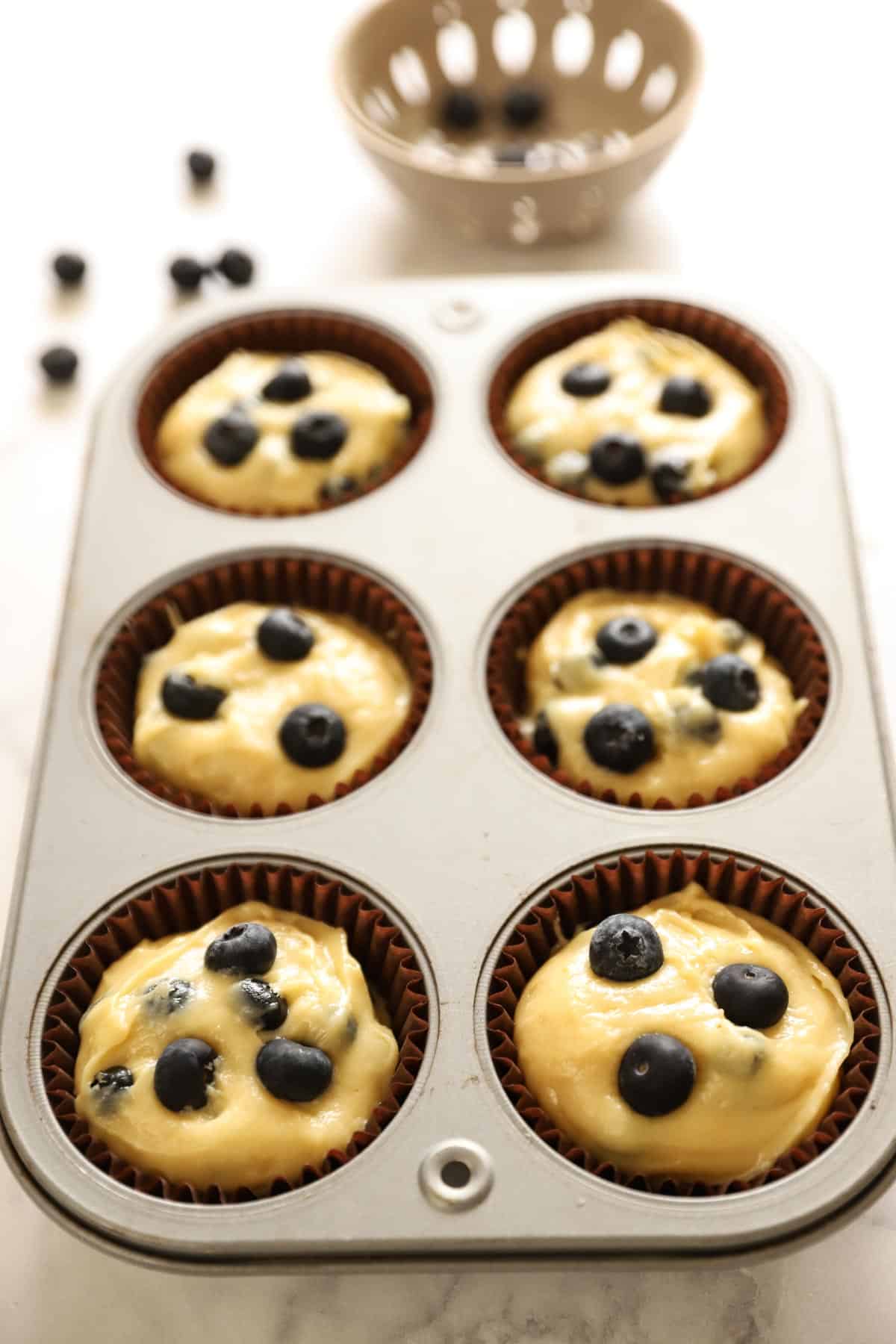 How To Create an Extra Moist Muffin?
The secret to a moist muffin with delicate crumb comes down to 3 things:
Use 2 types of fat. Butter for flavor but oil for extra moisture
Use water over milk. Water will not weigh your muffin down like milk can
Do Not Over Mix! For this, I really love using a Danish Dough Whisk to mix the batter
The results are fantastic muffins that are light and delicious and celebrate all the flavors of summer! A great "cousin" to this muffin recipe is my Strawberry Lemon Muffin Recipe. Another great summer muffin recipe to try!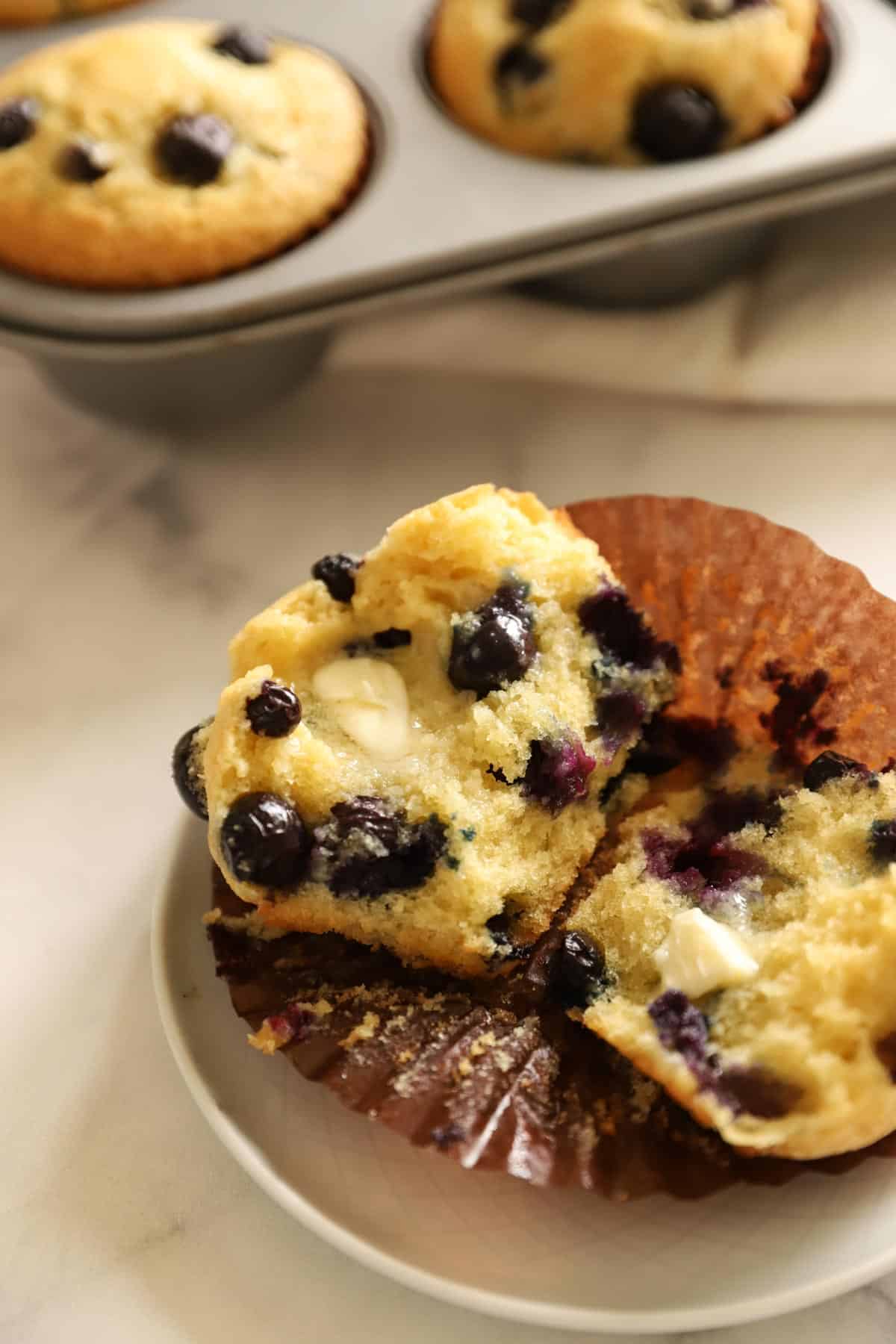 Storage
These muffins freeze beautifully!
Allow them to cool completely then place them in a resealable freezer bag and freeze for up to a month.
To reheat, wrap 1 muffin in a paper towel and microwave on high in :30 increments until warmed through.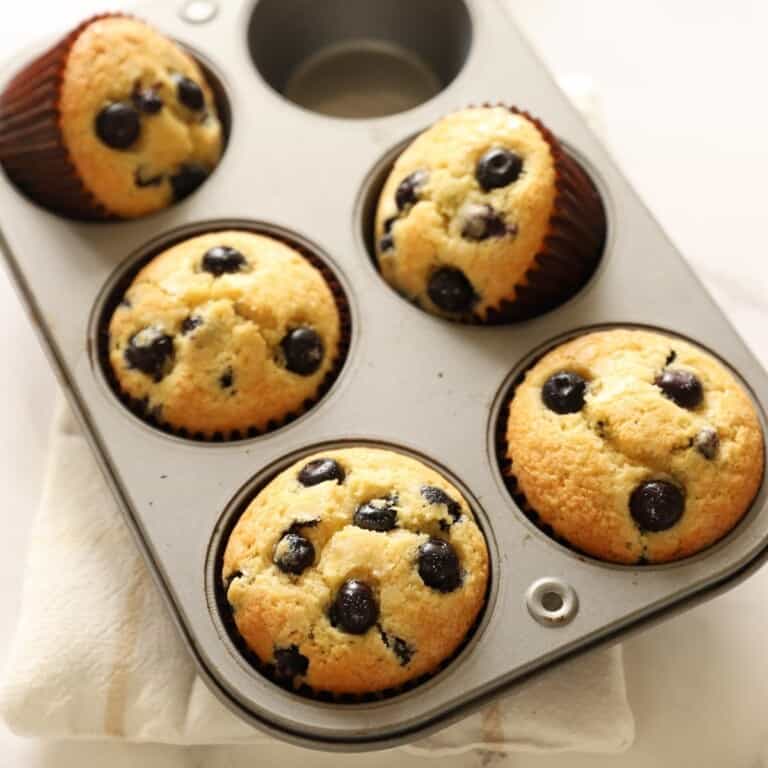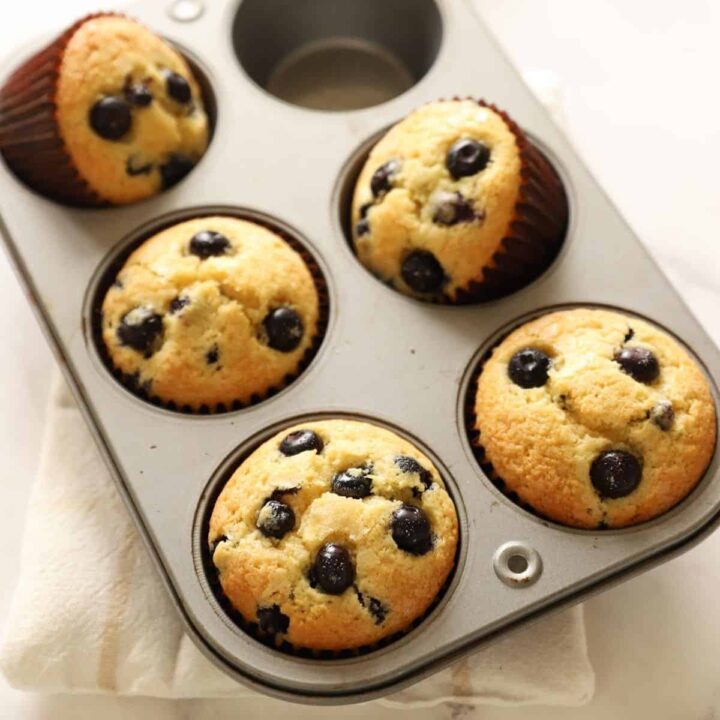 Easy Blueberry Muffin Recipe
This is a delicious easy blueberry muffin recipe that comes together with 2-bowls and a whisk! So light and fluffy and extra moist!
Ingredients
2 eggs
¾ cup (150g) sugar
½ cup (118ml) butter, melted
¼ cup (60ml) vegetable oil
¾ cup (177ml) water
1 teaspoon (5ml) vanilla
1 ¾ (210g) cups all-purpose flour
2 teaspoon (10ml) baking powder
½ teaspoon (2.5ml) salt
1 ¼ cup (190g) fresh or frozen blueberries
2 teaspoon (10ml) sugar for tops
Instructions
Preheat oven to 375F (190C).
Whisk together all the wet ingredients and set aside.
Whisk together the dry ingredients. Slowly whisk in the dry ingredients to the wet ingredients. Fold in the blueberries.
Line a muffin tin with muffin papers. For jumbo muffins place 2 ice cream scoops of batter in each well. For standard 12-cup muffin tin, place 1 scoop in each well.
Sprinkle sugar on tops. Bake at 375F (190C). For jumbos go 30-35 mins. For standard go 20-25 mins.
Notes
To make these muffins look their prettiest is to fold the berries into the batter, but then reserve 3 berries for each top, that you will place on the top before baking, after adding the sugar. This creates such a nice color and juiciness to the muffins as the berries pop in the oven. 
Nutrition Information:
Yield:

12
Serving Size:

1
Amount Per Serving:
Calories:

288
Total Fat:

7g
Saturated Fat:

2g
Trans Fat:

0g
Unsaturated Fat:

5g
Cholesterol:

37mg
Sodium:

78mg
Carbohydrates:

51g
Fiber:

3g
Sugar:

17g
Protein:

6g