BBQ Ribs in the Oven then Grill Recipe
If you want succulent, fall-off-the-bone BBQ ribs then the only way to go is to bake them in the oven first, and then finish them off on the grill. Slathering them with a sticky, homemade BBQ sauce of course.
This 2-step process will assure the most fantastic sticky ribs that fall off the bone and will be talked about for weeks afterward! They are that good!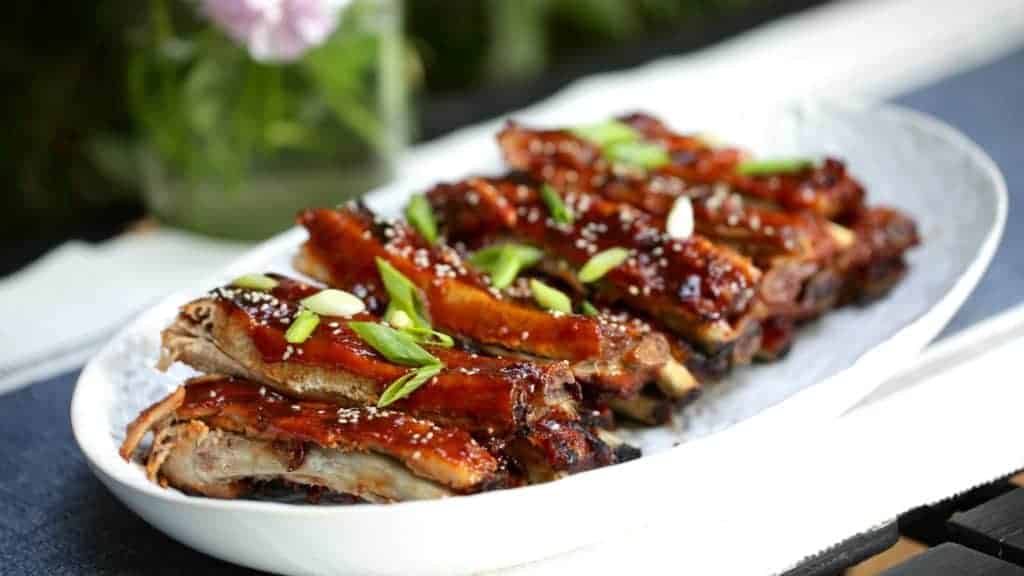 Recipe Pairing Ideas: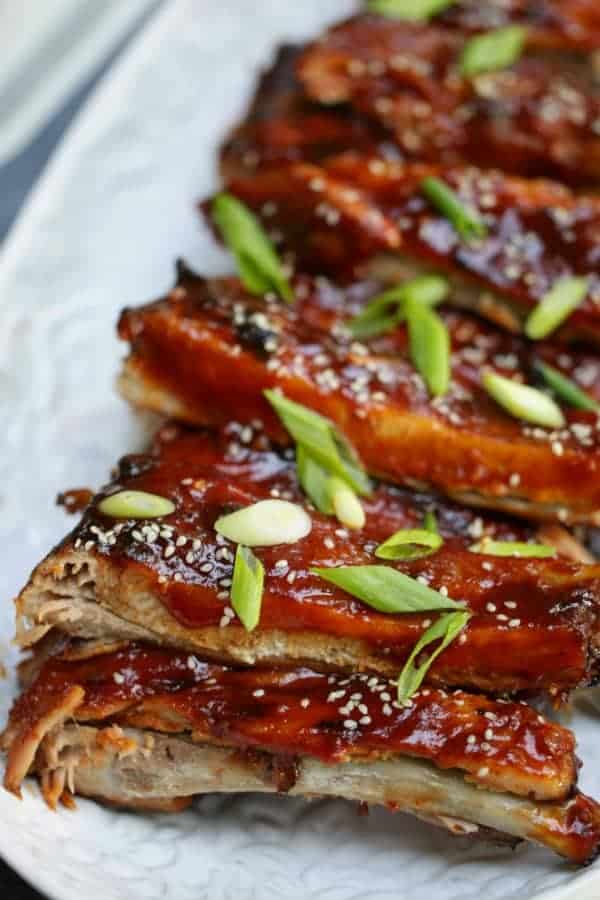 Watch a Video Demo of this Rib Recipe Below!
Step#1: Prepare the Spice Rub
The best way to get the most flavor from oven-baked ribs is to use a spice rub. I love this rub because it's made with many common spices you probably already have in your pantry like cumin, smoked paprika, and ground coriander. When mixed with the brown sugar the flavor created is sweet and smokey with a little bit of a kick.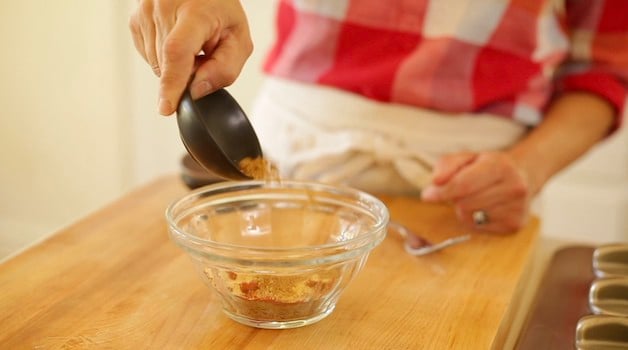 What Type of Ribs to Buy?
For this BBQ Ribs recipe, you'll use 2 racks of Pork Spare Ribs (St Louis Style). I think these are the best ribs for entertaining because they've been trimmed to a uniform size and are just easier to handle. But for the full rundown on buying pork ribs consult Bon Appetit's awesome pork-rib buying guide.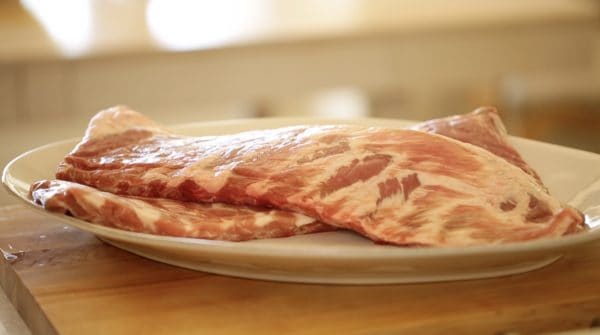 Step#2: Rub the Spice Blend on the Ribs
Be sure to rub the spice blend all over the ribs, it will look like a ton of spice but it will dissolve in the oven and flavor the meat. Then seal it up in the foil creating two separate foil packets for each rack.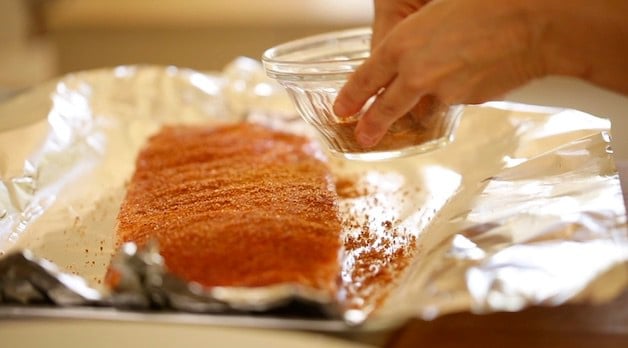 Step#3: Bake the Ribs for Two Hours in the Oven
Two hours may seem like a long time to wait for ribs! But trust me, you'll be so glad you did when you take your first bite! Succulent meat, falling off the bone, is well worth the effort! And the only way to get that is to bake them in the oven first!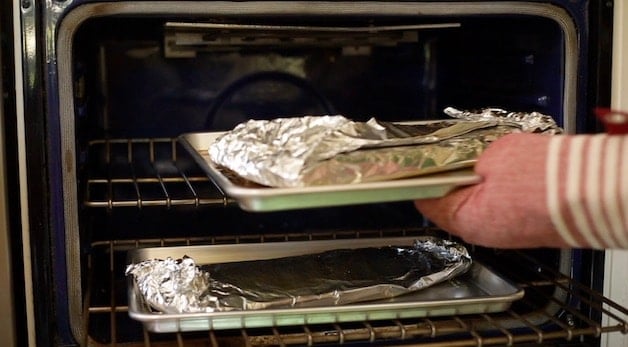 Place the ribs on separate racks and then switch their positions after one hour.
Once the ribs are done, they will look like this and be tender to the touch. In fact, they'll be so tender they will be a bit fragile so be careful when handling them.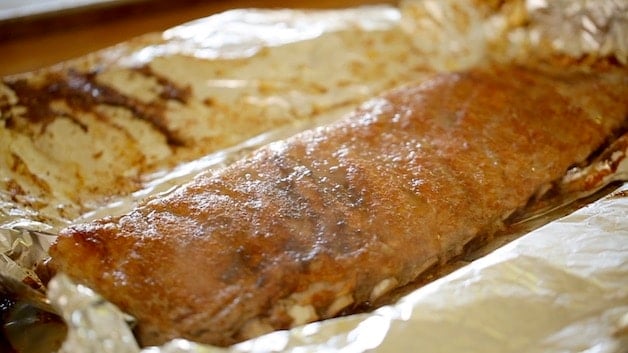 The best way to bring them out to the grill is on a large baking sheet. They will be easier to handle that way and once cooked, two racks will fit nicely on one sheet pan.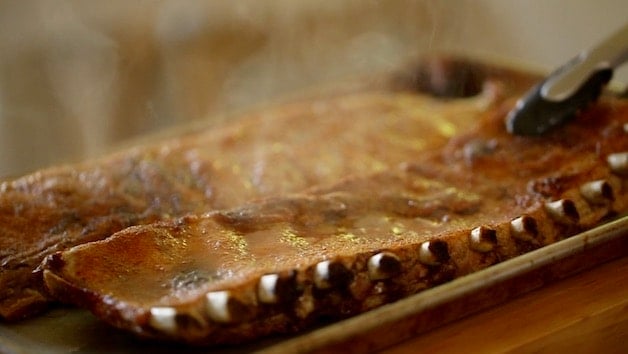 Step#4: Prepare the BBQ Sauce
It's also a good idea to prepare the BBQ sauce ahead of time so it's all ready to go once you head out to the grill. This can even be done up to two days before. If you have a large crowd you can make extra BBQ sauce and serve the ribs along with my BBQ Chicken Sliders.
How to Make Homemade BBQ Sauce
Homemade BBQ Sauce combines store-bought ketchup, molasses, garlic, brown sugar, hot sauce, dijon mustard, and Worcestershire sauce. Whisk it together in a sauce-pot on a medium-low flame and that's all there is to it!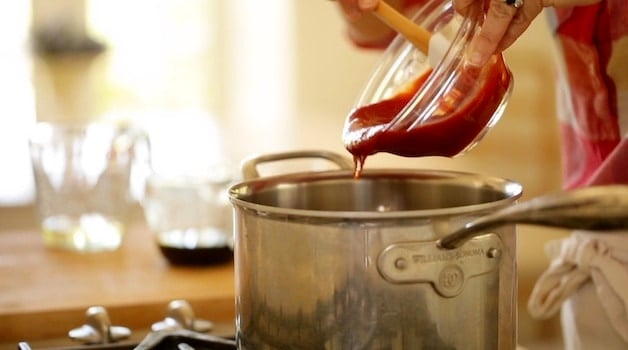 Once you learn how to make homemade BBQ sauce from scratch you'll never go back to anything in a bottle again! Homemade sauce is so much more flavorful and you can dial up the heat or sweetness to suit your personal tastes. And the best part is you probably have most of the ingredients sitting in your pantry and fridge.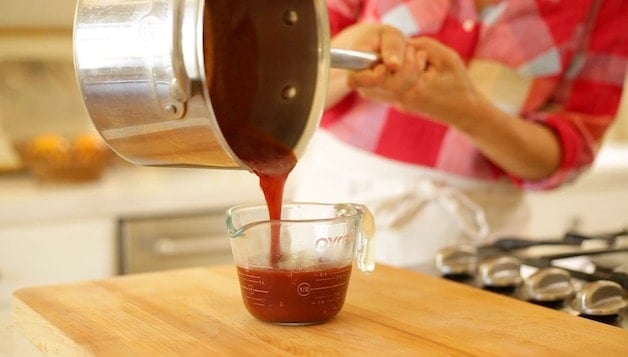 Allow it to cool in a Pyrex pitcher and keep refrigerated until you are ready to bring it out to the grill.
Step#5: Grill the Ribs
Since the ribs are already cooked, they only take a few minutes on the grill, on each side, to get a nice char on them. Brush each side with the BBQ sauce in a thin layer to allow the heat to set into the meat.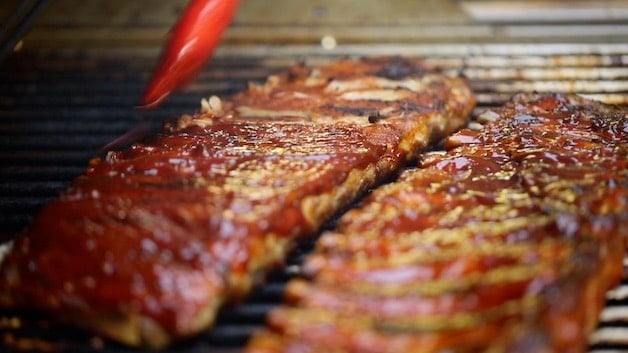 Then you can slather on some more sauce on each rack once they are grilled. You really can never have too much BBQ Sauce. Especially, when it's homemade! Just be sure to provide some thick napkins for your guests.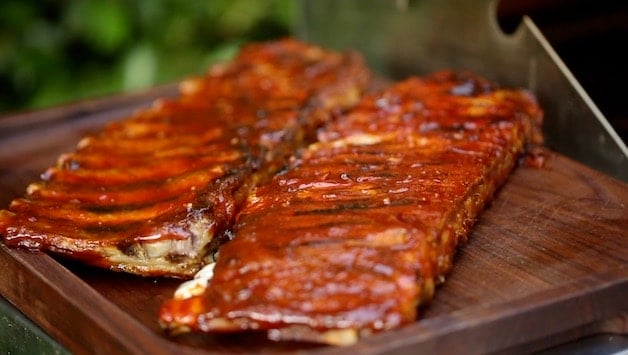 Plating the Ribs
Bring everything you need for carving out to the grill with you so as soon as the ribs are done, you can slice them tableside before serving.
It adds a bit of drama to the cocktail chatter and allows you to sit down right away with your guests as soon as they are ready.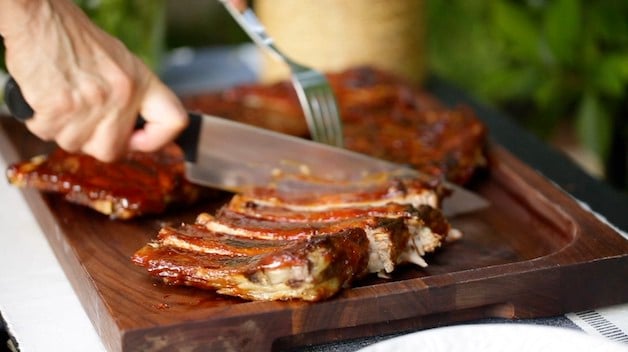 Garnishing the Ribs
You can serve them just like this, or take the extra step to garnish them with some green onions and sesame seeds.
It's a simple touch that makes them look a bit fancier and more presentable, "dressed for dinner" if you will. Slice the green onions on the diagonal for an elegant touch.
These ribs would be a great dinner idea for Memorial Day, Father's Day, or the 4th of July!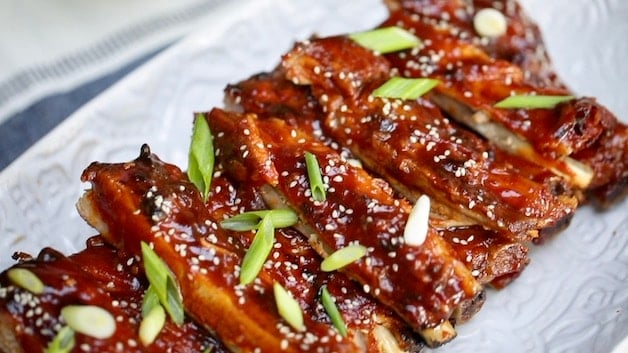 If you enjoyed this Recipe
please leave a rating and a review below!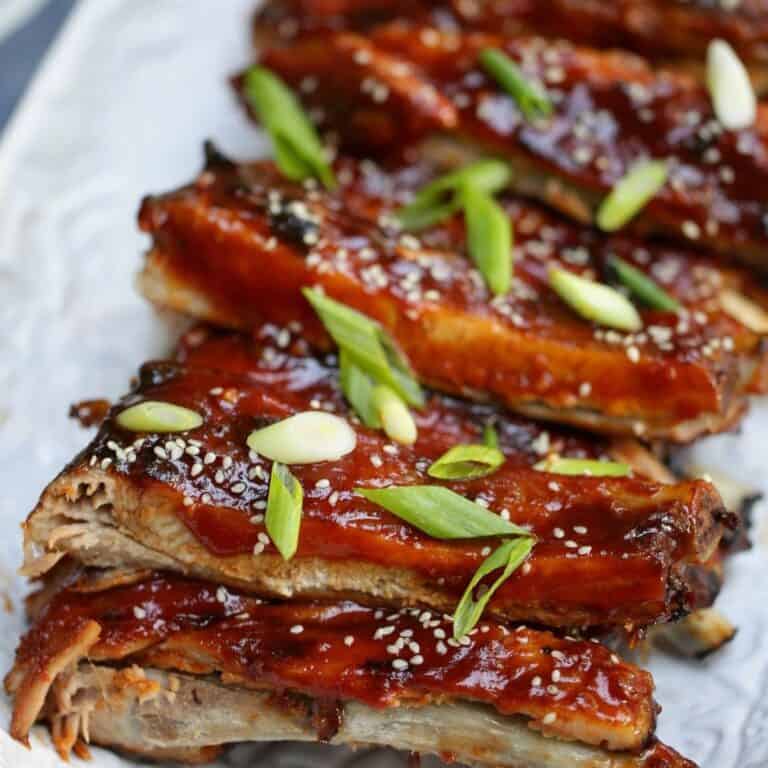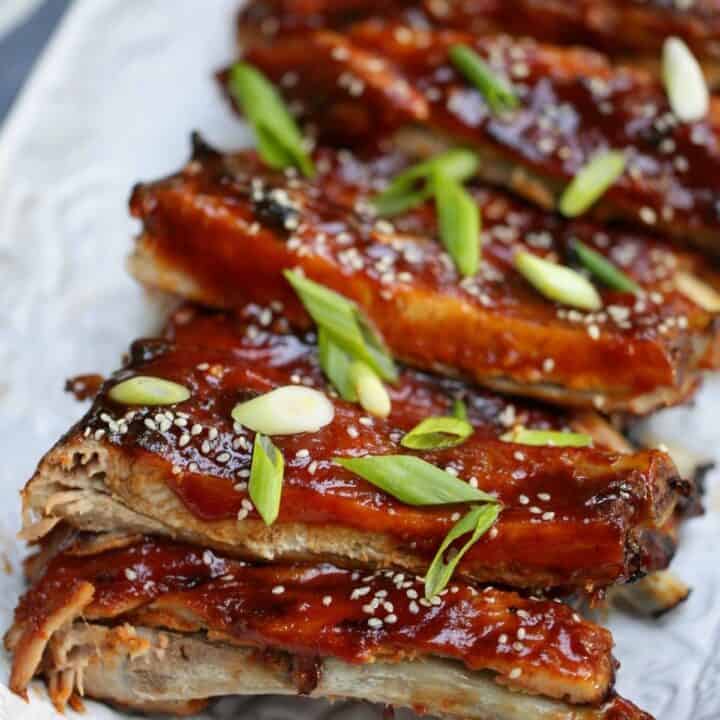 BBQ Ribs in the Oven then Grill Recipe
A delicious slow-roasted rib recipe with homemade BBQ sauce that's perfect for summer grilling! Baked in the oven first and then finished on the grill you will get the most delicious fall off the bone BBQ Ribs!
Ingredients
For Ribs:
2 racks, (5 lbs/2250g) pork spare ribs
2 tablespoon (30 ml) brown sugar
4 teaspoon (20ml) ground cumin
4 teaspoon (20 ml) smoked paprika
2 teaspoon (10 ml) garlic powder
2 teaspoon (10 ml) ground coriander
2 teaspoon (10 ml) salt
For BBQ Sauce:
1 cup (240 ml) of ketchup
¼ cup (60 ml) of white wine vinegar
⅓ cup (80 ml) brown sugar
⅓ cup (80 ml) of molasses
1 teaspoon (5 ml) of hot sauce
1 teaspoon (5 ml) Dijon mustard
½ teaspoon (2.5ml) Worcestershire sauce
2 garlic cloves, minced
For Garnish:
A sprinkle of sesame seeds
2 green onions, sliced diagonally
Instructions
Pre-heat oven to 350F.
In a small bowl whisk together the brown sugar, cumin, smoked paprika, garlic powder, coriander and salt.
Lay out 2 large pieces of aluminum foil, fastened together by folding the seams, across a rimmed baking sheet. You'll do this twice for 2 racks, 2 baking trays.
Place the foil going diagonally, since this is probably the only way the ribs will fit on the baking sheet. Place each rack on each piece of foil, rub the dry rub on ribs, both sides.
Seal up the foil and place in the oven at 350F for 2 hours, rotating each rack (from top to bottom portion of your oven mid-way through).
Meanwhile, you can prepare the BBQ Sauce in advance.
To make the sauce: Place everything in a pot and whisk until combined. Simmer to allow flavors to marry. Then allow to cool and refrigerate until ready to serve. Then just reheat before serving.
After roasting grill ribs for 3-5 minutes on each side for desired charring. Brush ribs with BBQ sauce on both sides. Cut into single ribs. Place on platter. Brush with more sauce as needed. Garnish with sesame seeds and green onions, sliced on the diagonal. Enjoy!
Nutrition Information:
Yield:

6
Serving Size:

1
Amount Per Serving:
Calories:

364
Total Fat:

22g
Saturated Fat:

6g
Trans Fat:

0g
Unsaturated Fat:

11g
Cholesterol:

65mg
Sodium:

361mg
Carbohydrates:

28g
Fiber:

2g
Sugar:

23g
Protein:

15g