When it's just too hot to cook and I want something summery and refreshing, I turn to this Shrimp Salad with Avocado and Mango recipe. You can also prepare all the ingredients ahead of time, and just toss it together and serve.
It's a great salad recipe for dinner or lunch and it's also pretty enough for entertaining too!
Recipe Pairing Ideas:
Watch my Video Demo of this Recipe Below!
Subscribe to my YouTube Channel for more recipe videos!
Why You'll Love This:
Spicy dressing a great match against the cooling avocado and fresh mango
Refreshing mint is such a welcomed flavor profile on a hot summer day
The shrimp can be prepped in advance and tossed in with the fresh produce when ready to serve
Step 1: Prepare the Shrimp
Score shrimp down the back, de-vein, and remove the tails. The scoring of the shrimp will make them prettier to preset in the salad once they are cooked. They will plump up and look almost like lobster meat.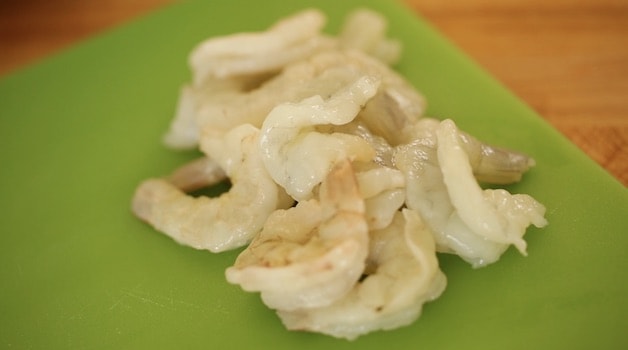 Place uncooked shrimp in a large bowl and toss with olive oil, salt, and pepper. At this stage, if you wanted to add even more flavor and heat, you could add a clove of minced garlic and some red pepper flakes, and toss with the shrimp.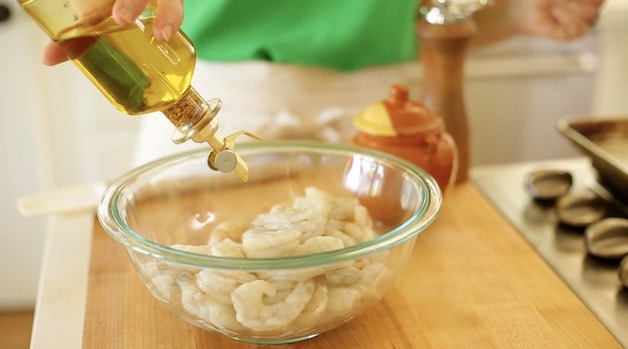 Step 2: Cook the Shrimp
When it comes to shrimp salad you can either steam the shrimp or roast it, and I find you'll get so much more flavor by roasting it. And I find it's simpler too since it's "hands-free" cooking".
Transfer the shrimp onto a baking sheet in a single layer. Roast at 350F degrees for 6-8 minutes until opaque and cooked through. Allow to cool and set aside. If you are not using them right away, place the shrimp in the refrigerator until ready to serve.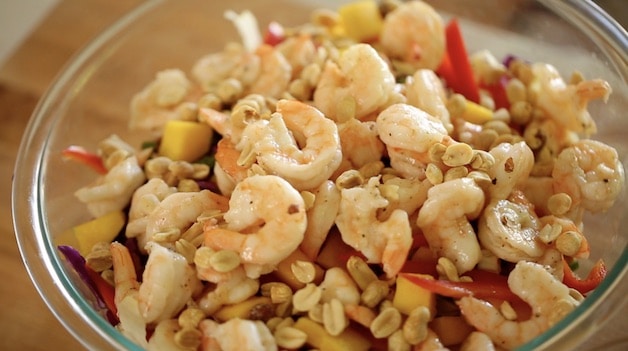 How can you tell if shrimp are cooked?
When properly cooked, shrimp should be slightly opaque with a bright red tail.
Step 3: Make the Shrimp Salad Dressing
One of the things you'll love about this recipe is the dressing! It's the perfect combination of sweet and sour with a little kick to it.
To make the salad dressing, add the zest of one lime and lime juice to a small bowl. Then add freshly grated ginger and garlic.
The Best Way to Peel Ginger
I've found that it is easiest to peel ginger using the edge of a spoon. It comes right off and you don't lose any of the ginger in the process like you would if you used a vegetable peeler.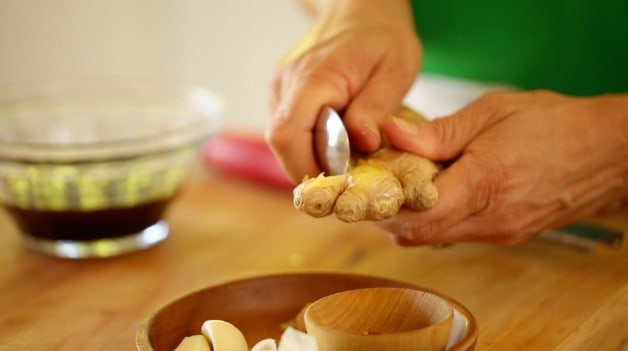 Whisk the ingredients together until combined, then add the oils, in a slow steady stream, making sure they emulsify into a slightly thickened dressing.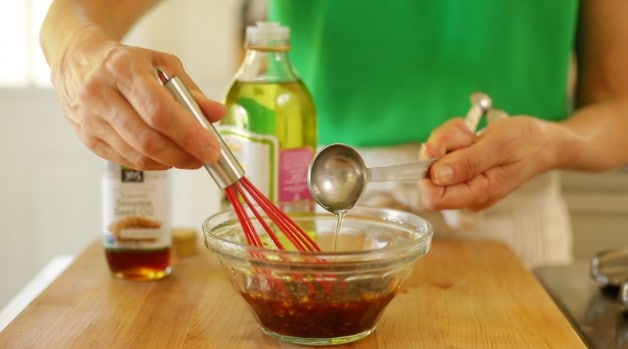 Make-Ahead Tip
You can make the shrimp salad dressing a day ahead. In fact, it gets even better the longer the flavors have a chance to marry. Keep the dressing refrigerated until ready to use.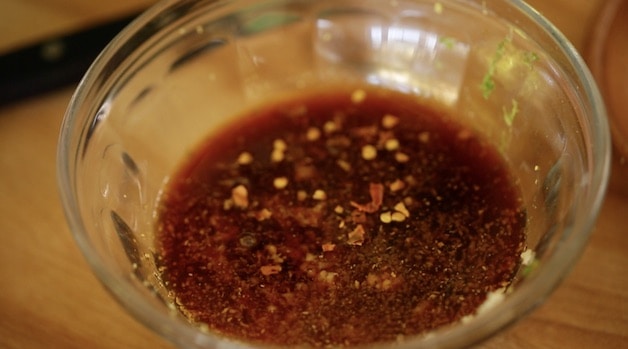 Step 4: Prepare the Salad
To prepare your salad base, add thinly sliced Napa cabbage and purple cabbage to a large bowl, along with red pepper slices and mango.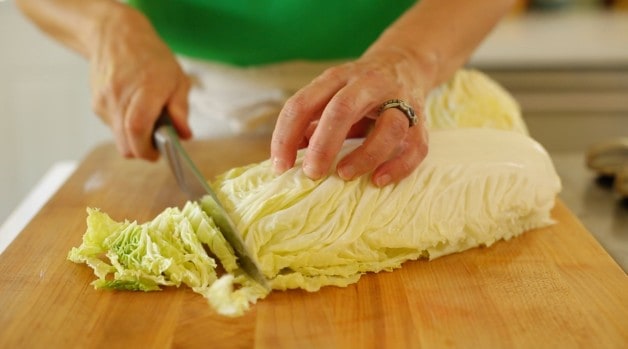 I love this salad for summer parties because the colors are so beautiful and vibrant! You also have a lot of nice textures as well between the crunchy cabbage, the crisp peppers, and the succulent mango.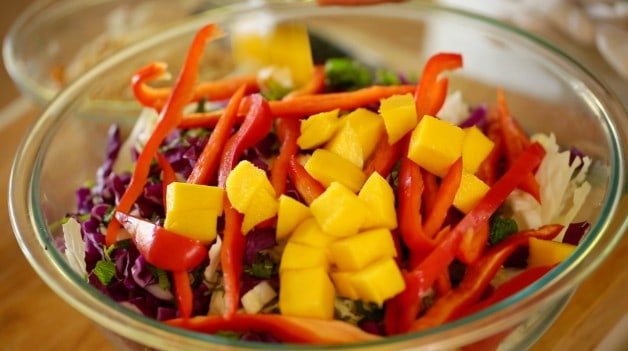 Add the shrimp to the salad mixture along with the peanuts and only half of the dressing (reserve the other half for serving extra dressing on the side). Gently toss to coat.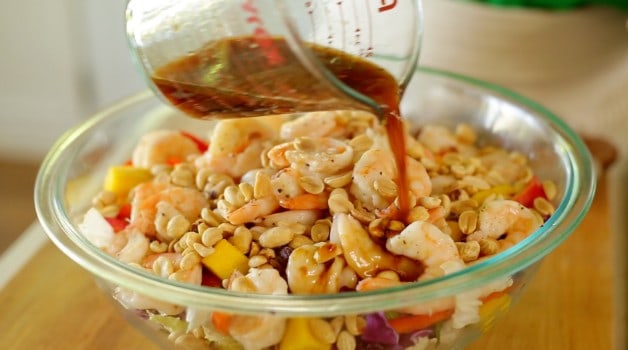 Serve your salad on a large, shallow serving platter. I think this shows off the beautiful colors and textures of this salad. Then top with avocado slices and freshly torn mint.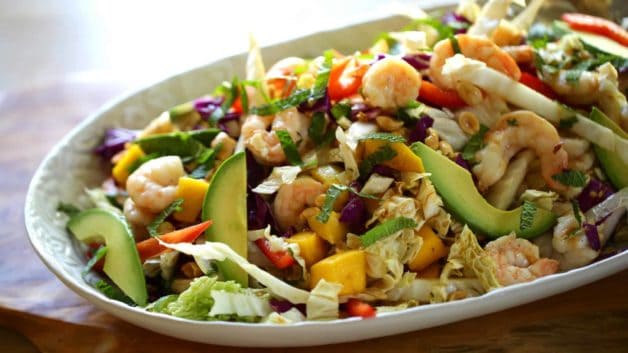 Please let me know if you make this recipe
by leaving a rating and review below!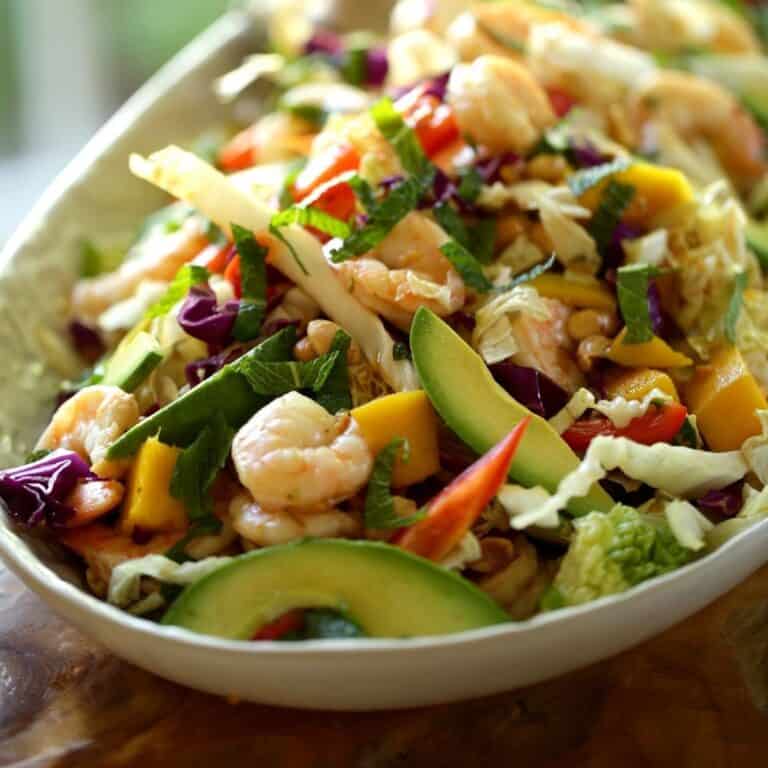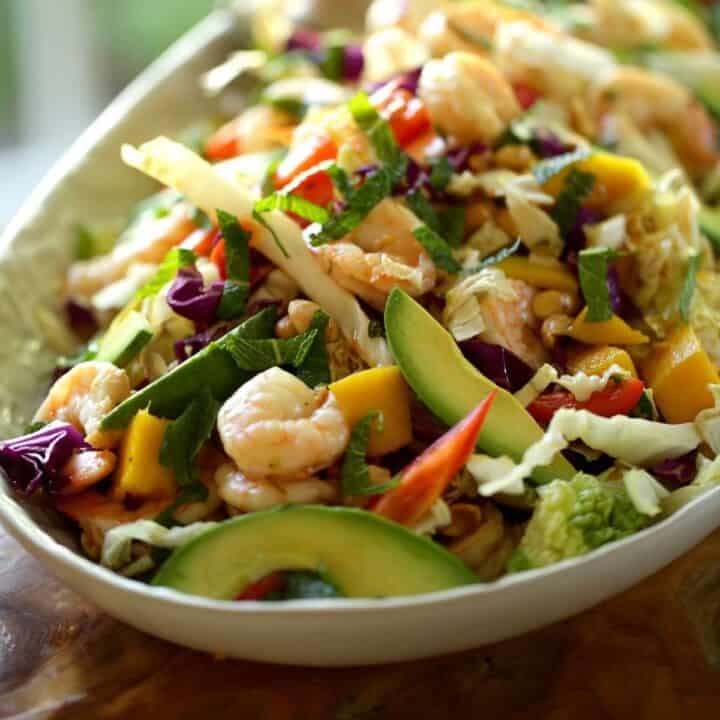 Shrimp Salad Recipe with Avocado and Mango
Total Time:
1 hour
8 minutes
This easy Shrimp Salad with Avocado and Mango Recipe is a great summer dinner idea! Perfect for summer BBQs or potlucks.
Ingredients
2 lbs (900g) shrimp, peeled deveined, tails removed
1 tablespoon (15ml) olive oil
Salt and pepper to taste
FOR SHRIMP SALAD  DRESSING:
Zest of 1 lime
½ cup (120ml) lime juice
¼ cup (60ml) soy sauce
2 teaspoon (10ml) brown sugar
2 teaspoon (10ml) rice wine vinegar
2 teaspoon (10ml) fresh ginger, grated
3 cloves garlic, minced
¼ teaspoon (1.25ml) red pepper flakes
2 tablespoon (30ml) grapeseed oil
4 teaspoon (20ml) toasted sesame oil
FOR SALAD:
10 Napa cabbage leaves, julienned
1 cup cabbage, julienned
¼ cup (60ml) mint, julienned
½ red bell pepper, sliced
1 cup (150g) mango, diced
1 cup (150g) peanuts, dry roasted unsalted
1 avocado, sliced
Instructions
Preheat oven to 350F(175C).
Score shrimp backs. Toss with olive oil, salt and pepper.
Bake for 6-8 minutes until cooked through. Allow to cool and set aside. Refrigerate if not using within 30 mins.
Mix dressing ingredients until combined, whisk in oils and set aside.
Place all salad ingredients (except avocado) with shrimp in a large bowl. Add half the dressing, toss to coat. Transfer to large platter, add avocado slices, and freshly torn mint as garnish.
Serve remaining dressing on the side.
Notes
I've found that it is easiest to grate ginger using the edge of a spoon.It peels right off and you don't loose any of the ginger in the process.
You can make the dressing a day ahead. Cover and refrigerate. The flavors will become even better that way!
Nutrition Information:
Yield:

4
Serving Size:

1
Amount Per Serving:
Calories:

438
Total Fat:

32g
Saturated Fat:

4g
Trans Fat:

0g
Unsaturated Fat:

26g
Cholesterol:

0mg
Sodium:

166mg
Carbohydrates:

25g
Fiber:

5g
Sugar:

8g
Protein:

5g