I love this easy plum crumble recipe because it's so delicious and a bit unexpected. It's tart and sweet and topped with the most delicious crumble! You'll also love how portable it is too, making it the perfect summer dessert recipe to bring to BBQs and Potlucks.
If you can't find plums you can also try my easy Blackberry Crumble recipe instead, it's even easier since there's no slicing or peeling of fruit! Just toss the berries and go! Or in the fall try my Apple Crisp in a Cast-Iron skillet, a great recipe for potlucks like Thanksgiving!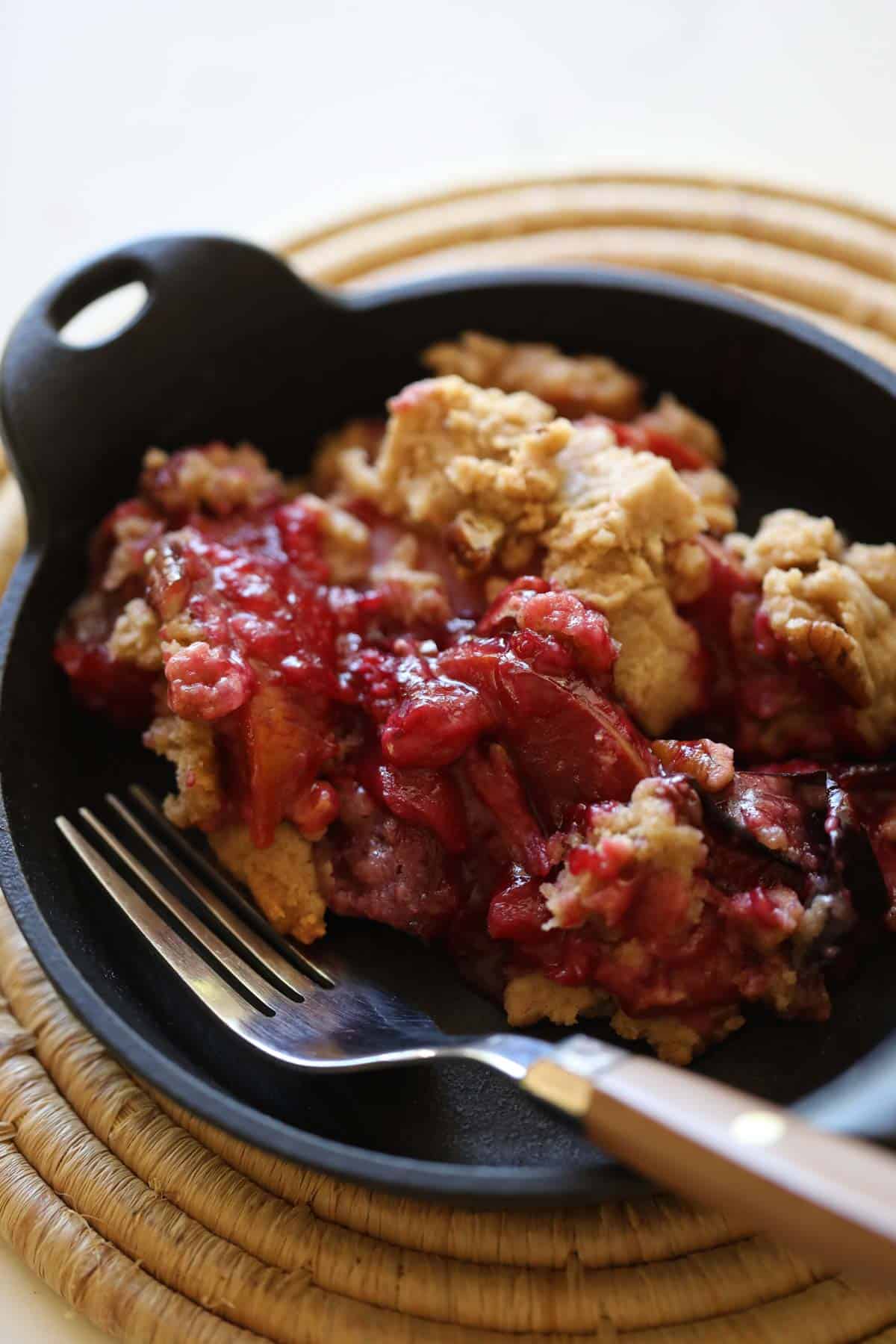 Recipe Pairing Ideas:
Watch My Video Demo of This Recipe Below!
Why You'll Love This Recipe:
Fruit crumbles are so easy to make! Essentially, you slice your fruit, toss with sugar and flour, place the crumble on top, and bake! It's really that simple!
You can also assemble it in advance and refrigerate it. Then all you have to do is pop it in the oven to bake when you sit down to dinner
Crumbles also make for great potluck desserts since they are so easy to transport and can be re-heated or baked at your host's home. Just don't forget to bring the ice cream!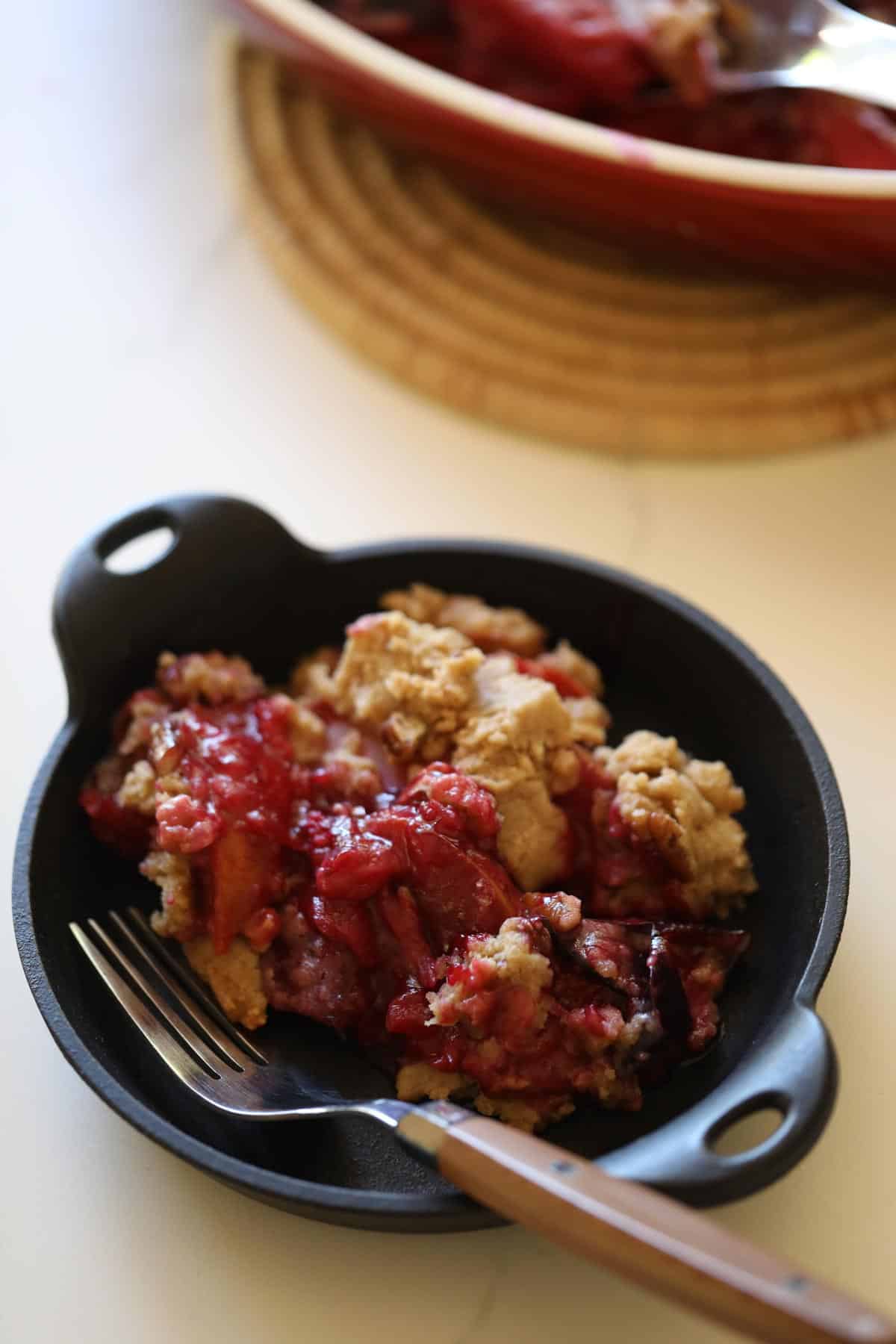 Step#1: Slice the Plums
Pit and slice the plums into quarters and place them in a large bowl.
I leave the skin on because it's the part of the plum that adds the tartness.
It's the combination between the sweet flesh and the tart skin is really wonderful once baked!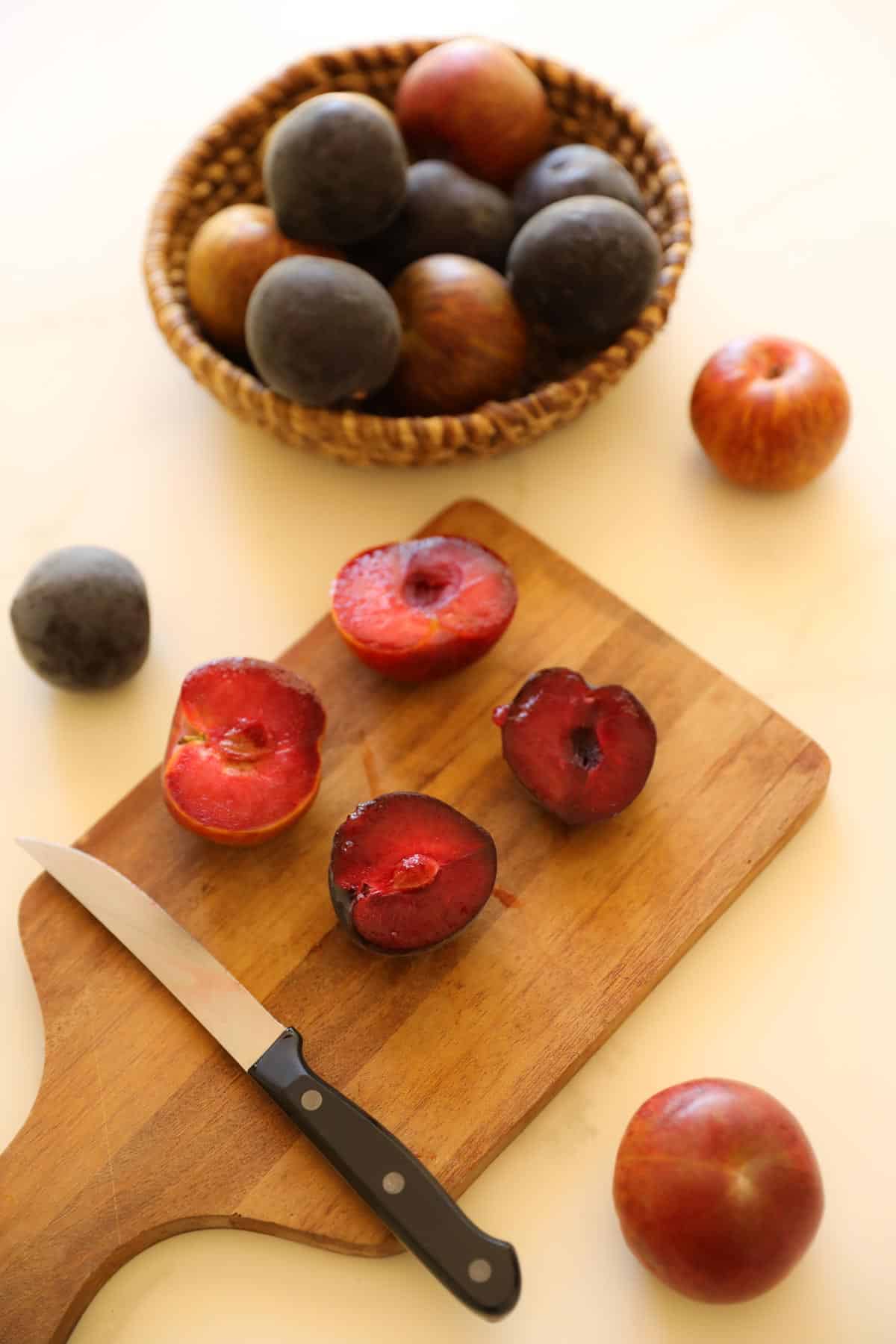 Which Plums are Best for Crumbles?
You can use regular Black Friar Plums which have yellow flesh inside or red plums.
I love the deep red color of the Santa Rosa Plums, Satsuma Plums, Simcas or Dinosaur Plums. But I'll often do a mix of both, that way you get two different flavors and colors.
The bright red color the red-fleshed plums bring such a fantastic summery color to this crumble!
In my garden, I grow Santa Rosa plums which have a deep amber flesh, and once I get enough of them, I throw in few Santa Rosas in too!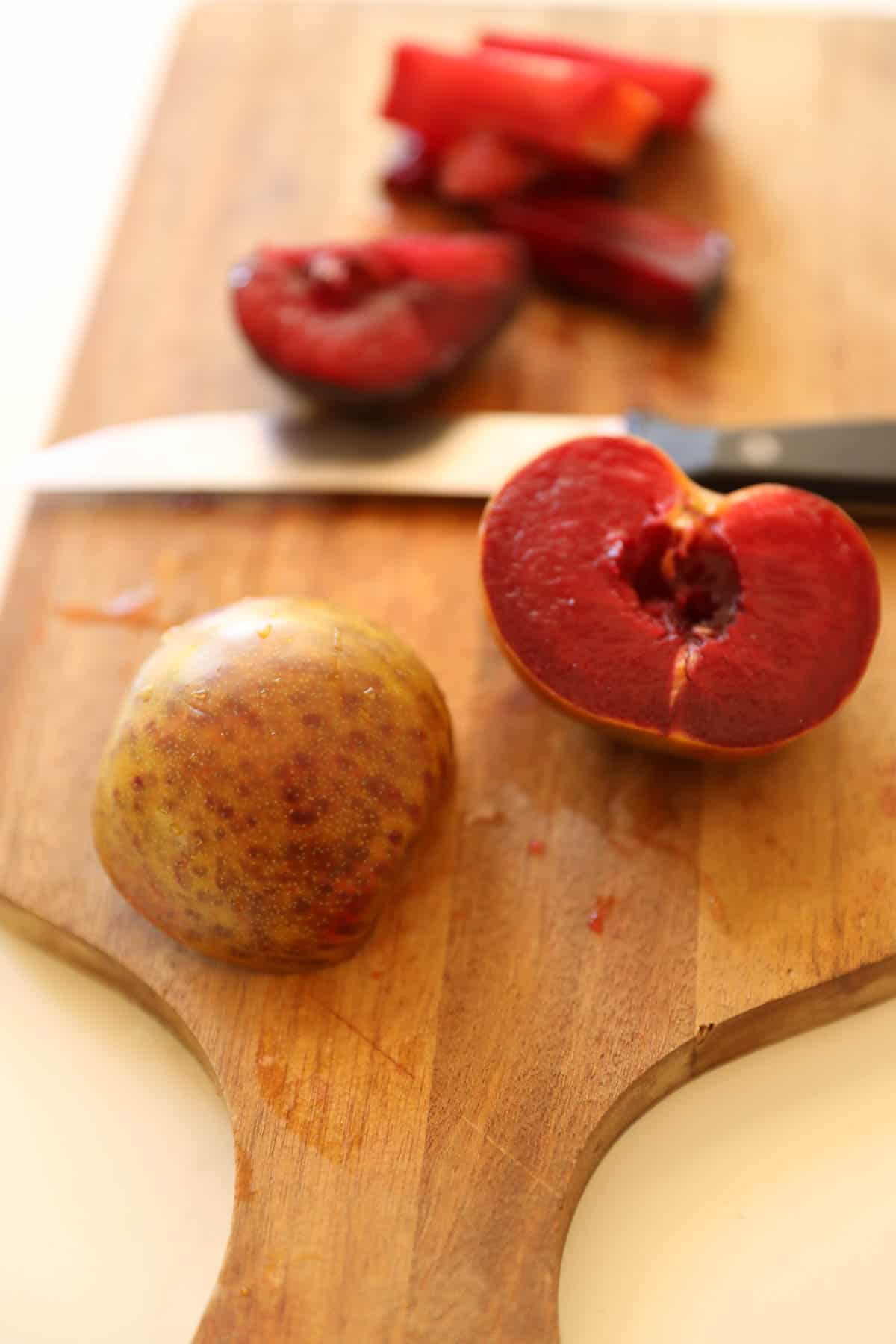 How To Know You Are Buying the Correct Plums?
If the plums aren't labeled properly at the market it can be hard to know what you are buying until you cut into them.
So if you really want the red ones, ask the produce department to verify they are in fact the variety you think they are, typically they'll even slice one open and allow you to taste it too!
Step#2: Toss the Plums with Sugar and Flour
Even if your plums are sweet, it's best to still toss them with sugar. The sugar is what will take the juice of the plums and turn it into a rich syrup.
Without the sugar, your crumble will be too runny.
The flour then helps to thicken the syrup so you have a wonderful sauce to mix with the ice cream once it's baked.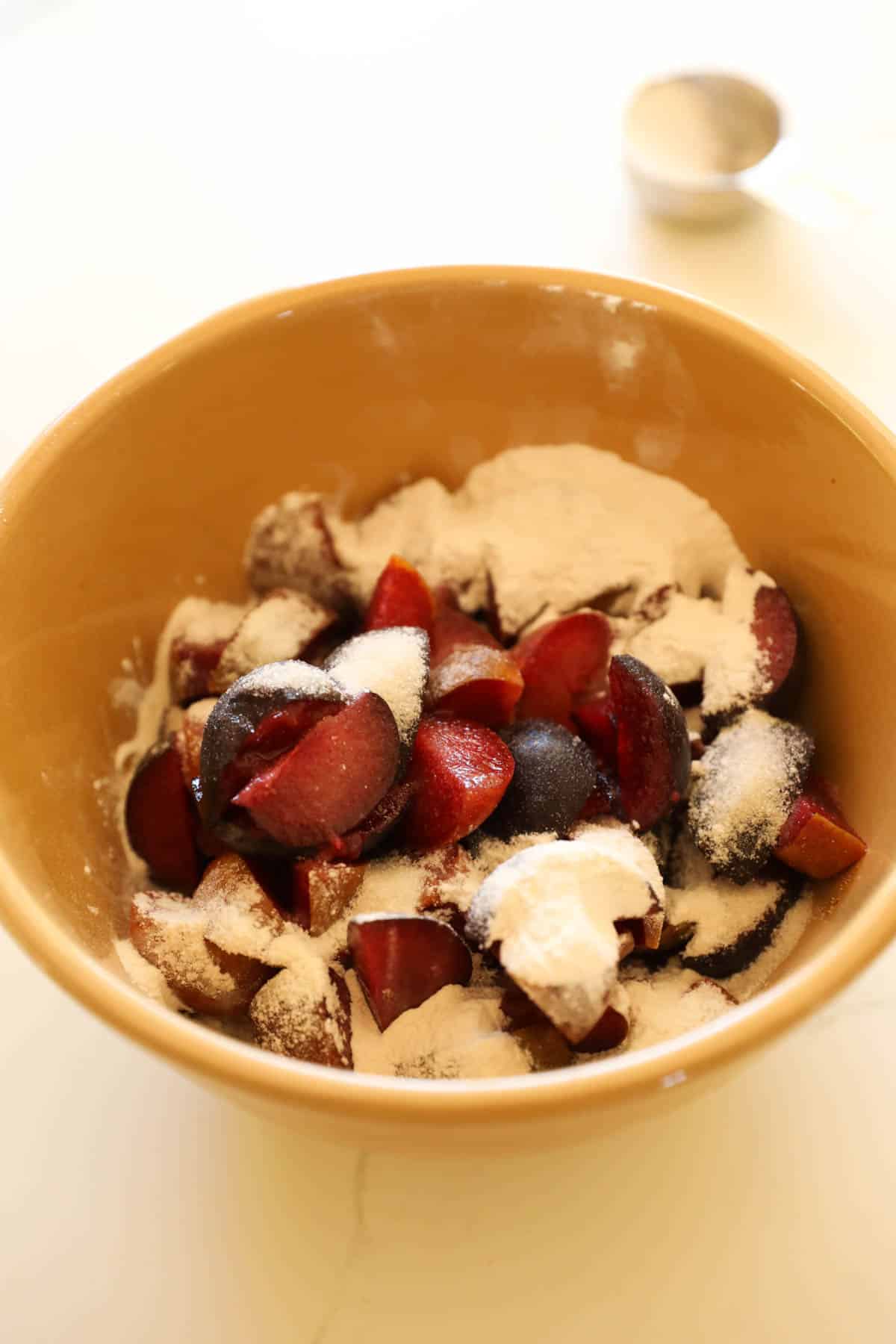 How-To Thicken Fruit Sauce for Crumble
You can either use flour tossed with the fruit, and the juices from the fruit with combine with the flour while baking to thicken the sauce.
Or you can use cornstarch. If using cornstarch add 2 tablespoons of cornstarch to 2 tablespoons of water, and toss with the fruit.
The cornstarch needs a bit more water to activate than the flour.
Step#3: Transfer to a Baking Dish
Place the plums in an oven-to-tale baking dish. It helps to pat the plums down in the dish so that you have a level surface to place the crumble upon. I like to use a shallow baking dish so everyone gets a bite of crumble! The crunchy, chewy texture of the crumble mixed with the flavor of cinnamon is so delicious!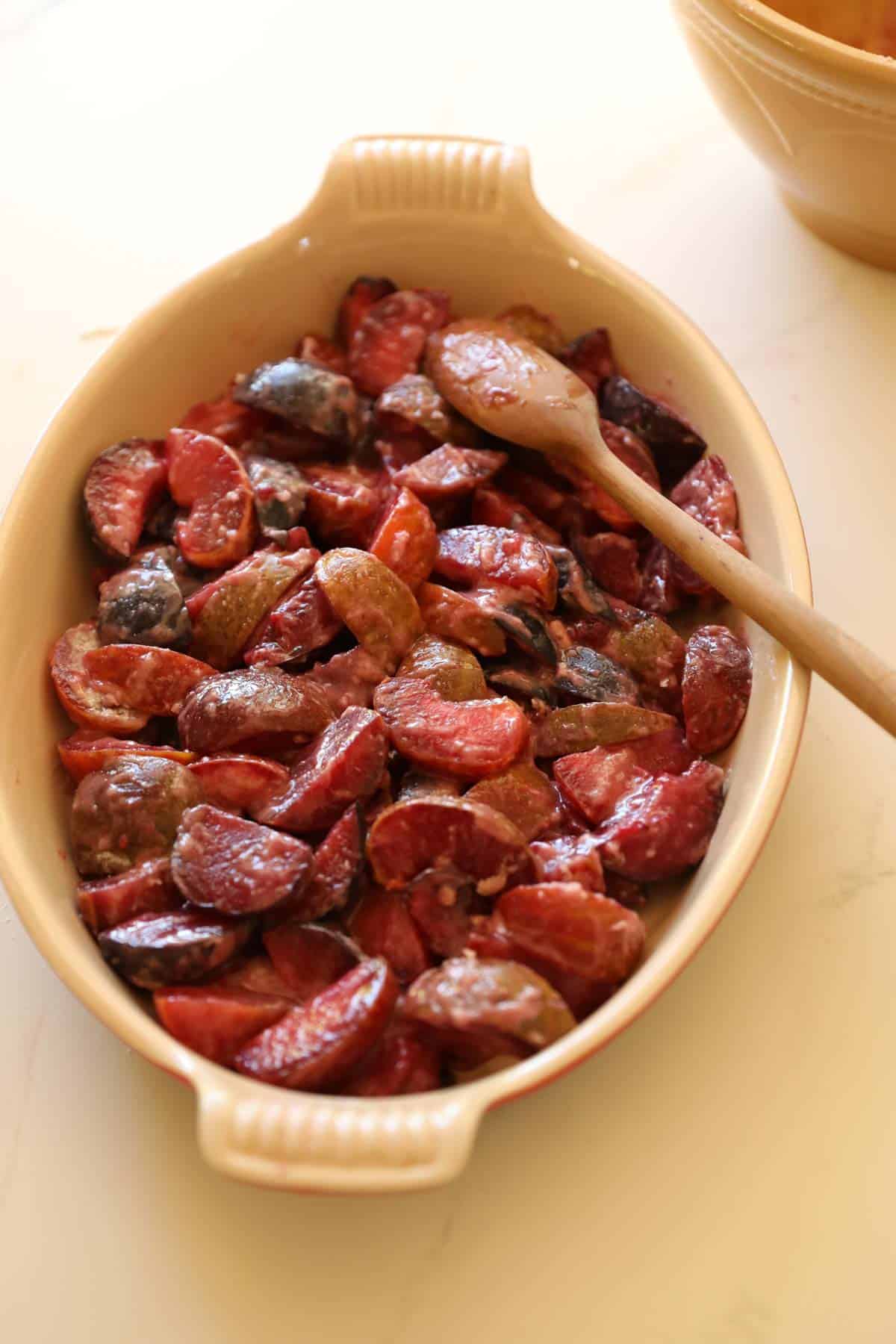 Step#4: Add the Crumble
Be sure to sprinkle the crumble mixture well across the top of the gratin dish, so that each person gets enough crumble in their scoop!
I like to add chopped pecans to my crumble but you also could use almonds or walnuts too!
If you are looking to turn this recipe into a plum cobbler then follow the base for this recipe and top with the cobbler recipe from my Peach Cobbler recipe. That would be great too!
Assuring a Crunchy Crumble
For a crunchy crumble be sure to bake your crumble at 375F the higher heat helps the fruit become syrupy while making the crumble crunchy.
Add melted butter to the crumble. The ratio of butter to flour has to be 2:1. So in this recipe it's 1 cup of flour to ½ cup of melted butter. It makes the crumble crunchier.
I also add baking powder to puff of the crumble to give it air, making it crunchier too. And brown sugar for a nice amount of chewiness too.
Don't mix up the crumble in a food processor, it's better mixed with a fork, to keep it's fluffy texture. Then stir in the pecans.
And don't forget the nuts! Adding any kind of nut to your crumble will also make it crunchier too.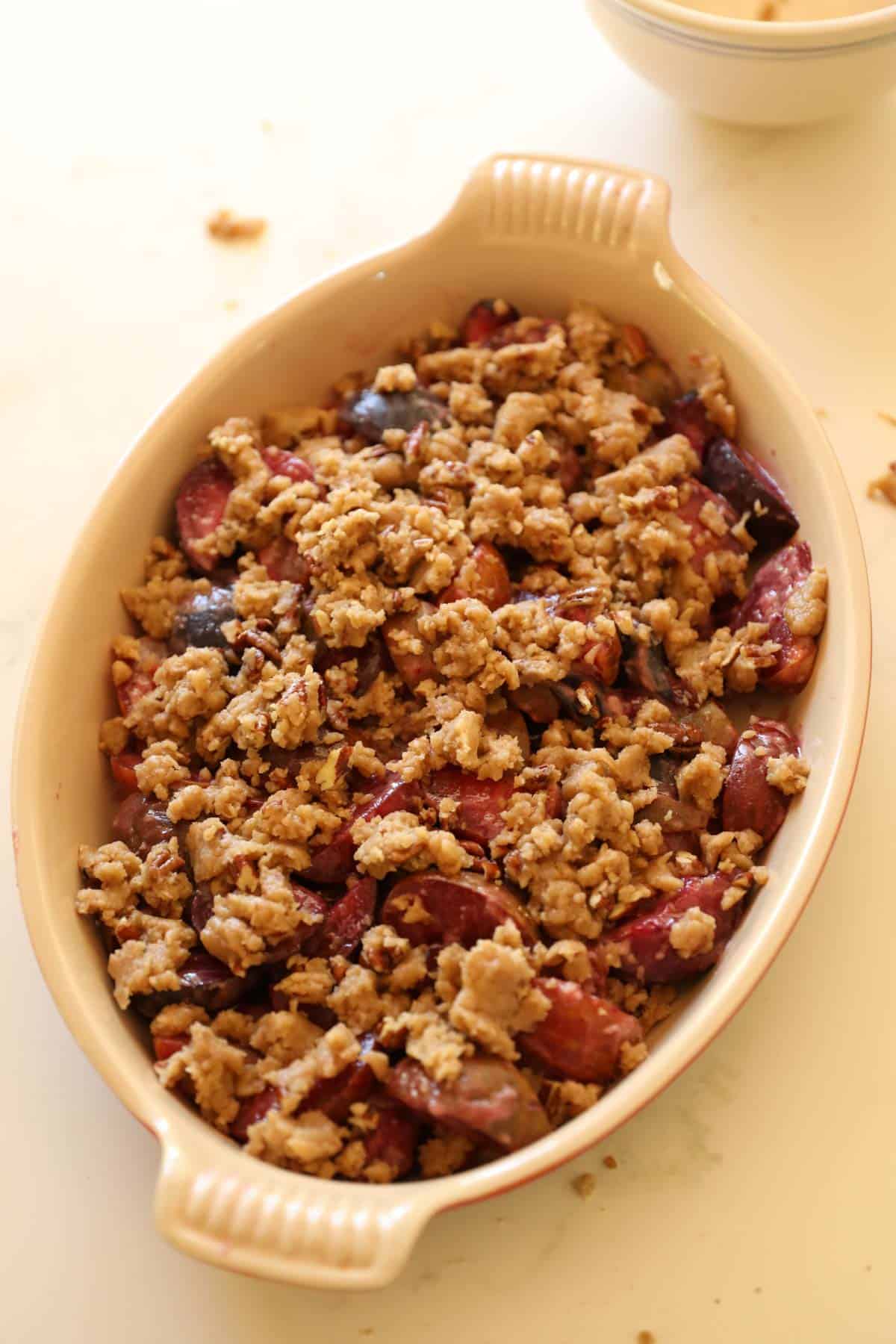 Can you make this ahead of time?
Yes! The best part about a crumble is the fact that you can assemble the whole thing ahead of time and just pop it in your fridge.
Then when you sit down to dinner, pop it in the oven and bake.
That way once dinner is over you'll have a hot bubbling crumble ready to serve to your guests.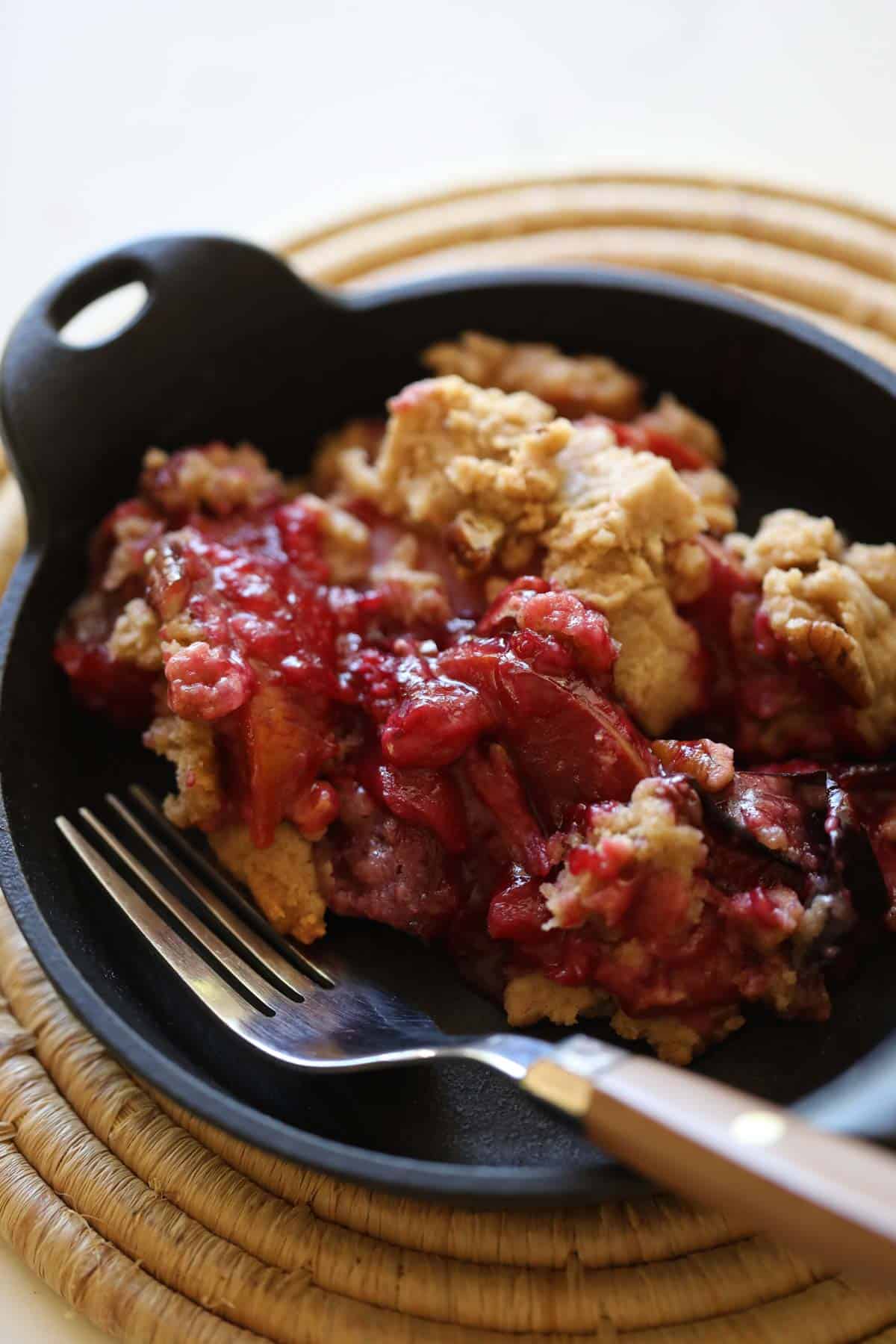 Serving Tips:
This pairs really well with some high-quality vanilla ice cream and yes, this would be the time to spring for the Haagen-Dazs!
Or you could also serve it with some freshly whipped, homemade whip cream.
The combination of warm, syrupy fruit with crunchy crumble and ice cream makes for a fantastic summer dessert idea and way easier than pie!
More Delicious Fruit Desserts!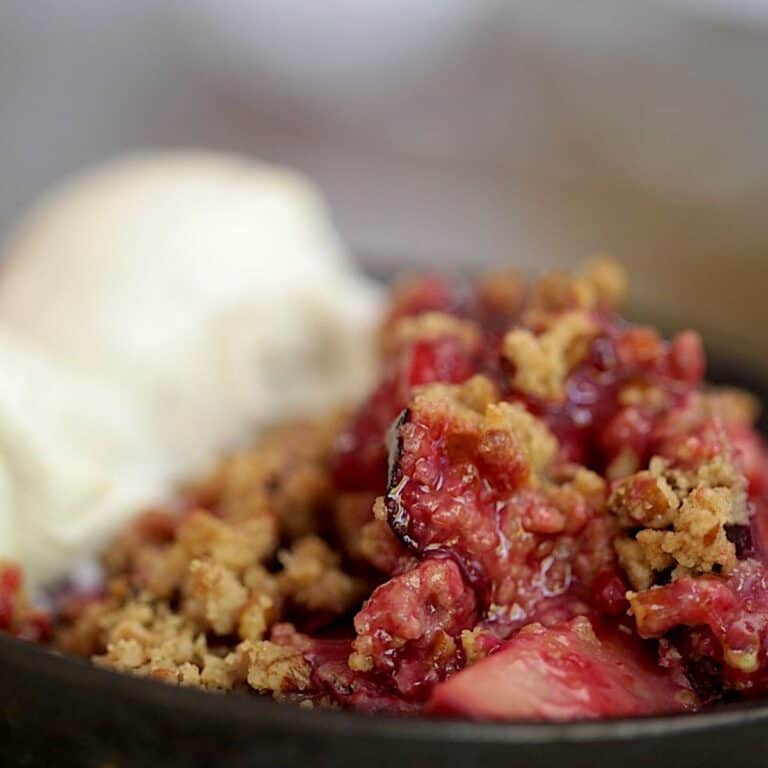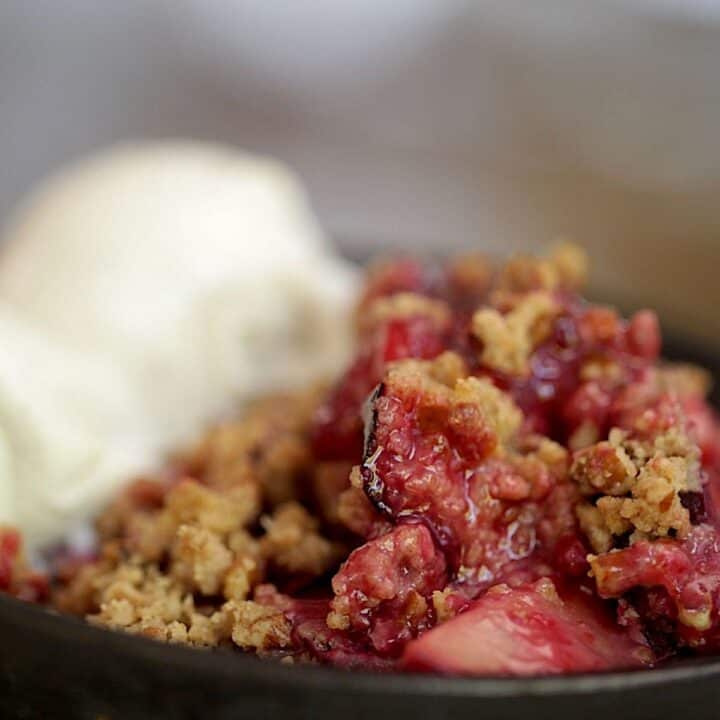 Easy Plum Crumble Recipe
Plums are at their best right now and if you are looking for a dessert to bring to a summer BBQ, this is the ticket! I love this easy plum crumble recipe because it's so delicious and a bit unexpected. You'll also love how portable it is too!
Ingredients
5 lbs (2,250 g) firm, red plums, pitted and quartered
½ cup (100g) of sugar
⅓ cup (40g) flour
Crumb Topping
1 cup (120 g) of flour
4 tablespoon (58g) brown sugar
1 teaspoon (5 ml) baking powder
¾ teaspoon (3.5 ml) cinnamon
½ (2.5 ml) teaspoon salt
½ cup (120g) of melted butter
2 tablespoon (30 ml) heavy cream
1 teaspoon (5 ml) vanilla extract
1 cup (150g) of chopped pecans
Instructions
Preheat oven to 375F (190C)
Toss plums with sugar and flour and set aside.
For crumble, mix all dry ingredients together with a fork until combined.
Then add the butter, cream and vanilla extract. Whisk together with a fork until a wet crumb forms.
Then add the pecans and mix to combine.
Pour plum mixture into a 14 x 9 greased oven-safe casserole dish.
Sprinkle the crumble evenly on top.
Bake for 25-30 mins until top is golden brown and juices begin to bubble.
Serve warm with a big scoop of vanilla ice cream.
Notes
Once the crumble is added to the top of the plum mixture, you could cover and refrigerate until ready to bake. Then when you sit down to dinner, place it in the oven to bake. Serve warm with the ice cream.
Nutrition Information:
Yield:

8
Serving Size:

1
Amount Per Serving:
Calories:

211
Total Fat:

13g
Saturated Fat:

3g
Trans Fat:

0g
Unsaturated Fat:

10g
Cholesterol:

10mg
Sodium:

153mg
Carbohydrates:

21g
Fiber:

2g
Sugar:

7g
Protein:

3g