Learn how to make a classic French appetizer known as a Tarte Au Soleil. A great appetizer idea for holiday entertaining made with store-bought puff pastry.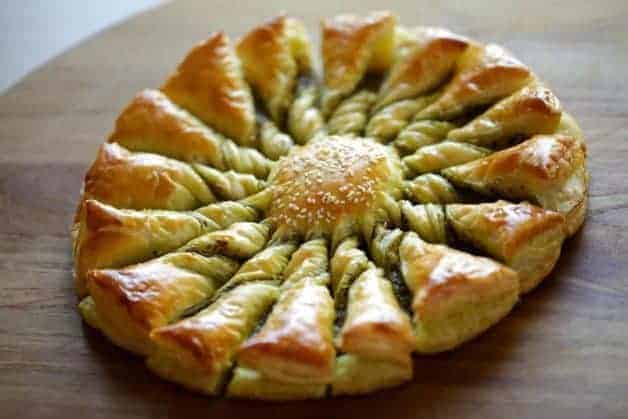 The French have a way with puff pastry! They can turn even the simplest recipe into the most artistic creations and the Tarte Au Soleil is a stunning example of this. It's served as a savory nibble during the French cocktail hour, or Apero, as it's affectionately called, which can go on for several hours! So having something filling to nibble on, to brace yourself, is always a great idea!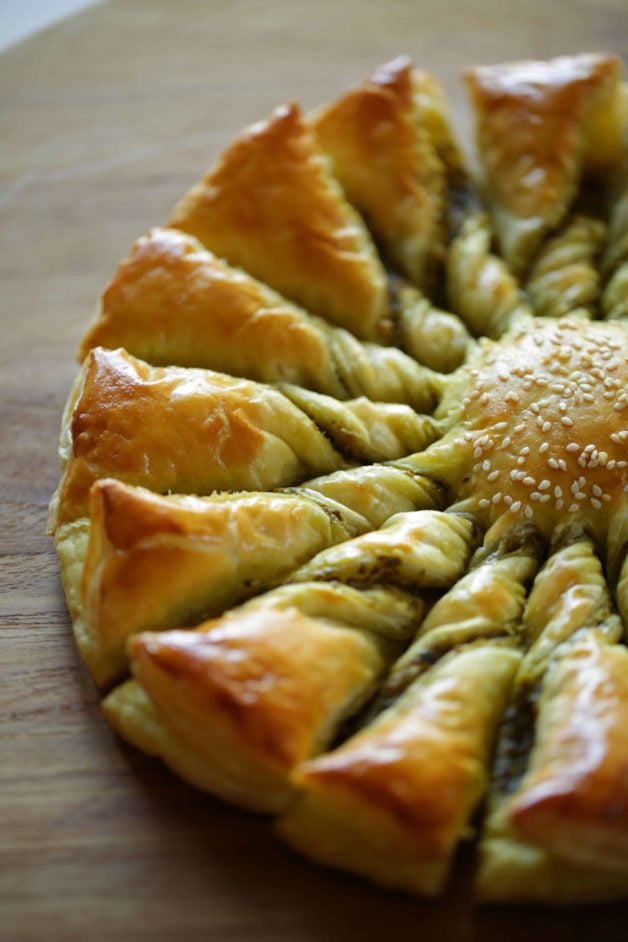 Despite its impressive design, it's actually quite easy to make with the help of some store-bought puff pastry and jared pesto sauce. Seriously that's all there is too it! It comes together in the twisting of the pastry.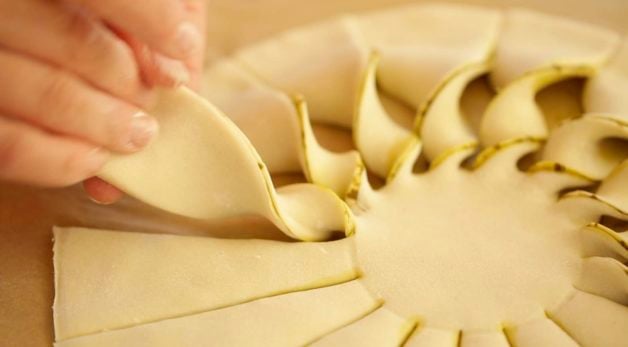 You can watch how to do it and get all my tips in my video demo!

Guests serve themselves by twisting off the rays! These can be a bit messy so I do like to serve this with a linen cocktail napkin. I found a great source for these online. Very affordable and the quality is great! (this link goes to Amazon where I am compensated for products sold at no cost to the consumer)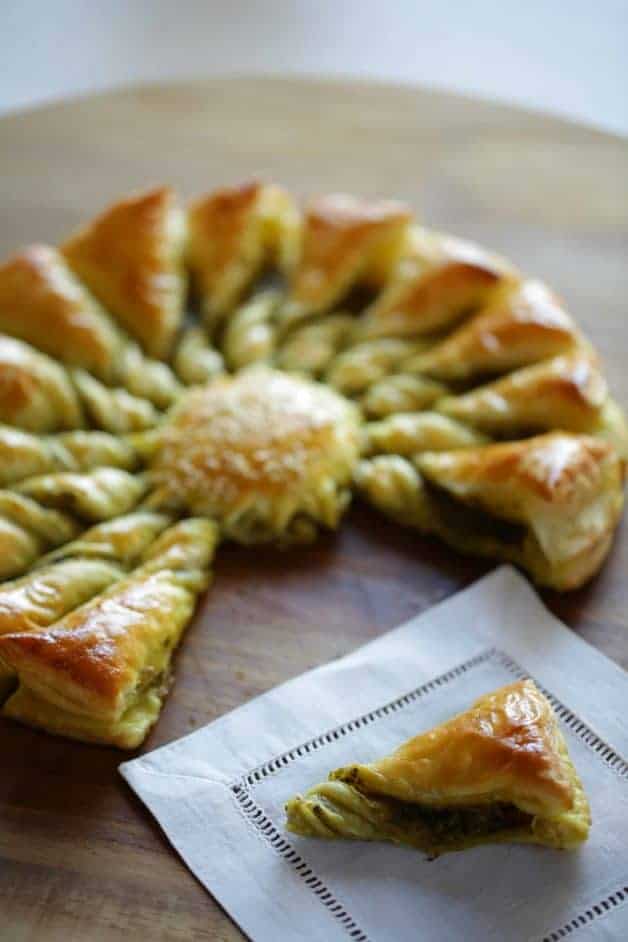 This tart can be filled with so many things! Cream cheese and strawberry jam is another good one! As is some Nutella! It's perfect for a Christmas brunch or dessert buffet.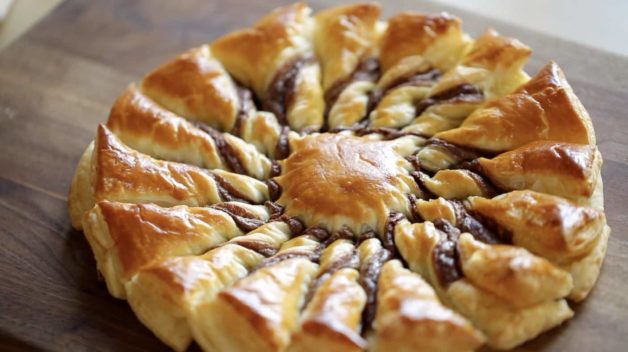 Looking for more appetizer ideas with puff pastry? Here are a few of my favorites! Goat Cheese Tartelettes with Caramelized Onions
and a Trio of Baked Brie. Both easy and delicious!
PLEASE LET ME KNOW IF YOU MAKE THESE TARTE AU SOLEIL RECIPES BY LEAVING A RATING AND REVIEW BELOW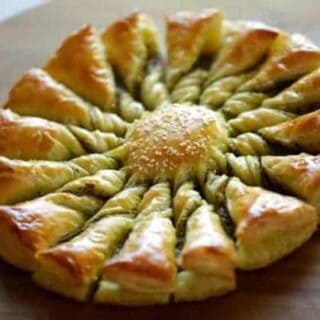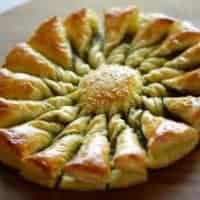 Tarte Au Soleil with Pesto
This beautiful tarte au soleil made with pesto and puff pastry always WOWs a crowd! It's so much easier to make than you may think and the whole thing can also be made ahead of time too!
Ingredients
2 sheets puff pastry, cut into large 10" (25 cm) circles
3 tbsp (45ml) store-bought pesto OR Nutella for a dessert version
1 egg, beaten
sesame seeds if desired
Instructions
Preheat oven to 400F (200C)
Roll out pasty and plate down and cut out circle. Transfer circle to a rimless baking sheet limned with parchment paper.
Place pesto in middle of the circle and spread over pastry leaving a 1 inch (2.5 cm) border, all the way around pastry circle.
Place 2nd circle on top.
Place small juice glass in center of circle to create an indentation. Remove glass.
Cut pastry into four quarters, keep the center intact as a circle.
Then go into each quadrant and cut then in half then quarters this will create 4 slices per quadrant and create even "rays" around your tart. Place tray in freezer for 5 mins just to firm up a bit to make it easier to twist the rays.
Then twist each ray with a 2-turn twist, allowing the tail to lay flat. Once all the twists are made pop the tray back in the freezer for 5 mins, this will make it easier to brush the egg wash on.
Brush beaten egg on tart. Sprinkle center of the tart with sesame seeds. Place in freezer for 5 mins to firm up. This will help the sun keep its shape as it hits the hot oven
Bake tart for 20-25 mins until golden brown and puffed up. Serve on cutting board and invite guests to twist off the rays!
Notes
This whole thing can be done the day before, cover lightly with parchment paper and leave in freezer or fridge and when it comes time to serve, bake immediately no need to thaw first.
For other variations try:
goat cheese and tapenade
Nutella
Cream cheese and jam
Nutrition Information:
Yield:

8
Serving Size:

1
Amount Per Serving:
Calories:

215
Total Fat:

18g
Saturated Fat:

4g
Trans Fat:

0g
Unsaturated Fat:

13g
Cholesterol:

29mg
Sodium:

148mg
Carbohydrates:

9g
Net Carbohydrates:

0g
Fiber:

1g
Sugar:

3g
Sugar Alcohols:

0g
Protein:

5g