This easy hummus recipe is a fantastic, appetizer recipe for Game Day! It comes together in minutes and once you try homemade hummus, you will never buy store-bought again! It's that good!
The texture is creamier, the flavor is so much better, and when paired with some warm, freshly grilled pita bread, it will disappear in minutes!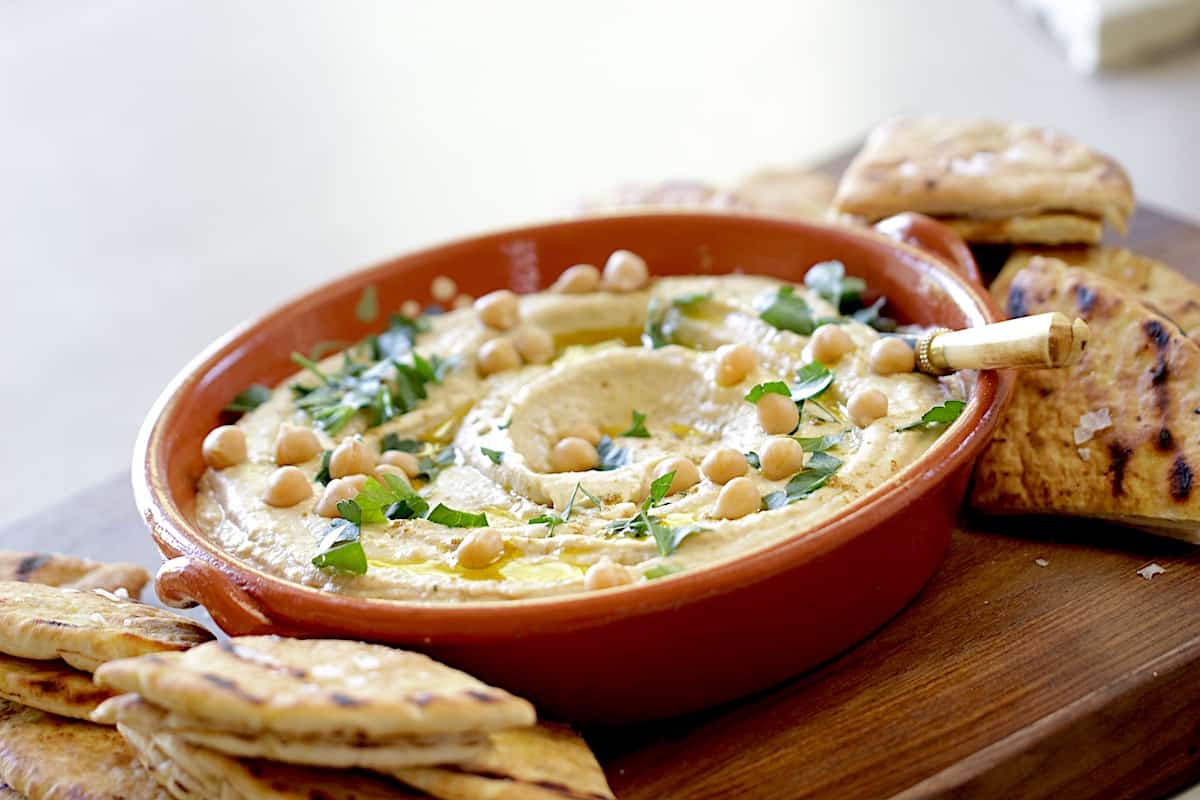 Recipe Pairing Ideas:
Watch my Video Demo on This Recipe Below!
Why You Will Love This?
Homemade hummus takes just a few ingredients and a food processor to get restaurant-quality results!
It's so much better than store-bought in every way! The texture, the creaminess, the silky, smooth consistency.
The flavor is more pronounced too! Garlicky, lemony with the smokiness of cumin.
Oh, and it's just SO easy too!
Step#1: Rinse the Garbanzo Beans
Be sure to rinse the garbanzo beans before using them! I cannot stress this enough. They have been sitting in water and sometimes have a weird sliminess to them. So it's always best to give them a good rinse!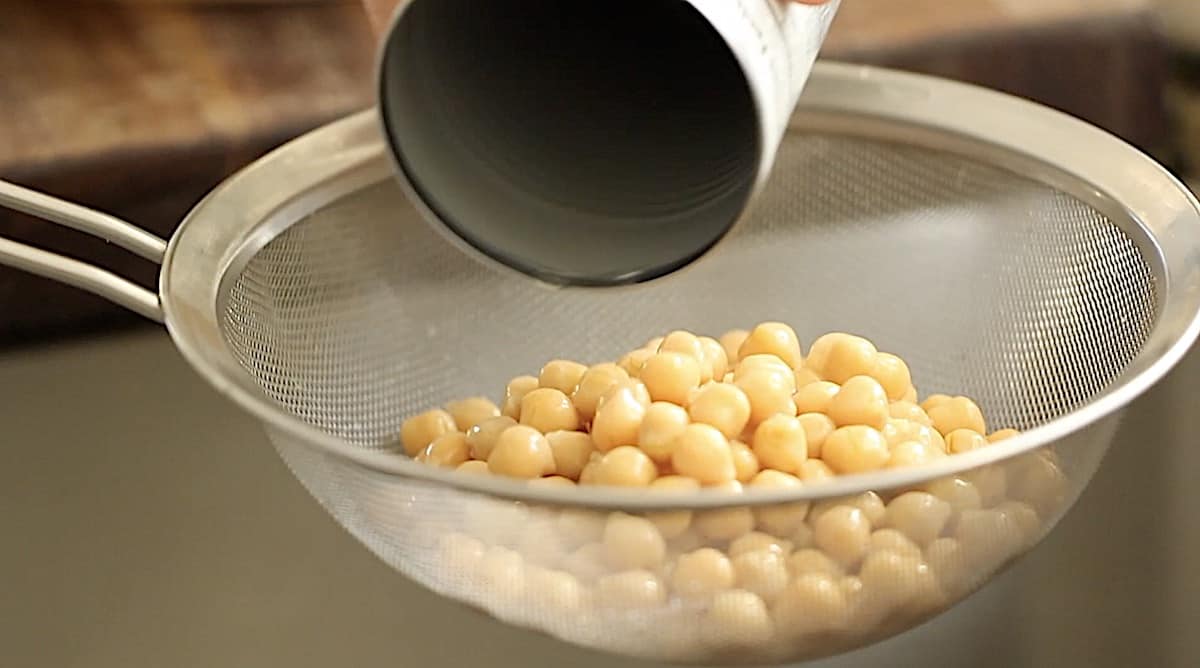 Save a Few Beans for the Garnish
The hummus always looks pretty when garnished with fresh parsley, olive oil, and a few stray beans on top.
Remember to reserve about 1 tablespoon for this purpose before blending them up in the food processor because, after that, there's no turning back!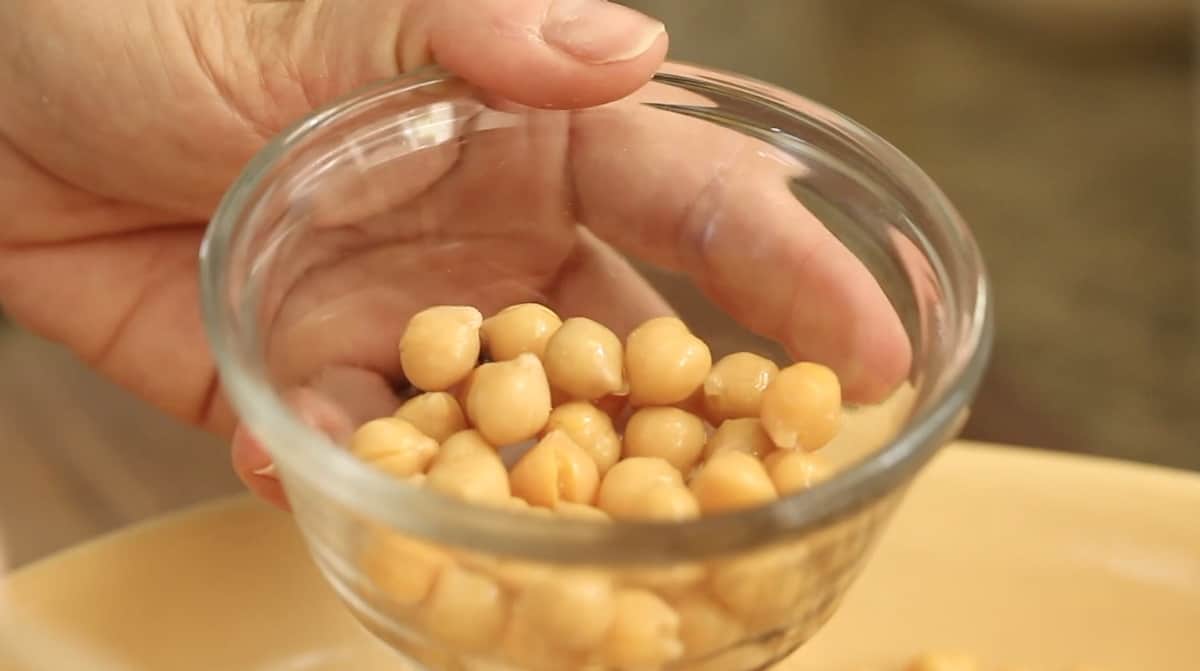 Step#2: Process the Beans
The easy thing about making homemade hummus is the fact that it can all be mixed up in the food processor.
But it's best to do it in stages. The first stage involves processing the beans with the water first until you get a smooth paste.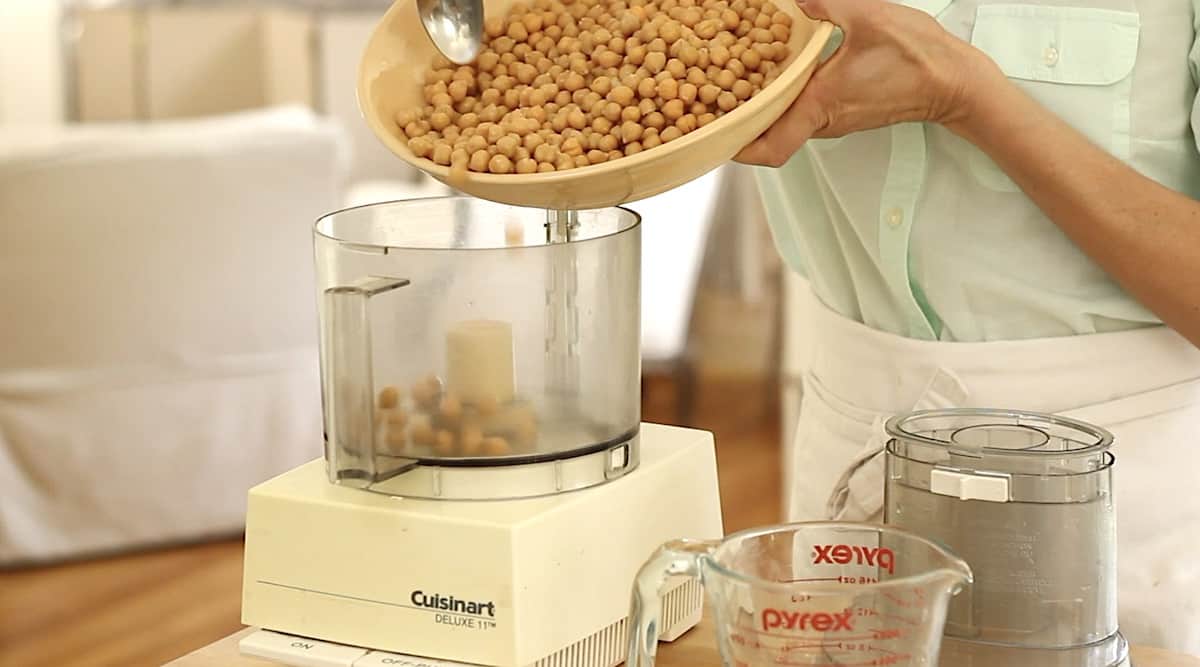 Step#3: Add the Flavor
Then you'll add the tahini, lemon, garlic, and cumin. Don't skip the tahini!
It's worth seeking out for the smoothness it provides. And nowadays Tahini is so widely available.
They even sell it at Trader Joe's. At most major supermarkets they sell it next to the nut butters.
Step#4: Slowly Add the Olive Oil
The final step is to add the olive oil, slowly, like salad dressing. It's essentially the same concept of making an "emulsion" that incorporates the oil slowly to assure it not only combines but also creates a slight volume to the mixture.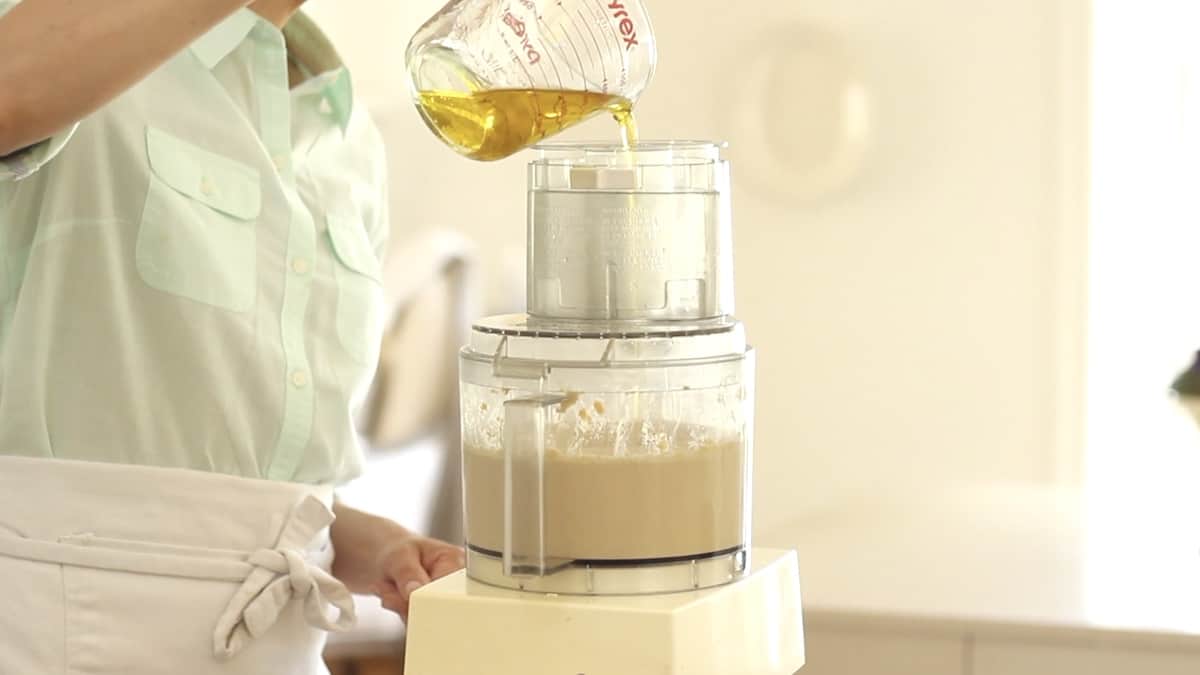 Step#5: The Garnish
Once your hummus is smooth and creamy, transfer it to a shallow bowl, and add a drizzle of olive oil. This will create pools for your other garnishes to rest upon. And it tastes great too!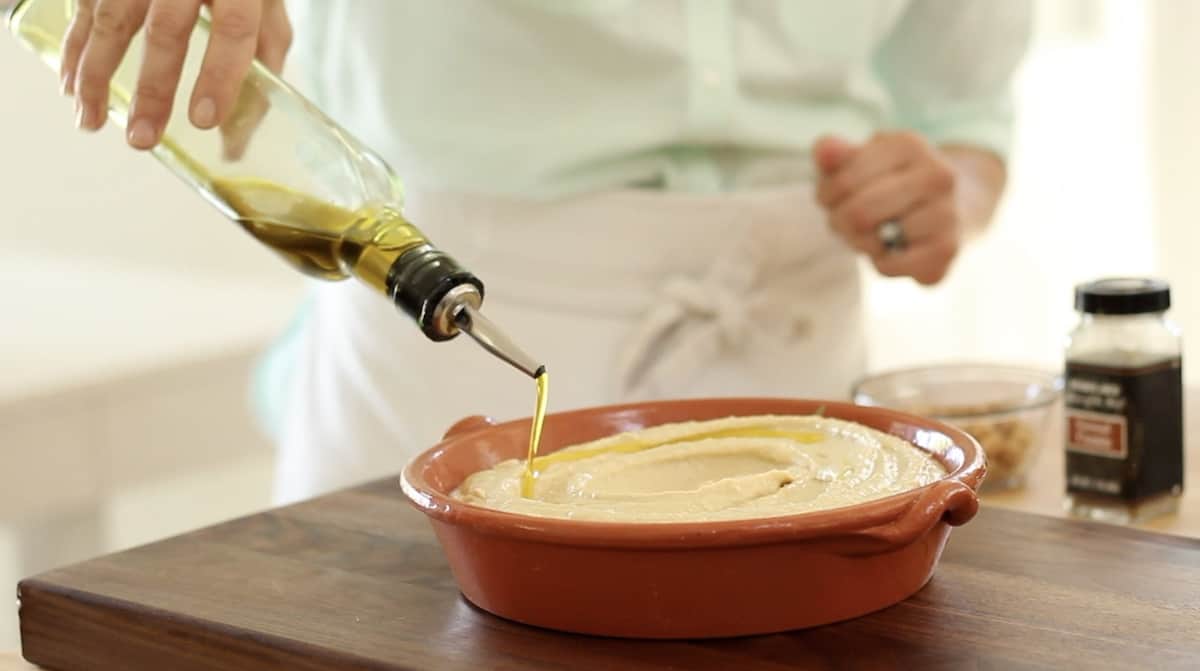 Serving Tips:
You can serve some grilled flatbreads with your hummus, brushed with olive oil, and sprinkled with sea salt, which is my favorite way to enjoy this recipe!
It's completely worth the extra effort to grill the pita first.
The pita ends up warm and chewy, with crispy edges and the extra kick of the sea salt is so good!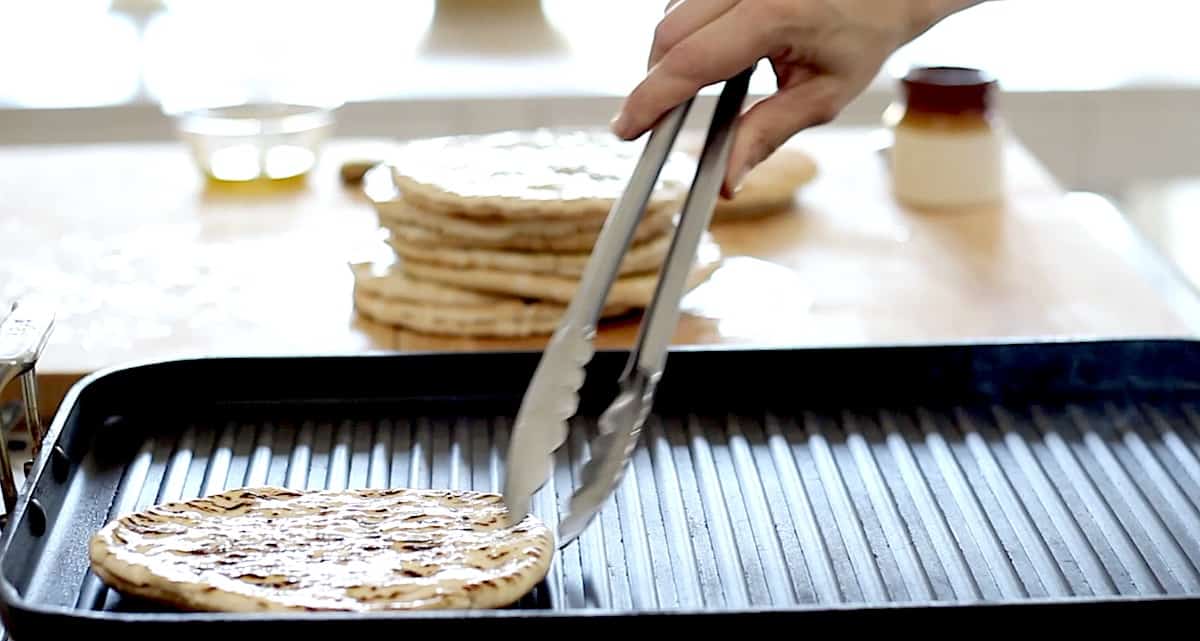 What Type of Pita Works Best?
Buy the more "artisan" pita typically sold in the store's bakery section (as opposed to the bread aisle) it's softer and a bit puffier.
It grills up so well! Then slice it into quarters and sprinkle it with sea salt. Or you could also serve it with some raw vegetables as well.
It also can be made hours ahead of time, making it ideal for entertaining. Enjoy!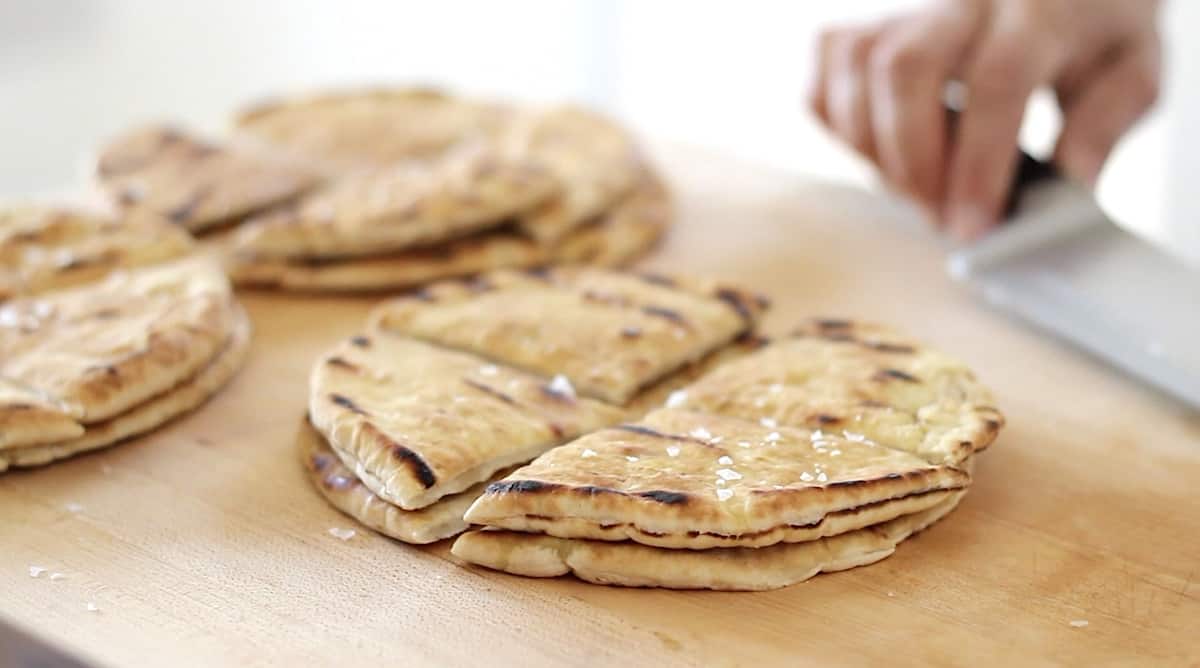 More Great Appetizer Recipes!
Please let me know if you make this recipe
by leaving a rating and review below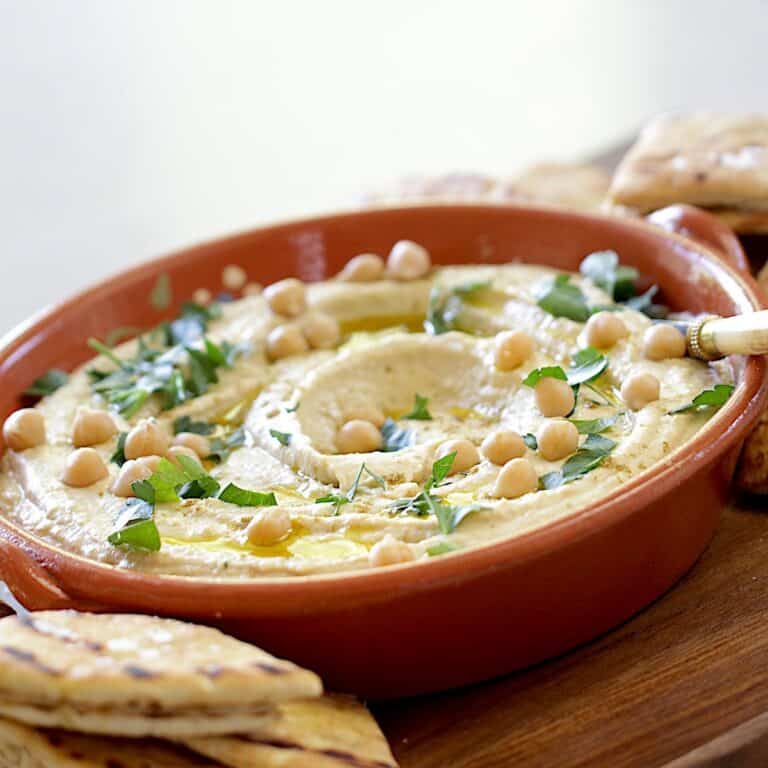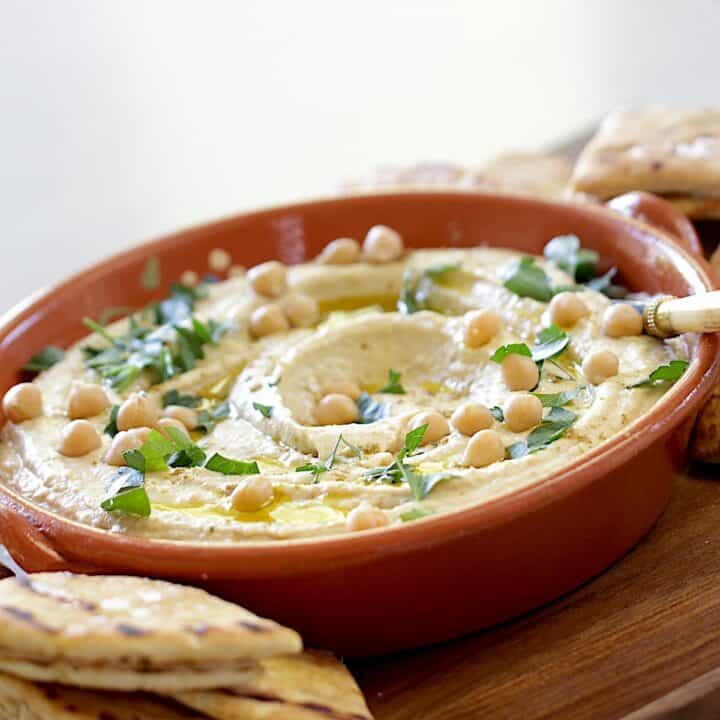 Easy Hummus Recipe
This Easy Hummus Recipe comes together in minutes.  Once you try homemade hummus, you will never buy store-bought hummus again!
Ingredients
30 ounces (844 g) of canned chickpeas, drained
½ cup (120 ml) water
⅔ cup (160 ml) of tahini
½ cup (120 ml) freshly squeezed lemon juice
2 garlic cloves
1 (5 ml) teaspoon salt
2 teaspoon (10 ml) cumin
½ cup (120 ml) of olive oil + 1 tablespoon (15 ml) for pita bread
2 tablespoon (30 ml) of liquid for thinning (lemon juice, water or more olive oil)
1 tablespoon (15 ml) of Italian Flat Leaf Parsley, roughly chopped
1 package of your favorite pita bread
Sprinkling of fleur de sel sea salt
Instructions
Drain and rinse chickpeas. Set aside 1 tablespoon (15 ml) of chickpeas for garnish.
Whirl remaining chickpeas and water in food processor until smooth.
Add tahini, lemon, garlic, salt and cumin. Pulse until combined and smooth. While the machine is running, slowly add ½ cup (120 ml) of the oil.
Transfer into a serving bowl, drizzle with a little more olive oil, garnish with fresh parsley and sprinkle with cumin.
Brush pita bread with remaining oil and sea salt and grill on both sides.
Serve grilled bread with the hummus.
Notes
Be sure to set aside 5-10 garbanzo beans before you place them in the food processor. These you'll want for the garnish on top
Nutrition Information:
Yield:

10
Serving Size:

1
Amount Per Serving:
Calories:

1101
Total Fat:

22g
Saturated Fat:

2g
Trans Fat:

0g
Unsaturated Fat:

12g
Cholesterol:

0mg
Sodium:

2107mg
Carbohydrates:

178g
Fiber:

49g
Sugar:

31g
Protein:

55g