Grilled Chicken Recipe with Toppings
This easy Grilled Chicken Recipe is so tender and juicy thanks to my simple grilled chicken marinade! It uses simple ingredients, you probably already have on hand, and the chicken can marinade during the day. Then all you have to do is grill the chicken and make the simple toppings!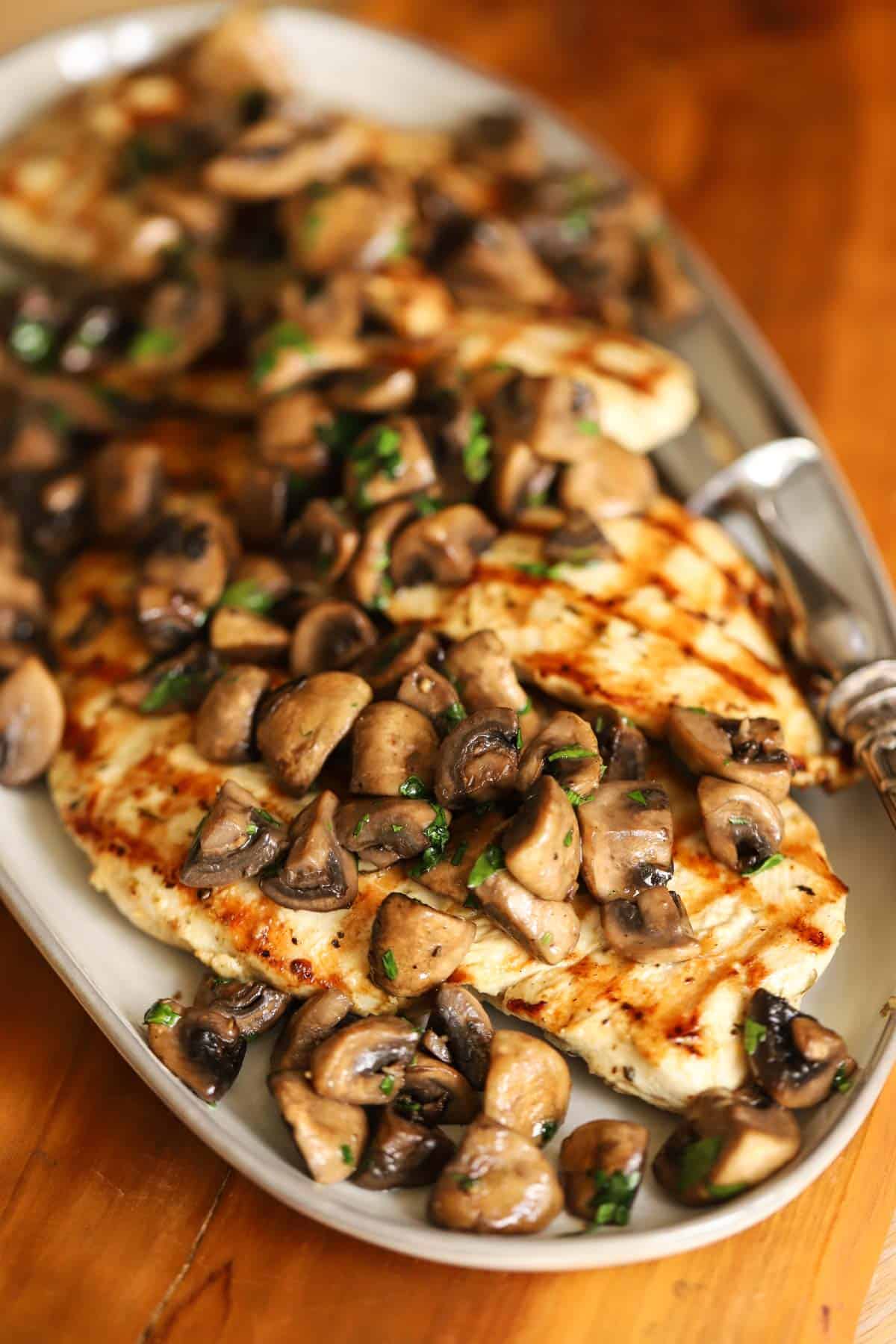 Make It A Meal
This grilled chicken dinner pairs beautifully with roasted potatoes and asparagus.
I love to make the potatoes in my Air Fryer because it's easy and they come out so nice and crispy!
But if you don't have an air fryer, you can make my Foolproof Roasted Potatoes recipe, and in the recipe card are instructions for how to make them along with the asparagus so that everything is done at the same time.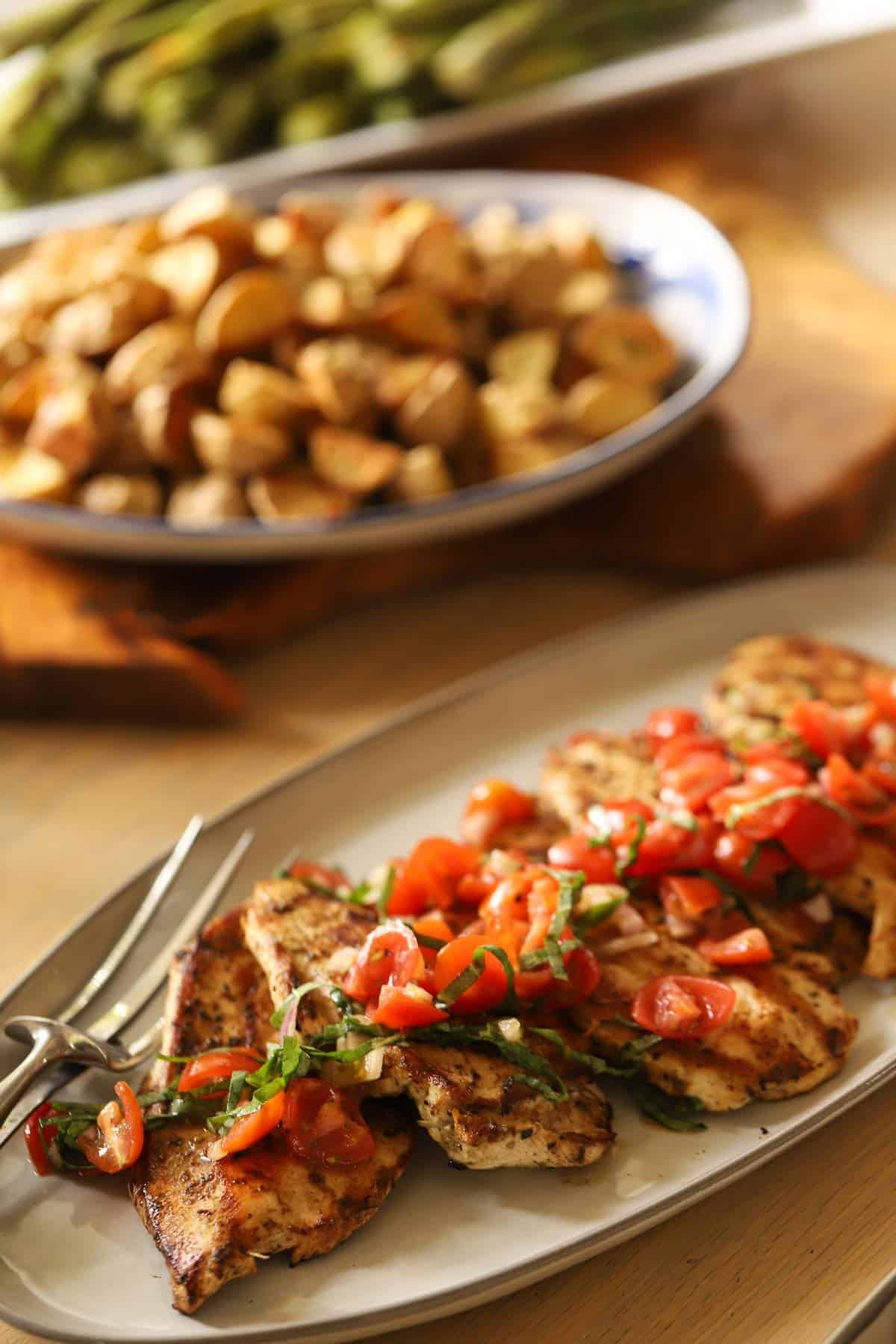 My Easy Grilled Chicken Marinade
The Dijon mustard and Herbs de Provence give the chicken wonderful flavor without being too overpowering.
I also really love using white wine in chicken marinades because the wine tenderizes the chicken in such a lovely way!
I like to use chicken cutlets, pounded thinly, because they cook quicker on a grill pan and don't dry out as easily as the full breasts do. Since it takes more time for them to cook inside which can dry out the exterior.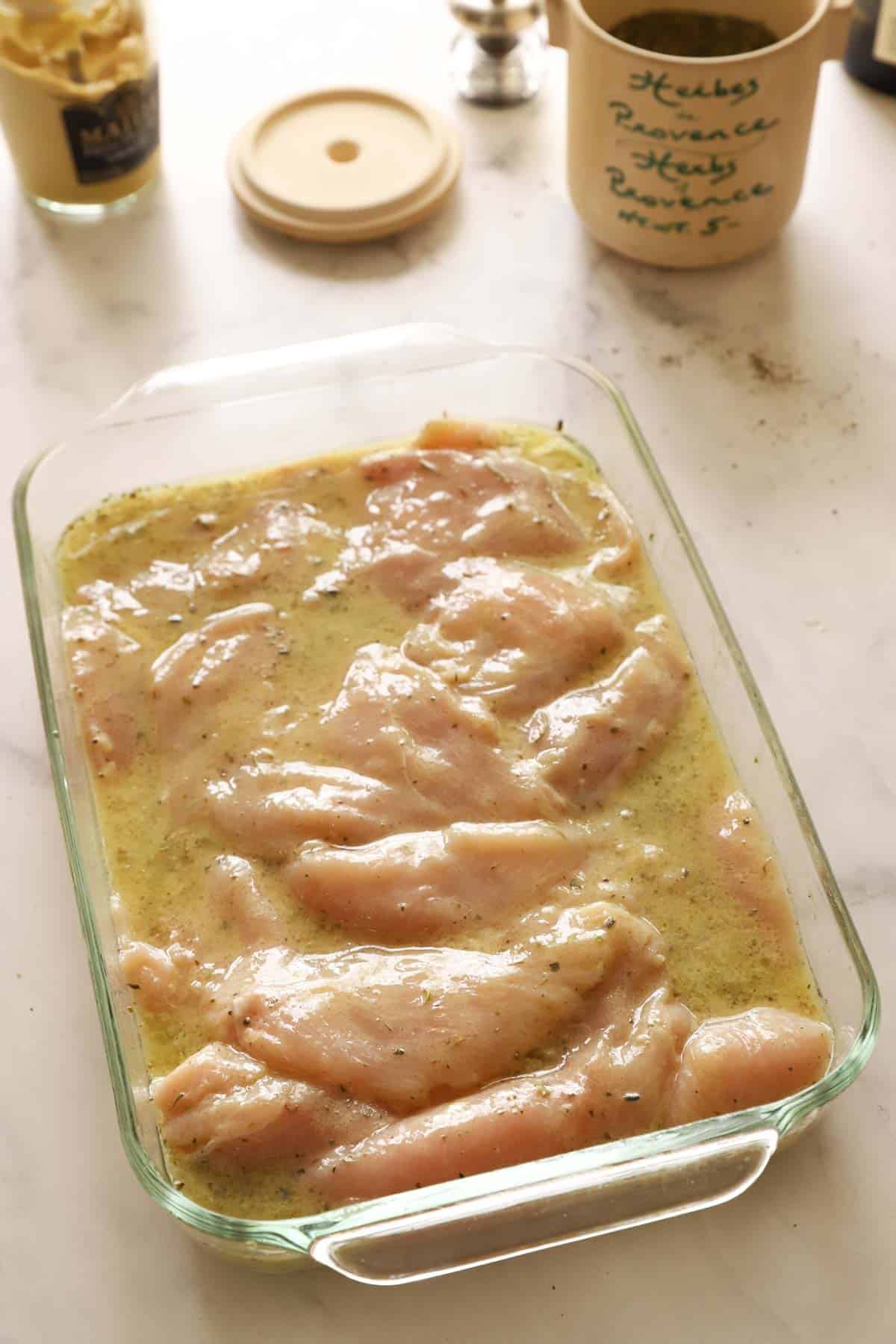 Topping#1: The Sautéed Mushrooms
The sautéed mushrooms are a delicious, hearty topping with the grilled chicken. Flavored with garlic, Worcestershire sauce, butter and parsley, they are the perfect complement to the chicken.
The best way to clean the mushrooms is with a dry paper towel. Not by rinsing them.
Mushrooms are like little sponges and if you rinse them, they will absorb that water and become mushy. The water also prevents them from getting nicely browned too.
These mushrooms are also great on top of grilled steak or as a complement to my Roasted Rosemary Beef Tenderloin recipe.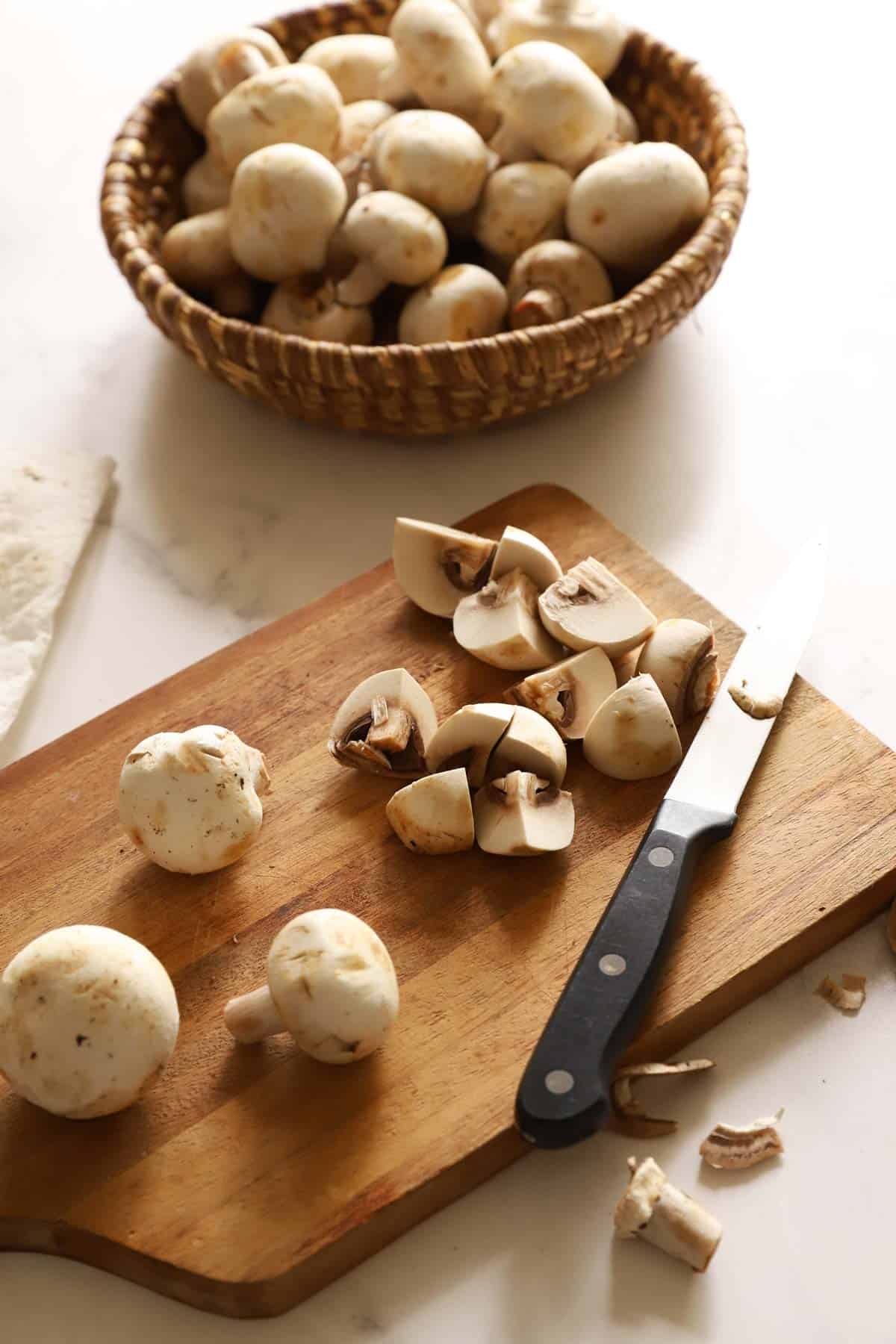 Organizational Tip:
It's best to saute the mushrooms ahead of time and let them rest in the pan on your cooktop with the flame off.
As soon as the chicken is almost done, reheat them to warm through, and then add the parsley.
That way, the parsley will have the best flavor and your chicken won't dry out or cool as you wait for the mushrooms to be done.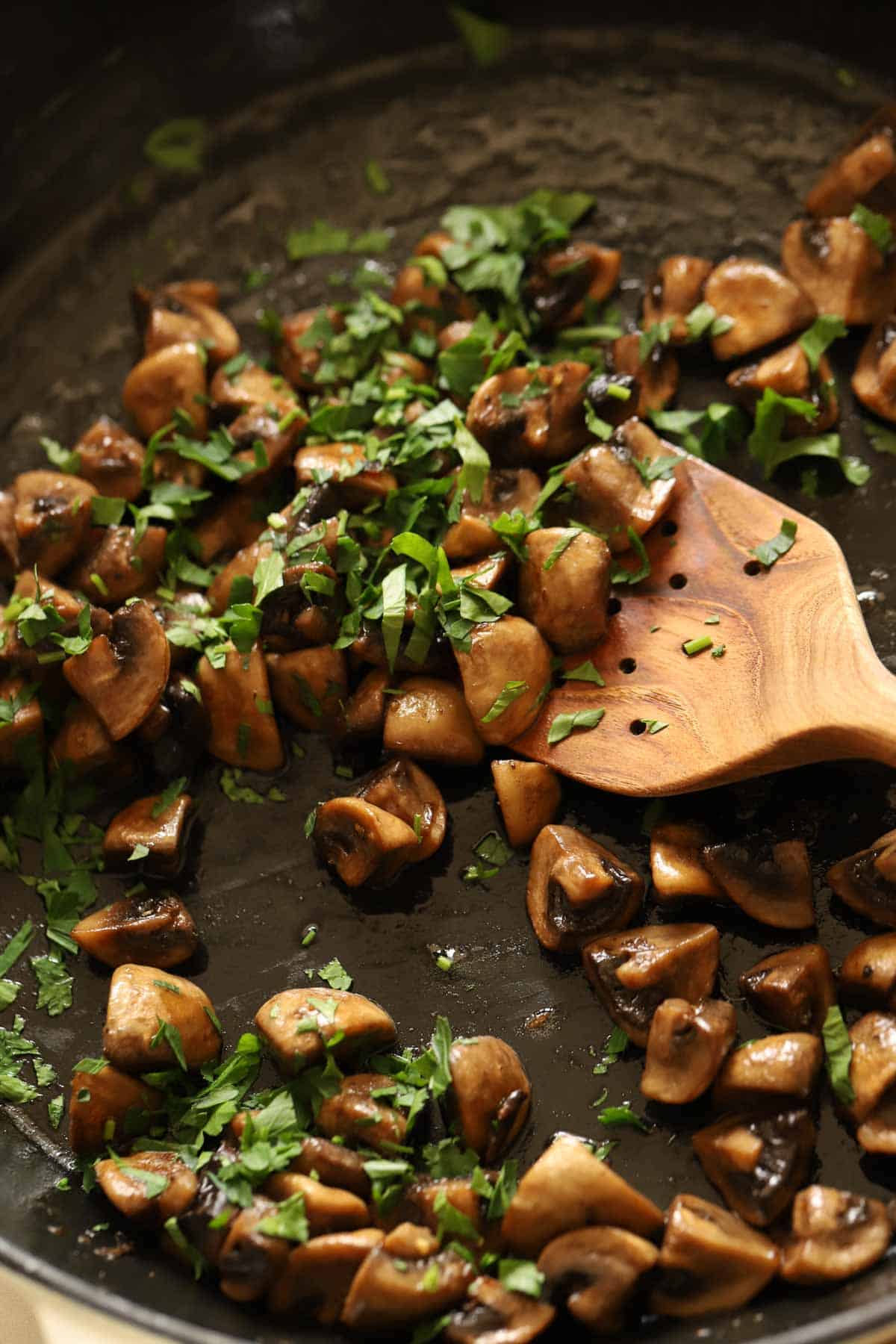 Topping#2: Cherry Tomato Option
The cherry tomato topping is made with ripened tomatoes, shallots or garlic, fresh basil, olive oil and a splash or two of balsamic vinegar.
This is a great topping to make in the summer time, because the tomatoes are so refreshing (and at their peak!) and it's especially easy if you are grilling outdoors.
You can make the topping ahead of time just before grilling the chicken, take them out to the grill, and then spoon them on top of the warm chicken.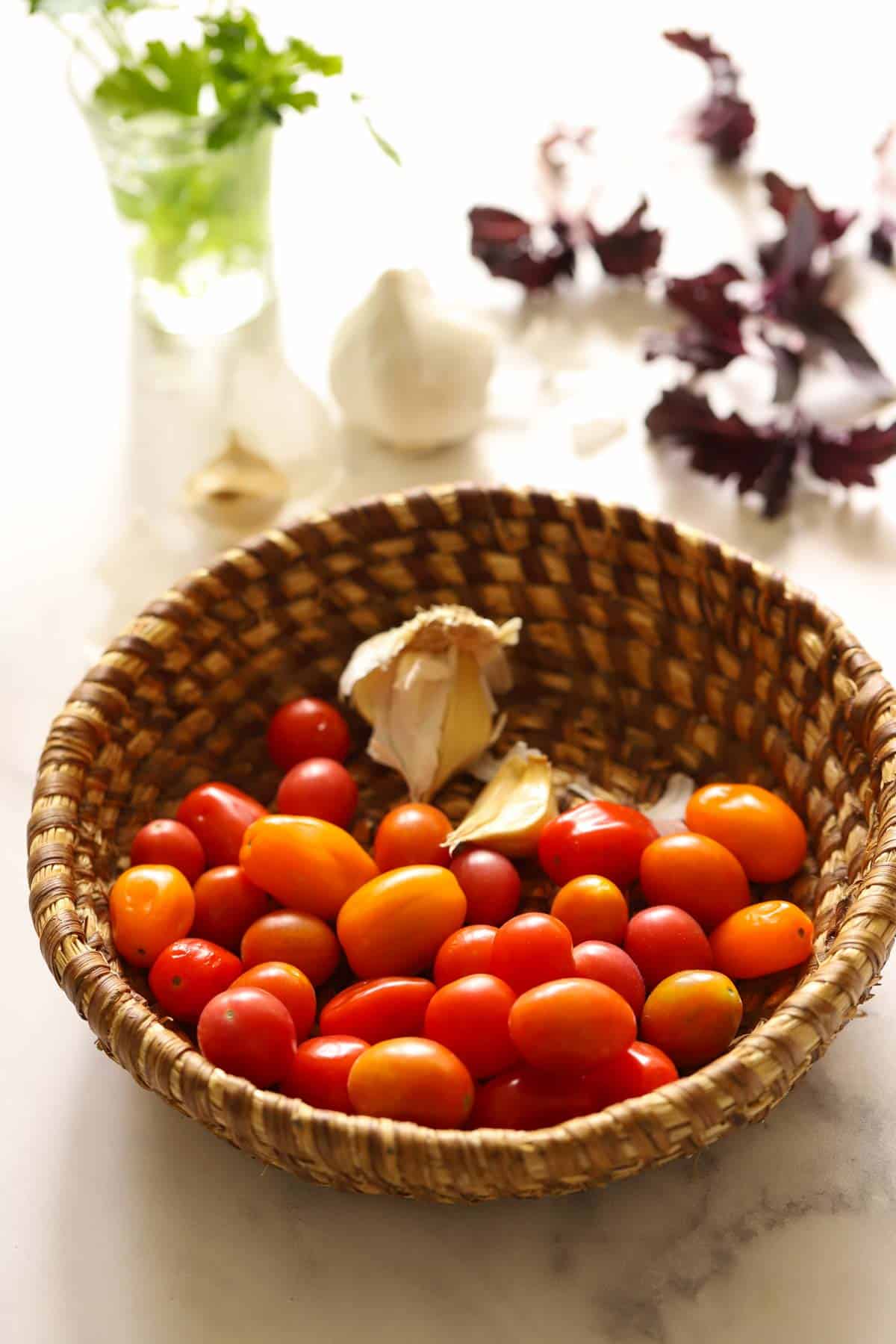 Serving Suggestions:
If I'm serving 6 or more guests, I like to make both toppings. Because there's always someone who doesn't care for mushrooms!
It's also nice to mix up the flavors, and because these toppings are vegetable based, it's like adding a couple more side dishes too.
For a saucier topping, you could make the grilled chicken, and top with my Tarragon Dijon Sauce that I use for my Sheet Pan Lamb Chops That would be great too!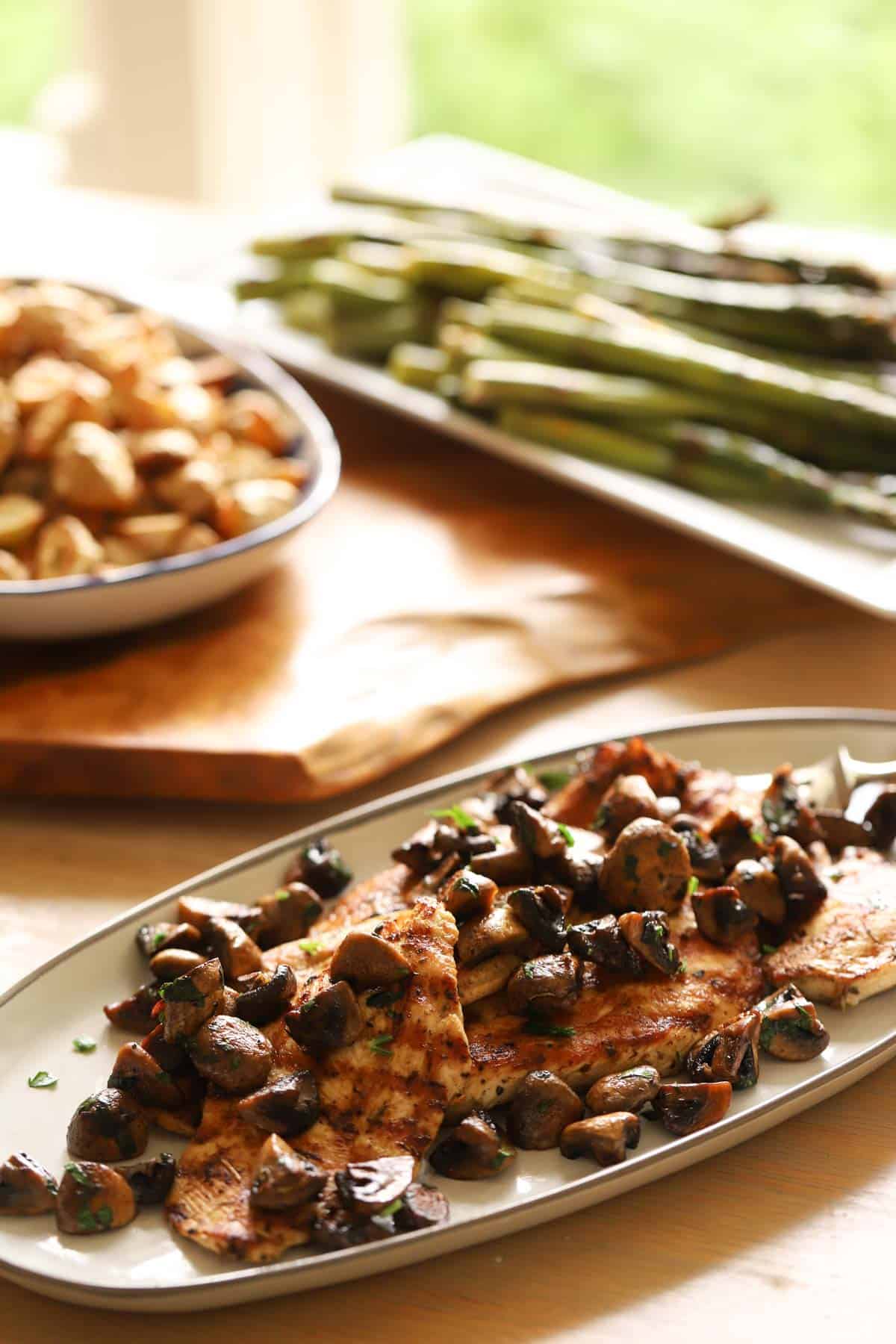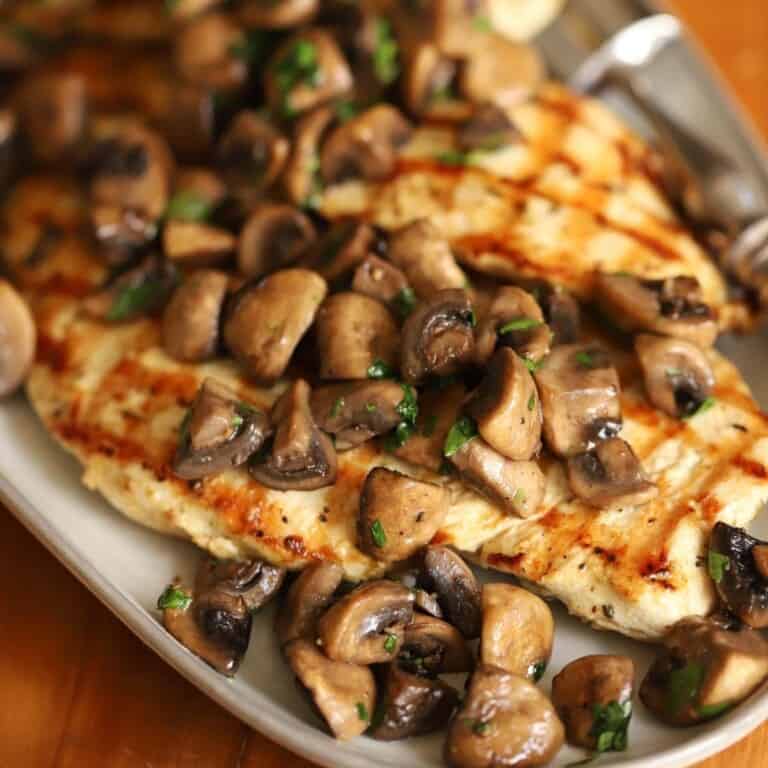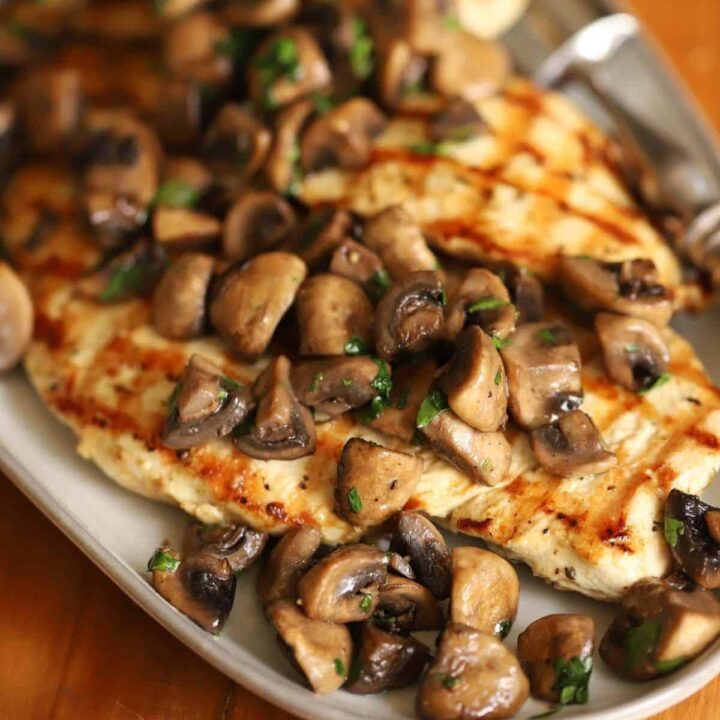 Grilled Chicken Recipe with Toppings
Total Time:
5 hours
30 minutes
Delicious grilled chicken dinner with two easy toppings and side dishes. Makes for a great dinner party menu, but also easy enough for a weekend meal!
Ingredients
8-10 pounded Chicken Breasts
1 ½ tablespoon of Dijon Mustard
⅓ cup dry white wine
¼ cup grapeseed or avocado oil
salt and pepper to taste
1 teaspoon Herbs de Provence (or dried basil)
FOR TOMATO TOPPING:
1 Pint Cherry Tomatoes
1 ½ tablespoon shallots, minced
1 tablespoon Olive oil
1-2 splashes of balsamic vinegar
1 tablespoon fresh basil, sliced into a chiffonade
Salt + Pepper to Taste
FOR MUSHROOM TOPPING:
16 ounces white mushrooms
1 tablespoon butter
½ teaspoon Worcestershire sauce
1 tablespoon fresh parsley
FOR SIDES:
1 bunch asparagus, trimmed
2 tablespoon Olive Oil, separated
½ teaspoon fresh lemon zest
3 lbs Dutch Baby or Yukon Gold Potatoes
1 tablespoon Fresh rosemary, minced
Instructions
In a 9x14 casserole, whisk together the mustard, white, seasonings and oil.
Place the pounded cutlets of chicken in the marinade and toss to coat.
Refrigerate a minimum of 1 hour, but 6 hours or overnight even better!
1 Hour Before Serving: Mix up the tomato topping and set aside (but add the basil)
Prep the asparagus and place on baking tray and set aside
Prep and Saute the mushrooms. Keep them in the pan and set aside (you will reheat them quickly after chicken is done)
Prep the potatoes and place them in the air fryer at 375F for 20 minutes. OR follow my Foolproof Roasted Potato recipe (just place them in 30 minutes before grilling the chicken)
Grill the chicken in batches. At the last batch, add the asparagus to the oven, at 400F for 10 minutes. BUT if making the potatoes in the oven, keep the temp at 375F and roast asparagus for 15 mins.
Add the basil to the tomatoes, mix!
Plate the side dishes
Plate the chicken, reheat the mushrooms, and then top with mushrooms or tomatoes!