Creamy Chicken Florentine Recipe
This Creamy Chicken Florentine Recipe is a delicious quick and easy weeknight meal that is a cinch to make when you want something easy that also feels kind of fancy. Tender, juicy chicken breasts are gently sautéed, and then simmered in a creamy white wine sauce with shallots and spinach for an easy one-pot meal. For another quick and easy one-pot meal try my 15-Minute Chicken Dijon Recipe.
This recipe pairs beautifully with my Sour Cream Mashed Potatoes or my garlic butter Smashed Potatoes.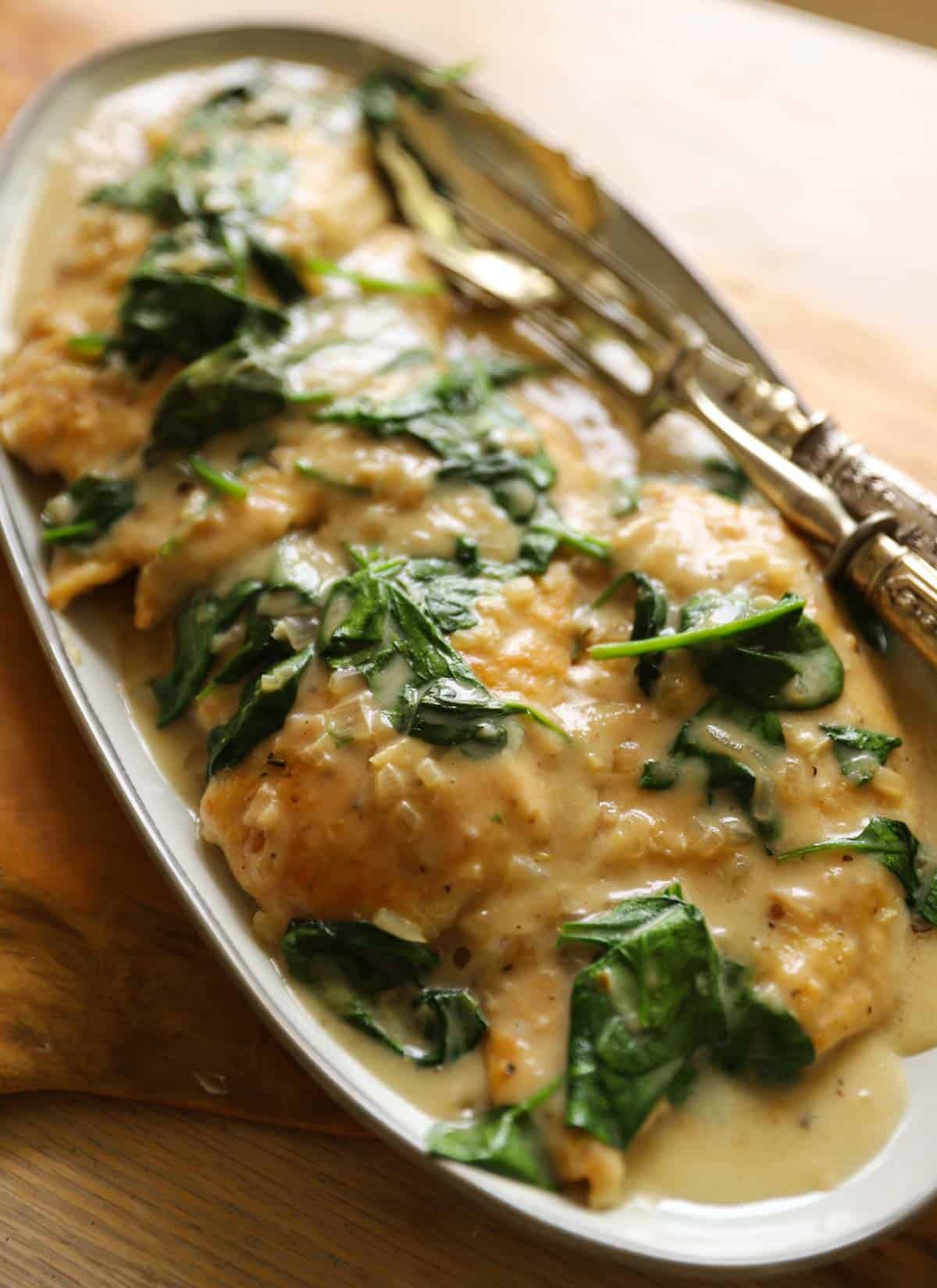 What Is Chicken Florentine?
Chicken Florentine is made of tender, juicy chicken breasts simmered in a savory wine or Mornay sauce (Bechamel Sauce with Cheese) on a bed of spinach or topped with spinach.
In fact, the term Florentine or a la Florentine is a French culinary term that refers to dishes made with spinach.
It's been debated whether the origins of this dish are French, Italian or both.
But legend has it is was Catherine de Medici who upon Marring King Henry II of France in 1533 brought her love of spinach to France.
Despite its murky origin story, no one can debate how delicious this recipe is!
The Ingredients:
Skinless, Boneless Chicken Breast You'll slice the breasts, lengthwise in half to make four cutlets, and pound them thinly. Or you can also use boneless-skinless chicken thighs too. If you are afraid of overcooking the chicken and you want to be assured of a juicy cutlet. go with chicken thighs.
All-Purpose Flour The chicken gets dredged through the flour mixture, coating the chicken and locking in the moisture.
Italian Seasoning For seasoning the flour. But you could also use a mixture of dried basil and dried oregano.
Olive Oil and Butter For sautéing the chicken. The butter provides the flavor while the olive oil allows for searing the chicken at a high heat due to its high smoke point.
Shallots Are sautéd in the chicken drippings for extra flavor. They are a wonderful compliment to the creamy wine sauce and spinach.
White Wine Use a dry white wine such as a Chardonnay or Sauvignon Blanc.
Chicken Broth You can omit the wine and use more chicken broth if desired. The same amount called for as the wine.
Cornstarch Slurry will thicken up the sauce and alleviate the need for adding extra heavy cream.
Parmesan Cheese for more flavor and creaminess in the sauce.
Heavy Cream The cream could be optional, you can choose to omit it and just add the Parmesan cheese, or just add a small amount of cream, 1-2 tablespoons.
Baby Spinach Is best for this recipe since it wilts quickly and doesn't require any steam removal or chopping. You can place it in the skillet on top of the chicken as a last step, cover the skillet and it will steam and wilt down into bite-sized pieces.
Fresh Parsley (Optional) For even more freshness to the finished dish, you can add some freshly chopped Italian parsley.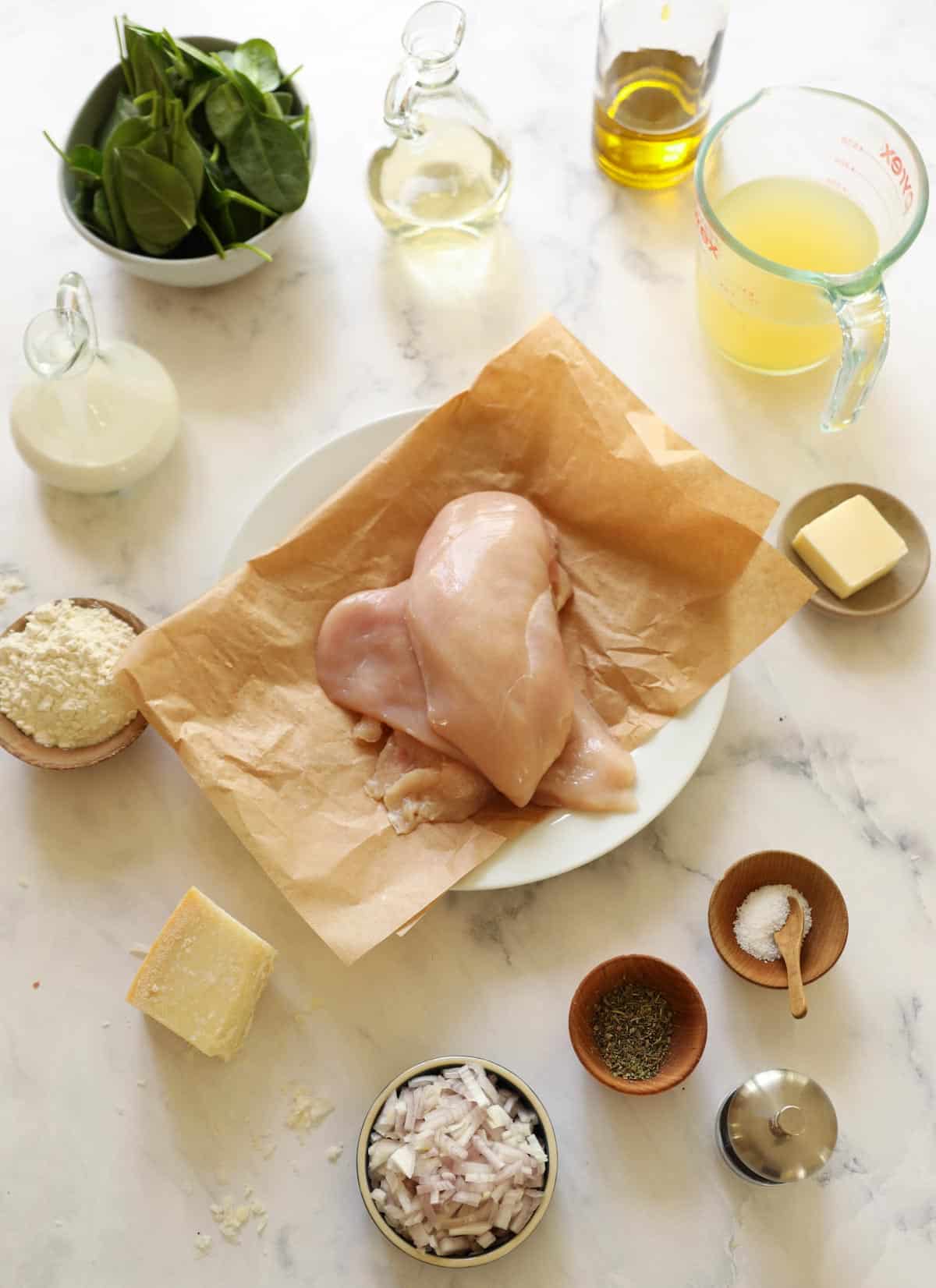 Why You'll Love This:
A new way to serve boneless, skinless chicken breasts!
Dinner will be ready in less than 30 minutes! And you have a protein, veggie and sauce all in one pan!
The chicken is tender and juicy, and then sauce creamy and decadent. A great sauce for pairing with angel hair pasta or mashed potatoes.
It's a chicken dinner that's elegant enough for entertaining, but simple enough for a weeknight meal.
Watch My Video Demo of This Recipe
Step#1: Slice and Pound The Chicken Breasts
This recipe works best if the chicken is sliced into cutlets and pounded thinly.
The chicken will cook faster as a cutlet, and will also retain its moisture. Since you won't run the risk of over cooking the exterior of the chicken breast, waiting for the interior to be cooked through.
The pounding will also help the chicken breast cook at a uniform rate while tenderizing it too.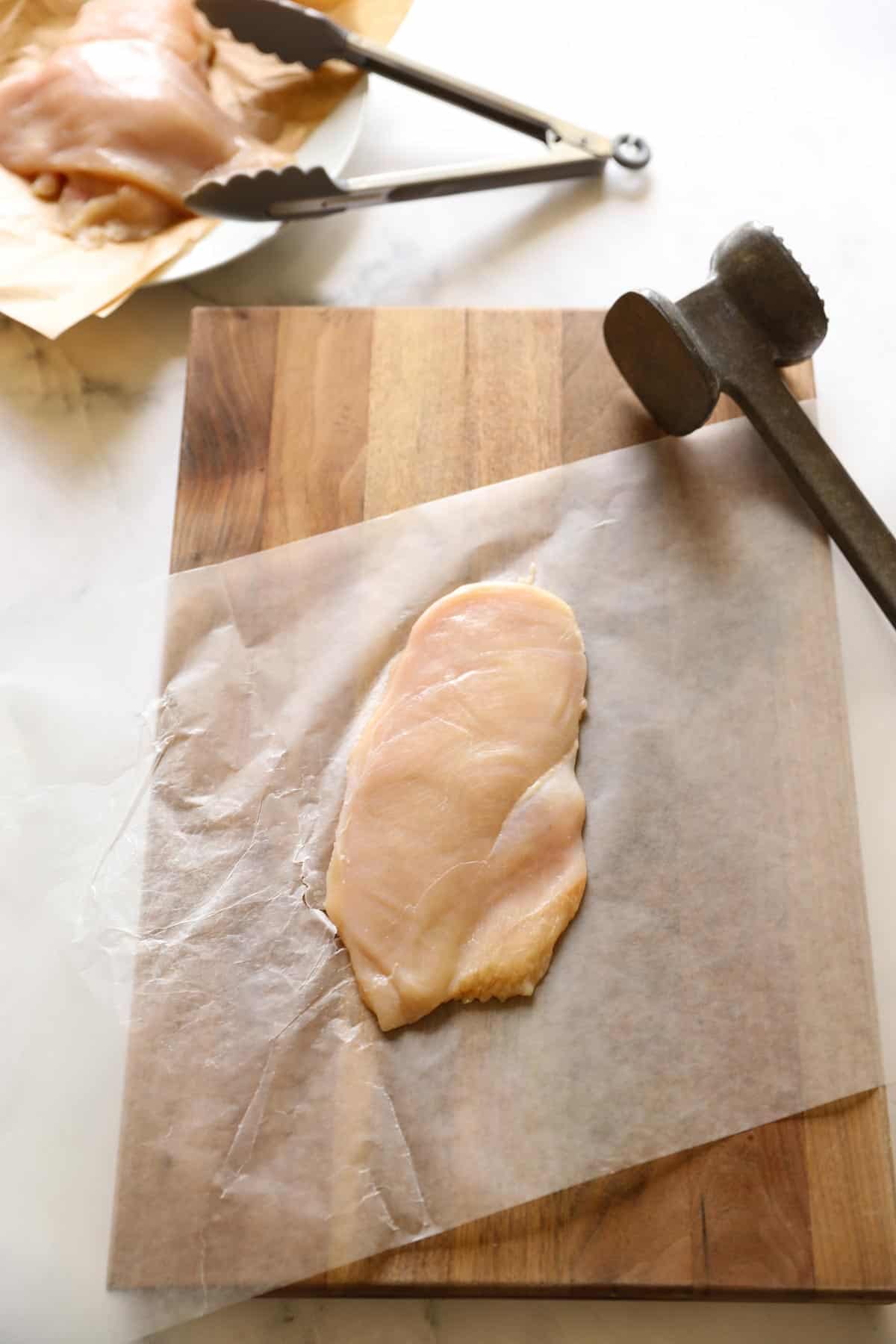 Step#2: Dredge the Chicken In Flour
Dredging the chicken in flour before sautéing it, helps protect the meat and prevents it from drying out.
It will also create a light crust that will help it to brown in the butter and oil.
It's a very thin layer of flour, without an egg coat, so it doesn't feel heavy.
The result is velvety tender chicken breast that stays moist inside and out.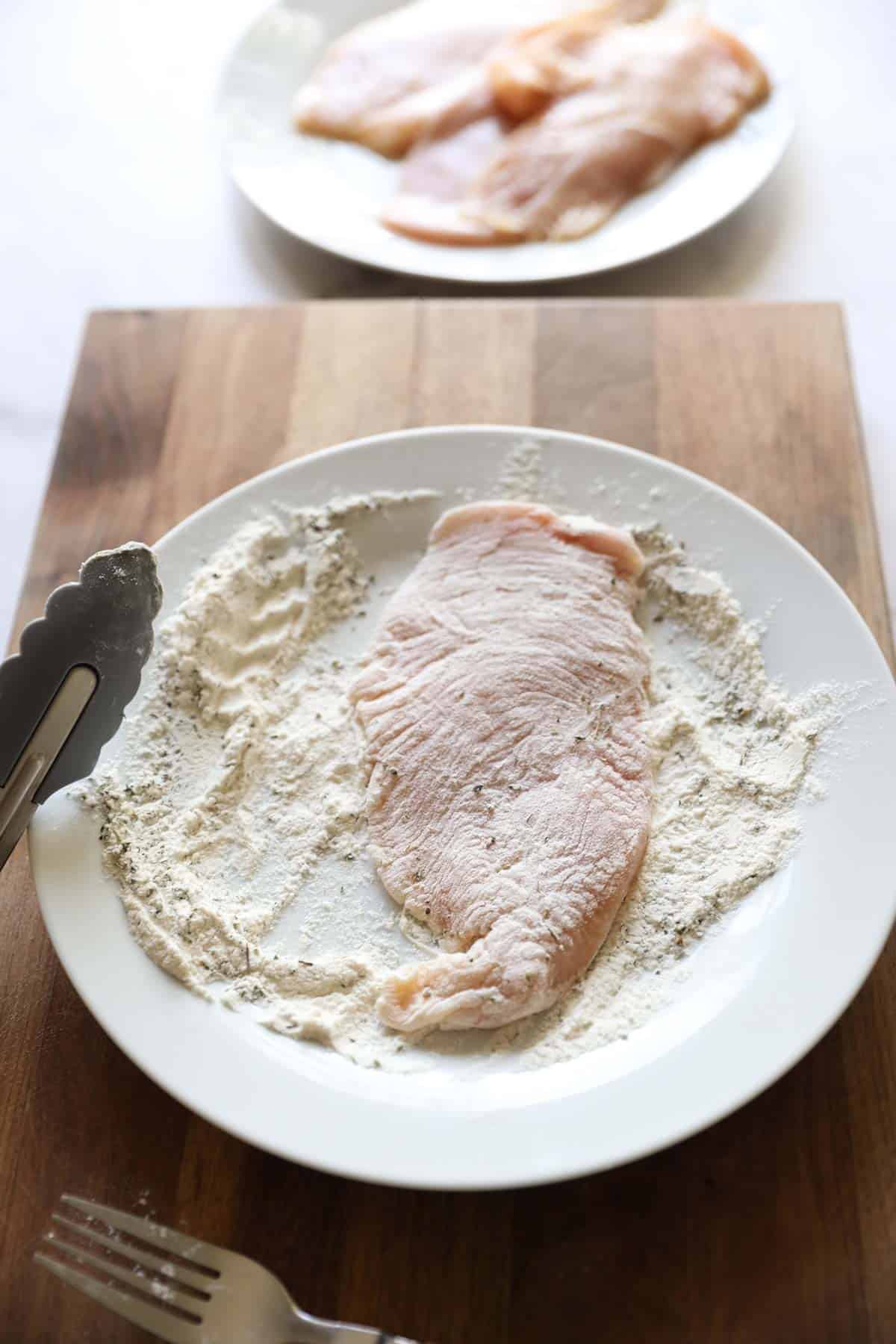 Step#3: Sear The Chicken
Sear the chicken in the olive oil and butter until golden brown. At this stage you don't need to cook the chicken all the way through, you'll do that in a later stage.
Don't wash out the pan, you'll want to saute the shallots in the chicken drippings for flavor and then deglaze the pan with the wine.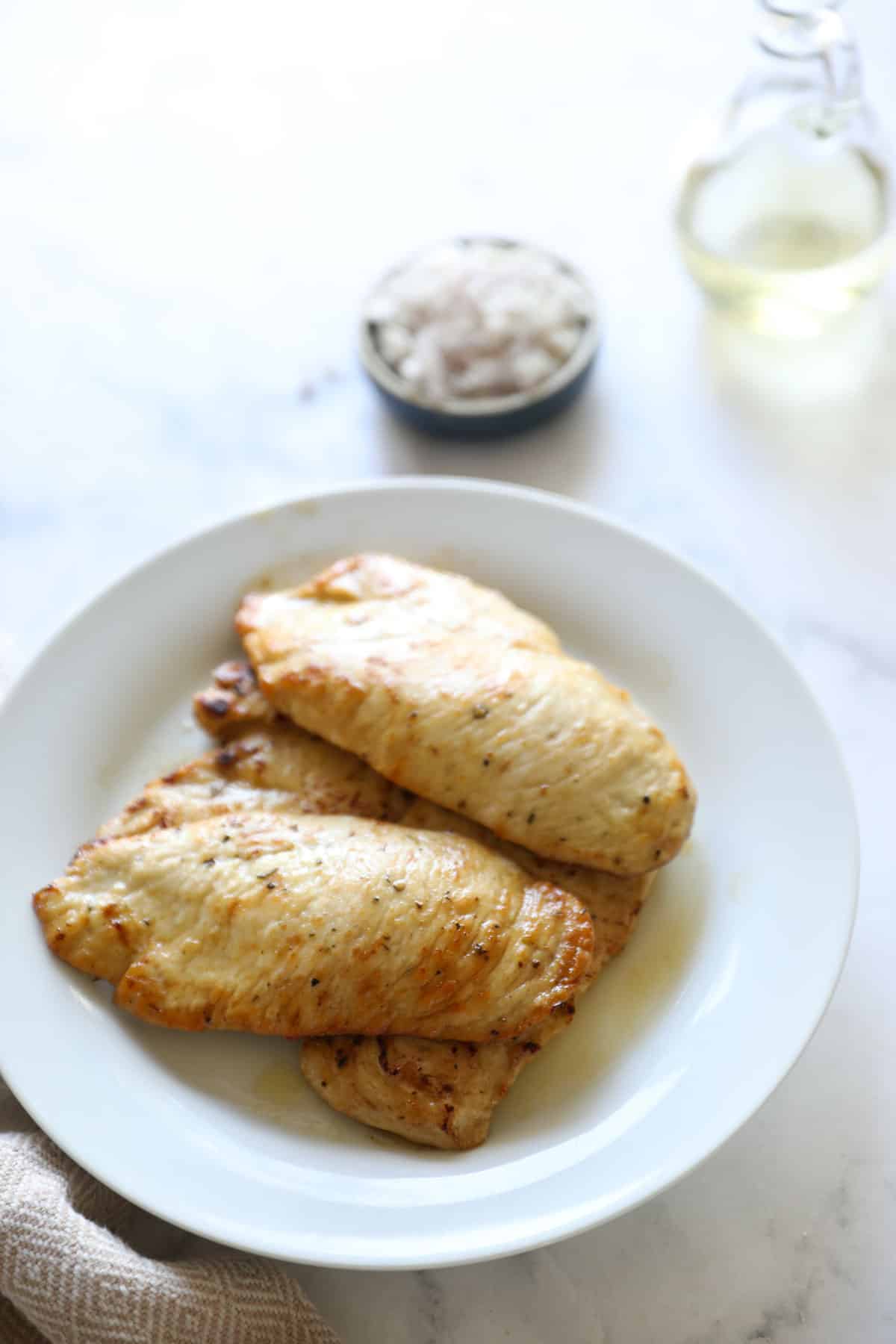 Step#4: Simmer Chicken in Wine Sauce
Once the sauce is made you'll simmer the chicken in the wine sauce until the chicken is cooked through.
You'll thicken the sauce with the cornstarch slurry.
And at this stage you could decide to finish the recipe without the heavy cream, and just keep the wine sauce and add the spinach to wilt.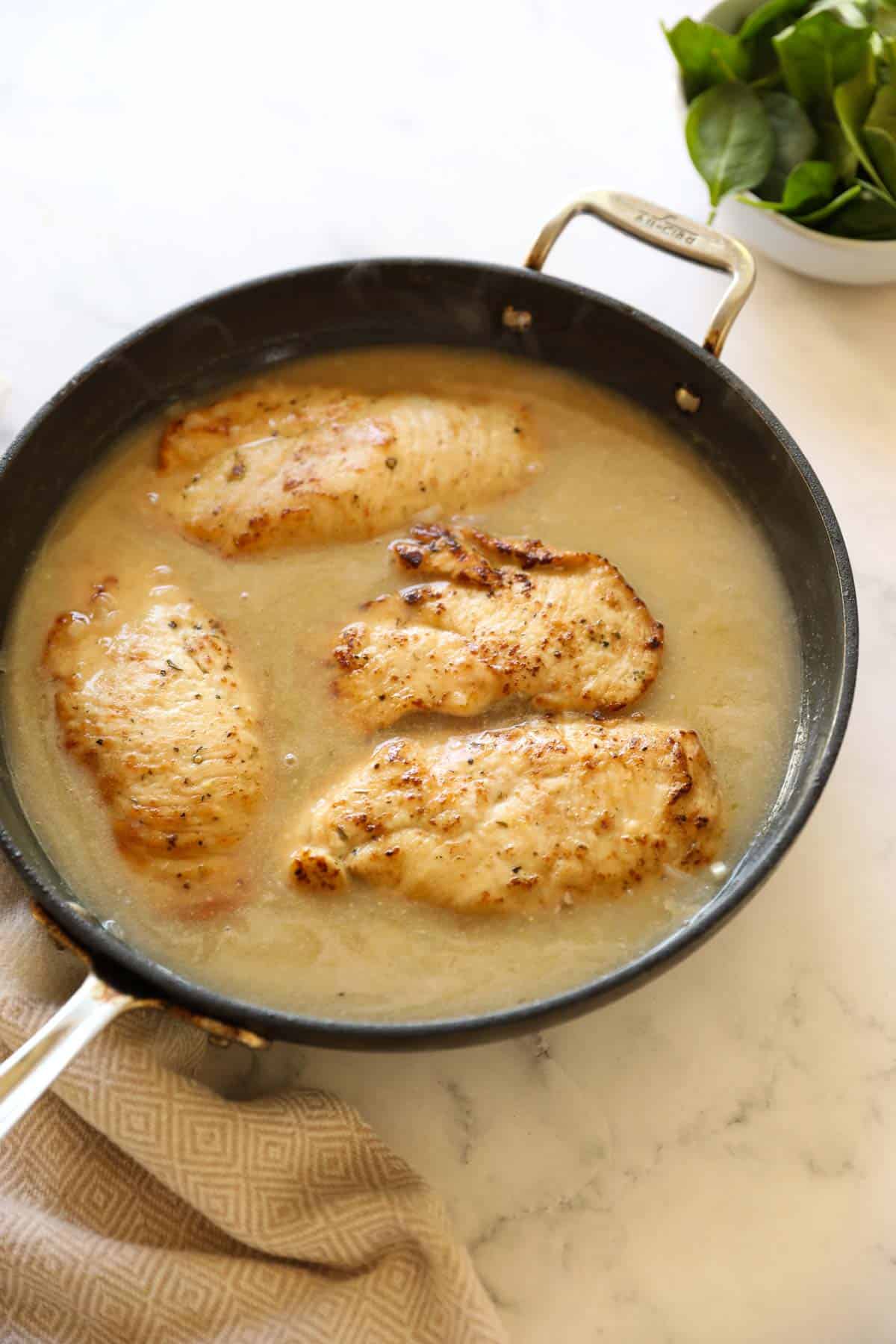 Serving Tips:
Leftovers and Storage:
This dinner reheats really well!
Simply store it in a container with the spinach and sauce.
Then to reheat, place it in a covered sauté pan with a little bit of chicken broth, or water if that's all you have, to loosen the sauce and add steam.
Reheat, covered, on medium low until chicken is warmed through and sauce is bubbling.
For an easy dinner you can serve it over microwavable rice, angel hair pasta, or cauliflower rice.
More Chicken Recipes You'll Love: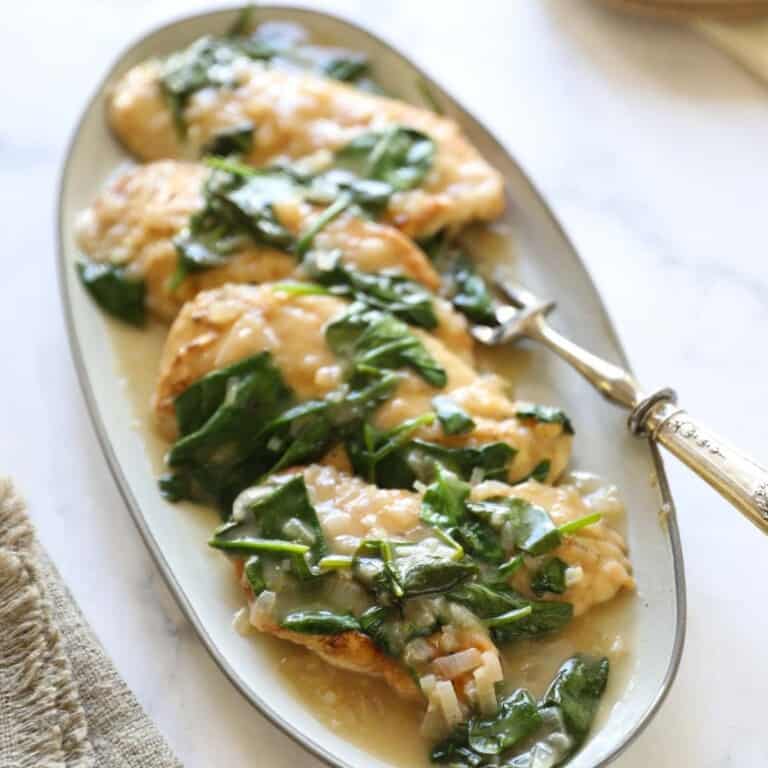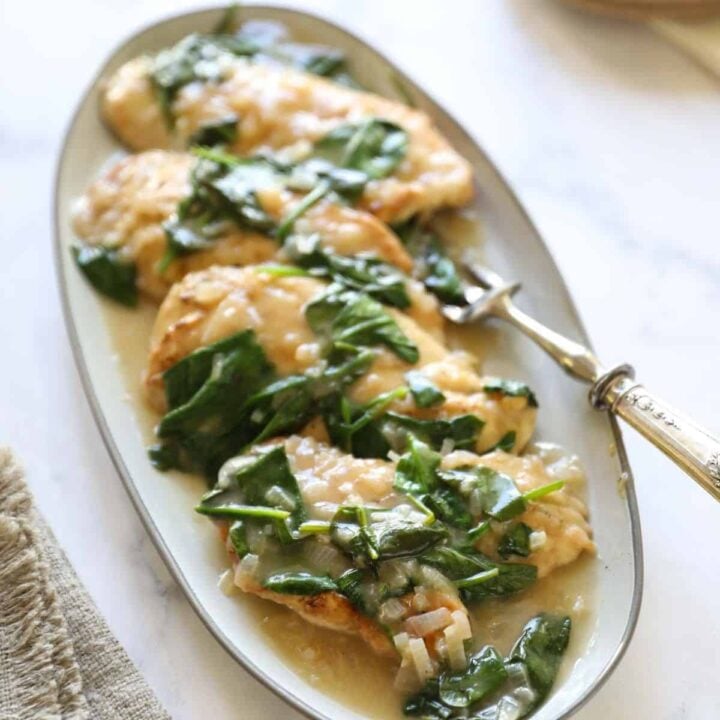 Creamy Chicken Florentine Recipe
This creamy chicken Florentine recipe is a quick and easy dinner idea that comes together in less than 30 minutes.
Ingredients
2 Boneless Chicken Breasts
Coarse salt,
¼ cup (31g) all-purpose Flour for dredging
¾ teaspoon (3.75ml) Italian Seasoning
Freshly cracked pepper
1 tablespoon (15ml) Olive Oil
1 tablespoon (14g) Unsalted Butter
1 Shallot, minced
½ cup (118ml) Dry White wine
1 ½ cups (368ml) chicken broth
1 garlic, minced
¼ cup (60ml) heavy cream (do not substitute for half and half or milk or it could curdle)
Freshly grated Parmesan Cheese, to taste
1 tablespoon (15ml) Cold Water
1 tablespoon (15ml) Cornstarch
2 cups (60g) Spinach
Instructions
Slice chicken breasts in half horizontally. And pound thinly in between 2 sheets of wax paper. Salt on both sides and refrigerate for a minimum of 1-2 hours before cooking, or overnight is even better! This will tenderize the chicken and make it moist and juicy.

Place the flour on a plate, and add the Italian seasoning and freshly cracked pepper. Mix with a fork to combine. Dredge the chicken through the flour mixture on each side until coated. Shake off the excess.

Heat the oil and butter in a large non-stick skillet over medium heat until foamy. Cook 2 chicken breasts at a time on each side until nicely browned. Set aside. They will continue to cook in the sauce.

Add more olive oil to the skillet if needed.

Cook shallots in the pan drippings until tender. Then add the wine, and reduce the liquid by a third. Then add the chicken broth, garlic, heavy cream and cheese. Add back in the chicken and cover, cook for 5 minutes until chicken is cooked through. Meanwhile prepare the slurry, by mixing cornstarch with very cold water.

Then add the spinach, cover, and steam until wilted, and then add the slurry. Whisking until sauce thickens.

Remove the chicken with tongs and place it on a serving plate and spoon sauce and spinach over the chicken.

Serve with mashed potatoes, rice or smashed potatoes.
Nutrition Information:
Yield:

4
Serving Size:

1
Amount Per Serving:
Calories:

253
Total Fat:

11g
Saturated Fat:

4g
Trans Fat:

0g
Unsaturated Fat:

6g
Cholesterol:

65mg
Sodium:

441mg
Carbohydrates:

12g
Fiber:

1g
Sugar:

3g
Protein:

23g