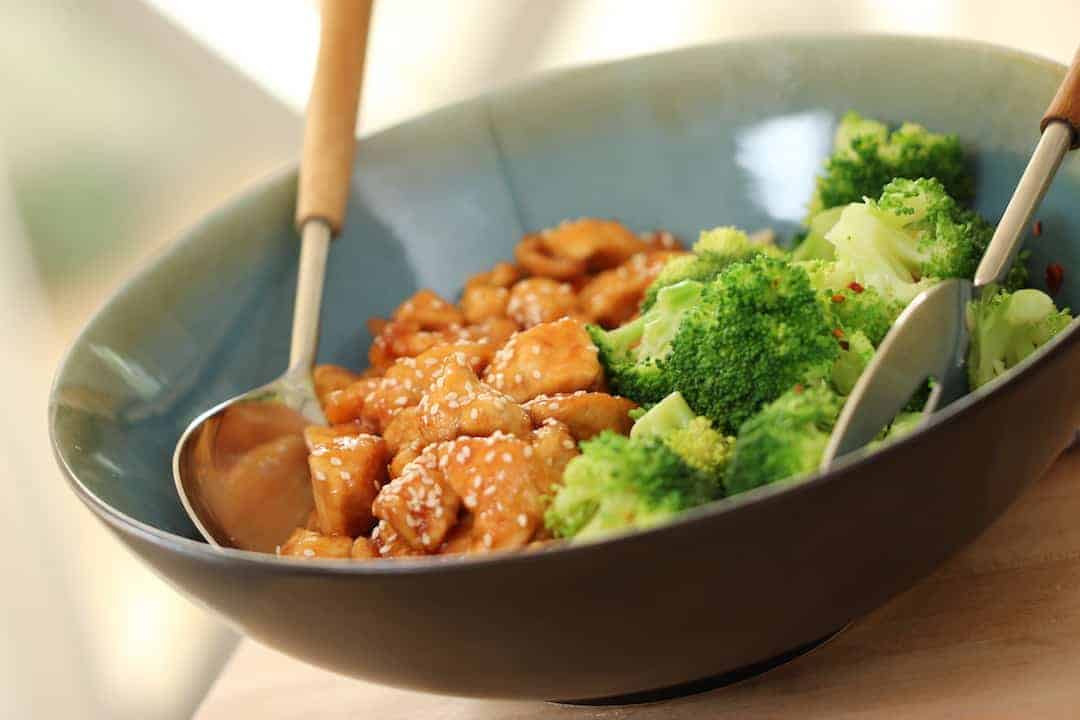 If you need a dinner that comes together in 15-minutes or less, "Feed Me Fast" Chicken is the go-to move.  I came up with this recipe one night when my kid's were heading home from my parent's house.  I'm lucky in that my folks live 15-minutes away and my kids just love spending time with them 🙂
They had been in the pool all day and I knew when they got home they would be hungry and cranky and I'd better have something on the table when they burst through the door…and that's how "Feed Me Fast" chicken was born!
You can watch my video tutorial below. Apologies for the audio on this video!  Not sure what happened, but you could watch with the sound off, just to get the idea for the preparation 🙂
Subscribe to my YouTube Channel and never miss a recipe! (It's free!) and new videos post each Saturday!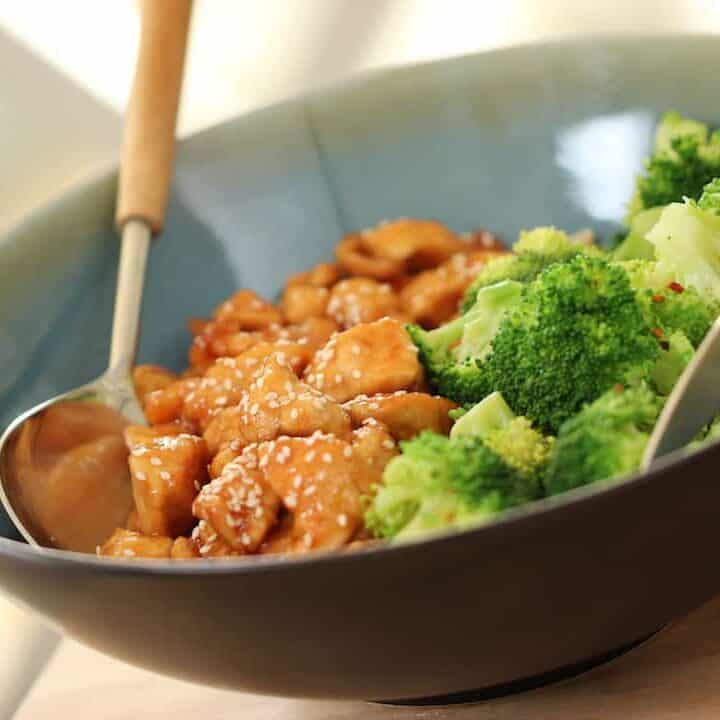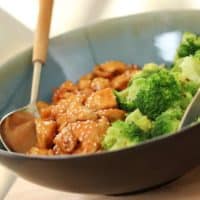 "Feed Me Fast" Chicken
Ingredients
BETH'S FEED ME FAST CHICKEN RECIPE
3/4 lb (340 g) Chicken Tenders
¼ cup (60 ml) low sodium soy sauce
1 tbsp (15 ml) Mirin
1 tsp (5 ml) toasted sesame oil
2 ½ (12.5 ml) tsp honey
1 garlic clove, minced
3 tbsp (45 ml) cornstarch
1 tbsp (15 ml) flavorless oil (canola or vegetable)
a pinch of sesame seeds
1 ½ cups (325 g) broccoli florets
drizzle of toasted sesame oil
Pinch of red pepper flakes
1 packet microwaveable brown rice
Instructions
Place rice in microwave and cook according to package instructions. Usually takes about 4 mins to complete.
Then prep the chicken. Place cornstarch in a large bowl. Cut chicken into bite sized pieces, toss in the cornstarch and set aside.
Heat oil in a large skillet on medium high. At the same time, heat large pot on medium high with a shallow amount of water on the other burner, covered.
Combine soy sauce, mirin, toasted sesame oil, honey and garlic in a bowl. Stir to combine and set aside.
Then once the oil is shimmering add the chicken. Cook until golden brown on one side. Flip chicken, once cooked through add the sauce. Allow to simmer until chicken is coated and sauce has thickened.
Meanwhile, throw the florets into the water. Turn off the flame. Cover and steam broccoli while sauce is thickening on chicken.
Then in a large bowl, place the cooked rice on the bottom, on one side add the broccoli on top. Sprinkle broccoli with a drizzle of toasted sesame oil and a few red pepper flakes. On the other side add the chicken and sprinkle with sesame seeds.