15-Minute Salmon Rice Bowl
This easy and delicious salmon rice bowl makes for a fantastic 15-minute dinner! Full of spring flavors like spinach, peas, and green onions mixed into a hearty rice blend, topped with tender salmon.
For a spicy bowl, drizzle some Japanese Kewpie mayonnaise and sriracha for a flavorful, nutrition-packed dinner, in just 15 minutes or less!
For more delicious 15-minute dinner ideas try my 15-Minute Chicken Dijon or my 15-Minute Feed Me Fast Chicken recipes.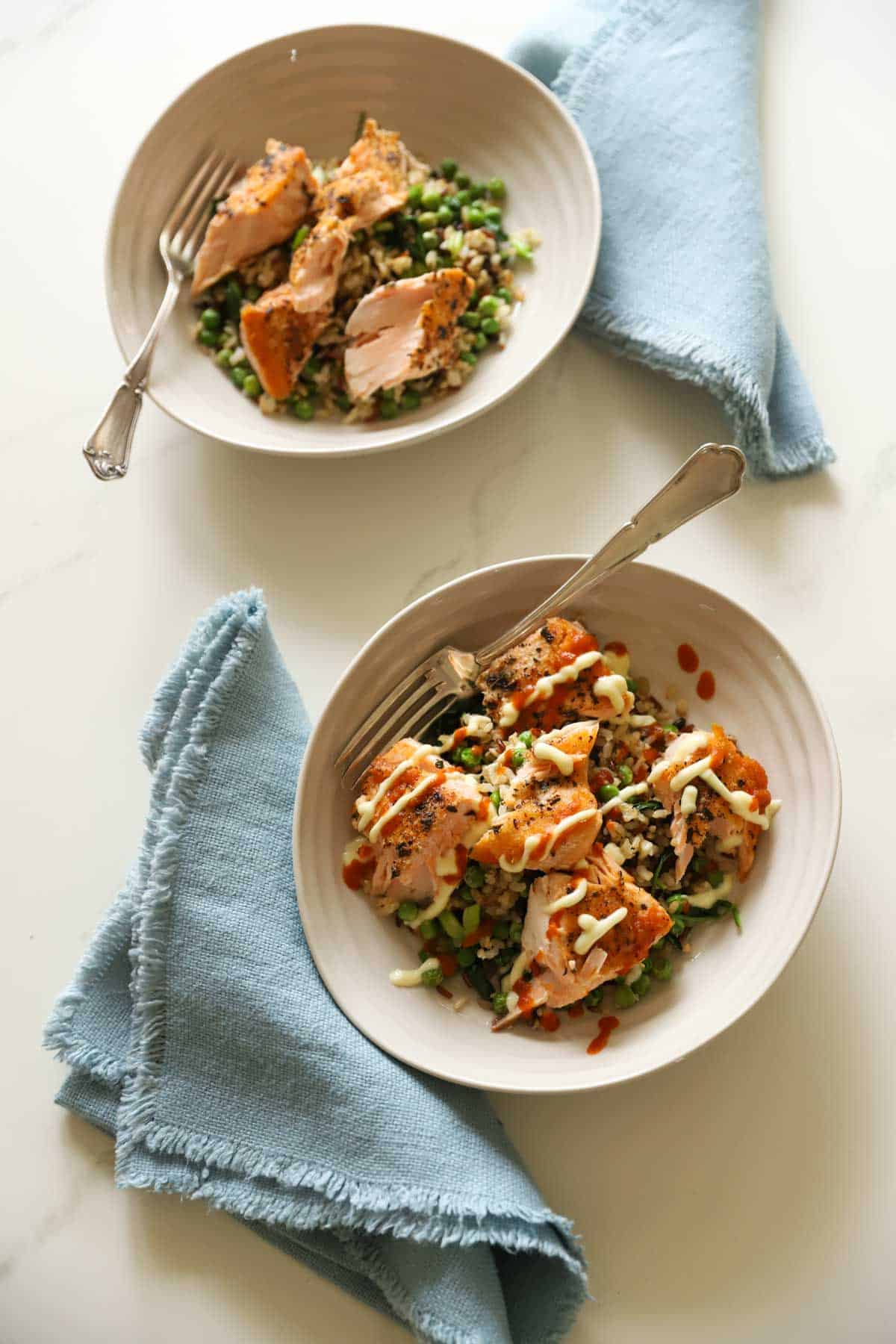 The Ingredients:
Filet of Salmon You'll need at least 8 ounces of salmon for 2 people.
Salt, Pepper, Dried Basil Season the top of the salmon with salt and pepper to taste and a little dried basil is nice too.
Coconut Oil I like to use coconut oil for its high smoke point. This will allow you to get the pan really nice and hot which will create a nice sear.
Microwavable Rice There are so many great options for microwavable rice now! Check the frozen food section of your grocery store. I like Trader Joe's Rice Medley, or the Ancient Grain Rice from Grain Trust.
Toasted Sesame Oil Be sure to buy the toasted sesame oil, that's the one with all the flavor. Regular sesame oil doesn't have much flavor.
Low-Sodium Soy Sauce I like to use the low-sodium because you can use a bit more of it, for flavor, without the salty aftertaste.
Baby Spinach It cooks up so quickly, and there's no chopping or cutting involved, just throw it right into the stir-fried rice blend.
Frozen Peas Same thing, no chopping or slicing, just toss them in!
Green Onions (Scallions) slice them thinly and on the diagonal for a pretty touch.
Kewpie Mayonnaise This is an optional garnish on top of the fish. Makes for a nice creamy sauce with the rice.
Sriracha Hot Sauce Turn your salmon bowl into a spicy salmon bowl with a little heat of the sriracha. Blends up with the mayo for a sriracha-mayo-type flavoring!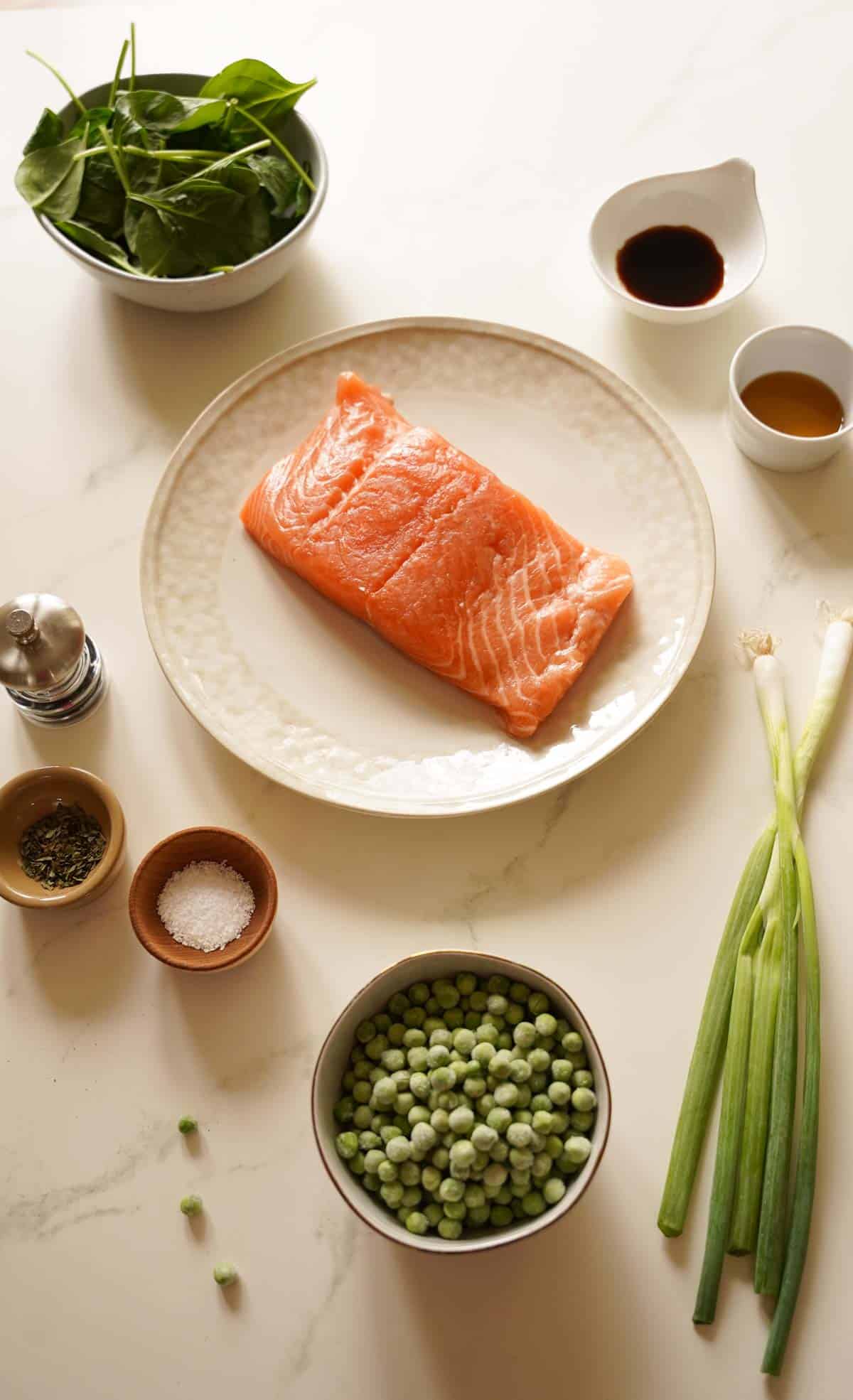 Step#1: Microwave the Rice
Check the packaging on the rice for instructions, but most will take about 3-minutes in the microwave.
This dinner will time-out better if the rice is microwaved before the fish is placed in the oven.
Step#2: Sear the Salmon
You'll first sear the salmon to create a crispy crust. It's best to do this in a non-stick pan, that is oven safe. Meaning no plastic handles.
Use a high-smoke point oil like coconut oil, avocado oil, or vegetable oil. This will allow you the ability to get the pan really hot without smoking up your kitchen!
Sear the salmon, flesh side down, until it starts to turn opaque at least ¼ " up the filet, and then flip it.
Then place the fish in the oven to cook all the way through. This is the best way to cook salmon. Sear first, then bake in the oven. It will create a crispy exterior and a perfectly done interior. It's the same technique I use on my Pan Seared Salmon and Vegetable recipe.
If it's one large filet, you'll serve across 2 people it could take about 6-8 minutes. Two smaller filets will take 4-6 minutes.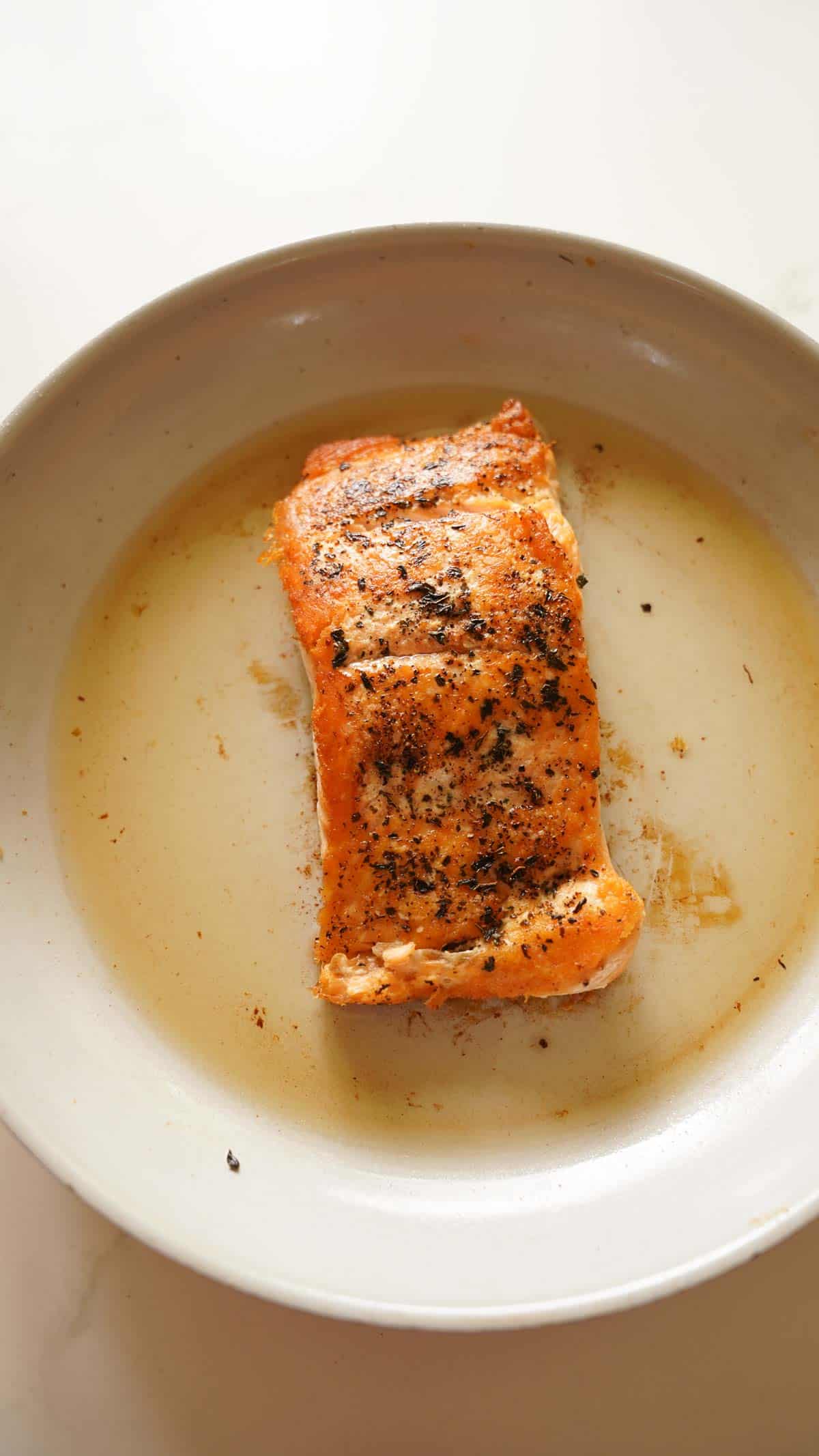 Step#3: Create the Stir Fry Rice
Now that the rice is fully cooked, all you have to do is stir-fry it with some vegetables.
I first re-heat the rice by cooking it in some toasted sesame oil. Be sure to use the toasted sesame oil (as opposed to just plain sesame oil). The toasted oil has all the flavor. Regular sesame oil doesn't taste like much.
Then add the spinach, peas and green onions, cover to wilt and season with soy sauce.
You'll love how quick this is! Hardly any chopping or dicing!
When your rice is done, your fish will be done. It times out perfectly.
Tips For Success
If your rice is done before your fish is done. Take the rice off the heat to avoid the veggies from getting too overcooked. And then quickly reheat it as needed.
If the fish is done, before the rice, either turn the oven off to allow the fish to stay warm without overcooking. Or remove it from the oven completely.
The fish will still be great at room temperature.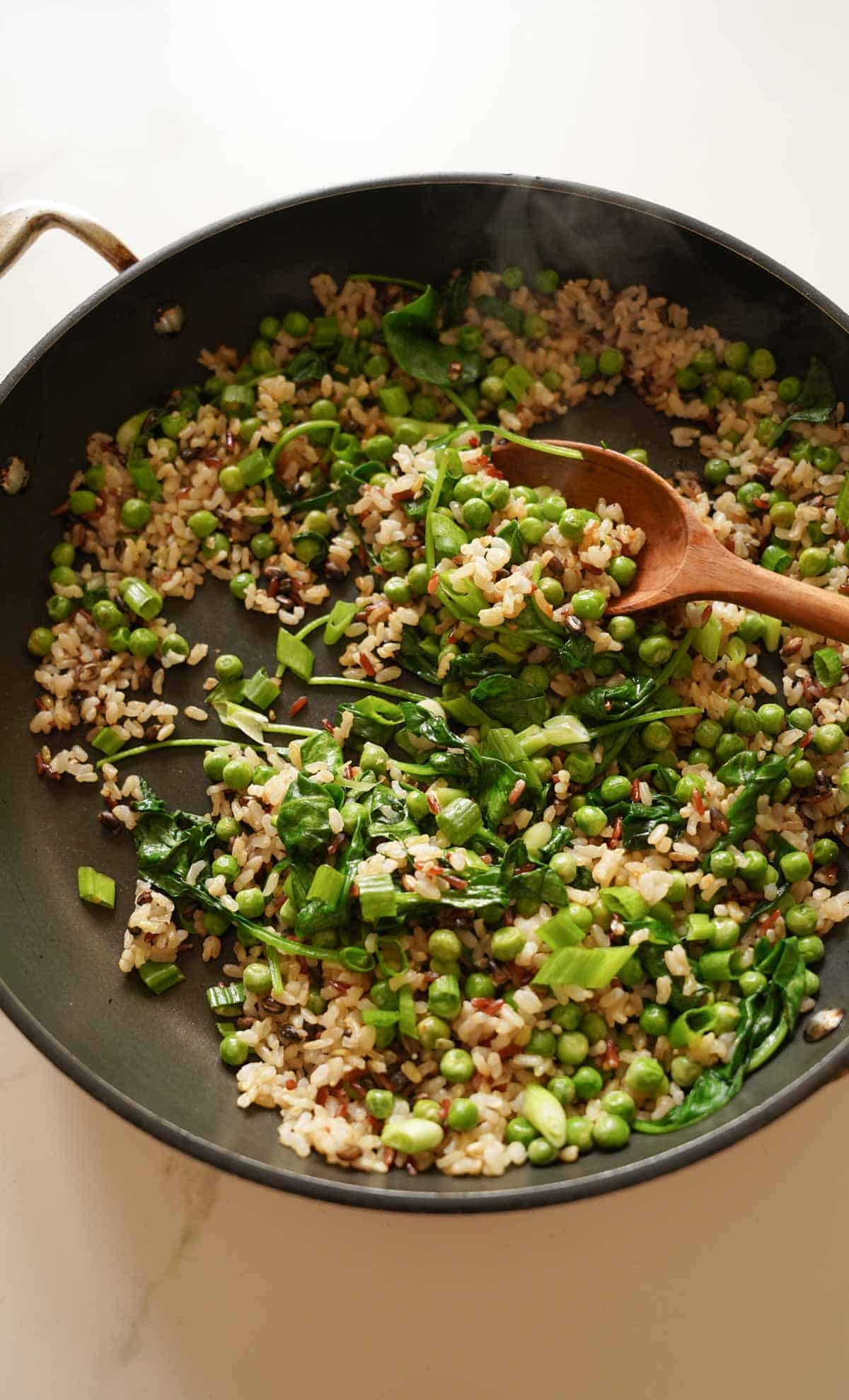 Step#4: Assemble + Serve
You can place the filets on the side of the rice, or pull it apart with 2 forks to create bite-sized chunks.
You can serve extra soy sauce on the side if desired.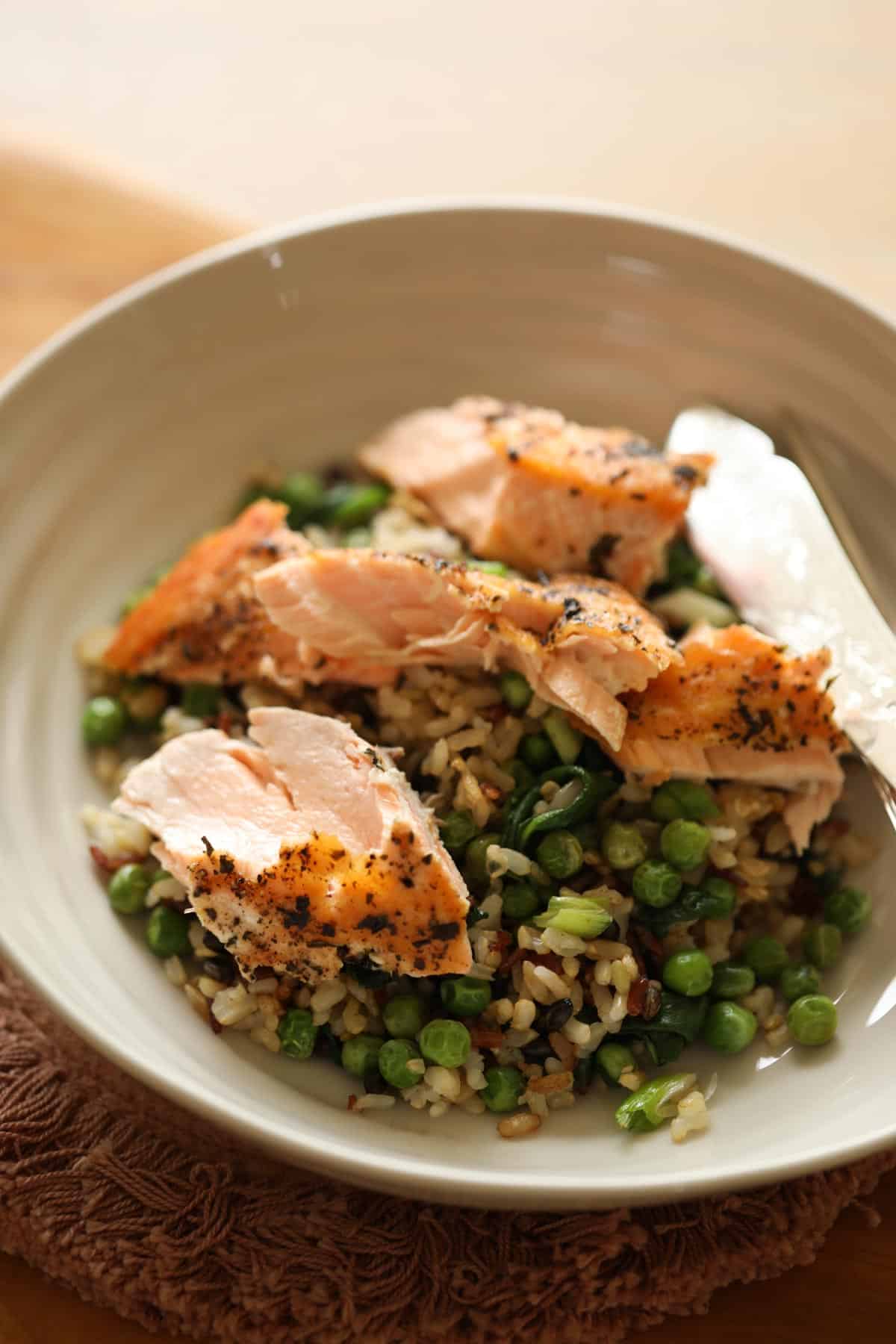 Optional Garnish:
For a spicy salmon bowl, drizzle some Japanese Kewpie Mayonnaise on top of the bowl, and top with a drizzle of sriracha.
It creates a creamy, spicy sauce for your salmon bowl that is oh-so delicious!
My teenage daughter taught me this trick, that sure learned from Emily Mariko's Tik Tok Video.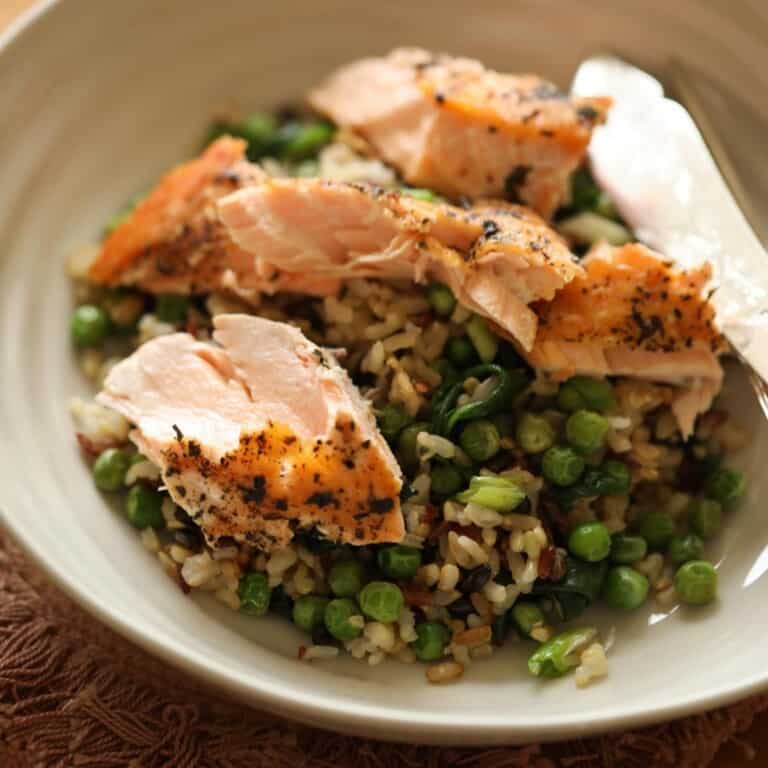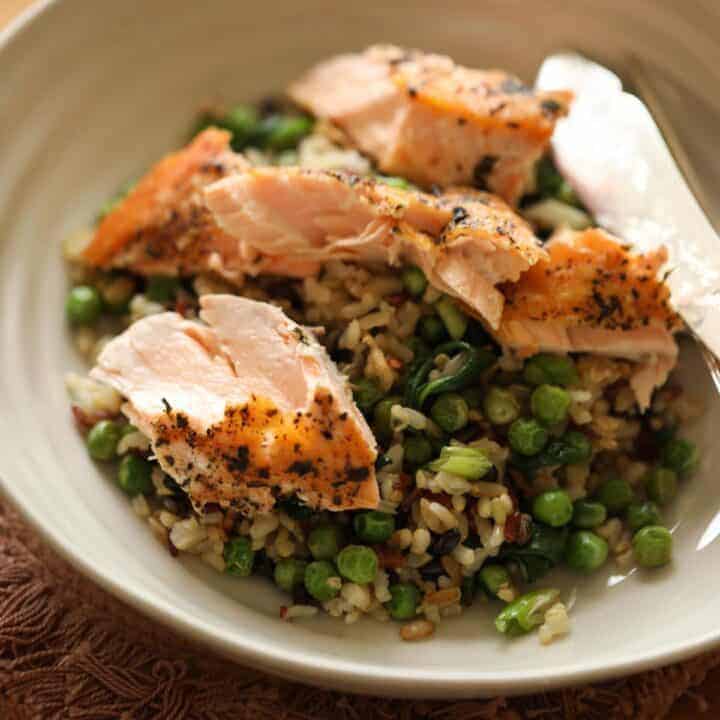 Salmon Bowl with Rice
A quick and easy 15-minute dinner idea! This salmon bowl with rice is hearty, healthy and full of spring flavors!
Ingredients
8 ounces salmon fillet
salt and pepper to taste
sprinkle of dried basil
1-2 Tablespoons non-flavored oil, with high smoke point (Avocado oil, coconut oil, vegetable or canola oil)
1 pouch of frozen, microwaveable rice
1 Tablespoon toasted sesame oil
1 cup baby spinach
½ cup frozen peas
1 teaspoon low-sodium soy sauce
2 green onions, sliced into small rings
OPTIONAL:
Kewpie mayonnaise
Sriracha hot sauce
Instructions
Preheat the oven to 350F.
Microwave rice according to package instructions and set aside.
Season salmon with salt, pepper and dried basil. Heat the oil in an oven-safe sauté pan. (no plastic handles)
Once hot, place the salmon in the pan, flesh side down. Seared until opaque on the bottom, about ¼ of an inch up the fish.
Then flip the salmon and place it in the oven to continue cooking for about 6-8 minutes more if one large filet. 4-6 minutes if individual filets.
Meanwhile, in a clean, non-stick sauté pan, add the toasted sesame oil and heat until hot.
Then add the cooked rice, baby spinach, and peas. Cover to wilt the spinach and cook the peas all the way through.
Then add the soy sauce and the sliced green onions, and stir to combine.
Portion out the rice into shallow bowls, top with the cooked salmon (either as a filet or as chunks cut with forks) drizzle with kewpie mayo and sriracha if desired.
Nutrition Information:
Yield:

2
Serving Size:

1
Amount Per Serving:
Calories:

610
Total Fat:

40g
Saturated Fat:

6g
Trans Fat:

0g
Unsaturated Fat:

32g
Cholesterol:

74mg
Sodium:

461mg
Carbohydrates:

30g
Fiber:

3g
Sugar:

3g
Protein:

30g