Chicken dijon is a delicious French-inspired recipe that comes together in 15 minutes or less! Tender pieces of chicken are sautéed quickly in a pan, with a creamy, Dijon tarragon sauce spooned on top. If you don't believe this kind of fancy-looking dinner is possible in just 15 minutes, see the recipe card below for my video demo. I'll show you how it comes together in real-time!
For more quick and easy 15-minute dinners try my 15-Minute Feed Me Fast Chicken or my 15-Minute Shrimp Curry.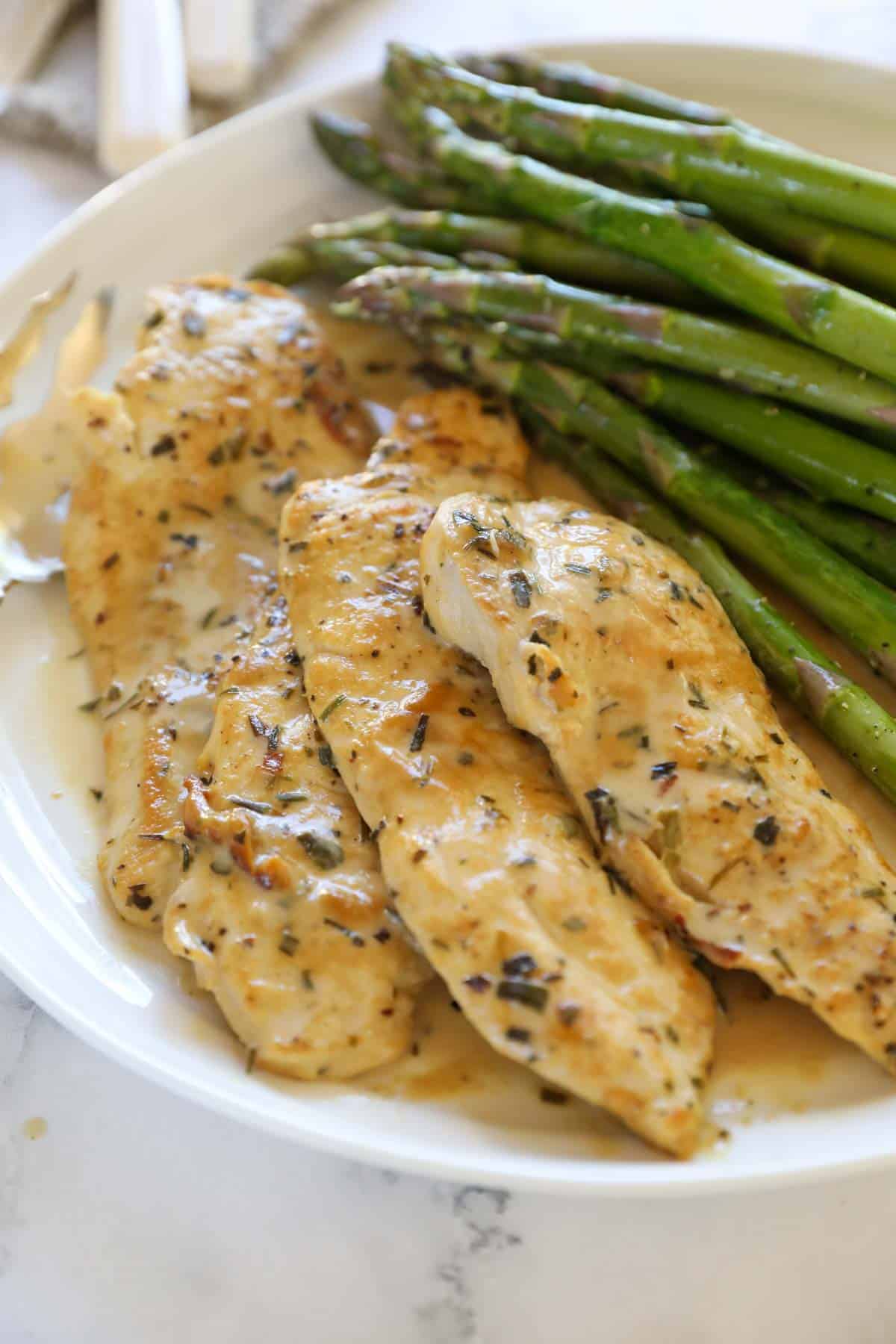 The Ingredients:
Chicken Dijon is made from sautéed chicken cuts that are covered with a quick and easy sauce made from chicken broth, Dijon mustard, heavy cream, and for a little added flavor you can add dried herbs such as tarragon or basil. It's a quick and easy dinner idea that uses staples you probably already have sitting in your refrigerator and pantry.
Chicken Dijon pairs beautifully with sautéed asparagus or you could also serve it with steamed broccoli too.
Chicken I use boneless, skinless chicken breasts, and slice them vertically in half and then pound them flat. The thinner the cutlet, the quicker it cooks! You can also use boneless, skinless chicken thighs too.
Chicken Broth This is used for deglazing the pan after sautéing the chicken. If dietary restrictions are not an issue, buy the regular broth (instead of the low-sodium broth) it has more flavor.
Dijon Mustard My favorite brand of Dijon mustard is Amora Mustard from France, which you can buy online. But a good second choice is Grey Poupon which you can find in most American supermarkets.
Heavy Cream Adds the creamy, richness to this dish, but for a healthier version you could omit the cream and thicken the sauce with a cornstarch slury. Simply mix 1 tablespoon cornstarch with 1 tablespoon very cold water. Then pour the slurry into the simmering broth to thicken.
Dried Tarragon The combination of mustard and tarragon is fantastic. You could also use fresh tarragon (1 tablespoon) if you don't have dried.
Coconut Oil Is used for sautéing the chicken. Coconut oil has a high smoke point which will allow you to sauté the chicken at a high temperature without setting off the fire alarm.
Fresh Asparagus Is a great compliment with this dinner as a side dish. It's equally quick too! You only need to saute it in a pan with olive oil for a few minutes, and season with salt and pepper.
Olive Oil I prefer the flavor of olive oil for sautéing vegetables.
Salt and Pepper for seasoning both the chicken and the asparagus.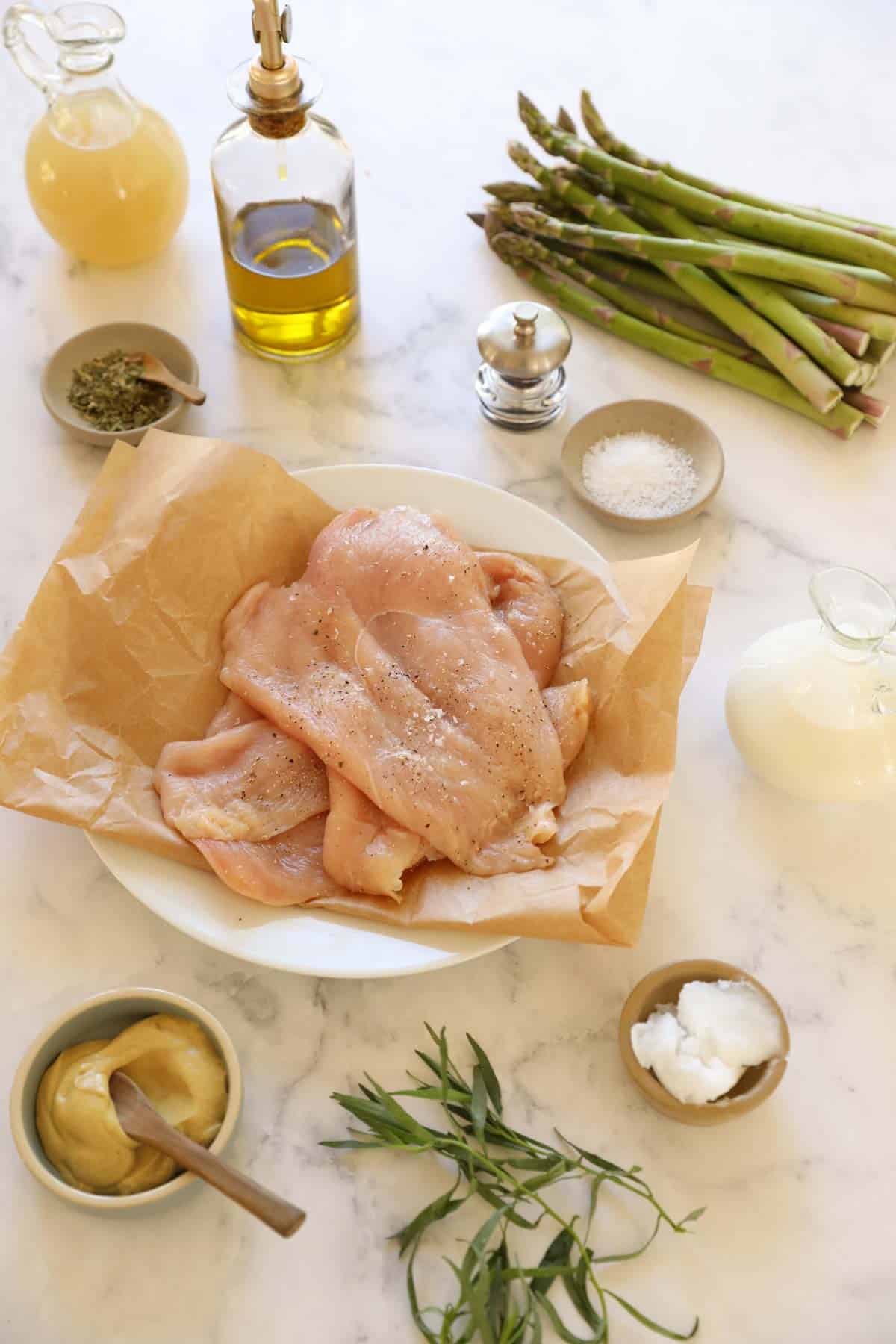 Step#1: Slice the Chicken Breasts in Half
Slice the chicken breasts in half vertically, and then pound them thinly with a meat mallet. This will save a lot of time in the cooking process since a thinner cut of meat will cook quicker. It will also help tenderize it too. It's the same technique I use in my Creamy Chicken Florentine Recipe that delivers tender, juicy chicken every single time!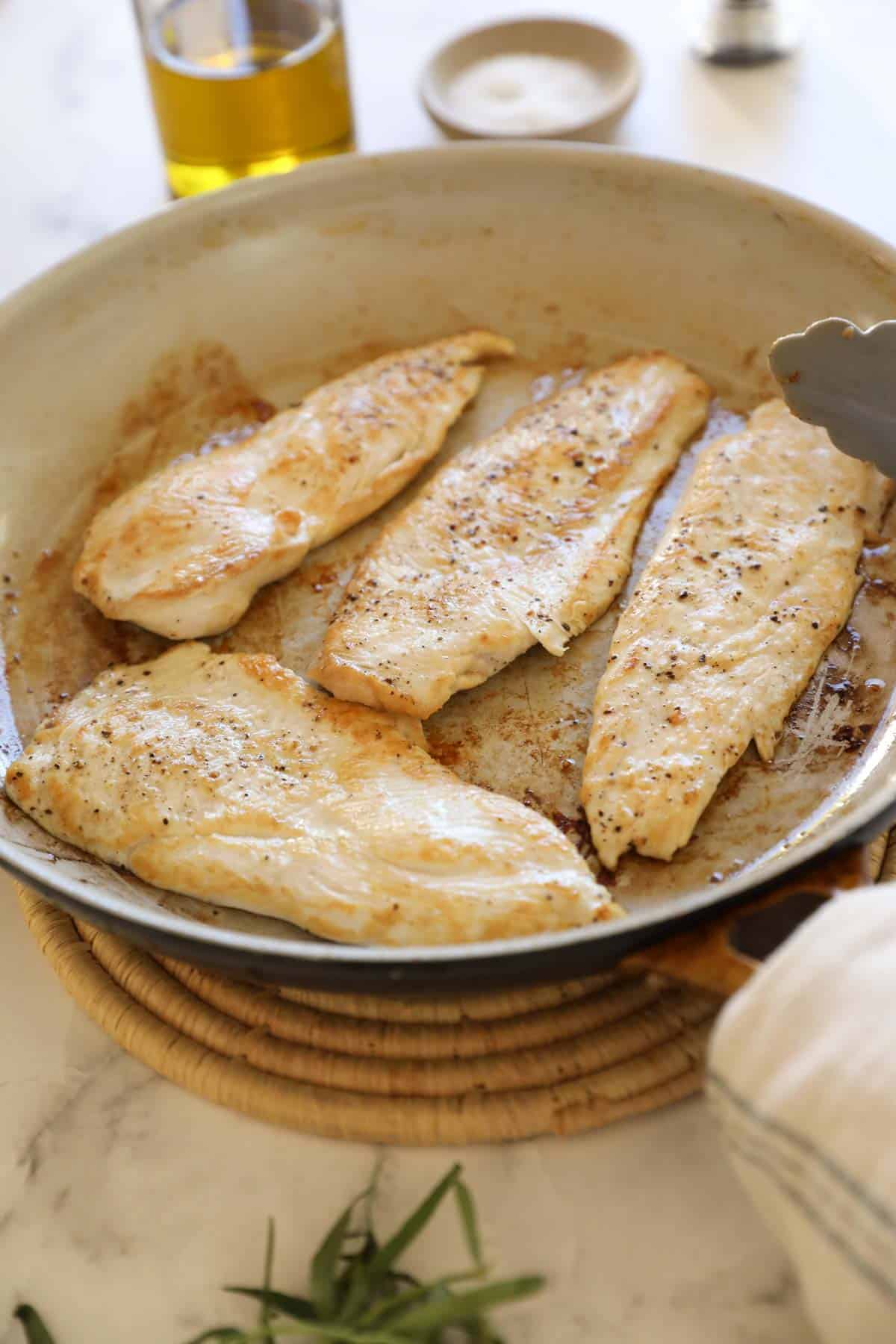 Step#2: Sear the chicken on both sides
Sear the chicken in a non-stick skillet until mostly cooked through. Then set aside to rest. You'll finish cooking them in the next step.
Searing the chicken this way makes for a quick and easy meal, similar to the way I prepare my Chicken Piccata recipe.
But if you had a bit more time you could also roast bone-in, skin-on chicken breasts or thighs, and make the Dijon sauce separately and then pour it over the chicken when done.
This is the way I make my Slow Roasted Lamb Chops with Dijon Tarragon Sauce and it works out perfectly!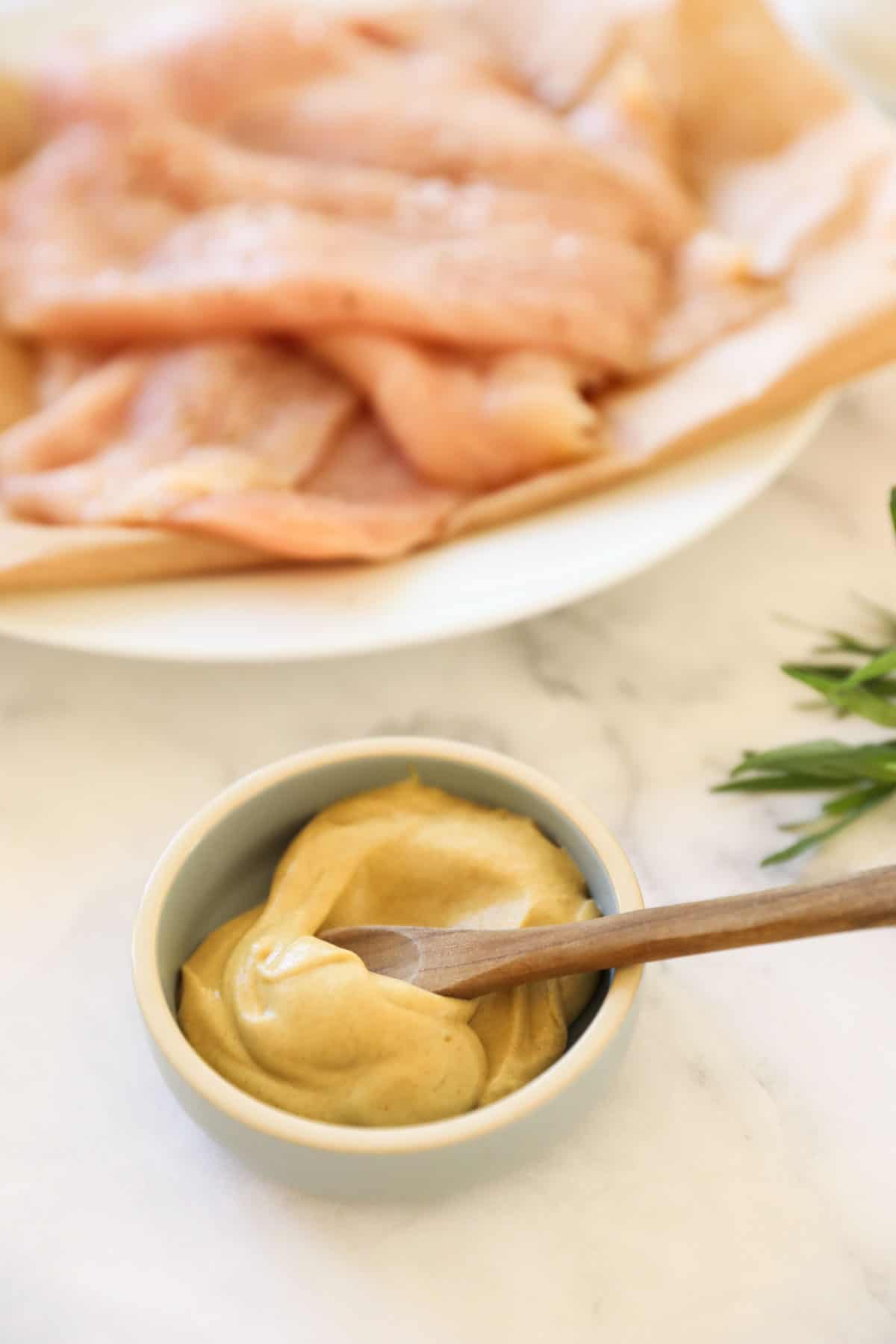 Step#3: Make the Dijon Sauce
You'll use the pan drippings from the chicken to start the Dijon sauce which is a really simple sauce to make. It's just chicken broth, Dijon mustard, heavy cream, and dried tarragon.
Once the sauce is made you'll place the chicken back in the pan to finish cooking through. This will allow you to sauté up the asparagus at the same time.
Some Chicken Dijon recipes will include wine, which you could add 2-3 Tablespoons of Chardonnay or other dry white wine to deglaze the pan before the broth.
Or a chicken sauce with wine, you can follow my recipes for White Wine Chicken or Chicken Marsala.
What to Serve with Chicken Dijon?
If speed is what you are after, you can't find anything quicker than some sautéed asparagus or steamed broccoli.
All you do is trim the ends, place them in a non-stick pan with a drizzle of olive oil, salt and pepper, and shake them to turn to coat.
They are done once they turn bright green and are slightly tender.
If you have more time to add to this dinner, I highly recommend serving this with my Perfectly Roasted Potatoes, Potatoes Gratin, or my Smashed Potato Recipe any of these recipes would create a winning combo!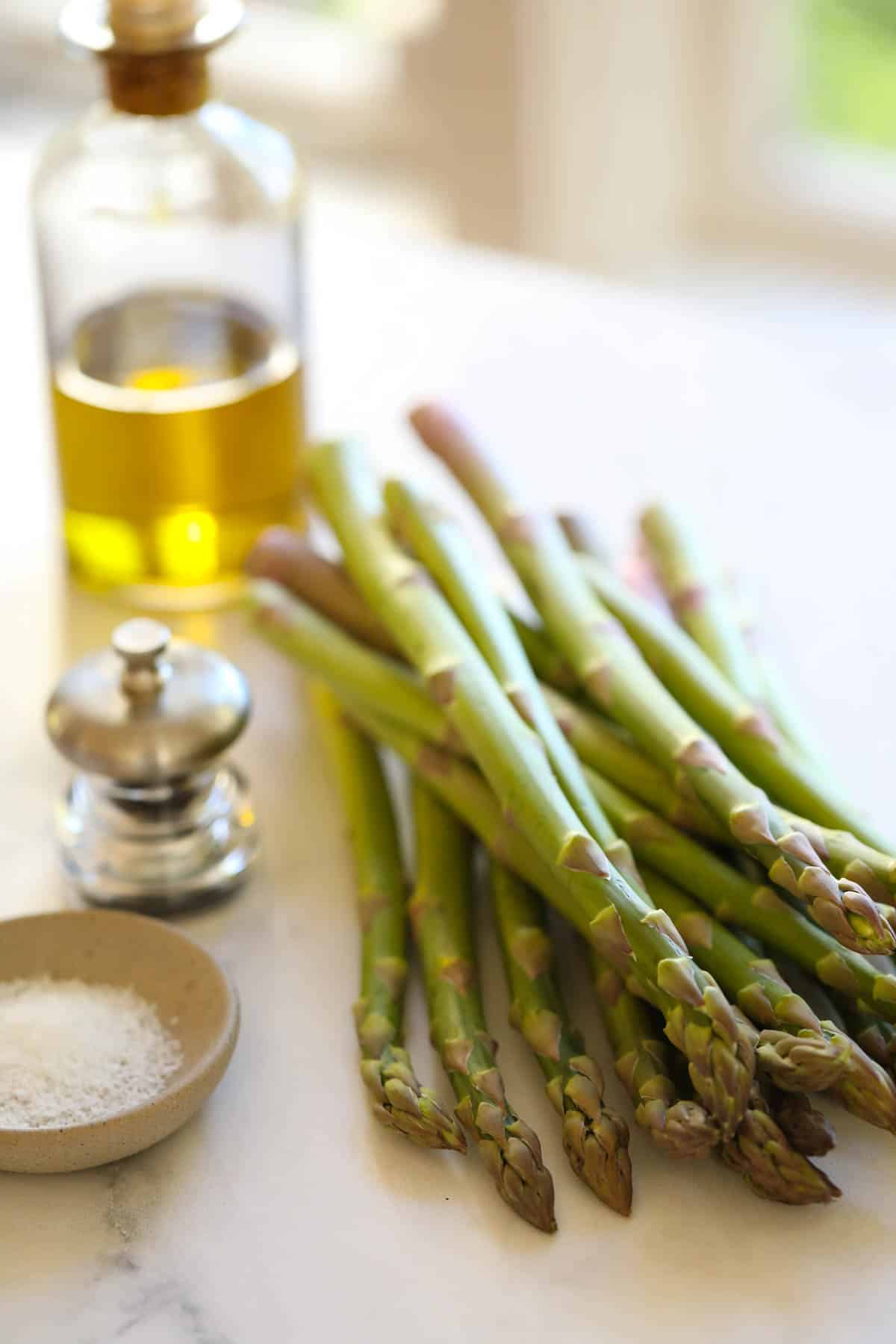 Step#4: Plate and Serve!
Spoon the sauce over the chicken and serve with the asparagus! And that's all there is to it.
If the sauce thickens to much while waiting for the asparagus to cook, you can always thin it with a bit more chicken broth or heavy cream.
Just be sure to check for seasoning and add more salt or pepper, or dried tarragon if needed.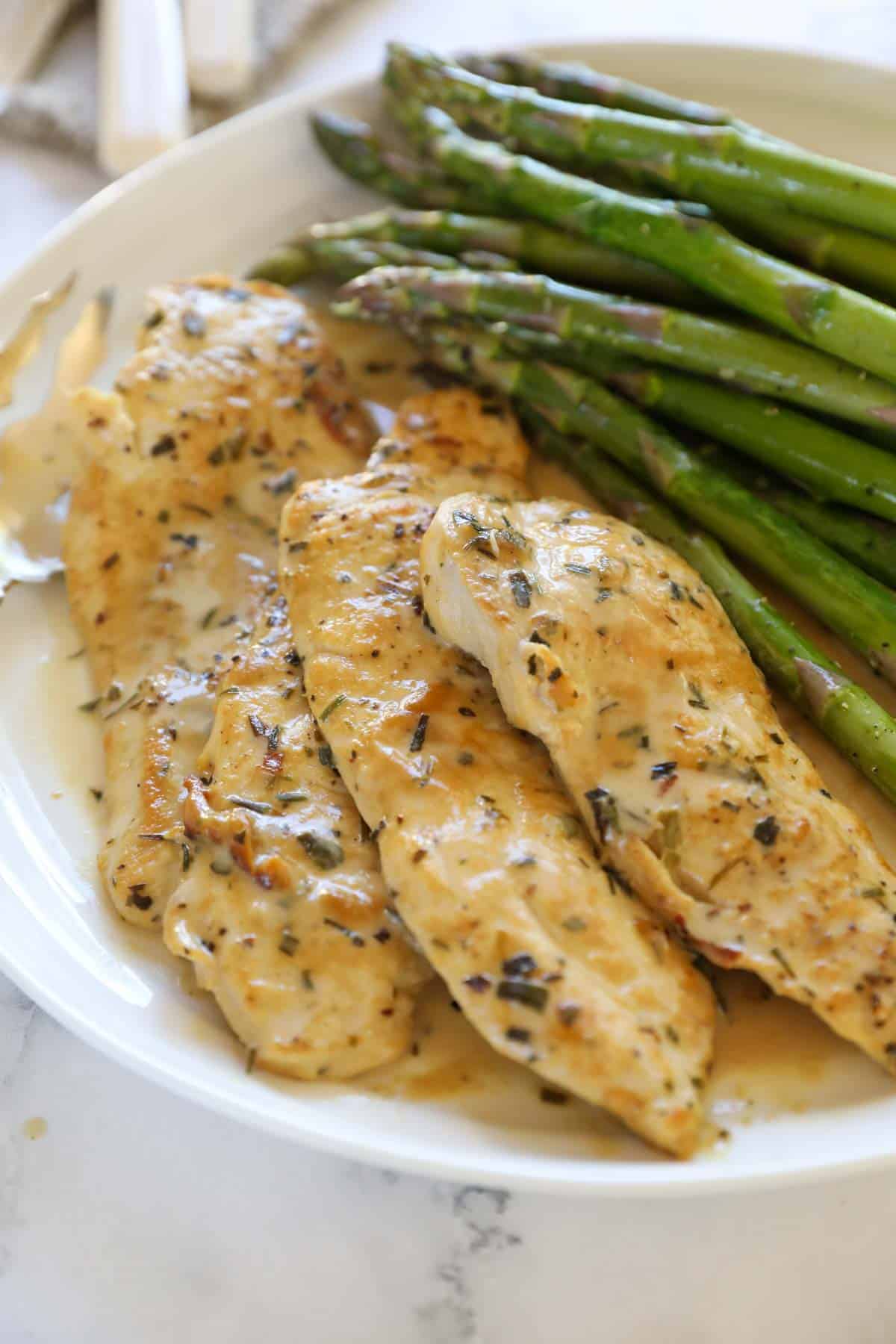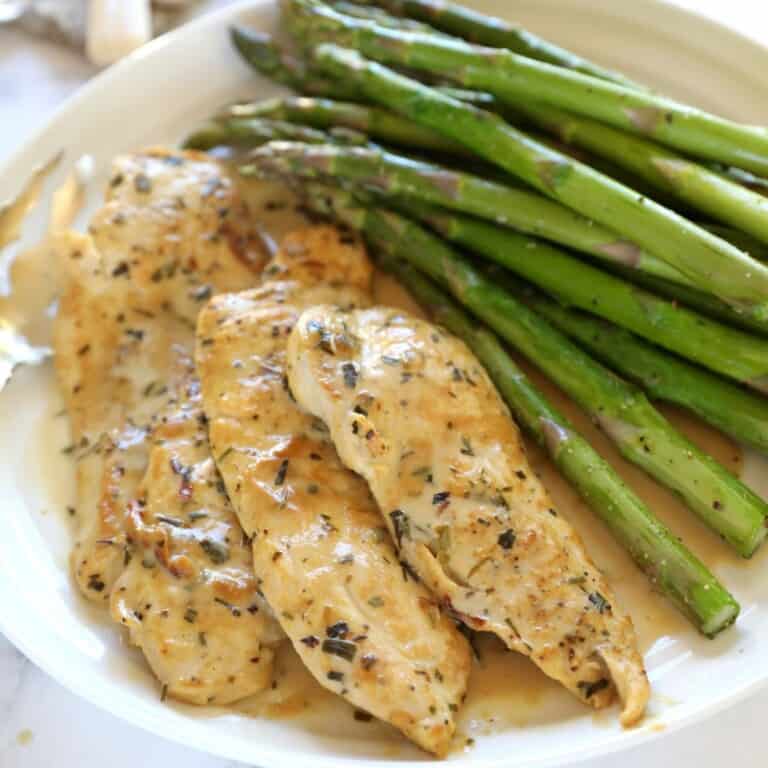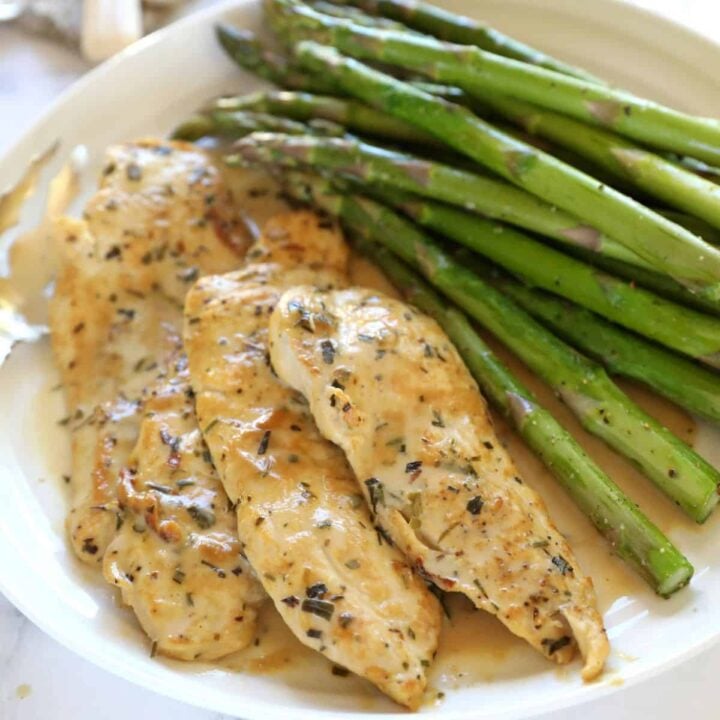 15-Minute Chicken Dijon with Asparagus
15-minute chicken dijon. A great weeknight meal when you want something a little bit special, but extra quick! 
Ingredients
2 Skinless, boneless chicken breast
salt and pepper to taste
1 teaspoon (5 ml) coconut oil
½ cup (120 ml) chicken broth
2 teaspoon (10 ml) Dijon mustard
1 teaspoon (5 ml) dried tarragon
1 tablespoon (15 ml) + 1 teaspoon (5 ml) heavy cream
1 bunch asparagus trimmed
2 teaspoon (10 ml) olive oil
salt and pepper to taste
Instructions
Butterfly chicken breast and then cut it down the center to create 2 chicken cutlets.
Place wax paper on top and pound thinly with a meat tenderizer or rolling pin. Season one side only with salt and pepper.
Heat the coconut oil in a non-stick skillet until melted and hot.
Place chicken breasts in the hot pan and sear until golden brown.
Flip chicken and allow to cook on the other side until browned.
Meanwhile heat olive oil in a stainless steel pan until hot, add asparagus and allow to sauté. Shaking pan periodically to char slightly on all sides.
Once chicken is cooked through, transfer to a serving plate. Deglaze pan with chicken broth. Whisk in mustard, add tarragon. Simmer and reduce slightly. Add the heavy cream.
Pour sauce over the chicken and serve with the asparagus on the side.
If you have the time, My Foolproof Roasted Potatoes really round out this meal! Roast them first and then keep warm in a 200F oven until rest of meal is ready.
Notes
To save even more time you can purchase 4 already pounded chicken cutlets
For a saucier Chicken Dijon, double the quantities of the sauce
For a healthier version, skip the cream and thicken the sauce with a cornstarch slurry. 1 tablespoon cold water to 1 tablespoon cornstarch, mix in a small bowl and add to the broth as soon as it is bubbling.
Nutrition Information:
Yield:

4
Serving Size:

1
Amount Per Serving:
Calories:

217
Total Fat:

14g
Saturated Fat:

3g
Trans Fat:

0g
Unsaturated Fat:

10g
Cholesterol:

60mg
Sodium:

265mg
Carbohydrates:

2g
Fiber:

0g
Sugar:

1g
Protein:

20g