Sausage and Peppers Recipe
If you are looking for an inexpensive dinner idea that the whole family will love, Sausage and Peppers is the ticket! This is one of my favorite weeknight recipes because it's classic comfort food that takes hardly any time to put together.
The only real prep is slicing the onions and peppers. How easy is that?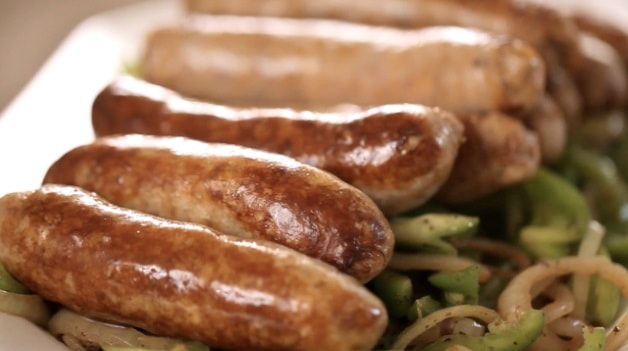 Prep Tips:
The best way to make this dish is to sear the sausages first, browning on all sides in order to get a nice golden color on them.
Then you'll finish cooking them in the oven. This will assure the sausages are well cooked on the inside, something that's hard to achieve in the skillet alone.
While the sausages finish in the oven, you can saute up the veggies and have dinner on the table in record time!
Watch My Sausage and Peppers Video Below!
Subscribe for weekly recipes
and new videos!
Step 1: Sear the Sausages
This recipe uses sweet Italian pork sausages, but you can use chicken, turkey, or other sausages, too.
In a large skillet, heat the olive oil over medium-high heat. When the pan is hot, place the sausages in the pan and sear on all sides.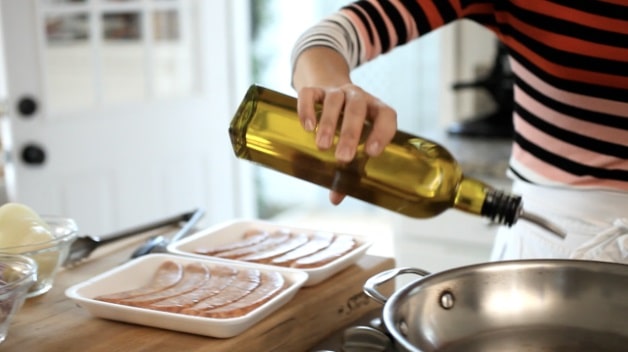 This will get a nice sear on the sausage and bring out their flavor.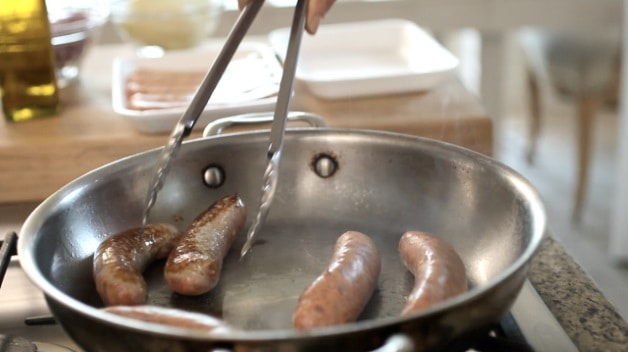 Then, finish cooking in the oven to cook the sausages all the way through. They will plump up once they become fully cooked inside.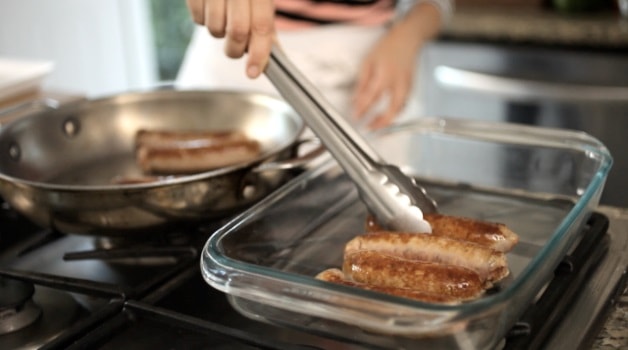 What Goes Well With Sausage and Peppers?
I love to serve my Smashed Potato Recipe with sausage and peppers, but you could also do mashed potatoes or pasta too!
Here are some other ideas for sides to serve with sausage and peppers:
German Potato Salad
Sauerkraut
Baked Beans
Step 2: Saute the Peppers and Onions
While the sausages are finishing in the oven, add a thinly sliced white onion and red onion to the same pan. Any bits that are stuck to the bottom of the pan from the sausages, will add extra flavor to the vegetables.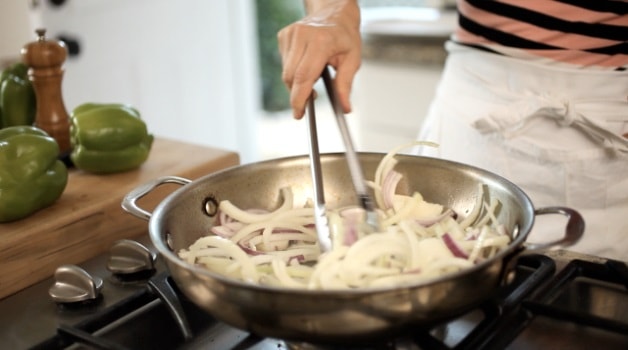 Allow the onions to cook down just a bit before adding the peppers. The longer the onions cook the sweeter they will be.
Then, add the sliced bell peppers to the skillet with the onions, and cook both together. But don't overcook the peppers. They just need a quick saute and they are done! This will retain their nutrients and provide a nice crunch.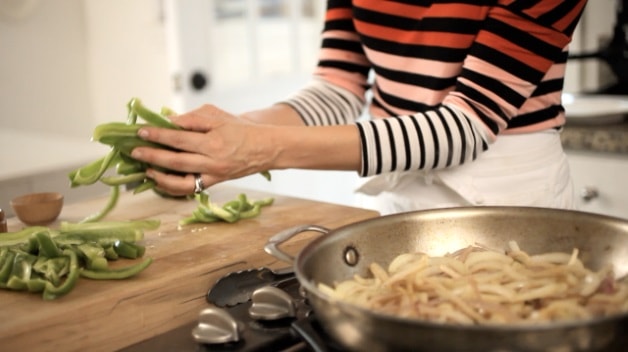 Money-Saving Tips:
If you are minding your budget, just buy the green bell peppers. Depending on the season, red and yellow peppers can be as much as three times the price of the green peppers!
Season the onions and peppers with salt and pepper to taste, and a tablespoon of Italian Seasoning. Buying a seasoning blend is the most economical way to go since it will prevent you from having to buy 3-5 different spices.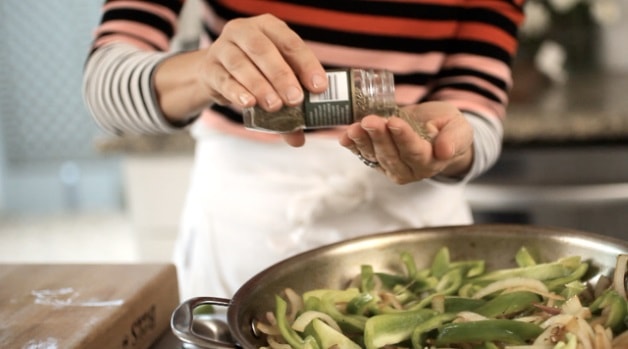 Serving Tips:
To serve, create a bed of the peppers and onions on a large platter and then place the sausages on top.
Serve with some spicy Dijon mustard on the side.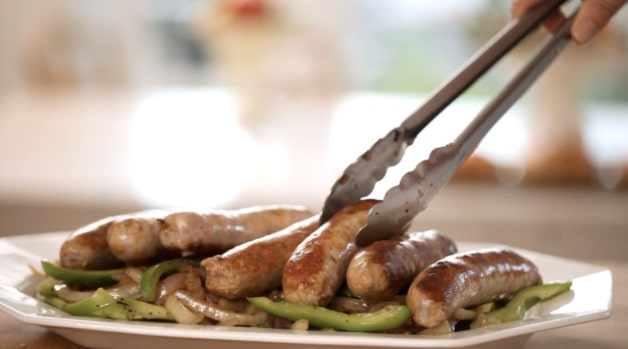 More Easy Weeknight Dinners!
If You Enjoyed This Recipe
Please Leave a Rating and a Review Below!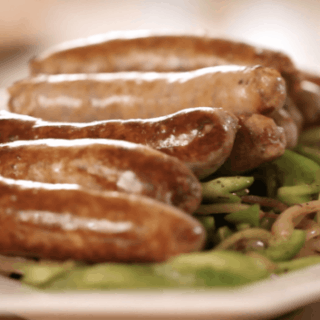 Sausage & Peppers Recipe
Sausage and peppers an easy, budget-friendly weeknight meal that is pure comfort food. A great recipe for beginners!
Ingredients
10 Italian Pork Sweet Sausages
2 tablespoon (30 ml) olive oil
1 red onion, sliced
1 white onion, sliced
salt and pepper to taste
4 green peppers, sliced into strips
1 tablespoon (15 ml) dried "Italian Seasoning"
Instructions
Heat large sauté pan. Drizzle a small amount of olive oil in the pan (less than a tsp). Cook sausages, browning on all sides. Then transfer to a heat safe casserole and finish cooking in a 350F (175C) degree oven about 15 mins or so.
Meanwhile, heat pan with remaining oil. Saute onions, and season with salt and pepper. Once soft and fragrant add peppers. Cook just until they start to become soft, but still have their crispness. Add Italian seasoning.
Serve sausages on a bed of peppers and onions along with some spicy Dijon mustard.
Notes
For a lighter recipe you can use Chicken Sausage too.
Serve with my Smashed Potatoes or Mashed Potatoes are great too.
Nutrition Information:
Yield:

4
Serving Size:

1
Amount Per Serving:
Calories:

683
Total Fat:

42g
Saturated Fat:

13g
Trans Fat:

0g
Unsaturated Fat:

25g
Cholesterol:

197mg
Sodium:

340mg
Carbohydrates:

15g
Fiber:

3g
Sugar:

7g
Protein:

60g