This delicious Baked Stuffed Shells Recipe is a fantastic pasta recipe for a Sunday night dinner. They are stuffed with flavorful ricotta cheese, simmered in a homemade tomato sauce, and topped with gooey mozzarella cheese.
You could use store-bought sauce if you choose but personally, I think the flavor is so much better with homemade! I load mine with sautéed veggies and sweet Italian sausage for a hearty, filling meal.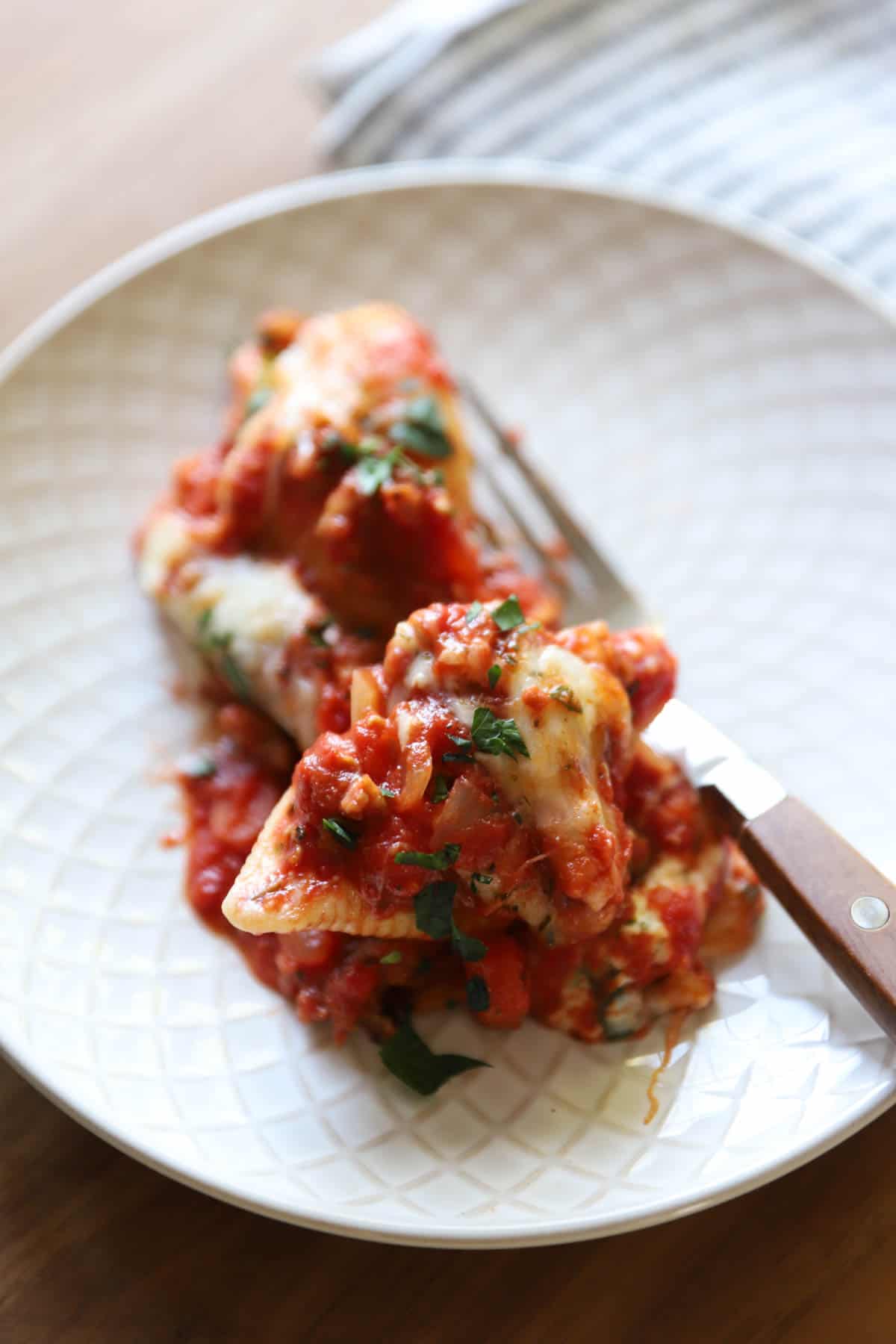 What's the Difference Between Stuffed Shells and Manicotti
Cheese manicotti is another classic baked, Italian pasta dish. Both are stuffed with ricotta cheese and covered in tomato sauce. Either can be made with a meat sauce, or spinach in the ricotta mixture. Slight variations exist with Traditional Cheese Manicotti, with some recipes using long tubular pasta, and others using homemade crepes instead of pasta. This is how my Dad's Italian family made their Cheese Manicotti Recipe and their recipe is a treasured family favorite!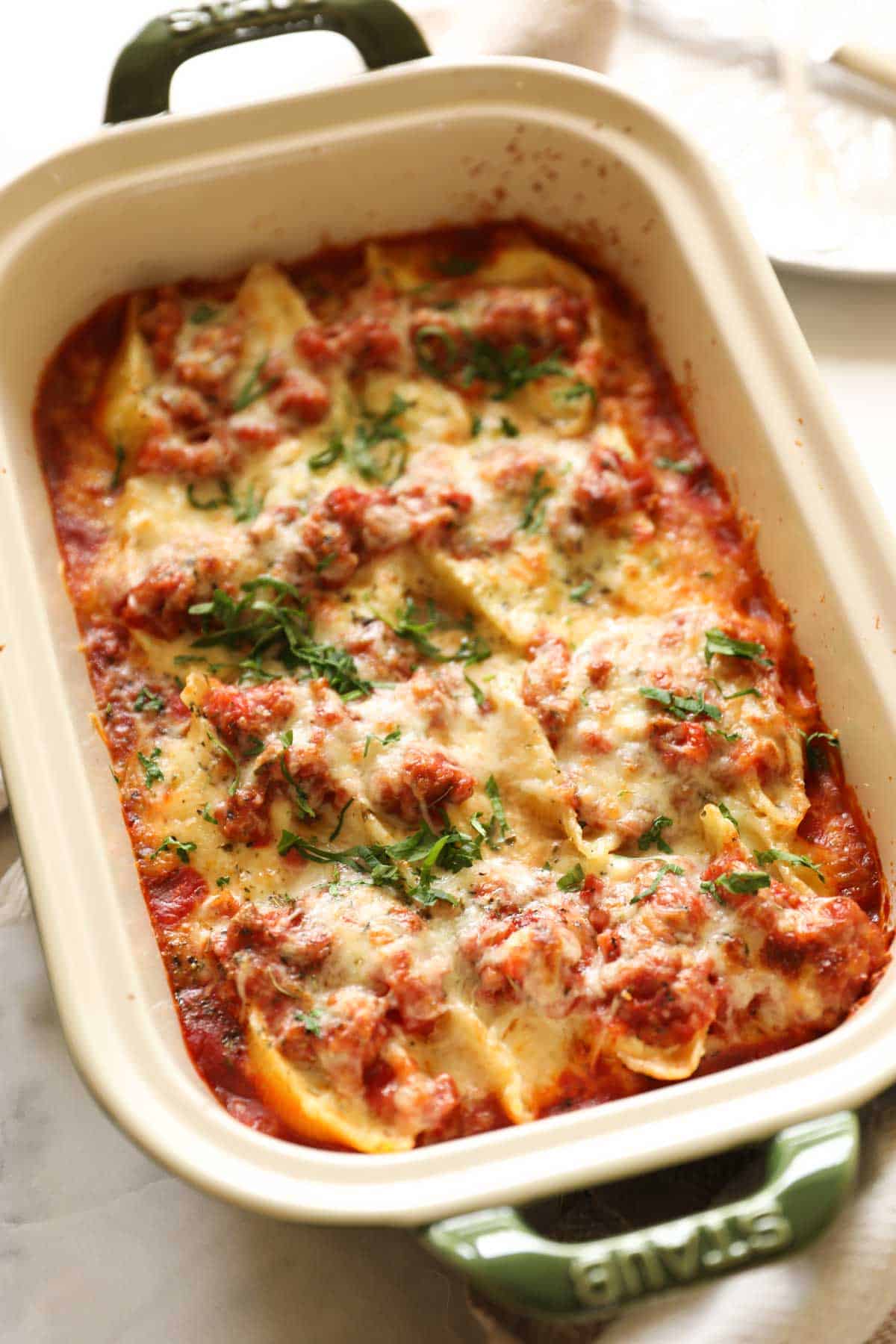 The Ingredients:
Jumbo Stuffed Shells Pasta shells come in a few sizes, but for baked shells, you'll want to buy the Jumbo shells. They will be easier to fill that way. I always cook extra shells because they have a tendency tearing as they boil. A 9x12 casserole can fit 16 shells comfortably, but I boil 25 just in case! Then I save the ripped shells with a little bit of sauce, in the refrigerator. It makes a great after school snack for any hungry, cranky kid!
Sweet Italian Sausage Depending upon how your store sells the sausages you can use 3-5 links. It can really vary between stores! Some are in a 4-pack some are in 5. So to save the hassle of freezing 1-2 links. Use anywhere in this range.
Onion, Carrots, Celery These veggies are diced into small pieces because it's a great way to sneak in some extra veggies for kids who aren't such a fan of eating their vegetables.
Tomato Puree Look for puree that is plain, without spices or seasoning (since we will add our own) My new favorite brand is Mutti's Tomato Puree. The Italian cooking class I took last summer in Tuscany was using this brand and told me to look for it back in the States and sure enough there it was in my local store!
Crushed Tomatoes will give your tomato sauce a nice chunky texture.
Tomato Paste I add tomato paste as well to sweeten up the tomato sauce and add more tomato flavor.
Italian Seasoning If you don't have this spice blend on hand, you can substitute for dried basil, and oregano, equal parts of each.
Garlic I'm a big fan of fresh garlic in tomato sauce, but in a pinch you could substitute for ½ teaspoon garlic powder.
Ricotta Cheese I use whole milk ricotta cheese. I think it has the best texture. Any leftover ricotta cheese can be put to good use in my Lemon Ricotta Pancakes with Raspberry Sauce.
Egg will bind the ricotta cheese together and prevent it from becoming runny while in bakes in the oven.
Grated Mozzarella Cheese for both the ricotta mixture for gooeyness, and the topping.
Parmesan Cheese For flavor! I use it in the ricotta mixture.
Fresh Italian Parsley For the ricotta mixture as well as garnishing on top. But if you don't have parsley, you can also swap for fresh basil too.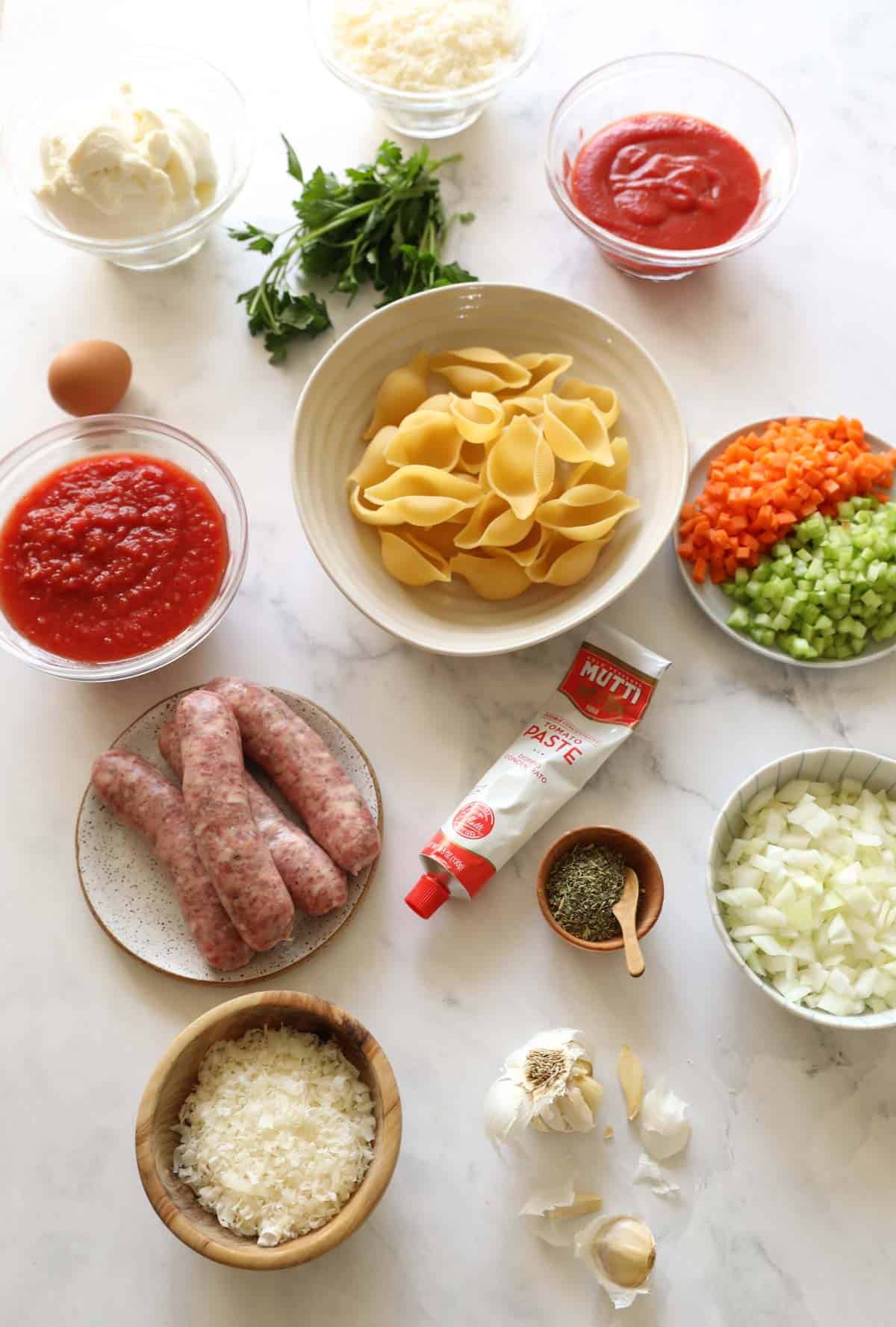 Watch My Baked Stuffed Shell Video Below
Step#1: Make the Homemade Tomato Sauce
The tomato sauce needs to simmer for at least 20-25 minutes before baking in the oven. So it's best to start here.
I start by browning the sausage into small pieces, breaking it apart with a wooden spoon. Once it's cooked through you can transfer it to a plate lined with paper towel to drain.
Don't wash the pot out, cook the vegetables in the sausage fat for added flavor.
Then once the sauce is assembled you can let it simmer on low while you prep the rest of the recipe.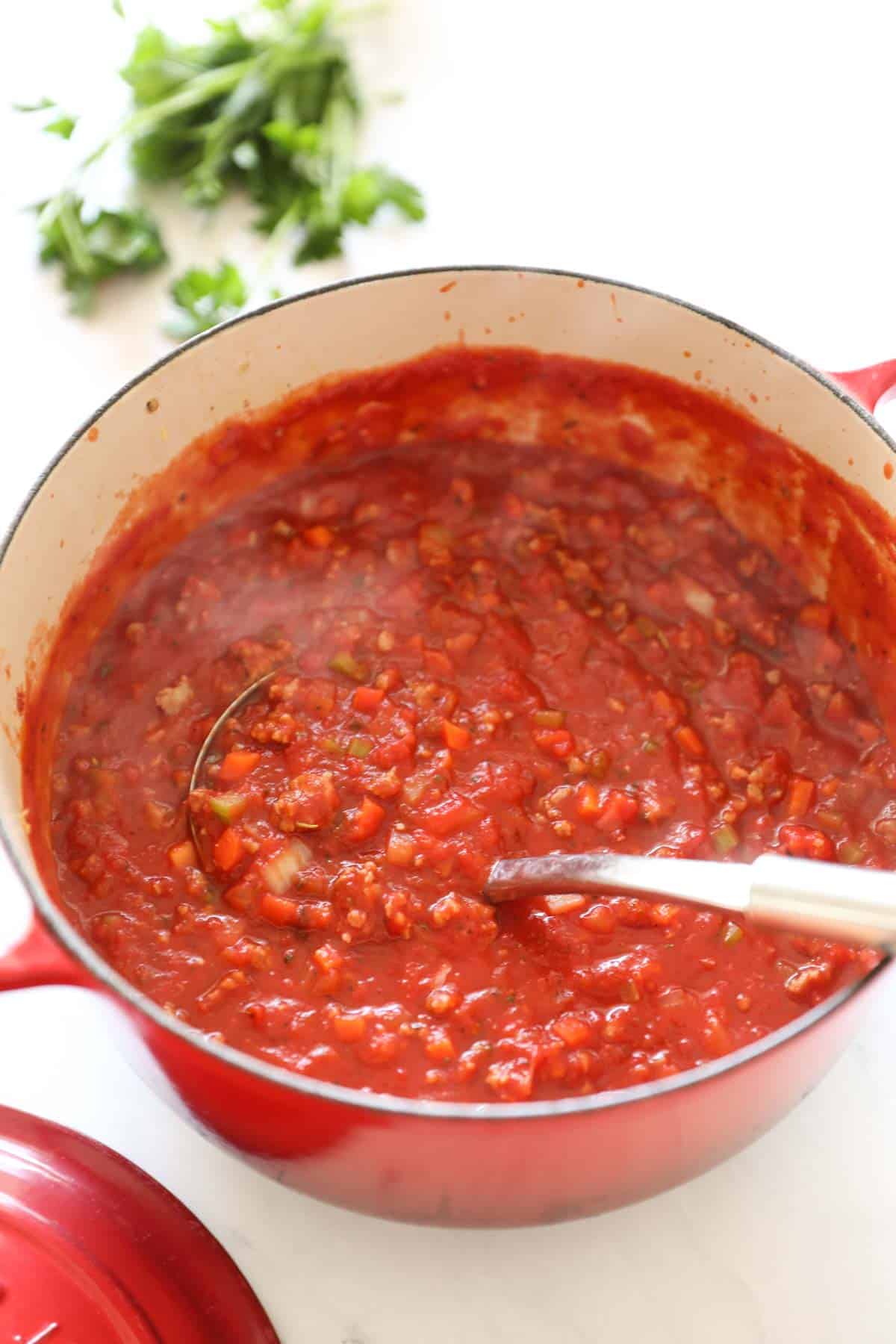 Step#2: Prepare the Shells and the Ricotta Cheese
Boil the shells according to the package instructions. Keep stirring them occasionally to prevent them from sticking at the bottom.
Then mix up the ricotta cheese mixture and transfer it to a pastry bag fitted with a wide tip. The tip needs to be wide enough to allow the cheese and parsley to pass through.
But I find the pastry bag is a lot easier for filling the shells, you have more control and stability as opposed to filling the shells with a spoon.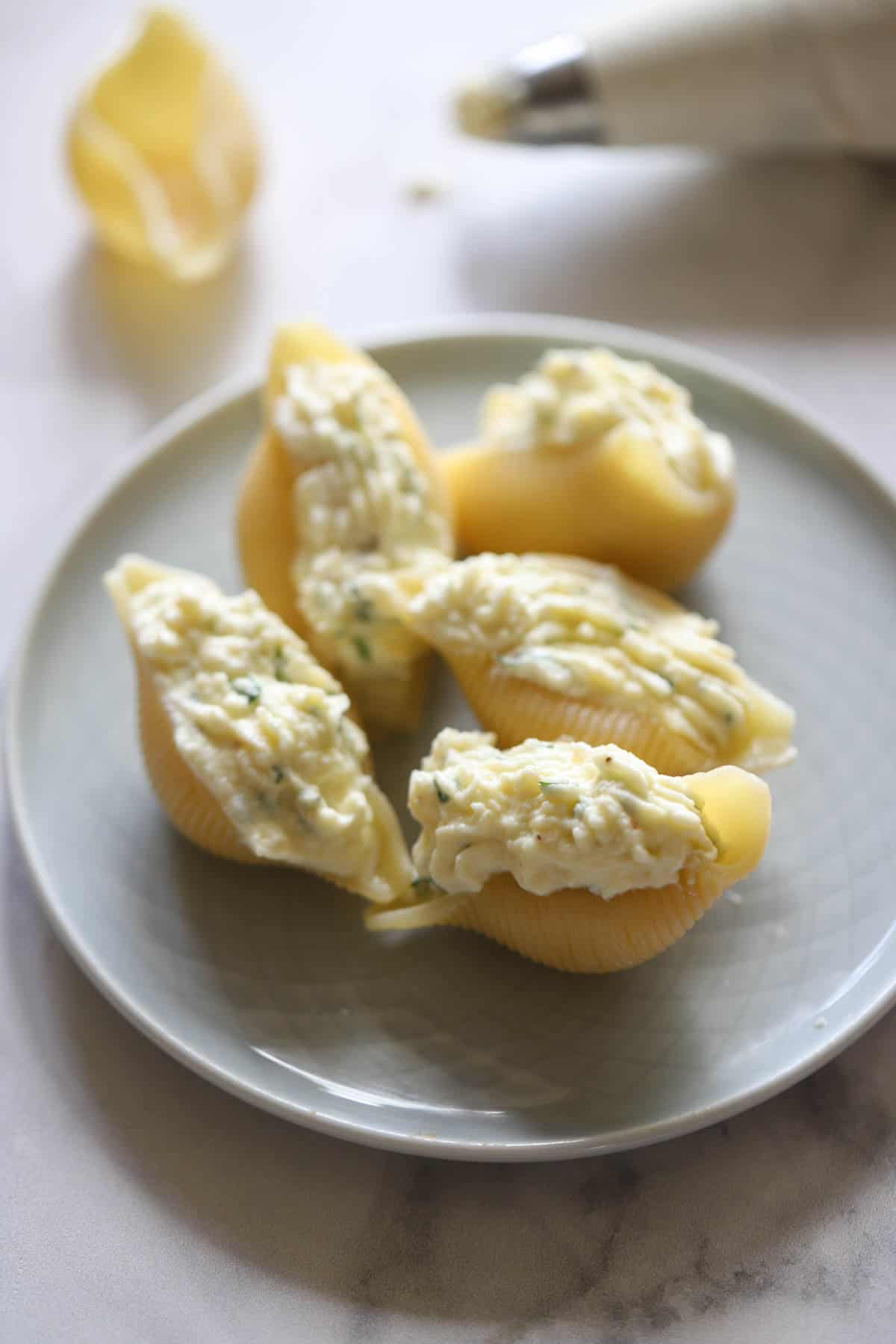 Step#4: Assemble and Bake the Casserole
This is a great oven-to-table dish, so pick a 9x12 casserole dish that will also look pretty on the table.
I love this Rectangular Covered Baking Dish from Staub, because it comes with a lid. It's so helpful for a recipe like this that bakes covered and then uncovered, because you don't have to deal with any foil.
It's also great for leftovers too. Since you just place the lid on and pop it in the refrigerator, again no foil needed!
Ladle out ⅔ of the quantity of sauce on the bottom of the casserole, then nestle the shells in the sauce, spoon some more sauce on top to protect the shells from drying out. And then cover the shells with the grated mozzarella cheese.
I make a lot of sauce for this recipe because it's practically a side dish, with all the veggies and sausage. It makes the dish more hearty and filling. But you can also freeze it in some Souper Cubes and it makes a great tomato sauce on a busy weeknight to toss with some pasta.
Bake for 30 minutes covered and 15 minutes uncovered. I also like to place it under the broiler for a few minutes to get the cheese bubbling and turning golden brown.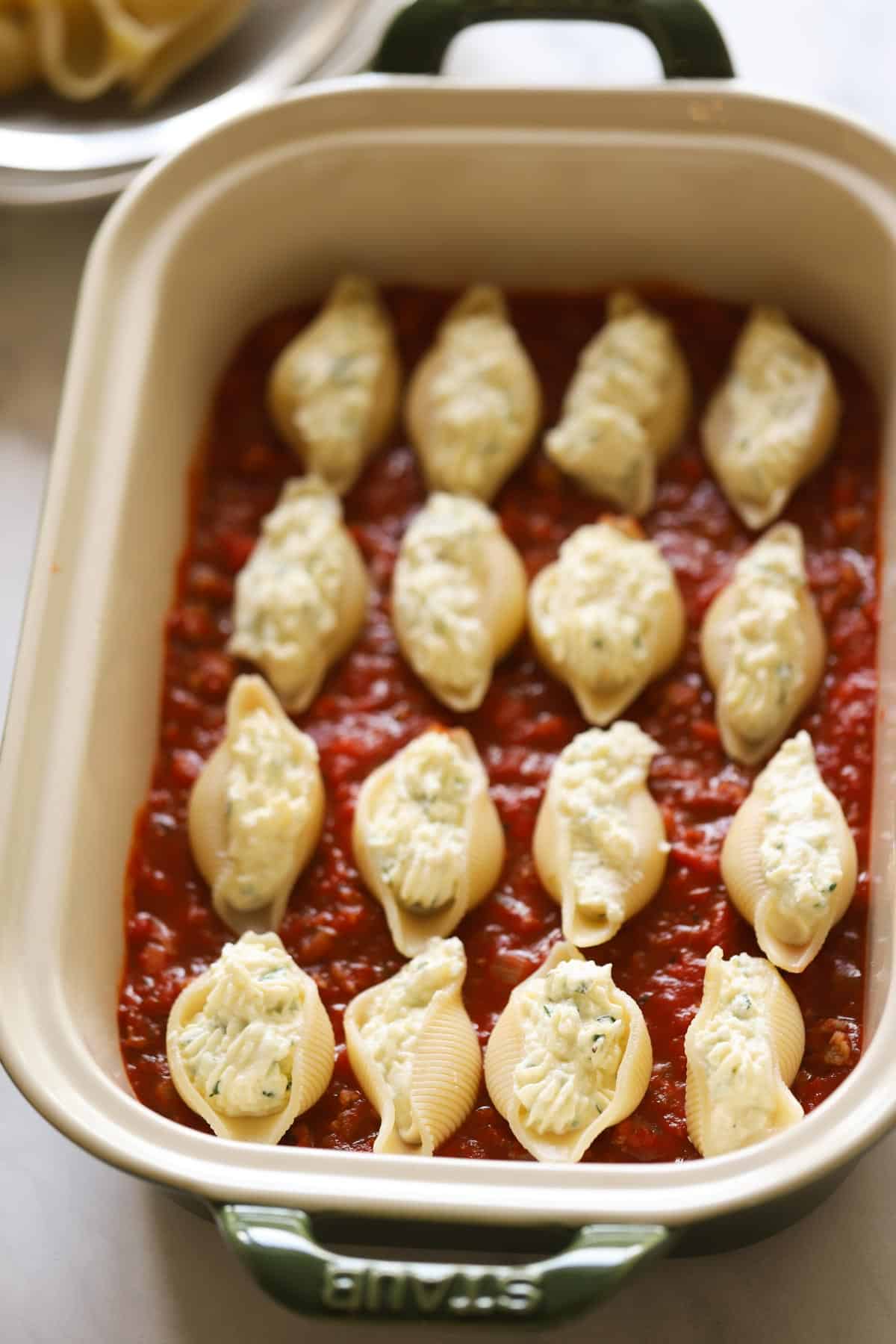 What To Serve with Baked Shells?
Baked shells are pretty filling on their own, but a refreshing tossed salad with some tasty Garlic Knots would be a great idea! For dessert try a dish of vanilla ice cream topped with some homemade Hot Fudge Sauce, Peanut Caramel Sauce or Homemade Strawberry Sauce.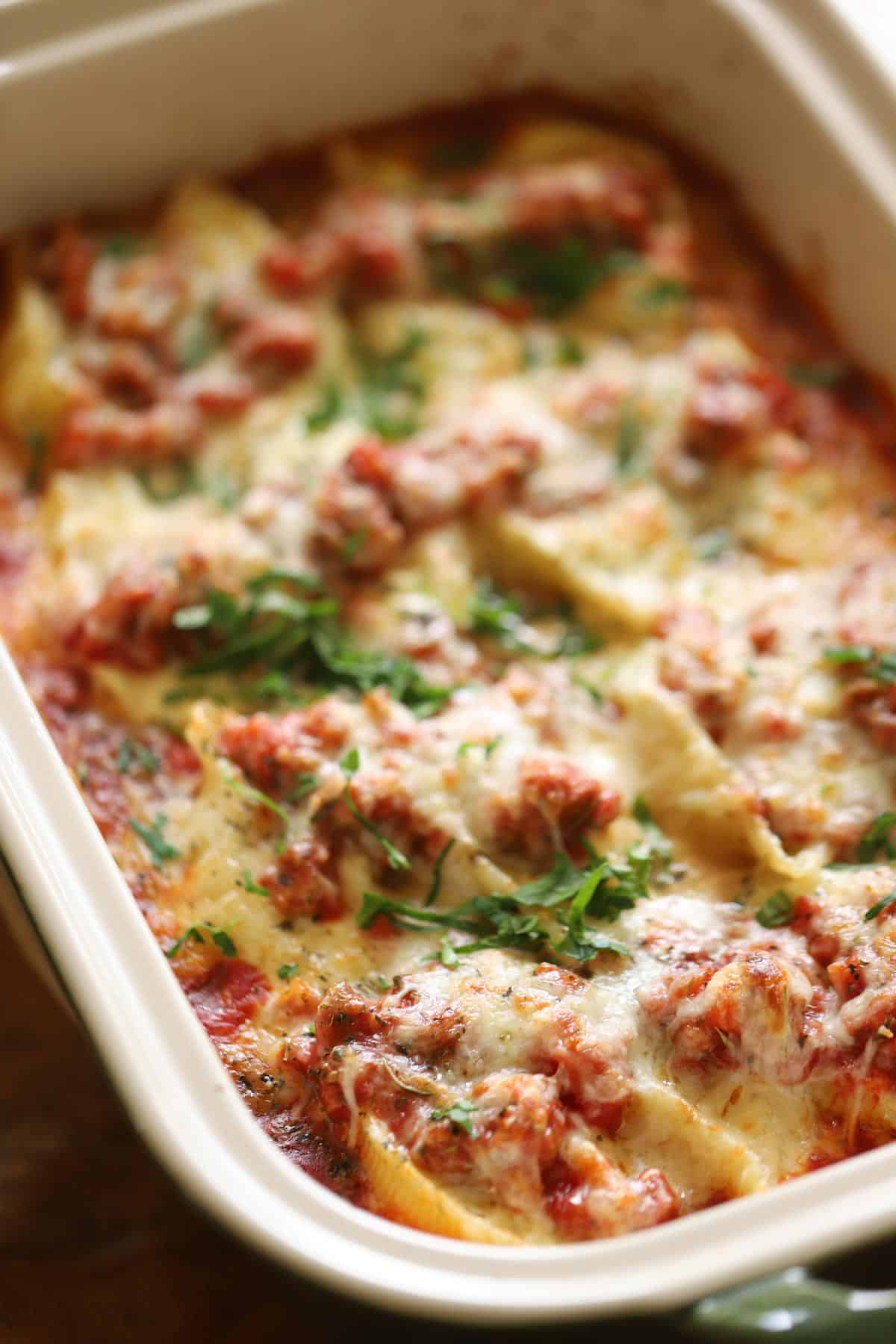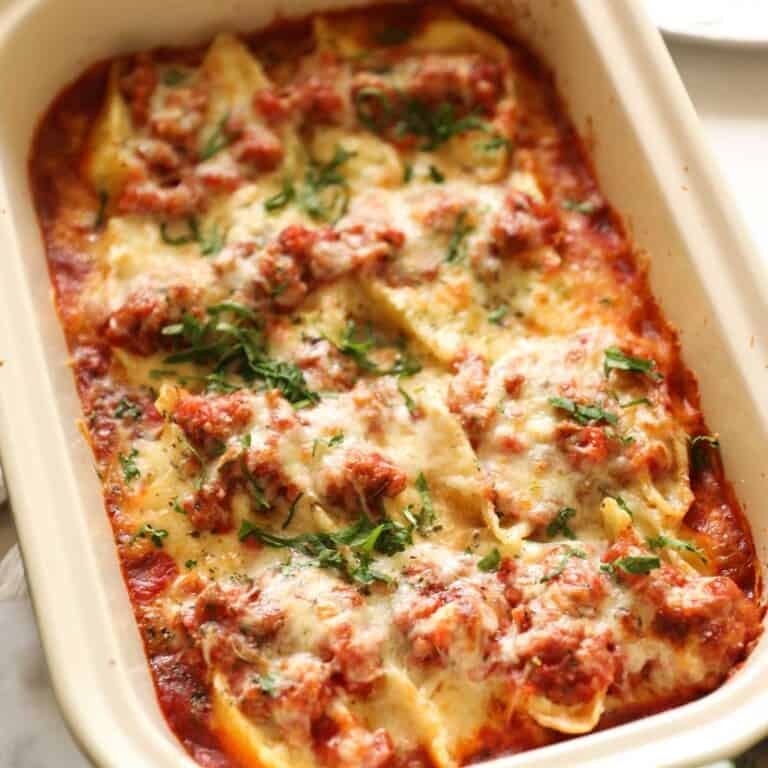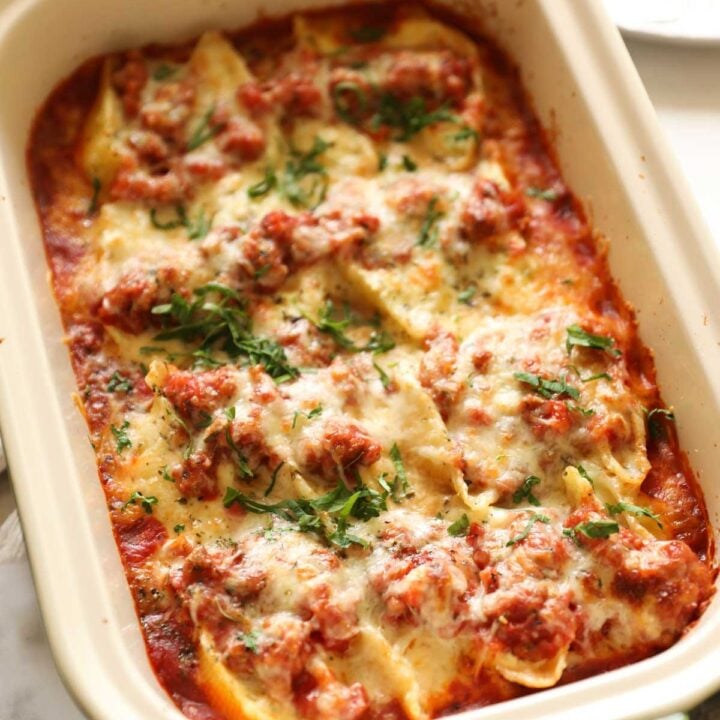 Baked Stuffed Shells
Total Time:
1 hour
45 minutes
These baked stuffed shells with sweet Italian sausage is a fantastic Sunday night dinner idea that the whole family will love!
Ingredients
25 Jumbo Shells
1 tablespoon (15 ml) Olive Oil
4 links Italian Sausage, casings removed
1 cup (52g) white or yellow onion, diced
½ cup (26g) chopped celery
½ cup (26g) chopped carrots
30 ounces (887 ml) tomato puree
1 (15 oz) (443g) can diced tomatoes
2 garlic cloves, minced
1 tablespoon (15 ml) Italian seasoning
1 tablespoon (15 ml) Tomato Paste
Filling:
15 oz (443g) Ricotta Cheese
1 egg
½ cup (50g) grated parmesan cheese
½ cup (112g) grated mozzarella cheese
¼ cup (15g) fresh parsley, chopped
Freshly cracked pepper to taste
Topping:
1 ½ cups (337g) Freshly grated mozzarella
A sprinkle of Italian Season
1 tablespoon ( 3g) Fresh Parsley, finely chopped
Instructions
Heat a large Dutch oven over medium-high heat. Remove the sausage from its casings and cook the sausage, until browned and cooked through, cutting it up with a wooden spoon into small pieces.
Remove the sausage with a slotted spoon, and transfer to a plate lined with paper towels to drain.
Meanwhile cook the onion, celery and carrots in the sausage fat until tender and fragrant.
Add the tomato puree, diced tomatoes, garlic, Italian seasoning and tomato paste. And then add back in the cooked sausage.
Simmer on low for 20 minutes.
Meanwhile cook the shells according to package instructions until al dente. They will continue to soften in the oven as they bake. Drain and cool in a colander.
Meanwhile, mix together the ricotta filling. And set aside.
Transfer ⅔ of the tomato sauce to a 9x12, or 9x14 oven-safe-casserole.
Transfer the ricotta cheese mixture into a pastry bag fitted with a pastry tip wide enough to allow the parsley and grated cheese to pass through.
Fill each shell with the ricotta cheese and place them in the casserole on top of the sauce. You should be able to create 4 rows of 4-5 shells (depending upon how many un-torn shells you have.) Refrigerate the torn shells with a little reserved sauce for an easy lunch or snack.
Top the shells with more sauce, and grated mozzarella cheese.
Bake shells at 375F (190C) for 30 minutes covered and 15 minutes uncovered. Then place under the broiler for 1-2 minutes until cheese is bubbly and golden brown.
Serve immediately.