This hot fudge sauce is a fantastic homemade ice cream sauce you can whip up when the craving strikes. It uses only four ingredients and chances are you probably have these ingredients waiting for you in your pantry and fridge!
Rich, and chocolatey with a thickness that is oh-so decadent! It pairs beautifully with mint chocolate chip ice cream or drizzled over a banana split or on top of one of my Butterscotch Blondies! Add my homemade Peanut Butter Sauce and Strawberry Sauce for a self-serve sundae station!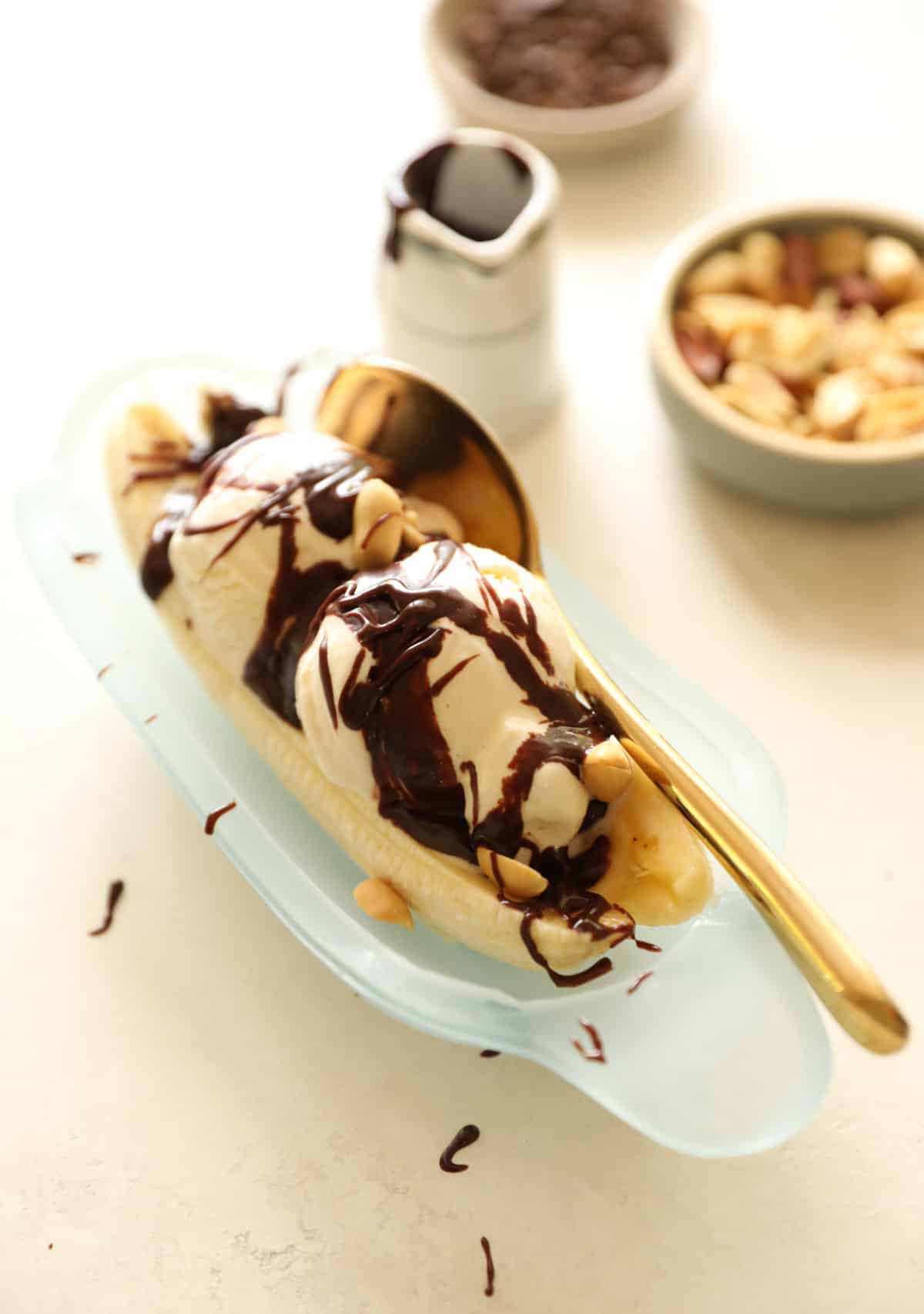 The Difference Between Hot Fudge Sauce vs. Chocolate Sauce
Hot fudge sauce is thicker, with a fudgy consistency.
I prefer hot fudge sauce on ice cream, because it becomes slightly harder and chewier.
Store-bought hot fudge sauce can be really sweet, without much chocolate flavor. This is one of the main reasons I like to make it at home, because you can control the sweetness and the chocolate flavor will be 10x better!
Chocolate sauce on the other hand is thiner and more of a liquid sauce, great for drizzling!
I prefer chocolate sauce when serving it over something starchy like profiteroles, brownies, waffles or crepes. That way the dessert isn't too heavy.
For a chocolate sauce recipe see my Profiteroles Recipe.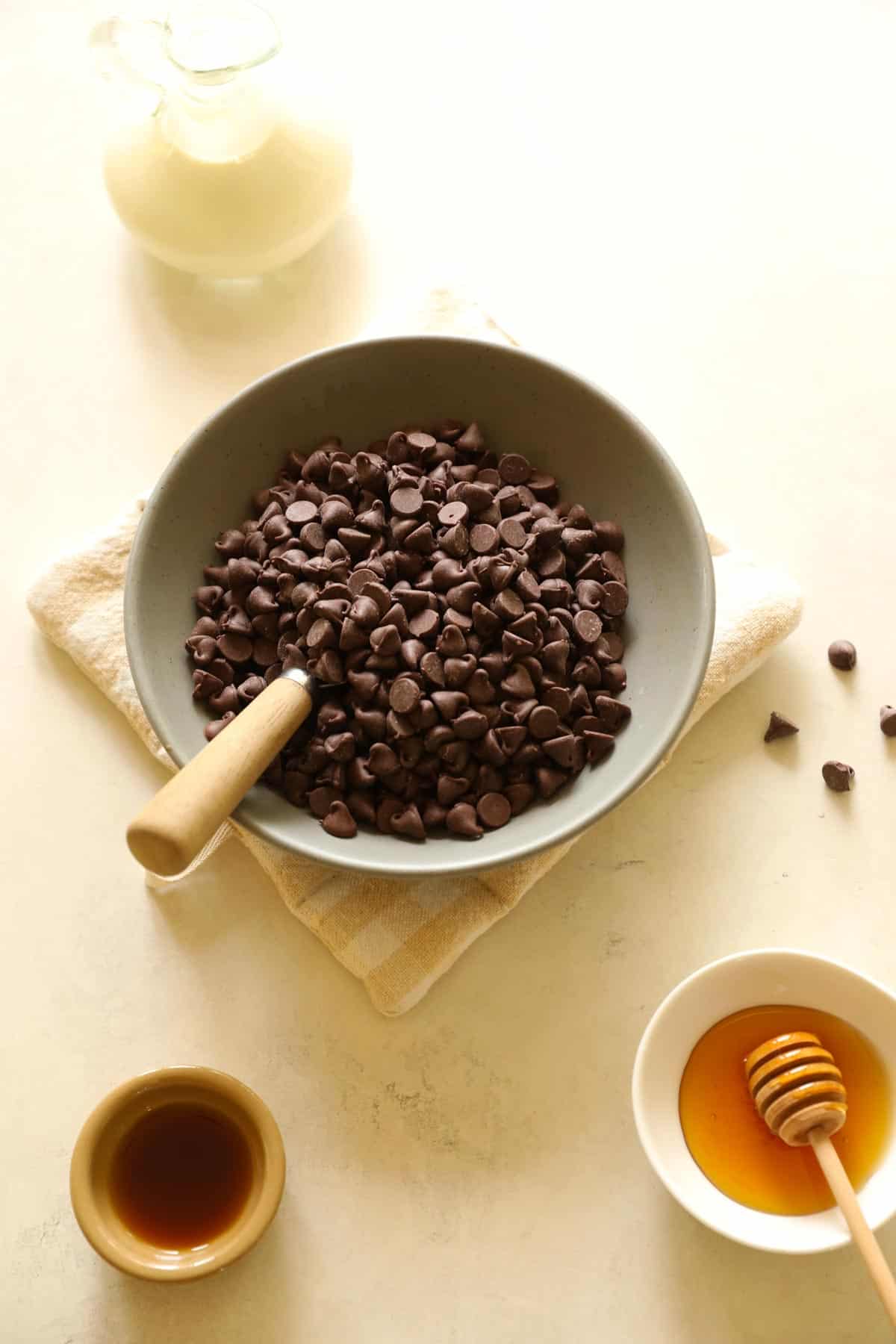 Ingredients:
Semi-Sweet Chocolate Chips I prefer semi-sweet chocolate chips in this recipe because they provide just enough sweetness and chocolate flavor. If dark chocolate is more your thing, use the Nestle Dark Chocolate Morsels (I think they deliver the best chocolate flavor) but double the amount of honey to balance out the bitterness.
Heavy Cream The heavy cream is what creates "the sauce", unfortunately melted chocolate alone will seize up and harden once cooled, and even more so when placed on cold ice cream, so you really need the heavy cream to create a rich, and creamy sauce.
Honey Don't skip the honey! The honey adds a wonderful gooeyness to the sauce, which hardens slightly when it hits the cold ice cream. I use 2 tablespoons, because I like this sauce a bit more on the less-sweet-side, but you could increase it if you have a sweet tooth.
Vanilla Extract Adds a wonderful depth of flavor to the sauce, but if you don't have any in the cupboard, you could omit it and it will still be good.
Step#1: Select Quality Chocolate Chips
Not all chocolate chips are created equal! If you want rich, chocolate flavor, the best thing you can do is spend a little extra on the chips. Personally, for this recipe, I like Nestle's Toll House Semi-Sweet Chocolate chips.
These will give you the best chocolate flavor and subtle sweetness that is not overpowering.
I also think these chips provide the best texture too once the chips have melted into the heavy cream.
Step#2: Add the Heavy Cream
Next, you'll place the heavy cream in a medium saucepan with the chips on a medium-low flame.
It's important to keep whisking while the cream simmers so that that chocolate will melt evenly and not scorch at the bottom. Do not let the cream boil! Or it will scorch the bottom and your hot fudge sauce will become grainy.
It will feel like it doesn't want to combine, but once the cream gets hot, the chocolate will melt, it will look like chocolate milk, and then suddenly it will whisk into a smooth luxurious looking sauce.
Creating a Thicker Hot Fudge Sauce
If you want your hot fudge sauce to be thicker, just add more chocolate chips in 2 tablespoon increments to the heavy cream mixture, along with more honey to taste, until you have reached the desired consistency.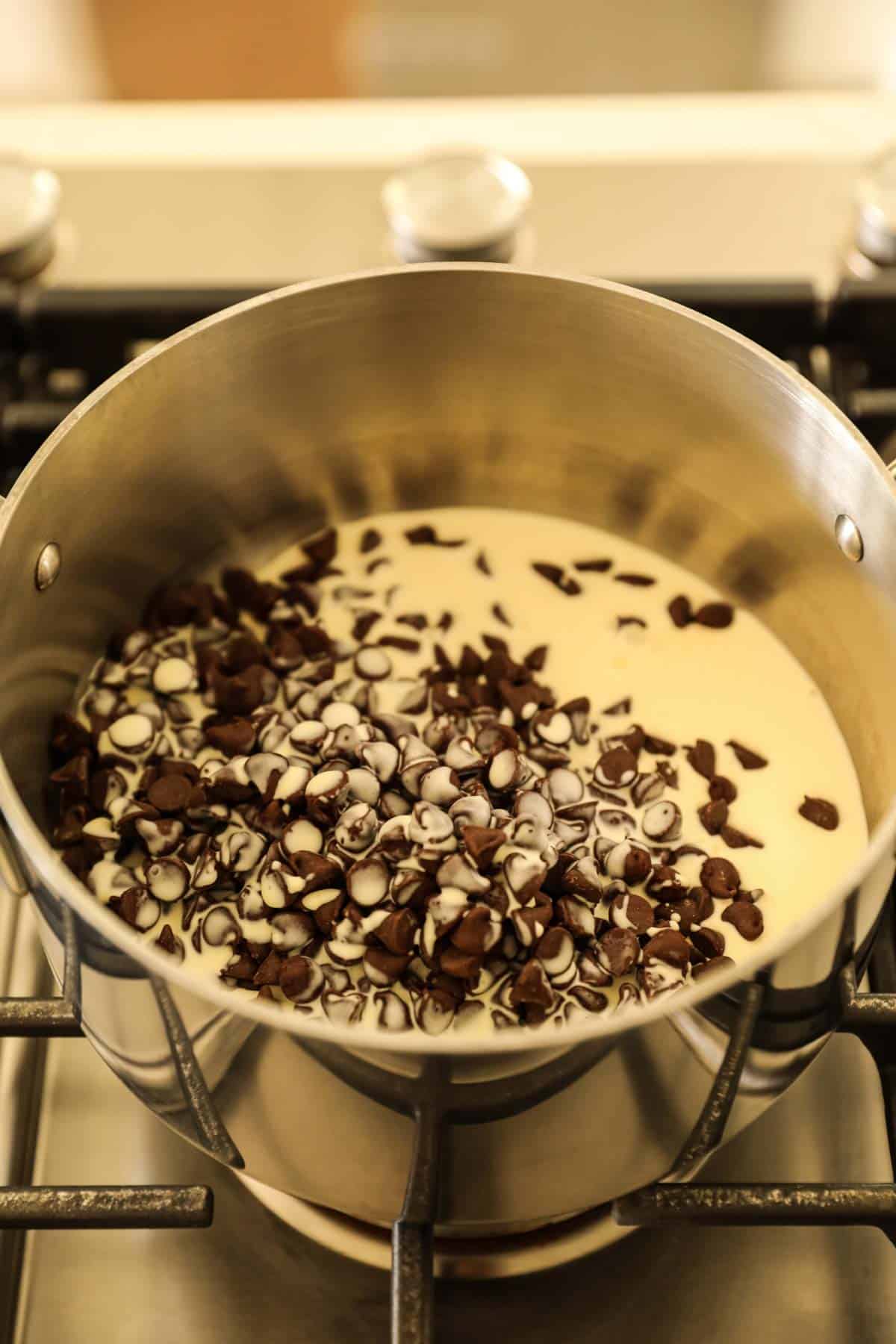 Could You Use A Microwave?
In a pinch, yes! Add the heavy cream to a 4-cup Pyrex pitcher and microwave on high for :30 increments, stirring in-between increments with a fork to combine.
But do not overcook it. Overcooking hot fudge sauce will make it grainy. Low and slow is the way to go!
Once melted and smooth, add the honey and vanilla extract.
Step#3: Add Flavor and Texture
Once the fudge sauce has been created it should look like this shot below, smooth and creamy. Then reduce the flame to medium heat.
Then you'll stir in the vanilla extract for deeper flavor and honey for a nice gooey texture. Taste it, and feel free to add a pinch of salt to boost the flavors.
The honey will also add a bit of sweetness too. I also prefer to use a natural product like honey, rather than something processed like corn syrup. This is another reason why I like making homemade hot fudge sauce, because you can create a more natural sauce. So many store-bought sauces have so many preservatives in them.
I love a thick hot fudge sauce, but if you want a thinner chocolate sauce, just keep adding more heavy cream until you reach the desired consistency. Or you could also add a shot of espresso or coffee to thin it add and add a deeper richer flavor.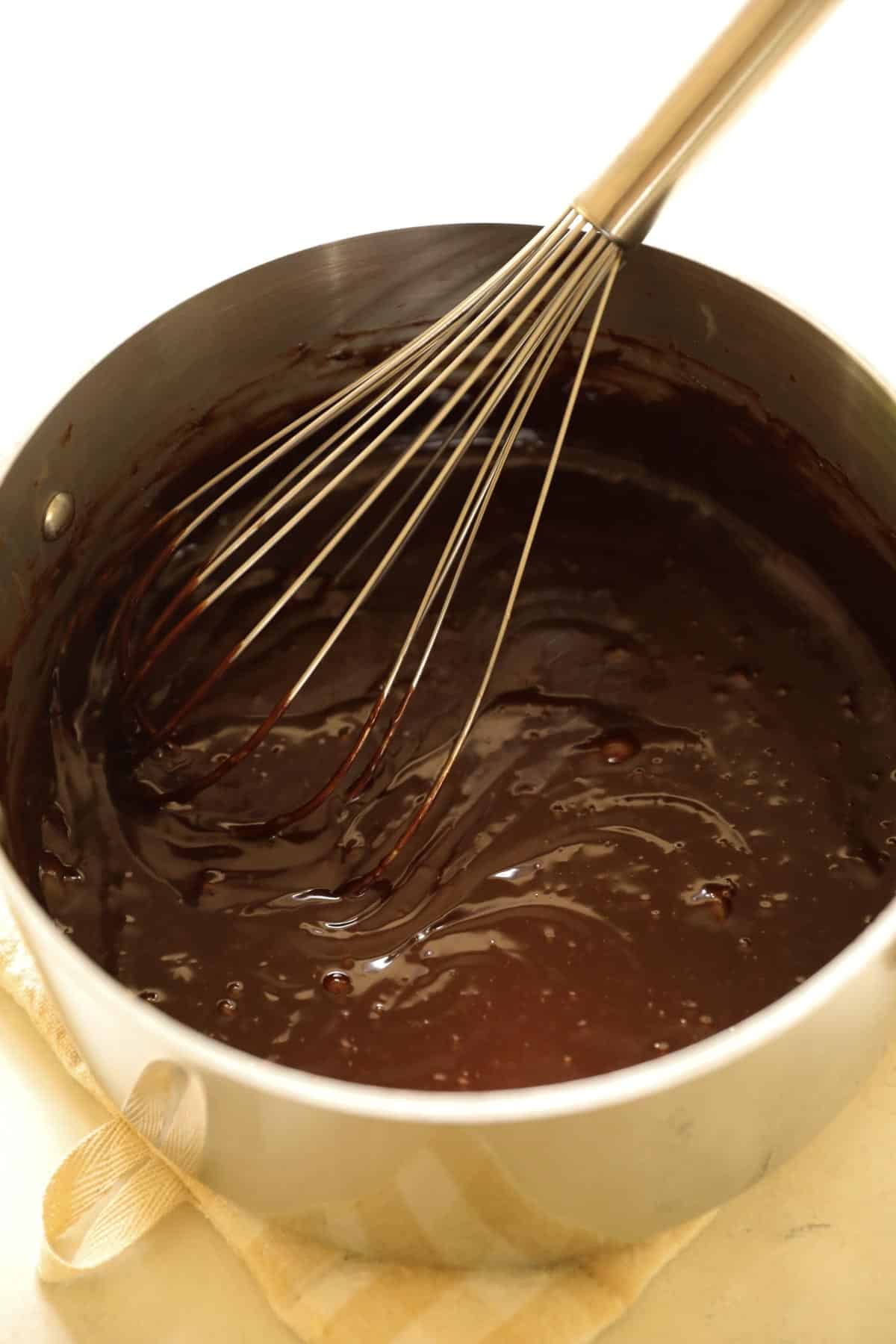 Serving Ideas:
I like to serve this sauce topped over some mint chocolate chip ice cream in tall classic ice cream glasses. It reminds me of the ice cream parlors of my youth and allows for a generous portion!
Be sure to serve it with a long ice cream spoon, or ice tea spoon, for reaching the bottom of the glass where the fudge sauce tends to pool at the bottom!
Since this is such a thick sauce It works a bit better to drizzle the sauce onto the ice cream with a fork.
It will look prettier that way and will allow for equal distribution of your chocolate sauce over the ice cream.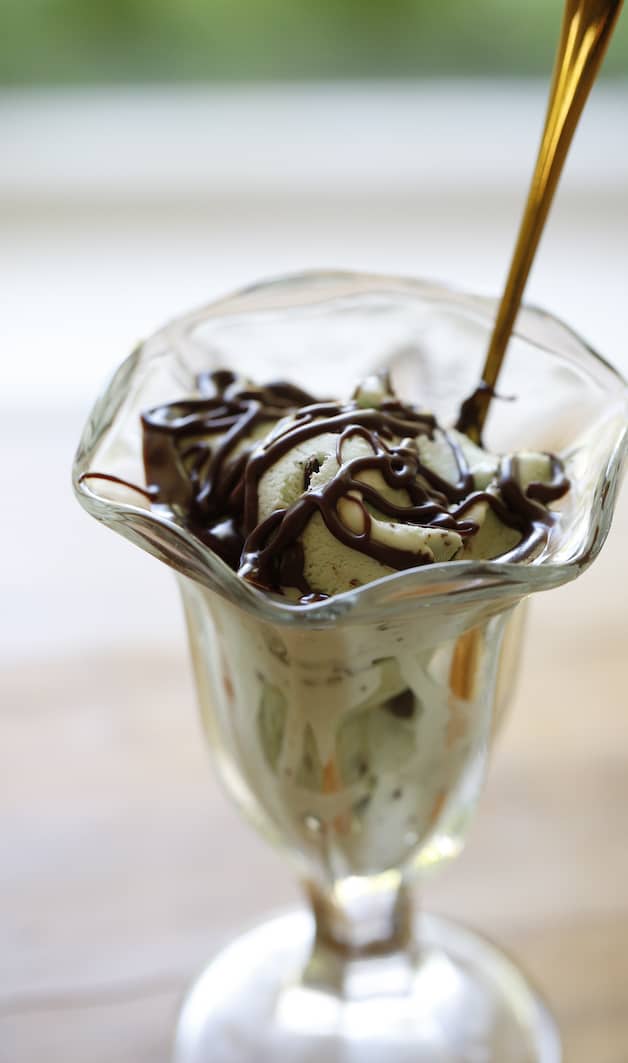 Storage and Reheating:
Hot fudge Sauce should be stored in an airtight container, in the refrigerator, not in a jar in the cupboard.

It will keep in the fridge, covered up to 5 days or you can freeze for up to a month.

To freeze the hot fudge sauce place it in a freezer-safe container for up to a month.
To defrost, I think it works better to let it sit in the refrigerator overnight, and then reheat following the instructions below.
Otherwise if you place the sauce straight from the freezer into microwave, parts of it can overcook, and scorch, while the bottom is defrosting. Unless your microwave has a defrost setting. That would be better for the first "reheating".
To reheat chilled/or defrosted sauce, spoon out individual servings in a bowl and microwave on high for :15 or until liquified.
It's better to just reheat what you plan to serve, as opposed to reheating and refrigerating the same larger portion.
Constant refrigerating and reheating of the same portion will affect the texture and also isn't the safest way to go as far as food safety is concerned. Because each time you cool and reheat food, bacteria can form, so doing this multiple times increases the likely hood of more bacteria forming.
Ideas for Leftover Hot Fudge Sauce
Add a little drizzle of leftover sauce to a vanilla milkshake to create a chocolate shake.
Add a layer or two of fudge sauce to layered ice cream cakes, or as as a topping to an ice cream pie.
Simply buy a store-bought cookie crust. Add softened mint chocolate cip ice cream. Freeze, and then spoon over a layer of hot fudge sauce, and freeze again for an easy and delicious ice cream pie!
More Great Dessert Recipes!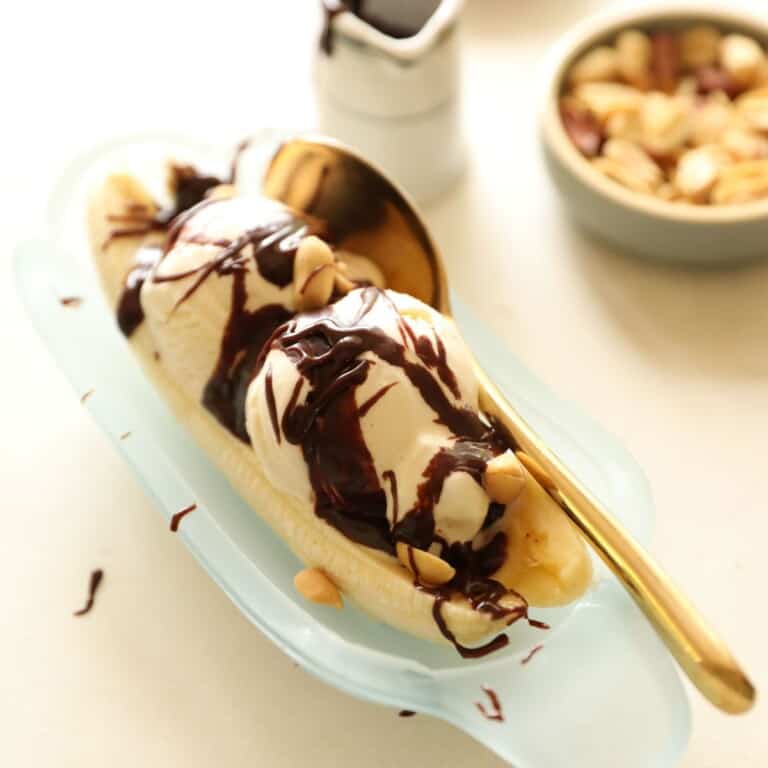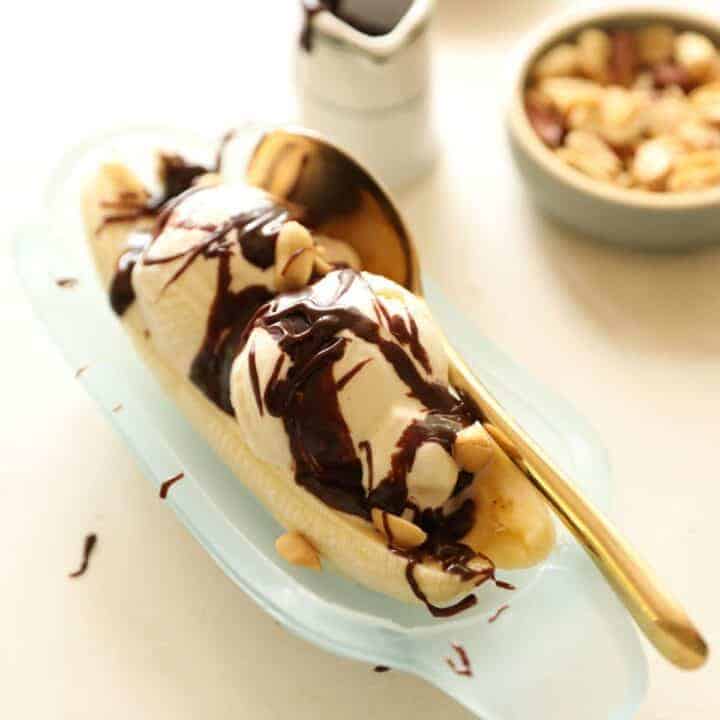 Hot Fudge Sauce Recipe
A wonderful hot fudge sauce recipe for ice cream. This delicious homemade chocolate sauce comes together quickly and easily! Great topped on mint chocolate chip ice cream or drizzled over a sundae!
Ingredients
1 (12 oz) (340g) bag of Semi-Sweet chocolate chips (Nestle Toll House)
⅔ cup (160ml) heavy cream
1 tablespoon (15ml) honey
1 teaspoon (5ml) vanilla
Instructions
In a medium saucepot heat cream with chocolate chips, whisking until chips are melted and sauce is smooth and chocolatey.
Add honey and vanilla and whisk until combined.
Drizzle on top of ice cream with a fork. Pairs beautifully with Mint Chocolate Chip ice cream!
Notes
Store in the refrigerator covered up to 5 days or freeze.
To reheat, spoon out individual servings in a bowl and microwave on high for :15 or until liquified.
It's better to just reheat what you plan to serve, as opposed to reheating and refrigerating the same larger portion.
Constant refrigerating and reheating of the same portion will affect the texture and also isn't the safest way to go as far as food safety is concerned.
Nutrition Information:
Yield:

6
Serving Size:

1
Amount Per Serving:
Calories:

45
Total Fat:

3g
Saturated Fat:

2g
Trans Fat:

0g
Unsaturated Fat:

1g
Cholesterol:

4mg
Sodium:

2mg
Carbohydrates:

5g
Fiber:

0g
Sugar:

4g
Protein:

0g