This Apricot Clafoutis is a quick and easy French dessert idea that can be made with any stone fruit. Traditionally, Clafoutis is made with cherries, but you can swap the cherries for apricots, plums or peaches too. Or in the fall try pears or apples!
Clafoutis is a wonderful French Recipe that combines a rich, custardy base with tart baked fruit. It takes minutes to prepare, and is best served cold, allowing for a make-ahead-dessert!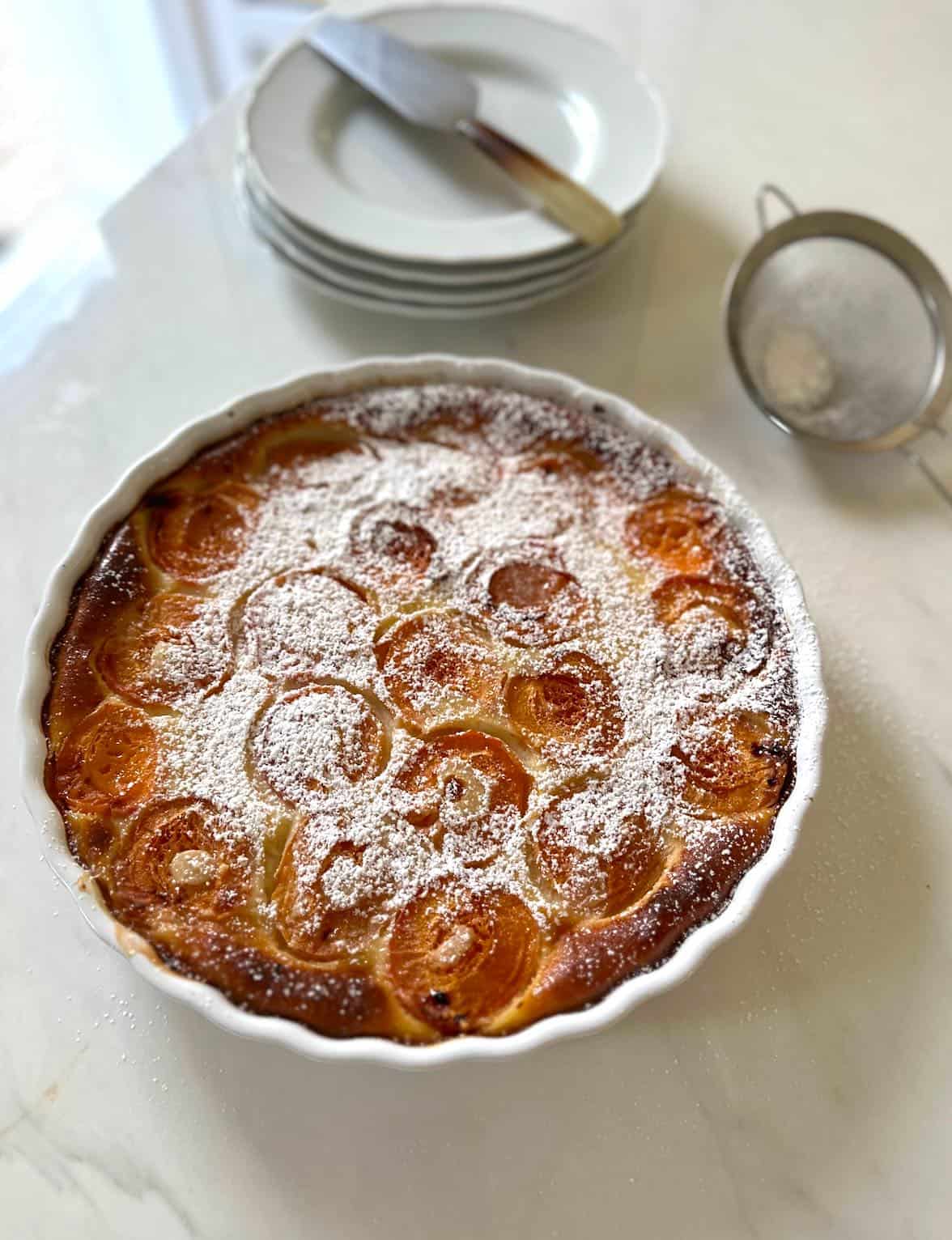 Fresh Apricots When we are in France, I love to use apricots because they are so beautiful and I just cannot resist them! They are much larger, and I find more flavorful than what we find in California. Depending upon size you'll need anywhere from 6-10 apricots.
Milk You can use whole milk or skim milk.
Flour Simple all-purpose flour is all you need. Nothing fancy.
Heavy Cream Makes the clafoutis richer and more flan like. This makes it easier to slice too.
Sugar I don't use too much sugar in this recipe because traditionally clafoutis is not that sweet.
Eggs Three large eggs is what t takes to get that velvety, custardy texture.
Vanilla Extract I use vanilla extract in this recipe but you could also use 1 teaspoon of almond extract instead. The combination of almond and apricot is a terrific flavor combination. Or feel free to add a little orange or lemon zest too.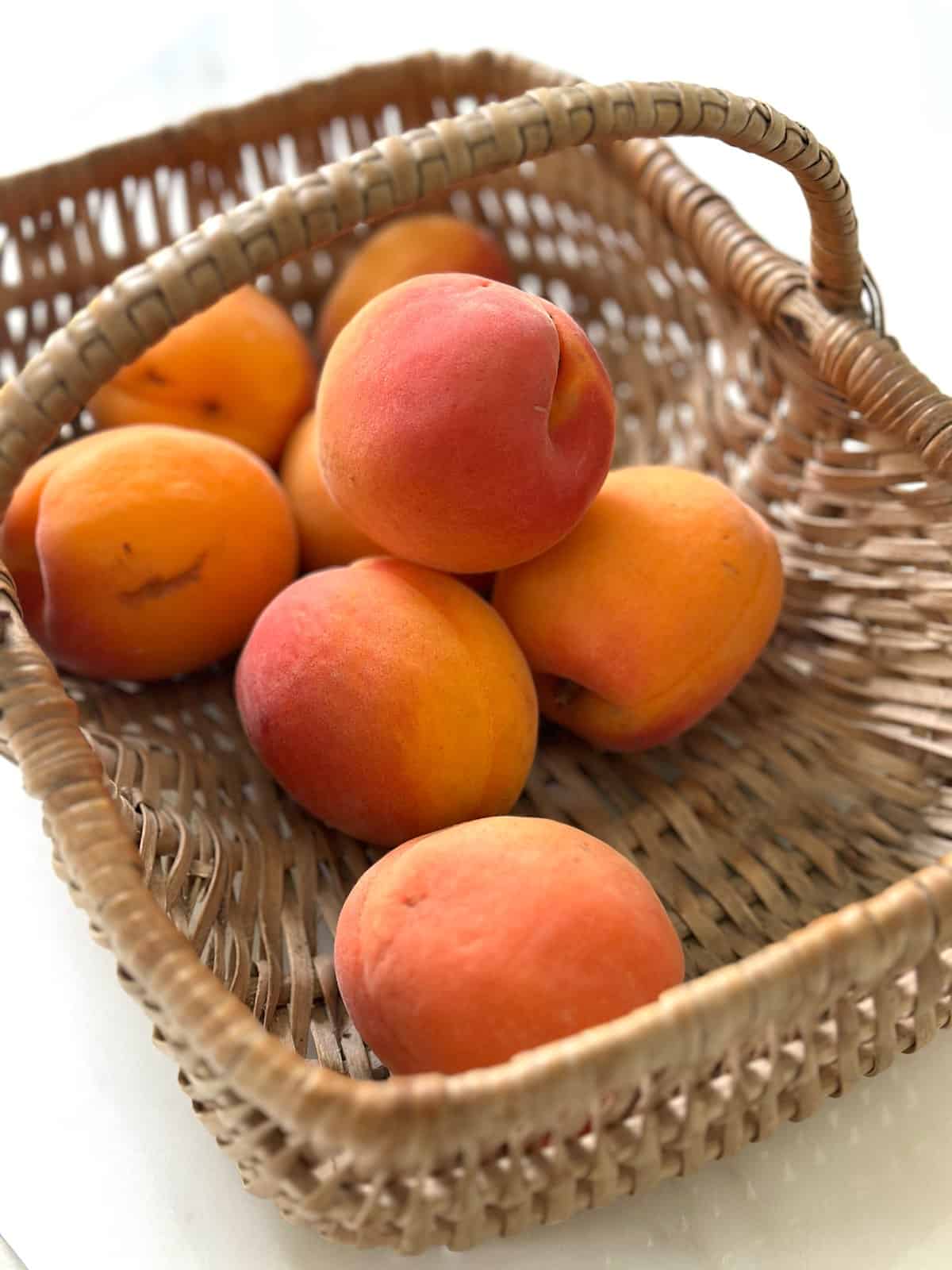 Step#1: Slice the Apricots
Slice the apricots in half and remove their pits.
The interesting thing about traditional Cherry Clafoutis, is that in France they leave the pits inside the cherries!? (hello, choking hazard?!) claiming in adds more flavor to the dessert! I for one could never bring myself to serve it that way so I pit the cherries AND the apricots anytime I'm making clafoutis!
Apricot clafoutis is so much easier than cherry clafoutis because pitting the apricots is way easer! The pits just pop out!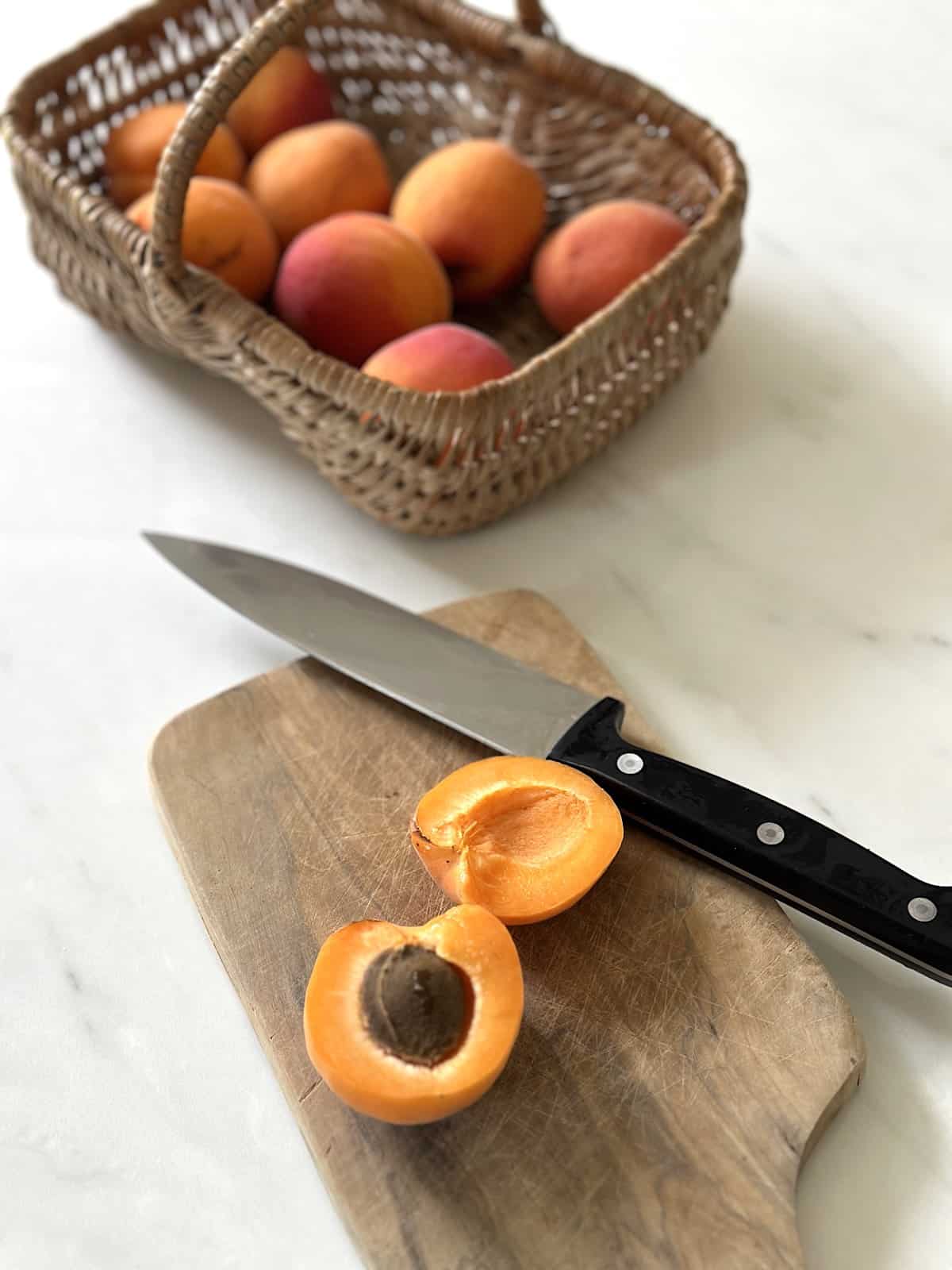 Step#2: Make the Batter
The nice thing about this batter is you can whip it up in a bowl and a whisk, no dragging out the electric mixers or blenders!
To avoid a clumpy batter, mix together the milk and the flour first until smooth, then add the rest of the ingredients. This elevates the need for a blender.
This is the same technique I use in my Crepe recipe and my Dutch Baby Pancake recipe and it works like a charm, no lumps!
I'm using a 12" quiche dish but any pie plate or tart pan would work, assuming it doesn't have a removable bottom, since the batter would leak out.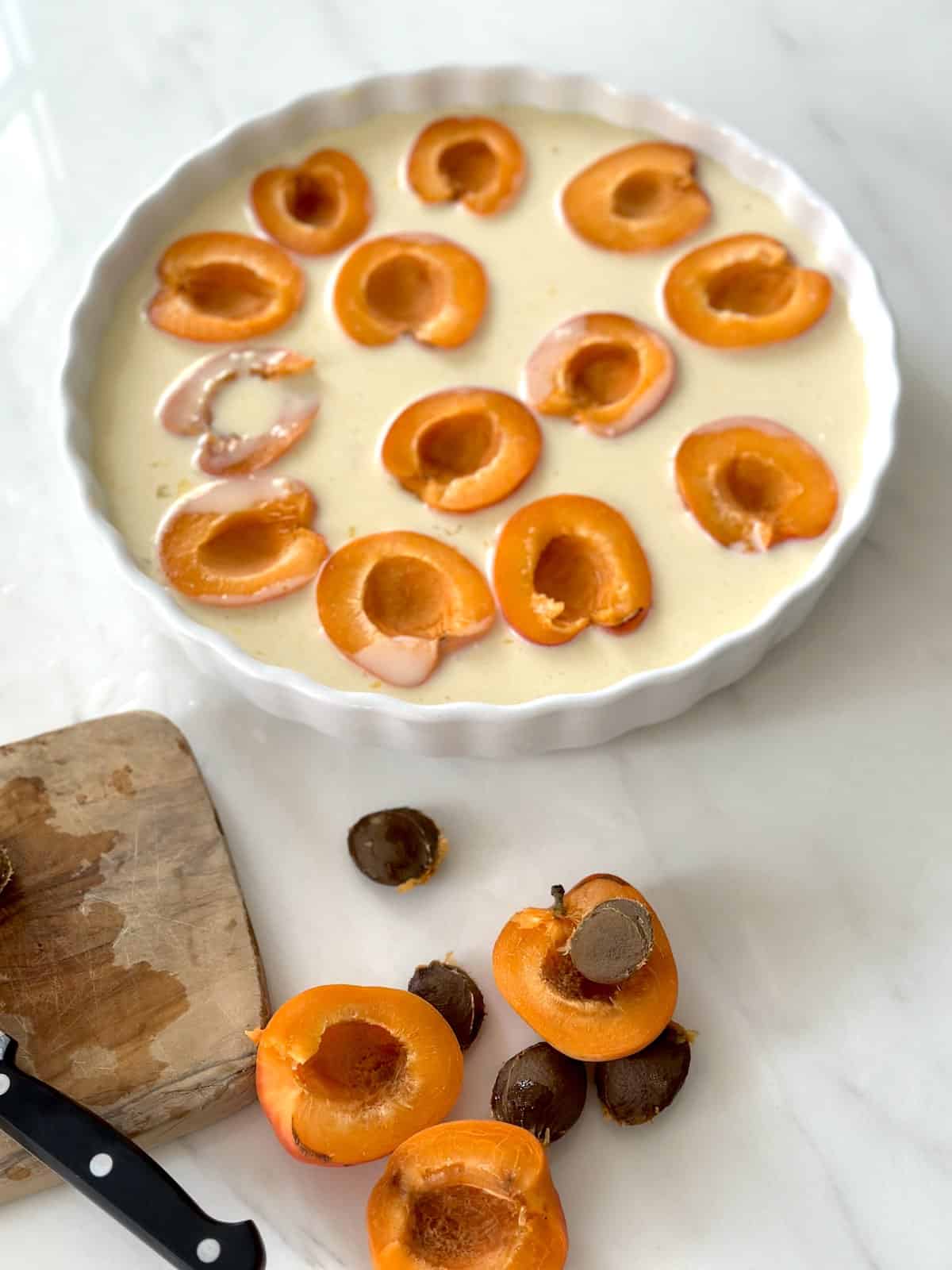 Step#3: Place the Apricots
In traditional clafoutis recipes, the cherries are placed in first and then the batter is poured on top.
However apricots are bigger than cherries and I find they work better placed in after the batter.
That way their interiors bake more evenly and become jammy by having more exposure to the heat in the oven, than they would if they were buried under the batter.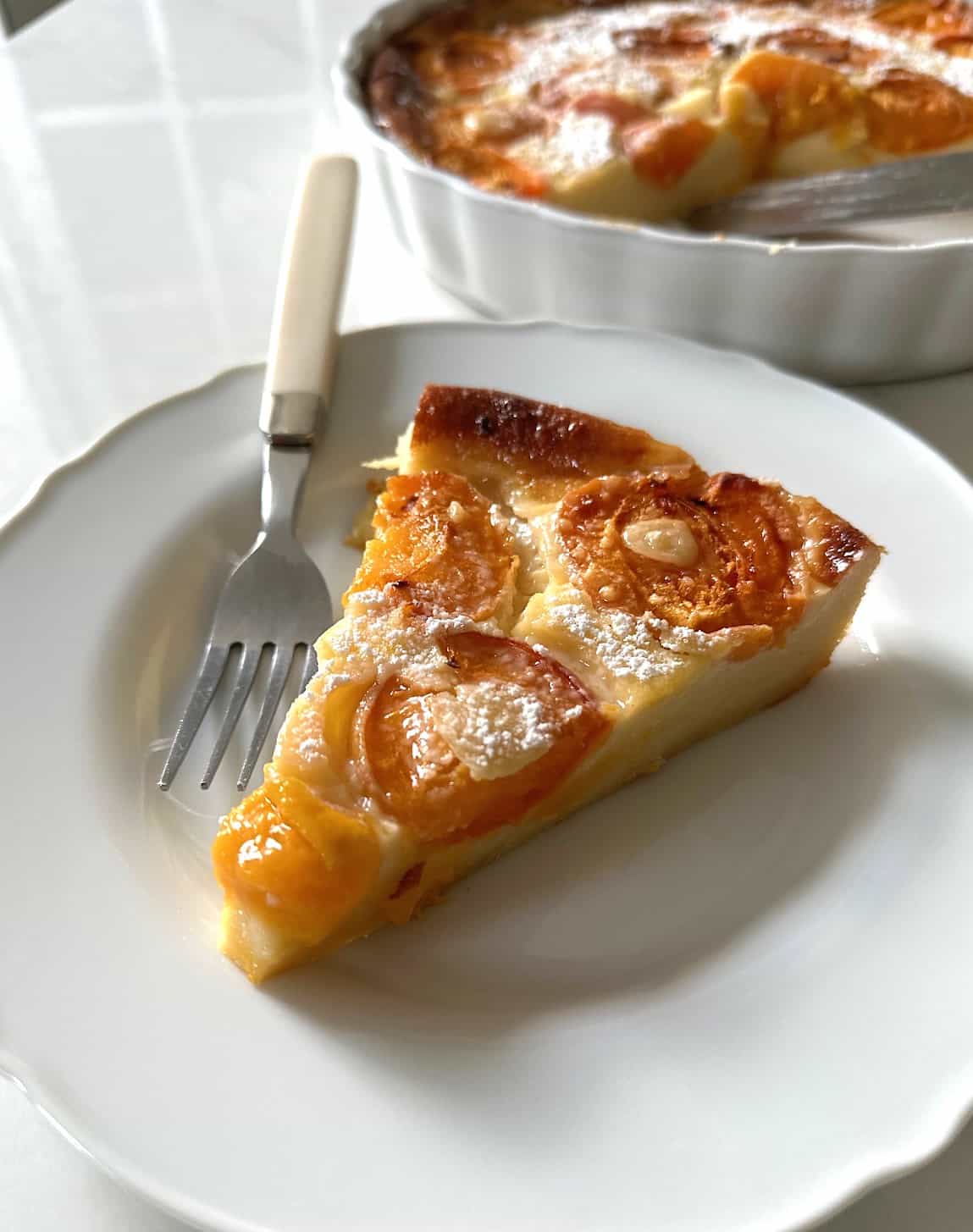 Should Clafoutis be Served Hot or Cold?
This is a matter of opinion, but if you ask my French husband he was deliver a resounding "Yes, COLD!" And I must say I have come around to this line of thinking!
When served chilled the clafoutis has a firmer texture, much like a flan.
And in the markets in France I see it served at room temperature in big large slabs.
So I'm thinking "warm clafoutis" might be an American habit, since we do love our warm fruit desserts in the summer time! If you want to try one of my favorites, try my warm Plum Crumble!
Serving and Storage:
Once the clafoutis is fully baked, allow it to cool. You'll know that the clafoutis is done if it doesn't giggle and a toothpick comes out clean.
Then place it in the refrigerator for at least 4 hours.
This will help it set up and become easier to slice, like pie.
Clafoutis is best served chilled, and if desired alongside a large dollop of homemade whipped cream or vanilla ice cream.
Wrap any leftovers up in foil and keep refrigerated. It will keep for 3-4 days, but it is really best enjoyed within 24 hours, otherwise the custard hardens and the apricots start to emit too much moisture while in the fridge, making the clafoutis runny.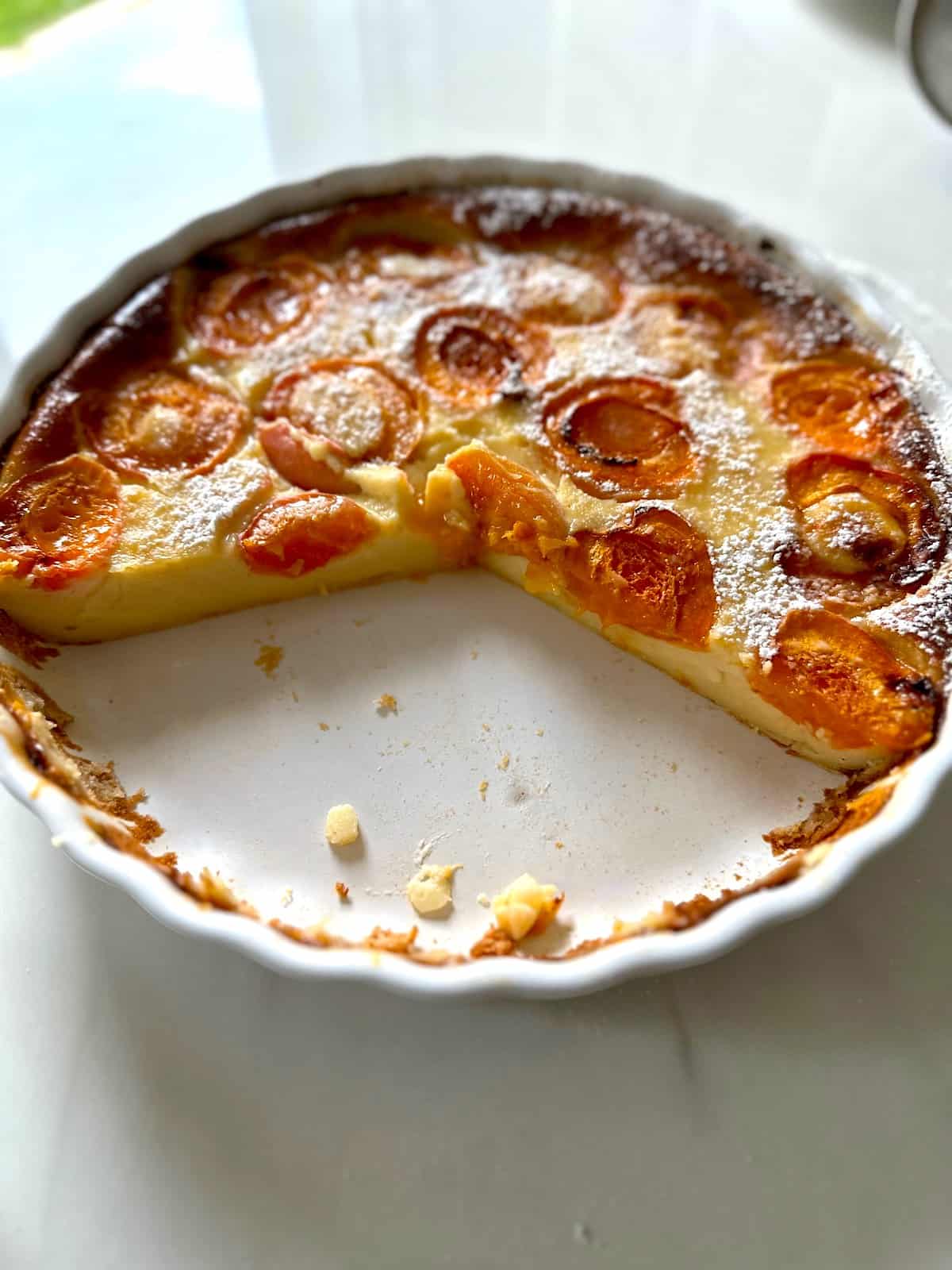 You May Also Enjoy These French Desserts: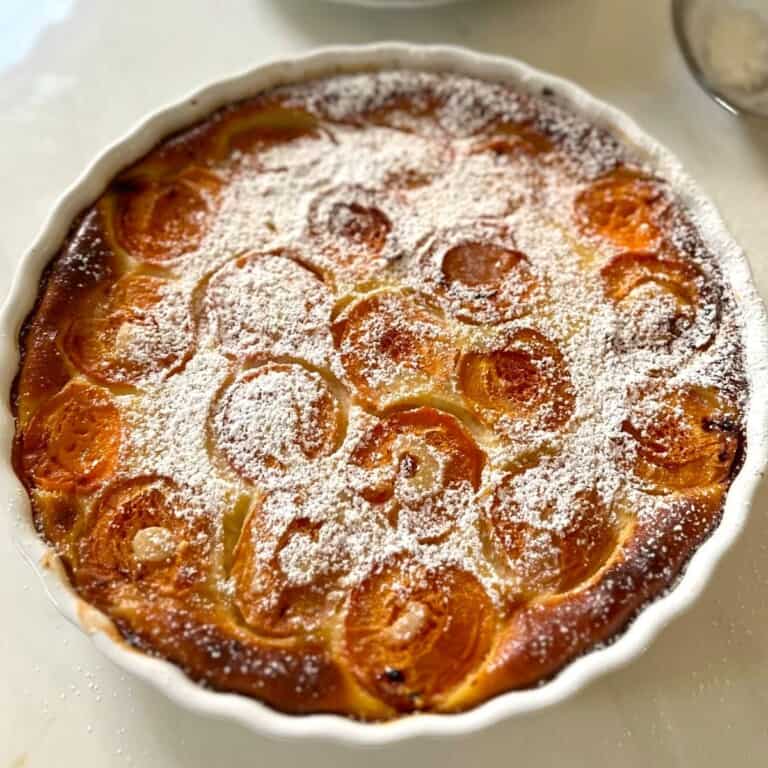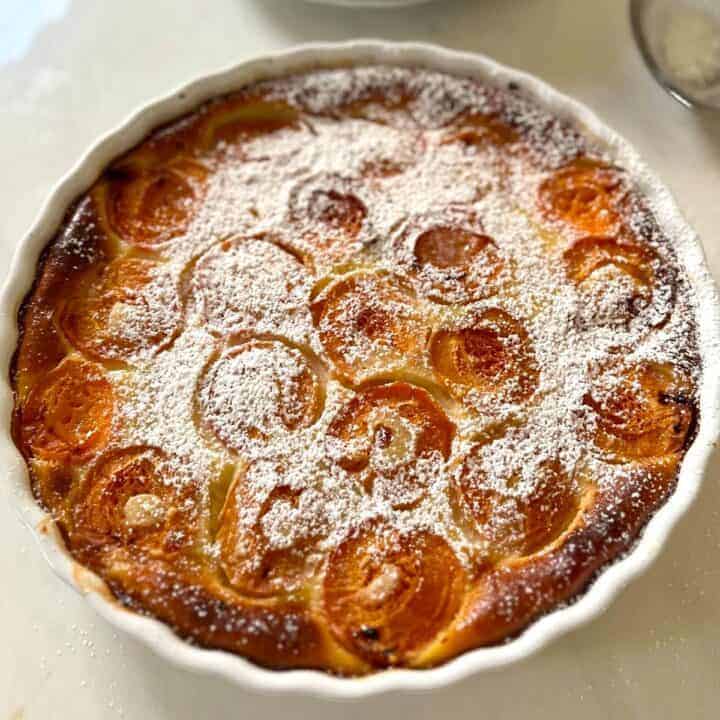 Apricot Clafoutis
A delicious apricot clafoutis is an easy summer dessert idea you can serve chilled.
Ingredients
2 ½ cups (591 ml) of milk
1 ½ cups (180g) of flour
1 cup (240ml) heavy cream
1 cup (201g) of sugar
3 eggs
2 teaspoon (10ml) vanilla extract or 1 teaspoon almond extract
6-10 apricots, pitted and sliced in half
Optional Homemade Whipped Cream
2 cups (480ml) heavy cream
2 Tablespoons (14g) powdered sugar
1 teaspoon (5ml) Vanilla Extract
Instructions
Grease a 12" (30cm) fluted quiche dish. Preheat oven to 350F (175C)
In a large bowl add the milk and flour. Mix to combine. Then add the heavy cream. Add the sugar and the eggs, whisk to combine. Then add the vanilla extract.
Pour the batter into the quiche dish and then place the apricots in, cut side up, leaving a little room in between each one for the custard to make through.
Bake at 350F for 35-40 minutes or until a toothpick comes out clean. Allow to cool and then refrigerate uncovered for at least 4 hours. Clafoutis is best enjoyed served chilled.
Before serving, dust with powdered sugar and serve with homemade whipped cream if desired!
For whipped cream, place all ingredients in the bowl of an electric mixer and wiip on high until soft peaks form.
Nutrition Information:
Yield:

8
Serving Size:

1
Amount Per Serving:
Calories:

217
Total Fat:

8g
Saturated Fat:

4g
Trans Fat:

0g
Unsaturated Fat:

3g
Cholesterol:

88mg
Sodium:

66mg
Carbohydrates:

29g
Fiber:

2g
Sugar:

10g
Protein:

8g