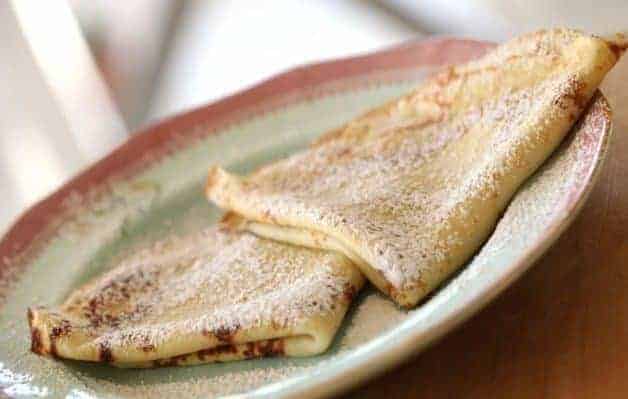 At our house homemade crepes is a Saturday morning ritual! I started making these crepes when my kids were young, and personally I find them easier to whip up than pancakes!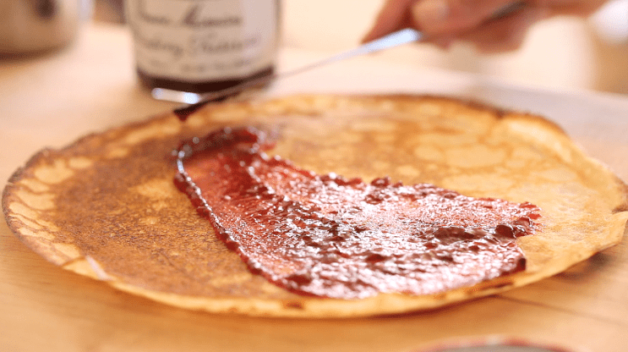 This really is a Foolproof Crepe recipe if you follow my key tips (also helpful to watch the video demo below!)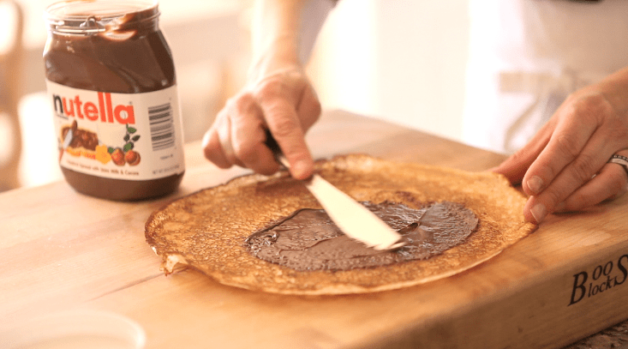 You can fill them with all sorts of fillings and customize the filling to everyone's preferences. It's as simple as placing a few jars on the table.  However, the way I like them best is with fresh lemon juice, butter and powdered sugar!  SO good!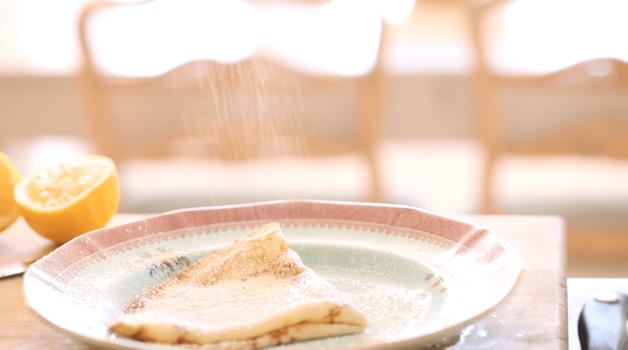 Still feeling intimidated by the process?  Don't be!  It's easier than you think! You can watch my video tutorial on this Foolproof Crepe Recipe below.
SUBSCRIBE TO MY YOUTUBE CHANNEL and never miss a recipe! (it's free) and new videos post every Saturday!
Print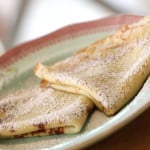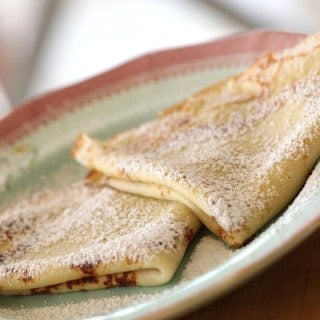 Beth's Easy Crepes Recipe
---
Author:

Prep Time:

15 mins

Cook Time:

10 mins

Total Time:

25 mins

Yield:

8 crepes

Category:

Breakfast

Cuisine:

French
Ingredients
1 cup (120 g) of All Purpose Flour
1 tbsp (13 g) sugar
pinch of salt
2 eggs, beaten well
2 cups (475 ml) of milk
4 tbsp (60 ml) melted butter
assorted jams for filling
powdered sugar for dusting
grapeseed oil for greasing pan (or some other non-flavored oil like vegetable oil or canola oil)
---
Instructions
In a large bowl whisk together the flour, sugar and salt. Then pour in the milk, and whisk until very smooth. Then add the beaten eggs, and then add the melted butter.
Dab some grapeseed oil on a paper towel and liberally grease a non-stick skillet that measures 9 ½ inches at the bottom (total circumference of pan will be around 12 inches). Heat pan on medium high heat, until hot.
Ladle out 1 serving of batter with a standard sized soup ladle. Swirl batter around the pan, until it completely covers the bottom, but does not ride up on the sides. Your crepe will be easier to flip and remain more uniform in shape if you prevent the batter from riding up.
Once the batter looks dry on the top and the edges begin to turn golden brown, take a long , skinny metal spatula and slide it under all the sides, loosening it from the edge. Then raise up one side, gently grab it with your hands and flip!
Cook for 30-40 seconds on the other side until golden brown. Spread inside with butter and jam, or butter and fresh lemon juice, fold in half, and then in quarters. Sprinkle with powdered sugar on top. And serve immediately
Notes
These are also great for dessert with my homemade chocolate sauce!
BETH'S HOMEMADE CHOCOLATE SAUCE
Makes 3 cups
1 (12 oz) (340 g) bag of chocolate chips
2/3 cup (160 ml) heavy cream
1 tbsp(15 ml) honey
1 tsp (5 ml) of vanilla
METHOD:
To make the chocolate sauce melt chocolate chips and heavy cream in a sauce pan. Once melted add honey and vanilla. Stir to combine and serve warm over ice cream. Store in fridge, and microwave to re-liquify. Will last for a week in the fridge.
Never miss a recipe! Subscribe to my YouTube Channel! (It's free!) New recipes posted weekly!