This easy crepe recipe is really a foolproof guide to making French crepes at home! It's one of my favorite French recipes that we go back to time and time again!
There's no need for any special crepe pans, store-bought mixes, blenders, or the need to rest the batter for any length of time. And here's the best part, you probably already have all of the ingredients you need already on-hand.
Looking for another pantry breakfast idea? Try my Dutch Baby Pancake Recipe, another great weekend treat you can make with pantry basics!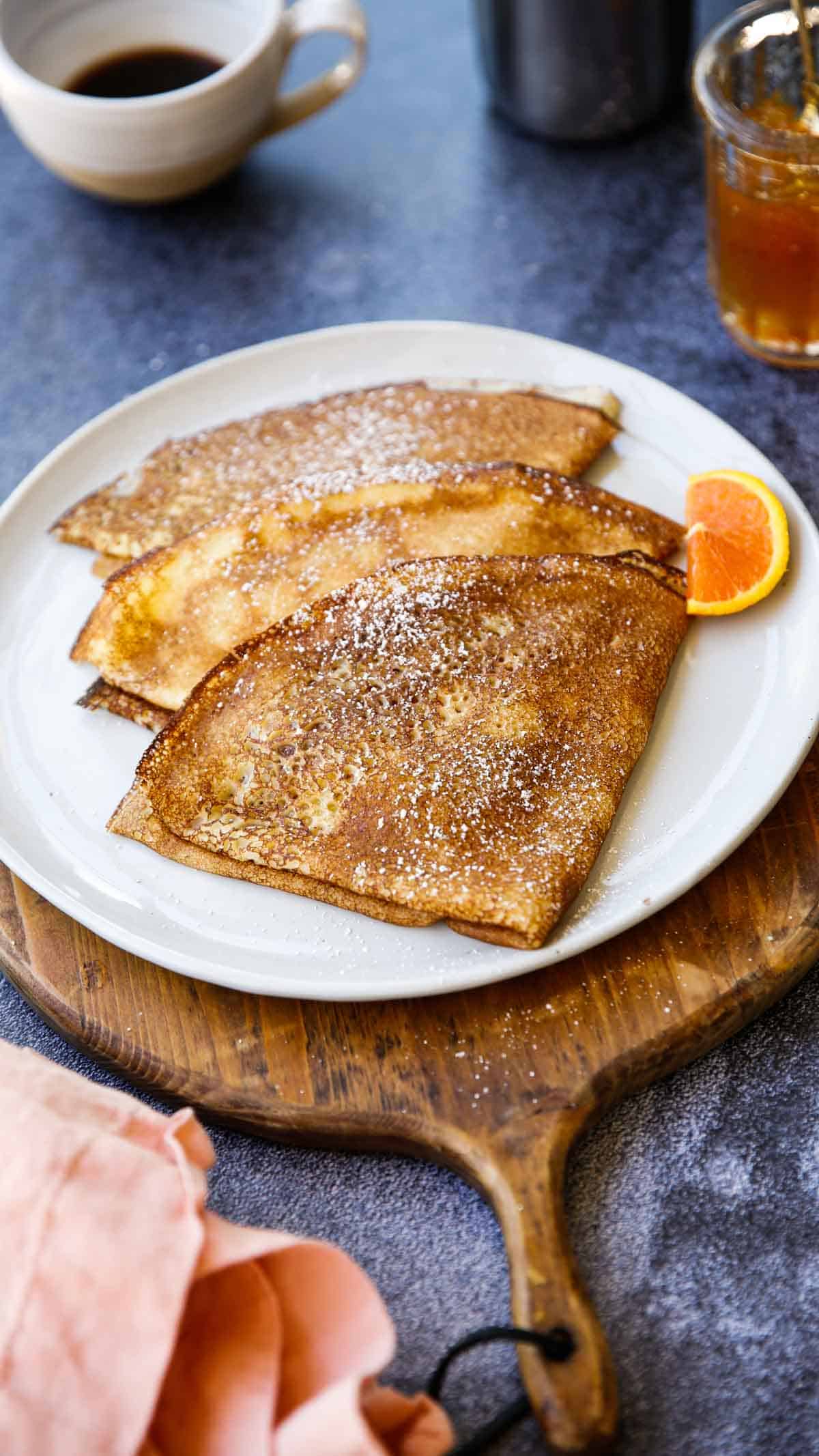 When to Serve Crepes
In France crepes are typically served as a snack or a dessert with every filling imaginable, from jam and Nutella, to chestnut paste, caramel sauce or whipped cream and fresh strawberries.
But here in the States we typically serve them for breakfast or brunch. They are great with your favorite jam, or with a little melted butter, lemon and powdered sugar.
Or serve them as a dessert with vanilla ice cream and my homemade hot fudge sauce drizzled on top!
For a savory route try my Chicken and Mushroom Crepes Recipe, which makes for a wonderful lunch or brunch recipe.
Or try my traditional Cheese Manicotti recipe that also crepes as opposed to pasta noodles, which makes them light as air!
What's the Difference Between a Crepe and a Galette?
Traditionally, the term "crepe" refers to a thin pancake that is sweet and served as a dessert or snack in France.
A galette, on the other hand, is a savory "crepe" made with buckwheat flour.
They are heartier in nature and have a wonderful earthy flavor to them.
They are traditionally served with hard cider and you find them mostly in traditional "Creperie Restaurants" popular in the Brittany region of France.
It's not uncommon in France to have a savory ham and cheese galette, followed by a sweet crepe for dessert.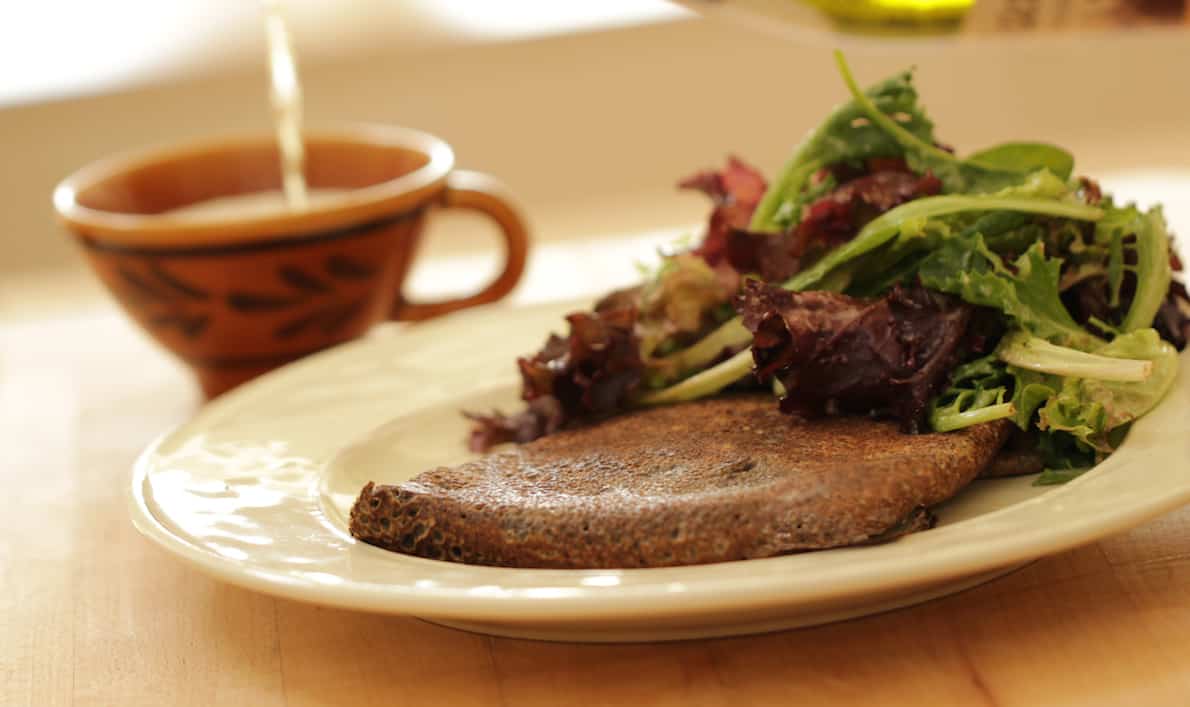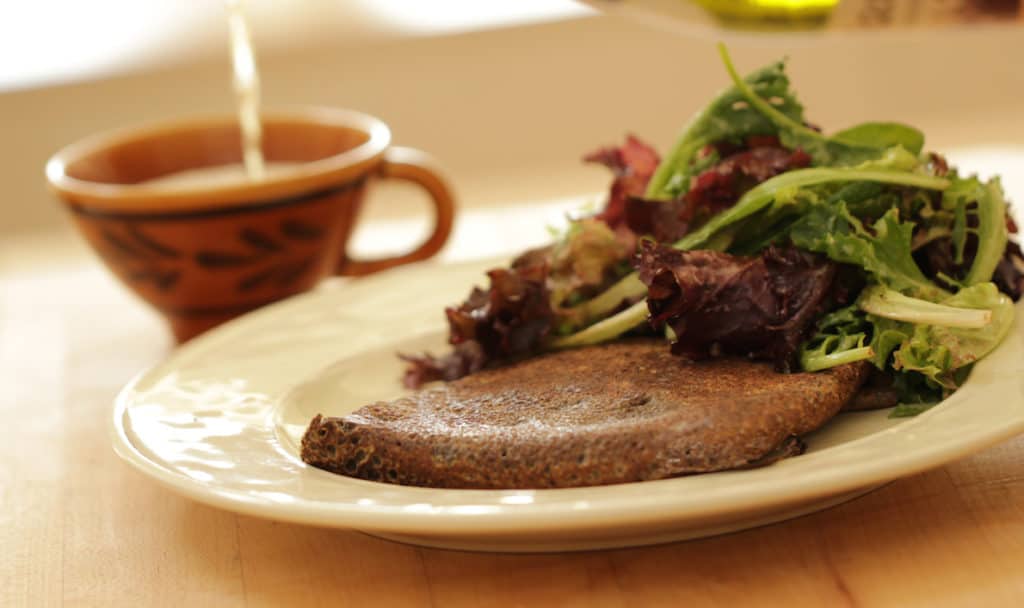 What's The Secret to a Great Crepe?
Personally it comes down to a few factors.
If you whisk together the flour, sugar, and salt and then add the milk first, it will eliminate any clumps right from the start.
This will provide you with a silky smooth crepe batter.
A smooth batter will produce a light and springy crepe.
Then add the eggs, the melted butter.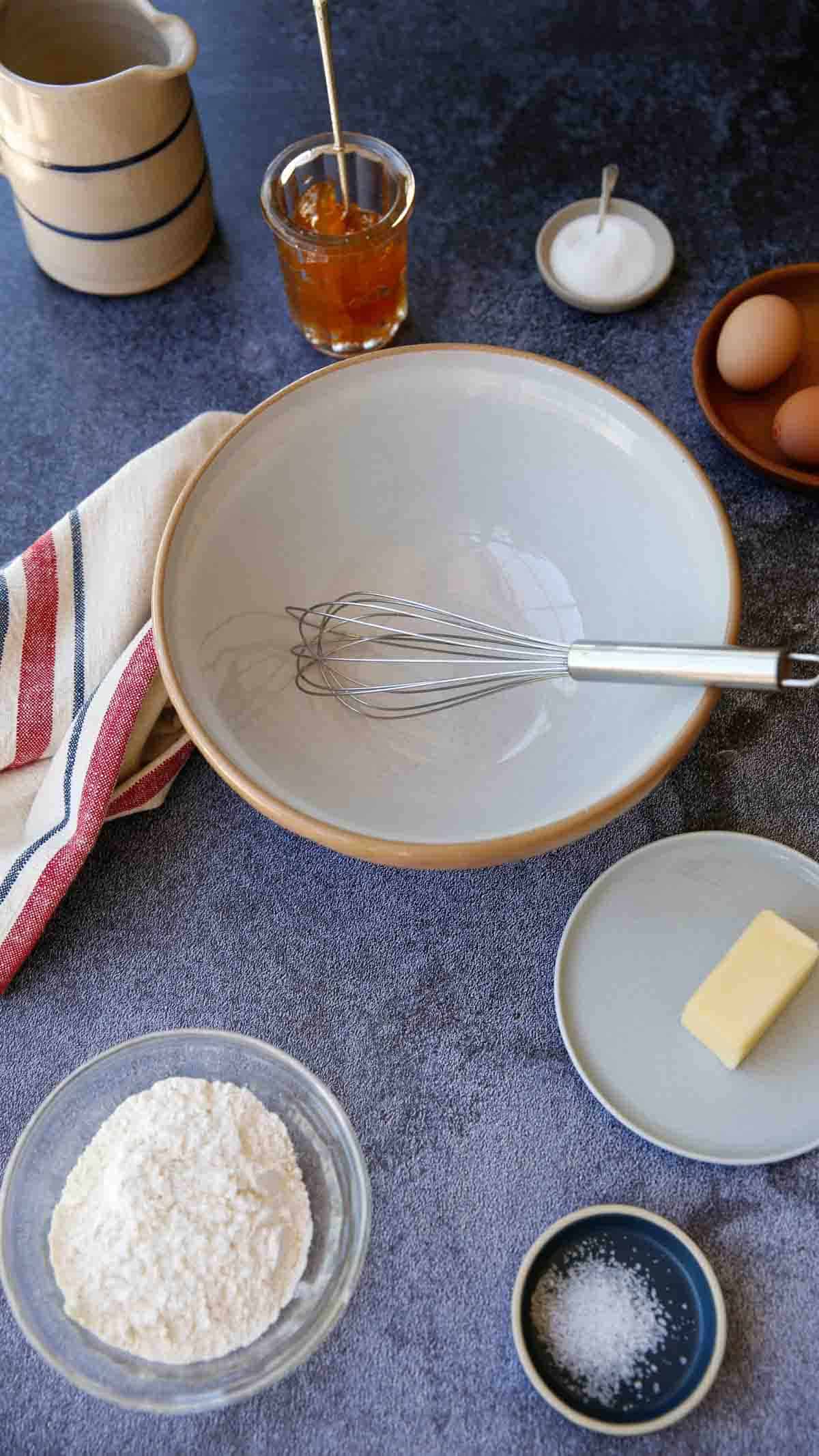 Crepe Batter vs. Pancake Batter
Crepe batter is different than pancake batter for a few reasons.
The most important one being it has less ingredients in it and no leavening agents like baking powder or baking soda.
Secondly, the consistency of crepe batter should be thinner than pancake batter.
This might sound like a strange reference, but I've found it to be true. Crepe batter should be the consistency of interior wall paint. This will produce the best thin, yet sturdy crepe.
Selecting the Right Pan
The second factor to a great crepe is the pan.
Don't fall prey to those "fancy crepe pans" I think they are more problematic than they are worth!
The problem I have found with the crepe pans is that they are too small, typically around 8"-10".
So if you pour a ladle of batter in it your crepe will be too thick. And if you ask my French husband, the mark of a professionally made crepe is its thinness.
In my opinion, the best pan for making crepes is a 12" non-stick pan.
The reason I like this pan is that a 12-inch pan is a perfect size to hold a standard size ladle of batter.
It will create a large crepe that is also lighter and thinner than if you used a crepe pan.
It's also helpful to have a standard ladle and metal spatula for loosening the crepe from the sides of the pan.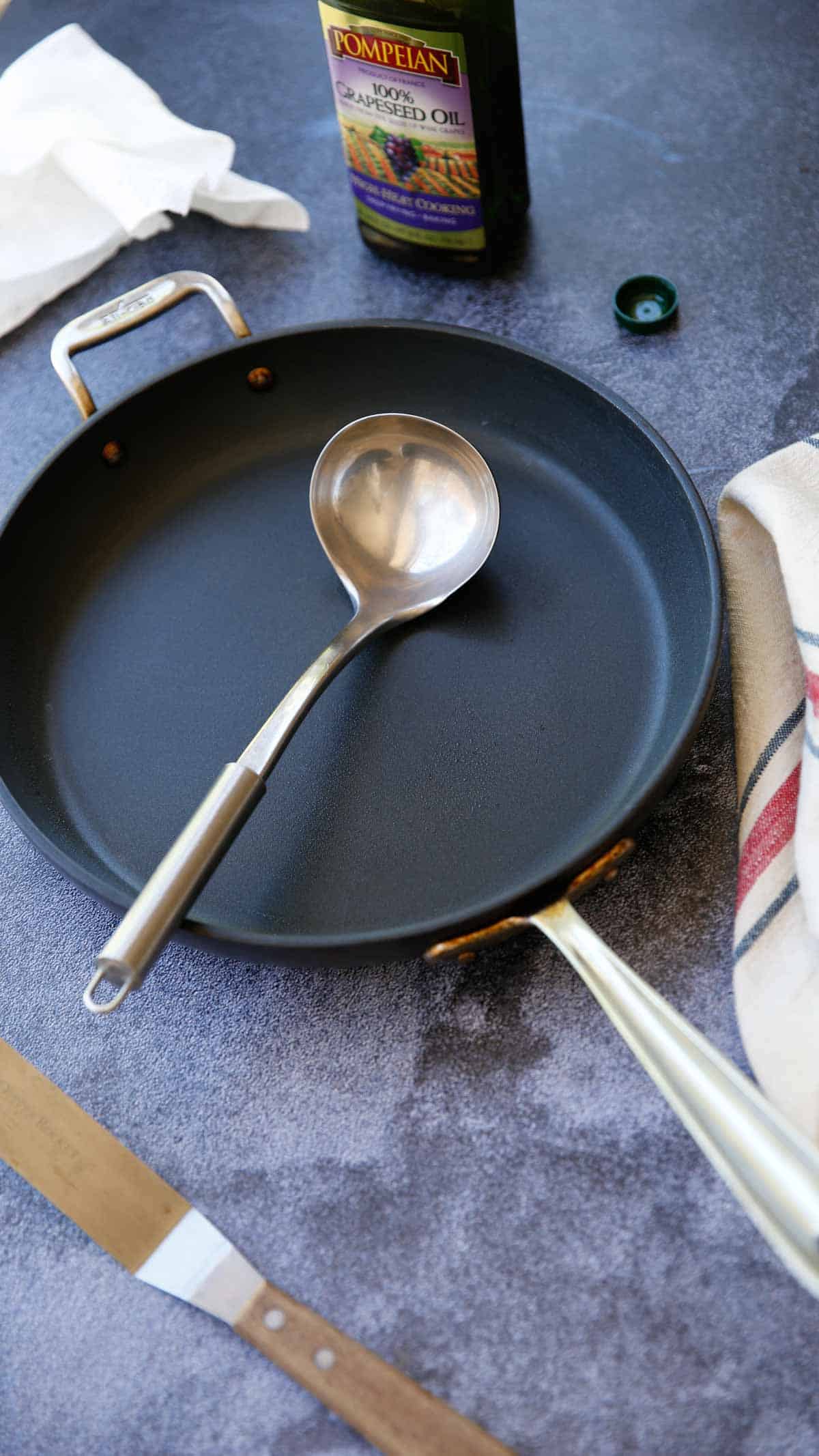 Use Grape-seed Oil
When heating your pan, resist the temptation to grease it with butter.
A crepe pan needs to very hot and butter will just burn. Instead, use a non-flavored oil with a high smoke point.
I always have the best success with grape-seed oil but you could also use vegetable oil or canola oil.
Be sure to grease your pan with a paper towel so it's a thin layer of oil you are heating, making sure you also grease up the sides of the pan as well.
How Hot Should The Pan Be?
The secret to a nicely browned crepe is high heat! This is why those electric crepe machines never work, they don't get hot enough!
Then they also become too flimsy and don't become golden brown.
Once you see the pan start to smoke ever-so-slightly then, ladle in the batter and you'll be good to go!
Once the crepe batter hits the pan, spread it by swirling the pan, don't touch the batter!
Instead, let gravity do the spreading for you. You'll end up with an even spread that way. You can watch me do it in my video demo of this recipe below in the recipe card.
Then let the crepe sit and cook for 1-3 minutes. The photo below shows that this crepe is in the process of cooking, but not ready to be flipped.
Do not attempt to flip your crepe too soon, otherwise, it will fall apart when it comes time to flip.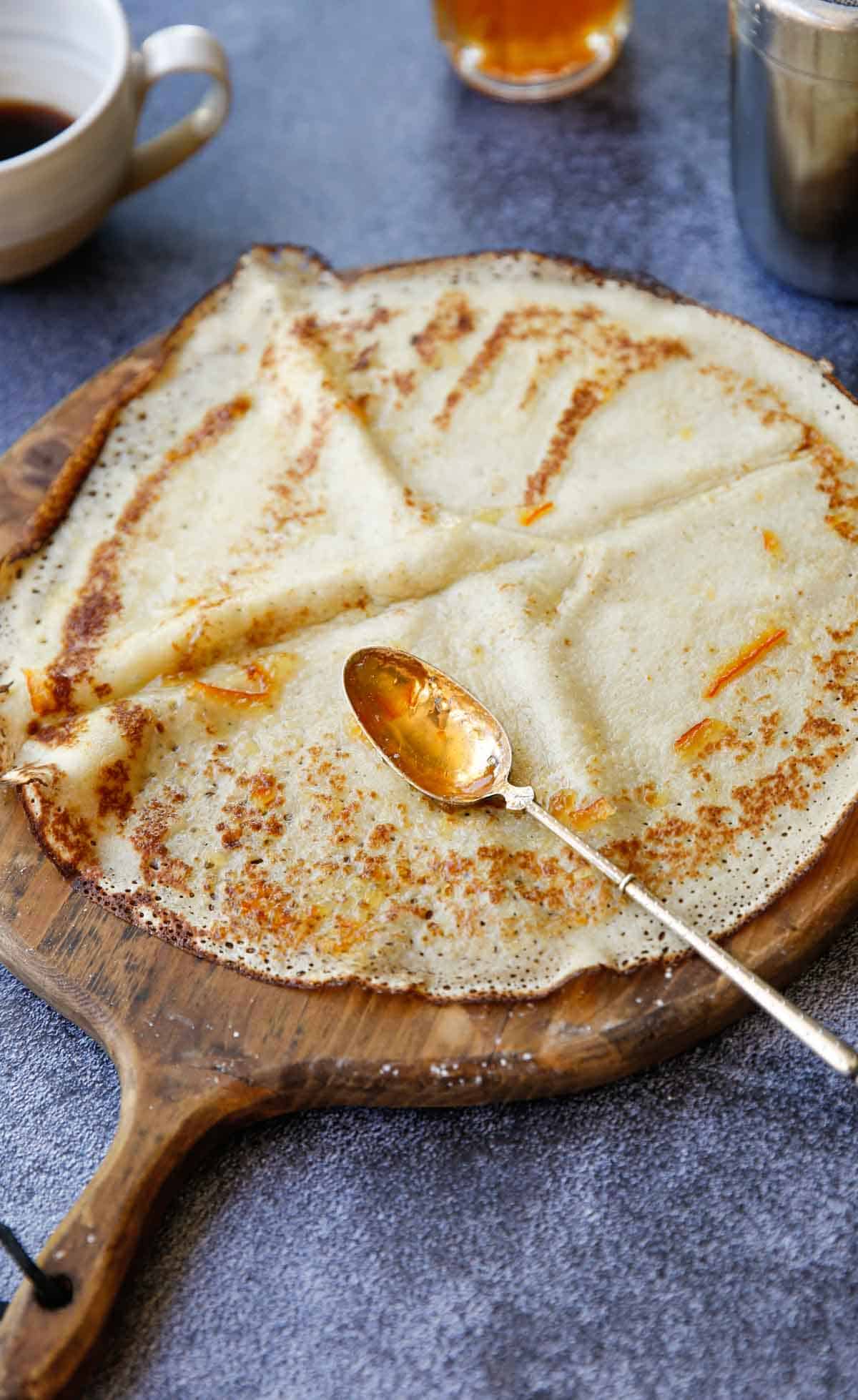 Know When to Flip!
Once you see the edges of the crepe start to turn golden brown, that's the time to flip!
The best tool to use is a thin metal spatula

.

Place it under the crepe and loosen the edges all around.
Use Your Fingertips to Flip
Then, I think the easiest way to flip a crepe is with your fingertips.
This is where the eggs come in to play. The eggs add elasticity to crepe batter which adds strength.
Never trust a crepe recipe that has under 2 eggs in it, they will be too fragile and really hard to flip. Once you flip your crepe, allow it to cook for about 1-minute more on the other side.
How To Remove Your Crepe From The Pan
To remove your crepe from its pan, just slide it off the pan onto a cutting board or plate.
No need to try and use a spatula for this job.
The slide will preserve its shape and prevent it from tearing.
The Best Way to Store Crepes
The best part about crepes is that they can be made in advance! As a result, they work really well for a brunch or a dinner party.
You can make them a few hours ahead or even up to 2 days ahead.
Line a large piece of foil with paper towels then slide them off as they are ready. Allow them to cool before wrapping them up.
But as you stack them, be sure they are all going the same direction!
It doesn't matter which direction, it just needs to be the same direction. This will prevent them from sticking to each other.
Then cover them with another sheet of paper towel, and wrap them tightly in tin foil and refrigerate. Then all you have to do is unwrap them from the foil and pop them in the microwave, in the paper towel, for about a minute or two until warmed through.
I do this when I want to serve my Apple Cinnamon Crepes with Salted Caramel Sauce for dessert.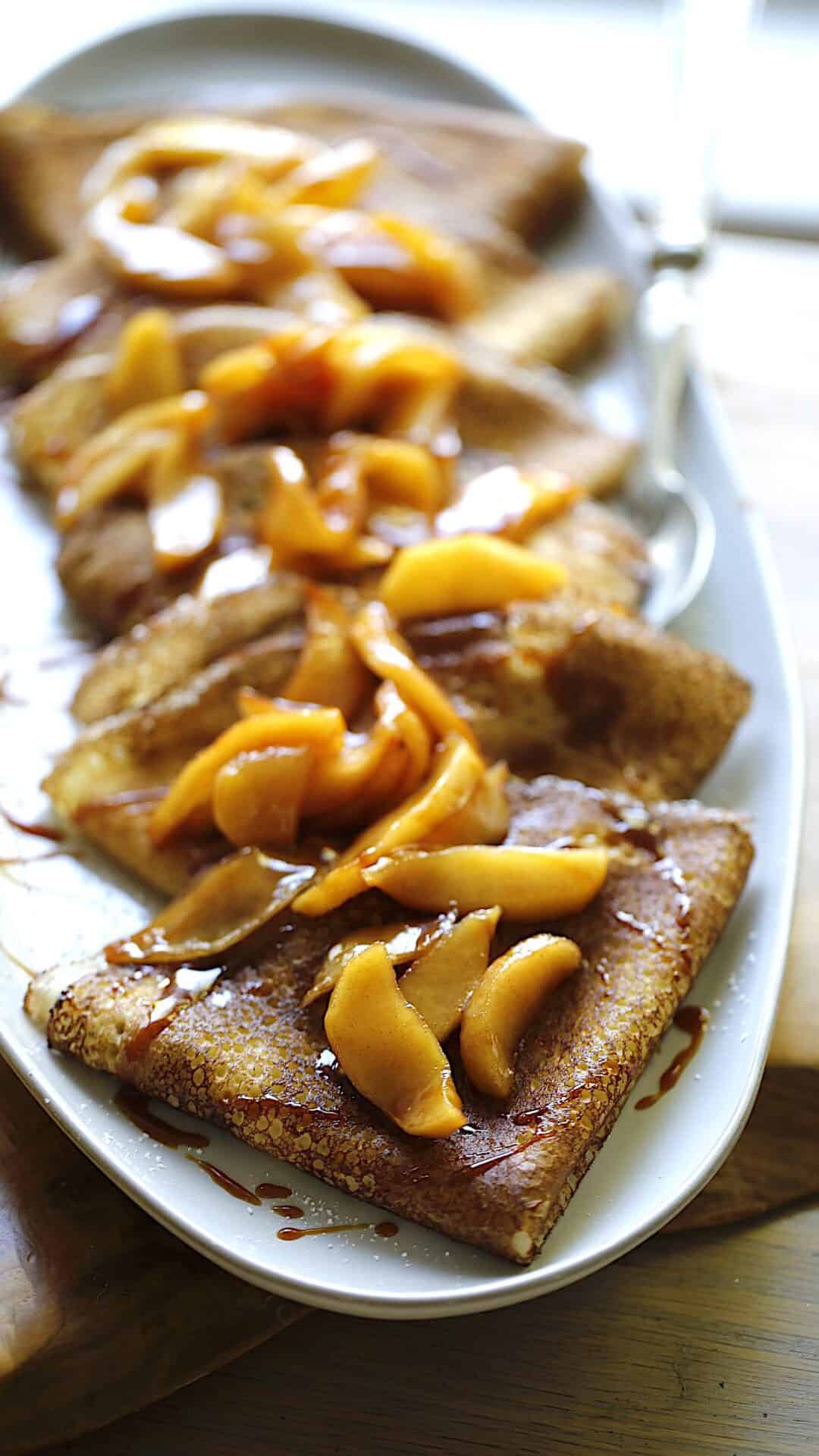 Please let me know if you make this Recipe
by leaving a rating and review below!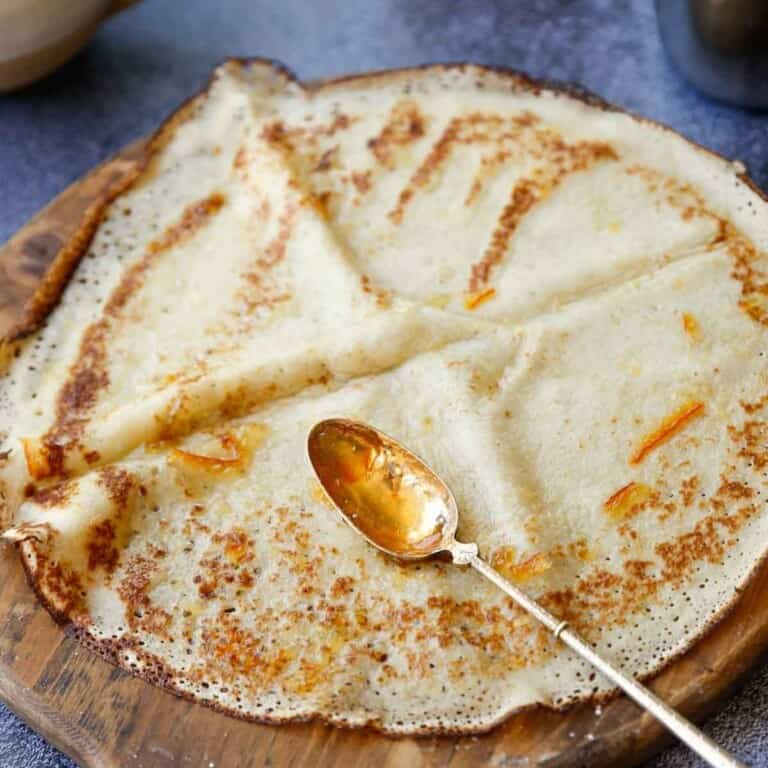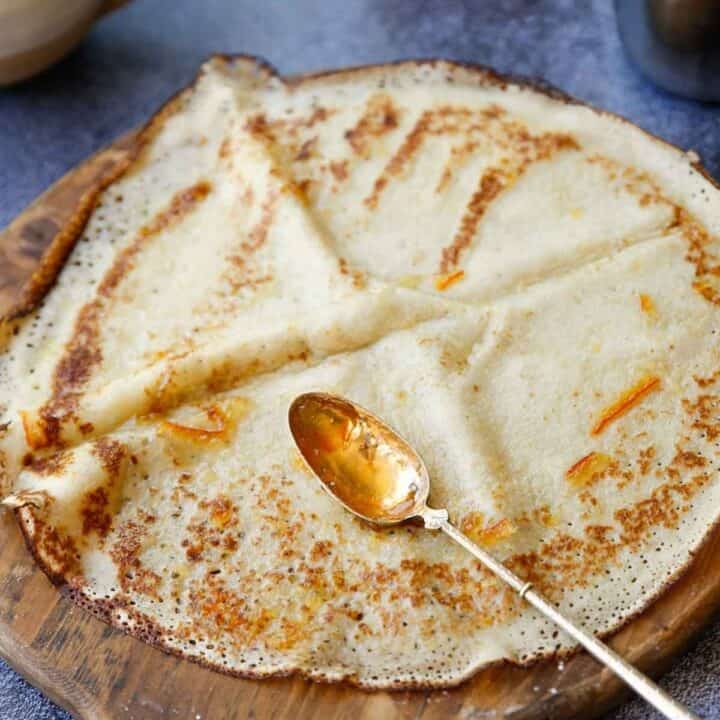 Easy Crepe Recipe
This easy crepe recipe is really a foolproof guide to making crepes at home! Personally, I feel this is the best crepe recipe because it's the simplest! There's no need for blenders or batter resting for hours, and you probably already have all of the ingredients already on hand.
Ingredients
1 cup (120 g) of All-Purpose Flour
2 cups (475 ml) of milk
1 tablespoon (13 g) sugar
pinch of salt
2 eggs, beaten well
4 tablespoon (60 ml) melted butter
assorted jams for filling
powdered sugar for dusting
grapeseed oil for greasing pan (or some other non-flavored oil like vegetable oil or canola oil)
Instructions
In a large bowl add the flour, then pour in the milk, and whisk until very smooth. Then add the sugar and salt and beaten eggs. Then add the melted butter.
Dab some grapeseed oil on a paper towel and liberally grease a non-stick 12" skillet. Heat pan on high heat, until very hot.
Ladle out 1 serving of batter with a standard-sized soup ladle. Swirl batter around the pan, until it completely covers the bottom, but does not ride up on the sides. Your crepe will be easier to flip and remain more uniform in shape if you prevent the batter from riding up.
Once the batter looks dry on the top and the edges begin to turn golden brown, take a long, skinny metal spatula and slide it under all the sides, loosening it from the edge. Then raise up one side, gently grab it with your hands and flip!
Cook for 30-40 seconds on the other side until golden brown. Spread inside with butter and jam, or butter and fresh lemon juice, fold in half, and then in quarters. Sprinkle with powdered sugar on top. And serve immediately
Notes
These can be made a few hours ahead or even up to 2 days ahead.
Line a large piece of foil with paper towels then slide them off as they are ready onto the paper towel.
Assure all your crepes are stacked in the same direction (top-up or bottom-up) this will prevent them from sticking.
Then keep refrigerated until ready to serve. To reheat microwave crepes in the paper towel until warm.
Nutrition Information:
Yield:

8
Serving Size:

1
Amount Per Serving:
Calories:

237
Total Fat:

10g
Saturated Fat:

5g
Trans Fat:

0g
Unsaturated Fat:

4g
Cholesterol:

67mg
Sodium:

113mg
Carbohydrates:

32g
Fiber:

0g
Sugar:

16g
Protein:

5g