Ahhh the glorious French macron, a delight surely to behold! But for many of us achieving success is like the search for the Holy Grail. I'll be honest, these cookies can drive you completely insane! I too have had my battles. You can read more about that in an article I wrote for the Huffington Post.
While going through so many trials and errors I kept wishing for some sort of troubleshooting guide! So here it is, my own guide with some tips and tricks on Troubleshooting French Macarons! Best of luck!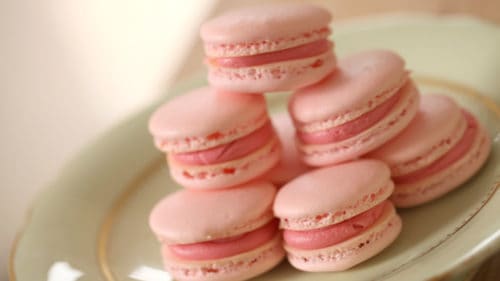 So if you have watched my video below and followed my French Macaron recipe, and you are still having issues. Not to worry you've come to the right place! Here are my top 10 tips for Troubleshooting French Macarons.
6 Tips to a Foolproof French Macaron
OK so here are the answers to the Top Ten Macaron Fails...(these are the most common issues I have seen since my video posted 3 years ago, and if any of your individual dilemmas are not answered here, please leave me a comment on this blog post, and I can keep adding answers to this list!)
If you are looking for some added assurance with your efforts, here are my Top 8 products for Making French Macrons!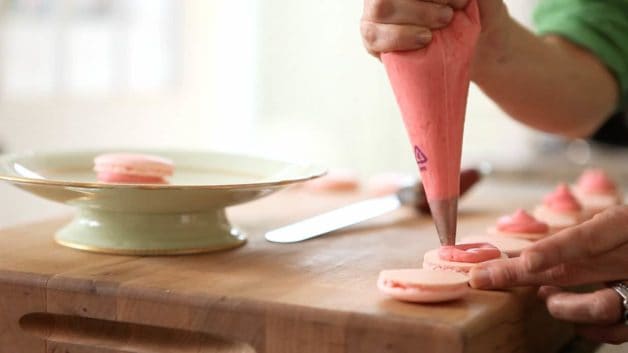 #1: HELP MY FRENCH MACARONS TURNED BROWN. WHY?
A lot of issues with French Macarons can be traced back to the oven. Specifically, the oven temperature.
Step one is to assure your oven is actually running properly. I know, you've set it at 300F(150C) and figure why wouldn't it run at that heat? Well, because of an underestimated fact involving oven calibration. Huh?
I know it's deceiving but most ovens don't run at the temperature they are set for. Most run too hot, and some run too cold.
Here's a quick video that explains this more in detail.
The Benefits of an Oven Thermometer
Your best solution for this is an inexpensive oven thermometer it's a handy little gadget that will tell you exactly what temperature your oven is actually running at, despite what you have set it at. Oh yes, the numbers can be different my friends!
This is important to first verify that your oven is running at 300F(150C) before troubleshooting further. If it is, then assure that you are putting your tray on the lower third rack of your oven. It should not go on the top rack, or it will brown.
If both things are covered, then the next thing to do is reduce the baking time, instead of 20 mins, try 15 mins. Don't remove the tray, but rather try to remove just one cookie. If it slides off it's done. If it sticks it's not done and needs another 5-7 mins more.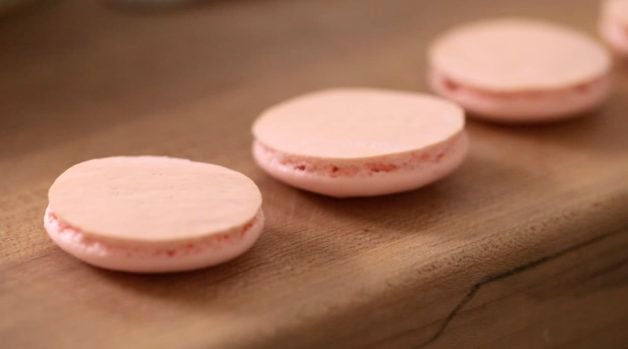 #2: MY FRENCH MACARONS ARE STICKING TO THE PAPER!
Macarons sticking to the paper indicates that your macarons are not fully baked. The process of baking your macarons is really more like "drying out" the cookie, so if they are still sticking and not slipping off your tray, your cookies need more baking time in the oven, probably another 5-7 mins.
However, you may also want to assure your oven is running at the correct temperature (refer to issue #1 above and watch the video on oven temperature calibration above)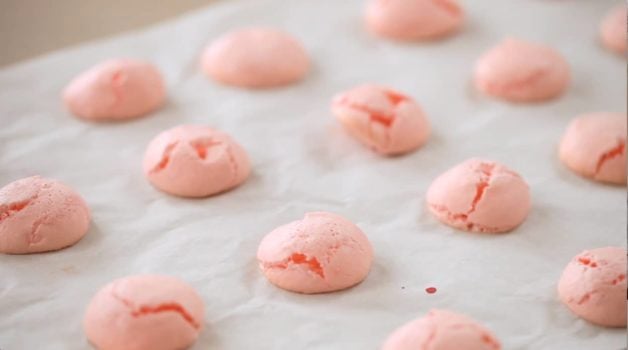 #3: MY FRENCH MACARONS KEEP CRACKING!
Another classic issue. Macarons that crack means the batter was "under-mixed" I find about 65-75 strokes or folds, in a figure-8 pattern is the sweet spot.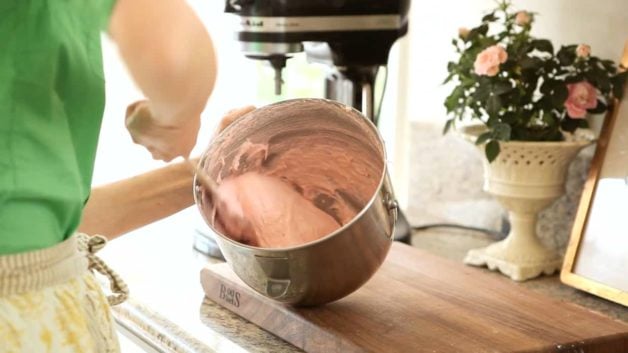 That batter should look like this, smooth a viscous, but not runny! If the batter is runny, you've overworked your egg whites in the folding stage and they deflated. Unfortunately, at this stage, it's best to start again.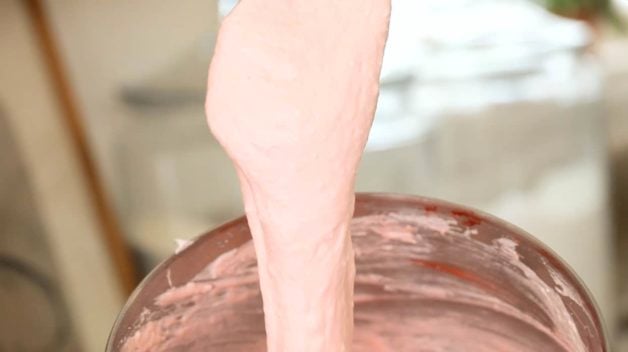 #4: MY FRENCH MACARONS EXPLODED?!
If your macarons are not coming out of the oven fully round, but have somehow exploded into deformed shapes...yep, it has happened to me too, you are not alone.
This usually means the oven is too hot and should be reduced by 25F (13C). To assure success it's best to invest in an oven thermometer so you know what temperature you are actually reducing it to.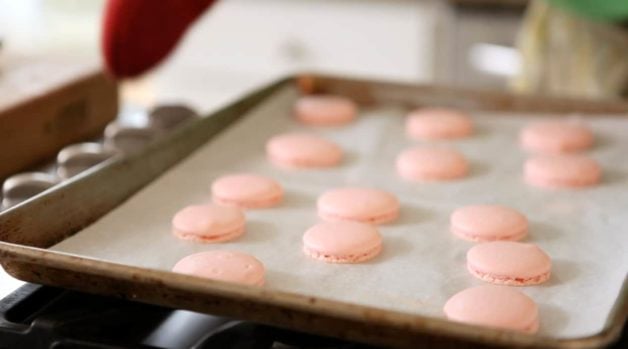 #5: MY BUTTERCREAM IS ALL WATERY AND SEPARATING.
My buttercream recipe for these macarons involves mixing raspberry juice (a liquid) with butter (a fat) which are two opposing forces. Think about when you make salad dressing with oil and vinegar. A bit hard to combine right?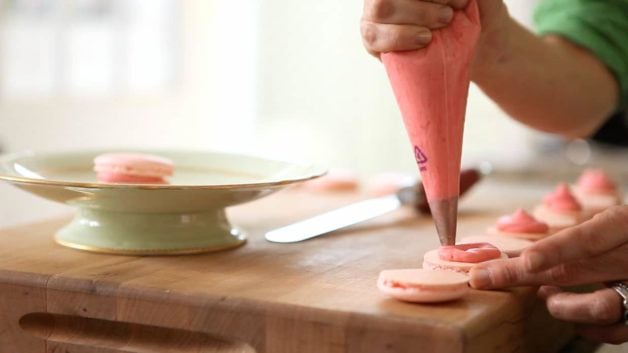 So in order to assure these two foes play nicely together and combine, two things have to happen. First, both must be at room temperature before you add the juice to the butter.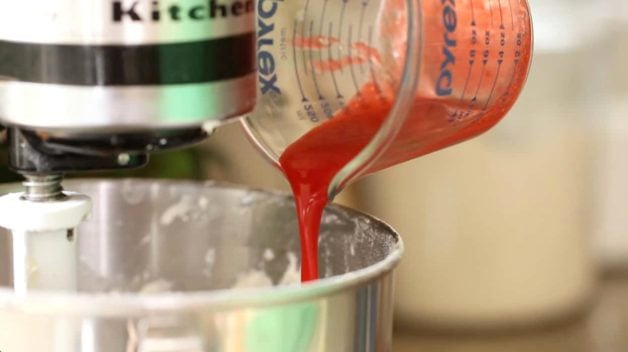 If the juice is cold (due to berries being in the fridge) and the butter is at room temp, it's a non-starter folks, these two ingredients will not play nice.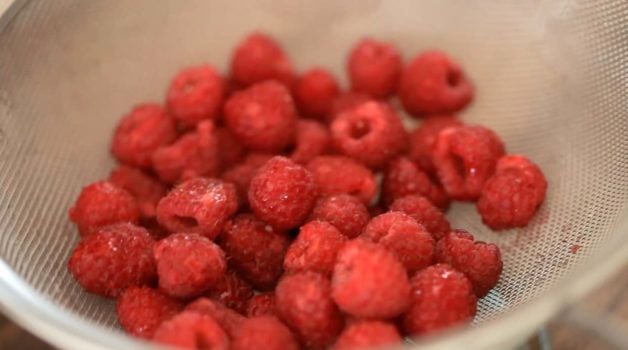 Fixing Buttercream that Separates
The other thing that needs to happen, is that the juice is added slowly while mixing (again, think of the salad dressing). If you start to see the watery situation creep up, and your buttercream appears to separate, start adding more confectioners sugar which will help bring it back together.
You may also find better success by not adding the full 3 tablespoons of juice. Start with 2 tablespoons, adding a little at a time, watch if it combines, if it does then taste it, and if you are satisfied with it, stop there, no need to go to the full 3 tablespoons. Why mess with success?
#6: WHY ARE MY FRENCH MACARONS HOLLOW?
If you have hollow shells, it can be that your French macarons "dried out too much" (see tip#2)
This can be easily solved by removing the cookies out of the oven sooner, and not going the full 20 mins. It could also be that you're oven is running too hot (see tip#1)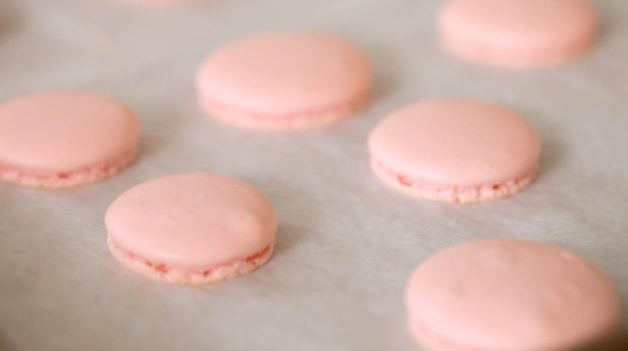 #7: MY FRENCH MACARONS DON'T HAVE SMOOTH TOPS
Often times this can be caused by the sieve you are using. It's really best to have a fine-mesh sieve that will catch all those little almond meal pieces and not let the big ones slip through.
I also find that the confectioner's sugar helps with the glossy smoothness. So don't reduce that if you find your macs are too sweet instead see tip#8 below on reducing the sweetness.
#8: MY FRENCH MACARONS ARE TOO SWEET
Yes, macarons are one little sweet cookie! But you can reduce the sweetness by omitting the granulated sugar in the egg white stage (as opposed to the confectioner's sugar in the dry ingredient stage) don't reduce the confectioner's sugar or your tops will not have a smooth, glossy finish to them.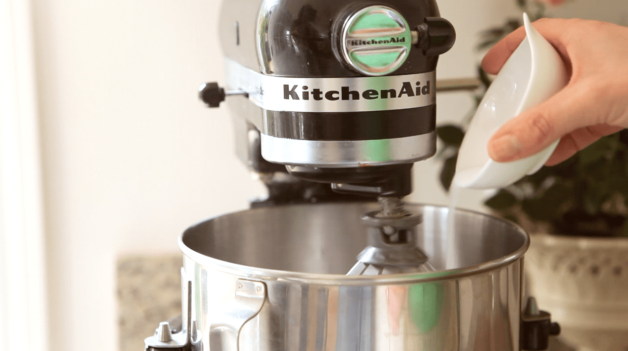 #9: MY FRENCH MACARONS SPREAD OUT ALL OVER MY TRAY?!
This is typically due to fallen egg whites. This occurs if your batter was mixed too much in the folding of the dry ingredients stage (remember to stay within the 65-75 stroke sweet spot).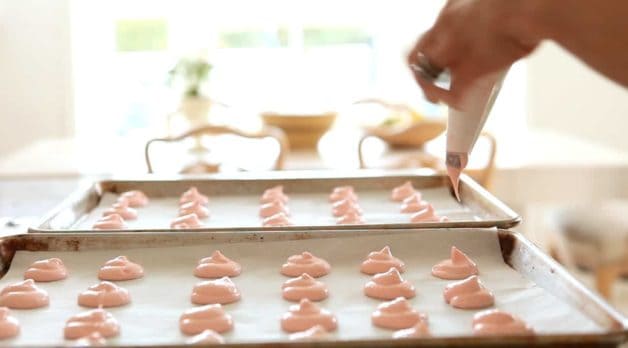 Why Cream of Tartar Matters
Or you omitted the cream of tartar perhaps? Cream of Tartar is the "wonder agent". I find it really is the secret to success!
The acid in the tartar helps stabilize the whites and prevent it from falling. Consider it the "egg white bodyguard", without it you are left unprotected, and vulnerable...in a very dark alley.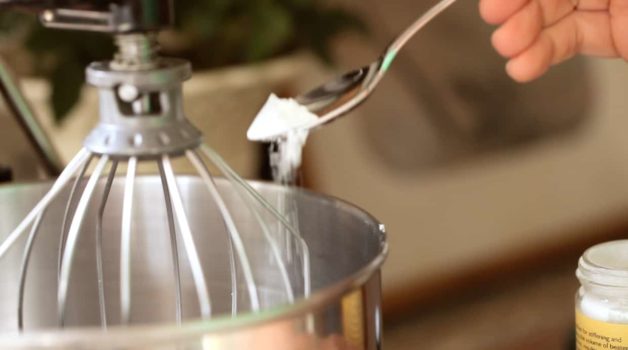 Cream of Tartar can be hard to find outside the U.S., so you can substitute it for another acid like plain white vinegar, try ¼ tsp. Or you can also purchase Cream of Tartar online.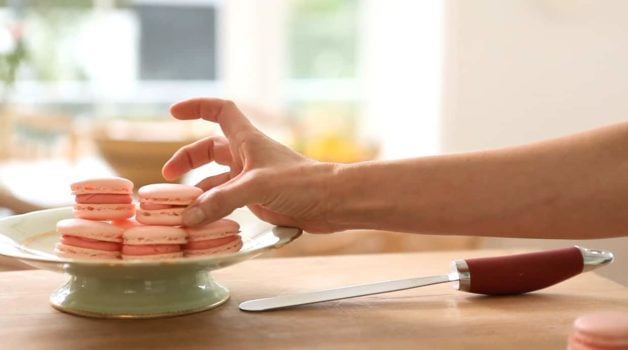 #10: MY FRENCH MACARONS DON'T HAVE FEET?
If you find your French macarons don't have those little "ridges" at the bottom or the "feet" as they are called, it usually means either #1 they didn't sit out long enough on your counter before baking, to dry out slightly and become "tacky".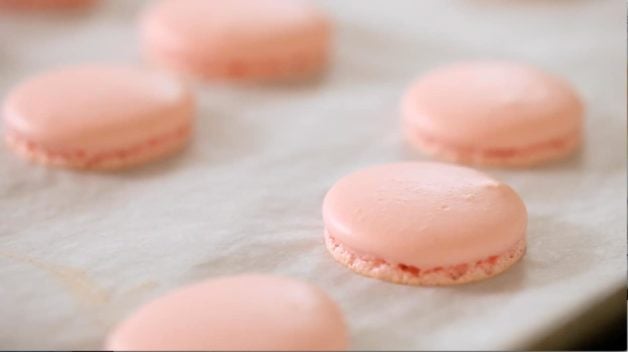 Yes, The Weather Matters!
Or another common issue, and don't laugh, because it's true, is the weather.
Yes, the cookies won't perform well if it's raining or is too humid. Yes, these cookies are little divas and they don't like humidity (sigh, I know) but it's true they don't.
So if it's raining, or really hot and humid in your area the day you set out to make these cookies, make some madeleines instead. They are another delectable French cookie that is much more forgiving!
Best of luck with your French Macaron pursuits! (and keep me posted...!)
MORE FOOLPROOF RECIPES!