My Eggless Chocolate Mousse is as easy as it gets. It's a cream cheese chocolate mousse made with cocoa powder. There is no cooking involved and no raw eggs! It's an easy chocolate mousse recipe that the kids and the whole family will love.
If you are looking for dessert recipes that are quick and no-fuss for a weeknight treat, this one is it!
Need a no-bake dessert for a fancy occasion? Try my Summer Berry Cheesecake with No-Bake Filling! Or a no-bake dessert for Thanksgiving? Try my No-Bake Pumpkin Mousse!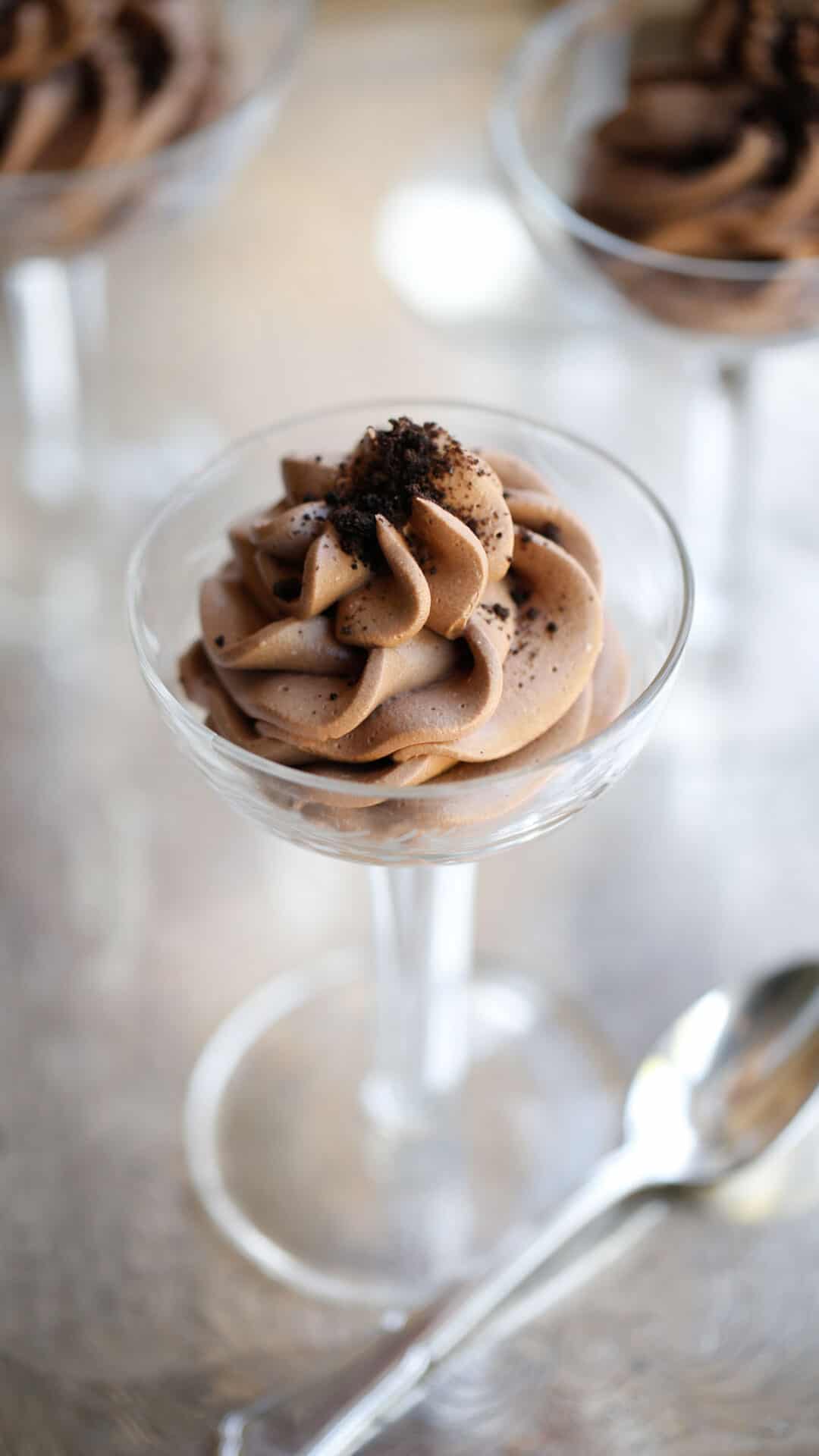 Why You'll Love This:
When piped into elegant champagne glasses it looks a lot more impressive than it actually is, making it a great recipe for entertaining!
It's easy to make ahead of time and then pipe into glasses and place in the refrigerator 2-4 hours ahead of serving
It's a delicious and decadent chocolate mousse recipe without raw eggs!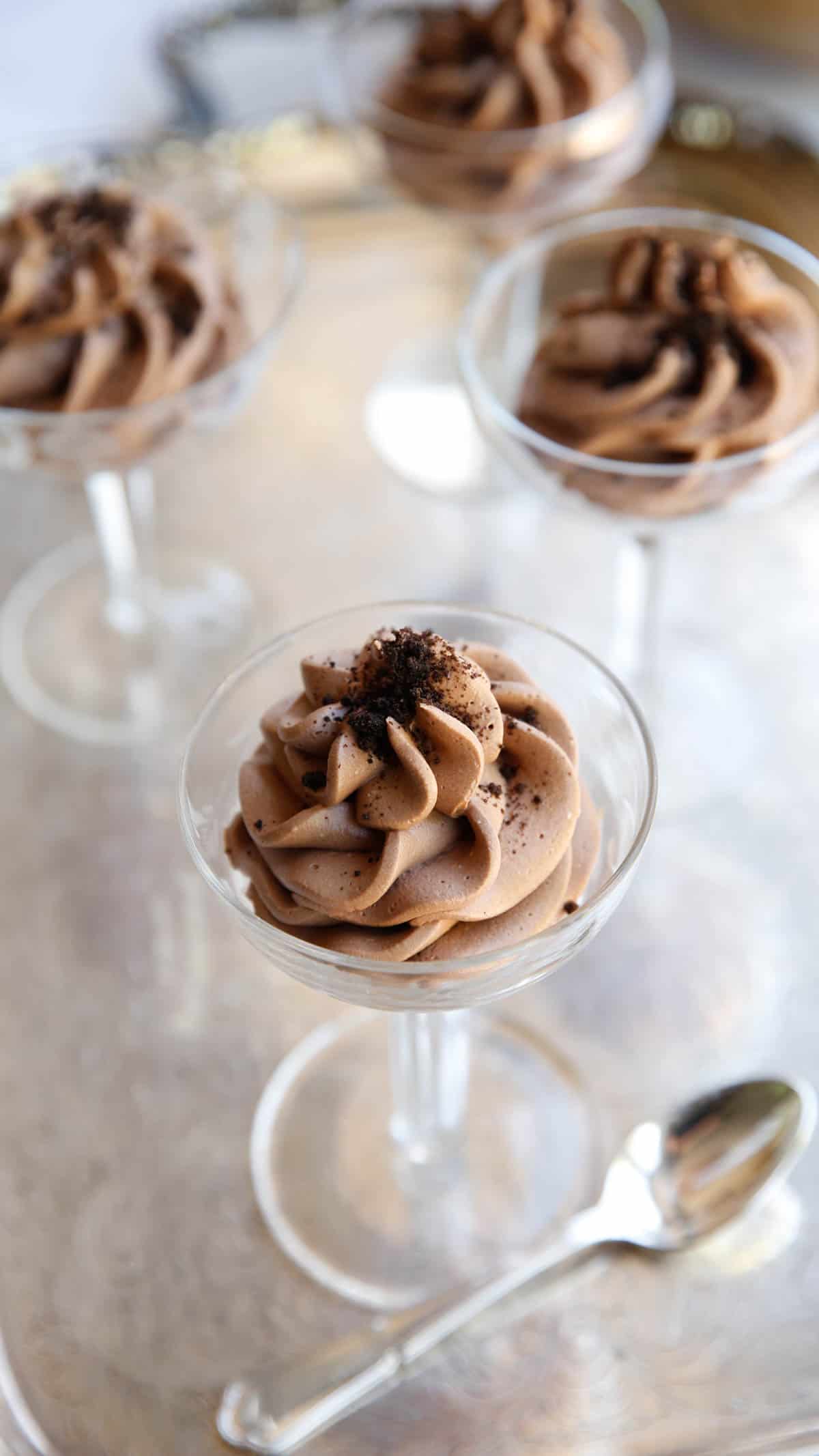 Step#1: Make the Chocolate Whipped Cream
This recipe is basically a simple process of creating two mixtures and combining them together.
The first mixture you'll create is the chocolate whipped cream, which is just heavy cream, powdered sugar, and unsweetened cocoa powder.
The whipped cream is what will give the mousse its light and airy texture, while the cream cheese will give the mousse its structure.
It also creates a nice tang to the chocolate mousse making it more of a chocolate cheesecake mousse.
If you don't have a stand mixer you can also use a hand mixer too.
Then you'll transfer the chocolate whipped cream to a large bowl and set it aside while you make the cream cheese mixture.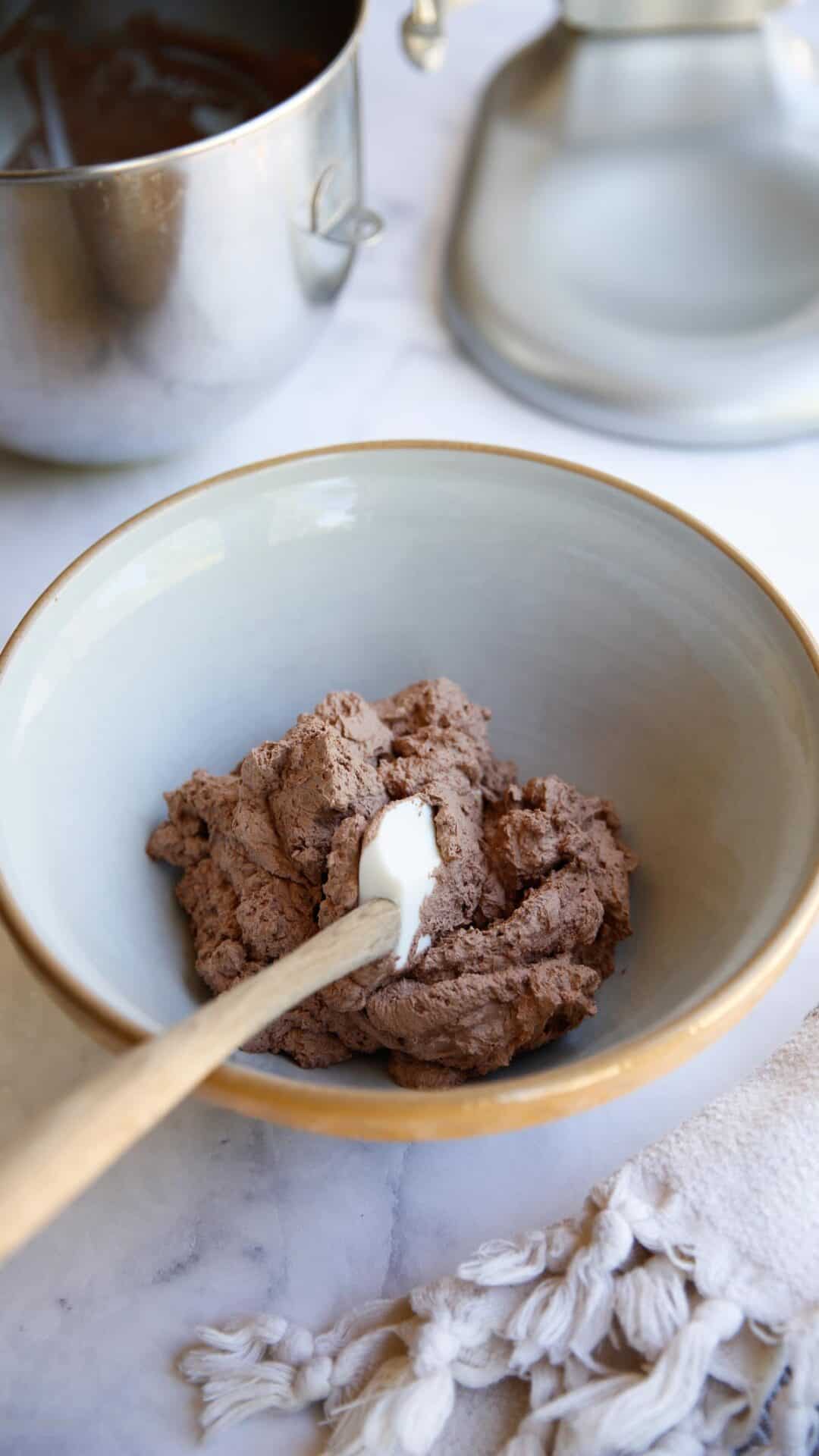 Step#2: Sweeten the Cream Cheese
Here's the best part, you don't even have to clean out the bowl of the mixer.
Since these two mixtures will ultimately combine into one mixture it doesn't matter if your bowl is clean or not.
So I just keep going and add the cream cheese, sugar, and vanilla to the same bowl.
Whipped Cream Cheese vs. Brick Cream Cheese
I think the whipped cream cheese works a bit better for chocolate mousse because there's already a lot of air in it already. It's the cream cheese of choice I use for my Raspberry Cheesecake Recipe, which makes for a creamier and lighter cheesecake too.
If you can't find the whipped cream cheese, you can use the brick cream cheese, and just beat the cream cheese a bit longer and scrape down the bowl more frequently.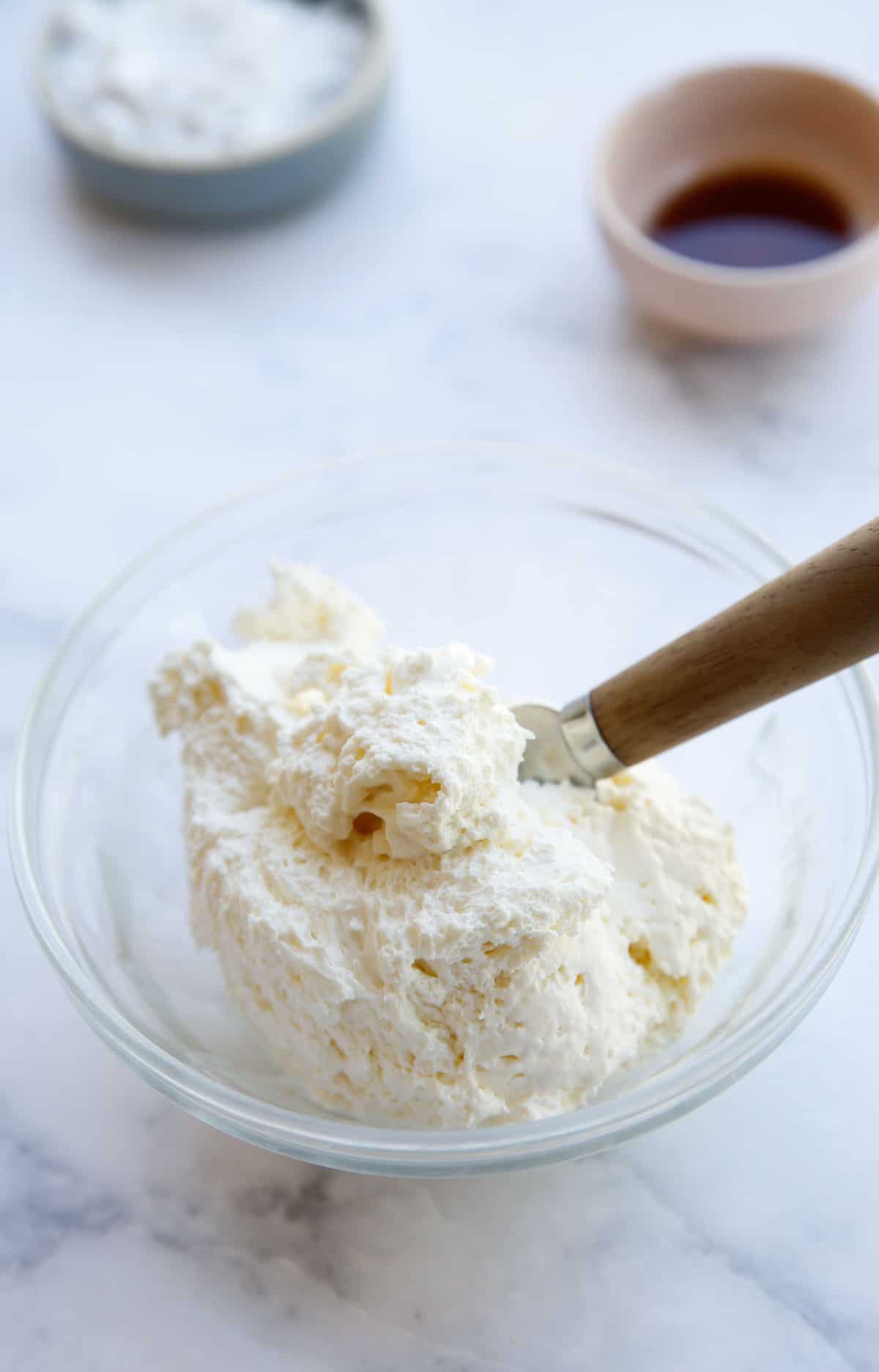 Step#3: Combine the Two Mixtures
Then you fold the two mixtures together, making sure the cream cheese mixture is being lightened by the whipped cream mixture.
This is a very similar process to my No-Bake Cheesecake recipe which is a great cheesecake recipe for Easter or Mother's Day.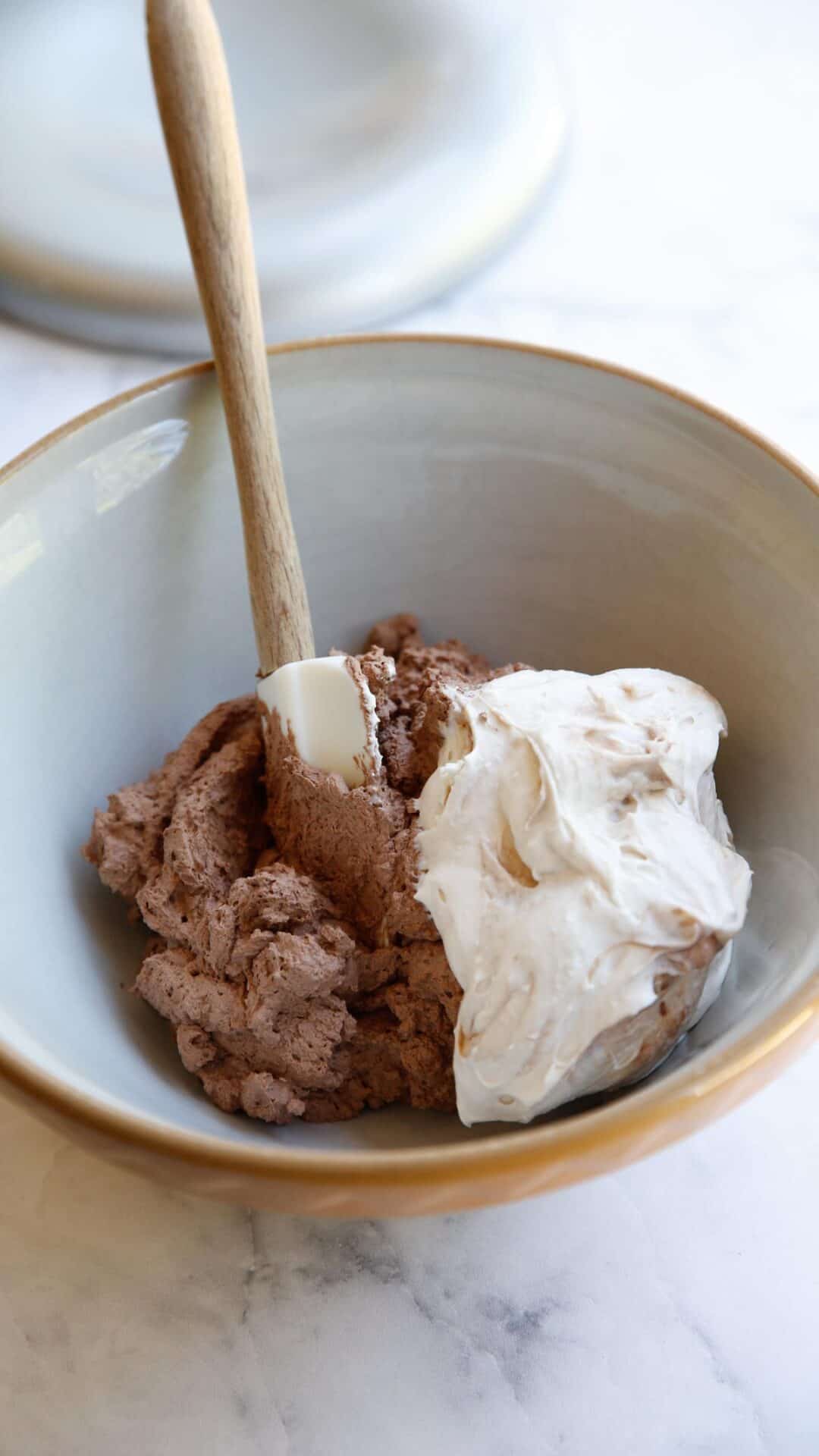 Step#4: Pipe into Glasses
At this stage, I like to transfer the chocolate mousse into some champagne coupes to create a beautiful, decorative swirl.
It's the little detail that makes this easy chocolate mousse recipe feel extra fancy.
Also, use a pastry bag tip like Wilton's 2D tip which creates a really nice fancy swirl. Or for a larger swirl, as seen in these photos, I used the largest swirl tip found in this pastry tip kit.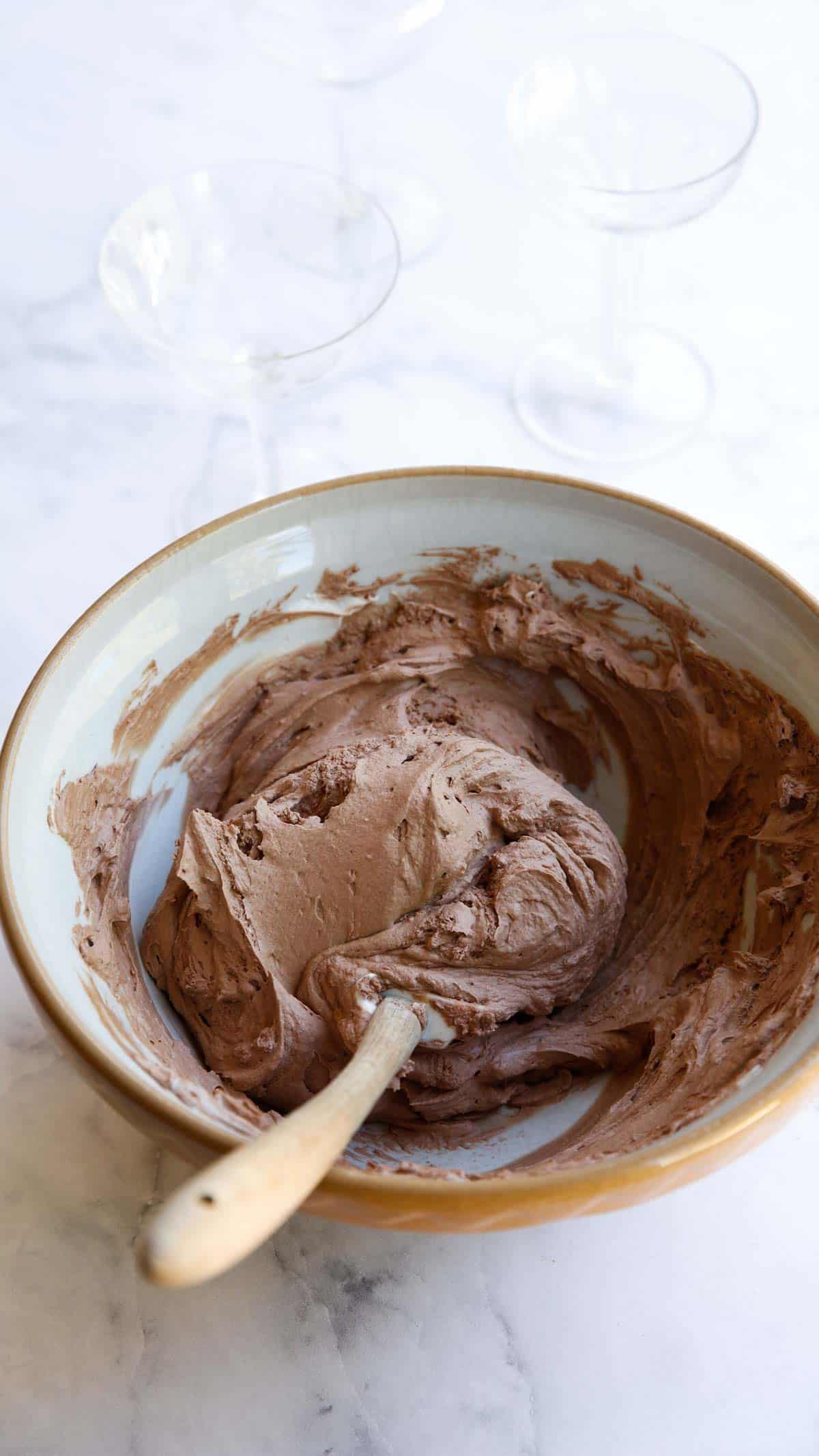 No Champagne Coupes? Try This!
If you don't have any champagne coupes to serve your chocolate mousse in, you can also use some cute teacups and saucers. That's another fun way to serve it.
Step#4: Add Crushed Cookies
Then to add a little texture and crunch on top, I like to sprinkle some crushed chocolate wafers to the top of each chocolate mousse.
The Famous Chocolate Wafers work the best.
I also use these as the base of a crust for my Chocolate Peanut Butter recipe, another great chocolate dessert to try!
This is such a fun, fancy dessert to serve on Valentine's Day or Mother's Day or anytime you need a "fancy looking" dessert recipe that's actually a cinch to make!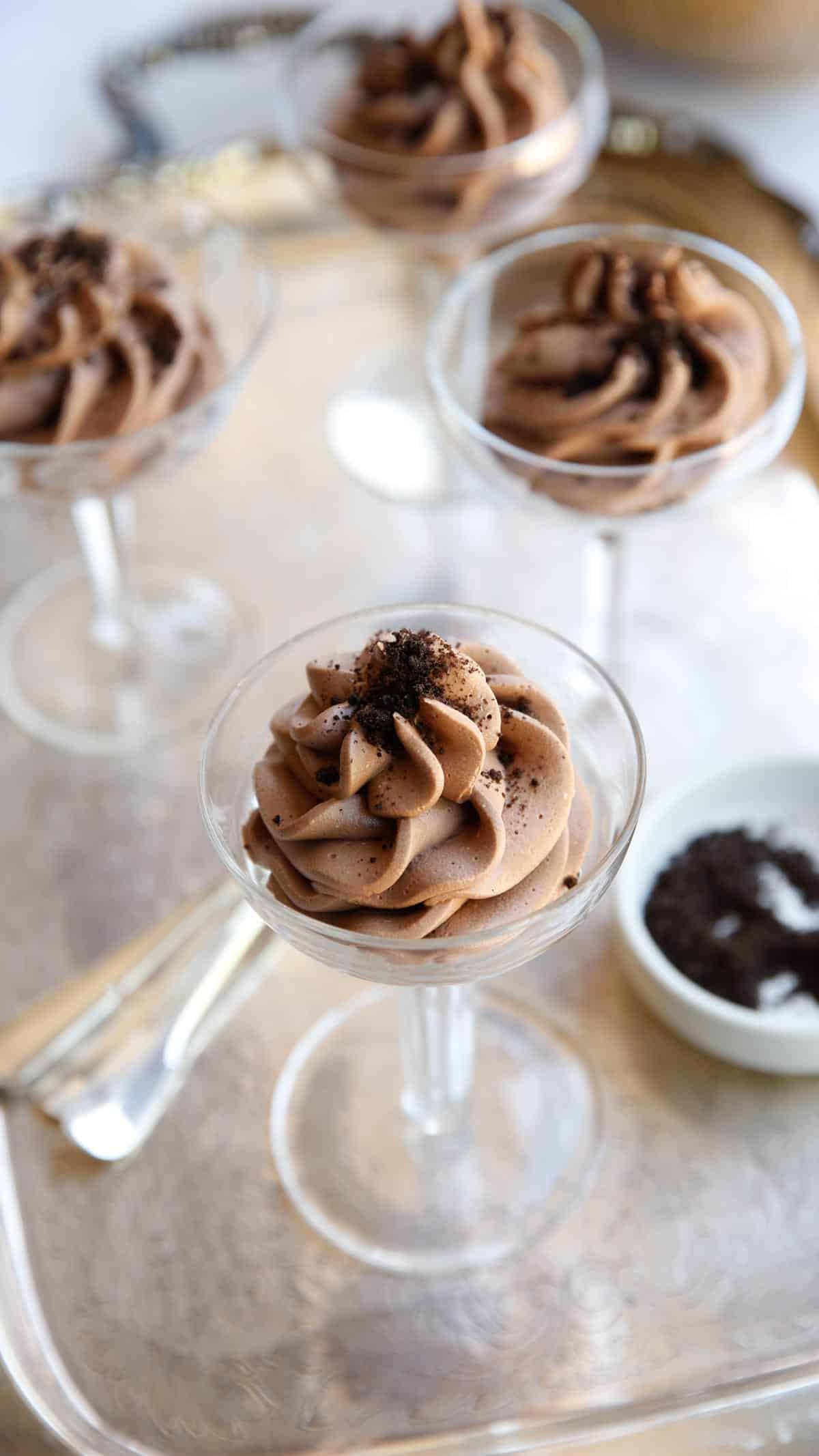 Another great recipe for Chocolate Mousse, which requires a few more steps, but is totally worth the effort in my opinion, is my Chocolate Mousse Cake Recipe. This is another delicious way to enjoy chocolate mousse!
More Great Chocolate Recipes!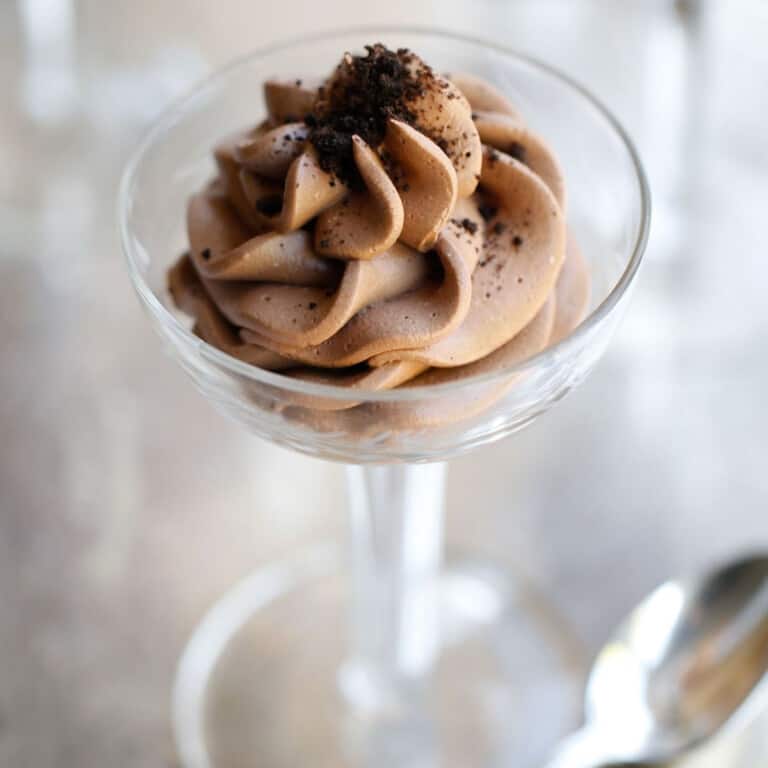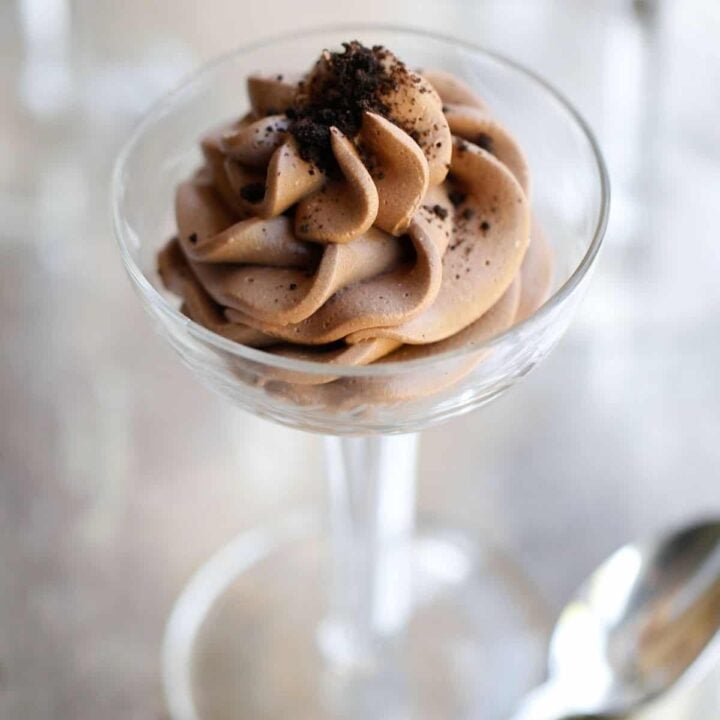 Eggless Chocolate Mousse
My Eggless Chocolate Mousse is as easy as it gets. It's a cream cheese chocolate mousse made with cocoa powder. There is no cooking involved and no raw eggs!
Ingredients
Mousse:
2 cups heavy cream or whipping cream
½ cup unsweetened cocoa powder
1 cup powdered sugar
8 oz whipped cream cheese or regular brick cream cheese will work too
1 teaspoon vanilla
Garnish:
5-6 plain chocolate wafer cookies
Instructions
In an electric mixer whip together the heavy cream, unsweetened cocoa powder and ¾ cup of the powdered sugar until stiff peaks form.
Then transfer to a bowl and set aside.
Then don't even bother to clean out your mixing bowl. This is what makes this so easy!
Then beat the cream cheese until soft, slowly add the remaining ¼ cup of the powdered sugar, in stages, mixing in-between additions. Once combined, add the vanilla and beat to combine.
Then remove the bowl from your mixer, and fold in the cream cheese mixture into to the chocolate whipped cream mixture, combining the two well.
Transfer to a pastry bag, fitted with a Wilton 2D tip, and pipe mousse into your serving glasses. Refrigerate until chilled.
Put cookies into a Ziploc bag and crush with a rolling pin until fine crumbs form. Top each mousse with a sprinkle of crushed cookie crumbs and serve!
Notes
The whipped cream cheese works a bit better for this recipe. It already has a lot of air in it and will prevent your chocolate mousse from having clumps.
It's best if these are made a few hours before serving so that they become well chilled.
If you don't have champagne coupes this mousse can also be served in fancy teacups and saucers.
Nutrition Information:
Yield:

6
Serving Size:

1
Amount Per Serving:
Calories:

355
Total Fat:

26g
Saturated Fat:

14g
Trans Fat:

0g
Unsaturated Fat:

9g
Cholesterol:

61mg
Sodium:

321mg
Carbohydrates:

28g
Fiber:

1g
Sugar:

15g
Protein:

5g