The easiest way to wow a crowd is with anything that involves chocolate mousse.
This is why I love this Chocolate Mousse Cake Recipe. It's decadent, a bit mysterious, and oh-so divine! It's really easier to make than you might think and in my video below I'll give you all my tips!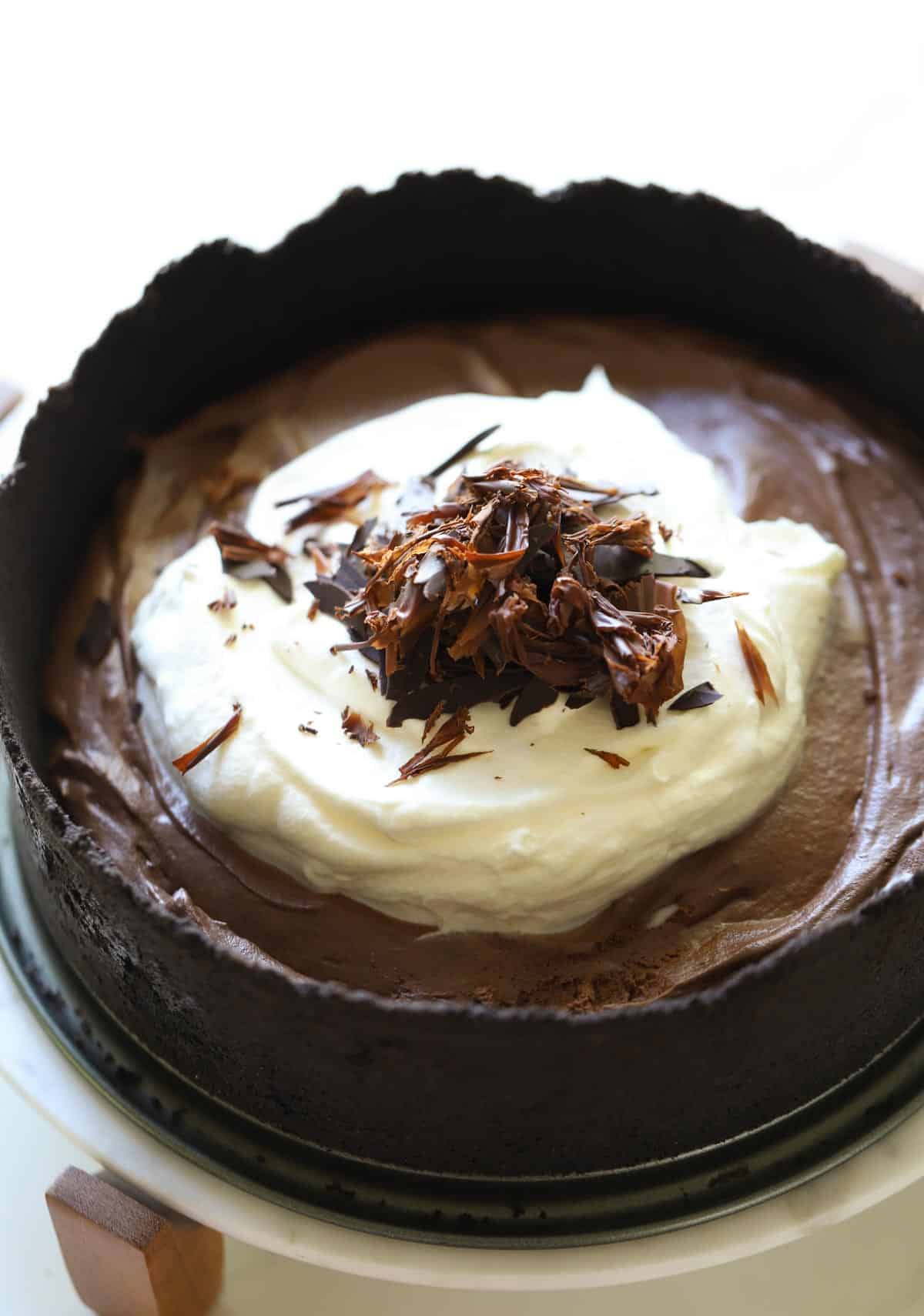 What is chocolate mousse cake?
A Chocolate Mousse Cake is essentially a basic French chocolate mousse recipe, poured into a chocolate cookie crust, and set inside the fridge for several hours to be chilled.
Like a traditional French chocolate mousse, this recipe does contain raw eggs, so if you prefer to avoid the raw eggs, you can make my Eggless Chocolate Mousse recipe and use that for the chocolate mousse filling for this cake.
Either way, just be sure to plan ahead and allow enough time to refrigerate it, since it does take at least 4 hours to set up.
Watch a Video Demo of This Recipe Below!
Subscribe for weekly recipes
and new videos!
Step 1: Make The Crust
How do you make a chocolate wafer crust?
A chocolate wafer crust is super simple to make with a package of these Famous Wafer Cookies. These cookies can sometimes be hard to find outside of "Ice Cream Season" so I usually just buy them online.
If you can't find the chocolate wafers you can also use Oreo Cookies, just scrap out their cream fillings and use the same quanity.
Just whirl up the cookies in your food processor until fine crumbs form, then add melted butter until a coarse meal forms that will stick between your fingers when you pinch it.
Fit into your cheesecake pan, tightening the sides with a measuring cup, and then bake! (full recipe is below)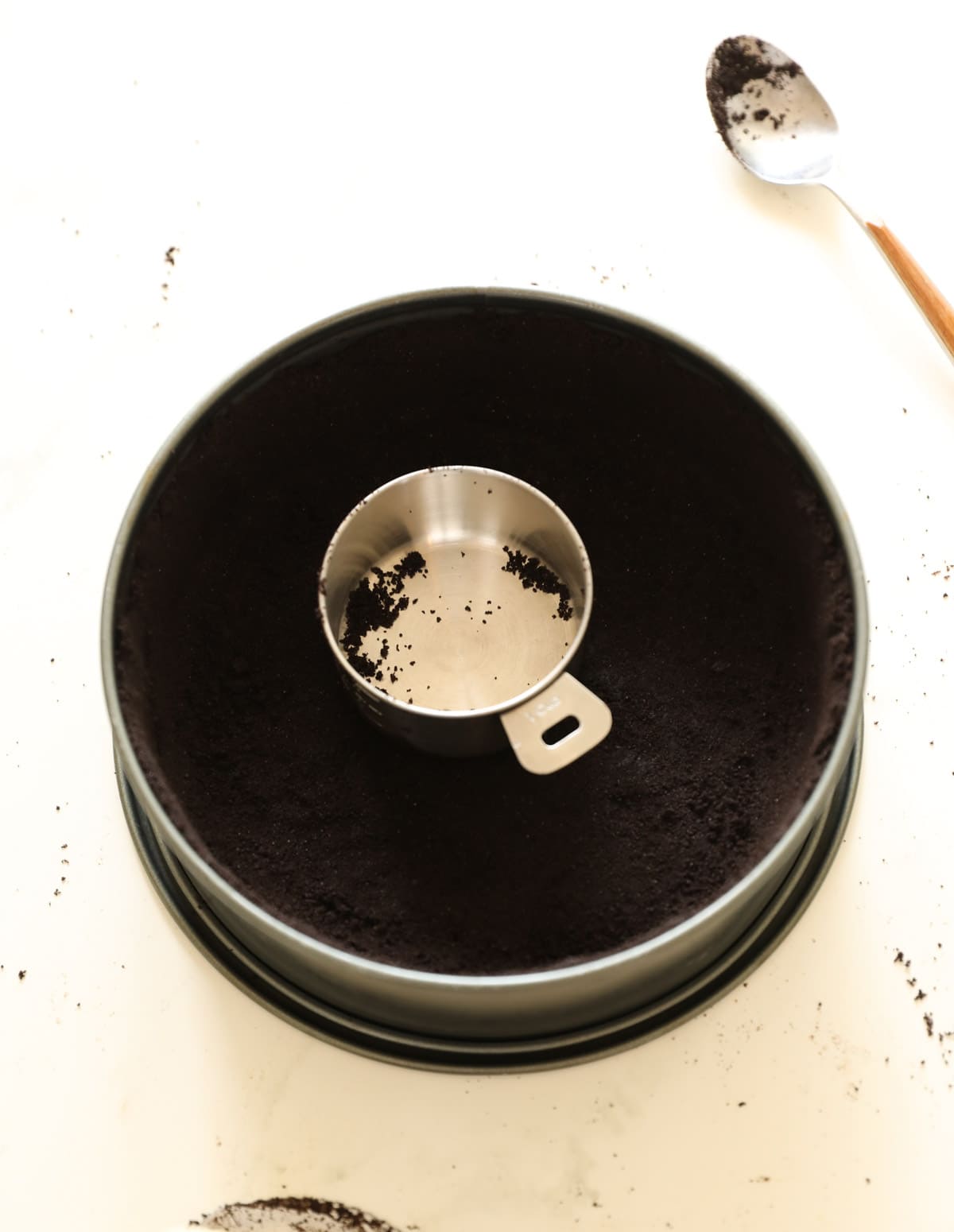 Step 2: Make the Chocolate Filling
Before you make the chocolate filling, have your egg whites whipped and whipped cream whipped.
The process should go quickly without letting any one step sit too long or the chocolate mousse will begin to set.
For the the chocolate base, you'll melt bittersweet chocolate and butter in a microwave-safe bowl at 30-second increments.
Then you'll add the egg yolks, sugar, and vanilla and a rich chocolate mixture will form.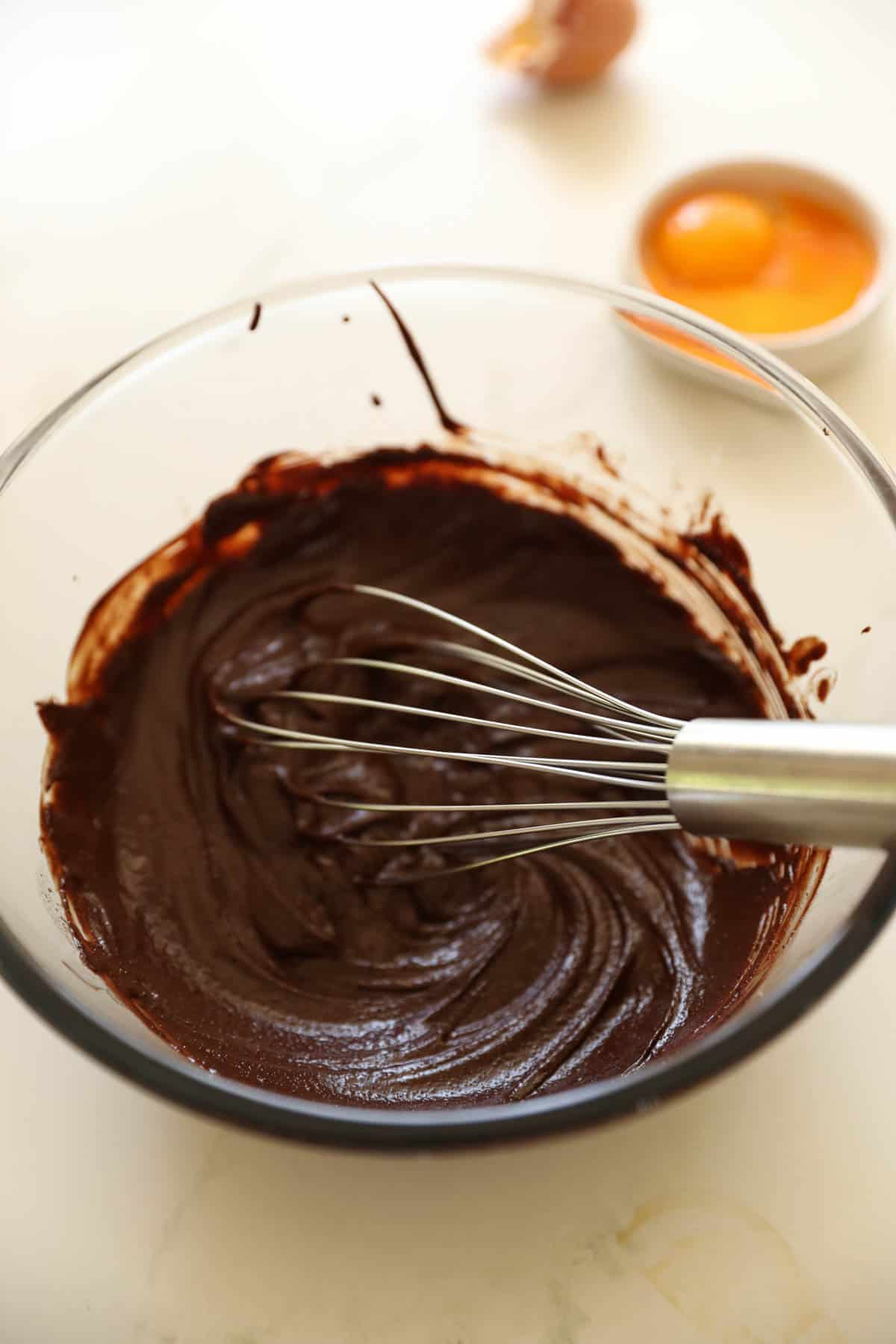 Step#3: Fold in the Egg Whites
Fold in these egg whites into the chocolate mixture.
A little at a time, lightening the dense chocolate mixture with each addition of egg whites.
Be sure to work your spatula to the bottom of the bowl, where the denser chocolate will settle, bring it to the top to incorporate it into the whites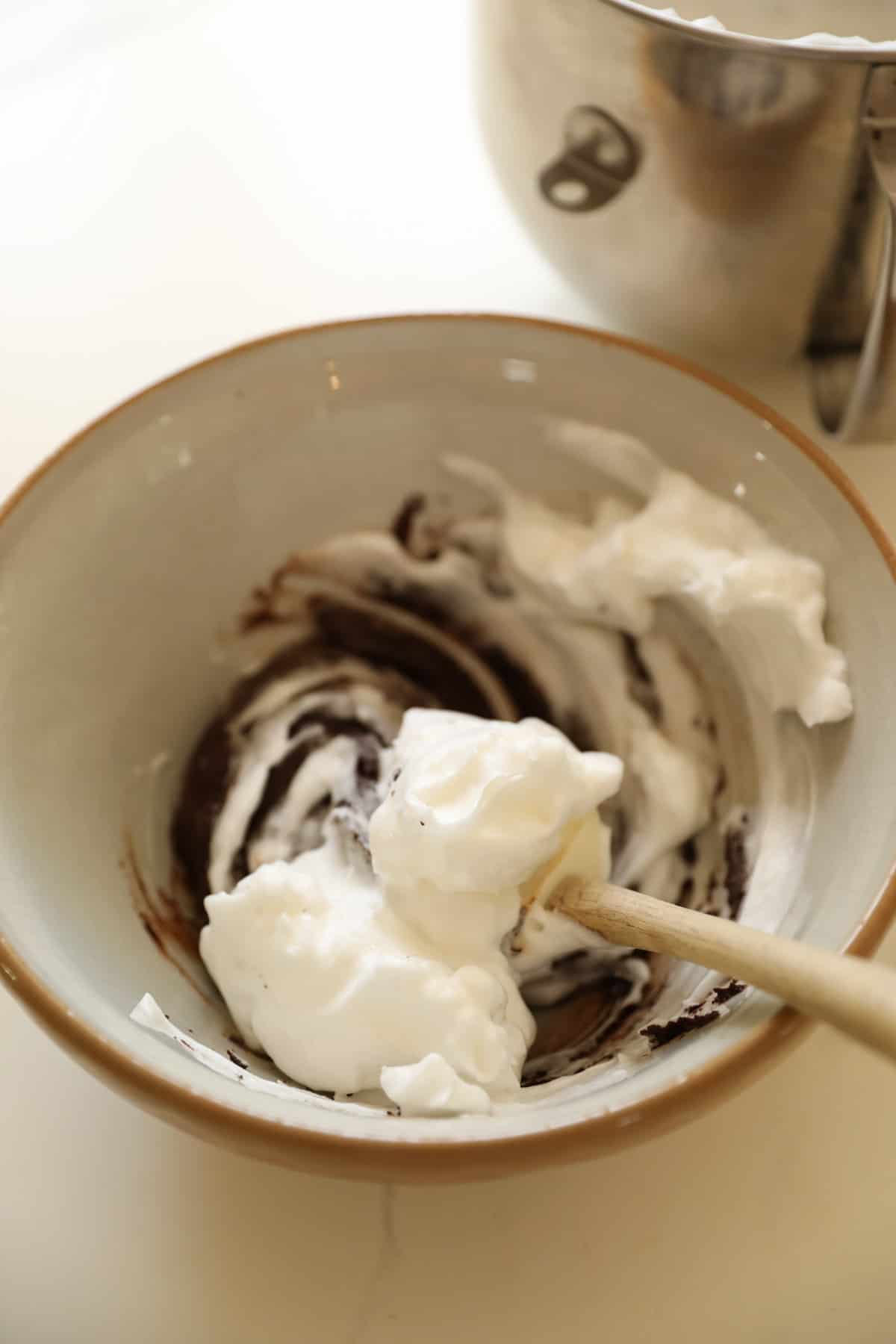 Step#4: Fold in the Whipped Cream
Fold in the whipped cream to lighten the mixture even further.
Once your mixture has lightened it should be a pourable stage and will be easy to pour into your cheesecake pan.
If your mixture doesn't seem pourable your chocolate may have seized up, and you can fix this by folding in more unsweetened whipped cream, about ½ cup at a time into looser, softer and more pillowy.
Pour it into the cooled crust. At this stage, you can smooth out the top with a spatula or leave the soft peaks.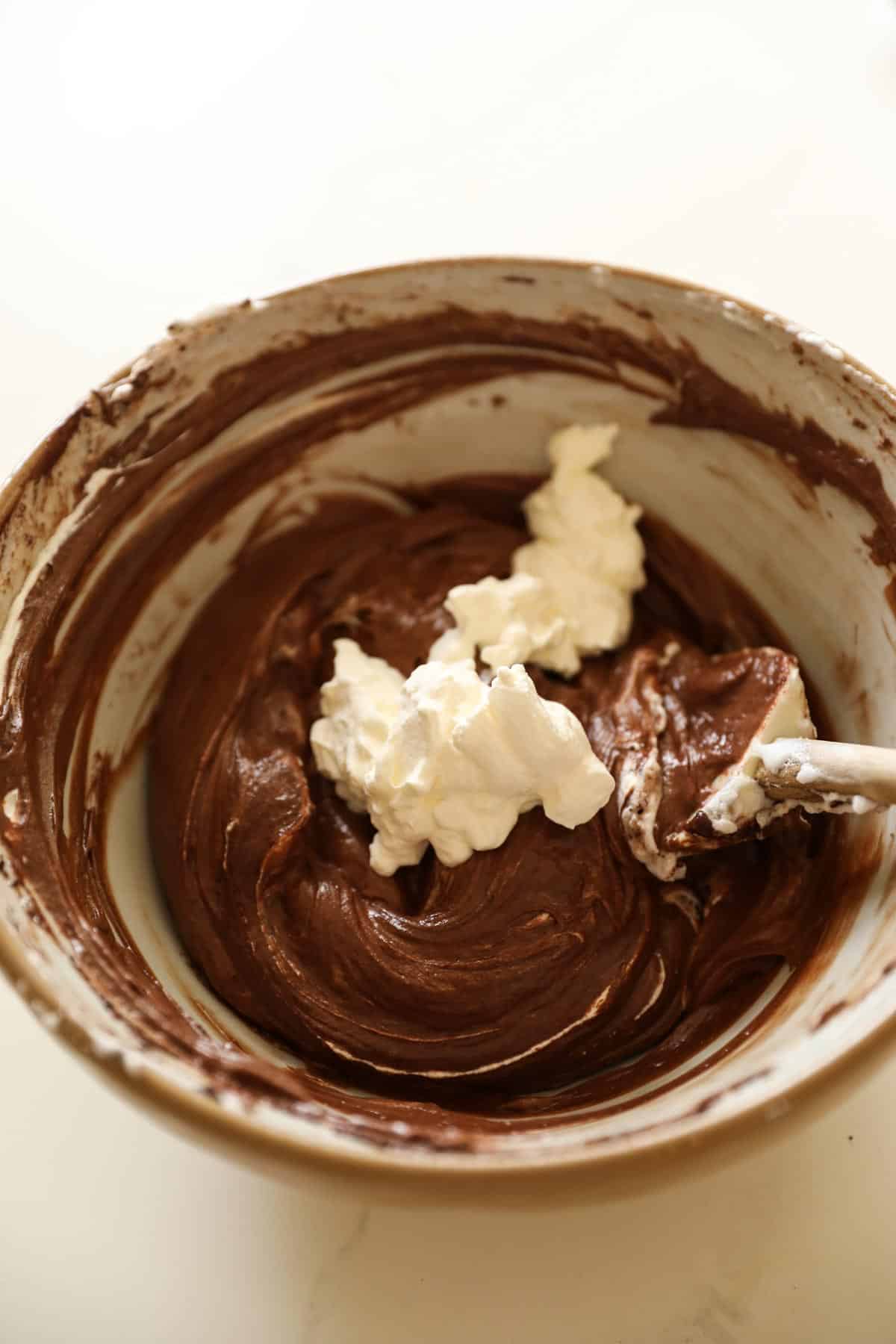 Can you make chocolate mousse cake ahead of time?
Yes! In fact, I think it's even better if you can make it a day ahead. That way it will have the time to really set up, which makes it easier to slice. I even add the whipped cream topping the day before too, which will assure cleaner slices.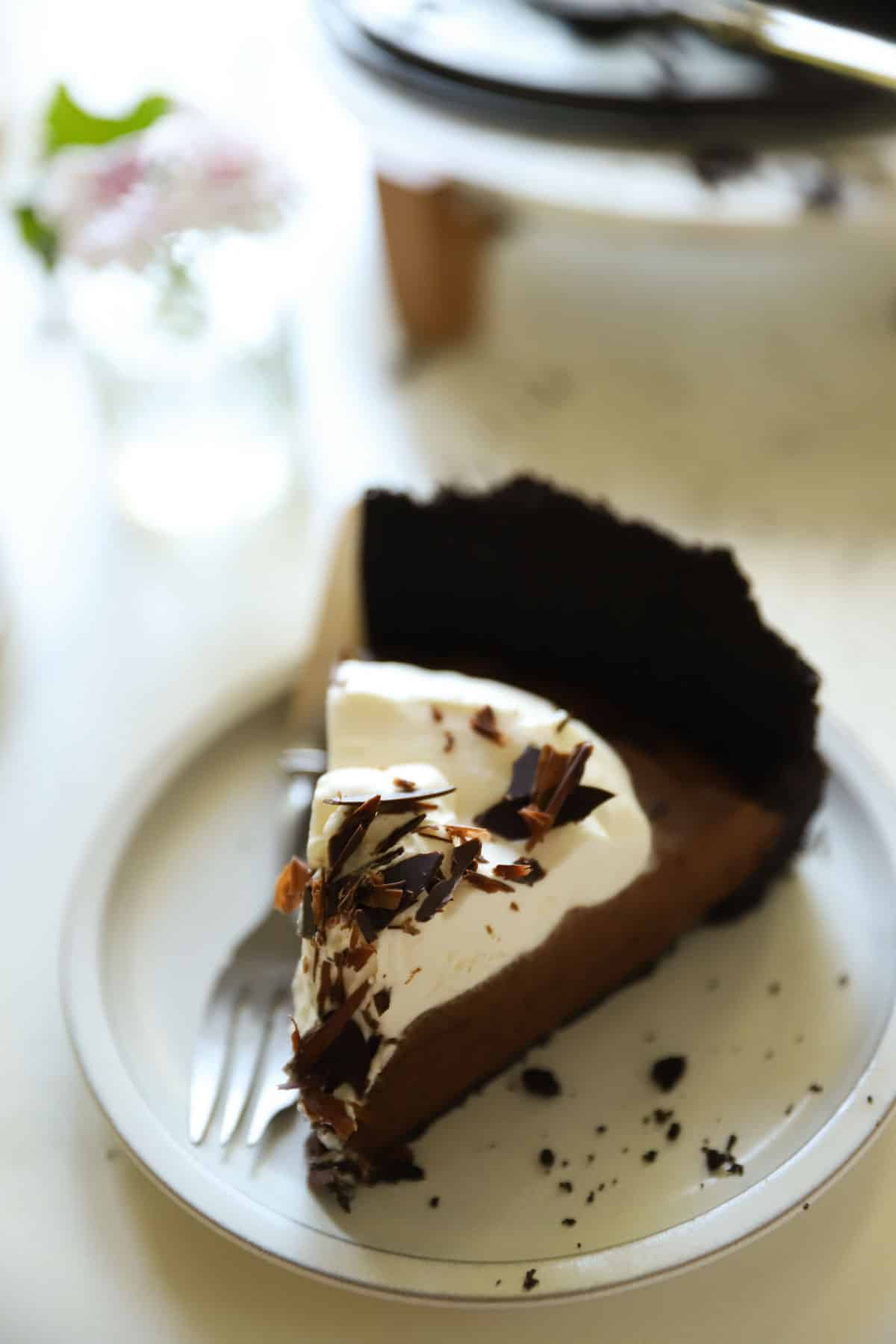 Step #5: Garnish with Chocolate Shavings
How do you make chocolate curls?
There are a couple of ways you can make chocolate curls for this recipe. You can either peel the chocolate with a potato peeler for small curls.
Or for larger more impressive curls, melt some dark chocolate in the microwave, then pour it into a frozen baking sheet that you have placed in the freezer for a few minutes until cold, and flipped over.
Smooth the chocolate on the pan with an offset spatula until a thin layer forms. The thinner the better!
Otherwise the chocolate won't curl if it's too thick but will break like a shard. Which is also pretty too!
Allow the chocolate to set, or place it in the refrigerator to set quicker.
Then use a bench scraper to push the chocolate into curls, or shavings with a bench scraper.
And presto! Beautiful dark chocolate curls!

Plating Suggestion:
I would not attempt to slide the cake off the cheesecake plate, but rather place it directly on a cake stand.
You can buy the pink cake stand here which I use in my YouTube video.
I think adds a pretty, elegant touch to the presentation. It's a generous size stand which makes it ideal for holding a dozen muffins too!
Just before serving you can add some more chocolate shavings to each slice of cake.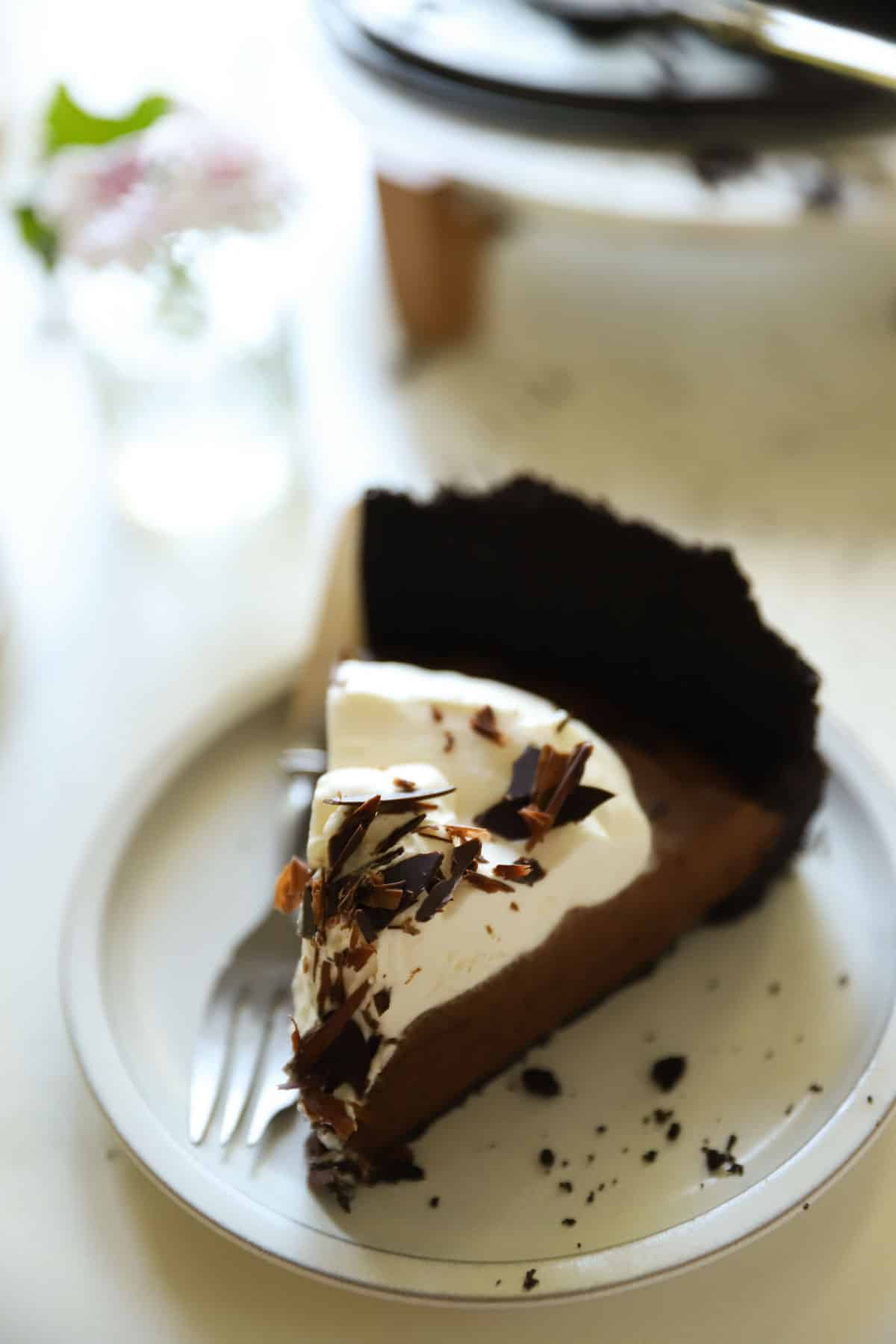 Try More Decadent Chocolate Desserts:
Please let me know if you make this recipe
by leaving a rating and review below.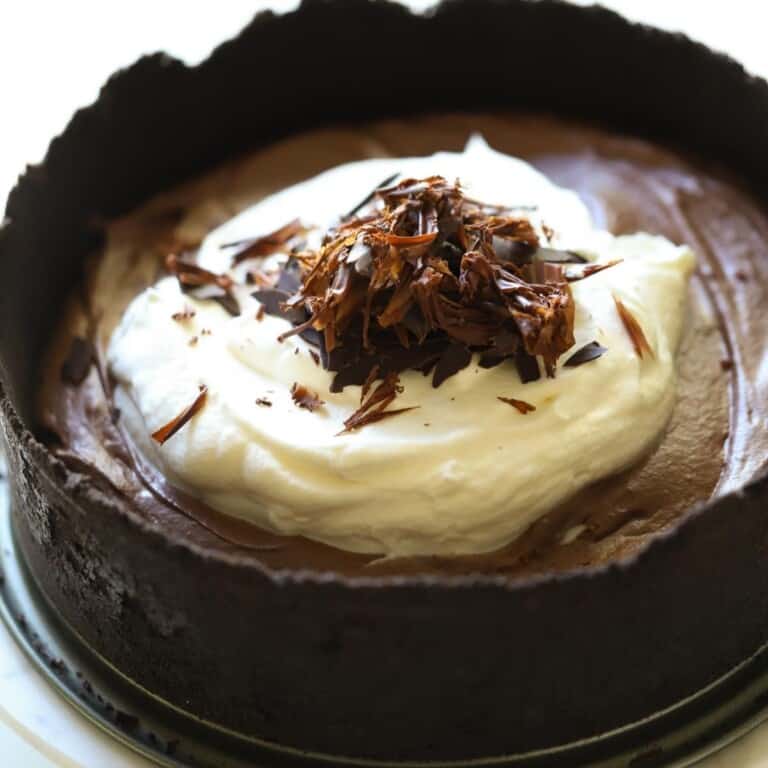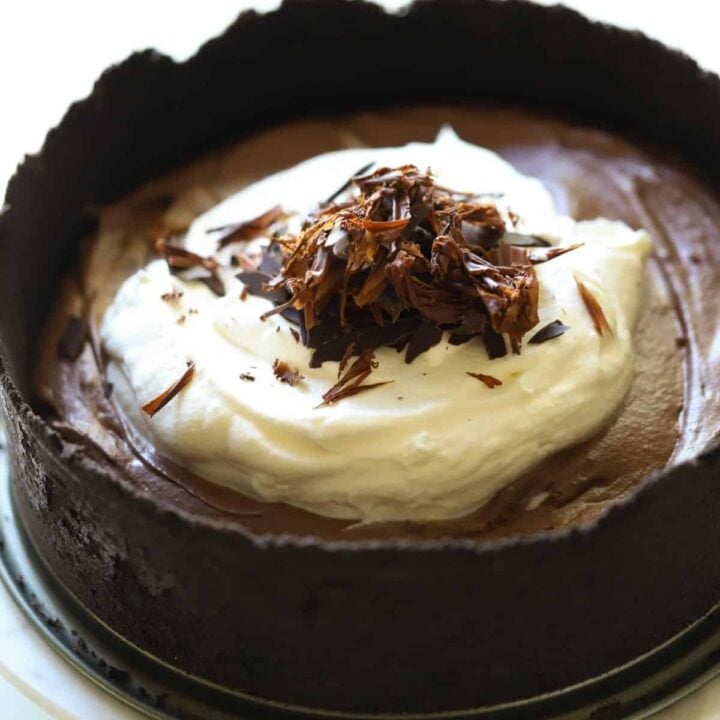 Chocolate Mousse Cake
Prep Time:
5 hours
30 minutes
Total Time:
5 hours
38 minutes
Learn how to make a chocolate mousse cake recipe. This cake is so divine you'll swear it was heaven sent!
Ingredients
for the crust:
1 (9 0z) package of famous chocolate wafers or Oreos scraped of their filling
7 tablespoon (103 ml) melted butter
for the filling:
10 oz (286 g) bittersweet chocolate (no more than 60% cacoa)
2 tablespoon (30 g) butter
2 egg yolks lightly beaten
2 tablespoon (25 g) sugar
2 teaspoon vanilla extract (10 ml)
4 egg whites
¾ teaspoon (3.75 ml) cream of tartar
1 cup (240 ml) of heavy cream
for sweetened whipped cream topping:
1 cup (240 ml) heavy cream
1 tablespoon (7g) powdered sugar
½ teaspoon (2.5ml) vanilla extract
For the Chocolate Curls:
3.5 oz (169 g) Bittersweet Chocolate
Instructions
Place wafers into a food processor and pulse until finely ground.
Or place wafers in a large zip lock bag and whack with a rolling pin until crushed and crumbs form.
Add melted butter to the crumbs and pulse to combine.
Transfer crumbs into a 9" (23 cm) springform pan and press into bottom and up the sides of the pan to form a crust. Bake at 375F (190C) for 8 mins. Allow to cool.
Place 10 ounces of bittersweet chocolate and 2 tablespoon butter in a large microwave-safe bowl. Microwave on high in 30 second increments until melted. Or melt over a double boiler. Do not over heat or chocolate and mousse will be grainy!
Allow to cool slightly. Set aside.
Place egg whites and cream of tartar in a mixing bowl and beat on high until soft peaks form. 2-3 mins. Set egg whites aside
Then beat 1 cup of heavy cream until stiff peaks form. Set that aside.
You will now have 3 components. The melted chocolate, the whipped egg whites and the whipped cream.
Add egg yolks, sugar, and vanilla to the chocolate mixture. Whisk until combined.
Fold whipped whites into chocolate mixture, gently lightening the mixture in stages, until combined.
Fold the whipped cream into the mousse mixture, and gently mix until combined.
Gently pour the mousse into cooled crust.
Then whip the remaining heavy cream, sugar and vanilla for the topping. Keep it a bit loose and soft.
Garnish the chocolate mousse with a large dollop of sweetened whipped cream in the center, and chocolate shards or shavings. Refrigerate for at least 4 hours, but overnight even better!
For Chocolate shards:
Place a metal baking sheet in the freezer for 15 mins.
Melt chocolate in a microwave at :30 intervals until melted. Whisk until slightly cooled and smooth.
Pour chocolate over bottom of frozen pan, creating a thin layer.
Allow to set. May take 15-20 minutes.
Take a metal bench scrape and scrap chocolate until shards or curls form.
Notes
Be sure to allow the cake to set up in the refrigerator for a minimum of 4 hours but overnight is even better. This will help create a nice clean slice.
You could also use milk chocolate but then omit the sugar in the filling recipe since the milk chocolate will be sweet enough
Nutrition Information:
Yield:

8
Serving Size:

1
Amount Per Serving:
Calories:

207
Total Fat:

16g
Saturated Fat:

9g
Trans Fat:

0g
Unsaturated Fat:

5g
Cholesterol:

77mg
Sodium:

120mg
Carbohydrates:

12g
Fiber:

1g
Sugar:

10g
Protein:

4g