This Chocolate Christmas Cake is a delicious holiday dessert idea for when you want something fancy and festive, that won't take you all day in the kitchen! This is my go-to chocolate bundt cake recipe that can be dressed up or down depending upon the bundt pan you use. It's moist and delicious and pairs beautifully with the syrupy kirsch cherries served over ice cream!
For an even fancier chocolate Christmas cake recipe, try my Buche de Noel (yule log cake).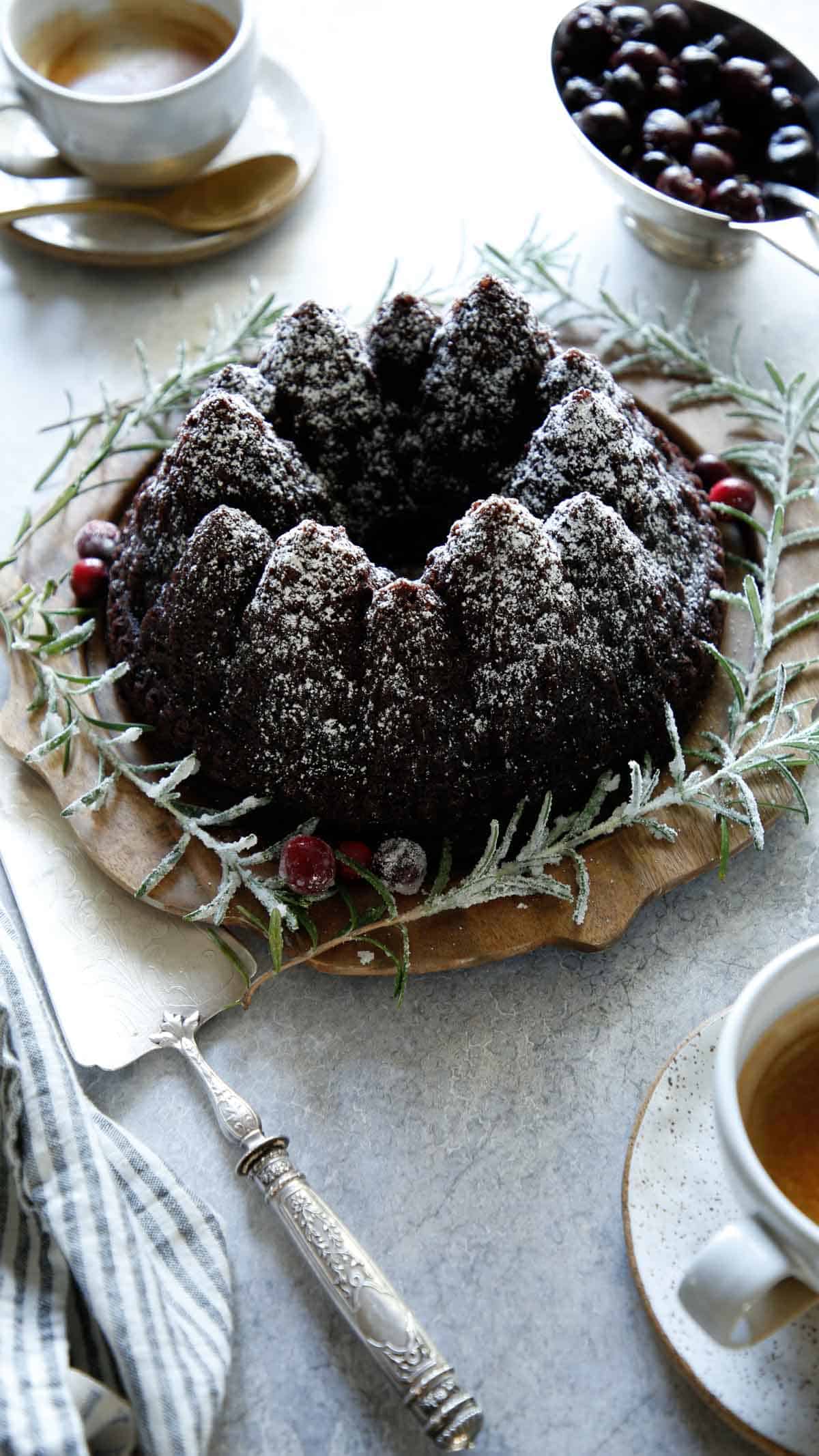 Why You'll Love This:
The bundt pan does all the work for you! I'm using Nordic Ware's Pine Forrest Pan, but this recipe would also work in a classic Bundt Pan, too. Just be sure it is at least a 9-10 cup capacity pan.
It can be mixed up in two bowls with a whisk! No need to drag out the electric mixer!
The decorations are so easy to do and can be done by any skill level! Even kids can help!
The cake, the decorations, and the kirsch cherries can all be made the day before.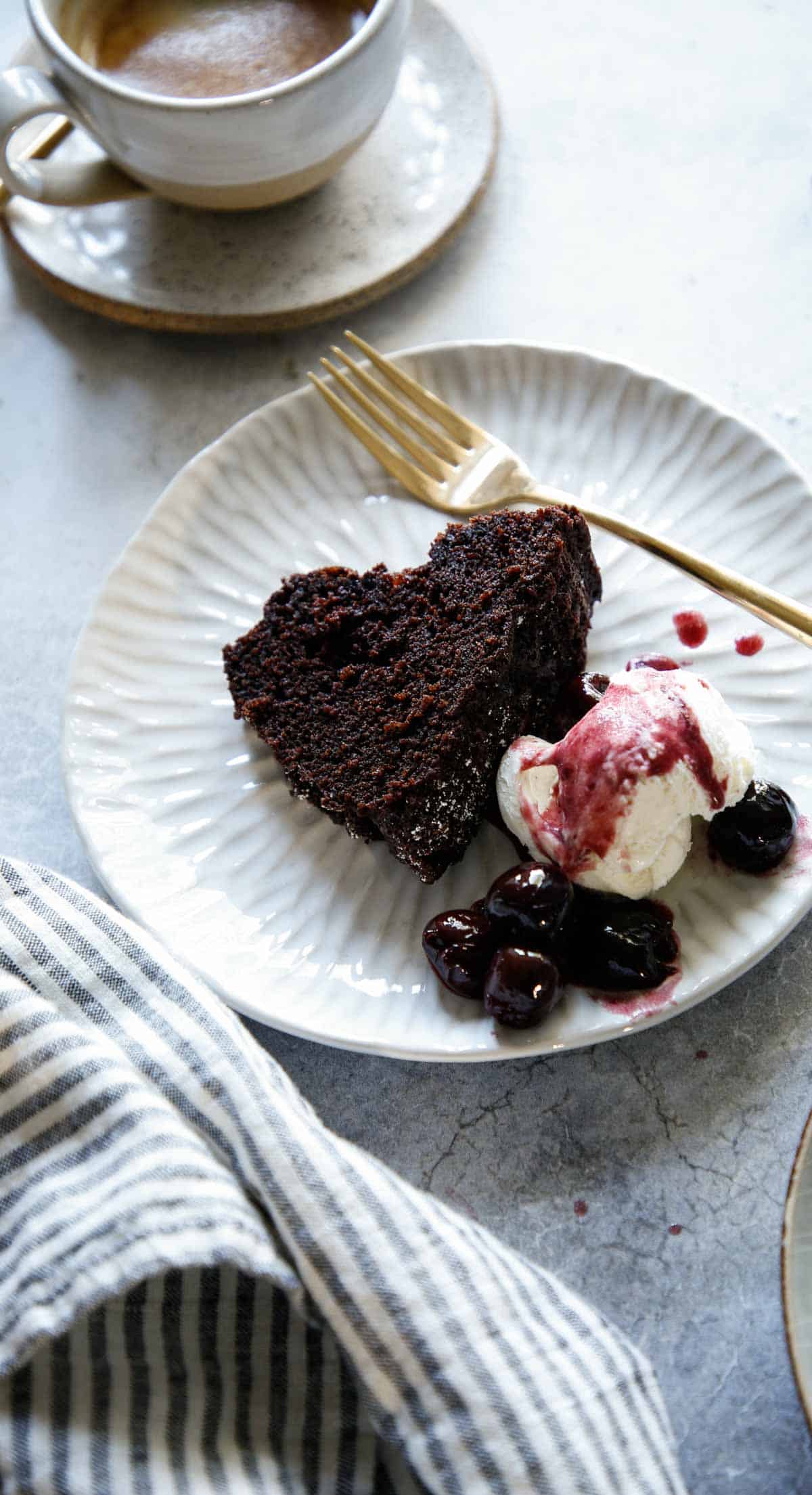 Holiday Menu Ideas:
Watch My Video Demo Of This Recipe Below!
The Ingredients:
Bittersweet Chocolate I like to use 2 oz of bittersweet chocolate to up the chocolate flavor. Personally, I've tried them all and always go back to Ghirardelli's Bittersweet Chocolate. I think it provides the best flavor and texture. Just make sure you look for 60-70% cacao for the best chocolate flavor without too much bitterness.
Unsweetened Cocoa Powder I find Hershey's brand works the best for the rich, chocolatey flavor.
Hot Boiling Water Hot water poured over the cocoa powder will bring out its best flavor. Make sure it's really hot though so that it melts the bittersweet chocolate below.
Sugar This recipe calls for 2 cups of sugar, which may seem like a lot of sugar for a cake, but remember it's 1 cup of unsweetened cocoa powder you added which is really bitter!
Vegetable Oil Will produce a moister cake over butter. You can also use corn oil, canola oil, or coconut oil if you prefer. Just don't use anything heavy or too flavored like olive oil.
Eggs You'll use 3 whole eggs, for lift and lightness and 2 eggs yolks for richness. These extra eggs give this cake a fantastic texture!
Flour All my recipes use all-purpose flour unless otherwise noted. No need to drag out the cake flour, let's keep things easy shall we?
Baking Soda Works better than baking powder for the recipe because of the acid in the unsweetened cocoa powder.
Salt and Vanilla Extract will heighten the flavor of the chocolate. It may look like a lot of vanilla extract (1 full tablespoon, but it's a lot of batter and it really does add to the flavor of the cake)
Frozen Cherries The best part about frozen cherries is the fact that they are already pitted! No need to thaw them, they are better cooked frozen so they release their juices back into the sauce.
Butter In the cherry sauce will provide a syrupy, silky finish
Kirsch is a cherry brandy and quite delicious splashed over the syrupy cherries, but if you can't find it or prefer to skip the alcohol, substitute for 1 teaspoon of Almond Extract instead.
Rosemary Sprigs and Cranberries dipped in water and then sugar will create the most beautiful garnishes for your cake. If you can't get cranberries, you can also use raspberries. These can be made the day before too!
Powdered Sugar for a little snowy finish on top. The powdered sugar will be easier to control with a sugar shaker.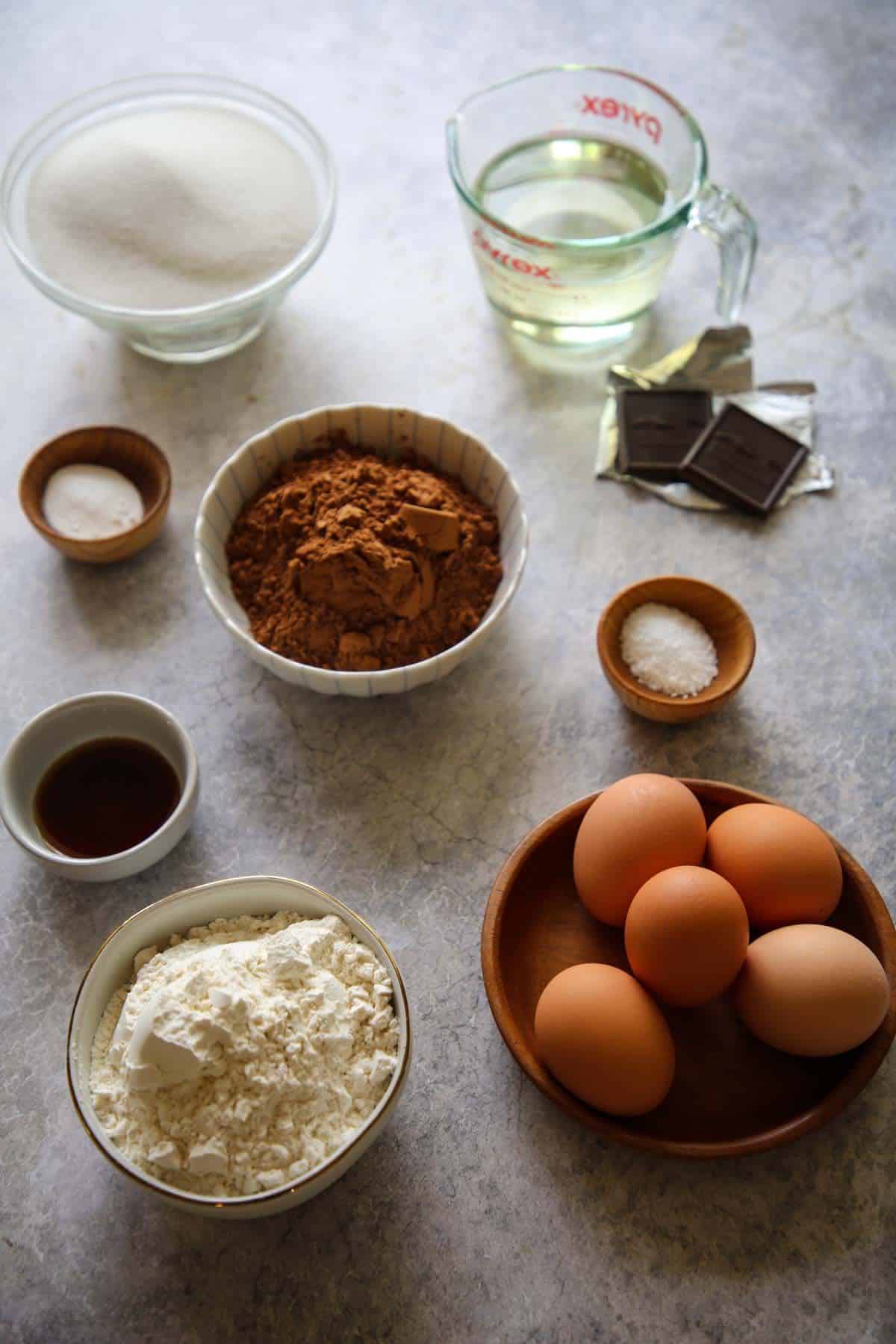 Making Christmas Cake Garnishes
I think any Christmas dessert is enhanced with some snowy frostbitten branches and berries.
These garnishes are so easy to make they require hardly any skill! Mother nature does most of the work for you.
Start with 4-5 fresh sprigs of rosemary. The fuller the branches are the better.
Dip the sprigs in water then drag, then gently drag them through the sugar. Then transfer them to a plate to set up.
Repeat the process with the cranberries, although I also like to keep some cranberries undecorated and use both the sugared and natural cherries for texture as well as a nice pop of color.
You can make the garnishes 1-2 days ahead of time, and leave them uncovered on a plate at room temperature. The sugar will harden and they will be less fragile when it comes time to decorate your cake.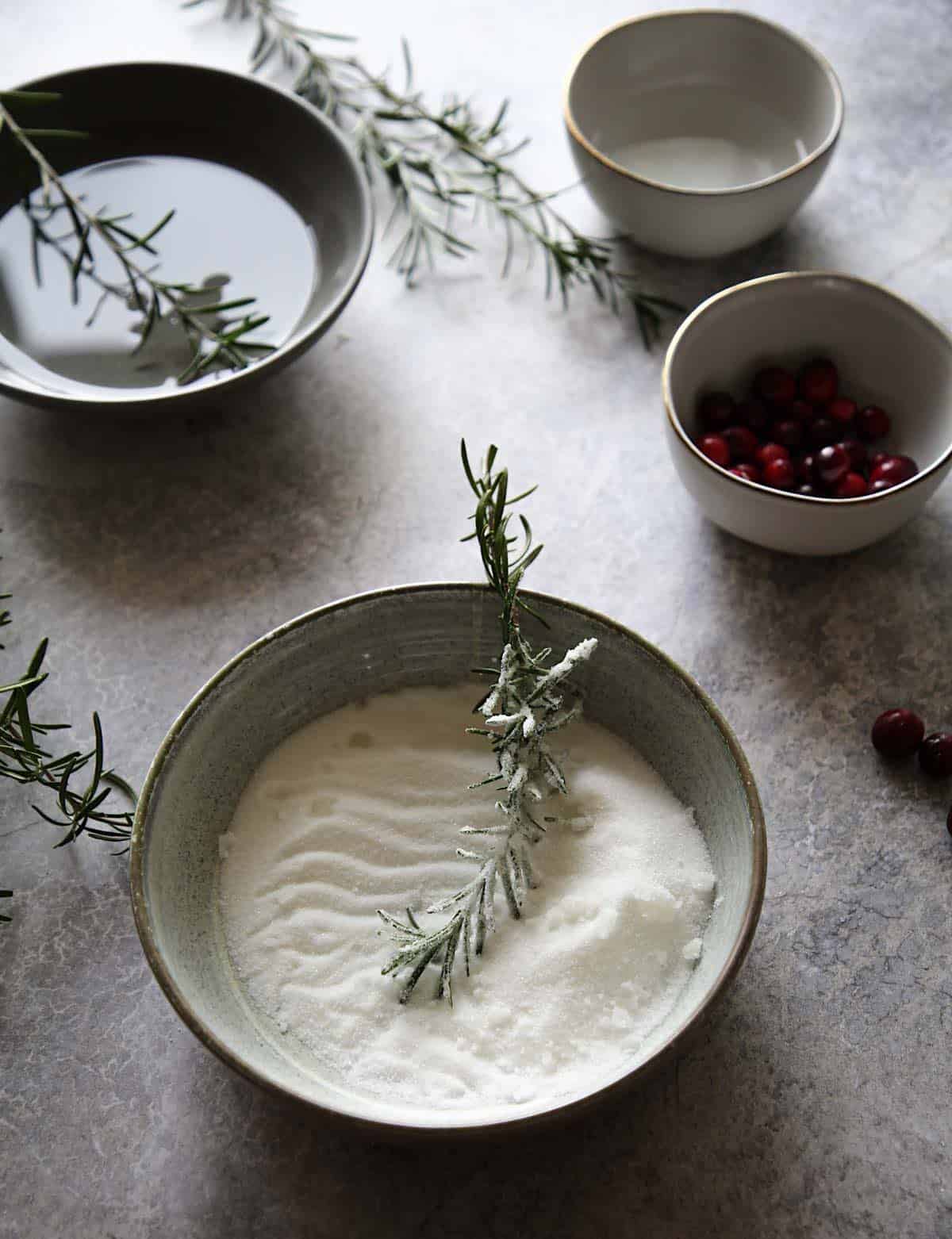 Serving Tips:
This cake is such a show stopper it works well as a centerpiece brought to the table with the cherries in a serving bowl on the side (I use a gravy boat which works nicely!)
The Pine Forrest Bundt Pan makes it easy to slice large pieces from the large trees, and smaller slices from the little trees. The little trees are perfect for those who say they "just want a sliver!" or for a portion for kids.
Serve the cake with a scoop of ice cream and a spoonful or two of the warm syrupy cherries.
The combination of flavors between the chocolate, and cherries works really well when served with a cup of hot steamy coffee too!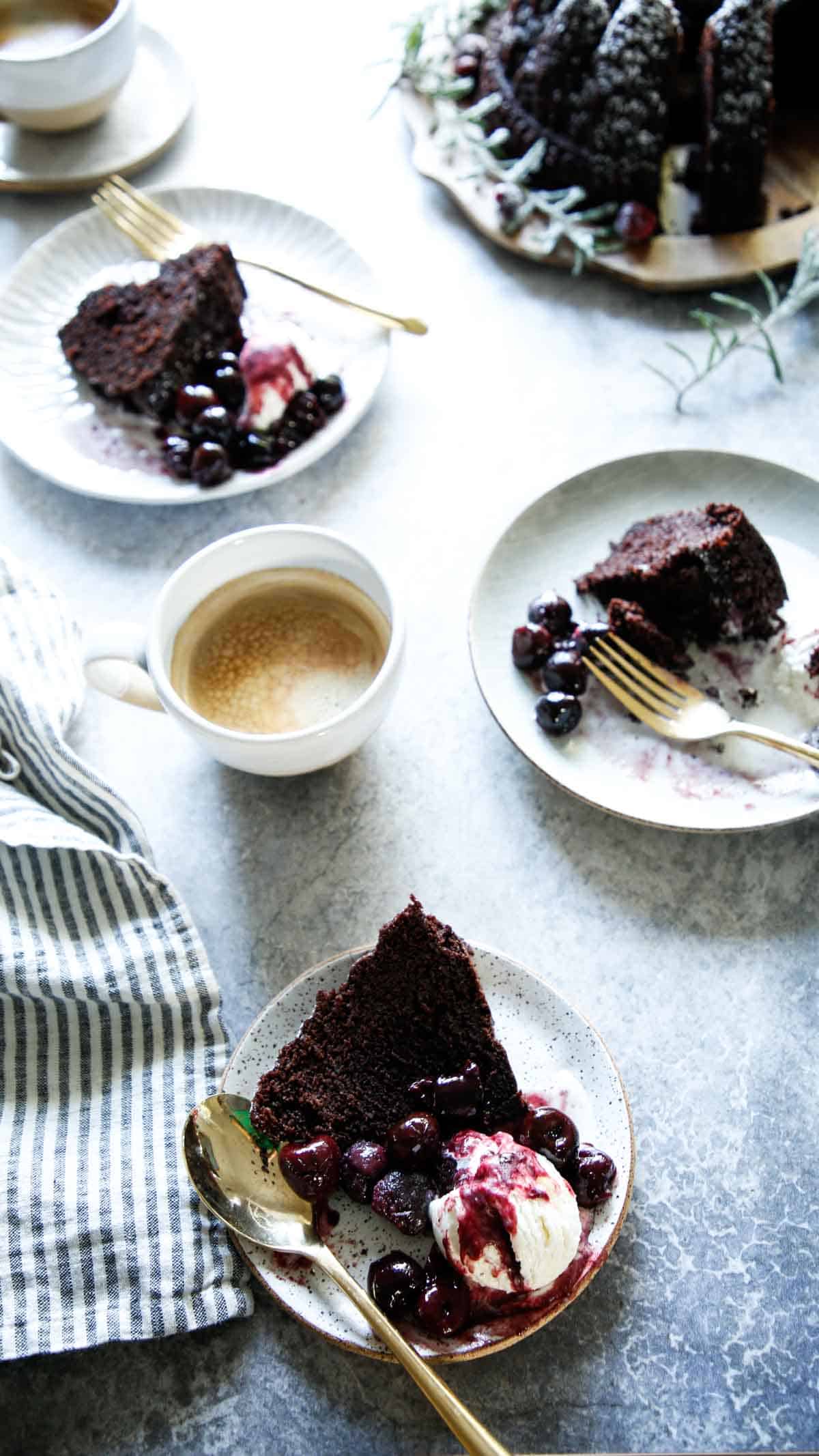 More Christmas Desserts You'll Love:
If You Enjoyed This Recipe,
Please Leave a Rating and a Review Below!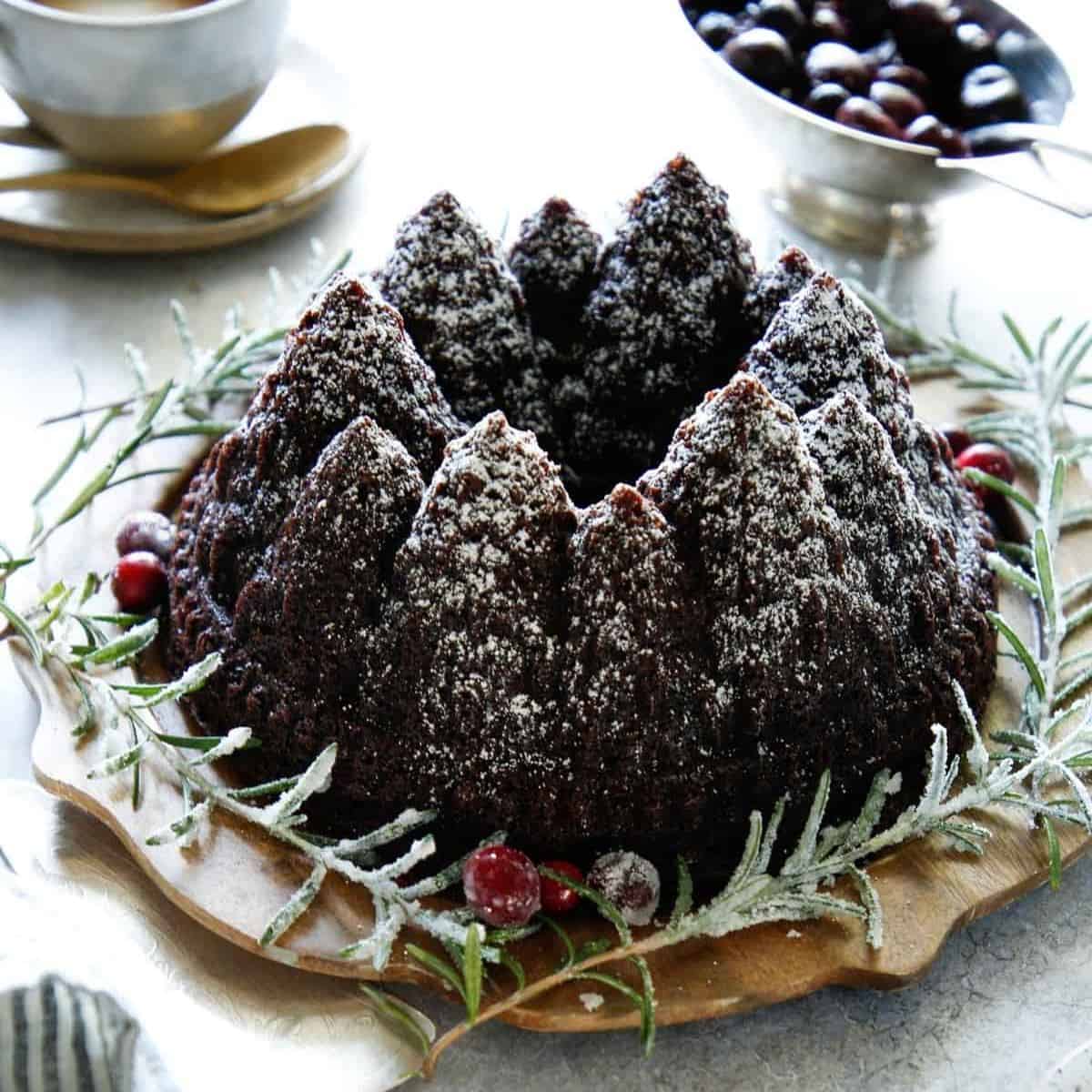 Chocolate Christmas Cake
Additional Time:
15 minutes
Total Time:
1 hour
45 minutes
This is my go-to chocolate bundt cake recipe that can be dressed up or down depending upon the bundt pan you use.  It's moist and delicious and pairs beautifully with the syrupy kirsch cherries served over ice cream! 
Ingredients
2 oz (52g) Ghirardelli Bittersweet Chocolate (60-70% Cacao) broken into pieces
1 cup (100g) unsweetened cacao powder
1 cup (240ml) boiling water
2 cups(400g) white sugar
1 cup (240ml) vegetable oil
3 eggs
2 egg yolks
1 tablespoon (15ml) Vanilla Extract
1 ¼ cups (150g) all-pupose flour
1 teaspoon salt (5ml)
1 teaspoon (5 ml) baking soda
KIRSCH CHERRIES:
4 tablespoon (60g) Unsalted Butter
4 Cups (600g) Pitted Frozen Cherries
2 tablespoon (30ml) Kirsch (Cherry Brandy) or 1 teaspoon Almond Extract
Pinch of salt
GARNISHES:
4-6 Sprigs of Fresh Rosemary
⅓ cup (65g) white sugar
½ (120ml) cup of water
12 fresh cranberries
1 tablespoon (7g) Powdered sugar
High-quality vanilla ice cream
Instructions
Preheat oven to 350F. Spray a 9-cup capacity bundt pan with baking spray and use a pastry brush to distribute it well into all the crevices.
In a large heat-safe mixing bowl add the bittersweet chocolate, the cacao powder, and the boiling water. Let it sit for 5 minutes. Then whisk to combine.
Whisk in the sugar until dissolved and the mixture is smooth. Slowly whisk in the vegetable oil until combined. Add the eggs one at a time, whisking in between each addition. Then add the egg yolks, one at a time, combining well after each addition. Then add the vanilla extract. Set aside.
In a medium-sized bowl whisk together the flour, baking soda, and salt.
Add the dry ingredients to the wet ingredients, in thirds, whisking in between each addition.
Pour the batter into the prepared bundt pan. Bake at 350F for 40-45 mins until a lower skewer comes out clean.
Allow to cool for at least 2-3 hours before attempting to flip the cake out of the mold. It's less fragile the cooler it is.

FOR CHERRIES:
Melt butter in a large skillet. Once foamy add the frozen cherries and stir occasionally until cherries release their juices and the mixture is syrupy. Turn off the flame. Add the kirsch. Start with 1 tablespoon and taste it, for a "boozier" mixture add the full 2 Tablespoons. Add a pinch of salt. Allow to cool, transfer to a container, cover and reheat before serving.

FOR THE GARNISHES:
Dip the rosemary in the water, and then drag through the sugar until covered with a light dusting. Repeat the process for the cranberries. Transfer sugared sprigs and cranberries on a plate and leave at room temperature uncovered until ready to decorate. This can be done 1-2 days ahead. The sugar will harden, keeping the frostbitten look intact.

Make-Ahead Tip: Once completely cooled, keep the cake in Bundt Pan, loosely covered with foil at room temperature before serving. Cake can be made 1 day ahead.

To serve: Losen cake around the perimeter with a small pairing knife. Place platter on top of the bundt pan. Flip the whole thing over, gently shake the bundt pan to loosen the cake, remove the pan. Then add the rosemary garnishes around the base of the cake, intermingled with 2-3 cranberries every few inches or so. Dust with powdered sugar. Cake can be assembled like this in the morning and left at room temperature until ready to serve in the afternoon or evening.
Notes
After serving, keep wrapped in foil in the refrigerator to preserve freshness and flavor.