This Panettone Bread Pudding Recipe is one of life's greatest comfort foods. The warm custardy base mixed with the crispy, toasty bread is just the most fantastic way to end a holiday meal.
When served with a dollop of lightly sweetened whipped cream, spiked with bourbon, it turns this Bread Pudding Recipe into an instant holiday classic.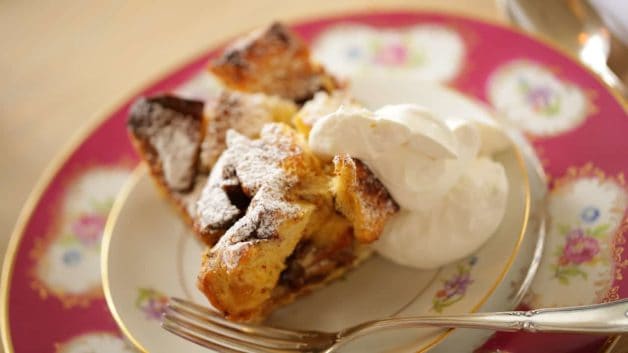 The best part about bread pudding is that it appears very sophisticated and elegant (who doesn't love a warm dessert in the wintertime?!) but it's one of the easiest holiday desserts to master because it can be prepped ahead of time!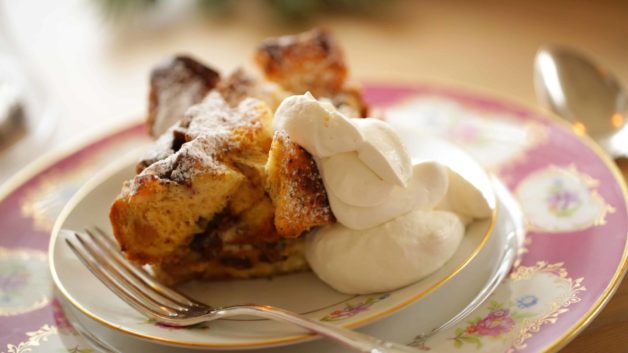 But plan your holiday meal accordingly, because this Panettone Bread Pudding Recipe is filling! A perfect main course with this dessert would be my Beef Bourguignon recipe or my Coq au Vin recipe. Both dishes are mostly protein and vegetables so they tend not to be overly filling. Then you can reserve the starch for the finishing act, which I must say is quite a showstopper!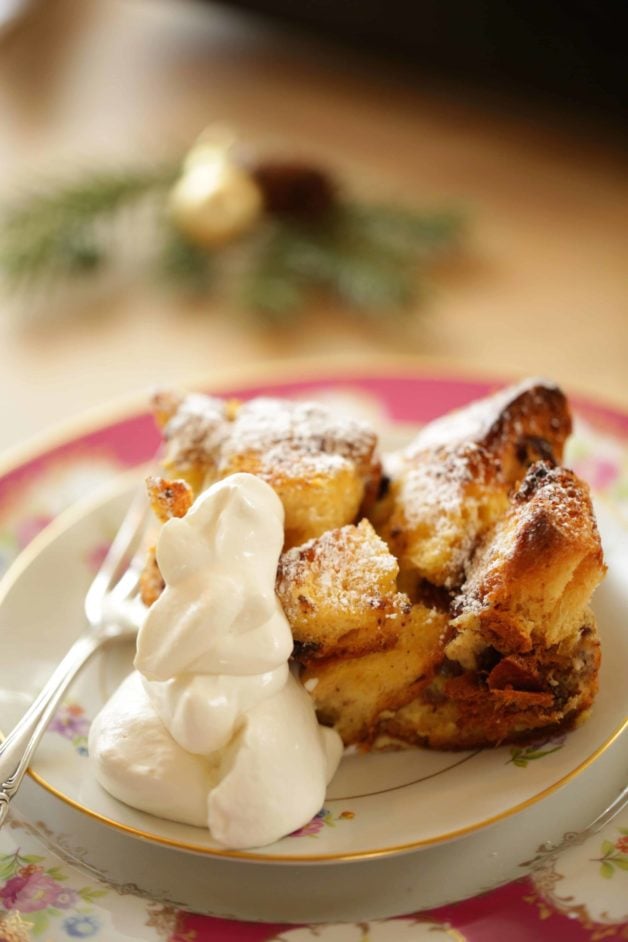 Ideally, you want to prep this the day before, to allow the bread to soak up all that delicious custard overnight, but 4 hours will work too. Then as soon as you sit down to dinner, pop it in the oven and bake.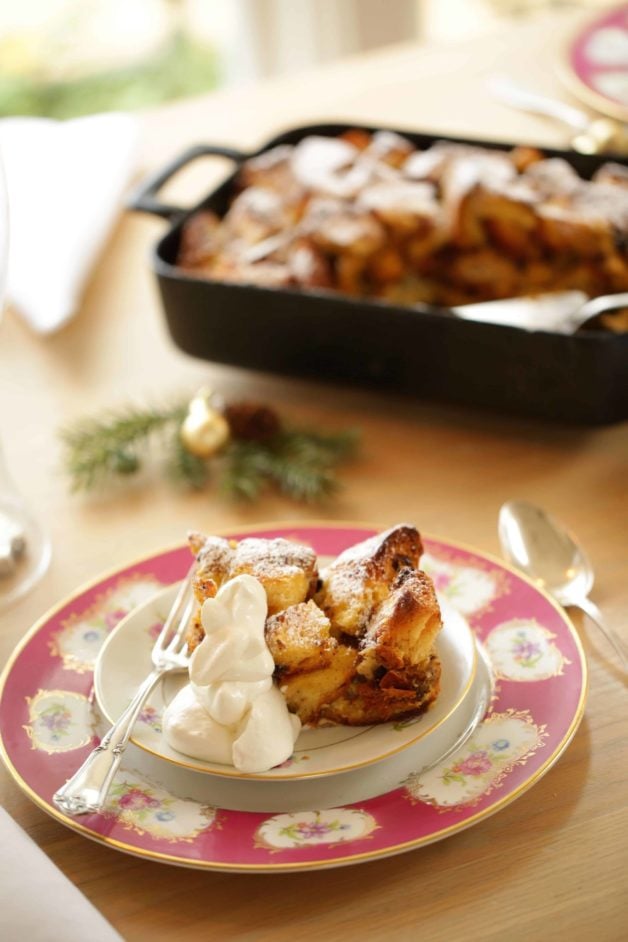 It takes about 40 mins to bake in the oven so if you want to keep it warm while clearing the dishes, after it's baked, just cover loosely with foil and keep warm at 200F (100C) until ready to serve. Enjoy!
For a step-by-step tutorial of this recipe you can watch my video below. SUBSCRIBE TO MY YOUTUBE CHANEL (it's free!) and never miss a recipe.
LOOKING FOR MORE HOLIDAY DESSERTS?
You may also enjoy my Ile Flottante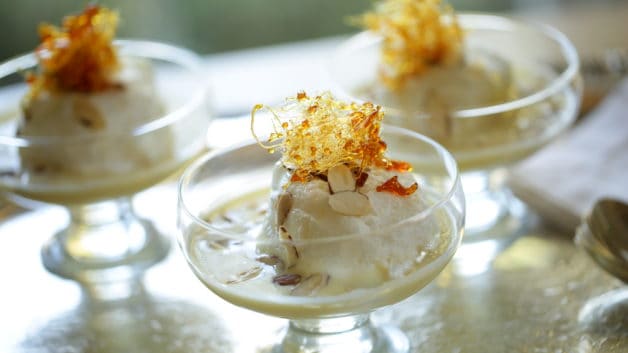 Or my Chocolate Candy Cane Cupcakes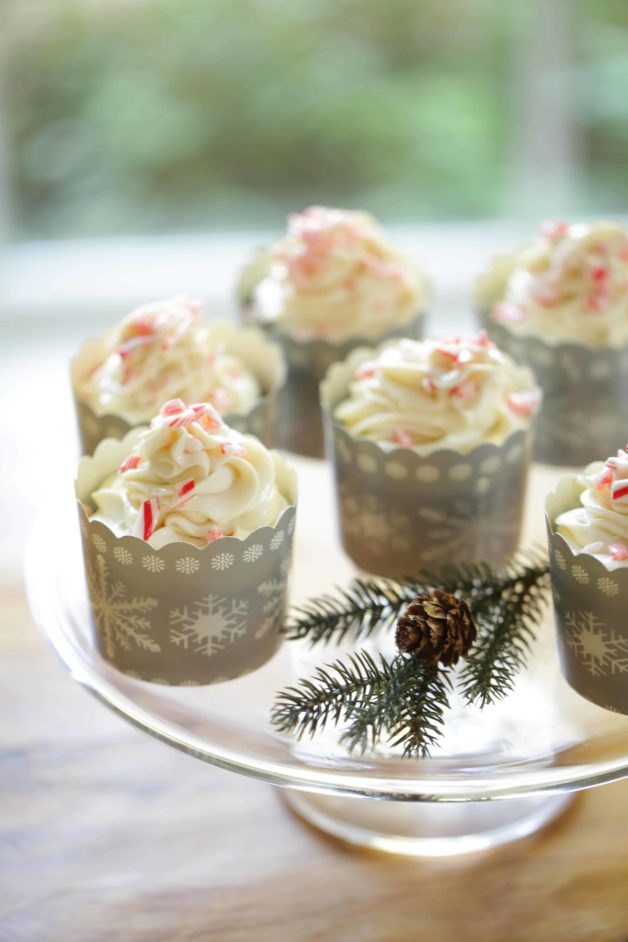 Panettone Bread Pudding
Total Time:
1 hour
5 minutes
Italian Panettone Bread Pudding. The easiest holiday dessert ever! It can be made the day before and baked off when you sit down to dinner.
Ingredients
 Bread Pudding:
1 ½ pounds (675g) of Panettone Bread
12 eggs
1/3 cup (65g) sugar
2 cups (475ml) heavy cream
2 tsp (10 ml) vanilla
2 tsp (10 ml) nutmeg
¾ tsp (3.75ml) cloves
1 tsp (1 tsp) ground cinnamon
¼ tsp (1.25ml) salt
Powdered sugar for dusting
Bourbon Scented Whipped Cream:
2 cups (475ml) heavy cream
1 tsp (5 ml) vanilla extract
2 tbsp (30 ml) bourbon OR
Omit the Bourbon and use 1 tsp (5 ml) Imitation Rum Extract
Instructions
Preheat oven to 350F (175C)
Spay a 12 x 9 (30cm x 23cm) casserole dish with baking spray.
Cut panettone into 1" (2.5cm) cubes and place in casserole.
In a large pyrex pitcher whisk together eggs, sugar, heavy cream, vanilla, nutmeg, cloves, cinnamon and salt.
Pour mixture evenly over panettone. Cover and refrigerate. This can be done the day before or 4 hours before.
Bake for 30 mins covered and then 10-15 mins uncovered until the pudding has puffed up and is golden brown.
Sprinkle with powdered sugar and cut into squares. Serve with brandy scented whipped cream.
Enjoy!
Nutrition Information:
Yield:

9
Serving Size:

1
Amount Per Serving:
Calories:

277
Total Fat:

12g
Saturated Fat:

6g
Trans Fat:

0g
Unsaturated Fat:

6g
Cholesterol:

271mg
Sodium:

175mg
Carbohydrates:

26g
Fiber:

1g
Sugar:

19g
Protein:

10g