Croissant Bread Pudding is a fantastic dessert recipe for the colder months. It's the sophisticated cousin of regular bread pudding that is typically made with egg bread, brioche, or panettone bread.
It's lighter, less filling and the flakey crunchy croissants on top make it utterly sublime!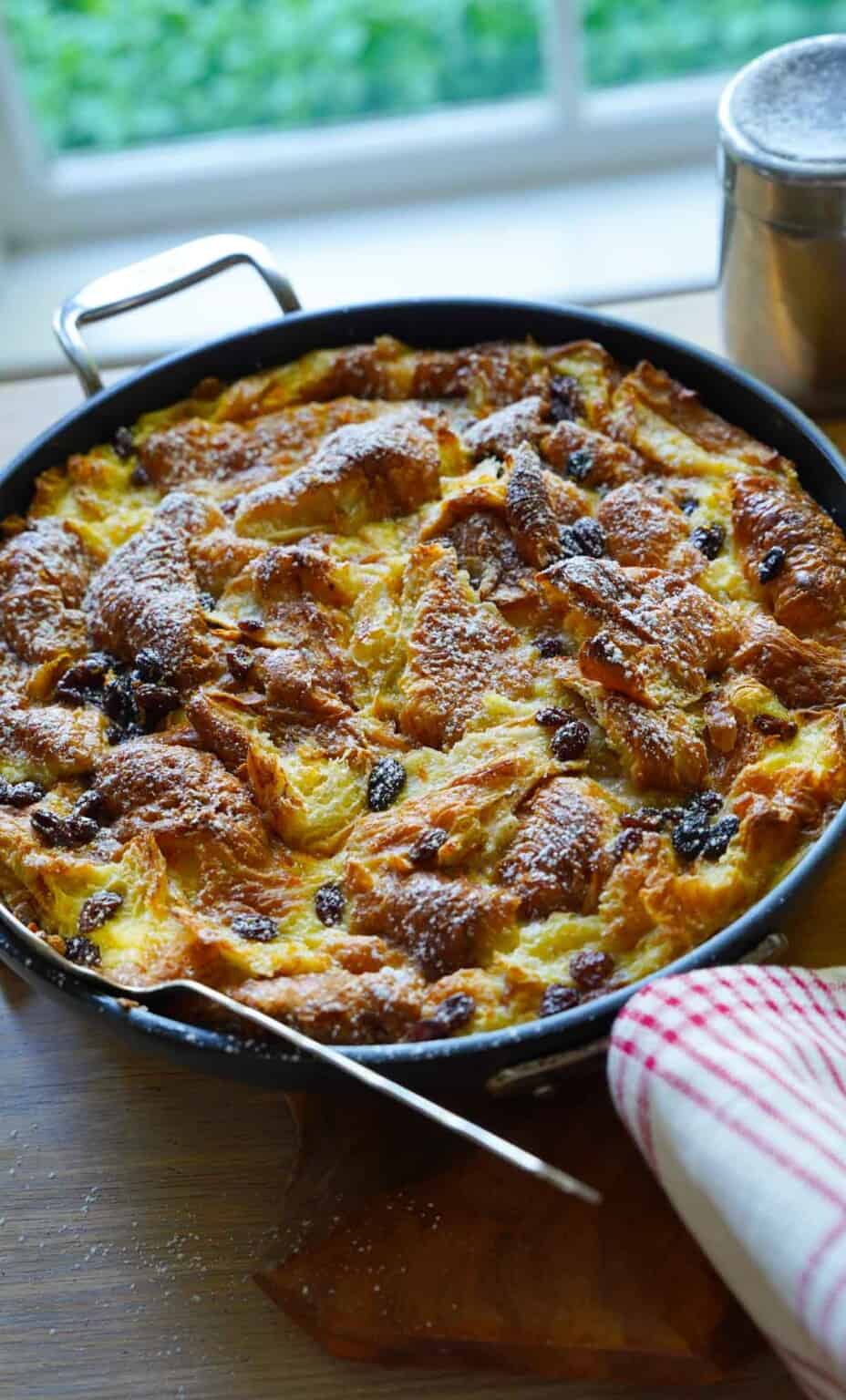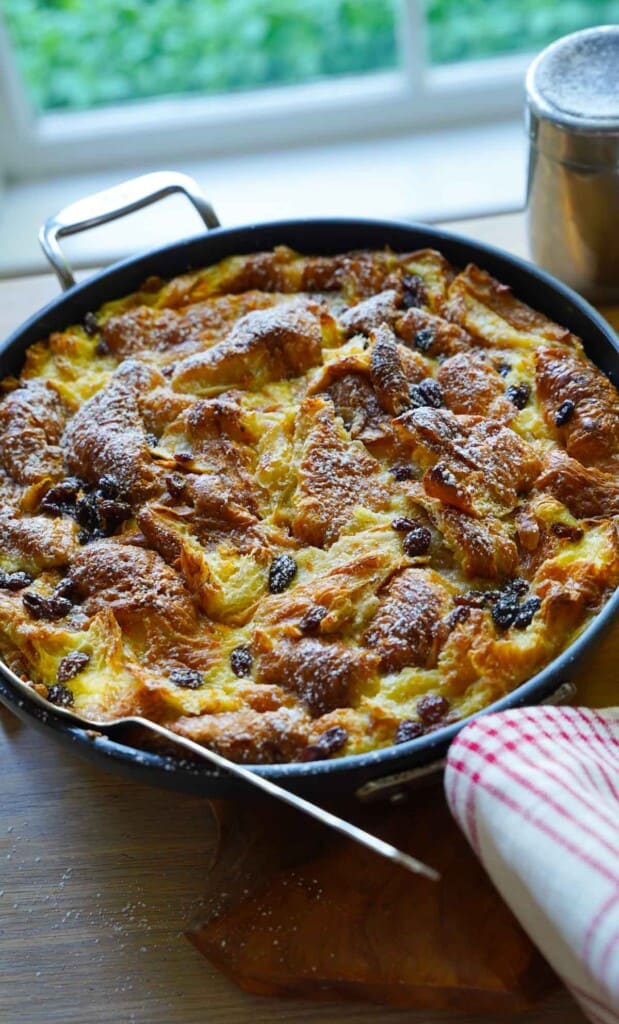 Why You'll Love This:
Bread pudding is a wonderful dessert idea for holiday entertaining because you can prepare it in advance, and then as soon as you sit down to dinner you can pop it in the oven to bake!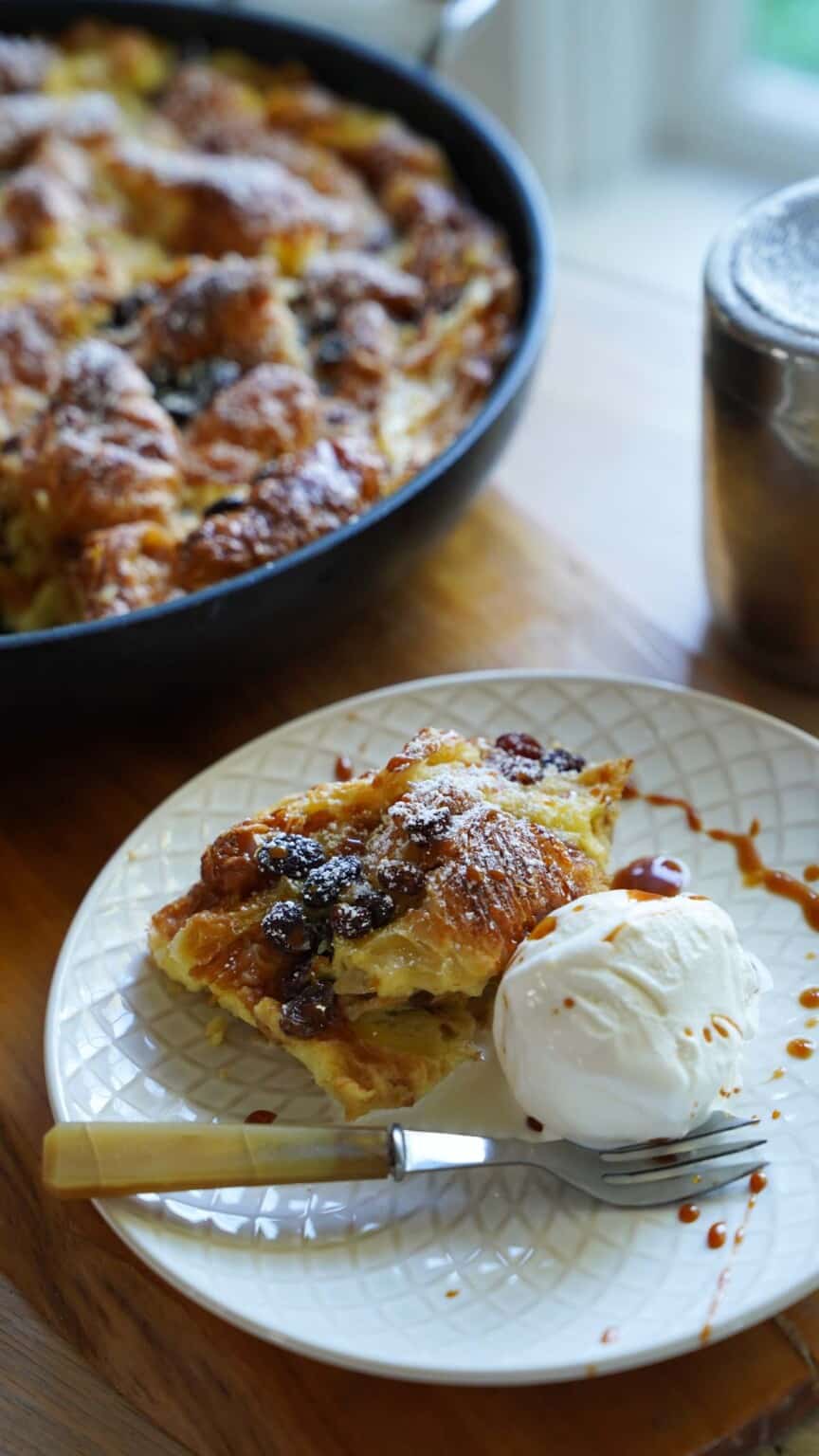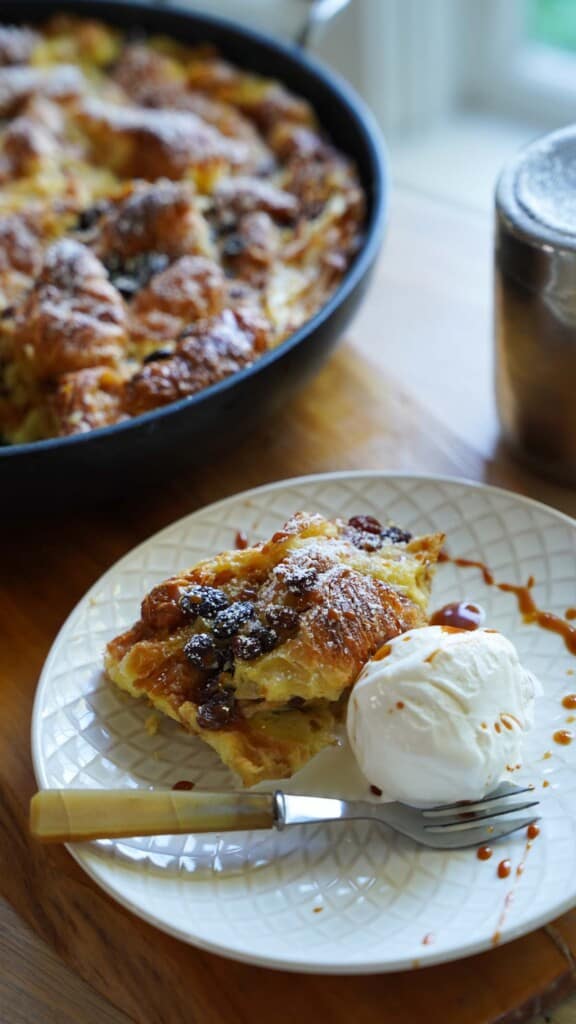 Ingredients
Croissants You'll need about 7-8 croissants for this recipe. No need to spring for the expensive ones at the local French bakery! Grocery store variety, or Costco works fine.
Heavy Cream will give your bread pudding structure, so don't leave it out in favor of more milk, your bread pudding will be too limp.
Milk to balance out the heavy cream, otherwise it will lose its lightness and become too dense. Or instead of heavy cream and milk, you could use use 4 cups of Half & Half.
Sugar I don't use too much sugar in this recipe, since there will be ice cream and caramel sauce. Just enough to sweeten the base and bring out its flavor.
Vanilla Extract I love the combination of vanilla and orange, but you could swap out the vanilla for other extracts like Rum Extract or Almond Extract too. If going with Almond extract, consider swapping the raisins for dried cherries and skip the orange zest.
Orange Zest and Juice will really freshen up the bread pudding and makes it less rich. It's such a delicious flavor combination for the holidays!
Raisins will be soaked in the orange juice to plump them up and give them flavor. You could also skip the orange juice and flavor them in 2 tablespoons of rum or bourbon which would be great too! If you are not a fan of raisins use good quality dark chocolate chips. My favorites are the Nestle Toll house Dark Chocolate Morsels. They are fantastic with the orange zest!
Butter you will need to grease the pan (the egg custard can get sticky!) and for the caramel sauce.
Powdered Sugar for garnishing. The bread pudding looks really pretty and wintery when dusted with powdered sugar after it's baked.
Good Quality Vanilla Ice Cream folks, this would be the tine to spring for the Haagen-Dazs.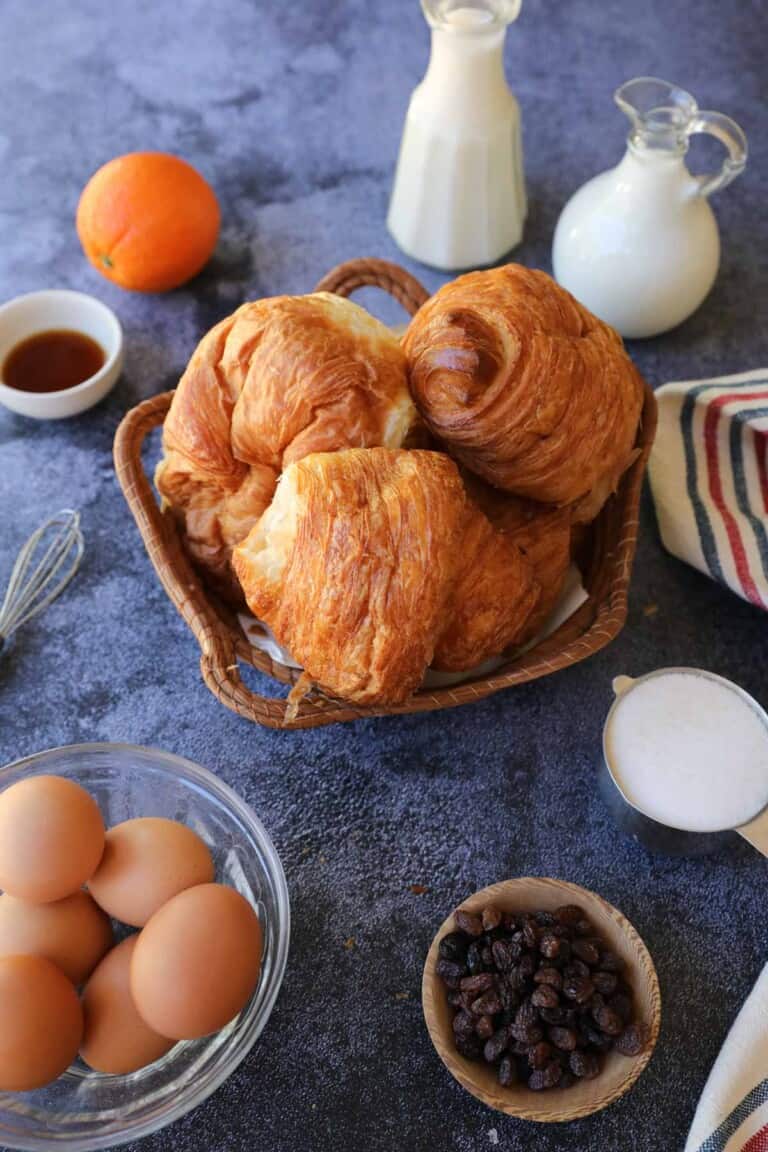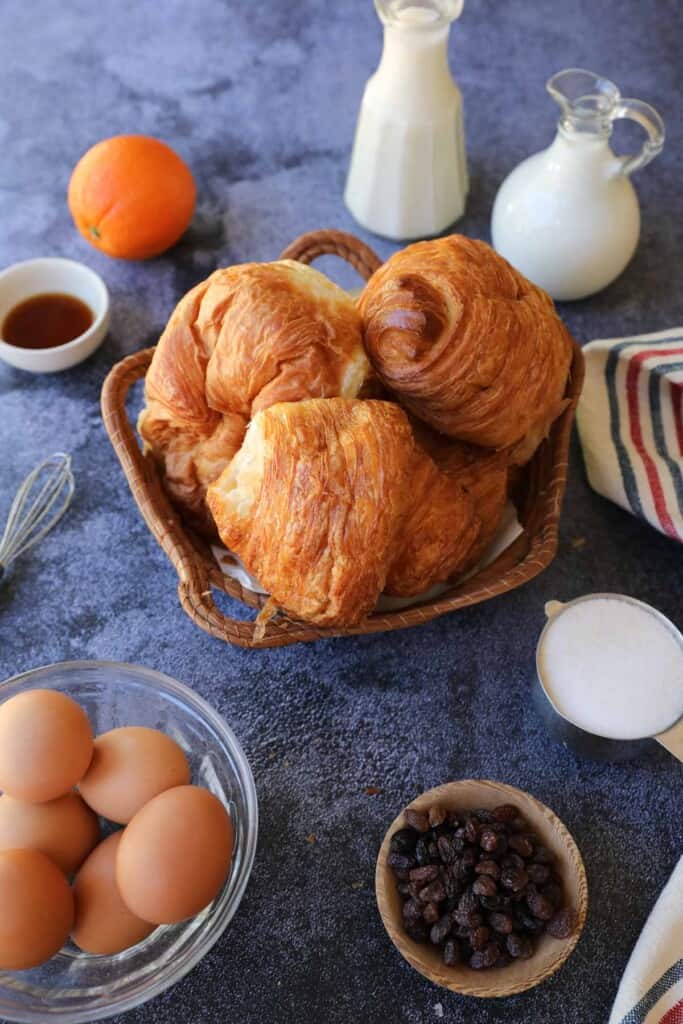 Instructions
Croissant bread pudding works best when the croissants are dried out in the oven first. Tear them into bite-sized pieces and place them on a sheet pan at 375F for about 5-8 minutes. They should be crispy and fragrant.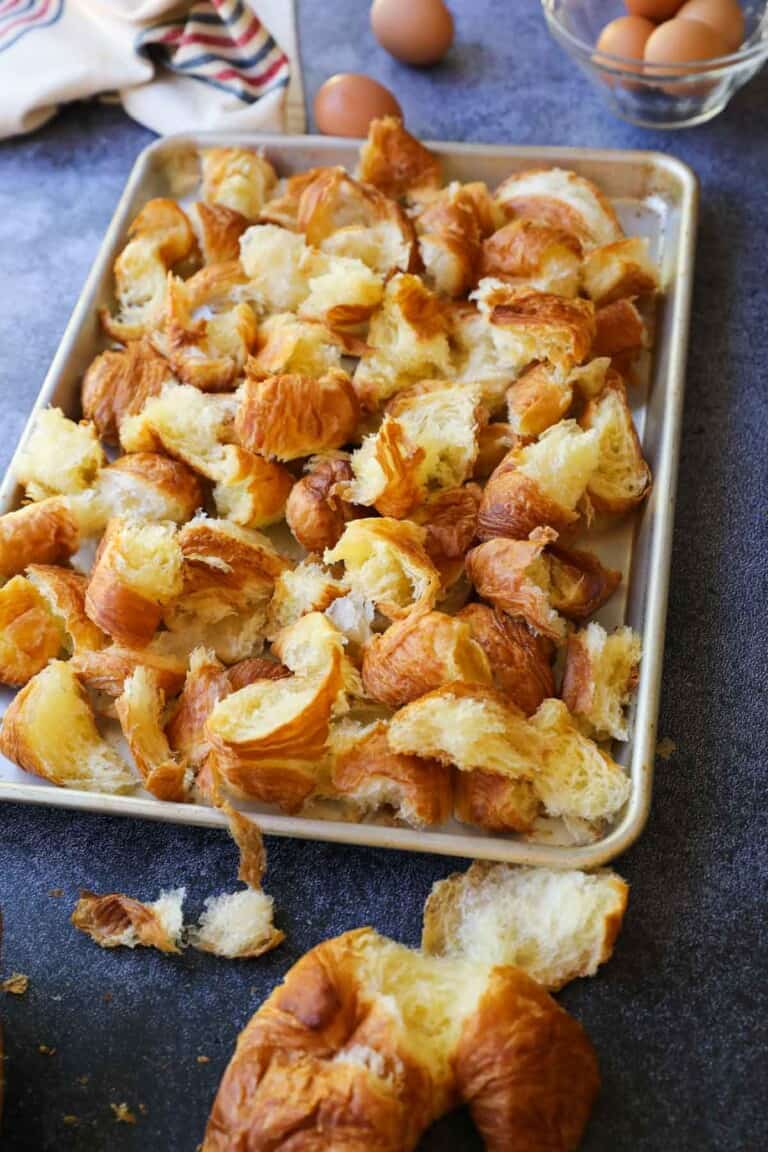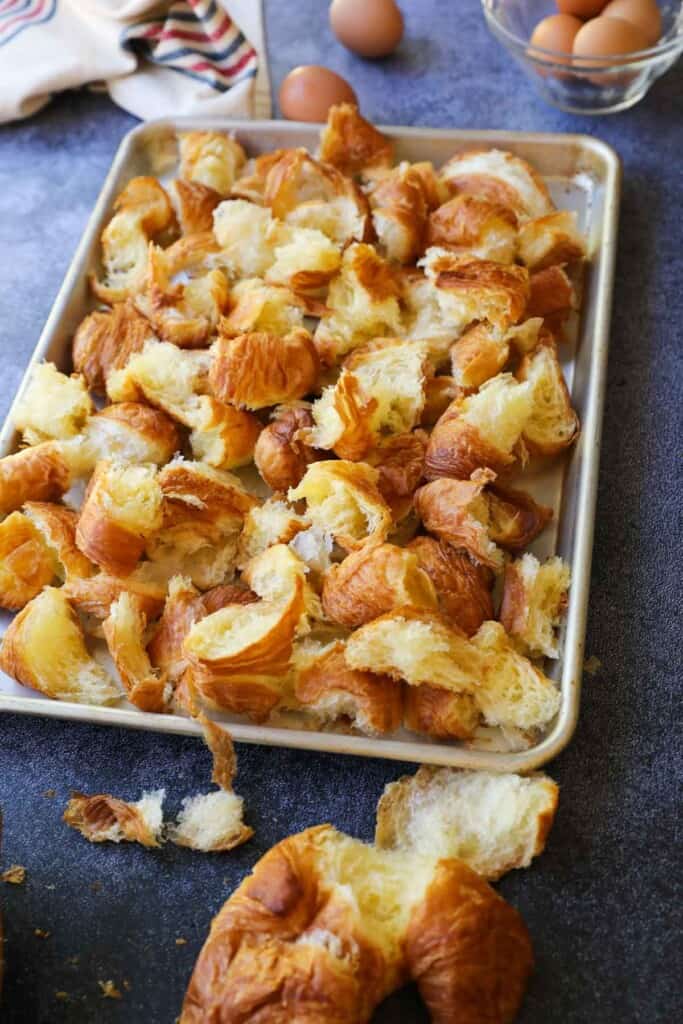 Try to keep the croissants in a single layer so all the pieces get toasty.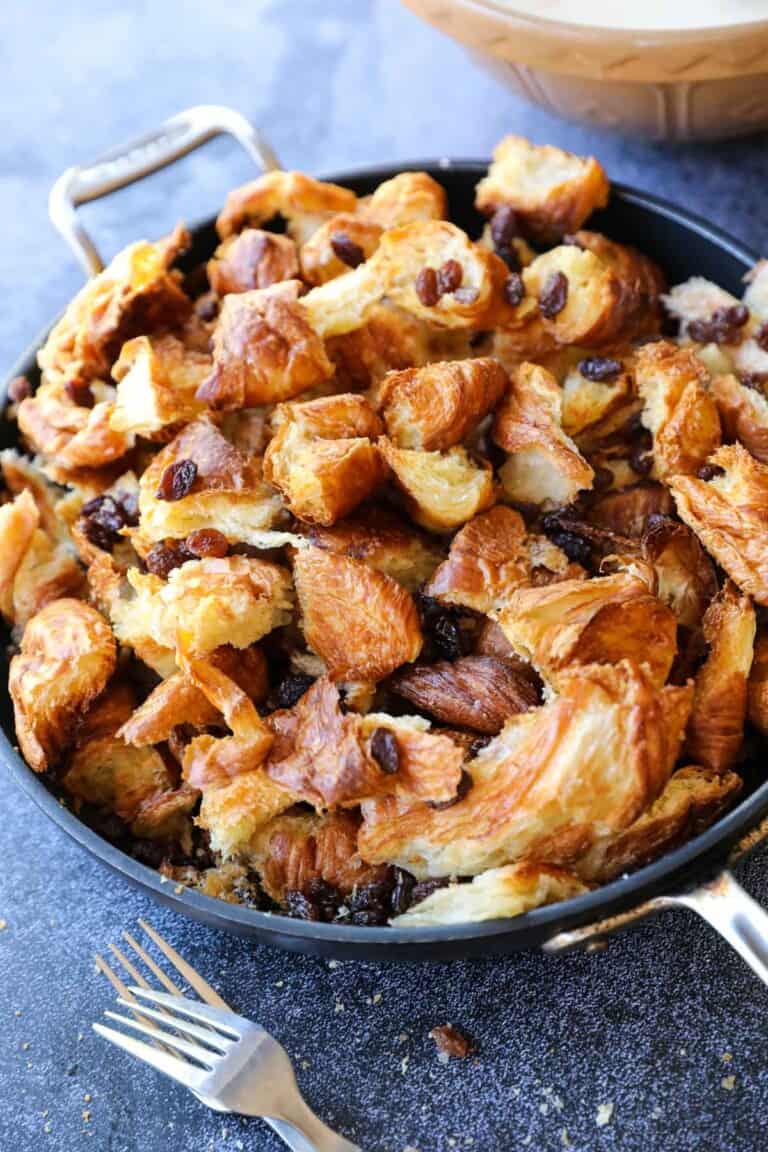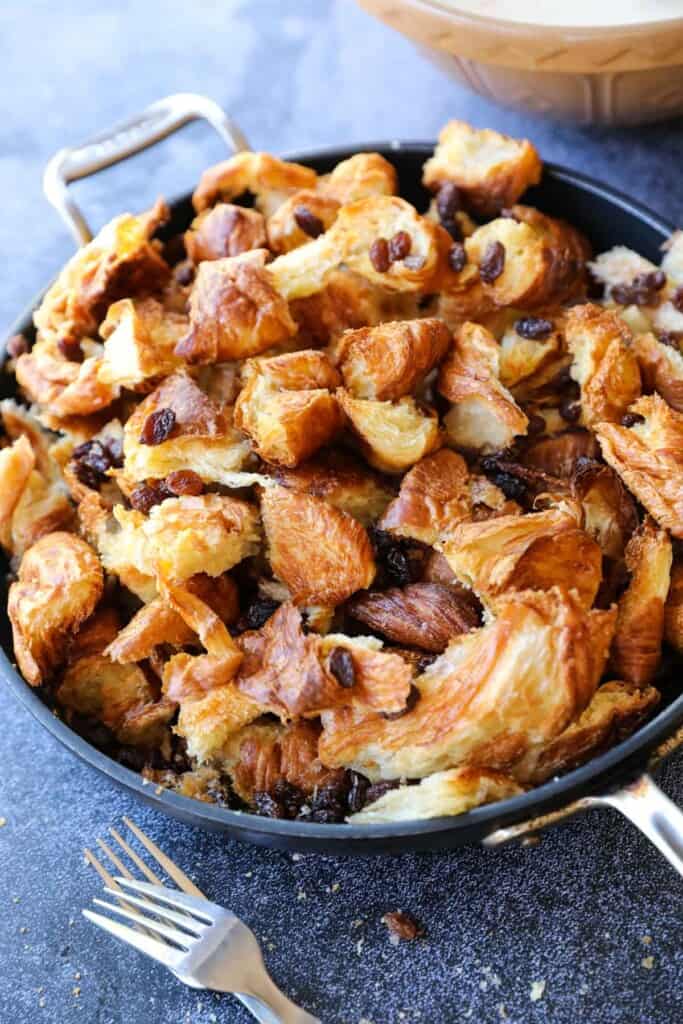 Then place the cooled croissants in a non-stick 12" skillet and sprinkle the raisins throughout so they are equally distributed.
Soaking the Raisins
Before placing the raisins in the skillet with the croissants, be sure to soak them in the orange juice for 5-8 minutes. This will plump them up and give your bread pudding a wonderful flavor.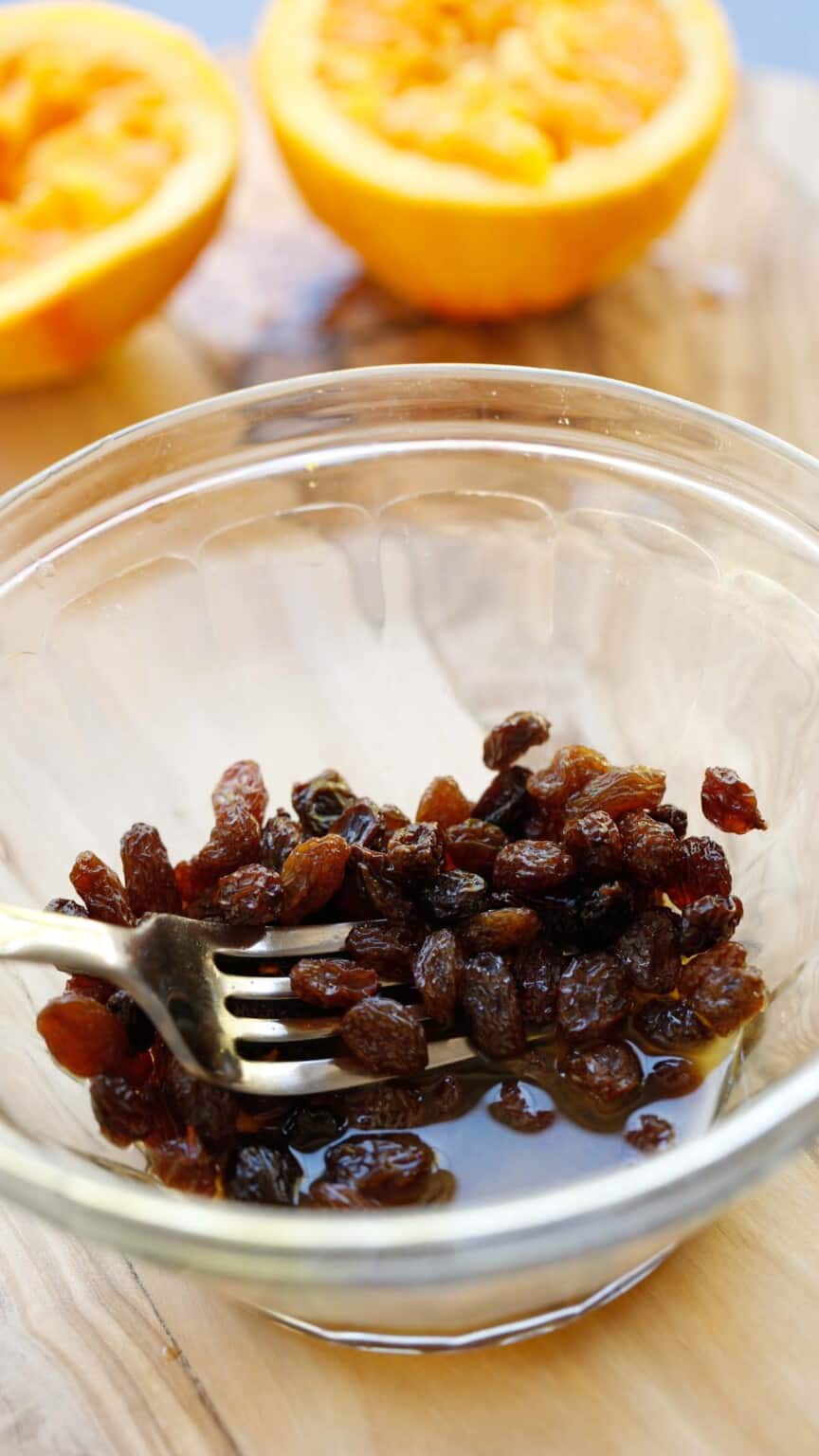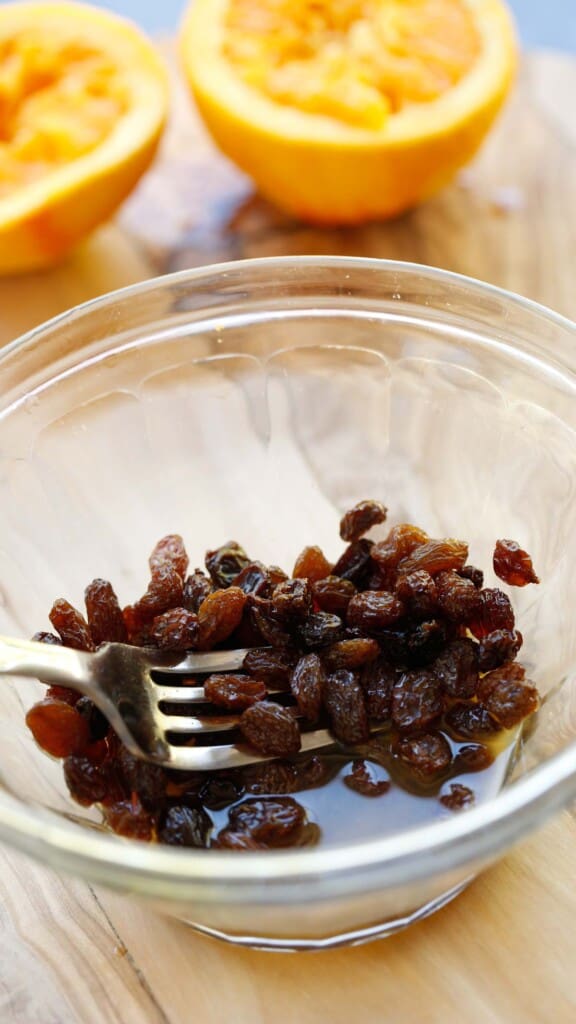 Hint: Be sure to drain the raisins of the orange juice, before placing them in the skillet. Otherwise, the excess liquid will dilute the bread pudding's custard and make it too runny.
Plating
Serve the bread oven-to-table, dusted with powdered sugar. This is a casual dessert so you can literally just spoon it out with a serving spoon, top it with a scoop of vanilla ice cream, and drizzle the homemade caramel sauce over the pudding and ice cream.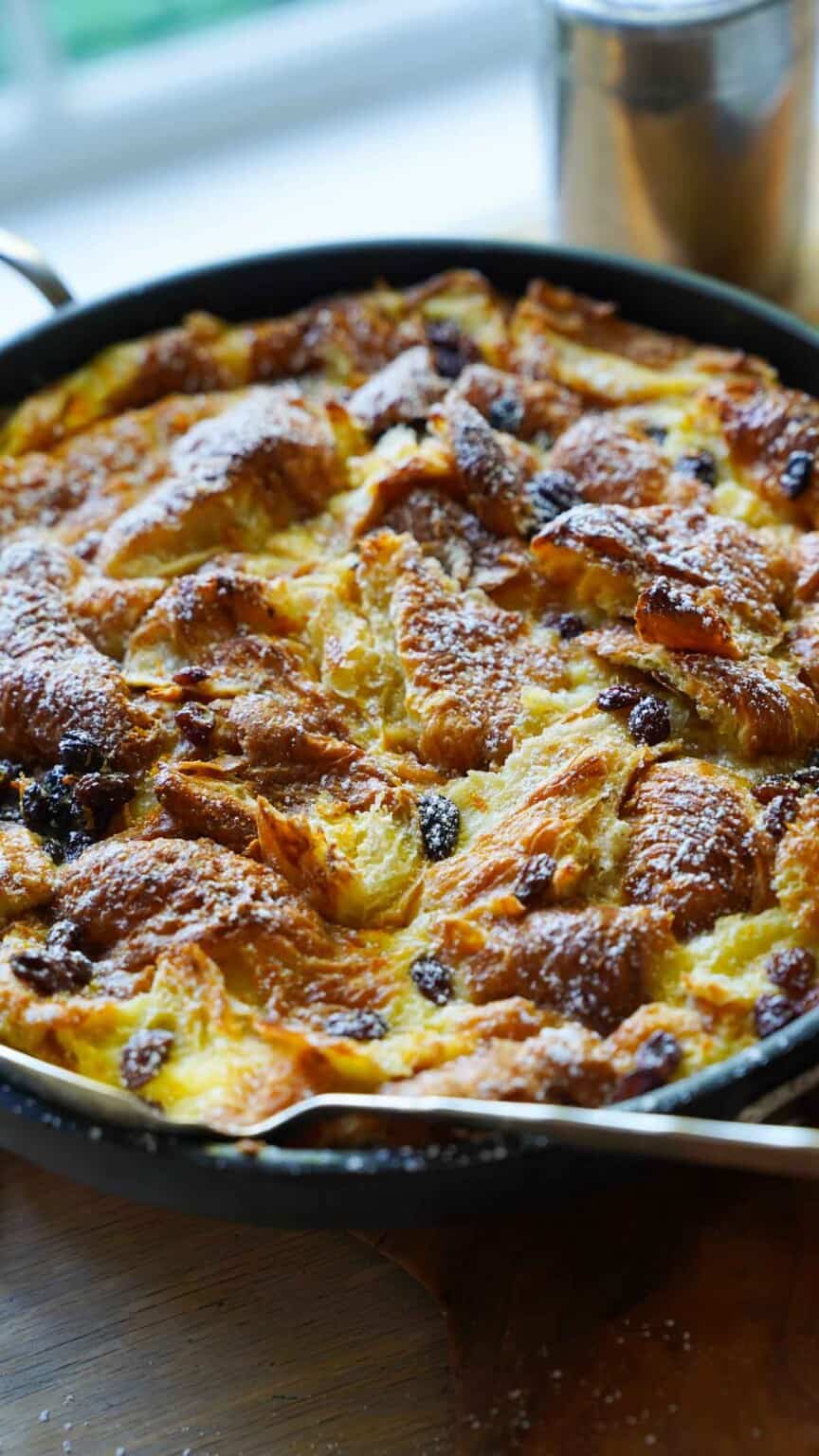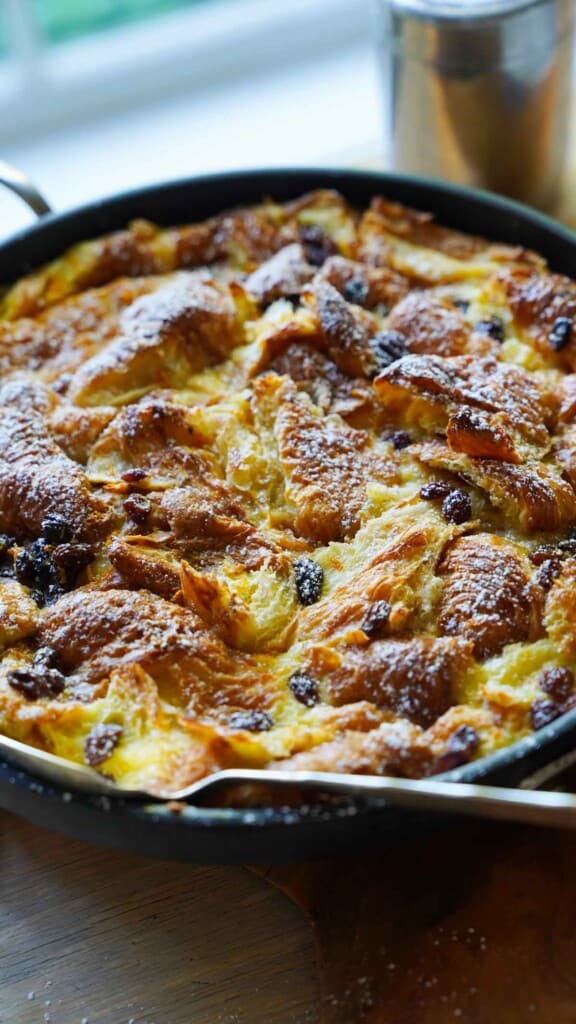 Storage
Place any leftovers in a resealable container and keep them refrigerated.
To reheat, place in an oven-safe dish or place it back into the skillet and reheat at 350F for about 15 minutes or until warmed through.
You can also freeze the bread pudding by placing it in a resealable, freezer-safe container for up to 1 month. Thaw overnight in the refrigerator and then reheat using the same instructions above.
Make-Ahead Tips:
You can assemble the bread pudding in the skillet and pour the custard over it. Cover with foil and refrigerate.
Then when you sit down to dinner, place it in the oven to bake.
You can make the caramel sauce up to 3 days ahead. Cover it and store it in a Pyrex Pitcher and then place it in the microwave on high and heat at :30 intervals until warmed through.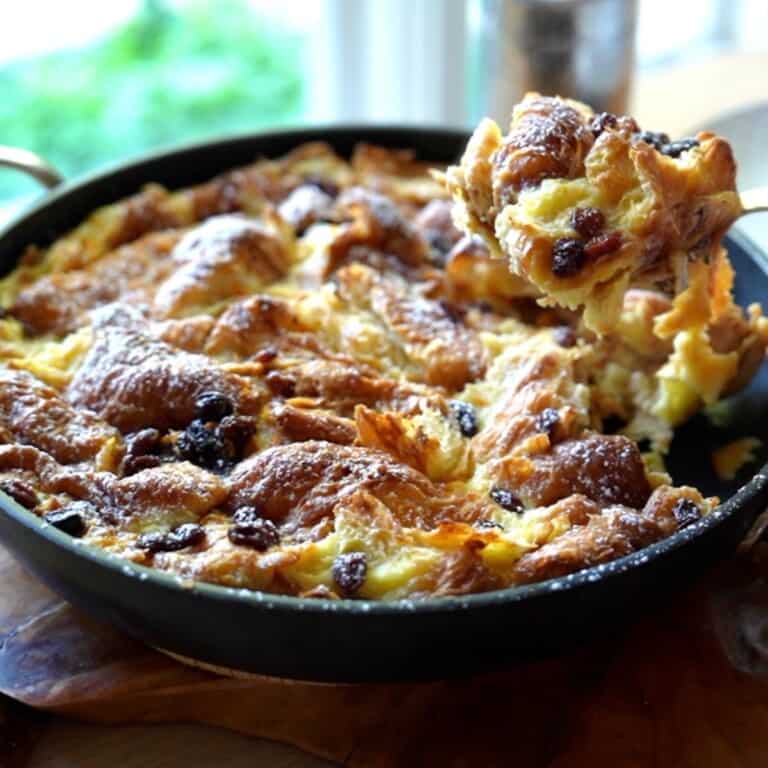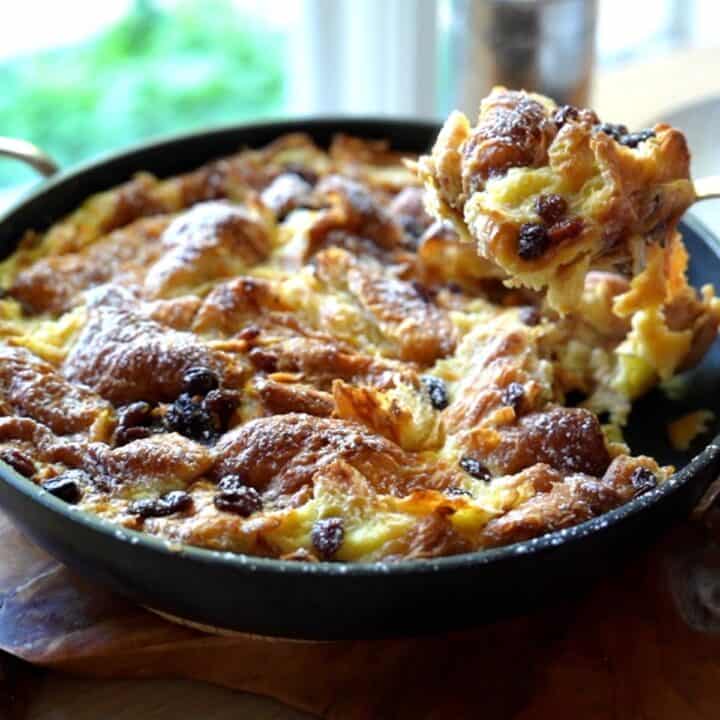 Croissant Bread Pudding
Total Time:
4 hours
15 minutes
Croissant Bread pudding is a great way to use up stale croissants. It's flakey and custardy with a hint of orange zest. Serve warm with vanilla ice cream and caramel sauce for the ultimate cold-weather dessert!
Ingredients
7-8 Croissants (stale great, but can be fresh too)
6 eggs
2 cups heavy cream
2 cups whole milk
⅔ cup sugar
1 Tablespoon vanilla extract
1 Tablespoon orange zest
Pinch of salt
½ cup of raisins
Caramel Sauce
1 cup sugar
2 Tablespoons unsalted butter
3 Tablespoons of heavy cream
large pinch Fleur de Sel Salt (or Kosher Salt)
Garnish
Powdered Sugar
Good Quality Vanilla Ice Cream
Instructions
Preheat oven to 375F.
Tear croissants into bite-sized pieces. Place them in your 12" baking vessel to see how many you will need to fill it generously (the croissants will shrink down a bit once the custard is poured and absorbed) it should take between 6-8 croissants).
Then transfer them to a baking sheet and bake for 5-8 minutes or until toasty and fragrant. Set aside to cool.
In a large bowl whisk together the eggs, heavy cream, milk, sugar, vanilla extract, orange zest and salt. Set aside.
In a small bowl add the raisins and squeeze the orange juice from the zested overage, over the top. Let sit for 5-8 minutes. Then drain.
Grease the 12' inch skillet, or oven-safe baking dish with butter. Place the cooled croissants in the skillet, then sprinkle the drained raisins throughout.
Then ladle the custard mixture over the top until well distributed.
Cover and refrigerate for 3 hours.
To bake place the skillet uncovered on the lower rack or your oven. (so the croissants don't burn) in a 350F oven for 40-45 minutes just until there is no longer any liquid custard coming up through the croissants.
If the pudding is getting too browned and liquid is still visible, cover with foil until baked through.
For the caramel Sauce: Place the sugar in a medium-sized pot on high heat. Do not walk away. Let the sugar melt and turn amber brown, moving the pot over the heat until melted. If need be you can help it along with a non-stick whisk.
Then turn off the heat, and whisk in the butter and heavy cream. And refrigerate until ready to serve. Reheating on the stove top or microwave.
Serve the pudding oven to table. Dust the baked pudding with powdered sugar and serve with vanilla ice cream and the caramel sauce.
Notes
Make-Ahead Tips:
You can assemble the bread pudding in the skillet and pour the custard over it. Cover with foil and refrigerate.
Then when you sit down to dinner, place it in the oven to bake.
You can make the caramel sauce up to 3 days ahead. Cover it and store it in a Pyrex Pitcher and then place it in the microwave on high and :30 intervals into warmed through.