This Easy Corn Pudding Casserole is a fantastic Holiday side dish! Made without creamed corn, and without Jiffy Cornbread mix, it is as easy as it is delicious!
I use frozen corn for the best flavor, and the batter can be whipped up the day before and baked the following day. The result is a fluffy, decadent corn pudding that will be the hit at your next family gathering!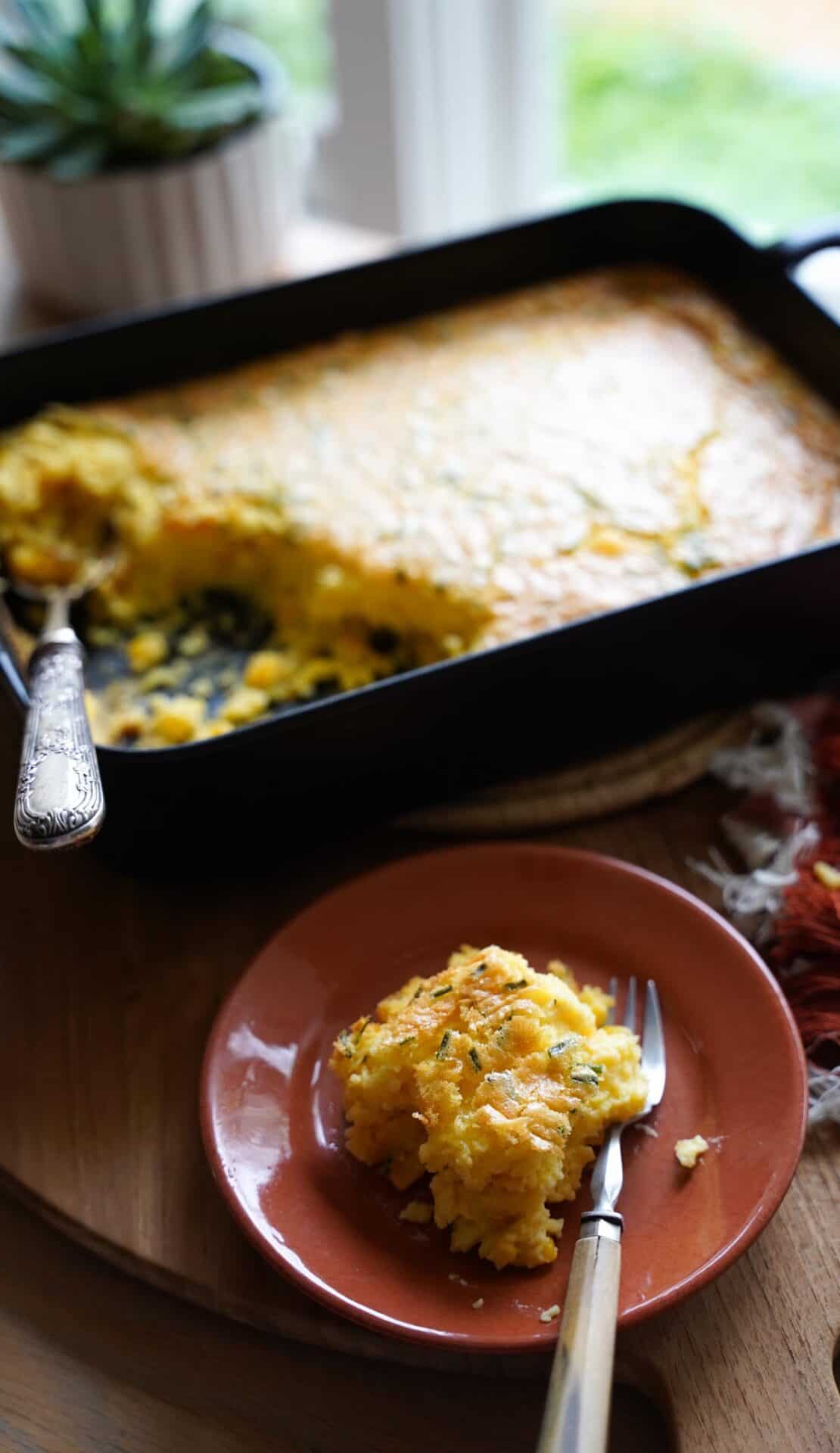 What is Corn Pudding?
Corn pudding is a delicious, custardy side dish, popular in the Southern part of the United States.
It is made with a base of corn, eggs, and heavy cream which results in a cross between a corn souffle in texture and cornbread in flavor.
It's a fantastic Thanksgiving recipe if you are looking for another starchy side dish. The best part is that it's starchy, without being too heavy thanks to its fluffy texture.
It's also super simple to put together! Most of it just gets whirled up in a blender!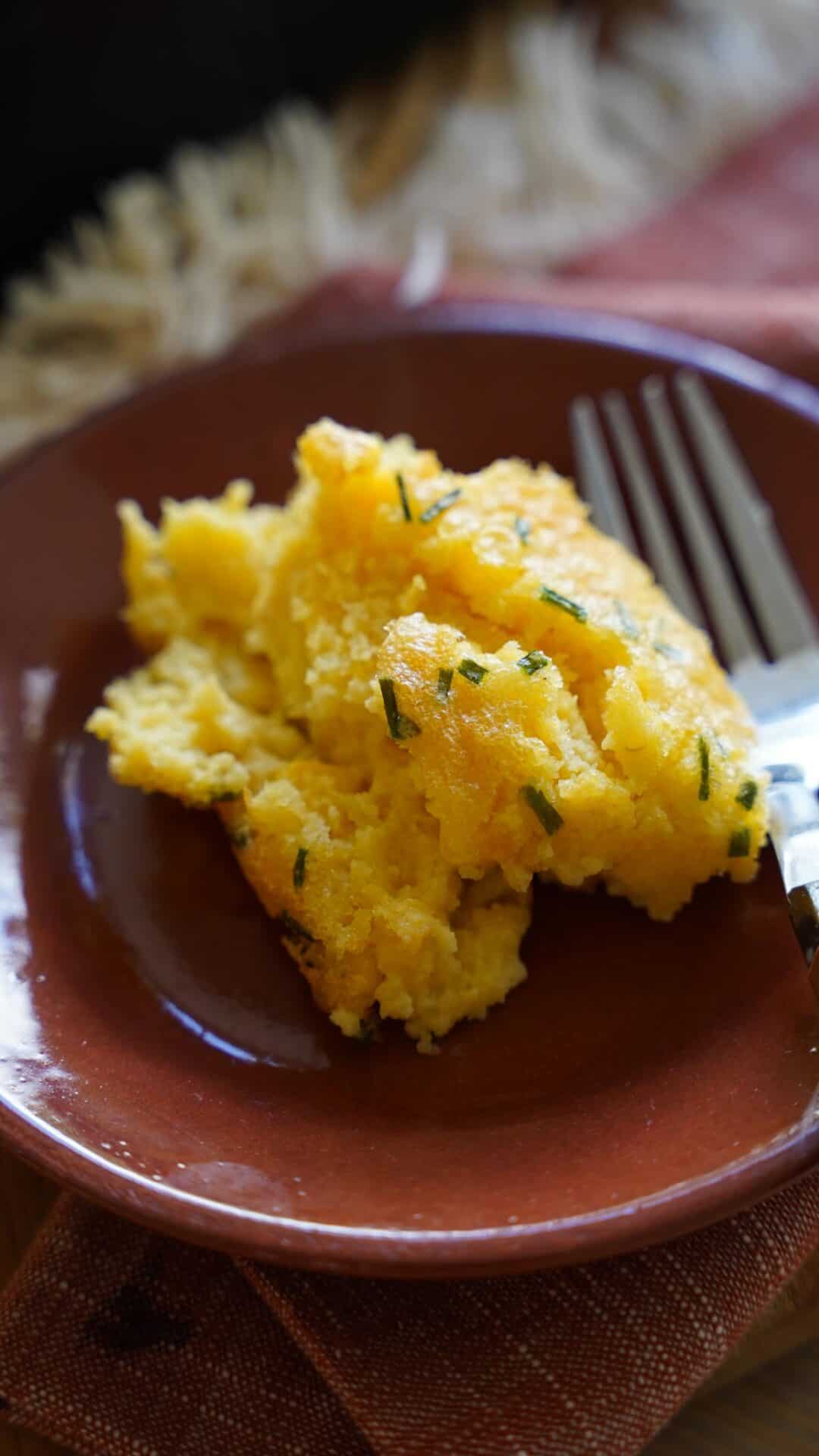 Is Corn Pudding the Same as Cornbread?
Corn pudding isn't the same as cornbread.
Cornbread is much denser and bread-like, whereas corn pudding is much lighter like a souffle, more like a corn souffle.
However, to add to the confusion, a lot of recipes for corn pudding also include a box of Jiffy Cornbread Mix, which is used in place of the flour, baking powder, and salt. Personally, I find the addition of cornmeal makes the corn pudding too grainy, so I use flour, and add my own baking powder and salt, for a smoother more delicate texture.
If you are looking for something closer to cornbread try my Cornbread Sausage Stuffing Recipe, another great side dish recipe for Thanksgiving.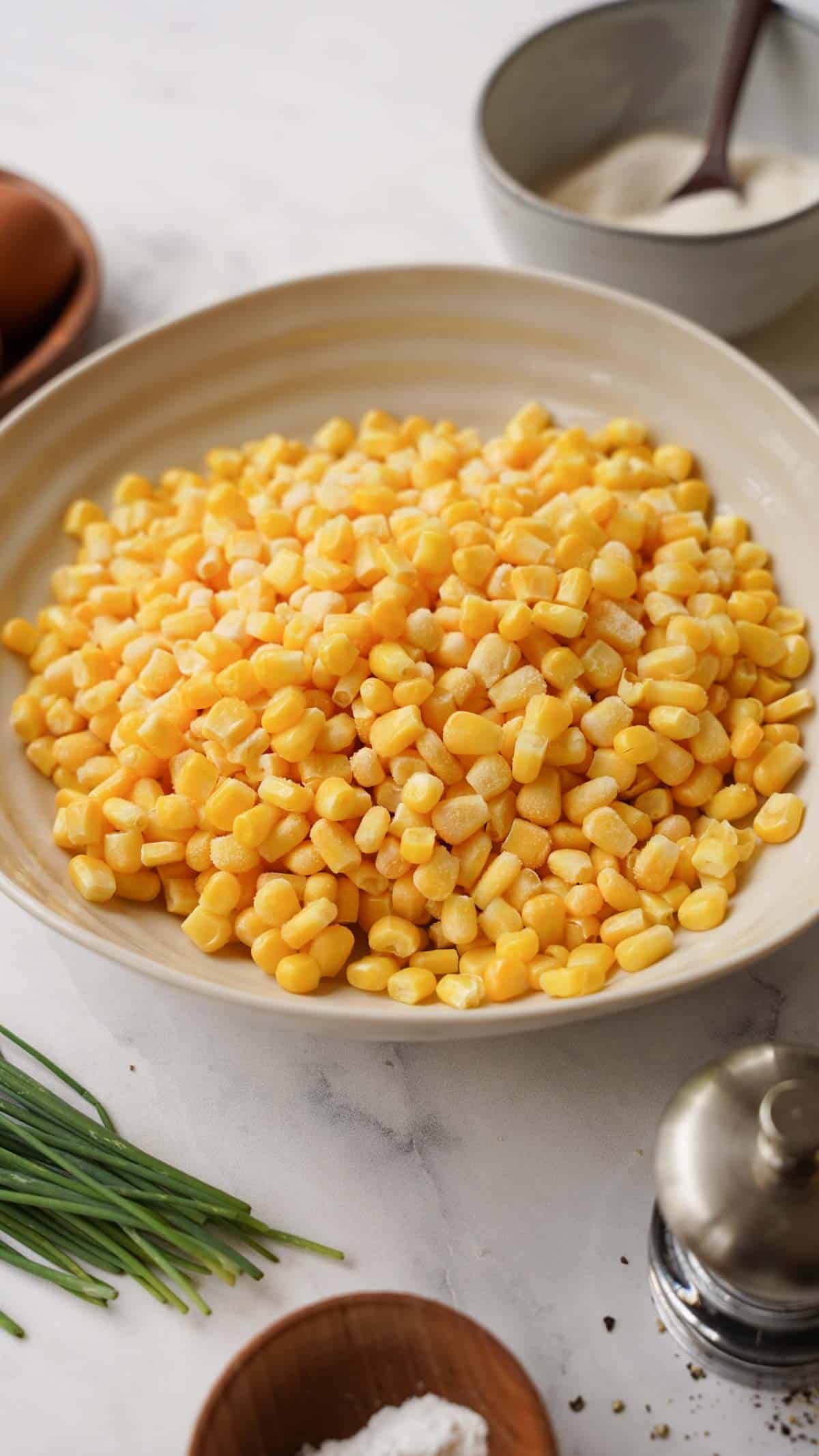 What are The Ingredients?
Frozen Corn I love to use frozen corn in this recipe because I think the flavor is better than canned. If fresh corn is in season, then by all means use fresh!
Eggs The eggs give the corn pudding a nice fluffy texture, I find 4 eggs is perfect, any more and the casserole gets too eggy.
Sugar Corn pudding is supposed to be sweet, like cornbread, but not overly sweet since it's meant to be paired with a savory main course. I find ⅓ cup of sugar is the right amount.
Milk I don't use too much milk or the corn pudding will be runny. It may be a matter of personal preference, but corn pudding for me shouldn't be runny, it should be more fluffy.
Heavy Cream will give the pudding that wonderful custardy texture.
Melted Butter will add great flavor. If you live in the U.S.A use salted Land O Lakes butter. It's not really salty just more flavorful than unsalted butter. Outside the U.S.A use unsalted butter.
Flour It's important to use some flour in this recipe for structure. Corn Pudding can be gluten-free if you use Gluten-Free flour, that way it would be a great alternative to stuffing. My favorite brand of Gluten-Free flour is Cup 4 Cup.
Baking Powder will give your pudding a nice bit of lift and add to the fluffy texture.
Kosher salt will help boost all the flavors. I prefer kosher salt in my cooking and baking since it's less salty than table salt.
Freshly Cracked Pepper will add nice flavor to the corn.
Fresh Chives The freshness of the chives provides a nice balance against the richness of the corn custard. You could also swap the chives for jalapeños for a spicy kick.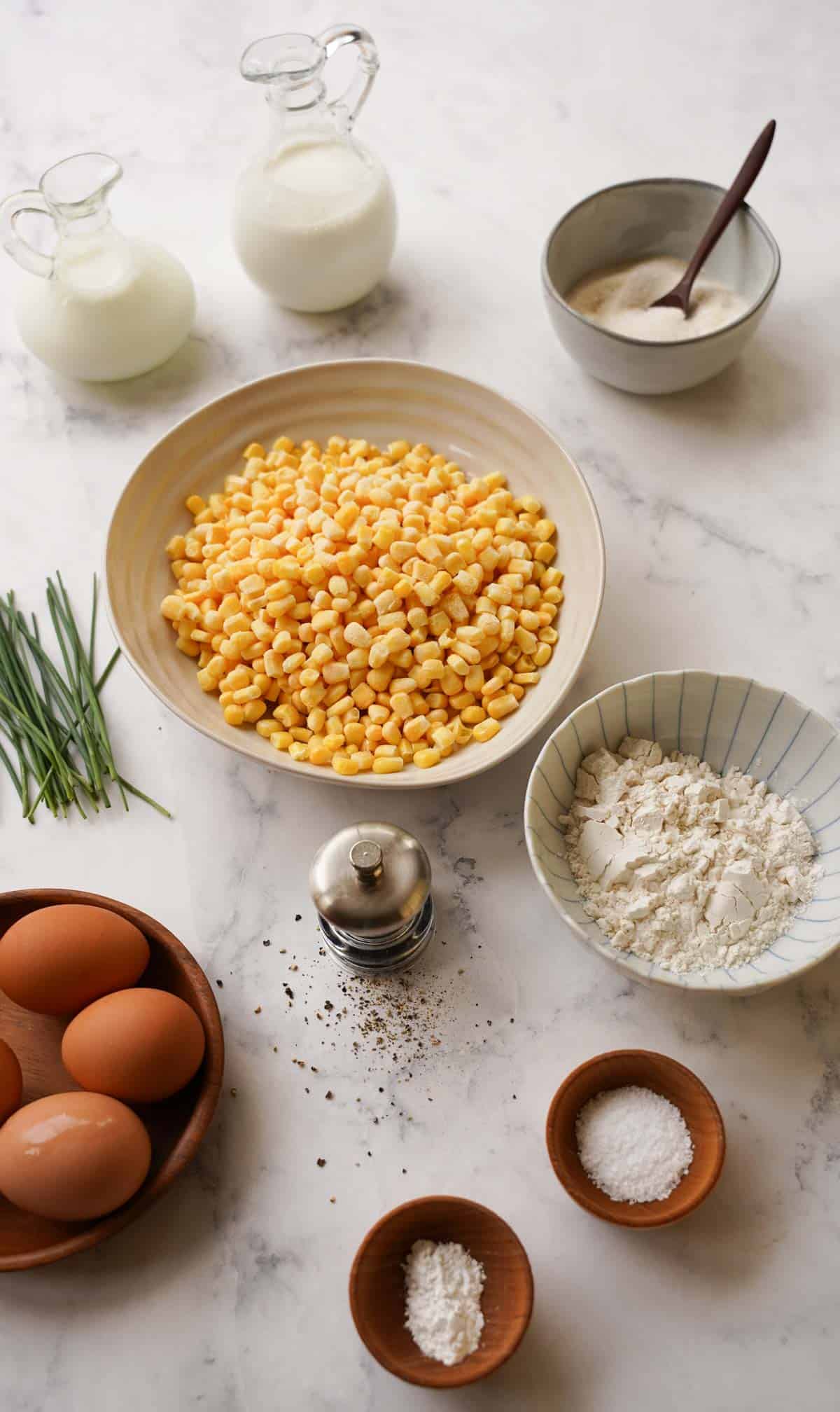 Is Corn Pudding Served Hot or Cold?
Personally, I think this dish is best enjoyed hot, straight out of the oven when the texture and flavor are at their best. For a room-temperature side dish for Thanksgiving try my Harvest Salad with Honey Balsamic Vinaigrette.
Make-Ahead Tips:
You can make corn pudding in advance, but it's best not to bake it in advance.
Instead, prepare the batter, and keep it in a covered mixing bowl. Then while your Turkey rests, pour it into a prepared casserole dish and bake at 350F for 40-45 minutes.
It's best to enjoy this recipe right out of the oven for the best light and fluffy texture!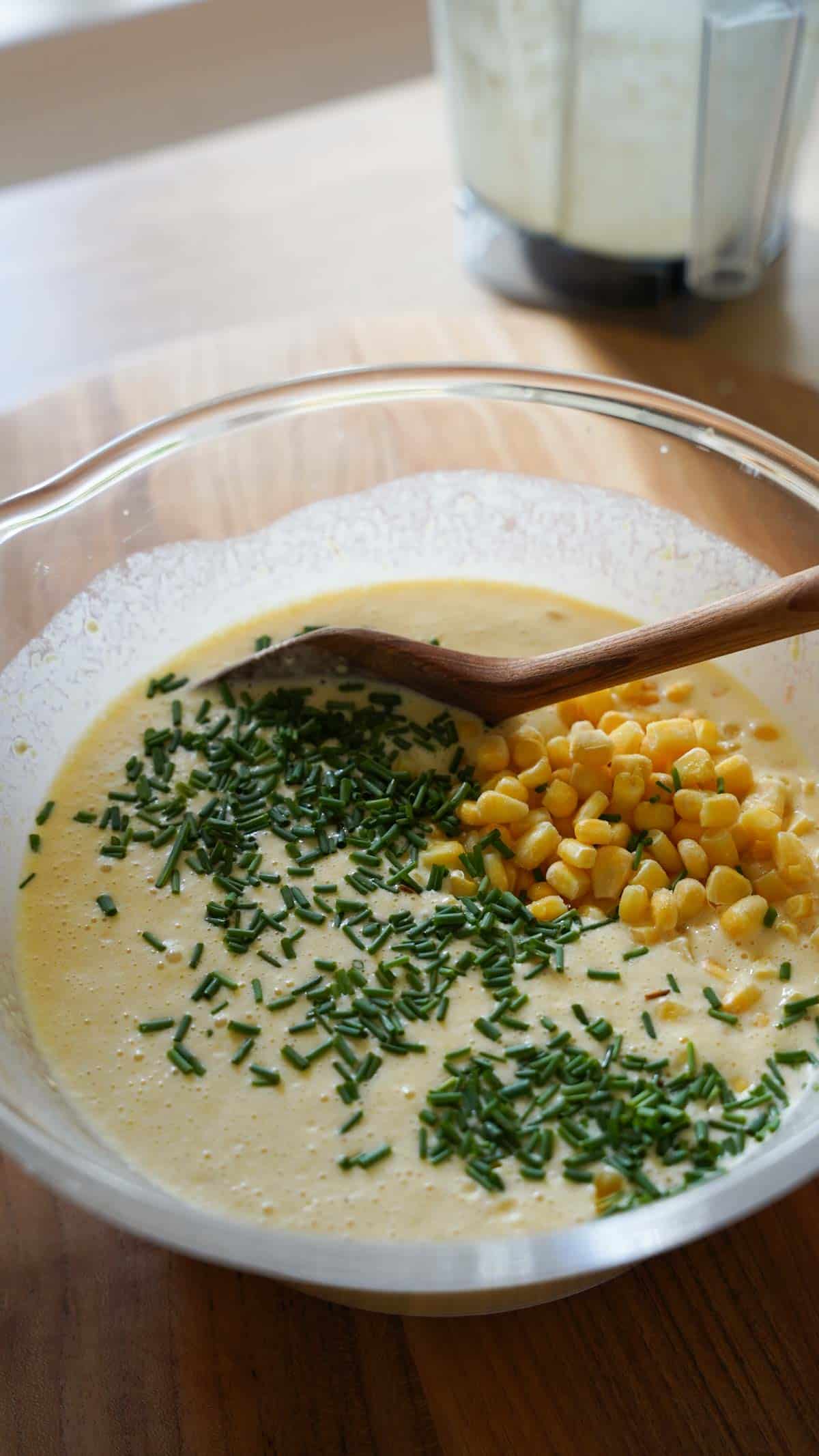 Serving Ideas:
This corn pudding casserole pairs beautifully with my Roast Turkey Breast Recipe, or my Maple Glazed Pork Loin recipe for holiday entertaining. You could also serve it in the summertime with some BBQ Sticky Ribs , Shrimp rolls, or as a brunch recipe too.
How To Store Corn Pudding
Corn pudding does need to be refrigerated when warping up leftovers. It's not like cornbread that can sit out on your countertop.
Allow the corn pudding to cool completely, then cover it with foil and place in the refrigerator.
To reheat, place a serving-size portion in the microwave and microwave on high at :30 intervals until warmed through.
I would not recommend freezing it, since the texture would not be great and thawing it could make it runny.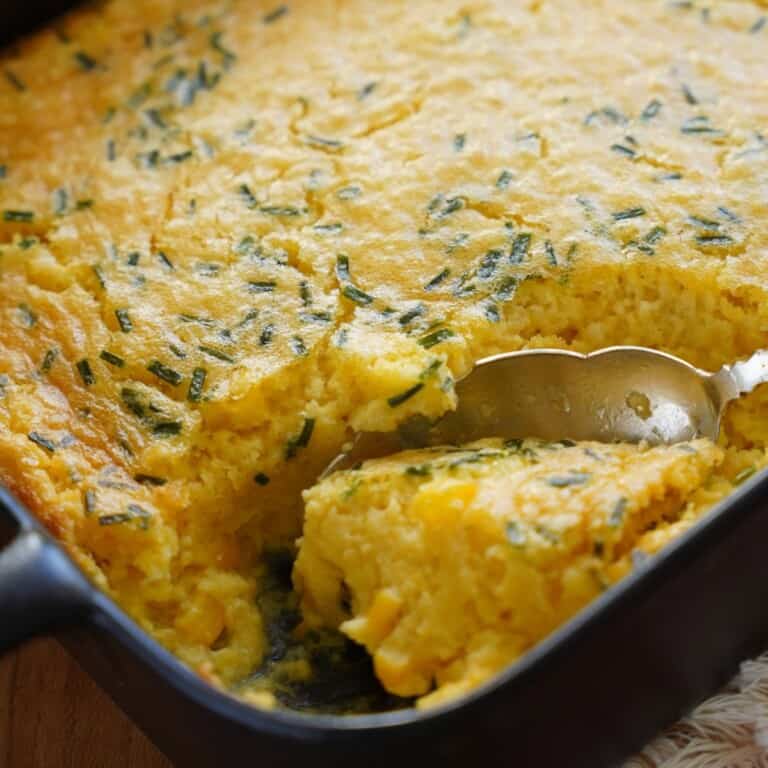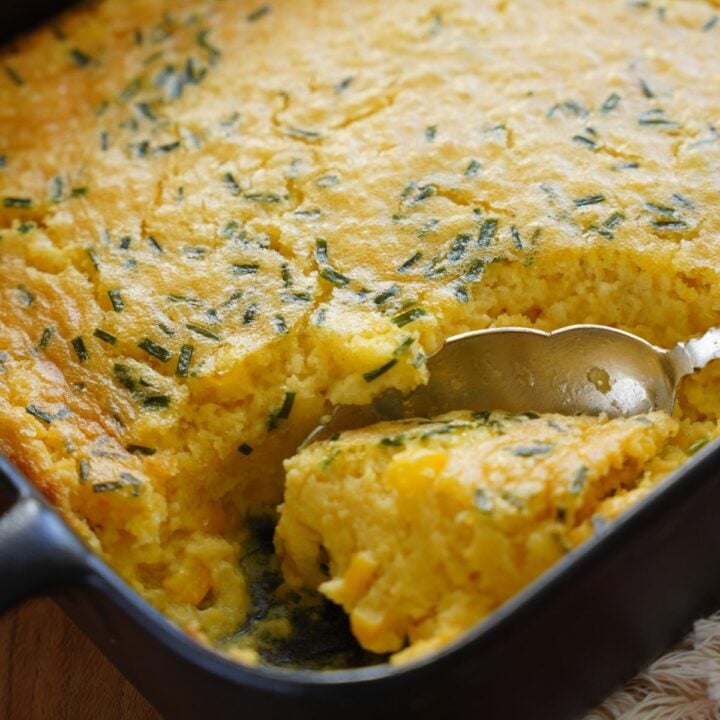 Easy Corn Pudding Casserole (without creamed corn)
Total Time:
1 hour
5 minutes
Easy Corn Pudding Casserole made with frozen corn instead of creamed corn. Light and fluffy and oh so delicious!
Ingredients
2 (12 oz) bags of yellow frozen corn
4 eggs
⅓ cup of sugar
¾ cup of whole milk
1 cup of heavy cream
½ cup of melted butter, cooled
1 ½ teaspoon of Kosher salt
⅓ cup of all-purpose flour
1 teaspoon baking powder
Freshly cracked pepper to taste
2 tablespoon of Fresh Chives, minced
Instructions
In a blender add one bag of frozen corn, 4 eggs, sugar, milk, heavy cream, melted butter and salt. Blender mixture on high until smooth and pureed, about 1 minute.
Transfer the mixture to a large bowl. In a small bowl whisk together the flour and baking powder. Then add the flour mixture to the blended mixture, whisking until combined. Then add the second bag of frozen corn, pepper and chives, stir to combine.
Make Ahead Tip: At this stage the batter can be covered and refrigerated for 1 day until ready to bake.
Before serving, preheat then oven to 350F. Grease a 9 x 12 casserole dish. If using a 9x13 dish lessen the baking time by 5-10 minutes.
Pour batter into casserole dish and bake for 40--45 minutes or until golden brown and a toothpick comes out clean. Serve immediately.
Notes
HOW TO HALF THIS RECIPE?
Having less people for Thanksgiving? Use these measurements instead and reduce baking time to about 20-25 minutes. Bake in a smaller dish too, either a 9" pie plate or a 9x9 casserole dish. The rest of the moth is the same. Enjoy!
FOR A SMALLER HALF-SIZED PORTION:
1 (12 oz) bag of yellow frozen corn
2 eggs
2 tablespoon + 2 teaspoon of sugar
¼ cup +2 tablespoon of whole milk
½ cup of heavy cream
¼ cup of melted butter, cooled
¾ teaspoon of Kosher salt
2 tablespoon + 2 teaspoon of all-purpose flour
½ teaspoon baking powder
Freshly cracked pepper to taste
1 tablespoon of Fresh Chives, minced
Nutrition Information:
Yield:

8
Serving Size:

1
Amount Per Serving:
Calories:

325
Total Fat:

26g
Saturated Fat:

15g
Trans Fat:

1g
Unsaturated Fat:

8g
Cholesterol:

159mg
Sodium:

443mg
Carbohydrates:

20g
Fiber:

1g
Sugar:

11g
Protein:

6g