Shaved Brussels Sprouts Salad
This Shaved Brussels Sprouts Salad is a fantastic Thanksgiving salad that ticks all the boxes; it's Gluten-Free, Low-Carb, and Vegan! You'll love the combination of flavors and the tangy mustard vinaigrette provides the perfect combination of tart and sweet.
It's a Thanksgiving recipe that will soon be on your yearly rotation and is a welcomed addition to any potluck or buffet. For another terrific Thanksgiving salad try my Roasted Harvest Salad with Honey Balsamic Vinaigrette.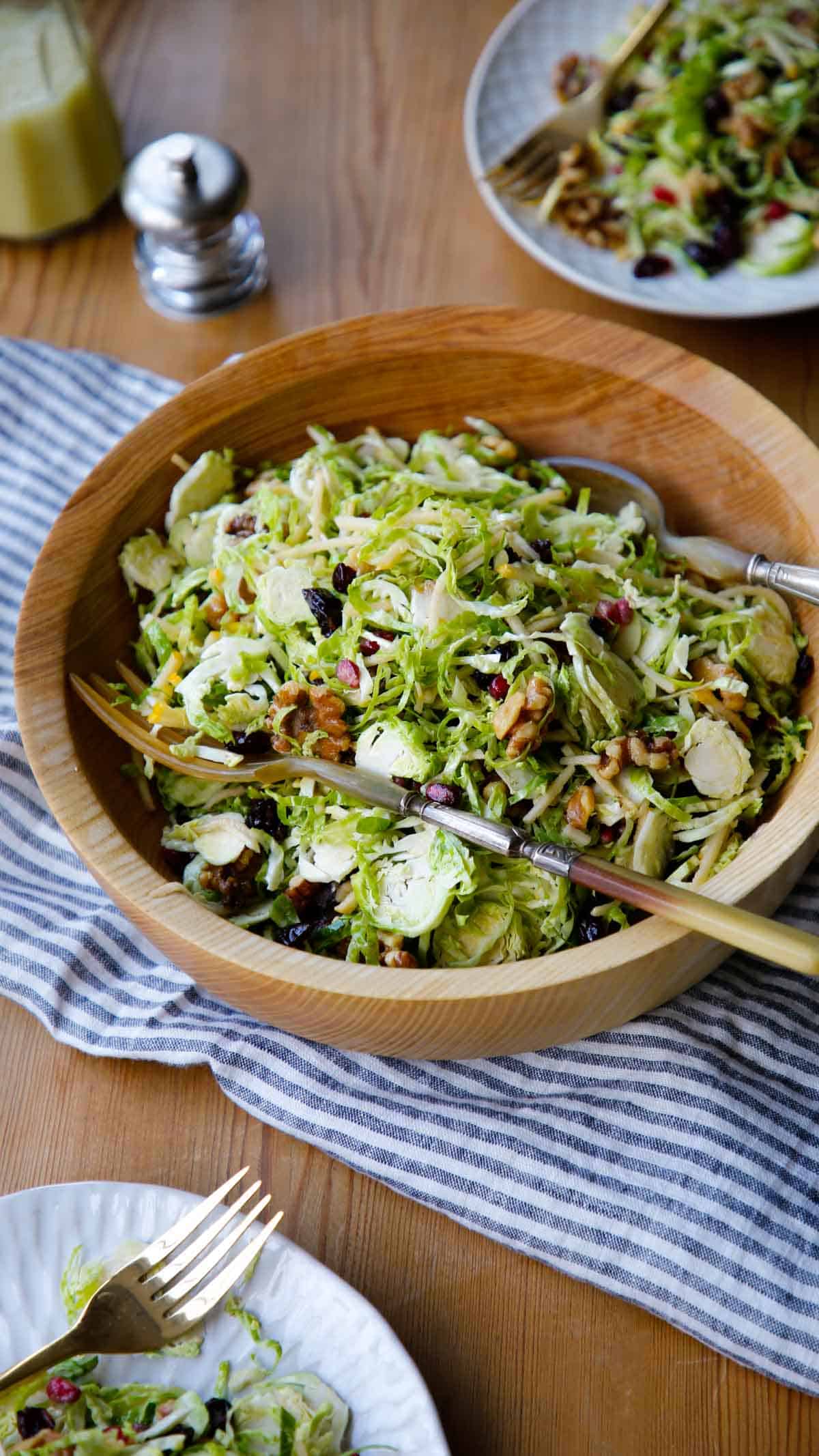 Eating Raw Brussels Sprouts
Brussels sprouts are delicious raw!
At their essence, they are little, baby cabbages, so slicing them, and eating them raw with a creamy mustard vinaigrette is a lot like a fall cole slaw recipe.
The key to eating Brussels sprouts raw is to cut them thinly so that their texture is easy to eat. And to combine them with softer or chewier textures like apple, dried cranberries, and pomegranates.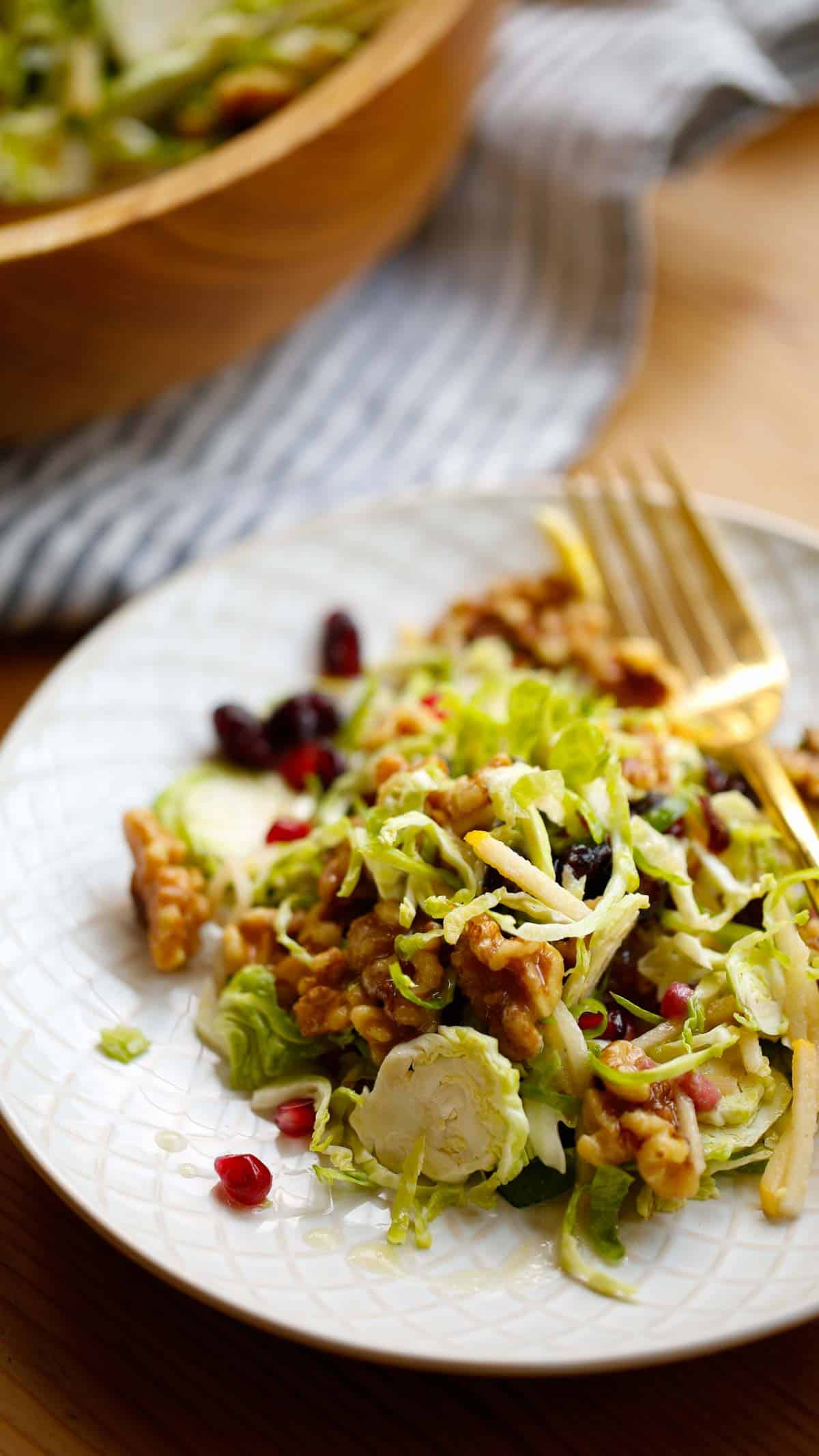 Subscribe for weekly recipes
and new videos!
Watch My Video Demo of This Recipe Below!
How To Shave a Brussels Sprout
There are three ways to prep the Brussels sprouts for this recipe
A Food Processor This technique is certainly the quickest! You'll need the disk attachment used for grating. This method will provide a finely grated Brussels sprout which is good for those who don't want too much texture in their salad. Think "grated carrot salad" for texture.
A Chef's Knife This is the simplest way to prep the sprouts, but it's also the most tedious. It will create a bulkier salad unless you have highly refined knife skills. But a Chef's knife will get the job done! (If you have the patience for it)
The Mandoline This is my preferred method because you get the best of both worlds. You'll get some finely grated pieces and some largely sliced Brussels sprouts, both providing a slightly different texture. Personally, I think the mandoline creates the prettiest-looking salad and the best texture.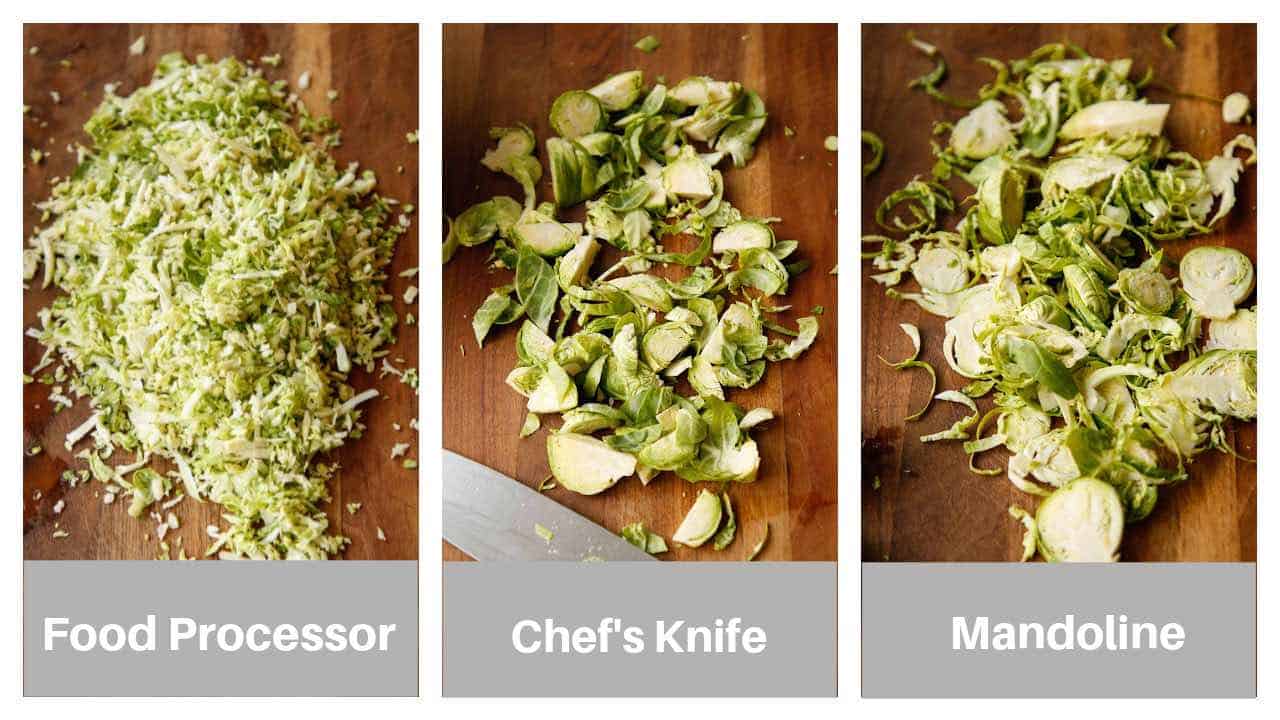 The Ingredients:
Brussels Sprouts Some stores will sell already shaved Brussels sprouts in pre-packaged bags. I would be leary of these bags since they tend to sit on the shelf a while and can be less than fresh. I think it's worth the effort to buy them whole and slice them yourself.
Apple I have recently discovered Opal Apples which are yellow apples that when sliced do not turn brown! I know who knew?! These are some other varieties that are great for salads because of their slow browning characteristic.
Walnuts. Buy them raw but then roast them for 8 minutes. You'll see a world of difference in flavor between a raw nut and a roasted nut. It's totally worth the effort!
Dried Cranberries. They will provide a wonderful sweetness and chewiness to this salad. If you have a choice at the market look for the bags of Ocean Spray Dried Cranberries, I think they are the most flavorful and plump without being too dried out.
Pomegranate Seeds are not only beautiful but so refreshing too! If you can find them already seeded it will certainly save you time, but if you need to seed them yourself, I'll explain my favorite method below.
Dijon Mustard will the base of your mustard vinaigrette
Apple Cider Vinegar is a great match for this salad since it's slightly sweeter than other vinegar. But you could also use balsamic vinegar as well.
Maple Syrup is a wonderful sweetener in salad dressings. If you don't have syrup you could swap for honey.
Walnut Oil I love the flavor of walnut oil in this salad, but you could also use grapeseed oil. I just would stay away from olive oil which is a bit too heavy and flavorful for this salad.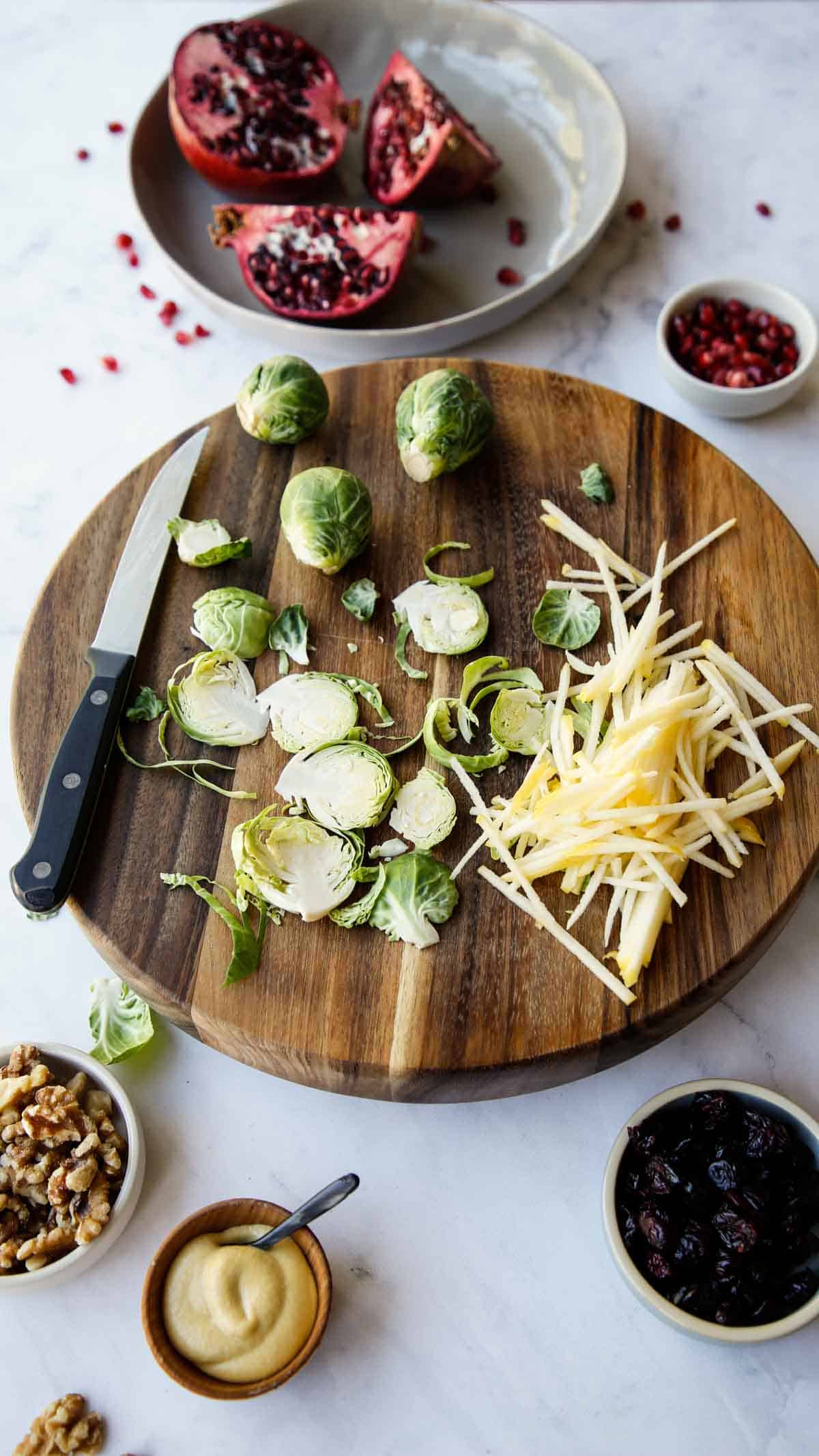 How To Seed a Pomegranate
Slice the pomegranate in half then in quarters
Submerge the quarters in a large bowl of water for at least 15 minutes to soften the membranes.
Then scrape out the seeds with your hands.
The skins will float to the top and the seeds will sink to the bottom.
Skim out the peels and white parts, with a slotted spoon.
Then pour out the seeds and water into a fine-mesh strainer over a bowl.
Refrigerate the seeds until ready to use.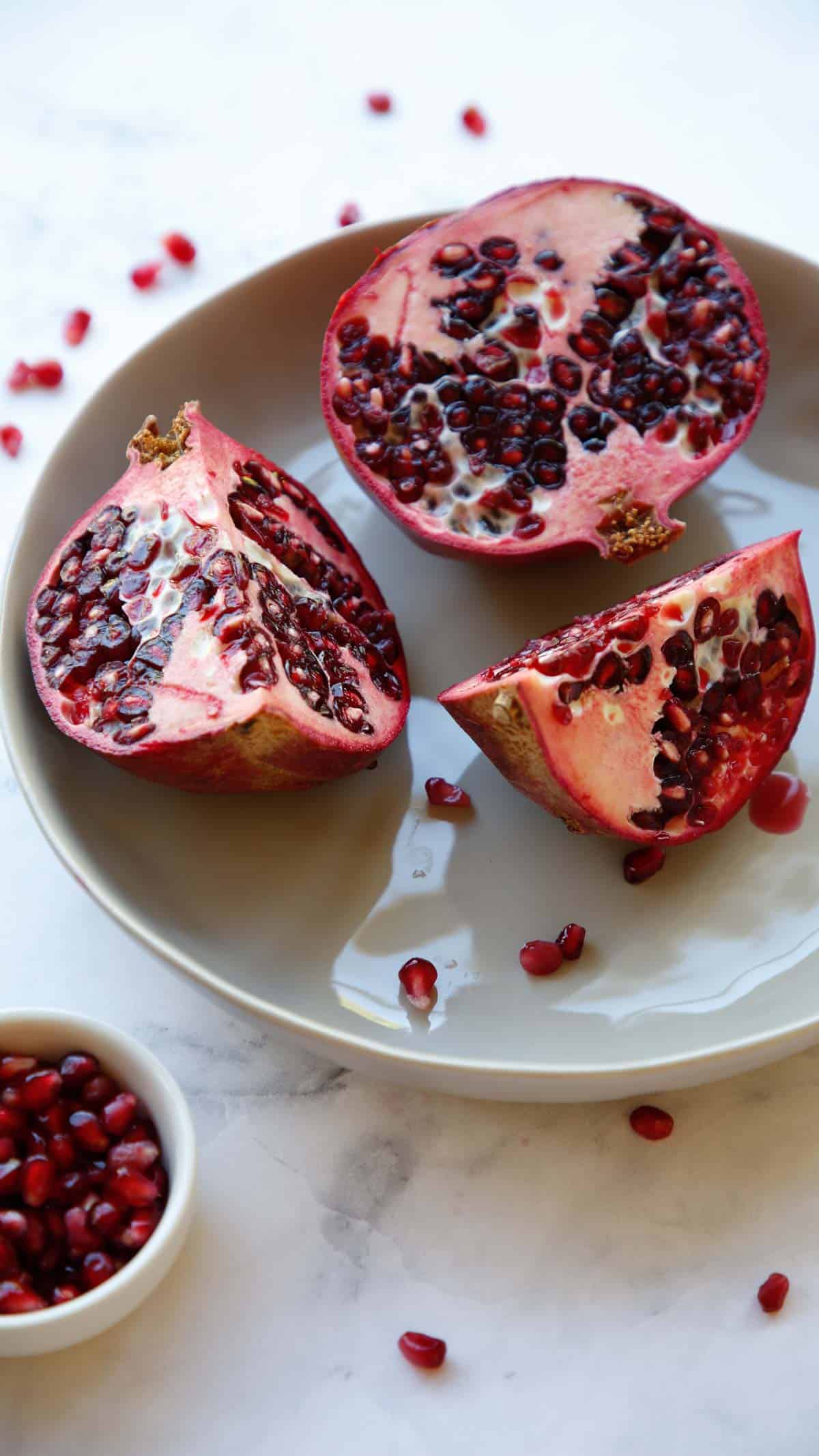 Make-Ahead Tips:
You can cut the Brussels sprouts a day ahead and keep them covered and refrigerated.
You can also make the mustard vinaigrette a day ahead, keep covered, and refrigerated.
You can seed the pomegranate a day ahead, keep covered, and refrigerated.
You can roast the walnuts and keep them covered and at room temperature.
Moments before serving cut the apple, assemble the salad and toss the salad with the vinaigrette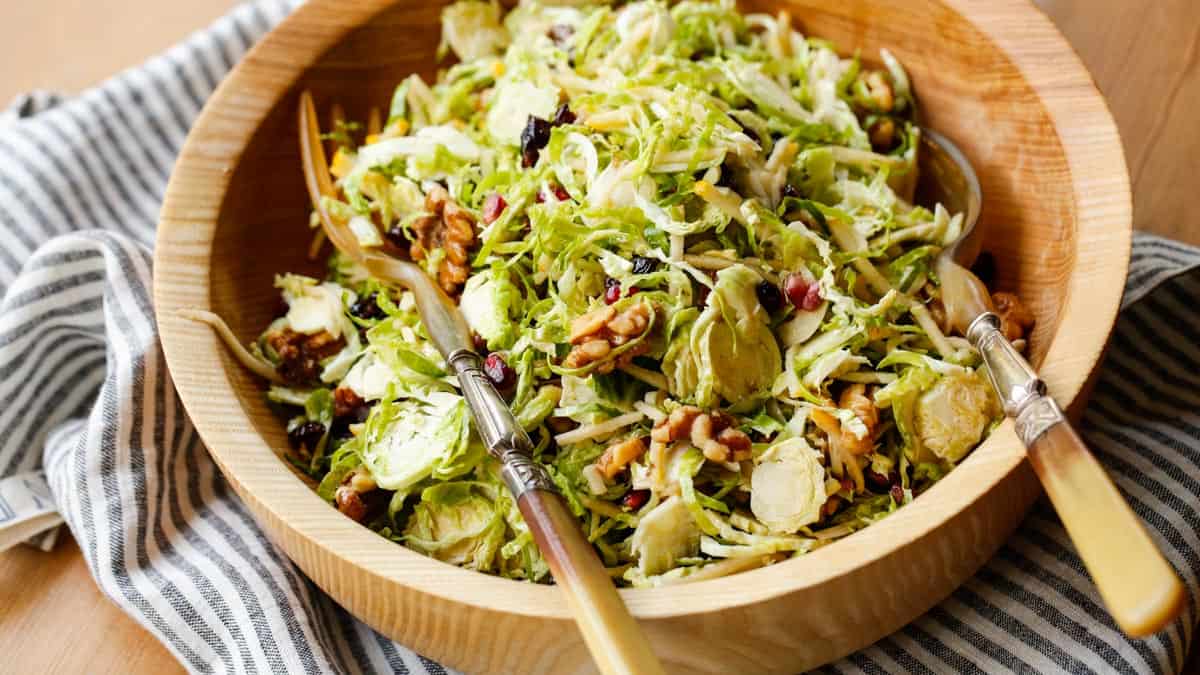 A Thanksgiving Salad That is Anything But Boring!
Salads at Thanksgiving are not always the first things to fly off the table, but you can change that perception this year with this salad!
It's so flavorful and refreshing, pretty and full of fall flavors!
It will be the salad that everyone will start asking for year after year, it's that good!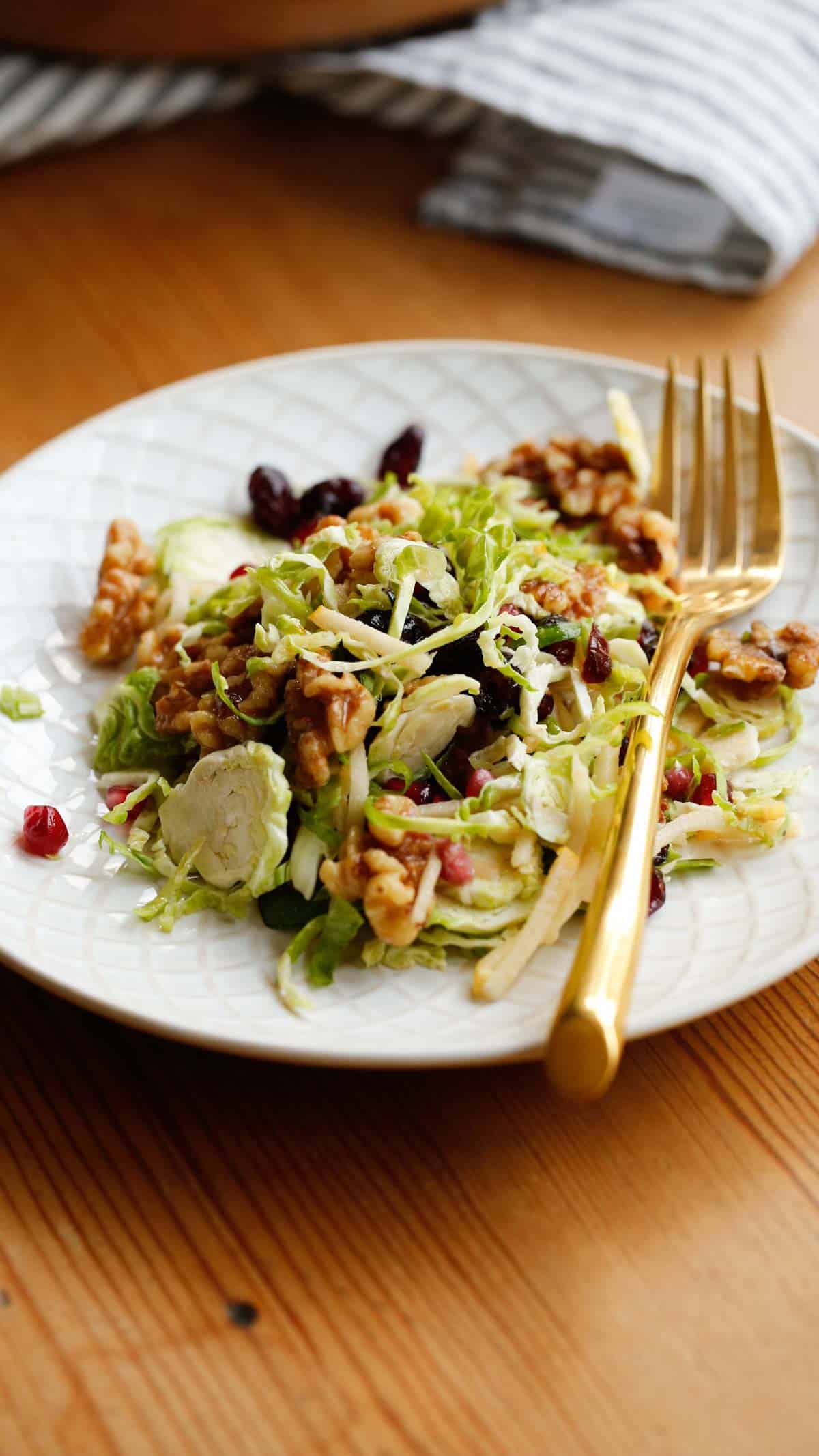 More Thanksgiving Recipes!
If You Enjoyed This Recipe,
Please Leave a Rating and a Review Below!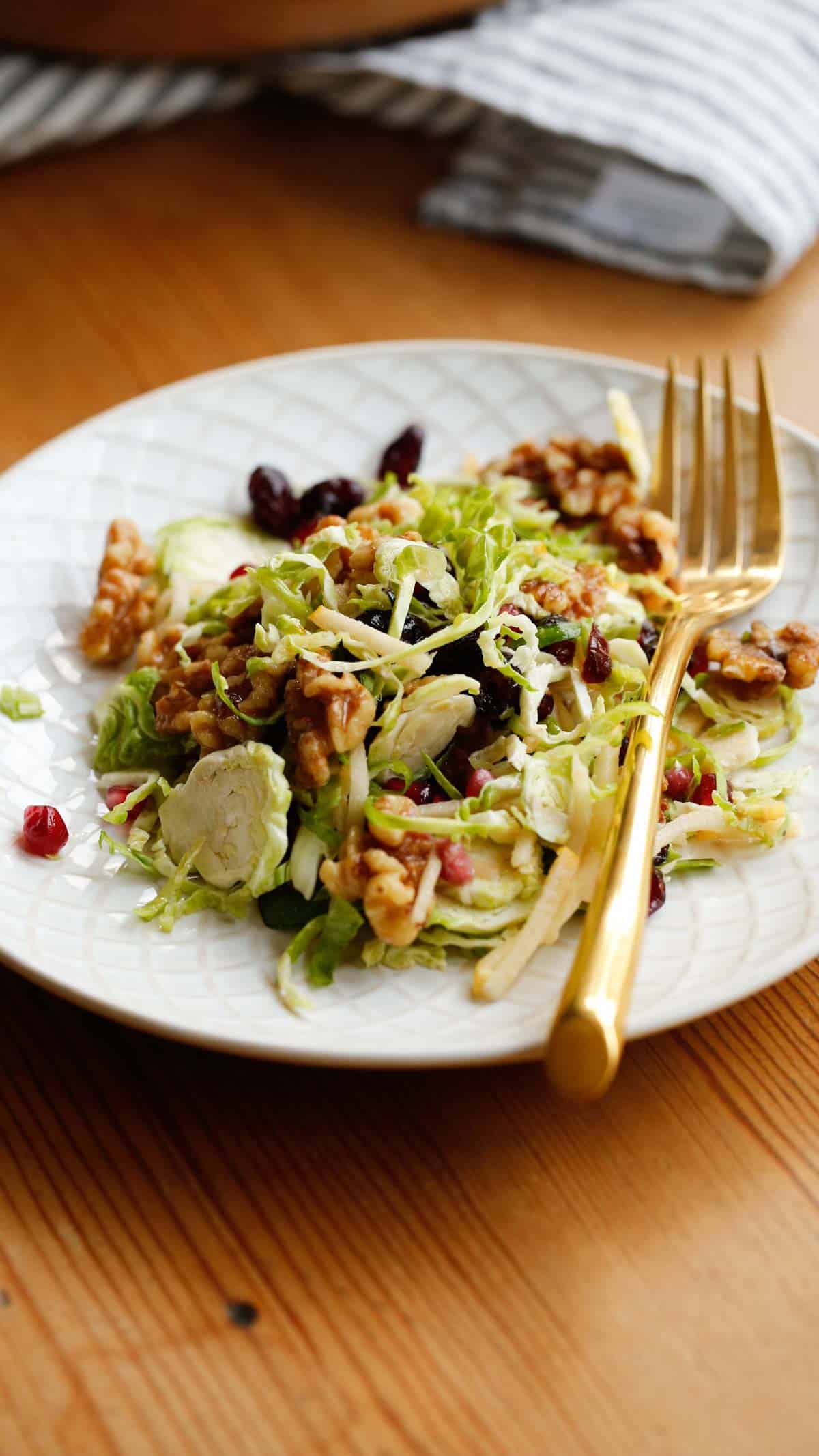 Shaved Brussels Sprouts Salad
A delicious shaved brussels sprouts salad with a mustard vinaigrette. The perfect fall salad for Thanksgiving or holiday buffets. Sweet and tangy and so refreshing too!
Ingredients
1 ½ pounds (675g) of Brussels Sprouts, sliced thinly or grated in a food processor
1 Opal apple, sliced, chopped or turned into match sticks
1 cup (150g) raw walnuts
1 cup (150g) dried cranberries
1 cup (150g) pomegranate seeds
Mustard Vinaigrette:
2 tablespoon (30ml) Dijon Mustard
1 tablespoon (15 ml) Apple Cider Vinegar
1 teaspoon (5ml) maple syrup or honey
3-4 tablespoon (45ml-60ml) walnut oil, or grapeseed oil
Instructions
Preheat oven to 350F (175C).
Place walnuts on a baking sheet and bake for 8 minutes. Set aside and allow to cool.
In a small bowl prepare the dressing by combining the mustard, vinegar, and maple syrup, whisk to combine well. Then slowly add the oil, whisking all the while until combined and emulsified. Set aside.
Rinse brussels sprouts and remove any damaged leaves. Slice-off ends.
Slice sprouts thinly either with a chef's knife, mandoline, or grated in a food processor.
Place sprouts in a large mixing bowl, add apples, cranberries, and pomegranate seeds.
Add dressing and toss with salad until coated. Serve immediately.
Notes
Brussels Sprouts can be prepped a day ahead covered and refrigerated
Dressing can be made a day ahead, cover and refrigerate
Walnuts can be toasted a day ahead and kept covered at room temperature
Nutrition Information:
Yield:

10
Serving Size:

1
Amount Per Serving:
Calories:

318
Total Fat:

25g
Saturated Fat:

2g
Trans Fat:

0g
Unsaturated Fat:

21g
Cholesterol:

0mg
Sodium:

97mg
Carbohydrates:

24g
Fiber:

4g
Sugar:

17g
Protein:

4g