Turkey Gravy Without Drippings
Turkey Gravy Without Drippings, is that even possible you may wonder? And I'm here to tell you yes! Now you may not have ever wondered such things if you're a traditionalist and roast your turkey in a pan in the oven. But for those of you who BBQ or deep-fry their turkeys, you know this dilemma all too well!
But not to worry, this recipe is quick and easy and will provide you with a delicious gravy any time of year! Even when there is no turkey on the table and you're craving some gravy for a roast chicken or to spoon over your mashed potatoes!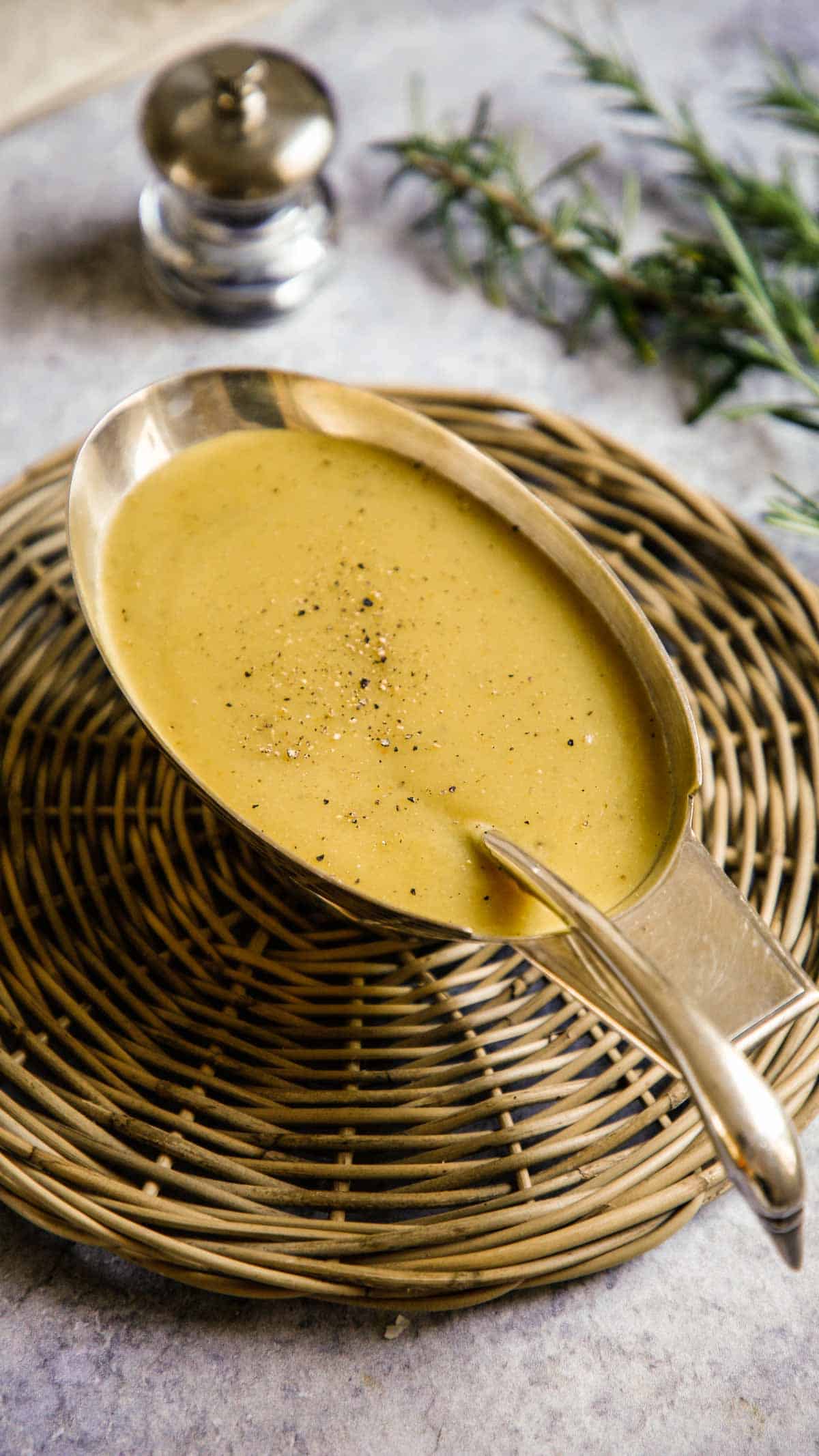 The Ingredients:
Shallots, Celery, and Carrots I like to include a combination of these three vegetables for the best flavor.
Chicken Broth For this recipe I use chicken stock because it's typically more available, and makes a great chicken gravy too! But if you have time to plan ahead you can seek out Turkey Broth instead.
Butter/Flour To create a thickening base you'll create a "roux" which is equal parts butter to flour. Once the butter foams, add the flour and whisk until a paste forms
Dry White Wine For gravy stay away from the sweet wines, you'll want a Chardonnay or a dry Sauvignon Blanc.
Garlic You'll add a clove of minced garlic to deepen the flavor
Worcestershire Sauce Not only adds flavor but will deepen the color as well.
Dijon Mustard The Dijon really gives the gravy the zing it needs but a little dab will do ya! ½ teaspoon is all you need.
Curry Powder My Father is famous for adding curry powder to his gravy and I have taken to holding the same opinion when it comes to gravy. It adds a wonderful warming spice to the flavor.
Herbal Bouquet Another great way to add flavor is with herbs. You'll create a bouquet, tied with butcher's twine of rosemary and sage. It will steep into the gravy as it simmers for 10-15 minutes.
Cornstarch/Very cold water The cornstarch will thicken the gravy further once it is done. Mix the cornstarch with very cold water to create the "slurry" then be sure the gravy is hot and bubbling. It needs these components (the cold water + the hot liquid) in order to activate the thickening process.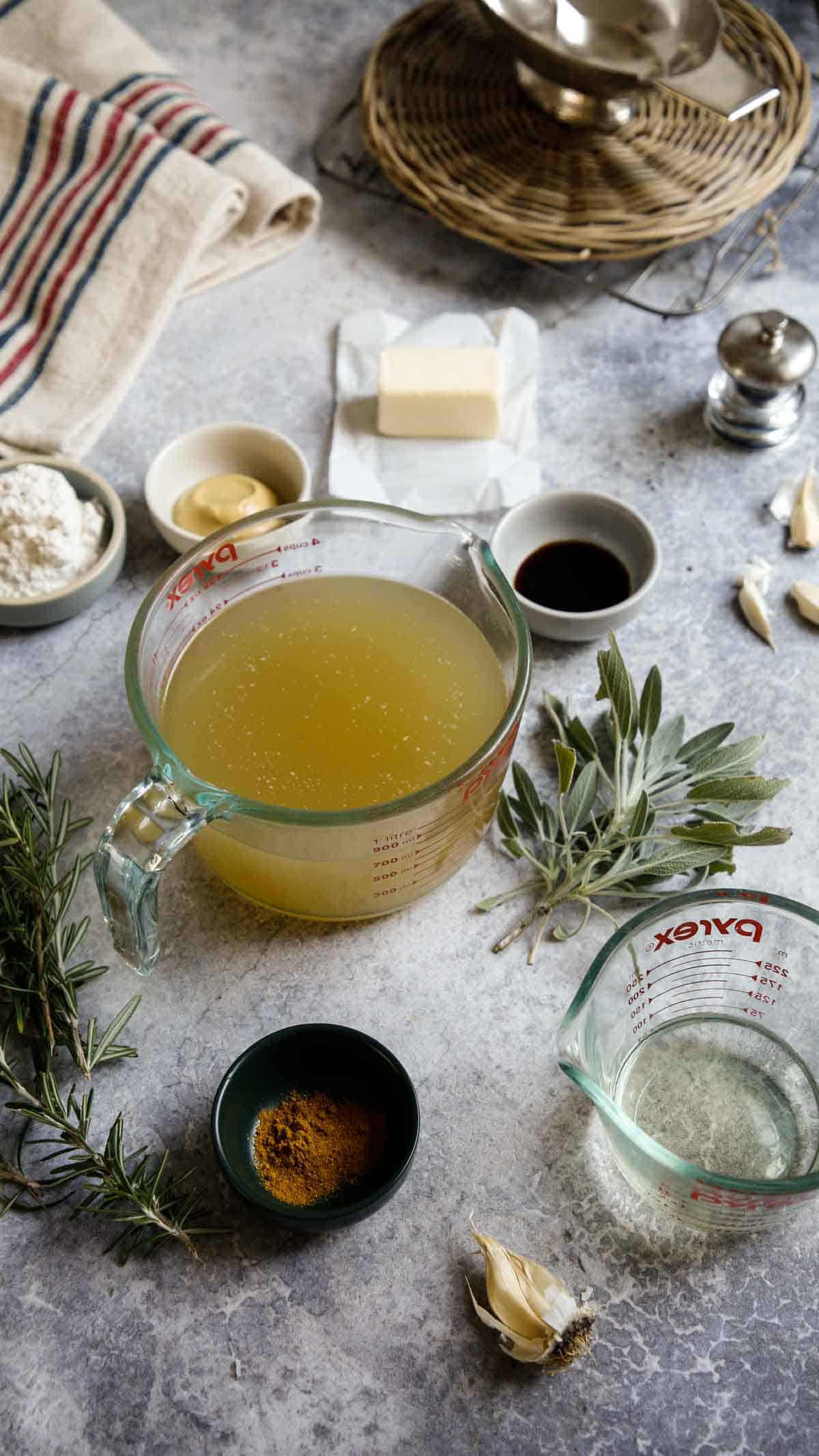 Subscribe for weekly recipes
and new videos!
Achieving the Best Flavor Without Drippings:
A gravy without drippings relies on vegetables to get its flavor.
I like the combination of shallots, carrots, and celery to get the best mix of flavors.
The shallots can be swapped for white onion, ¼ of a cup if needed.
Prep the vegetables by cutting them into a large dice, they eventually will get strained out of the gravy. They will just be used to steep into the broth to give it more complex flavors.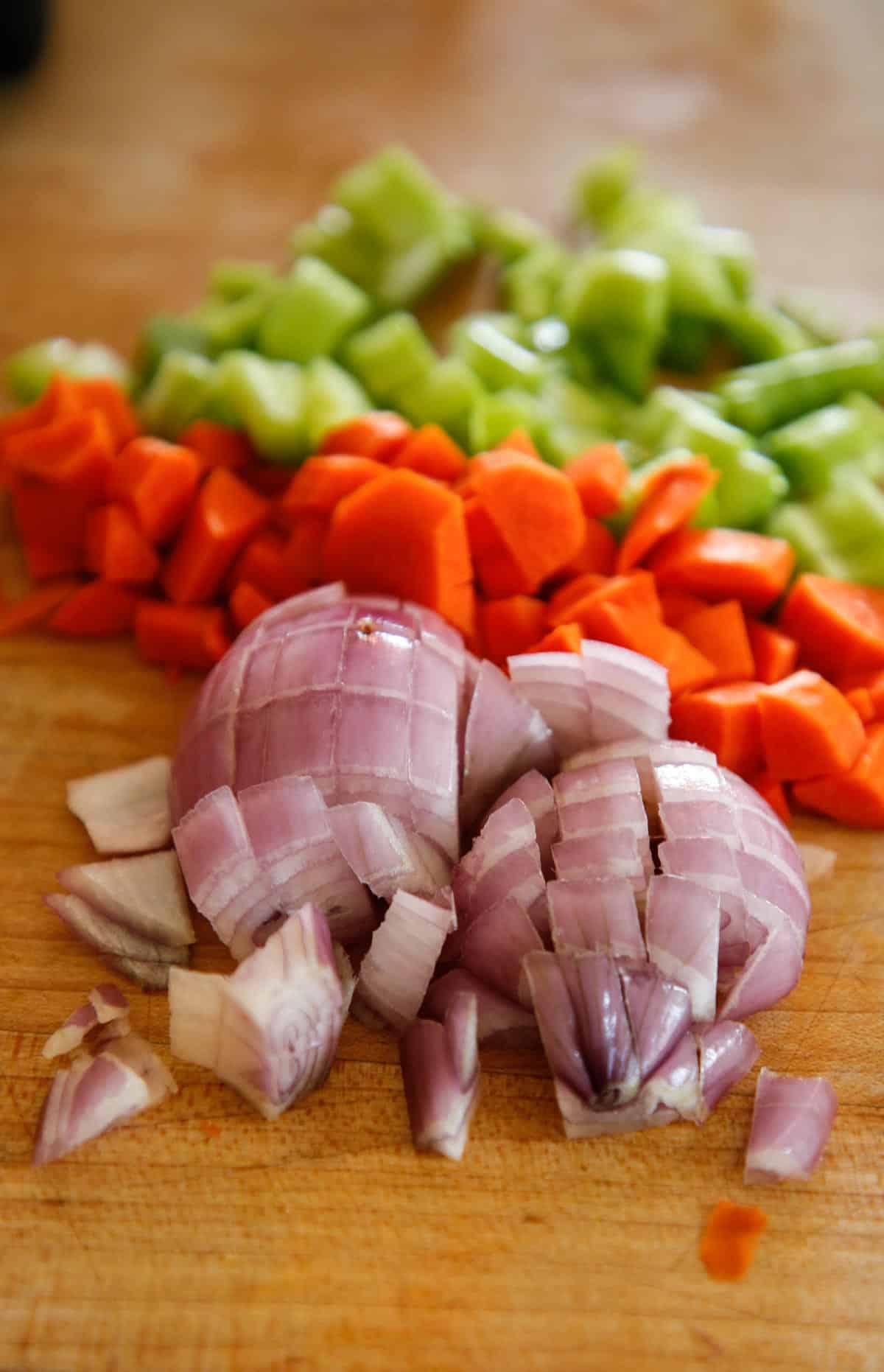 Creating a Roux
A roux is equal parts butter and flour and is used at the base of the gravy to thicken it. If you prefer a runnier gravy, more of an au jus, then the roux may be enough to thicken it.
But for those who prefer a very thick gravy, worthy of spreading over buttermilk biscuits or spooning over mashed potatoes, then you'll also want to add the cornstarch at the end for additional thickening.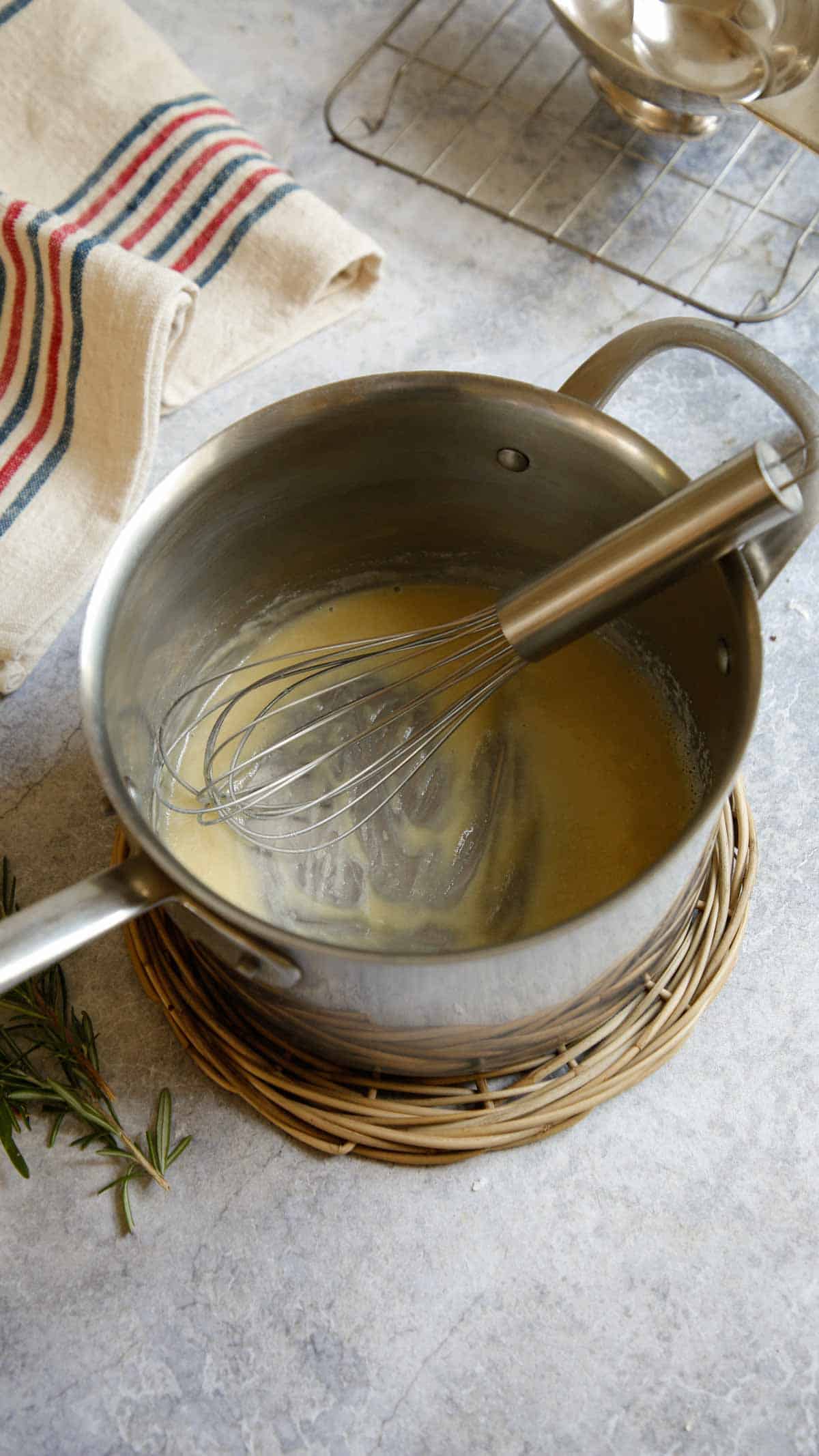 Steeping the Herbs for Flavor:
Never underestimate the power of fresh herbs to wake up any sauce, soup, or gravy.
Steep them in the gravy like you would a tea bag and you'll be rewarded with a delicious savory herbal flavor.
It's a technique I also use in my White Bean, Sausage, and Kale Soup that creates a delicious underlying rosemary flavor to the soup.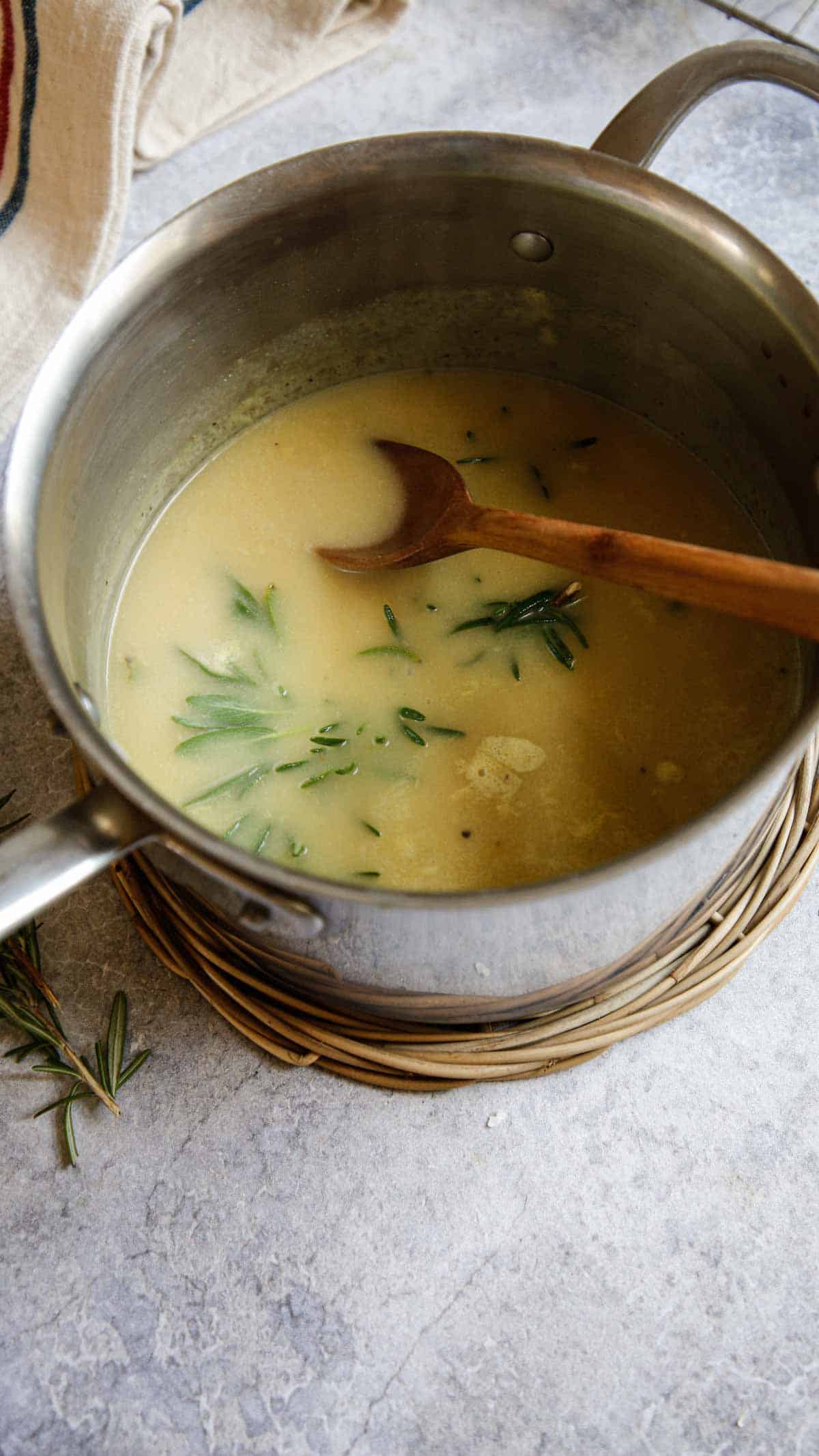 Straining the Gravy:
Once the gravy simmers and steeps with the vegetables and the herbs, you'll strain it.
I use a fine-mesh sieve to catch everything, and once you remove the strainer you'll find a nice smooth gravy ready to be thickened to your desired constancy.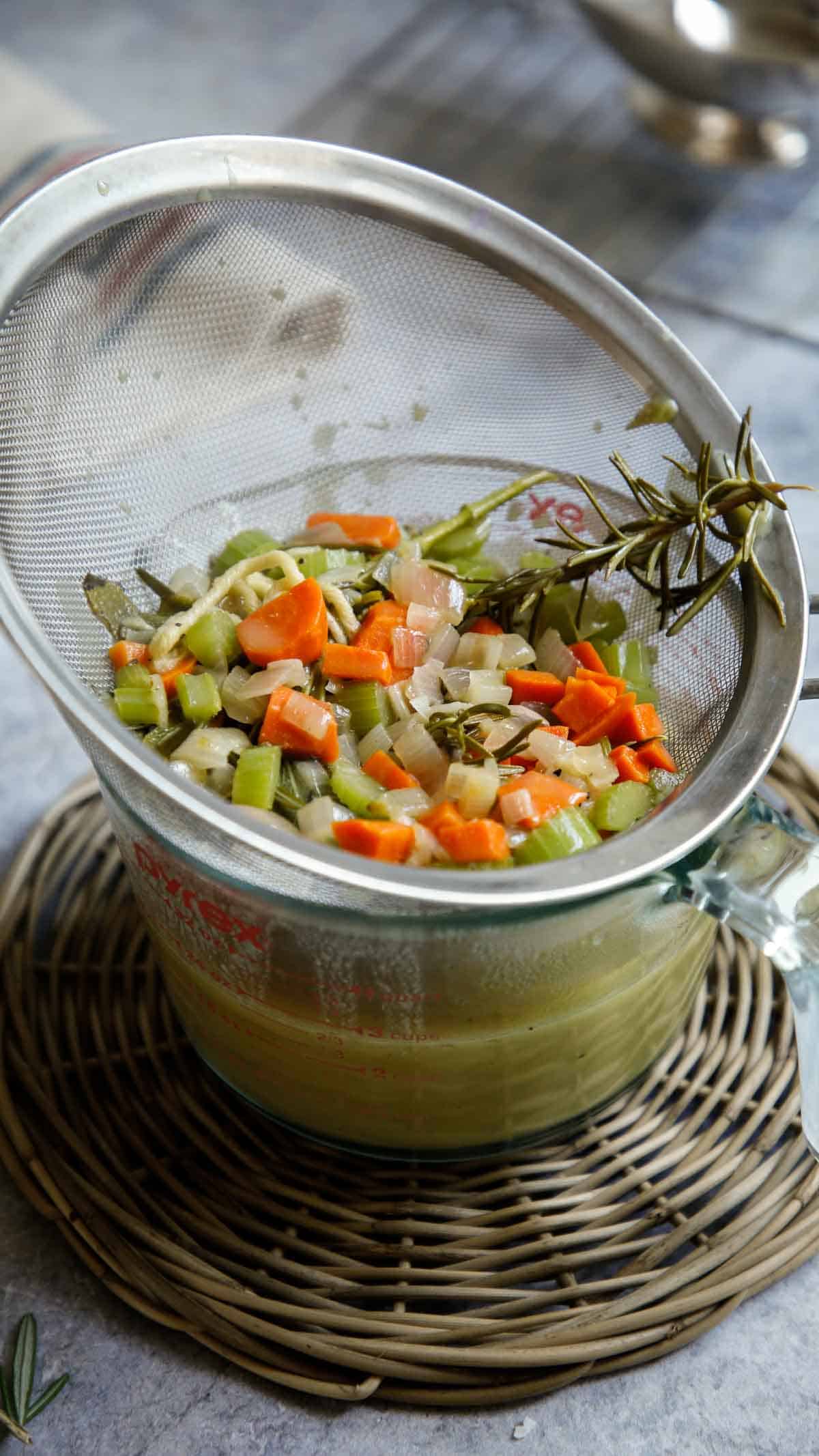 Tips for Thickening Gravy:
To thicken your gravy you'll create a cornstarch slurry, which is equal parts cold water and cornstarch.
For gravy, I typically use 2 tablespoons of cornstarch to 2 tablespoons of very cold water. I wouldn't use more than this or it will make the gravy a bit too gummy and gelatinous
Also, be sure your water is very cold when you mix it with the cornstarch and the gravy is very hot. Otherwise, when you pour the slurry in, it won't activate the thickening process.
If the gravy becomes too thick after adding the slurry, thin it with a bit more broth.
Check for seasoning, add salt and pepper as desired, and serve with turkey or over-mashed potatoes!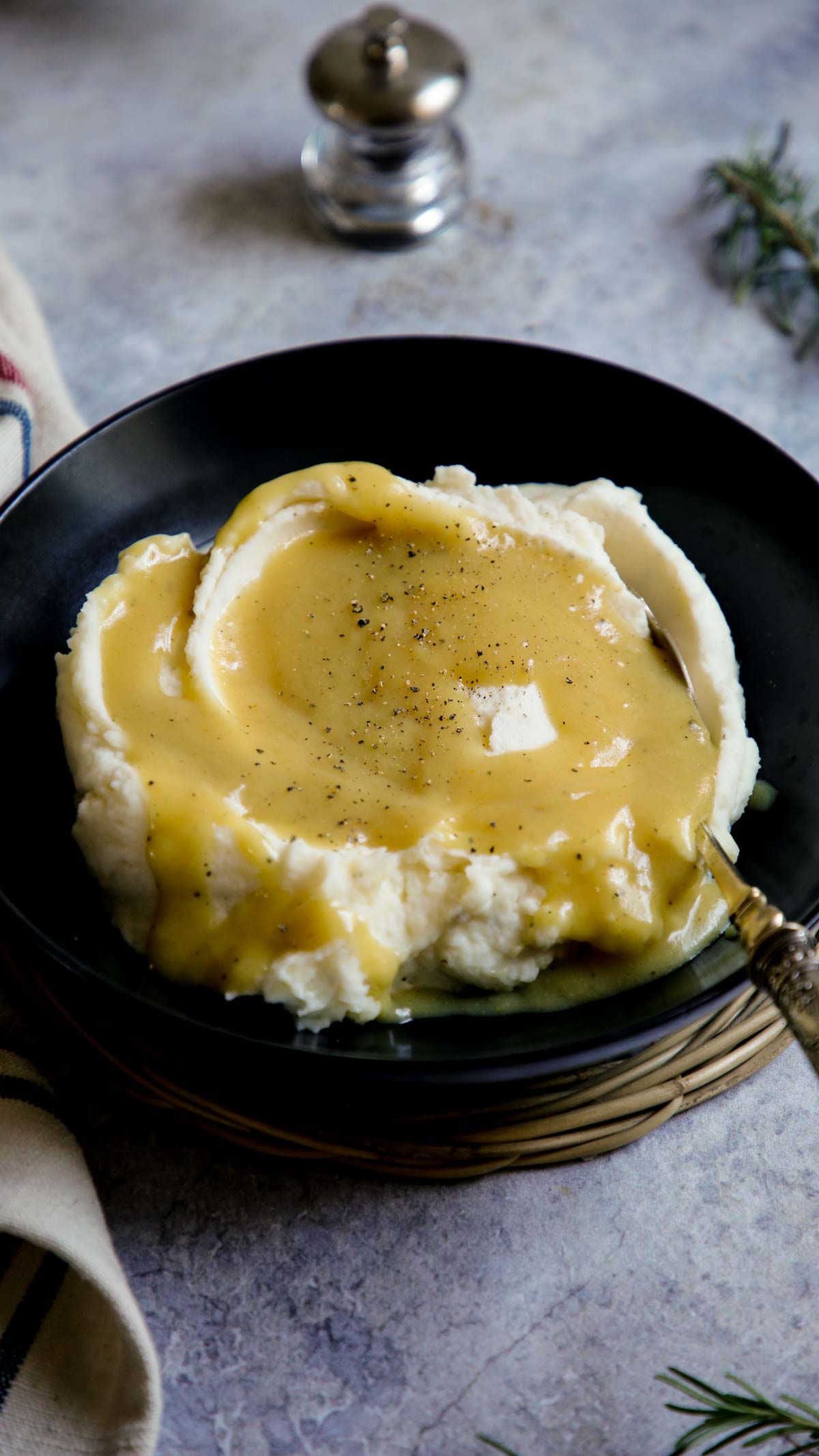 Make-Ahead Tips:
You can make the gravy 1-2 days ahead, cool down, and refrigerate.
Then reheat in a saucepan, thinning with broth if needed, until desired consistency is reached.
More Great Thanksgiving Recipes!
If you Enjoyed this Recipe,
Please Leave a Rating and a Review Below!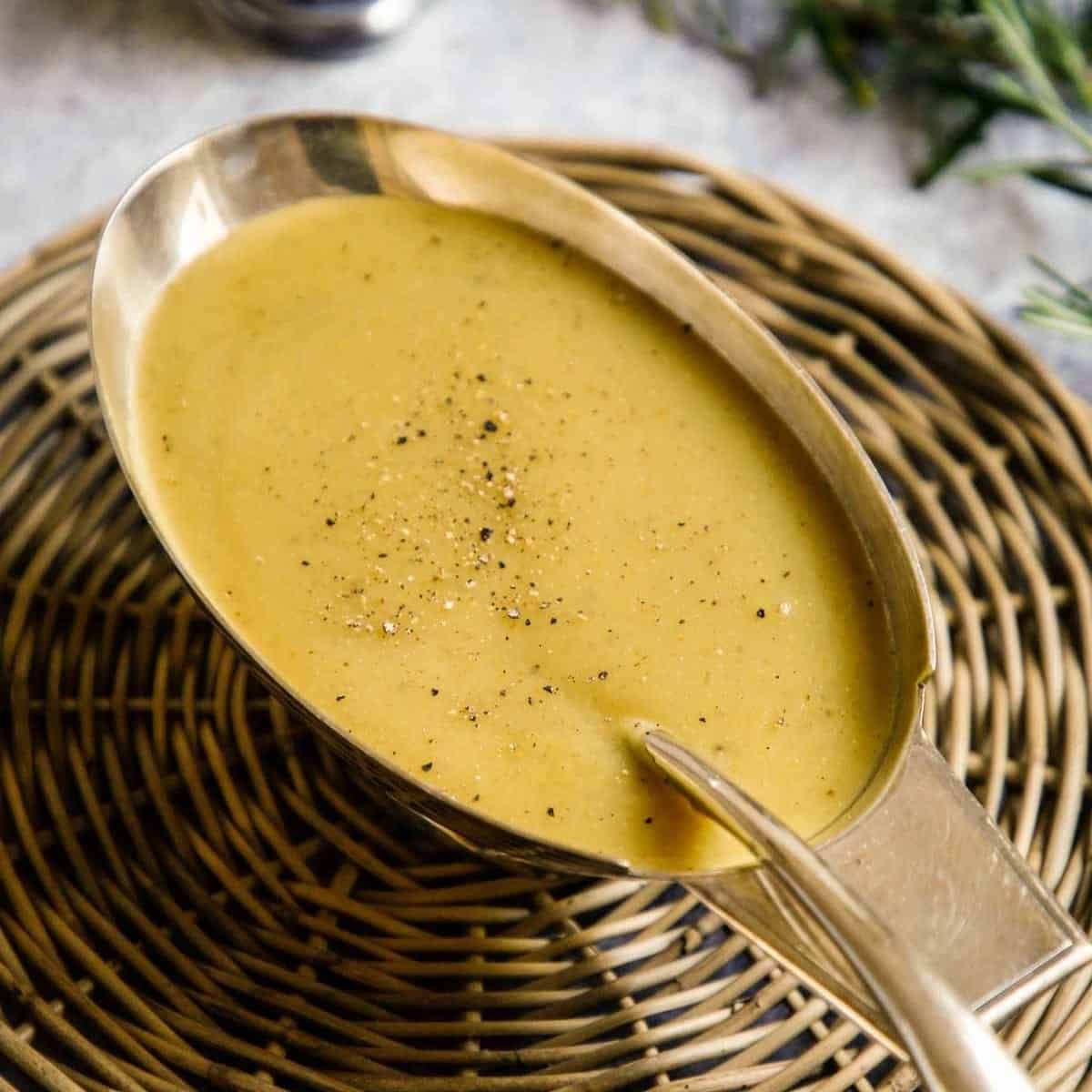 Turkey Gravy Without Drippings
A delicious homemade turkey gravy without drippings can be yours with this simple and easy recipe! Great for holiday turkeys or even weeknight mashed potatoes!
Ingredients
1 tablespoon (15ml) Olive Oil
1 shallot, diced
1 carrot, peeled and diced
1 celery stalk, diced
Salt and Pepper to Taste
4 tablespoon (60g) Butter
4 tablespoon (30g) Flour
¼ cup (60ml) dry white wine (Chardonnay, Sauvignon Blanc etc)
4 cups (950ml) chicken broth or turkey broth
1 garlic clove, minced
2 teaspoon (15ml) Worcestershire sauce
½ teaspoon (2.5ml) Dijon mustard
Curry powder, large pinch
½ teaspoon dried thyme
2 sprigs fresh rosemary
2 sprigs fresh sage
2 tablespoon (15g) cornstarch
2 tablespoon (15ml) very cold water
Instructions
Heat olive oil in a large saucepan. Add shallots, carrots, celery. Saute until tender and fragrant, season to taste with salt and pepper. Transfer to a bowl and set aside.
Melt butter in a pan, once foamy, add flour. Whisk until a thin paste forms. Add wine, whisk until a thicker paste forms, add broth. Whisk and simmer to remove any clumps.
Once smooth, add garlic, Worcestershire sauce, mustard, curry powder, dried thyme, whisk until combined.
Tie herbs into a bouquet with butcher's twine. Add bouquet to the broth and simmer for 10-15 minutes
Line a 4-cup Pyrex Pitcher with a Fine Mesh Sieve. Pour the mixture over a sieve and discard solids.
To thicken gravy further, transfer gravy back into the pot, bring it to a boil.
Meanwhile, whisk together the cornstarch slurry by combining cornstarch and water. Slowly add the slurry into the gravy, whisking all the while, until thickened.
Check for seasoning add salt and pepper as desired.
Notes
You can omit the wine if needed, just add ½ teaspoon more Dijon Mustard and perhaps a dash or two more of Worcestershire sauce.
Nutrition Information:
Yield:

6
Serving Size:

1
Amount Per Serving:
Calories:

118
Total Fat:

5g
Saturated Fat:

1g
Trans Fat:

0g
Unsaturated Fat:

4g
Cholesterol:

7mg
Sodium:

643mg
Carbohydrates:

12g
Fiber:

1g
Sugar:

6g
Protein:

5g