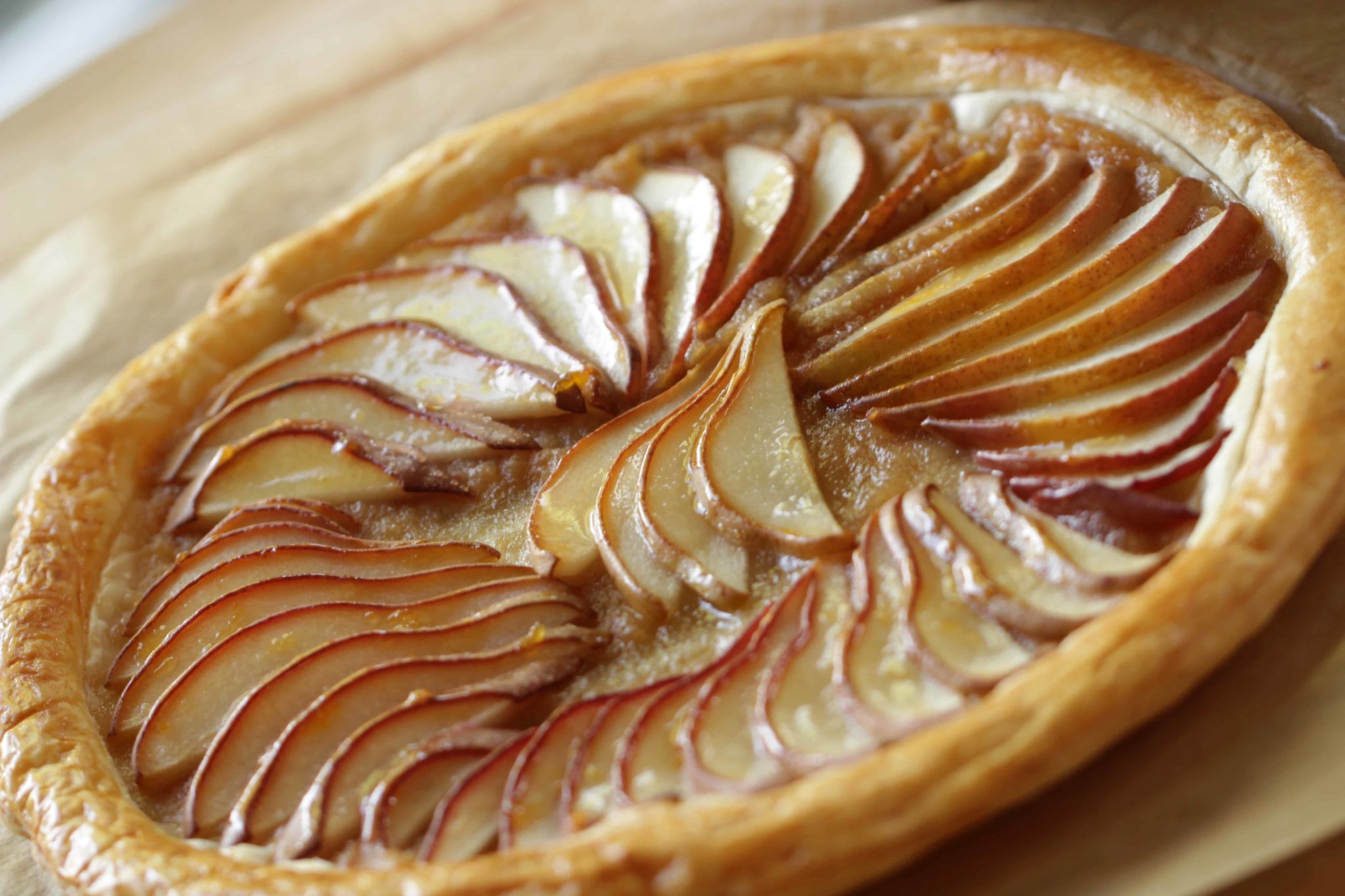 There comes a time during the Thanksgiving prep, that one must take a few short cuts. Between the turkey and the side dishes not to mention getting the house in order, the thought of making a homemade pie dough can make anyone unhinged, let's face it we've all been there.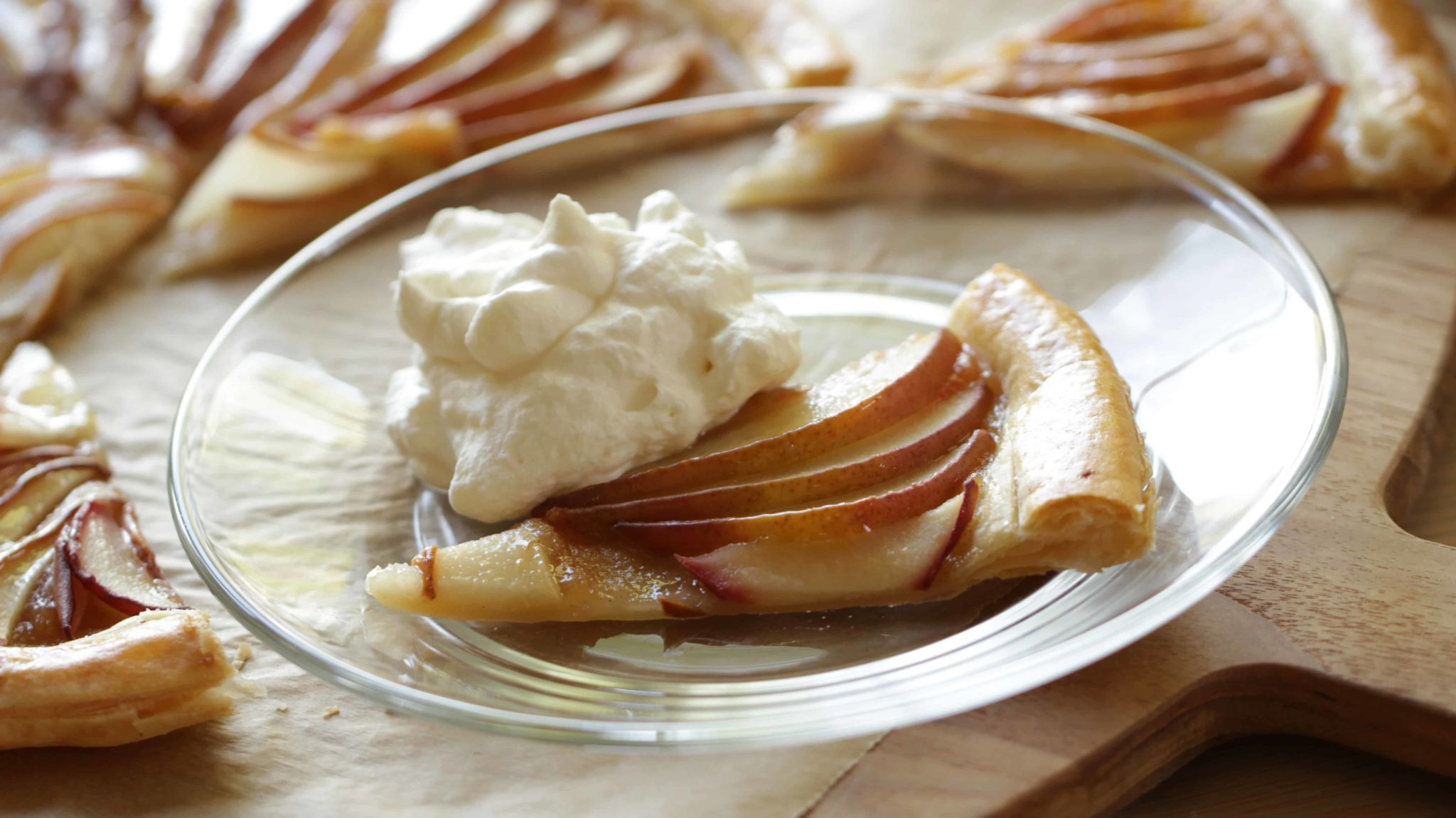 That's why I love my easy pear tart recipe, it performs like a champ, gives you all the "look" of an impressive dessert without all the fuss. It's simple and elegant and tastes divine!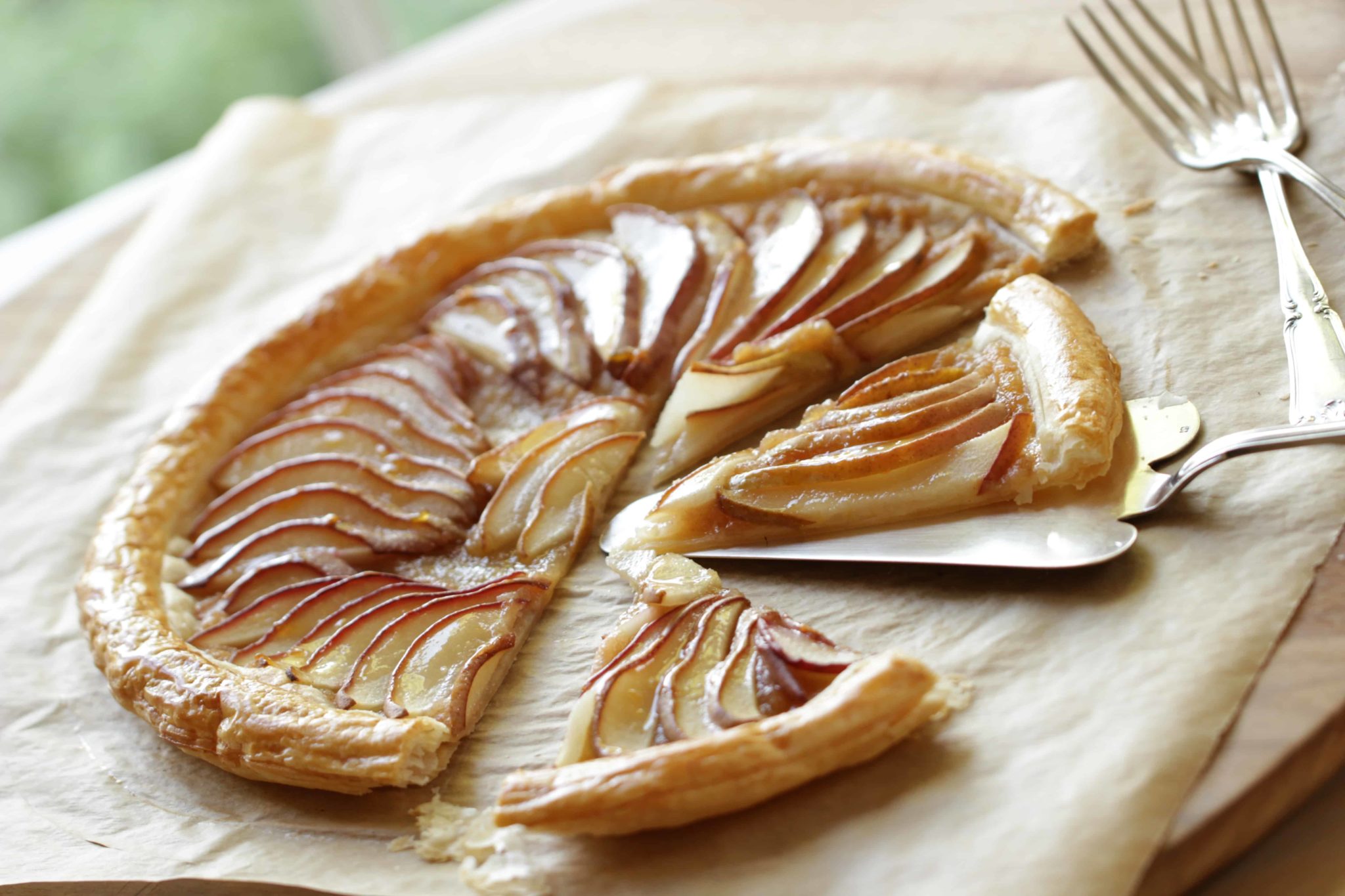 All it takes it some store-bought puffed pastry, apple sauce, cinnamon, sugar and 2 ripe pears, and in less than an hour you will have this beautiful little number to present at your Thanksgiving table. People are always so impressed by this one, but not to worry the store-bought puff pastry and the arrangement of the pears do all the work for you.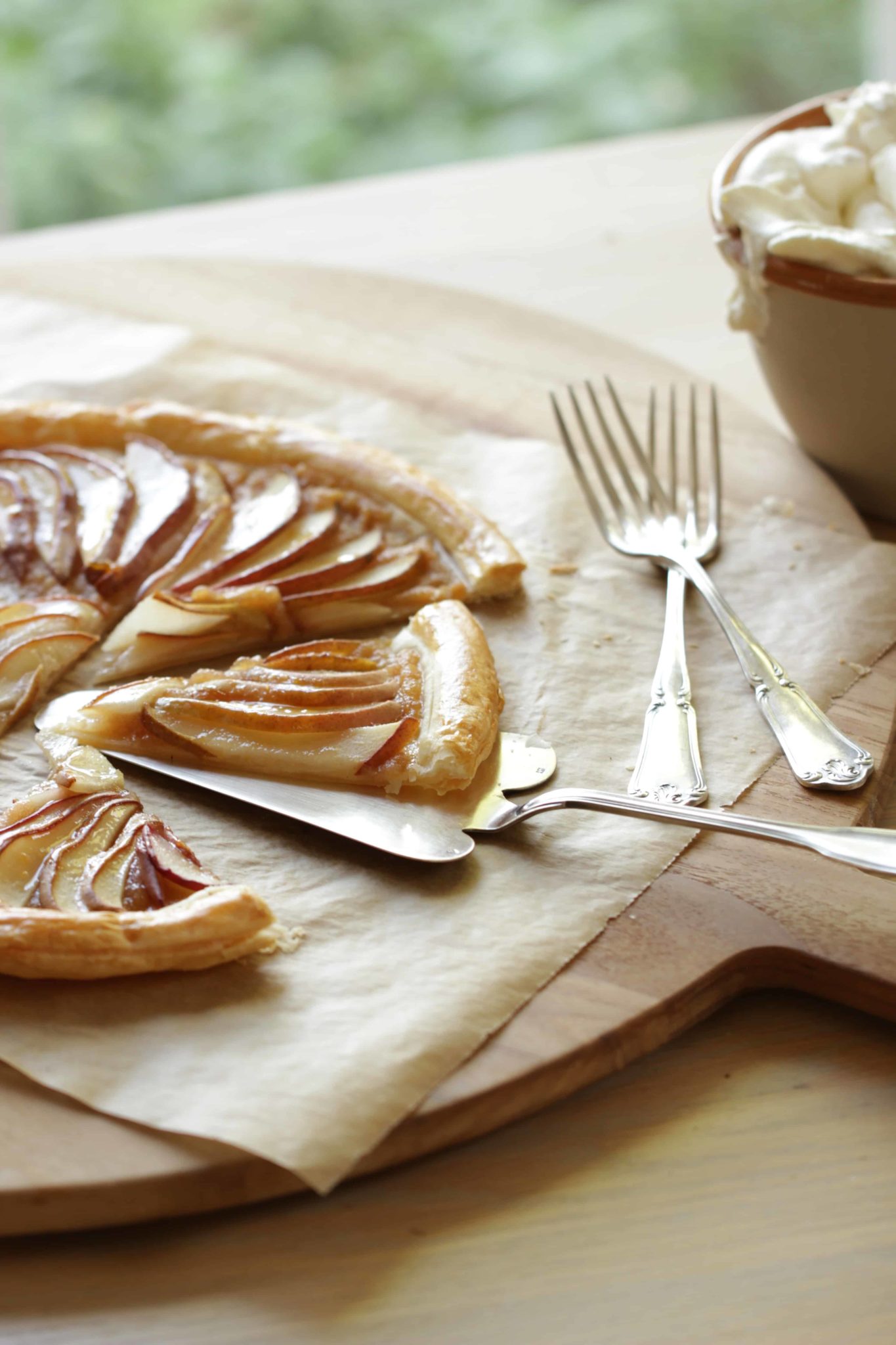 I even serve right on the parchment paper on a big cheese board. For this it helps to get the pre-cut parchment sheets.  Not only will it look better, but it saves time too!  There's something so rustic, yet refined about this type of presentation. It's also really easy to serve that way too, because you can cut right on the board. I even pop the whipped cream on the board as well for an easy "dessert" station.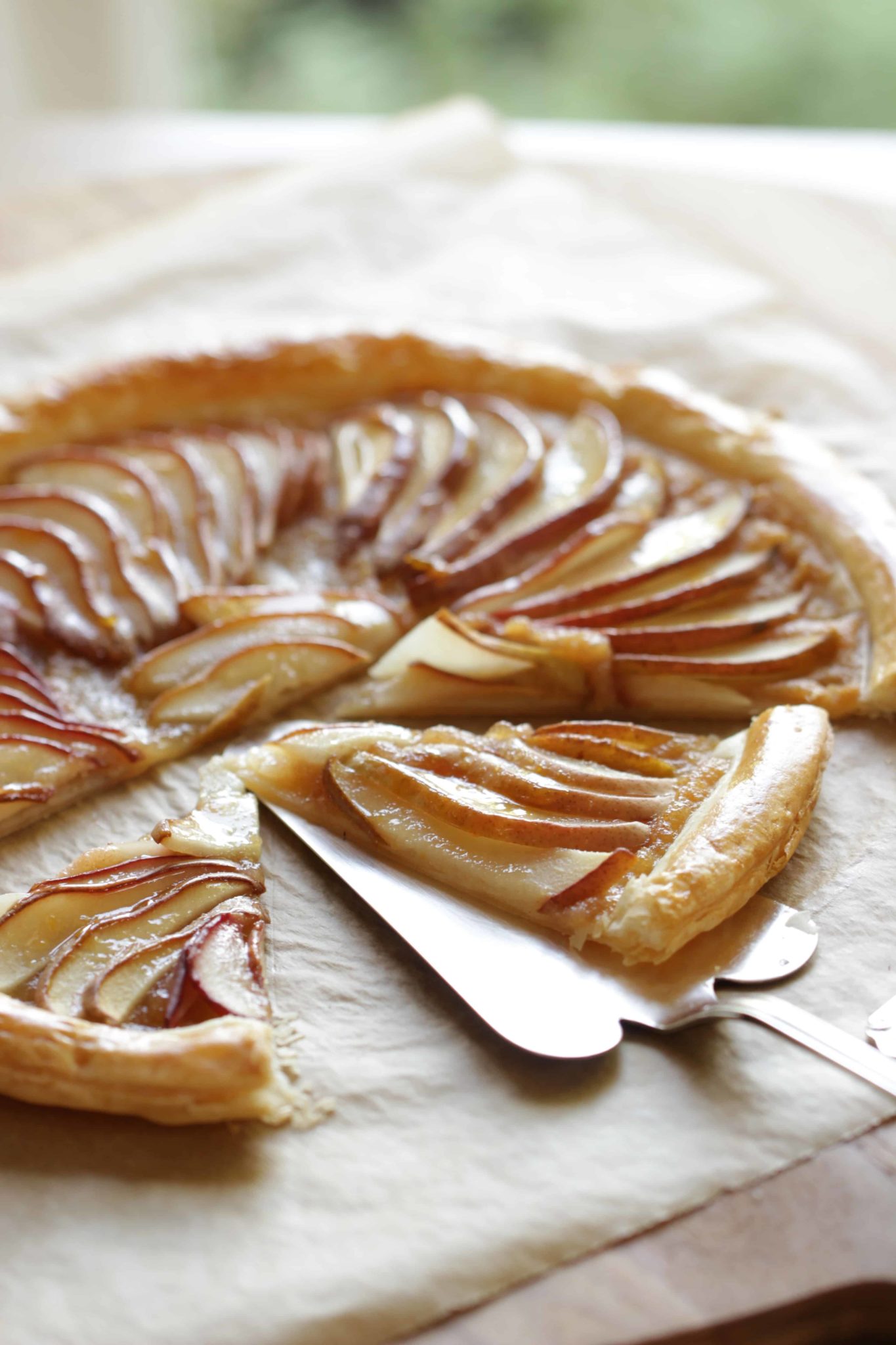 For a step-step-by-step tutorial of this recipe you can watch my video below. SUBSCRIBE TO MY YOUTUBE CHANNEL and never miss a recipe (it's free!) and new videos post each Saturday.
Print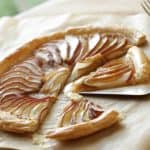 Easy Pear Tart Recipe Using Puffed Pastry
---
Author:

Prep Time:

1 hour

Cook Time:

35 mins

Total Time:

1 hour 35 mins

Yield:

8

Category:

Dessert

Cuisine:

American
Ingredients
1 round store-bought puff pastry sheet
1/2 cup (120 ml) unsweetened apple sauce
¼ tsp (1.25ml) cinnamon
2 ripe red pears
1 tbsp (15 ml) sugar
2 tbsp (30 ml) apple jelly, heated in microwave to become liquefied (:30)
1 egg
powdered sugar for garnish
FOR WHIPPED CREAM:
2 cups (480 ml) heavy cream or heavy whipping cream
2 tbsp (30 ml) powdered sugar
1 tsp (5 ml) vanilla extract
---
Instructions
Preheat oven to 400F (200C).
Roll out puff pastry on a rimless cookie sheet lined with pre-cut brown parchment paper. Place a plate that has been floured on top of the pastry that is at least 1-2 inches smaller than the pastry round.
Score around the perimeter of the plate to create at least a 1-2" "crust". Mix the apple sauce and cinnamon. Spoon this mixture across the center circle creating a base for your tart. Do not go into the crust area.
Slice off all sides of the pears, avoiding the core, in 1 slice motions. You will have 2 large sides (the hips of the pear) and 2 smaller sides, and you will be left with the rectangular core.
Put the hip cut pears flat side down and slice very thin, 1/8" thick slices. Keep the sliced order and arrange the pear slices exactly as they are creating an escargot pattern around the tart.
The reserve the smaller pear cuts to create a splayed pear fan for the center. Do this by slicing the pear ¼" from the top of the pear, leaving the top intact so that you can create a fan-side cut. Place that in the center and fill in your overall design with any other of the pear slices.
Sprinkle the sugar atop all the pear. Then beat 1 egg well in a small bowl and with a pastry brush only the crust very lightly with the egg wash, being careful not to get the egg in to the score cut or your pastry won't puff up.
Bake for 30-35 mins until pastry are golden brown and puffed up.
Allow to cool slightly, and then brush the pears with the apple jelly for a nice shiny finish.
For whipped cream combine all ingredients in a bowl and whisk vigorously for 10-15 mins with a wire whisk until soft peaks form, or whip with an electric mixer.
Transfer paper and tart in one motion to a round cutting board/cheese board.
Slice into wedges and serve with homemade whipped cream. Enjoy!
Notes
If you pastry gets to warm while arranging the pears pop it in the fridge , tray and all, for 30 mins or the freezer for 15 mins. That way when it hits the hot oven it will puff up properly.