Lemon Meringue Tart Recipe
This Lemon Meringue Tart Recipe is one of my favorite desserts to make in the springtime. It's light, fluffy, and the perfect way to welcome the warmer temperatures.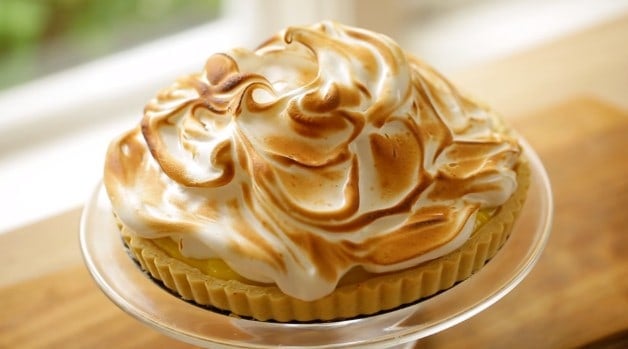 This tart is much easier than it looks and the haphazard meringue dollops really make it beautiful! No need for pastry bags folks!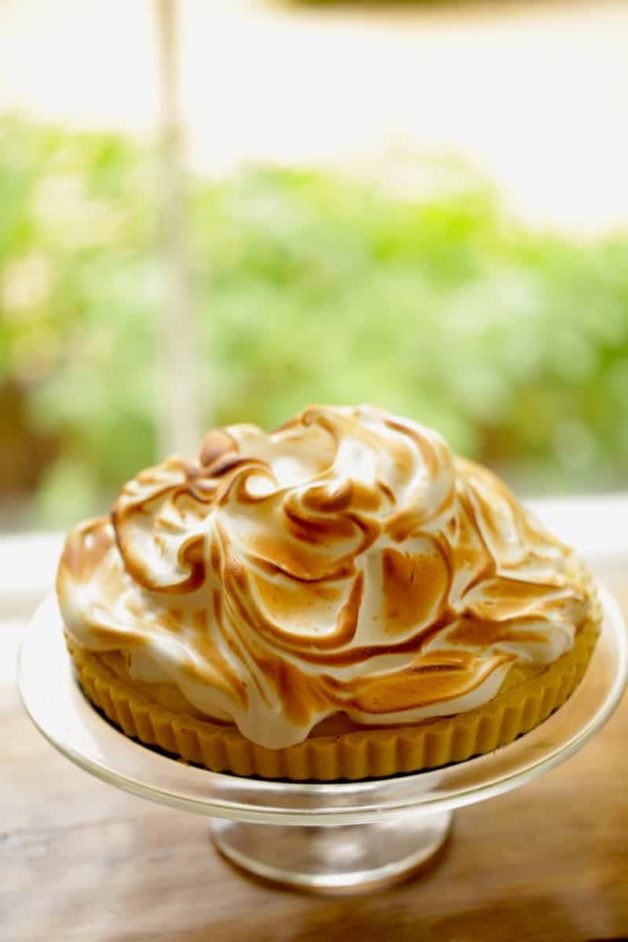 You might also enjoy some of my other pie recipes such as my Cherry Pie, Pumpkin Pie with Marshmallow Topping, or Foolproof Apple Pie.
WATCH MY VIDEO DEMO OF THIS RECIPE BELOW
SUBSCRIBE TO MY YOUTUBE CHANNEL FOR MORE RECIPE VIDEOS! (IT'S FREE!)
You can even make this lemon meringue tart recipe the night before, which is even better. This would be a beautiful ending to a meal with my Seared Salmon and Buerre Blanc Sauce or my Grilled Chicken Caesar Salad too.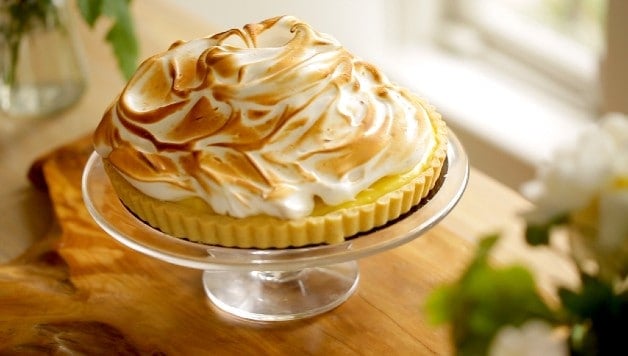 Step 1: Make the Tart Crust
First, you'll add the flour, powdered sugar, and salt to your food processor and pulse until combined. Then, add chilled, cubed butter and pulse again until a coarse meal forms.
In a separate and small bowl, whisk together one egg yolk and two tablespoons of ice water and add that mixture to your food processor.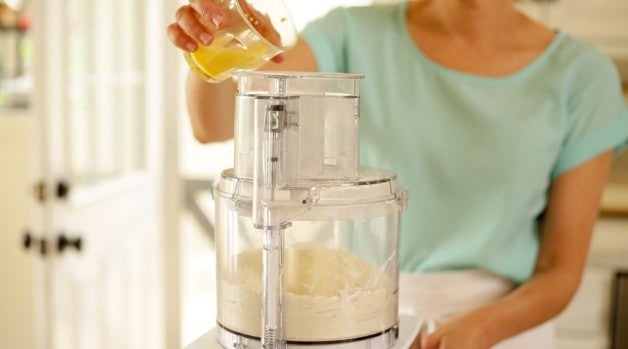 Pulse until a nice dough ball begins to form in your food processor.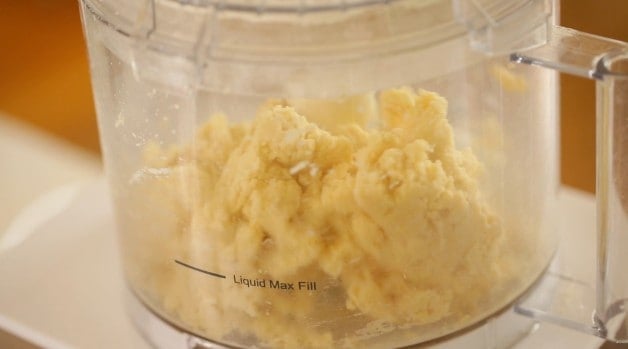 Remove the ball of dough and flatten into a disk shape. Wrap in parchment paper and refrigerate for at least 30 minutes to 1 hour.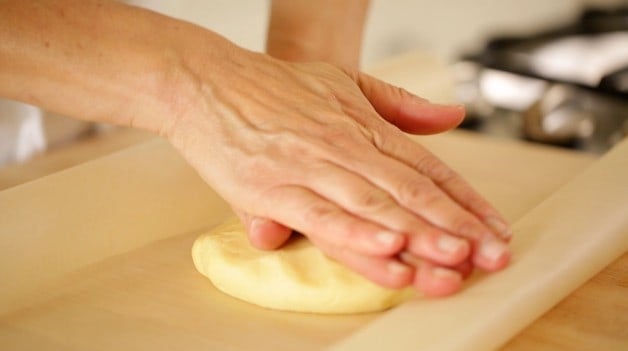 Why do you refrigerate pie dough?
Letting the pie dough set or chill cuts down on shrinking during the baking process. It also makes it easier to roll out and blind bake the crust.
What is blind baking?
Blind baking is simply baking a crust without a filling. Typically, this is done because the filling of a pie or tart needs less cook time than the crust or in this case when the filling isn't baked in the oven, but rather cooked on the stovetop.
When your dough has chilled, roll it out with a rolling pin to the size of your 9" tart tin.
My favorite rolling pin is a French-style rolling pin. It's so easy to use and much lighter than a regular rolling pin.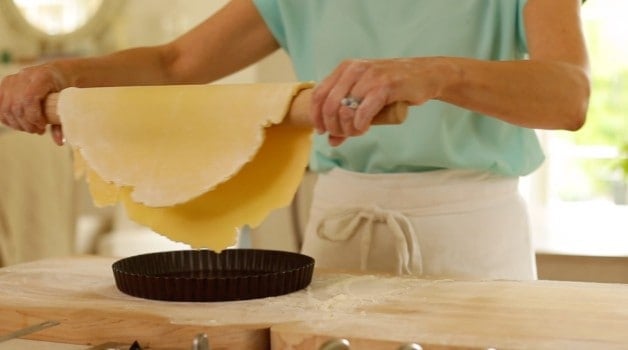 Fit the dough into the tart tin and trim the edges. Then, pierce the bottom of the pie dough with a fork to allow the steam to escape during the baking process.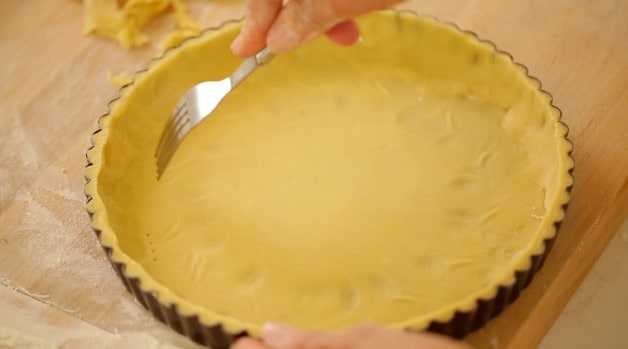 Then, place your dish into the freezer for about 30 minutes until nice and firm.
Step 2: Bake the Crust
Once the dough is nicely chilled, place a sheet of parchment paper on top and add baking beads, dried beans or rice to weigh down the paper.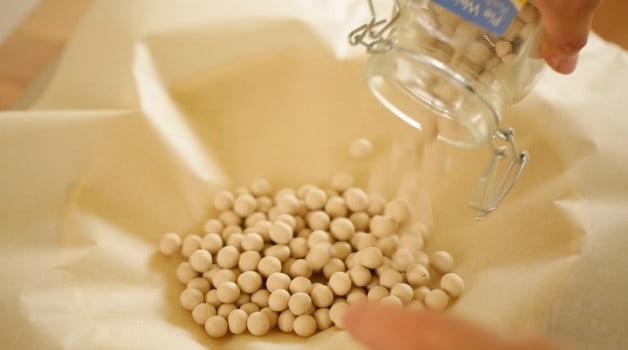 Bake the shell at 350F degrees (175C) for about 35 minutes until it is slightly golden brown. After the crust is set, remove from the oven and allow to cool.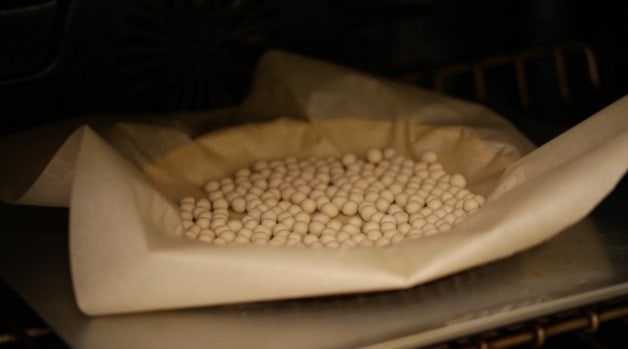 Step 3: Make the Filling
To make the filling for the lemon meringue tart, add egg yolks, cornstarch, and salt to a mixing bowl. Whisk the ingredients together until a pale yellow paste forms and set aside.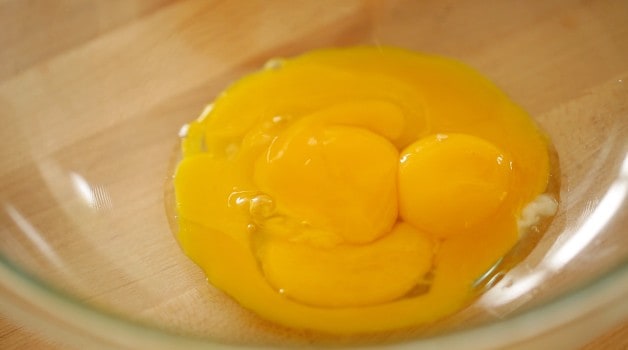 Then, combine sugar and water in a saucepan over medium-low heat until sugar dissolves into a clear liquid.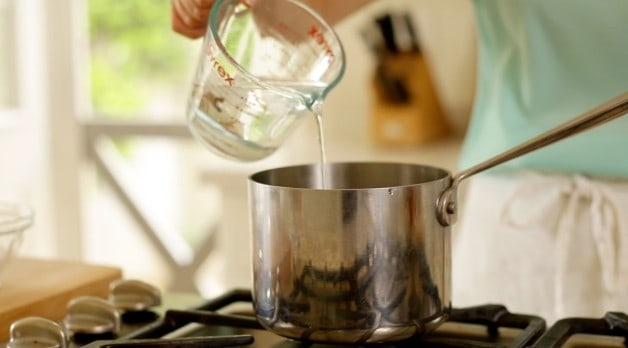 While the sugar melts, prepare the lemon zest and juice.
Using a zester, zest a whole lemon to get about 1 teaspoon. Then, ream the lemon halves to get about ⅓ cup of lemon juice. You may need two lemons for this recipe. Set the lemon juice and zest aside.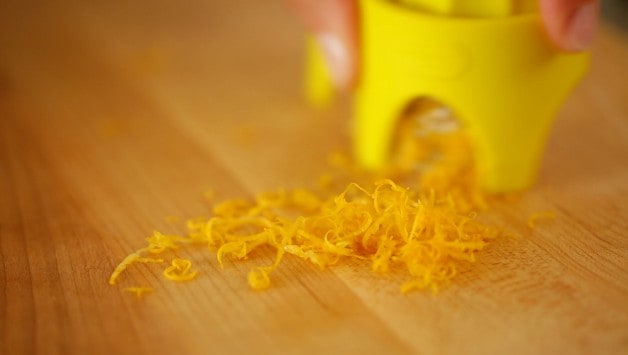 Now, let's go back to the sugar-water mixture. To the bowl of egg yolks, cornstarch and salt, slowly add in the sugar-water mixture. We want to use a "tempering" method as we add the warm sugar-water to the raw egg yolk mixture.
WHAT DOES "TEMPER" MEAN?
The goal when tempering eggs is to slowly introduce the hot liquid with the raw egg. By adding a little of the warm mixture to the egg yolks at a time, we avoid cooked, scrambled eggs.
After all of the sugar-water is incorporated with the eggs, add the mixture back to your saucepan. Cook on medium-low, stirring all the while, until the mixture thickens.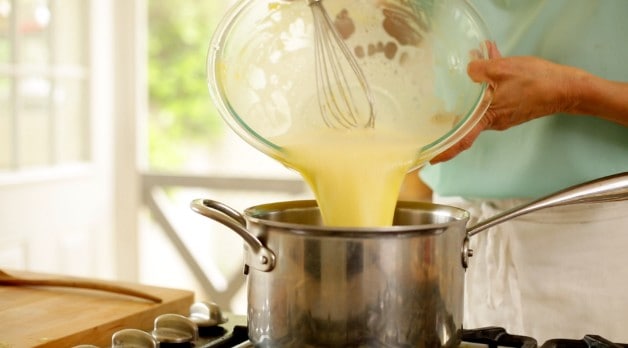 The mixture is ready when it is thick enough to coat the back of a spoon. Then, add the lemon zest and lemon juice to the saucepan and combine. Now, the mixture is all ready to go into the pie shell!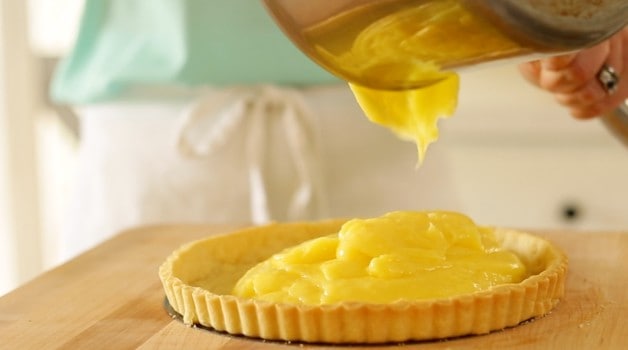 Add the lemon filling to the baked pie shell. Smooth until evenly distributed. Place in the refrigerator.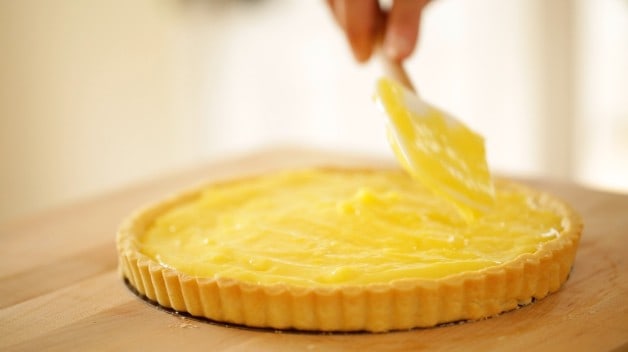 Step 4: Make the Meringue
Add sugar and water to a saucepan on medium-high heat until sugar dissolves. Allow the mixture to boil for about 3-4 minutes until syrupy. Remove from heat and allow to cool.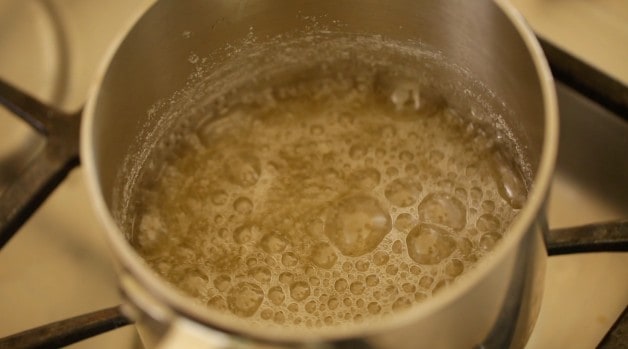 To the bowl of a stand mixer, add egg whites and Cream of Tartar.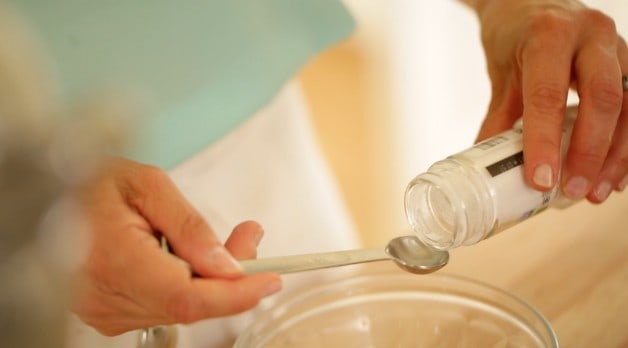 Do You Have to Have Cream of Tartar to Make Meringue?
Well personally, I say Cream of Tartar is the most foolproof for stabilizing your whites and preventing them from deflating.
But if you can't find it, you can also substitute the same amount with other acidic substances (it's the acid that makes the whites stabilize) things such as lemon juice, or white vinegar will work too, ½ teaspoon will work in each case.
Beat mixture on high until soft peaks begin to form.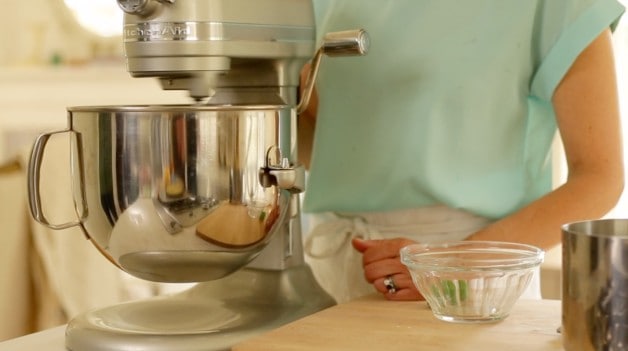 Then, as the mixer continues, slowly add the syrup and beat until stiff glossy peaks form.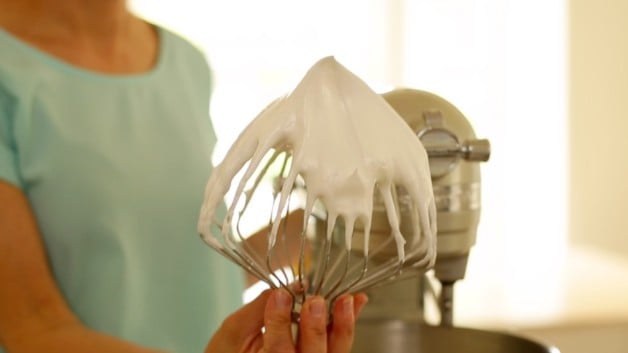 Then, take the tart out of the fridge and place large dollops of meringue on top. If you choose to get a little fancy, you can pipe the meringue onto the tart but I really like the look of the rustic approach!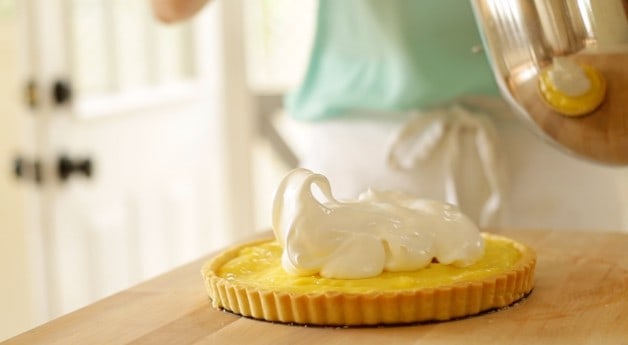 At this stage, you can brown the meringue by broiling in the oven or using a kitchen torch. Personally, I think a kitchen torch is the way to go, and it's not as intimidating as you would think. Plus, you have a lot more control over-browning the meringue evenly.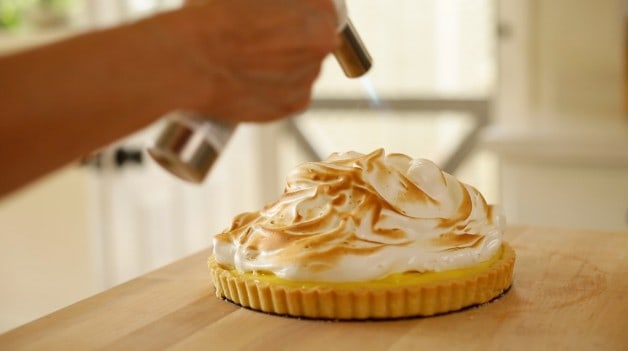 Now, place in the fridge until ready to serve!
PLEASE LET ME KNOW IF YOU MAKE THIS RECIPE
BY LEAVING A RATING AND REVIEW BELOW!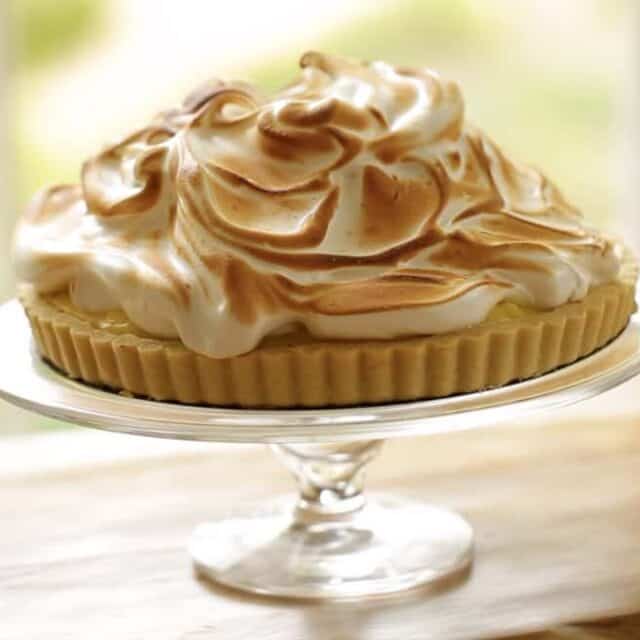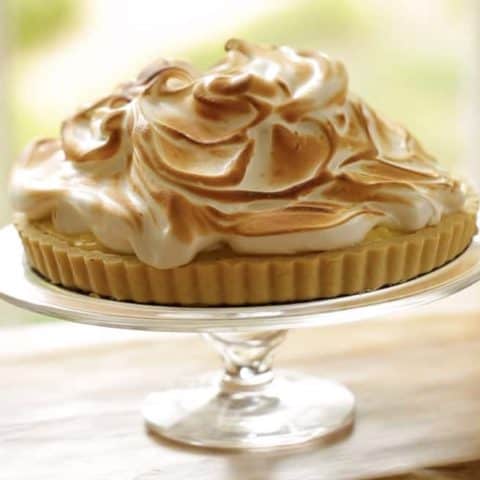 Lemon Meringue Tart
Total Time:
1 hour
20 minutes
This lemon meringue Tart is a wonderful springtime dessert that always wows a crowd!
Ingredients
Crust
1 ¼ cups (150 g) flour
2 tablespoon (13 g) powdered sugar
¼ teaspoon (1.25 ml) salt
½ cup (120 g) butter, chilled and diced into cubes
1 egg yolk
1-2 tablespoon (15-30 ml) ice water
Filling
6 egg yolks
⅓ cup (35 g) cornstarch
¼ teaspoon (1.25 ml) salt
1 ½ cup (350 ml) water
¾ sugar (150 g)
⅓ cup (80 ml) of fresh lemon juice
2 tablespoon (30 g) butter
Meringue
⅓ cup of water
1 ½ cups (300 g) of sugar
4 egg whites
½ teaspoon (2.5 ml) Cream of Tartar
Instructions
For the crust:
In a food processor, pulse together flour, sugar and salt. Then slowly add the butter, pulsing until a coarse meal forms.
Whisk together the egg yolk and ice water and then slowly add this mixture to the food processor pulsing until a dough ball forms. Flatten into a disk shape and wrap in parchment paper. Chill in refrigerator for at least 1 hour.
Once dough is chilled, roll out and fit into a 9" tart tin. Place in freezer for 30 minutes.
Preheat oven to 350F (176C). Place a sheet of parchment paper on top of tart, fill with baking beads (or rice or dried beans) bake for 35 minutes until golden brown. Set aside to cool.
For filling:
In a large bowl, mix together egg yolks, salt and cornstarch and set aside. In a saucepan, heat water and sugar until dissolved. Slowly pour sugar water into egg mixture until combined. Then transfer mixture back into saucepan, cooking on medium flame and stirring until thickened. Whisk in butter and lemon juice. Transfer to pie shell and refrigerate.
For meringue:
place sugar and water in a saucepan over high heat. Bring to a boil, reduce heat to low and cook for 5 mins until syrupy. Place egg whites in the bowl of an electric mixer, add cream of tartar. Whip on high until soft peaks form, while motor is running slowly add the hot sugar syrup whisking all the while until stiff and glossy peaks form.
Dollop the meringue over the pie, creating decorative swoops and swirls. Place pie under the broiler for 1 minute or until golden brown or brown with a kitchen torch.
Refrigerate until ready to serve.
Notes
If you cannot find cream of tartar you can substitute for ½ teaspoon of of either lemon juice or white vinegar
Recommended Products
As an Amazon Associate and member of other affiliate programs, I earn from qualifying purchases.
Nutrition Information:
Yield:

8
Serving Size:

1
Amount Per Serving:
Calories:

68
Total Fat:

4g
Saturated Fat:

1g
Trans Fat:

0g
Unsaturated Fat:

2g
Cholesterol:

161mg
Sodium:

38mg
Carbohydrates:

4g
Fiber:

0g
Sugar:

3g
Protein:

4g