If you want to really impress your friends this memorial day weekend, whip up this stunning Lemon Meringue Tart Recipe!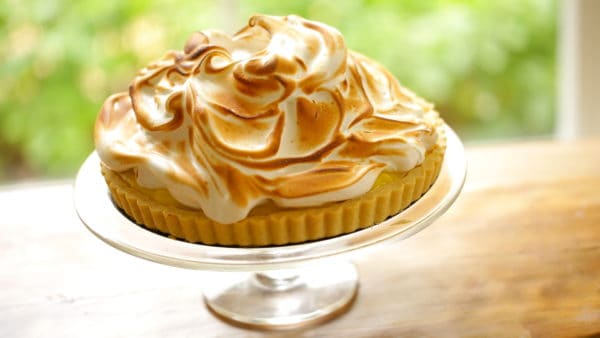 This tart is much easier than it looks and the haphazard meringue dollops really make it beautiful! No need for pastry bags folks!
WATCH MY LEMON MERINGUE TART VIDEO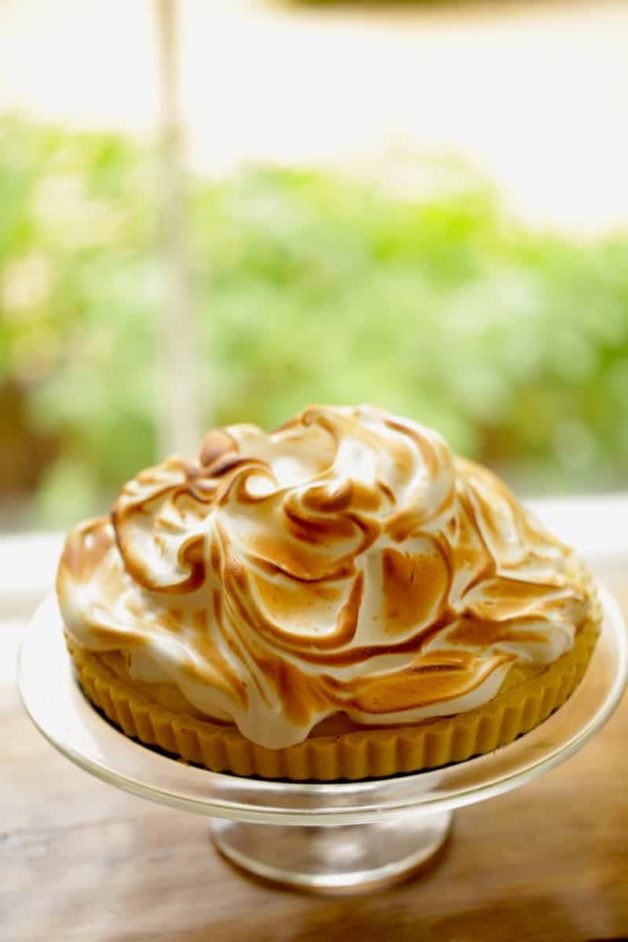 Do You Have to Have Cream of Tartar to Make Meringue?
Well personally, I say Cream of Tartar is the most foolproof for stabilizing your whites and preventing them from deflating.
But if you can't find it, you can also substitute the same amount with other acidic substances (it's the acidic that makes the whites stabilize) things such as lemon juice, or white vinegar will work too.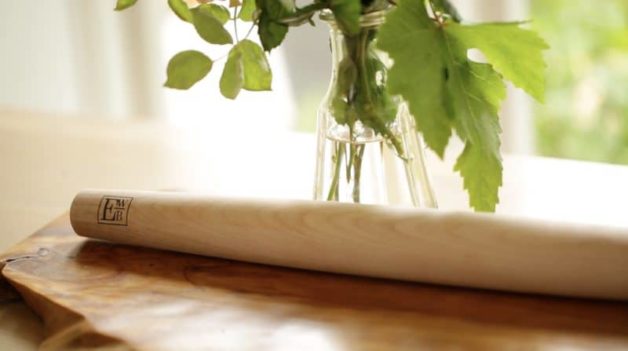 For this recipe I'll be using the lovely French Style Rolling Pin from JK Adams that came in my May Subscription Box.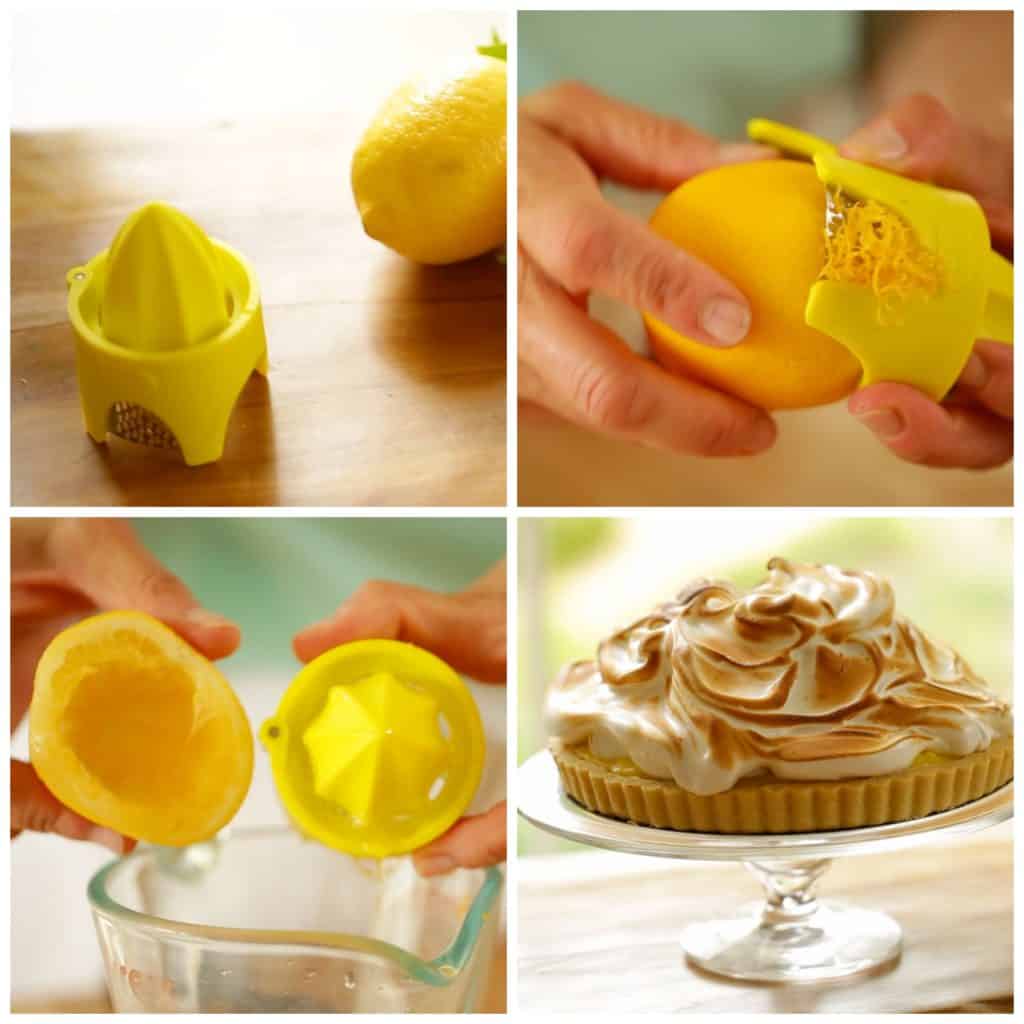 We'll also be using the clever Citrus Zester and Reamer from Talisman Designs.
This 2-in-one kitchen gadget is perfect for small kitchens where space is at a premium! Talisman Designs has all kinds of great gadget for your kitchen, some of my favorites are their wonderful tools for baking which will have you looking like a pro in no time!
Looking for more great spring recipes? You might also enjoy my Lavender Creme Brulee, my Creamy Cucumber Salad with Dill or my Seared Salmon with Beurre Blanc Sauce.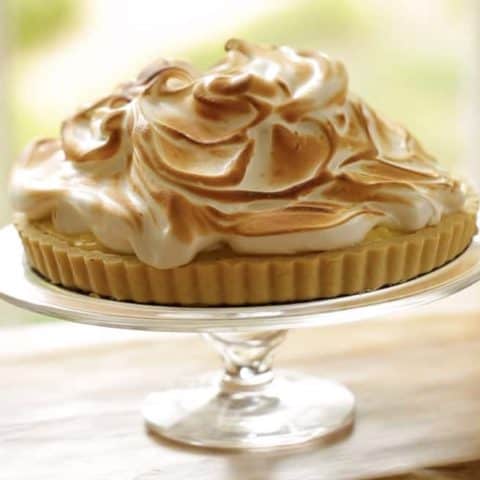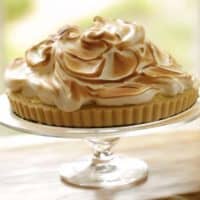 Lemon Meringue Tart Recipe
Total Time:
1 hour
20 minutes
A wonderful springtime dessert idea that always wows a crowd!
Instructions
In a food processor pulse together flour, sugar and salt. Then slowly add the butter pulsing until a coarse meal forms.
Whisk together the egg yolk and ice water and then slowly add this mixture to the food processor pulsing until a dough ball forms. Chill in refrigerator for at least 1 hour.
Once dough is chilled, roll out and fit into a tart tin. Place in freezer for 30 minutes.
Preheat oven to 350F (176C). Place a sheet of parchment paper on top of tart, fill with baking beads (or rice or beans) bake for 35 minutes until baked and golden brown. Set aside to cool.
For filling. In a large bowl, mix together egg yolks, salt and cornstarch and set aside. In a saucepan heat water and sugar until dissolved. Slowly pour sugar water into egg mixture until combined. Then transfer mixture back into saucepan, cooking on medium flame and stirring until thickened. Whisk in butter and lemon juice. Transfer to pie shell and refrigerate.
For meringue, place sugar and water in a saucepan over high heat. Bring to a boil, reduce heat to low and cook for 5 mins until syrupy. Place egg whites in the bowl of an electric mixer, add cream of tartar. Whip on high until soft peaks form, while motor is running slowly add the hot sugar syrup whisking all the while until stiff and glossy.
Dollop the meringue over the pie, creating decorative swoops and swirls. Place pie under the broiler for 1 minute or until golden brown. Or brown with a kitchen torch.
Refrigerate until ready to serve.