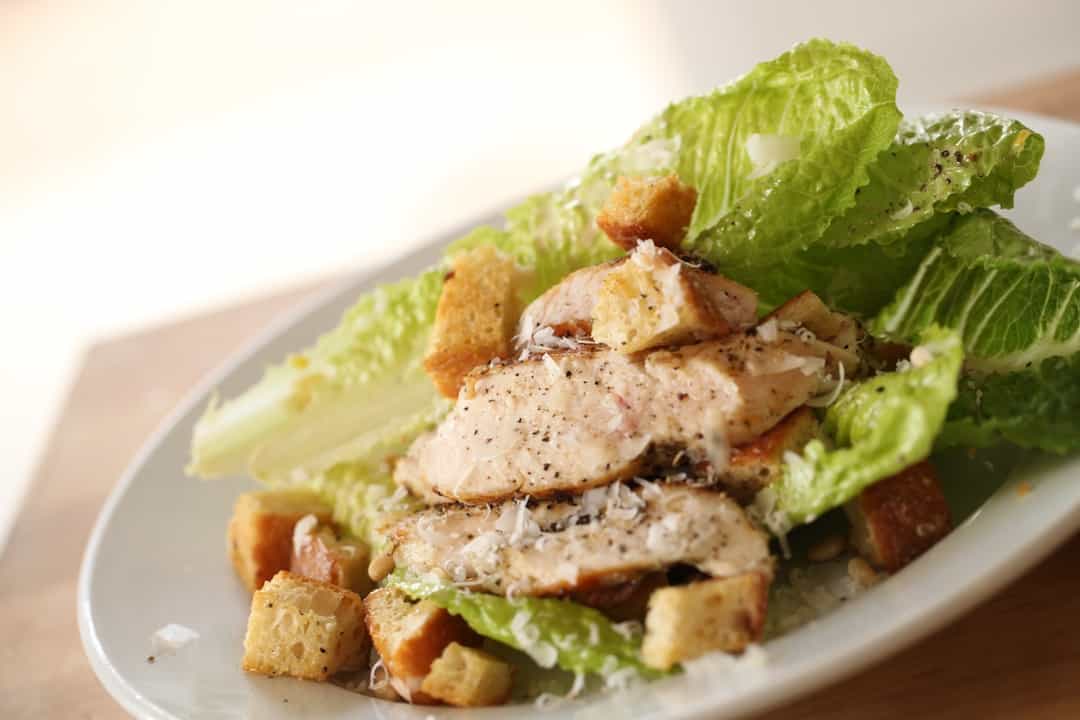 There are a few things in life that are worth the extra time and effort to make from scratch and caesar salad is one of them!
For a step-by-step tutorial of this Easy Chicken Caesar Salad Recipe you can watch my video demo below!
Subscribe to my YouTube Channel and never miss a recipe! (don't worry it's free!)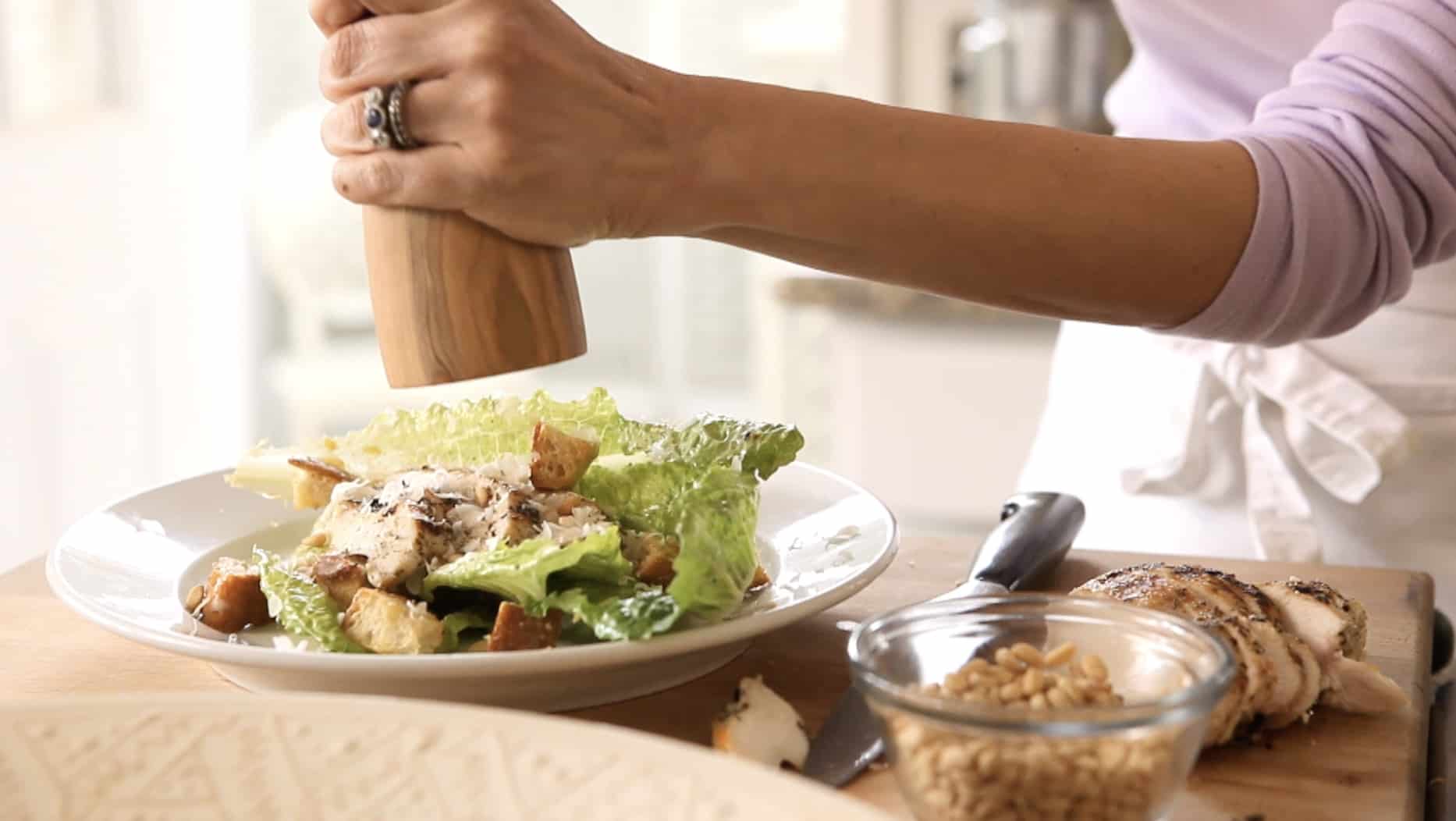 What Goes into a Caesar Salad Recipe?
It can vary slightly but the basics include; romaine lettuce, parmesan cheese, croutons (homemade!) and of course homemade dressing!
A homemade caesar salad dressing cannot be beat and will taste 100x better than anything you will buy in the store-no matter how fancy the bottle may be 🙂 (sigh…yes I'm a sucker for nice packaging too, but don't be fooled!) This will be so much better!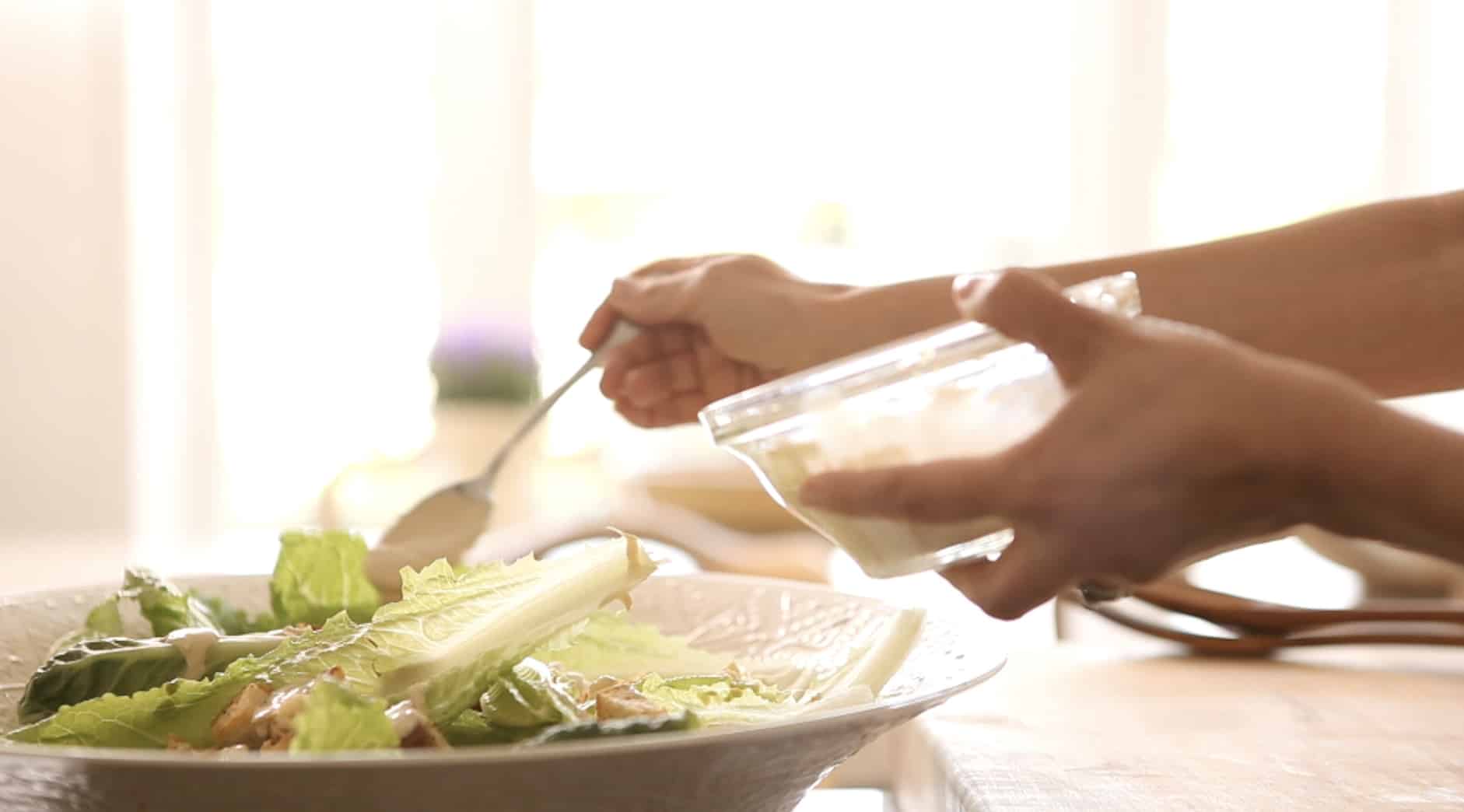 What is in a Caesar Salad Dressing?
The classic combination includes, mayonnaise, Worcestershire sauce, parmesan cheese, anchovies or anchovy paste, a little olive oil, lemon juice and lemon zest. It's as easy as it gets!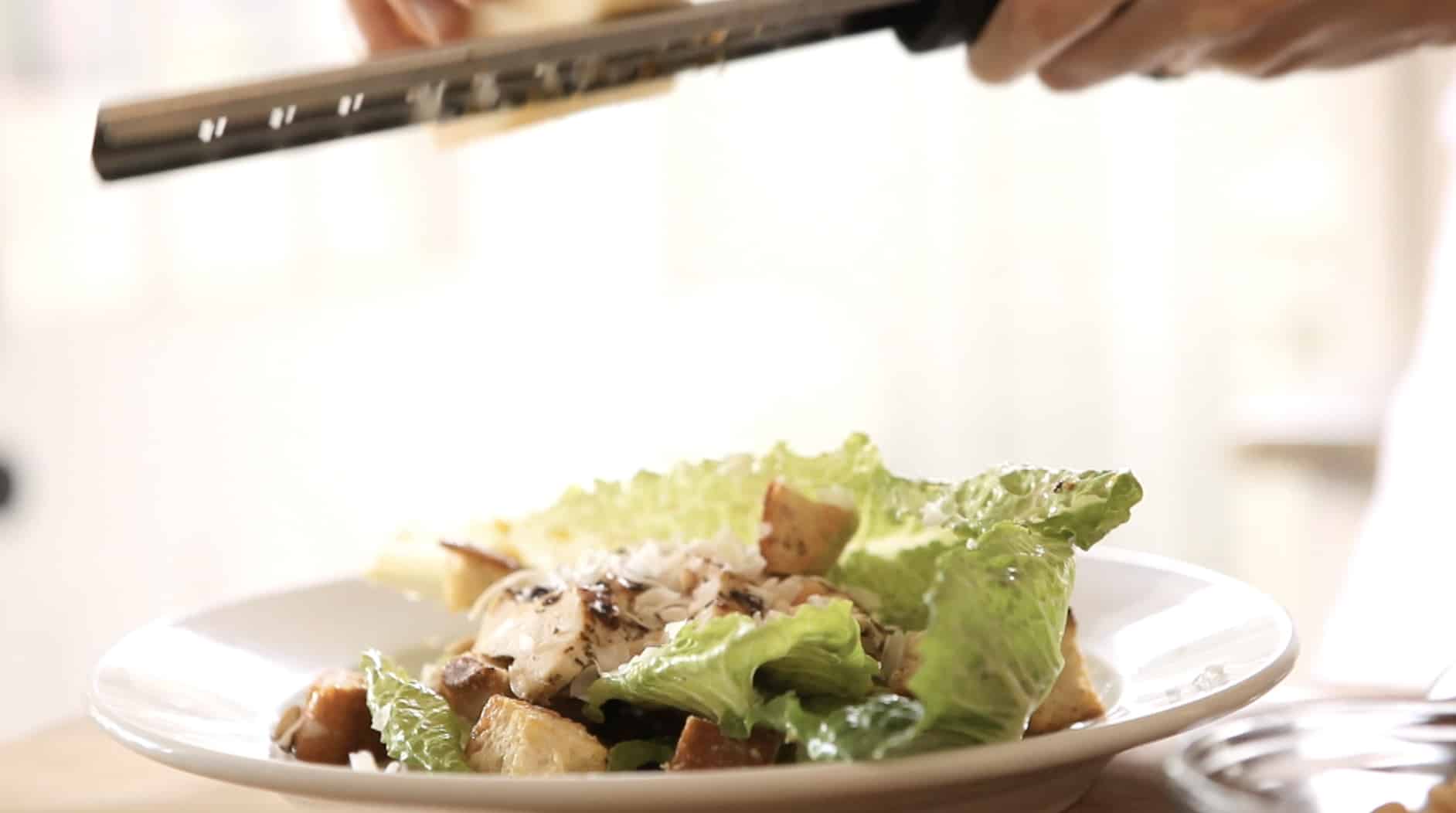 Chicken Marinade for an Easy Chicken Caesar Salad Recipe
For the most flavorful chicken, I highly recommend marinating your chicken first. It will flavor it and tenderize it at the same time. My classic chicken marinade for Caesar salad includes, lemon, garlic, olive oil, salt and pepper and Italian herbs (recipe follows below).
The secret to making this "off season" is having a great indoor grill pan and I cannot say enough good things about this one (this link goes to Amazon where I am an affiliate partner) Totally worth the investment and cheaper than a real BBQ 🙂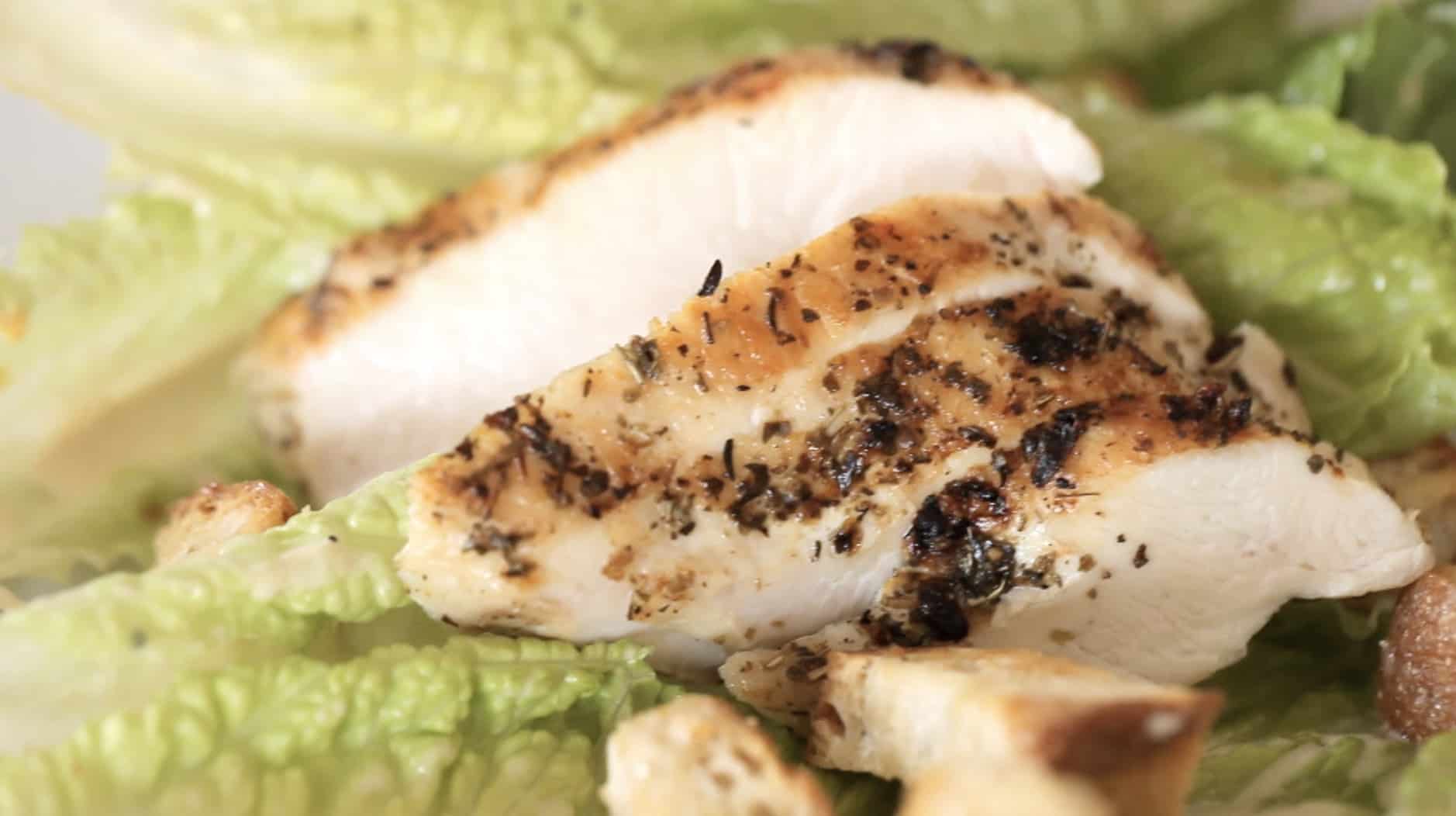 MORE SPRING RECIPES!
Please let me know if you make this recipe by leaving a rating and review below!
Follow me on Youtube, Pinterest, Instagram, Facebook & Twitter!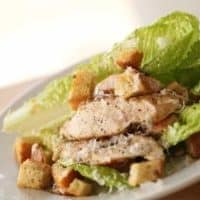 Caesar Salad with Grilled Chicken
Total Time:
1 hour
40 minutes
Delicious Grilled Chicken Caesar Salad recipe. SO much better made at home than ordered in a restaurant! This will be your new favorite!
Ingredients
SALAD:
1 head romaine lettuce
2 boneless, skinless chicken breasts
1 clove garlic
1 tbsp (15 ml) Italian Herbs
zest of 1 lemon
½ cup (120 ml) of olive oil
2 tbsp (30 ml) roasted pine nuts
CROUTONS:
3 cups (180 g) cibatta bread, cubed into ½ inch (13mm) cubes
3 tbsp (45 ml) olive oil
1 garlic clove, minced
salt and cracked pepper to taste
DRESSING:
3 tbsp (45 ml) prepared mayonnaise
1 tsp (5 ml) lemon zest
3 tbsp (45 ml) lemon juice
1 tsp (5 ml) anchovy paste
3-5 dashes of Worcestershire sauce
2 tbsp (30 ml) olive oil
1/2 cup (45 ml) of grated Parmesan cheese
Instructions
Begin by mixing the marinade for the chicken. Combine the garlic, lemon, herbs, olive oil, salt and pepper in a shallow dish and whisk until combined. Coat the chicken on all sides, cover and refrigerate for at least 30 mins.
Meanwhile prepare your croutons. Combine the cubed bread, olive oil, garlic and salt and pepper in a bowl and toss until bread is well coated. Turn out onto a rimmed cookie sheet and bake at 375 for 20-25 mins, or until the croutons turn golden brown. Allow to cool and set aside.
To prepare the dressing, combine mayonnaise, lemon zest and juice, anchovy paste, Worcestershire sauce, olive oil and cheese. Set aside.
Grill chicken 7-8 mins each side until nice grill marks form and chicken is cooked through. Allow to rest for 10 mins on a cutting board before slicing.
Toss the lettuce leaves with the croutons and dressing until well coated. Portion out 2-3 leaves per plate. Then slice the chicken on the diagonal and top on the lettuce, garnish with the roasted pine nuts and additional Parmesan cheese and freshly cracked pepper to taste.
Nutrition Information:
Yield:

4
Serving Size:

1
Amount Per Serving:
Calories:

629
Total Fat:

40g
Saturated Fat:

4g
Trans Fat:

0g
Unsaturated Fat:

33g
Cholesterol:

56mg
Sodium:

505mg
Carbohydrates:

45g
Fiber:

5g
Sugar:

26g
Protein:

25g