Parmesan Peppercorn Dressing
This Parmesan Peppercorn Dressing is such a versatile recipe that can be used as a salad dressing, party dip, and sandwich spread!
It's so delicious and full of flavor, and takes minutes to put together! It's the kind of recipe you'll be making all spring and summer long to pair with your favorite salad recipes!
This would be a wonderful dressing to serve with a tossed salad as a starter to my Baked Eggplant Parmesan Recipe.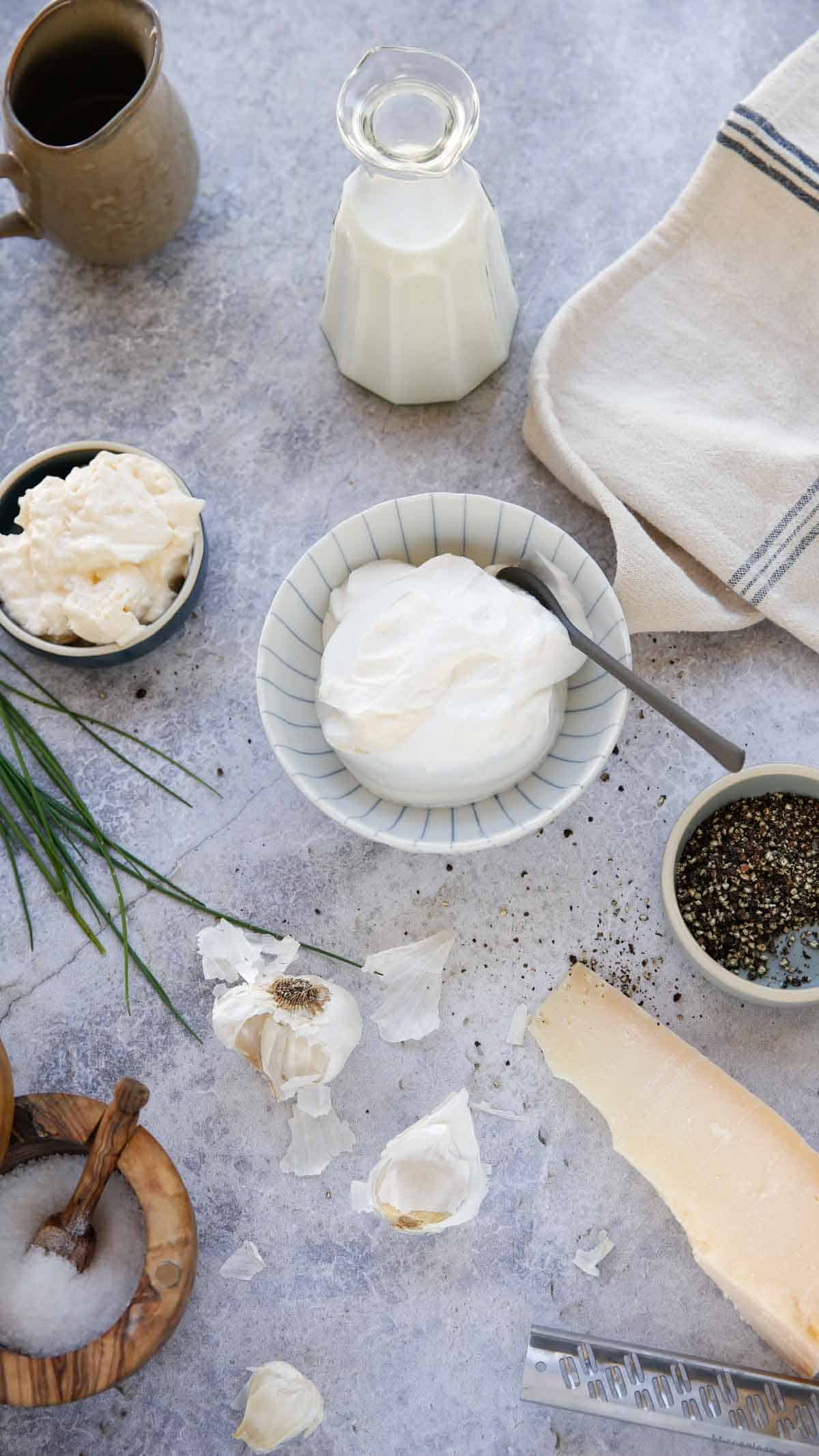 The Ingredients:
Sour Cream The base of the dressing is sour cream, but for a lighter dressing, you could also use Greek Yogurt too.
Mayonnaise The mayonnaise will give the dressing a nice luxurious texture. I don't add too much so it doesn't become too rich.
Peppercorns Buy the peppercorns whole and then place them in a resealable plastic bag and whack them with a rolling pin until crushed. The smaller the pieces the better.
Garlic This is really to taste. You can add anywhere from 1 -3 cloves. Personally, I think 2 cloves, minced is the sweet spot.
Parmesan Cheese It's best to buy a wedge of cheese and grate your parmesan as needed. It will have more flavor that way.
Salt Add the salt after the parmesan cheese has been added since parmesan can be a pretty salty cheese.
White Wine Vinegar I like the flavor of the white wine vinegar in this recipe but if you need a substitution regular white vinegar can also be used.
Fresh Chives I love the combination of the garlicky chives with the cheese, but you can also use fresh dill or dried dill if chives are not available.
Buttermilk is a great ingredient for thinning the dressing to your desired consistency. It has a lovely tang and thickness.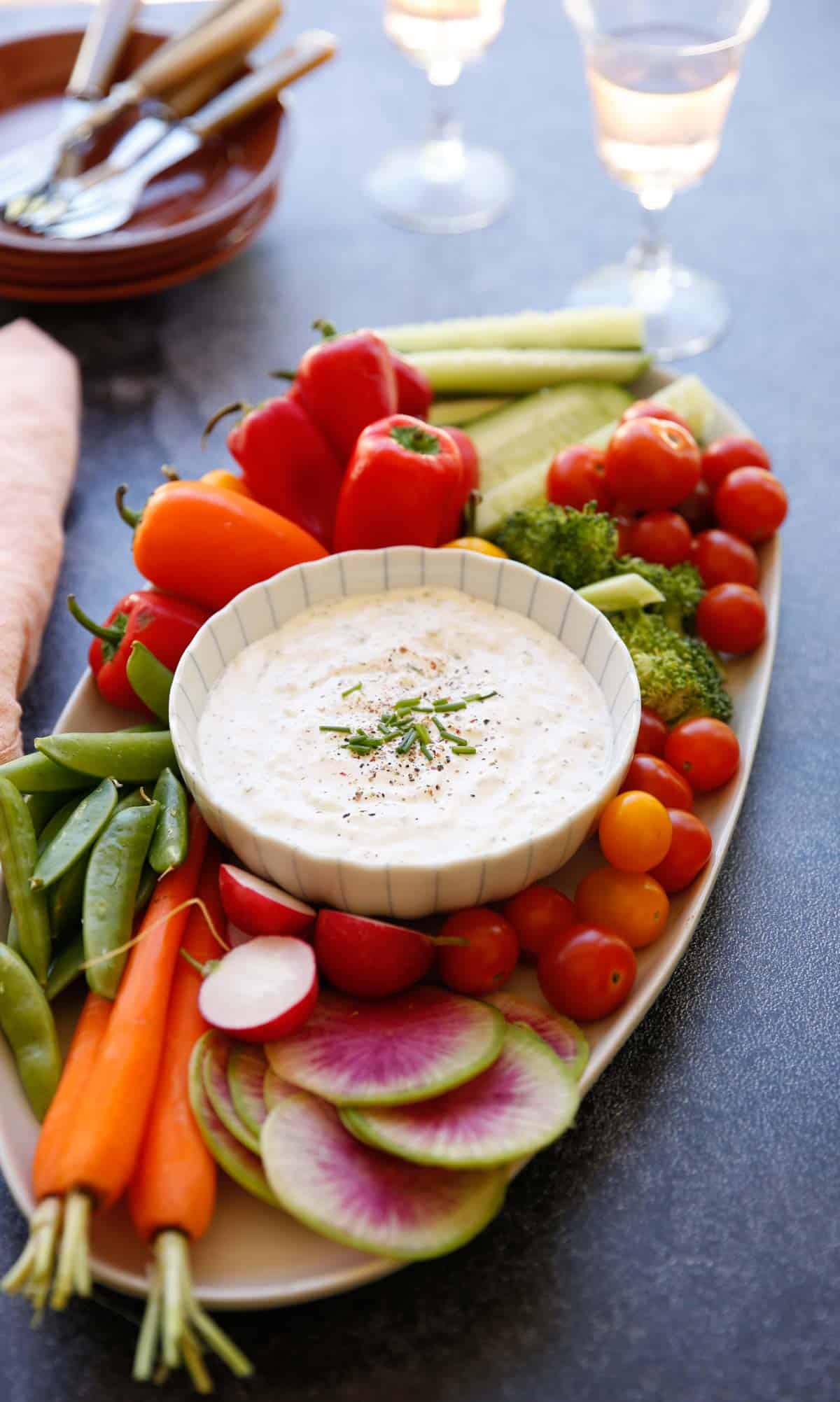 Serving the Dressing as a Dip
Keep the dressing on the thicker side if serving as a dip. Start by adding ¼ cup of the buttermilk, not the full ½ cup.
This will make the dressing heavy enough for the vegetables to carry it.
For a pretty display of vegetables, concentrate on a variety of colors and spread them out, alternating the colors, on the platter.
For more veggies platter ideas try my Beet Hummus with Spring Vegetables for an equally pretty party platter for spring or summer entertaining.
Seek out the Watermelon Radish
Radishes make a great addition to any vegetable platter, but watermelon radishes are even better!
They are typically sold right next to the regular radishes, and will at first look non-descript thanks to their drab-green outer skin.
But once sliced open you'll see how vibrantly beautiful they are!
Slice them with a mandoline with the blade set for 1/16" thickness for the best results.
They are spicy and refreshing all at the same time.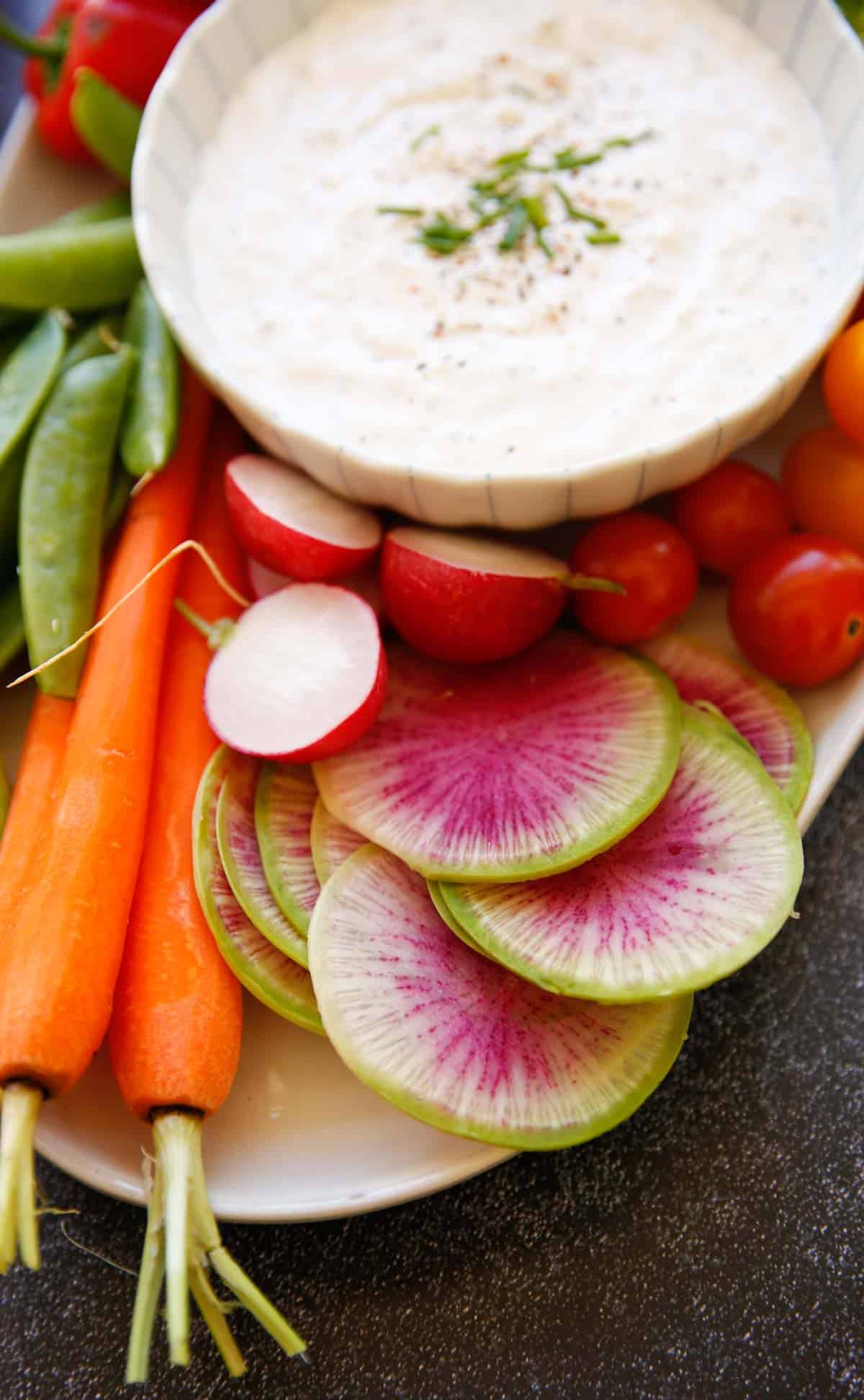 Serving The Dressing as a Sandwich Spread
This parmesan peppercorn dressing is a fantastic sandwich spread for a B.L.T sandwich.
The combination of the spicy dressing mixed with the cool lettuce and tomato, mixed with the salty, crispy bacon is such a wonderful flavor combination.
Assemble the sandwich with some high-quality, rustic bread. If you live in the Los Angeles area, Lodge Bread is worth seeking out. They have two locations and their bread is just fantastic!
For this sandwich, I like to use their fennel caraway loaf.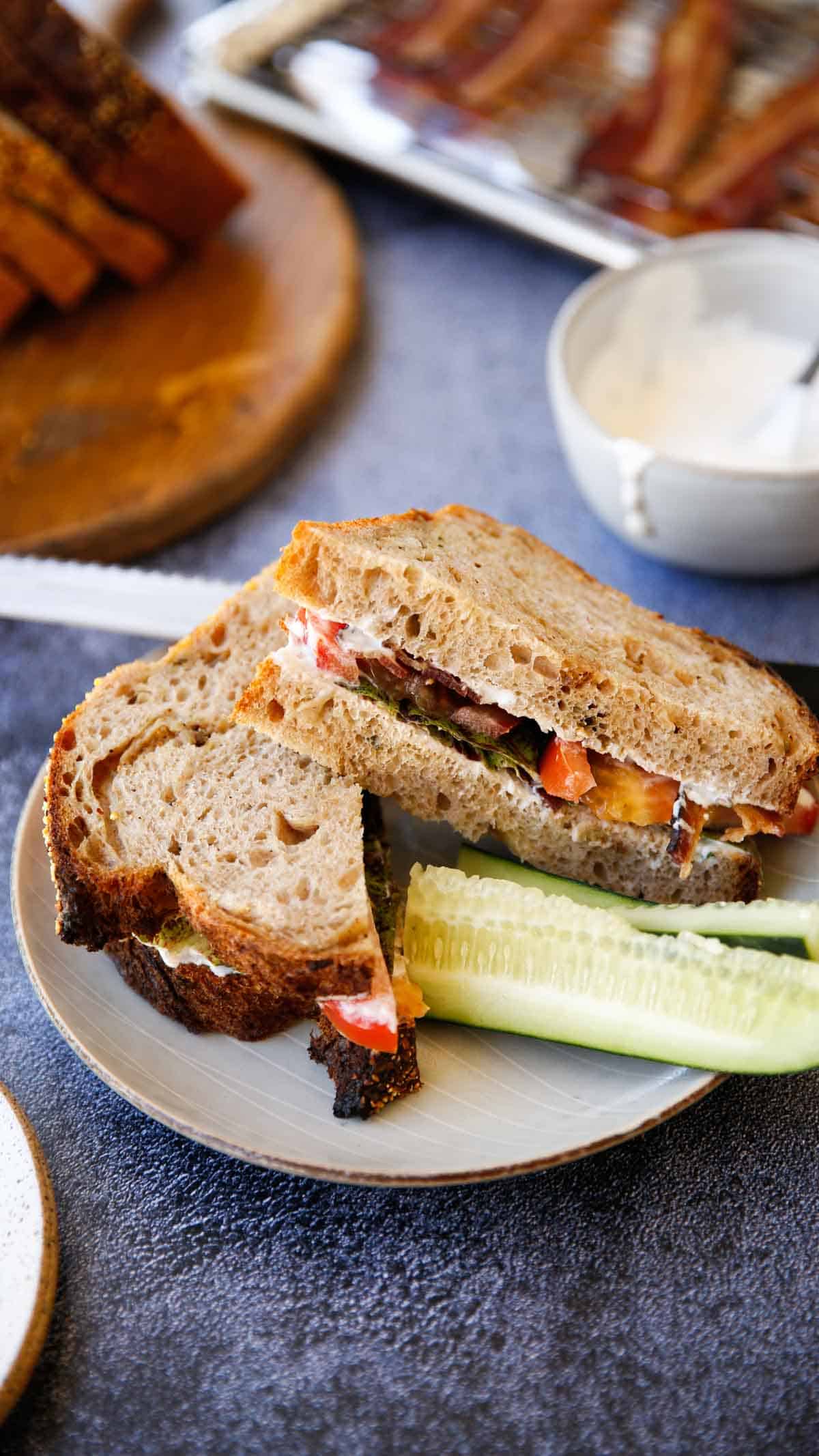 Serve as a Traditional Salad Dressing
This dressing is so flavorful that the salad itself can be composed of just simple greens, maybe a little purple cabbage, and peeled carrots if you want to get fancy.
When I have nasturtiums growing in my garden I add a few of those in too!
Nasturtiums are edible flowers with a subtle peppery flavor and they are a beautiful addition to any summer salad or cucumber salad too!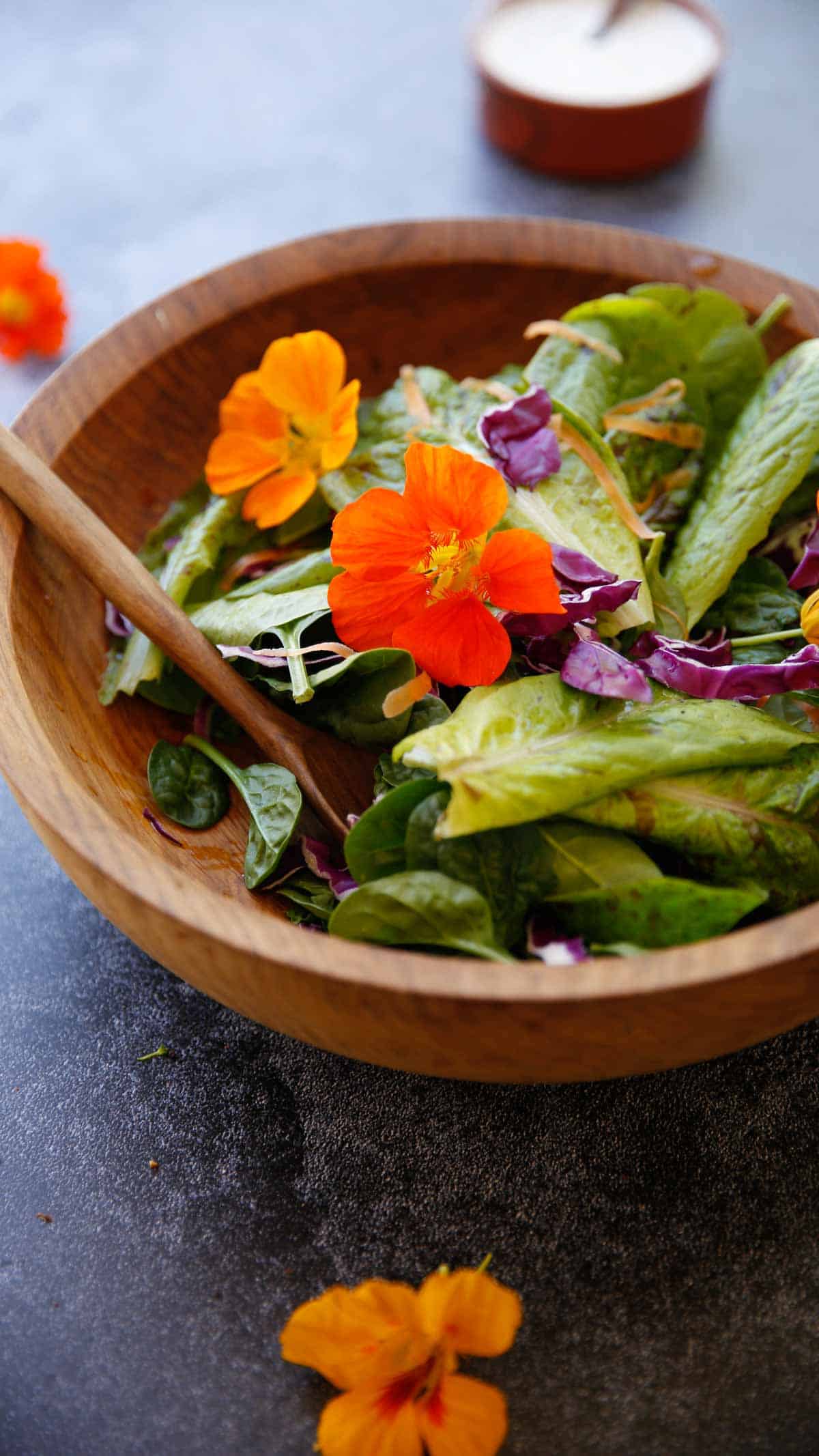 Thining the Dressing with Buttermilk
When used as a salad dressing, thin the dressing with buttermilk for the desired consistency.
I add ½ cup of buttermilk, but really it's "to taste". It will give the dressing a nice tang as well.
If you don't have buttermilk you can thin the dressing with milk or water.
But after thinning, check the dressing for flavor, you may want to add a bit more cheese, peppercorns, or garlic!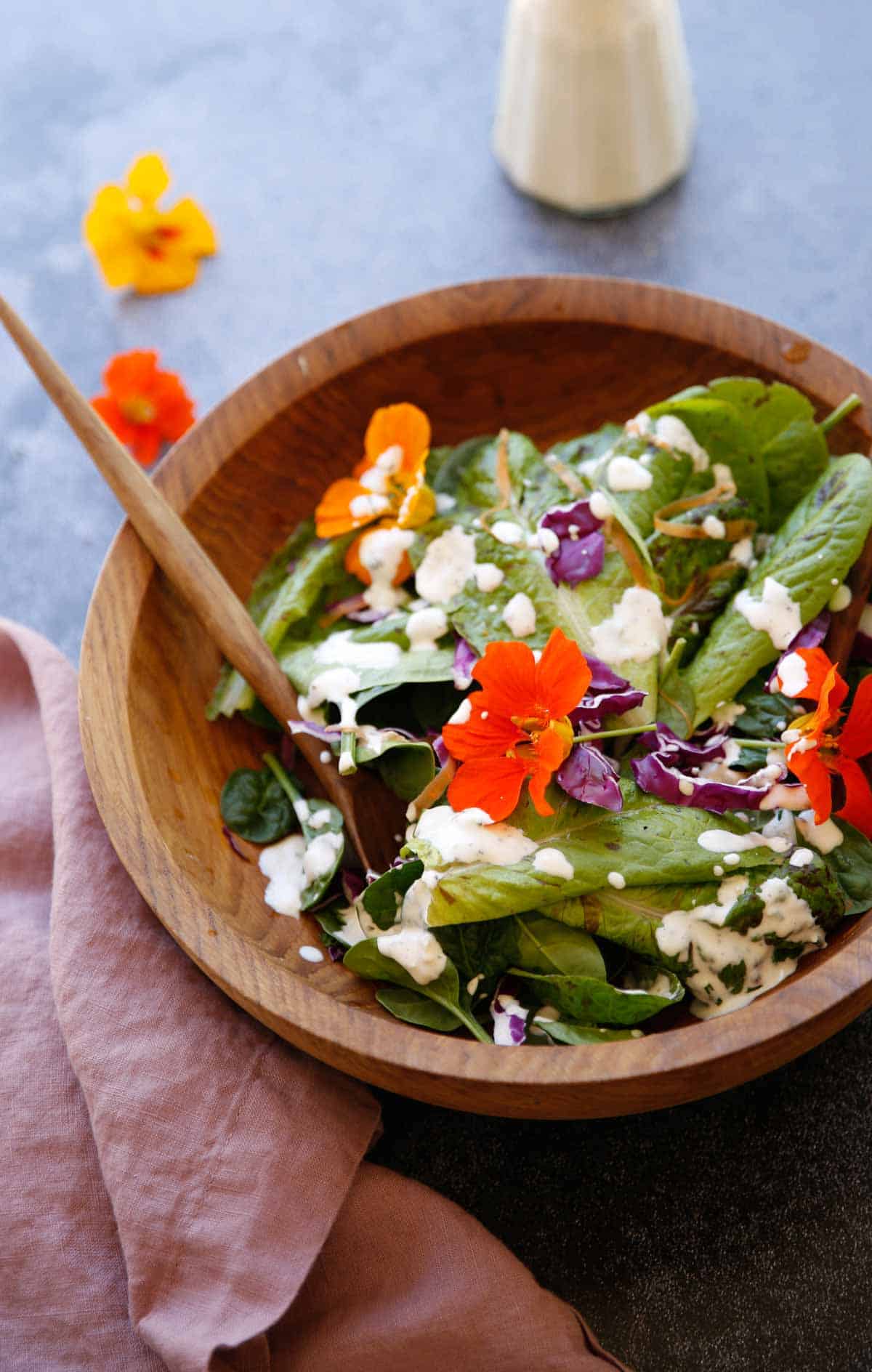 If You Enjoyed This Recipe
Please Leave a Rating and a Review Below!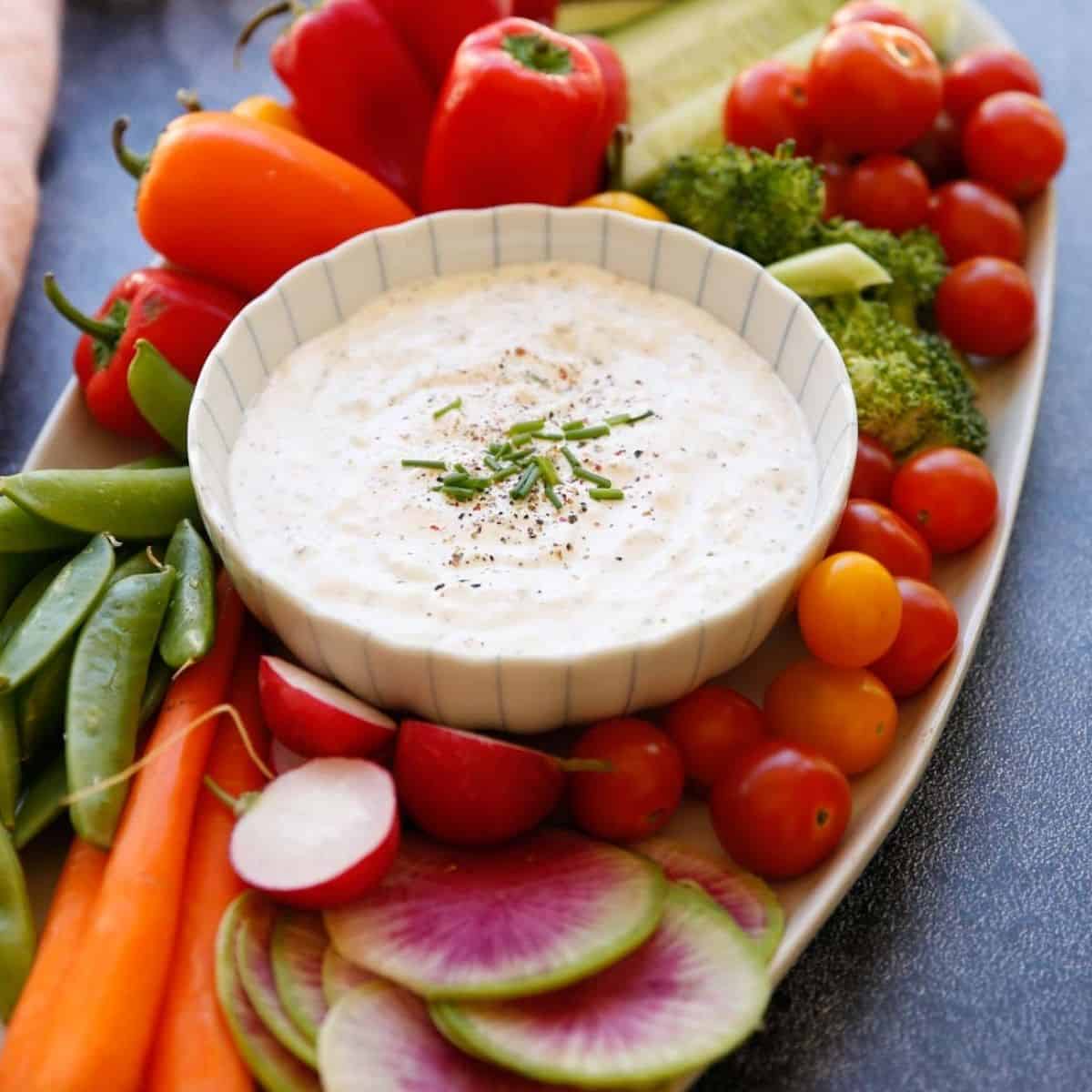 Parmesan Peppercorn Dressing
This Parmesan Peppercorn Dressing is a fantastic recipe you'll be serving tossed with greens, as a party dip and sandwich spread!
Ingredients
1 cup (240g) of sour cream (or Greek Yogurt)
⅓ cup (43g) Mayonnaise
1 tablespoon (15ml) Cracked Peppercorns
¾ cup (67g) parmesan cheese, freshly grated
1 teaspoon (5ml) of Champagne vinegar
2-3 garlic cloves, minced
salt to taste
1 tablespoon (15ml) fresh chives, minced
½ cup (118ml) buttermilk
Instructions
Whisk together the sour cream and mayonnaise until smooth.
Place the whole peppercorns in a resealable plastic bag and whack them with a rolling pin until crushed finely. Alternatively, you can also set a pepper grinder on coarse and grind out 1 full tablespoon.
Add the grated peppercorns, cheese, vinegar, garlic, salt, and chives. Whisk to combine.
If serving as a dip, add half the amount of Buttermilk, if serving as a dressing add the full amount.
If serving as a sandwich spread I think the dip consistency works best.
Nutrition Information:
Yield:

8
Serving Size:

1
Amount Per Serving:
Calories:

168
Total Fat:

15g
Saturated Fat:

6g
Trans Fat:

0g
Unsaturated Fat:

8g
Cholesterol:

29mg
Sodium:

338mg
Carbohydrates:

4g
Fiber:

0g
Sugar:

2g
Protein:

4g